September 2016 free calendar – desktop wallpaper
It's almost September and the dog days are over. We actually had a great summer and we're sorry it's over. All good things come to an end, we must accept it.
The good thing is, we are continuing our series of free calendars, so you can now use a new free calendar for September 2016 to help you forget the summer blues. But wait, we actually have 2 calendars for your desktop wallpaper, so you can choose your favorite.
The first desktop wallpaper calendar features a stylized silhouette of an elegant lady wearing a hat on a stripy black and white background. Get it by clicking on the desired size. You have 3 sizes to choose from: we recommend the first 2 for computers and laptops and the 3rd for your smartphone or tablet.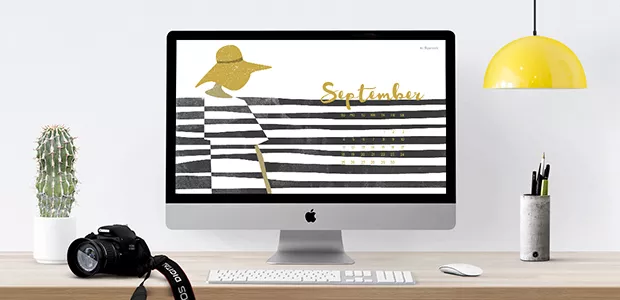 Download calendar:  1920×1080, 1366×768, 640×1136
Download wallpaper:  1920×1080, 1366×768, 640×1136
If you like the fallen leaves and the colors of September, you have a chance to bring them to your workspace by downloading this desktop wallpaper.
Come back next month for a new calendar wallpaper, or submit your email address in the form below and we'll keep you informed next time we publish a new wallpaper!
[wpforms id="46972″]