5 ingredients that make online product catalogs awesome
Product catalogs are not new. In fact, they are older than you might believe. According to Wikipedia, one of the earliest recordings of a product catalog is in 1667, when William Lucas, an English gardener, mailed his customers a catalog featuring prices for his plant seeds.
Hundreds of years have passed since then, many catalogs are digital now, but the principle remains the same. Companies still promote their business and products through product catalogs. They still send customers product catalogs hoping that they will gain their interest and make a sale.

In what follows, I am going to offer some information about the benefits of using an online product catalog. I will also present the most important elements you should include in your catalog. Last but not least, I will share some great interactive product catalog templates you can find on Flipsnack.
Why does your business need an online product catalog?
It is important for any retail business, regardless of the domain, to facilitate purchasing options. This means making sure that customers have easy access to your products, and that they can easily buy what you are selling. For any retail business, an online product catalog is a plus because it means extra exposure for your business and extra engagement opportunities for your customers.
Let's see some advantages a digital product catalog offers:
Easy to share, access & edit
SEO benefits
Decreased cost
Keep track of statistics
Interactivity options
Easy to share, access, & edit
If one thing is sure regarding online product catalogs, it is the fact that they have simplified lots of processes. Things that usually would have taken days or weeks to be completed can now be done in hours. Take sharing the catalog, for example.
A regular product catalog sent by regular mail will often arrive in a few days. A digital product catalog, on the other hand, will arrive in minutes, and there are different sharing options as well. When using Flipsnack for your product catalog, there are all sorts of sharing options: through social media, as part of email campaigns, embed it directly into your website.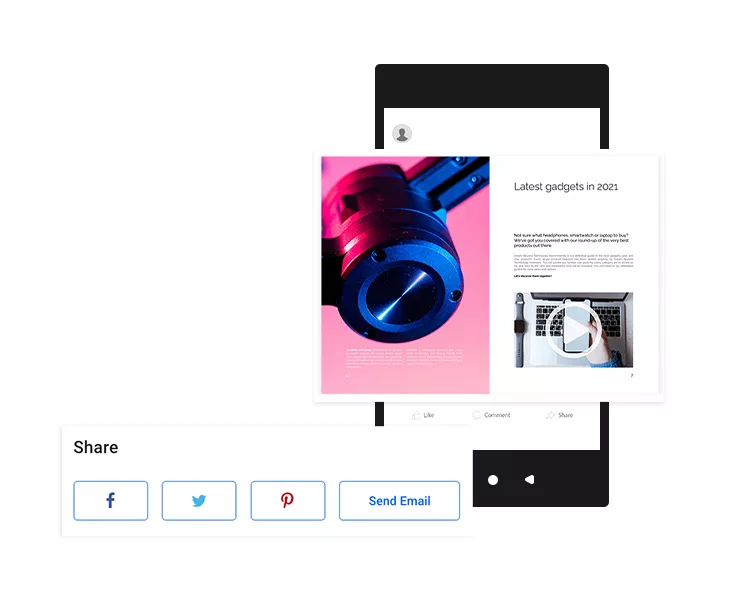 All these options make accessing the document just as easy as sharing it. This one applies more to the readers, but it directly affects your business as well. The easier it is for your customers to access your catalog, the easier it is for them to make a purchase. For this reason, make sure that the product catalog is properly optimized for any type of device. Make sure that the reading experience is the same on PCs, tablets, and mobile phones.
Digital product catalogs are easy to edit as well. Unnoticed mistakes might occur, and changes happen all the time. With a regular publication, if you spot these mistakes after the printing is completed, you are either forced to ignore them, or you have to spend money to fix them. That is not the case with an online product catalog, as any edit or update is a few clicks away.
SEO benefits
Since digital catalogs are often published on websites, they are useful for search optimization purposes. If the publication delivers high-quality content, designed for the readers, it might show up higher in search results. This will make it easier for you to expand your audience, as the product catalog might be accessed by people you usually do not target.
Decreased cost
By making and sharing your product catalog online, you eliminate a lot of the costs associated with the publishing process. No paper or distribution costs, the delivery is made online, simple, and efficient. On top of that, a paperless publication is environmentally friendly.
Keep track of statistics
One disadvantage of a traditional product catalog is the fact that there isn't a precise way to measure its effectiveness. It might be hard to determine if the purchase was influenced by the catalog, or by other factors. Unless you perform a survey, you won't know which pages your customers interact with more. Feedback is essential, and it is difficult to get one with a paper product catalog.
That is different when using an online product catalog, especially with Flipsnack. You can integrate your Flipsnack catalogs with Google Analytics and Google Tag Manager to track the performance of your online product catalog.
This allows you to see how well your publication is performing, how many people interacted with it, and in what way. You can see which devices people use when accessing your documents and from what location. How is this useful?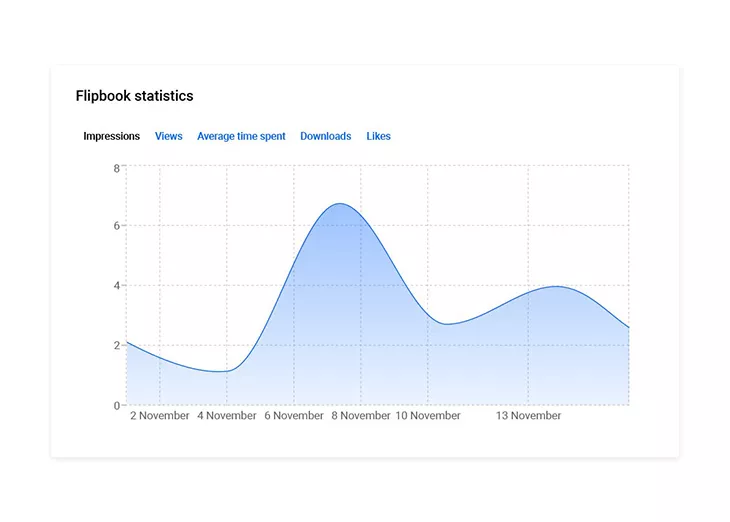 With this knowledge, you can make adjustments to your publications. It allows you to constantly improve the product catalog, keeping what works and changing or removing what doesn't. The better your digital catalog is, the higher the chances for the readers to interact with it. Speaking of interaction…
Interactivity options
Interactivity is what differentiates a regular product catalog from an online one. While a paper product catalog only features text and images, a digital one features all sorts of interactive elements with which readers can interact.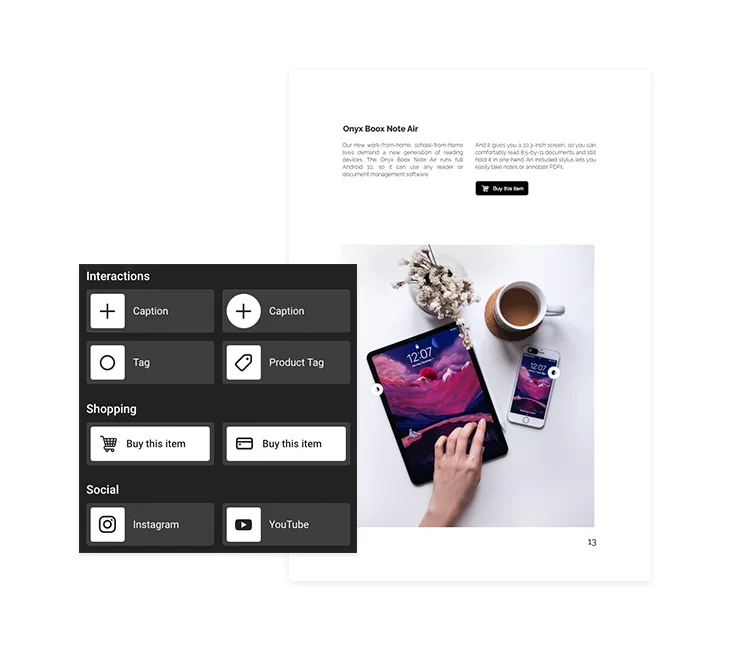 Each of these elements serves different purposes and is suitable for different types of publications. Some provide extra information (text, visual, audio), and others facilitate the selling process (product tags, shopping lists). Let's take a look at the 5 ingredients that make product catalogs awesome.
What makes a good digital product catalog?
I've offered some information about the advantages an online product catalog brings. Now, let's see which are the 5 ingredients that make online product catalogs awesome:
Product tag
Caption
Pop up frame and spotlight
Form
Shopping buttons and shopping areas
Let's take them one by one and get into more details.
1. Product tag
It goes without saying that the most important elements of a product catalog are the products. People browse product catalogs in order to see what's new on the market. If they see something that they enjoy, they might be willing to make a purchase. An online product catalog allows you to facilitate that purchasing process, and here's how.
When you create your product catalog in Flipsnack, you have the option of adding product tags. What are they? Product tags are interactive elements that you can place in your publication. They help you provide more information about the product, such as description, price, and call to action. You can also add up to 3 images per product tag, but the most important feature is that you can include the URL where the product can be bought from. If you don't have a domain for your website or blog, you can purchase a common domain (.com domain) so you can brand your flipbook links.
Why is this important? Because it allows the customer to buy products directly from the catalog. It simplifies the buying process. Instead of having to visit the website and search for the product, the customer is a few clicks away from making the purchase. The product tag provides extra information, helps the buyer save time, it is useful all around.
Besides, the product tags are also customizable, as you can change their color, and opacity, in order to make them blend in with the publication's design. The product tags also have a pulsating effect, which draws attention to them.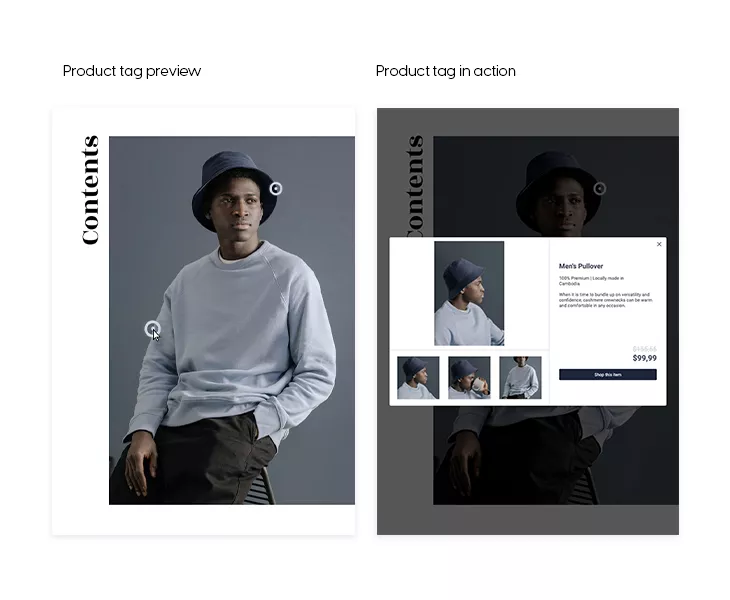 Here is an image of the product tag before and after it was clicked. As you can see, it contains the title, product description, the old and discounted price, and the three extra images. It also features the "Shop this item" call to action button. When that button is clicked, the page which sells the product is opened.
2. Caption
Creating a product catalog can be a challenge, as there are different things to take into consideration. How many products should you add? Is the information I added enough? How do you find that perfect balance between text and visuals? This is where the caption tag comes into play. The great thing about tags and captions is the fact that you can actually embed video in the text box using iframe embed codes.
Even though similar to the product tag, the caption tag serves a different purpose. The caption tag should be used to offer more textual information inside the page. You could place it on top of a product, in order to share some extra information about it. Share its story, share its design process, whatever you consider necessary. The caption tag is the perfect way to share some inside information.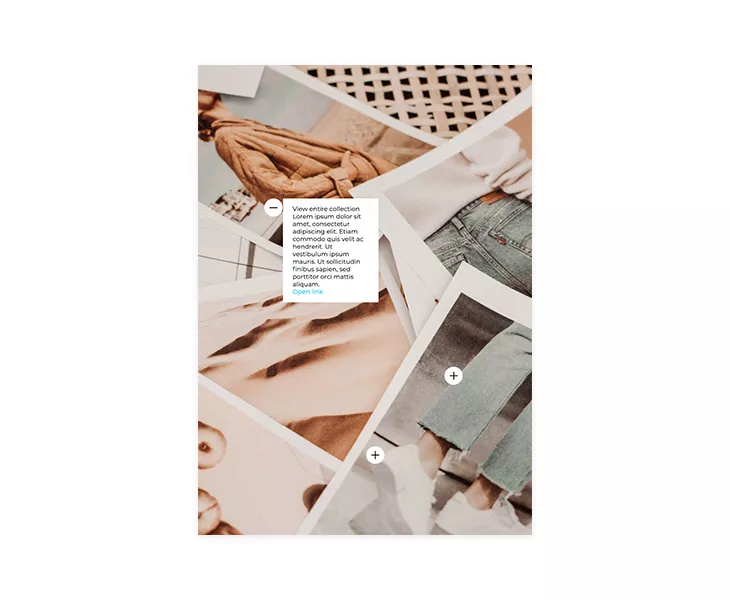 As seen in the image, the caption tag includes a block of text, which is revealed only when the tag button is clicked. The caption tag does not interfere with the design, as it is minimal and stylish. On top of that, the amount of text you can include is substantial. Just make sure that the copy you include is of high quality.
3. Popup frame and spotlight
Having access to extra information is important, but sometimes the reader might be interested in more than the text. The information you share can be visual as well, and this is where the spotlight and popup frame features come in handy.
While the caption feature is used for text, the spotlight feature is used for images, and the popup frame feature is used for all sorts of elements. How is this beneficial for your online product catalog? Once again, it is related to maintaining the publication's overall design.
Due to the limited space, images are often featured at a smaller size and resolution. The image spotlight feature solves this problem, as when the user clicks on it, a new larger and clearer image is opened as a popup.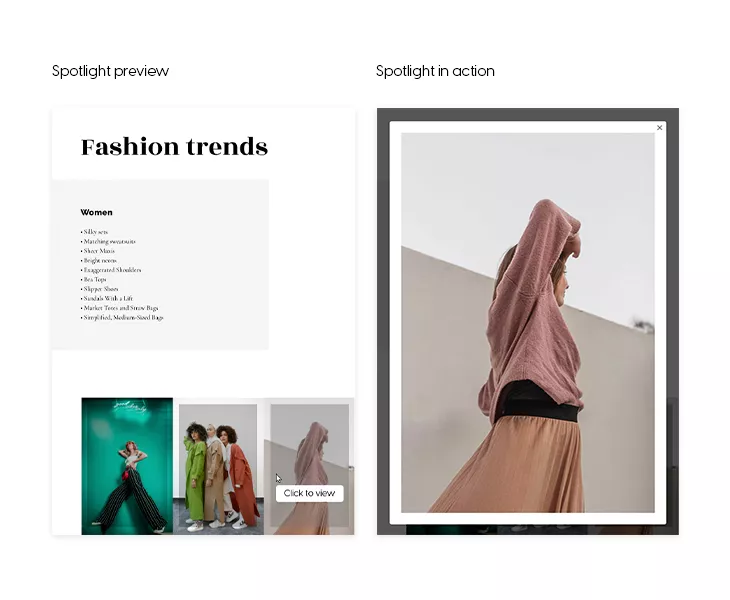 In this case, when the picture from the catalog is clicked, a larger higher resolution one is opened. Perfect for spotting every detail.
The popup frame is also great for "hiding" content directly on the page. Instead of embedding an element on the page, you can use the popup frame feature, and the content will be revealed with a click.
For example, you can place the popup frame on top of a product, and when the user clicks on it, a video featuring the product will appear. Or an audio description, or an image slideshow. There are lots of elements you can include in the popup frame, depending on the needs.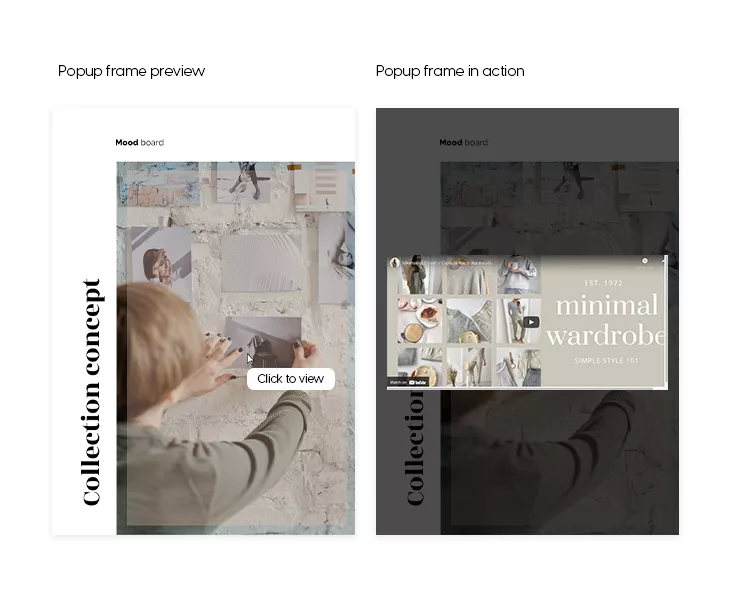 Here is the popup frame feature. When the user clicks on the popup tag, a video is opened. As with the other interactive elements, you can edit the call to action message, and set the transparency (in this case the popup frame is barely visible).
4. Form
Forms are an important part of an online product catalog, as they can help you extend your subscriber list. There are two ways you can use them in your publications. You can either add them at the beginning of the publication, thus locking the document until an email is introduced, or you could add them at the end.
The former option might be counterproductive, as readers might not appreciate being forced into sharing their email addresses. Maybe the latter would be the better option. If you deliver a high-quality online product catalog, the readers will be more than willing to receive your publications in the future.
Regardless of the method, the information the user enters is saved in a CSV file, which you can download and use. Now all you need to do is send them your newsletters. As I already mentioned, the statistics feature will then allow you to see how people interact with your documents.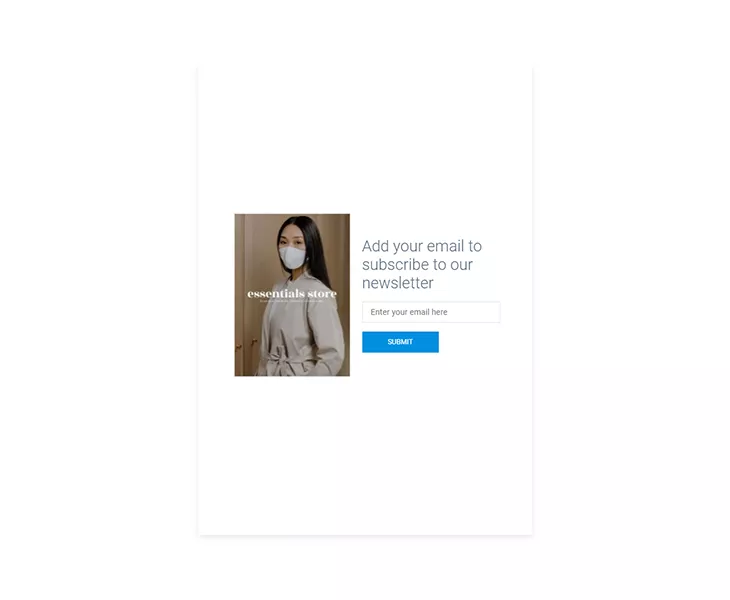 Here is the lead form in action. It contains an editable call to action, and the submit button.
5. Shopping buttons and shopping areas
Shopping links are essential for any online product catalog especially since the pandemics changed the dynamics of online sales. Any e-commerce business knows how important their online presence is since most of us are shopping mainly online now. The ultimate goal of an ecommerce product catalog is to increase sales, and one of the best ways to achieve that is by simplifying the selling process.
Once you have finished the catalog design, you can add shopping buttons and shopping areas in the catalog. Then you can customize them with product information such as price, quantity, and currency. You can also include images and create custom CTAs for each product. You decide what information to include for each product.
Calls to action aren't just important for business – customers want and expect them.

Kyle Martins
Additionally, you can also change what happens when a customer clicks on one of these elements: either open a popup window with the product information or add the product directly to the shopping list.
Regardless, the shopping list feature speeds up the selling process. Your clients can create and download the shopping list directly in the catalog, during the browsing session. Once they download the list, they can send it to you either for a quote (depending on whether you included product prices or not) or as a purchase order.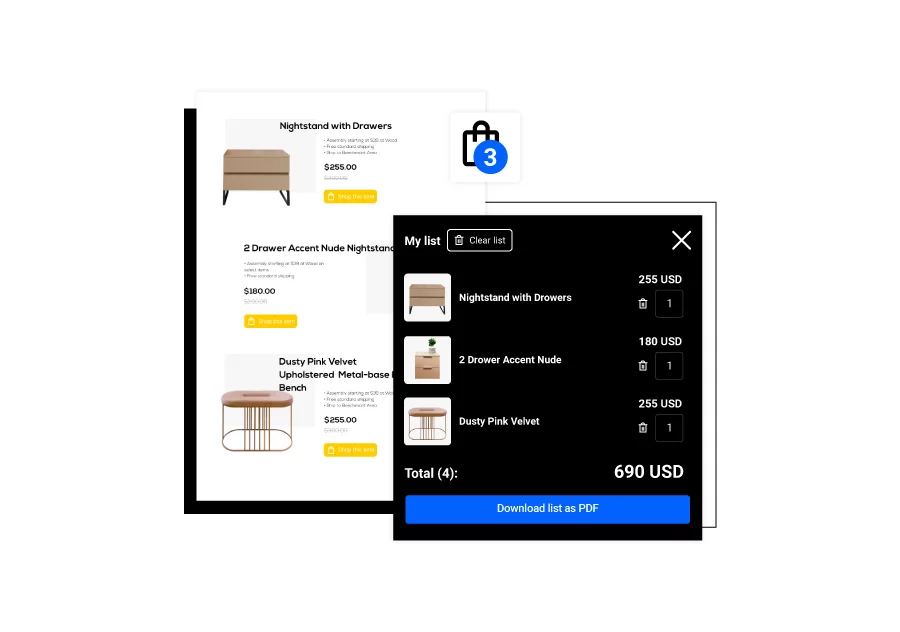 Here is a page featuring the shopping buttons. As you can see, they are placed individually for each product. When a client clicks on the button, the item is added directly to the shopping list.
There you go, these are the 5 most important interactive elements you can add to your online product catalog.
Here is an embedded product catalog that features some of the interactive elements I mentioned.
As a bonus: add the finishing touch with automation
Now that I've mentioned all these elements, let's see how you can take advantage of your online product catalog even more. The amount of included products depends on the size of the catalog. If your catalog features ten products, adding them manually won't be such a drag, but if your catalog has hundreds of products, you will need to speed up the process.
Flipsnack offers a solution to that problem, and it is called automation. The process isn't complicated: you connect your data source to Flipsnack, create dynamic fields, and then drag and drop the products into their respective fields. You can even design branded templates, or use one from Flipsnack. This way, you won't need to worry about the design, the only changing variable is the information from your database.
Digital product catalog templates
Since I've offered information about the 5 most important elements, it is time to see how you can use them when designing your publication in Flipsnack. You can choose from a large selection of templates which you can then edit in Flipsnack's Design Studio. If you feel inspired, you can even create your online product catalog from scratch.

That being said, let's take a look at some of the interactive templates you can use in Flipsnack. I've made a selection of 5 examples, but there are others as well. In order to see the interactivity features, you will need to click on "Use this template".
Interactive Food Catalog Design Template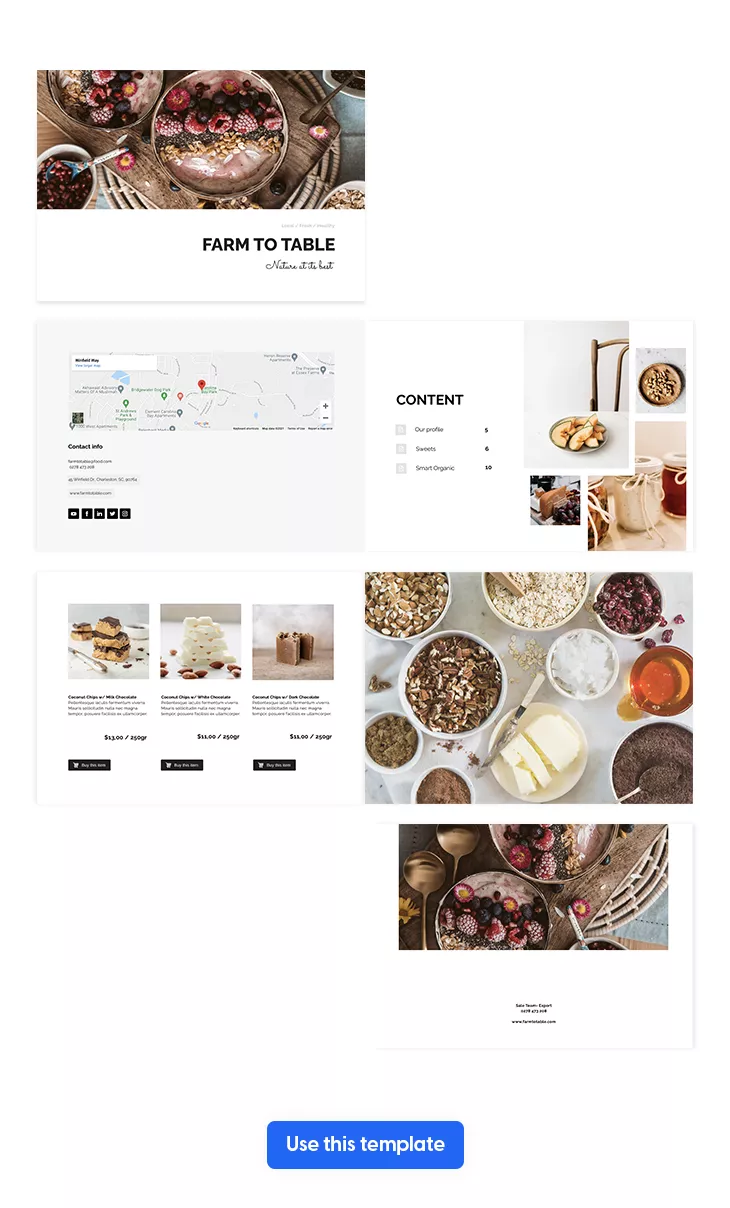 Let's start with something delicious: an interactive food catalog template. The template features an embed element that can be used to add a map of the business' location. Moving on, we have the links that redirect to certain pages in the catalog, an embedded video widget, and the point of interest – the products section which features the shopping buttons.
Captions could be added to each product, maybe to offer some nutritional information about them, or maybe a little bit of trivia. The spotlight feature could be placed over each image, either to share a more detailed image or maybe to share a dish featuring that particular product.
Interactive Make-up Product Catalog Template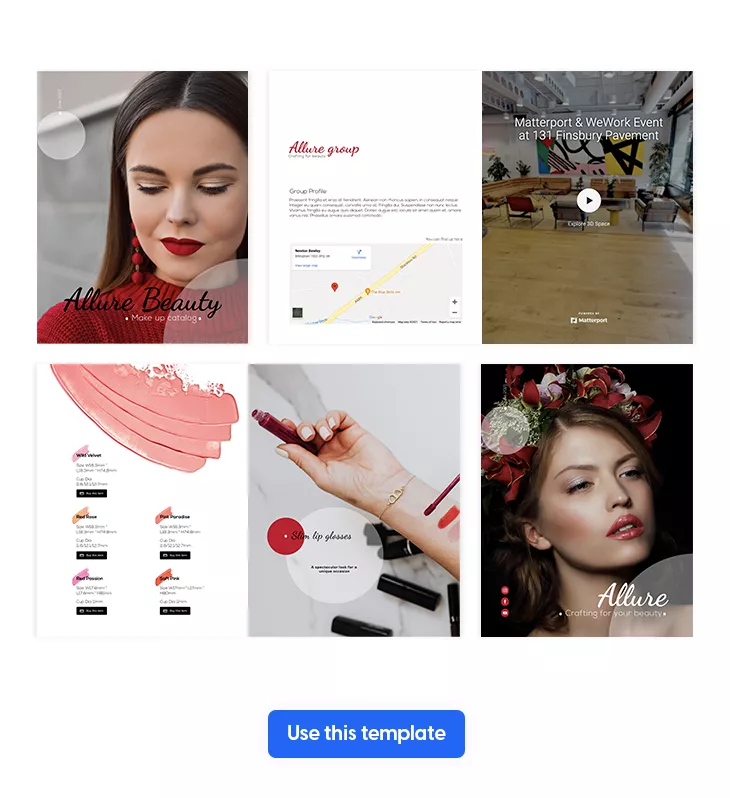 This interactive makeup catalog is a little different design-wise, but let's take a look at some of the interactive elements it contains. Once again, there is an embedded map of the location and an embedded virtual tour of the place. This way, the reader can actually "visit" the location. The product section contains the shopping buttons, and the social media buttons are also present.
The popup frame could be used on the products: maybe a makeup tutorial featuring the product. Or the caption tag, to reveal some extra information about each make-up product.
Interactive Technology Magazine Template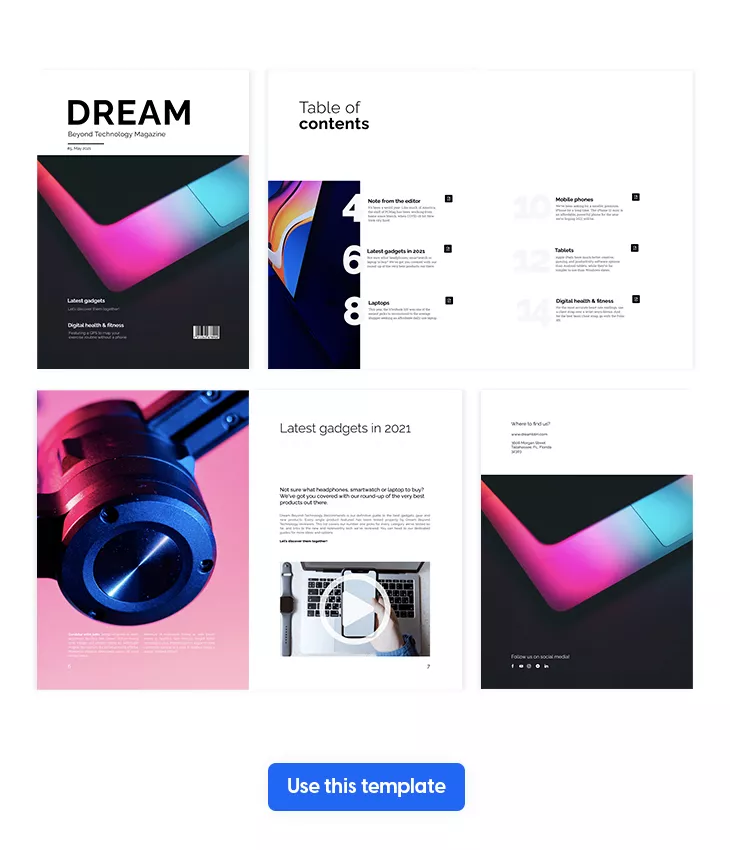 This example is of a tech-related interactive technology magazine template. Even though not a catalog, the interactive elements still work flawlessly. The elements included in it are the "go-to page" hyperlinks for different categories: mobile phones, laptops, and so on. This allows the reader to click on the section they are interested in and then they are automatically directed to that particular page. There is also an embedded video featuring the latest gadgets from 2021.
Interactive Fashion Catalog Template
This interactive fashion catalog template makes full use of the elements I mentioned in the article. First of all, there are two product tags, one for the blouse, the other for the hat. Then, there are the "go-to page" hyperlinks. There are also captions for the product, the shopping buttons, and finally, the contact details. There isn't any more to add here.
Interactive Beauty Products Catalog Template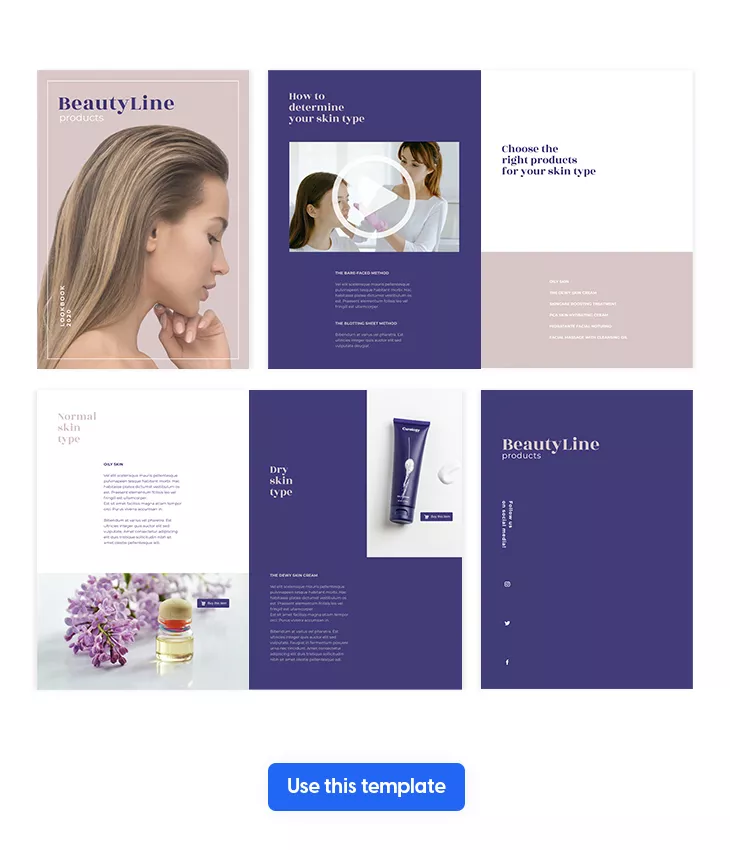 Visually, this beauty products catalog template is very simple. It uses few colors, and the pages aren't crowded with text or images. Regarding the elements, it uses the shopping buttons, the contact details, and a nice tutorial video of the product. Sometimes less is more, and this rule applies to this catalog.
There you go; these were just some examples of interactive templates you can use in Flipsnack. There are more to choose from, and they are suitable for a large variety of needs.
Conclusion
An online product catalog is a useful tool for any business. It offers the opportunity of promoting your products, and it is a means to engage with the customers. In addition, the possibility of making the catalog interactive is neat, as it opens up possibilities a regular catalog cannot.
Now that you know which elements to include in your Flipsnack catalog, it is time to work on your own product catalogs.