8 takeout menu templates to build an appetite
These days, takeout menus are probably one of the most important marketing tools any restaurant can use to keep the business going on despite this pandemic crisis the whole world is facing.
Since dining out is no longer a viable option, the entire food industry had to find new ways to adapt to this unprecedented situation. From hotels, restaurants, food trucks and coffee shops, small to big food chains, everyone had to find new creative ways in which to survive. And they had to do it fast.
The go-to solution for most of these restaurant businesses was to build a safe infrastructure for delivering their food.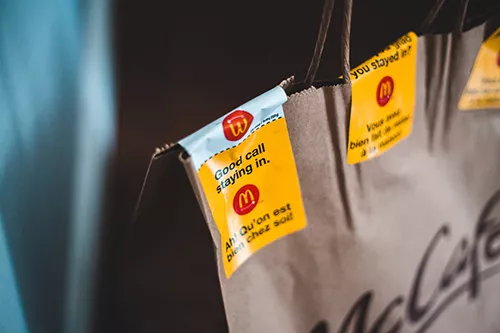 Trying to keep businesses afloat, many restaurant owners had to find clever solutions to keep their stoves burning and their customers fed. While some of them created new takeout menus made out of their best selling dishes, others transformed their eatery into a grab-and-go store.
And so, the question is:
How to create a takeout menu?
One of the most important aspects of putting together an efficient takeout menu is to only have items that travel well. Food that might get cold or soggy when kept in a takeout container for too long, like french fries, should be taken off the list. Or maybe soups that could spill during the transportation.
Also, in these hard times, comfort food is something that must be taken into consideration. Everyone is coping with this stressful situation differently, but for a lot of people, comfort food is just what they need. Mac and cheese, freshly baked pizza, spaghetti and meatballs or something similar to mum's casserole. Food for the soul. Make an easy assessment and see what your restaurant can provide that fits in this category.
Include options for the entire family, something that can feed four or five people at a time. Similar to the classic KFC bucket. Many households are struggling to make ends meet, these days, so it will help your business tremendously and the community as well, to think about this important aspect. Remember that during these hard times, empathy is key. So keep this in mind when creating your takeout menu. I'm sure people will remember your restaurant months after this entire situation is gone, even if you won't make much profit out of these family meals.
8 takeout menu templates to build an appetite
Any restaurant owners here? We've got your back!
Because putting together a takeout and delivery menu is already stressful enough for you, we'd like to do more and help with a collection of ready-to-edit takeout menu templates. You can easily edit any of these to make sure you create an appetizing menu for potential clients within minutes so you can get back in the kitchen.
1. Customizable take-out pizza menu template
Could this be an article about take out menus without the good old classic pizza menu? I mean, we were just talking about comfort food and pizza can easily get in the top 3 universal comfort foods. So, if you own a pizza place or you recently transformed your business into a pizza joint, this one's for you. Honestly, the only thing you need to do in order to customize this takeout pizza menu is to add some delicious photos of the pizza you are making. People will want to see what they're ordering. Make sure you don't disappoint them.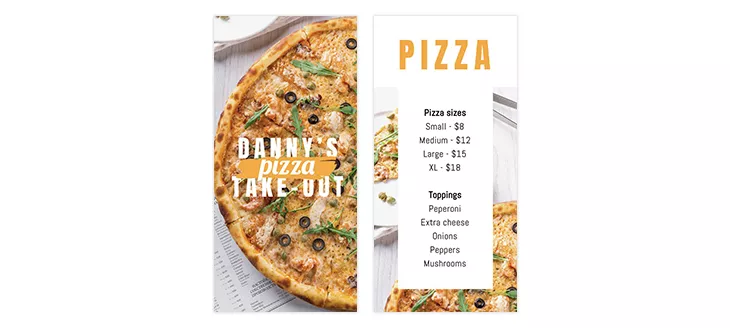 2. Mother's Day menu template
Even if you can't organize events like you used to when all the restaurants were open, this doesn't mean you can't adapt and make a special menu for Mother's Day. People will still want to find reasons to celebrate. Especially when it comes to such a big event like Mother's Day. And while you're at it, you can also get creative with your specials and take things even further. For example, use a hashtag to spark conversation about the food that was gathering all your family around at the table.
Even if you don't do all this, this template can be easily used as a takeout menu. Click the image below to get a bit creative.
3. Beautiful take out menu template
What are the main ingredients of a successful takeout menu? It could be the delicious photography of the food you're selling, or maybe a nice layout. Or, it could be the perfect diverse food that your customers are looking for. While we are not experts in putting together a successful takeout menu, in terms of business strategy, we can help you with the take out menu design. And this template is the perfect example of that. With a clean layout, it's got enough space to make it your own. So, you may want to give it a go and share it with your potential customers.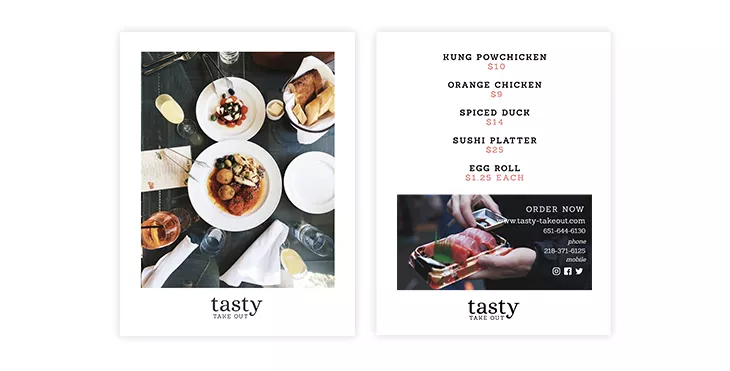 4. Illustrated Mexican menu template
Who doesn't love Mexican food? Chicken fajitas, huevos rancheros, bean tacos are just a few of the dishes that people love to indulge. Even if your restaurant is not cooking Mexican on the regular, you can use special days like Cinco de Mayo to play around with some Mexican spices and offer your customers some Mexican flavored dishes. And while you're at it, you might want to advertise this through a personalized Mexican takeout menu. Why not use this template? It will make your life easier so you can hurry back in the kitchen. Happy cooking!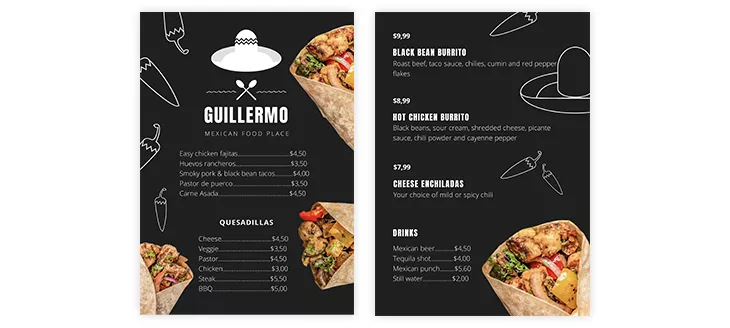 5. Curated cuisine menu template
As we already discussed, it's incredibly important to have a smart strategy when assembling your takeaway or delivery menu. Think of it as an intersection between food that's easy to produce, easy to carry, comfort food that will not cost a fortune. Mostly because if you are going to work with a delivery service, they will also apply delivery fees, so take this into consideration. This "Curated cuisine" menu helps you display your dishes, giving potential customers a taste of what they are about to order. Whether you're including pancakes as a dish in your menu, as this template is showcasing, or not, make sure to add appealing food photography.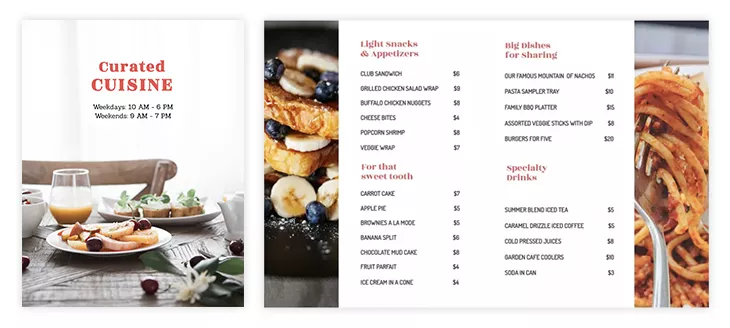 6. Father's Day meal menu template
Usually, Father's Day is a wonderful occasion to take your father out for a celebratory dinner and a beer. As a restaurant owner, you may want to still take advantage of this special day. Even if people are no longer able to physically go out for dinner, they can order takeout and have a special treat in the comfort of their own homes. So, you may want to adapt your business and cook something special they can enjoy with their father. Edit this Father's day takeout menu and get creative with your dishes.
7. Elegant catering menu template
For many catering businesses, this pandemic crisis came with a lot of cancelled events. So, in order to survive and make ends meet, they had to adapt to the new normal. Many of them decided to act as non profit organizations, delivering food to those working on the front lines. Like medical personnel, police officers, firefighters and more. Of course, it's not easy to get support and collect money, but perhaps if you're in this situation, your concern shouldn't be designing flyers to ask for support or your catering menu. You can successfully use Flipsnack for that. Grab this catering menu template to use as a layout for your everyday use.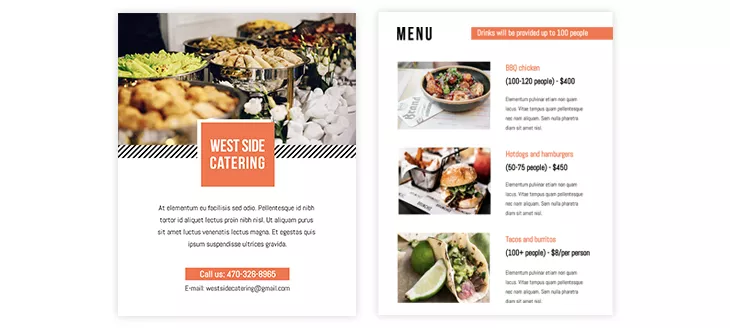 8. Printable trifold menu template
As a restaurant business who is struggling to keep his business alive these days, any help is more than welcome. Good news is here. While we can't give you food and business advice, we can offer you this printable take out tri fold menu template for free. So, take the stress out of designing and advertising your new menu and focus only on keeping the stoves burning and the communities fed.

Conclusion
With this unprecedented situation this entire world is facing, it's difficult to predict how restaurant business will get back to normal. But perhaps what all of us can learn from this is that in order to survive and keep things moving forward, we should react and adapt in the best way we know how.
For restaurant business owners, the main concern is all about taking the best decisions for their business every day. While for some of them, this might mean putting everything on pause and resume whenever possible. For others, keeping the kitchen open means making clever decisions for their staff and customers.
Either way, what everyone should remember these days is that we're all in this together, doing the best we can. What this means is that Flipsnack will definitely be the go-to online tool to help you design a well crafted takeout menu within minutes.