Best mobile magazine apps for publishers
Ever been in an airport browsing through hundreds of magazines at the nearest newsstand, confused about what to read on your next flight? Browsing through a multitude of newspapers and magazines that you simply can't choose from. Been there!
And I know how it feels. Especially if you're into newspapers and magazines like me.
But most importantly if you're in the publishing business, you may want to grow your exposure, gain more influence and, let's be honest about it, sell more. This article is for you. And it deals with the best magazine apps for publishers exactly like you.
But how do you sell more magazines or newspapers if you compete with big media outlets who have the power to be everywhere? In airports, coffee shops, malls and so on. In print, digital and most importantly, they have native magazine apps for each major publication under their portfolio.
Take a look at Conde Nast, for example.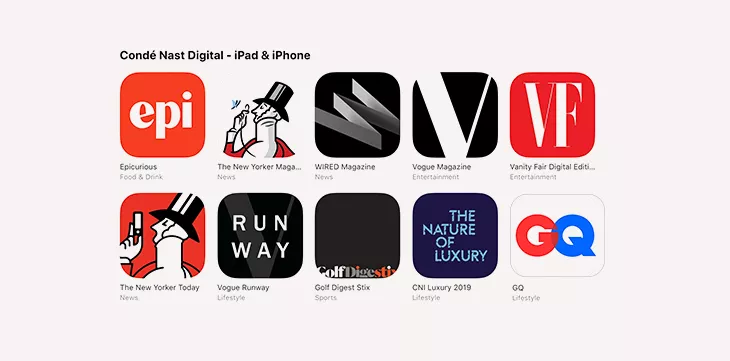 At a brief search in App Store and Google Play, you'll find no less than 10 mobile magazine apps under the Conde Nast brand. Which can only mean that these big media outlets understood that native app magazines are the next big thing if you want to always stay connected to your readers.
What are native magazine apps?
Some publishers prefer to create their own native magazine apps. And have total control of how they distribute the content.
Native apps are a great way for publishers to offer the ultimate reading experience and share their content in the most organic way. Because they have total control of the way the app looks and works like. Even the way they monetize their content by analyzing what sort of content is more popular among various segments and pulling in dynamic, personalized ads. But some of these magazines like Vogue, for instance, work on membership. You can either buy an individual number or an annual membership and enjoy Vogue all year long, through just a few clicks, directly on your smartphone.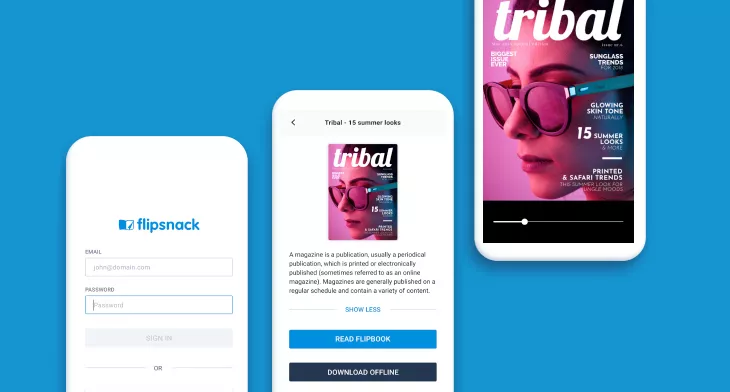 But you see, as a smaller publisher who's just struggling to make ends meet, it's very difficult to create your own native magazine app. Mostly because developing your own mobile app takes a lot of time, knowledge and, of course, money. The approval process can get quite frustrating. To get your app up there on App Store or Google Play will take a bit of time. Not to mention promoting it, getting good reviews and people to download your app. It all takes quite a bit of tedious work.

Don't worry though! It's fine not to take the plunge and choose to publish your content differently. There are so many other options that can help get your content to the right audience for you.
How to choose the right magazine app for your content
There are so many things to take into consideration when deciding to start an online magazine of your own. From content management to revenue model and so on. I'm not here to go into the specifics of building an online magazine from scratch but more so what to do with it after it's ready to see the light of shelves. Physical or digital.
How exactly to choose the right platform for your online magazine when you are just starting out? Or perhaps you've tried a few platforms and nothing fits quite like a glove. But it all depends on your goal, mostly. You may want to grow exposure and get your content out there or you may want to increase sales. Or even both.
Web or app? This is the question.
Again, it depends on your goals in publishing. If your purpose is to drive maximum impact with not that much of an effort or money because you can't afford to hire a team of developers, creating a magazine online and sharing it with your audience may be the right choice. And the best part about it is that you can easily create an online magazine on your own. No coding skills required. Or design skills of any sort, for that matter. With the help of magazine templates, the world of publishing is at your feet.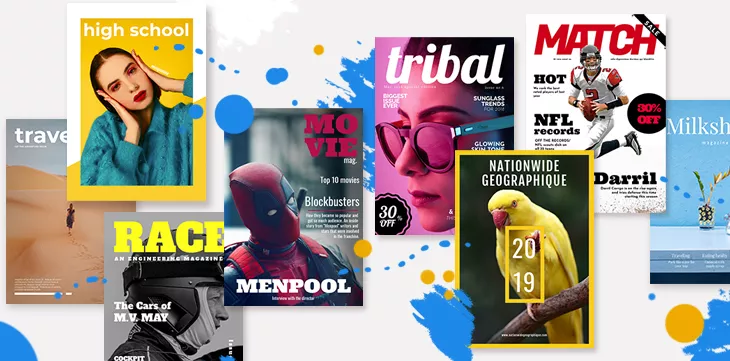 When using Flipsnack, take into consideration that you can add rich media elements and page flip effects for an extra layer of interactivity. And when you are done, the sharing possibilities are endless. You can embed it directly on your website or download it as HTML5. Or share it with your social media following.
In the battle of web vs app, the most important factor should be responsiveness. The format in which you decide to share your precious content with the world should be responsive. That means the same content should work seamlessly on every device. Being web or mobile app, the way readers interact with your magazine should be flawless. There is no room for getting your readers frustrated.
But when it comes to choosing the right format for your online magazine, web or app, you don't have to choose. With Flipsnack you can do both. But more on this later.
Best mobile magazine apps for publishers
Does every magazine need an app of its own? Well, the answer is: depends.
If you can't afford to develop your own native magazine app, don't panic! There are numerous publishing apps that will help with getting your valuable content out there in the publishing realm. And some of them are perfect for creating your own magazine from scratch.
But what do you do after your online magazine is ready to see the light of day? How do you get it in front of your audience?
There are multiple platforms you can choose from. Let's dig deeper into these services and explore all the best magazine apps out there. If you decide to choose this route, be patient. In some of these cases, you will need to go through a verifying process before your magazine gets listed.
Amazon Kindle Unlimited
Zinio
Issuu
Flipsnack
Amazon Kindle Unlimited
Did you know that Amazon gives you the possibility to publish independently with Kindle Direct Publishing and, this way you get to reach millions of readers on Amazon? So, it only makes sense to be present in there with your magazine. One of the best magazine mobile apps for publishers, Amazon Kindle Unlimited will definitely offer you exposure.

Here's how you can set it up:
Visit the Kindle Publishing for Periodicals page and click the "Request to Become a Beta Publisher" button. Fill out the request form with all required information, selecting "Magazine/Journal/Newsletter" as your publication type. Type in the name of your magazine, language and your contact information to complete the application.
Click "Submit" to send your application to the KPFP review team. (It will probably take more than 24 hours or even longer before you hear back from the review team).
Log into your Kindle Direct Publishing account and set up a product cover image for your magazine, contact info and some general description of the magazine.
Once you submit the magazine info for review it can take up to a few weeks for a new magazine to be added in the Kindle Unlimited network.
The best thing (and probably, the worst) is that by publishing your work on Amazon Kindle Unlimited, your magazine has the chance of being viewed by millions. This could also be a bad thing because of the high competition on the platform. You get to compete with the big publishers whose magazines will always be in the popular section.
Zinio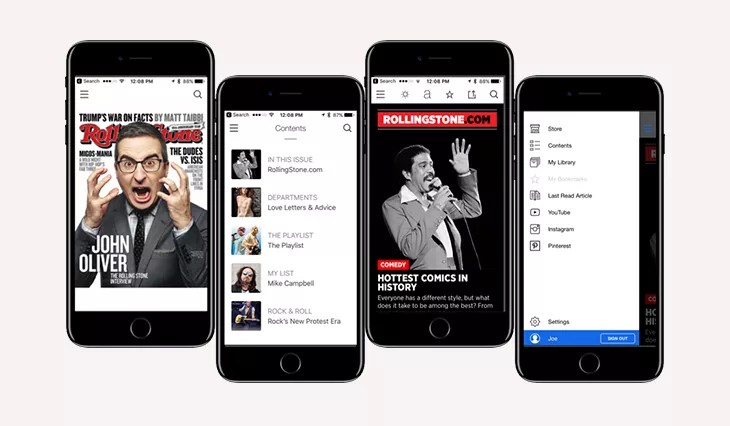 Zinio is this big publishing platform who offers complete packages for magazine creators. Through Zinio Pro, you can convert PDF to XML, and manage your content, offering you complete flexibility through native magazine apps for tablets, smartphones and desktop.
While offering you a great deal of freedom and flexibility when it comes to the way you create and distribute content, publishing through Zinio will be quite confusing. While doing my research for this article, I couldn't find much about Zinio prices or guidelines of what it takes to become a publisher on their platform. Try getting in touch with them before submitting your content. That way, there won't be any surprises.
ISSUU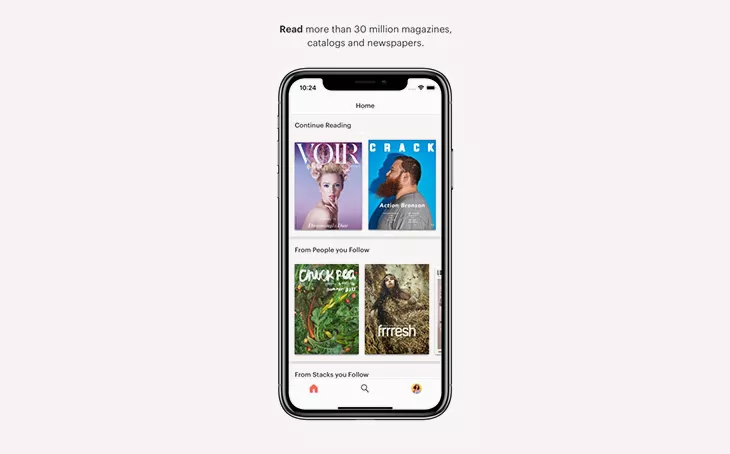 Probably one of the oldest digital publishing platforms on the market, ISSUU could be a great place to publish your content. The main advantage of publishing on ISSUU would be that your content can get a lot of exposure. But it could be a disadvantage too. Just like with Zinio, if you don't optimize your content for SEO, there is a high chance that your publication will go unnoticed and you will be the small fish swimming in a big pond.
Also, what's cool about ISSUU is that you can directly share one of your magazine's story as an Instagram or Facebook Story. Of course, all of this comes with a price. And for rather small publications, this can be quite expensive.
Flipsnack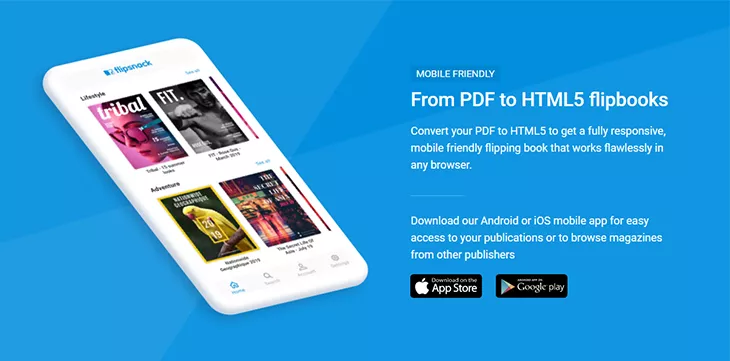 Not to brag but Flipsnack's got the best of both worlds. Not only you can make your own magazine online, from scratch, but you got the chance to put it up for sale. Flipsnack is an all-in-one digital publishing platform.  You can easily create your own magazine, publish and sell it (individual copies or subscriptions). And when it comes to exposure, just think about this: Flipsnack has, on average, 2 million visits, on a monthly basis. So, there is a big chance that if you publish your content on Flipsnack, you will gain exposure and eventually sell more. 
Did I mention our mobile app? Here's how Flipsnack app can help you with all your publishing endeavors. Also, for the clients who decide that it's time to put money and effort into a custom magazine app, we provide this feature through our Enterprise plan.
Flipsnack app allows you to:
Read and download publications on the go! And the coolest part is that you can download them for offline reading, for when you don't have any internet connection.
As a creator, you can easily keep track of your own publications. With a simple tap of your finger, you can see and read your entire flipbook library.
Publishers can also view and manage followers easily. With the mobile app, you can see everyone who's following you, everyone that you're following, and manage each and every one of them.
When you purchase a flipbook on Flipsnack, they will also appear in your mobile app. And you can read these anywhere at any time.
This app is still in beta. In the near future, we are going to be adding loads of amazing features to help you get the most out of the experience.
If you have any suggestions on how we can improve the app, feel free to let us know. We're always looking for creative ideas.
So, when it comes to choosing the right mobile magazine apps for publishers, Flipsnack's mobile app is definitely a strong contender.
Conclusion
No matter which publishing mobile app you're going to use (although, we truly recommend the Flipsnack one), keep in mind that content is king. Even if the distribution is nearly as important, your content is what's going to make readers come back for more. If you excel at coming up with engaging content, you will most definitely sell more, you just need to find that perfect distribution model for you.