How to create amazing holiday-themed catalogs
Whether we like it or not, holidays are just as much about spending money as they are about spending time with our families. According to statistical data, small and medium-sized businesses and retailers make 20 to 40% of their annual sales in the last two months of the year. Also, about 55% of the people plan to go shopping on days such as Black Friday or Cyber Monday. If you own a retail business or an e-commerce store, holidays are an ideal opportunity for you to boost your bottom line. And one of the best tools you have at your disposal during that time is holiday-themed catalogs and magazine gift guides.
If done right, they can showcase your products, inspire your customers to purchase them, and help you stay ahead of your competitors. However, putting together holiday gift catalogs involves a lot more than simply rounding up all the products that you have to offer, even with all the tools and technology at your disposal. In order to figure out how to create a unique holiday gift guide for your blog, and to handle the holiday season like a boss, check out our list of seven things you need to do in order to create an amazing holiday catalog gift guide.
1. Make use of sales data and trends
Now, you can assume to know what your potential customers want from your business or brand during the holiday season, but that will most likely turn out to be a hit-and-miss affair best. According to Gary Barnes, who works in the marketing department for EssayOnTime, the only way to really know what the shoppers want is to take a look at sales data, as well as what's trending during the holiday season.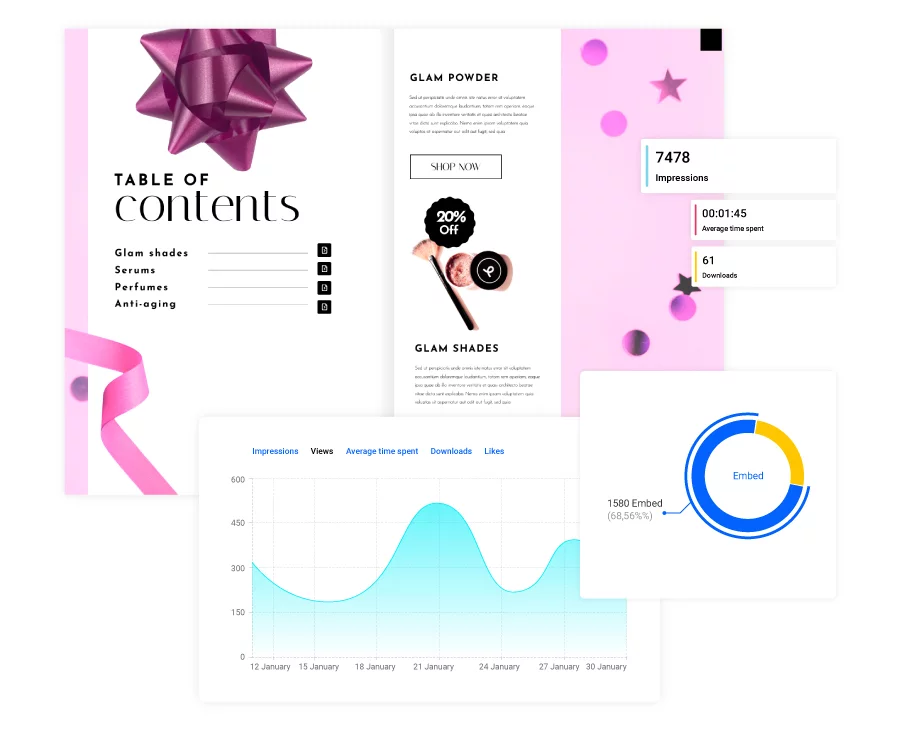 For instance, you could take a look at the sales reports in order to determine which items are your top sellers, and they round them up in a separate section of your catalog, such as "Our Favourites", "Best Gifts", and so on. Also, you can showcase products based on different categories, such as gender, which would allow you to target that specific segment of the market.
Also, there are items and products that seem to become really popular all of sudden for some reason. By keeping an eye on what's trending in your niche or close to your location, you can use those trends to your advantage and curate products that reflect those temporary crazes and fads.
2. Ask your customers about what they want
You should keep the guesswork to a minimum when it comes to your audience and their needs. Sometimes, the easiest way to figure out what your target audience wants is to simply ask them. This is where you should leverage the power of your social media accounts. Platforms such as Facebook and Twitter allow you to create polls and surveys. That would the most obvious way to do it.
A subtler way would be to start posting images of your products and see how your audience reacts to them. Not only will you have all that poll data at your disposal, but you will also engage your customers and spark a conversation, which can be full of useful bits and pieces of information since people love to voice their opinions about anything on social media. This is yet another reason why your brand should develop a strong social media presence.
3. Talk to your suppliers
Relying on sales data is great, but if you are selling other people's products, rather than your own, you are not going to have a complete insight into the minds of your intended target audience. Apart from looking at sales figures, you should also get in touch with your suppliers. Sure, you may already have a list of items that they supply you with but taking it one step further and asking them about what their best-sellers are at the moment could open up new opportunities for you.
Their data and insights, in addition to your own, will serve as a guideline when deciding on which products should make the cut when it comes to your holiday guide. Also, this sort of transparent communication between you and your supplier will improve your relationship and you may end up getting a much better deal on your future orders down the line.
4. Offer product bundles in your holiday catalog
According to Adobe Analytics, online shopping sales have reached a new high during the 2017 holiday season, with customers spending a record $108.2 billion, which is 14.7% more than the 2016 sales numbers. People are willing to spend more each year, and your holiday catalog should do a good job of encouraging them. One of the most effective methods would be to put together product bundles that include complementary or related items. For instance, you can bundle stuff like makeup, perfumes, and anti-aging creams. This is also known as upselling your products.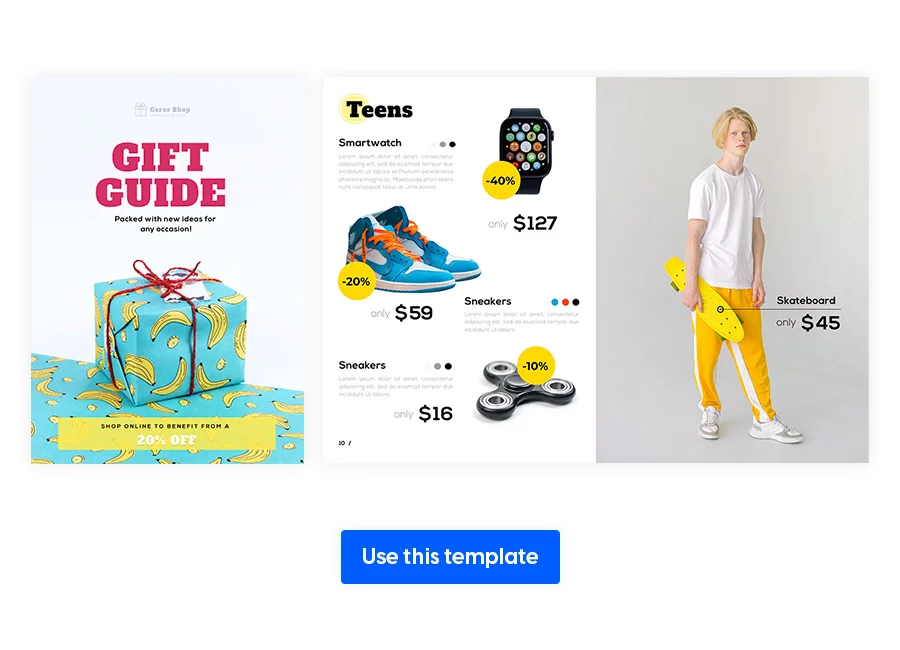 You could make your Christmas gift guide even more effective by categorizing those bundles based on different criteria. For example, you could have different bundles for men and women. Or you could come up with several different bundles in order to cover the entire price range. That way, you could appeal to your entire audience, whether they are looking for value bundles or high-end sets.
5. Provide your customers with an exclusive behind-the-scenes look
By providing your customers with a glimpse behind the curtain, you are enabling them to connect with your brand or business on a more personal level, which could be just the thing that makes them decide to go with you, and not one of your competitors. Use your catalog to say a few words about who you are, what you represent, and what your goals are. Let your bio act as an intro section of your gift guide.
To make your business even more personal and relatable, you should also include some high-quality images which show you and your team hard at work, trying to provide the best possible experience for its customers. But, at the same time, you should make it light-hearted, because after all, holidays are about joy and togetherness. Keep things brief inside the catalog and go into more details on your blog and/social media accounts.
6. Improve the shopping experience with a shopping list
Regardless of how you used to do things in the past when it comes to the online shopping process, there is a much easier way to sell products. Especially when it comes to making the most of your holiday marketing campaigns.
Let's take this Black Friday product catalog template as our guideline. With a shopping list, integrated directly within your holiday-themed catalog, your customers can click on any item. From here on, they will either experience a pop-up window with more information about the product or they'll click on a button so the item can be sent directly to list.
When they're finished browsing the catalog and picking out the desired items, they can see everything that's in the list, before downloading it as a PDF. The customer will have all the information before deciding on buying a product or not. More product images, the title, description, and the price, of course.
You may find it useful to leave the Enable quantity box checked, to allow potential customers to buy more items of the same product. The whole process is quite intuitive, so you don't have to worry about any confusions or mishaps. Check it out today and be prepared for the next holiday!
7. Make sure your holiday-themed catalogs look good on any platform
Regardless of whether your holiday catalog will be handed out in digital or physical form, it needs to look great. We are talking about the design, layout, as well as high-quality images, which are an absolute must. But we are also talking about the fact that people these days have a choice between many different platforms and channels. Both when it comes to content consumption and shopping. This means that your catalog should look equally great on both desktop and mobile screens, as well as on all social media channels.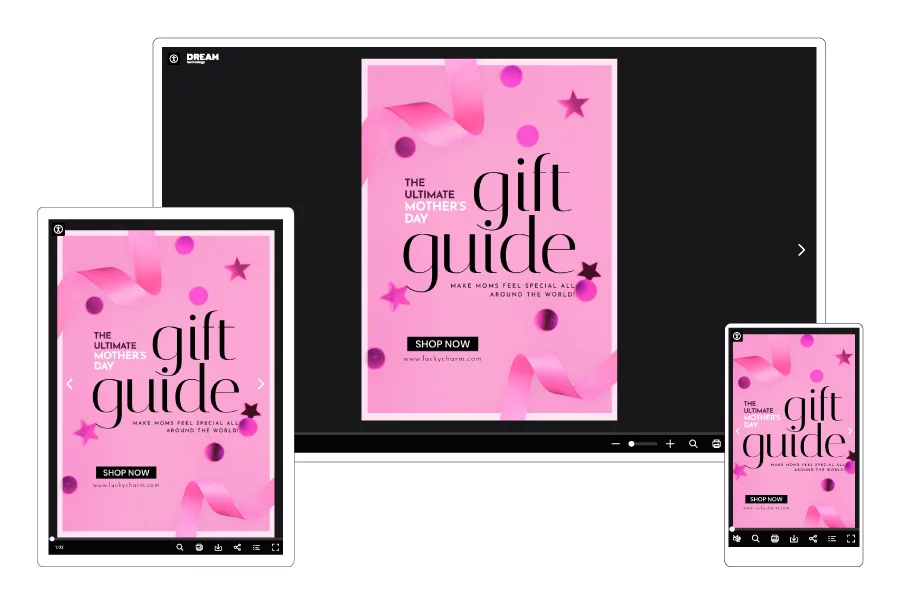 If you are thinking about prioritizing mobile since Google does that with its mobile-first indexing, think again, because this is not about ranking, but about your audience's habits. Some simply prefer to do their shopping on a larger screen, and you should do your best not to exclude them by focusing more on mobile shoppers. If you are giving out printed guides, make sure that they are printed on high-quality paper. Otherwise, if you are handing out something that looks like cheap newspapers, most users will end up discarding them, and your hard-earned money will go to waste.
If you decide to spend a little more, you can expect to get a lot more in return. After all, your catalog is a reflection of your brand, and once your audience sees how much effort and money you have put into your catalog, they will be more inclined to think that you have done the same when it comes to your products and your customer service.
8. Invest in video
If your business can afford it, you should invest in video for your gift catalog. Not only is video extremely effective at engaging your audience and driving traffic to your website/online store. But it's also great for demonstrating all the features of your products in great detail. Providing original, high-quality images of your product is great, but they are static and don't really tell much when it comes to your product being used in real life.
Video, on the other hand, would allow you to show how your product looks and works, and what your audience can do with it. Aim to provide value with video, because a simple unboxing clip will not help much if they want to find out more about your product. Use it for real.
Conclusion
Holidays may be the most stressful of the year if you are a business owner, but they do provide you with a lot of material that allows you to spark your creativity, and that includes putting together your gift guides. Incorporate some of that holiday cheer into your holiday catalog, and rest assured that your customers will respond accordingly. Happy Holidays!
---
Serena Dorf is a social media savvy Los Angeles-based content writer. She is passionate about writing, personal development, education, and music. In her free time, she is reading classic American literature and learning Swedish. Feel free to connect with her on Twitter.