The best education website design ideas
Today, having a website is as crucial as having a phone number or an email address. Just like any other company, educational institutions are expected to have an education website design that accurately communicates their mission.
This article wants to give you some ideas that will inspire any educational institute to communicate its mission better. And for that, we've compiled some of the best education website design ideas to help any school streamline communication and get started with a professional website. Furthermore, we want to give you a helping hand when it comes to communicating your school's mission and facilitate the communication between all the members of the educational process involved.
You will find some school newsletter templates, school brochures and flyers, prospectus and more, at the end of this article. All, free to customize to your liking. Let's learn together what it means to have a well-crafted educational website design. All while getting some inspiration from famous schools like Harvard or Princeton University. Let's get started:
Website design for educational institutions
Creating a well-designed website is an ideal way to show who you are as an establishment, whether you're an existing institution or building your brand from scratch. Most consumers are looking online for information that will help them make wiser decisions.
This buying behavior trend emphasizes the importance of a website for today's businesses and it's also applicable in the education field. According to the 2019 E-Expectations® Trend Report over 76 percent of sophomores, juniors, and seniors say they start with the website for more information. Only after doing this research, they complete forms to get specifics about programs, admission requirements, and campus life.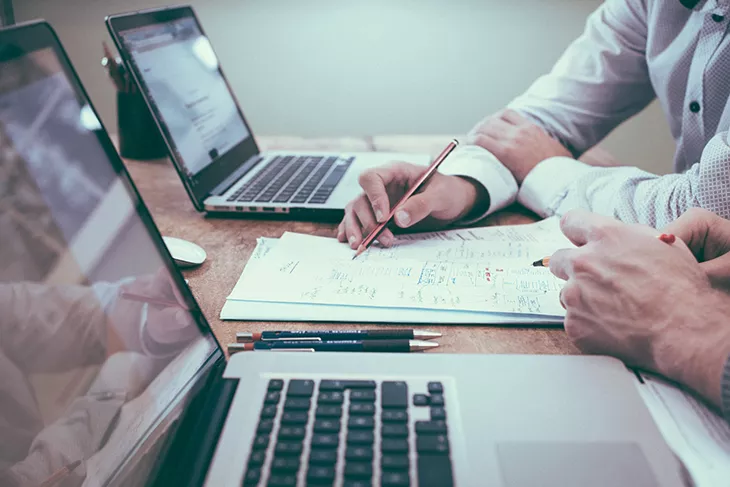 Nowadays if you want to be successful in the educational sector, you've got to have a professional website. Why wait any longer? Your future candidates are looking for you! If you haven't taken that step into the online world, here are the main reasons that will leave you wondering why you hadn't done it sooner.
The main reasons why your school should invest in a proper educational website:
Online presence
Credibility
Branding
Online presence
Today, when everyone and everything is available online, not having a website for your educational institution is a major faux pas.
Having a website means students are always able to reach you – anytime, anywhere. Make sure you're reaching a large enough audience with your online presence. Create a translated website for your educational institute that will be the foundation for your reputation in the modern world.
Credibility
Potential students and parents would likely be distrusting of any school that didn't have a telephone number or a physical address. This, of course, applies for not having a professional website and email address. These are, probably, the most important and useful tools to help you share crucial information about your institution with students. First and foremost, a well-crafted educational website should answer all the questions that they may have. What's more, having an easy-to-use educational website design will help you build trust and credibility between your institution and future students, even before they enroll.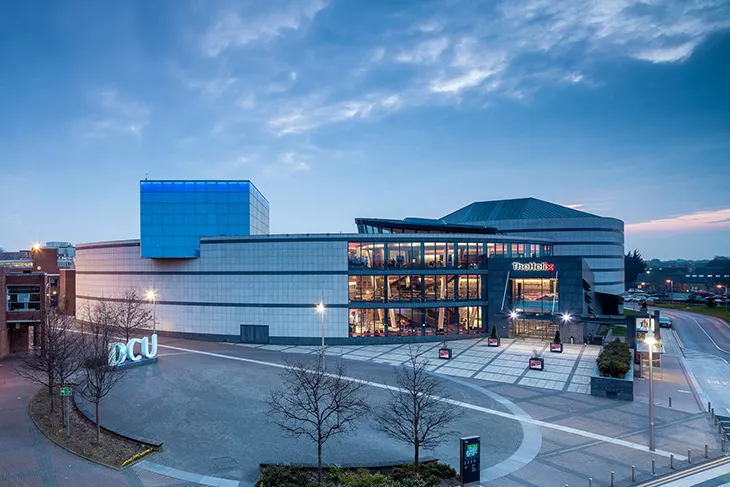 A school brand and identity is about defining who you are and clearly communicating that definition both internally and externally. Which means: to your staff, students, and community. And it's about creating excellence through the clarity of your mission and what you stand for.
No matter the type of education institution you are managing, branding is an important concept that reinforces the academic programs at an intellectual, social, and cultural level, which in turn has a positive impact on a student's loyalty and his academic performance. That is why starting with a communication tool such as an education website is essential. You can easily start the branding process by defining your main mission and your academic program. Only afterwards you should think of communicating all these through your logo and a unique color scheme.
Big universities understood this marketing strategy long before we started talking about concepts like educational website design or school branding.
For example, Harvard University continues to spend heavily on marketing and branding efforts. In 2016 alone, tax filings indicate that Harvard spent over $16 million on advertising.
Nonetheless, don't worry, you don't have to be such a big institution to gain attention. Start with some small efforts, but think about a long-term strategy and build on that.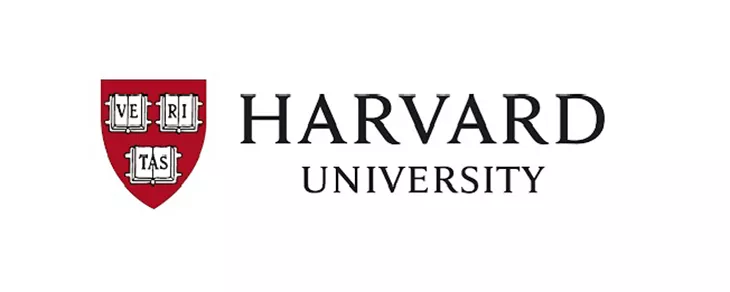 Higher education website design
Since we already mentioned Harvard, it's only natural we started talking about higher education website design and see what it implies.
You should start with the purpose in mind. What is the main purpose of your university or college website? What are you trying to communicate?
Start by telling your school's story and uphold the overall brand of the university or college. And, of course, to deliver important information.
A higher education website design should contain a great deal of important information for students, faculty and staff. Additionally, it's a way of representing the campus culture for prospective students.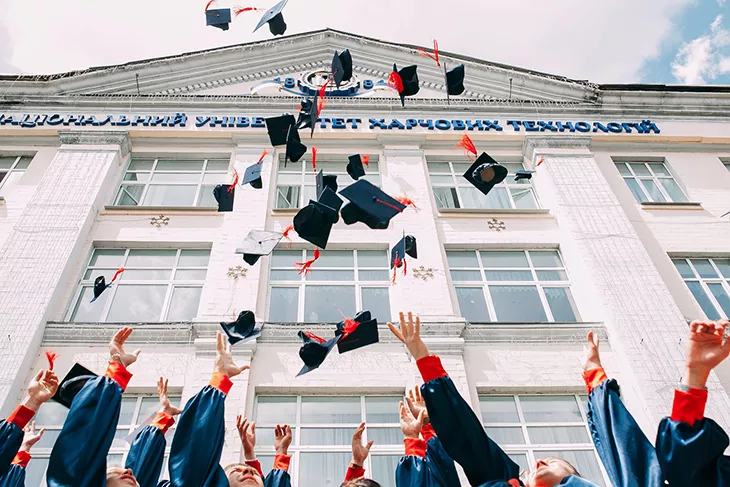 To give you a good idea of how a professionally designed one looks, here are some great university website design examples. From prestigious Ivy League universities like Harvard or Princeton. Let's learn from the very best, shall we? Ready to feel inspired?
Harvard University
Why not start with the most renowned university in the world? Established in 1636. Harvard is the oldest institution of higher education in the United States. In many ways, the Harvard name sells itself. With a long tradition, at the core of the Harvard brand stands the term excellence and of course, the color crimson.
Talking about branding, In 1910, Harvard officially adopted crimson as the school color. This color choice originated in the mid-1800s when two students on the rowing team provided crimson scarves to everyone on the team to enable the crowd to pick them out more easily. Now, this shade is a symbol of the University and is used in every promotional material.
We also find this unique color as the main background of the website. Another iconic element is the Harvard University coat of arms placed as the front-and-center element of the university's website design. The rich crimson color and bold shield shape are incredibly significant to the university as a whole. We can find these well-known branding elements all over their promotional materials, such as sweaters, cups and more.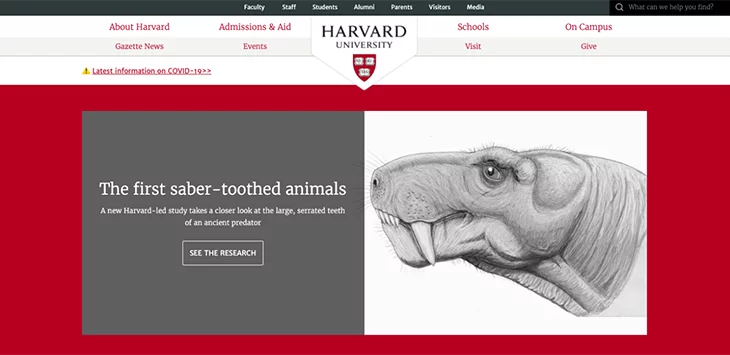 The entire educational website design is awe-inspiring with a great emphasis on subtle animation, visual hierarchy and exceptional layout. The main content on the first page is always dedicated to in-house research and Harvard`s latest news. Also in the footer area, the viewers are led to explore Harvard's online courses and learning content.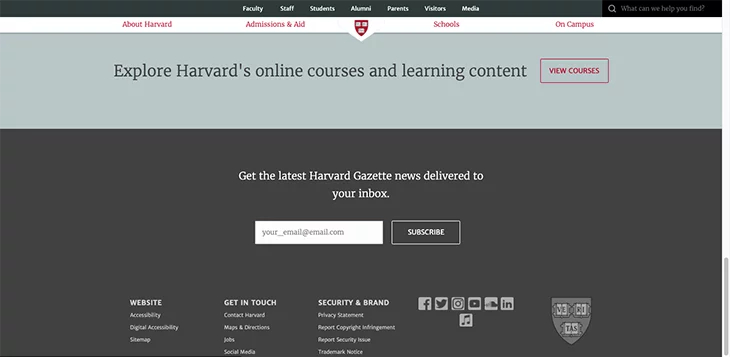 Princeton University
Princeton University is a private Ivy League research university in Princeton, New Jersey. Founded in 1746 in Elizabeth as the College of New Jersey, Princeton is the fourth-oldest institution of higher education in the United States. It's also one of the nine colonial colleges chartered before the American Revolution.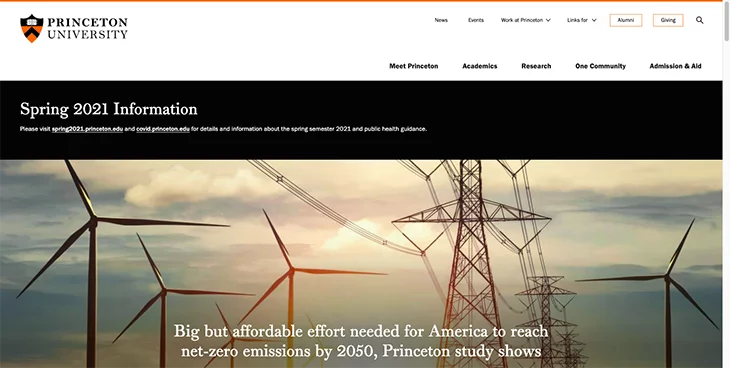 With such a long history, just like the aforementioned University, the Princeton name sells itself. As the main brand element stands the "Princeton Orange" defined as Pantone (PMS) 158. The closest ink match to the swatch of cloth showing the orange adopted by the trustees in 1959 and kept in the archives for historical reference. Of course, we also find this color featured on their website. The entire architecture behind this educational website design starts with usability. The navigation bar includes important information about the University such as academic programs, community and its iconic shield.
The main content of this website features in house research and the good old University news section.

Manhattan school of music
Manhattan School of Music is one of the world's premier music conservatories for classical music in New York City. The school offers bachelor's, master's, and doctoral degrees in the areas of classical and jazz performance and composition, as well as a bachelor's in musical theatre. This educational website design is focused, like the ones we already mentioned above, on user-friendly navigation. This way, users can easily navigate the site and access essential pages with ease. Probably, the most important thing to keep in mind. On top of that, this educational website design uses a red and white color scheme as well as black colored web elements.
Red is quite a bold choice for any educational website design. In this case, using a dark red as color accent makes the website more friendly and helps in grabbing the attention of potential students.
Furthermore, the main content of the site features a creative slideshow with images of the school and its students, a video background, stunning hover effects, and outstanding images. All to give future students a vision of how life at this university will look like, if they, of course, decide to apply.
Manhattan School of Music is perhaps the perfect example of a more dynamic type of educational website. One in which images have the potential to grab the attention, before even going deeper into the content.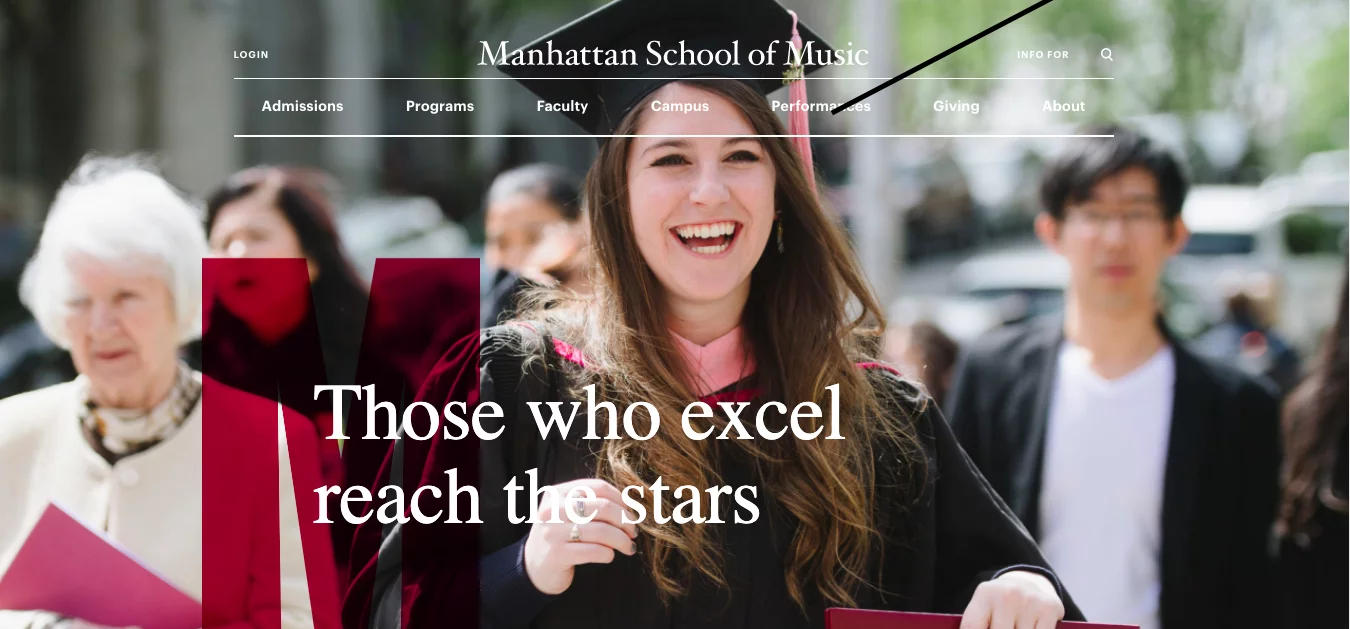 Sorbonne University
Sorbonne University is a world-class research university, presenting a comprehensive disciplinary range of arts, humanities, social sciences, natural sciences, engineering and medicine. Sorbonne University's approach to education and research is designed for the intellectual and scientific challenges of the 21st century. This modern approach is also present in the university's website design and it starts with the navigation bar. Featuring unique colors and an abstract orientation, this section is eye-catching. It also allows easy access to other necessary pages, such as: University, Training, Research and Innovation, Culture and Society and Foundation.
The main content section has a classic structure, including the most important in-house research and of course, the good old University News section.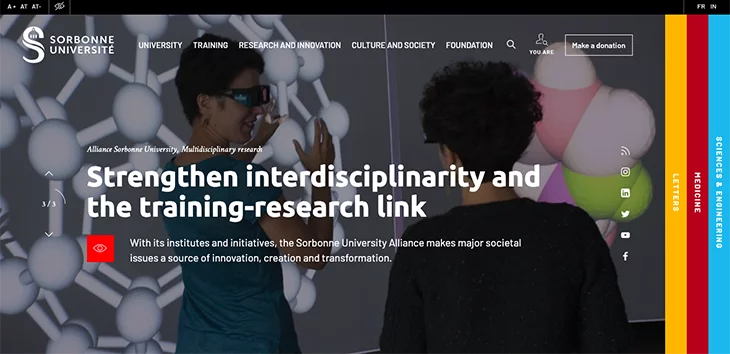 What is very interesting about Sorbonne University website design is that it uses different colors for the different specialties. For example, the accent color for the Faculty of letters is yellow. Sciences & Engineering is represented through a natural shade of blue and Medicine is in red. So, next time you're in charge with putting together an educational website design, perhaps take this as an example.
Tips for creating an education website design for Universities
Now that we took a closer look at some of the best-designed higher education websites we've compiled our favorite tips for you.
Here are the main tips when creating an educational website design for a University:
Go for an informative header
Create a useful navigation bar
Build trust by adding an in-house research section
Select the most important University news
Create a unique color scheme and stick to it
Create a guided pathway
Include the degree program, the requisite classes and a specific career path
Elementary and high school education website designs
Even though the targeted audience is a little bit different, the overall goals of an elementary educational website design or a high school website are similar to that of a higher education website. Over the past years, we've seen high school web designs change from what was once a glorified bulletin board where admins could copy and paste lunch menus and prom dates to become a crucial marketing tool for schools and districts. After all, it's the first impression made on a prospective family and a window into your school brand.
Also another important benefit is the fact that school websites can easily facilitate enrollment. This way, classes and schedules are a lot easier to disseminate as well as the process of enrollment.
So, if you are searching for some education website design ideas for elementary or high school, please read on to get inspired.
Thomas Jefferson High School for Science and Technology
Thomas Jefferson High School for Science and Technology serves as the regional magnet Governor's School for Science and Technology in Northern Virginia. The curriculum's core skills and values emphasize problem-solving skills, critical inquiry and research, intellectual curiosity and social responsibility. Its website is crafted with innovation and advanced features. The main content introduces the school with quality images.
The navigation bar includes useful categories such as SIS (student information system), Library, Lunch Menus and an innovative section called MySchoolBucks, where students can quickly pay for fees or browse the school store to find items available for purchase. Moreover, the announcements section appears clean and minimalist as well as compelling, focusing on the student – parent – school communication.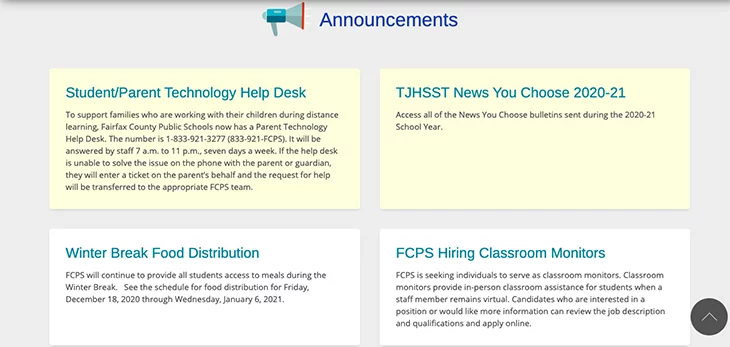 Abbotsleigh
Choosing the best school is a great challenge for parents. Hence, building a website for institutions is necessary. This way, parents will have the idea of what school to trust and, in turn, the institutions can open greater opportunities. A great educational website example is the one created for the Abbotsleigh school.
Abbotsleigh is an independent Anglican, day and boarding school for girls living in Wahroonga, Australia. The 133-year-old institution has a very professional looking website which goes perfectly with their long-running heritage.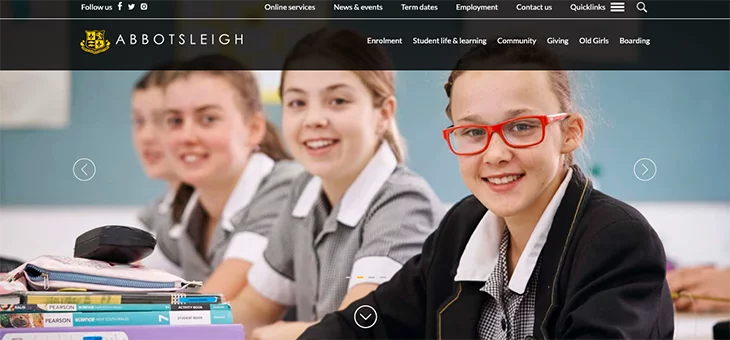 The eye-catching header contains a combination of a user-friendly navigation bar and a hamburger menu. The different school sections are organized right below the homepage image carousel using rectangular tiles linked to their learning programmes pages, such as junior school, middle school and senior. Hovering the mouse pointer on these tiles shows relevant images. Moreover, the site is well organized with a modern design, having a black and yellow color scheme, identical to the color of their logo.
Little Dolphins by the sea
Little Dolphins By The Sea is an independent not-for-profit school located in Santa Monica. Founded in 1992, Little Dolphins By the Sea promotes imaginative thinking through rich, immersive experiences in art, theater, music, and literature. The entire elementary school website design is awe-inspiring with a great emphasis on color, that is what makes this website stand apart from all the others. The navigation bar is user-friendly and includes important buttons, such as – About, Curriculum, Enrichment programs, Involvement and Admissions, that are displayed in boxes with perfect visual presentation.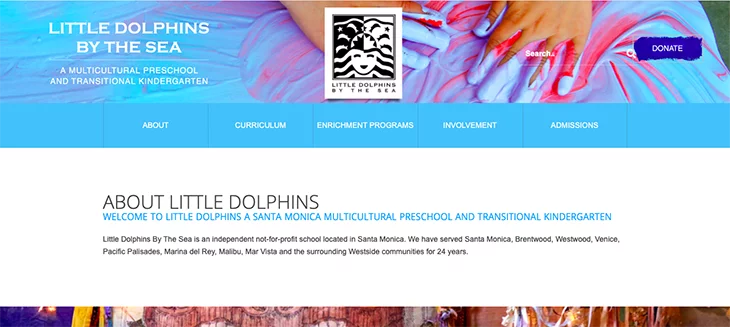 Winston Churchill High School
Winston Churchill High School offers several unique specialized programs, such as an Autism Program; the Signature Program, which features the Academy of Math, Science & Technology, the Academy of Creative and Performing Arts, the Academy of International Studies; and the Bridge Program, designed for young adults with emotional or learning disabilities. This is an educational website design that has a modern look with lively images and vibrant colors.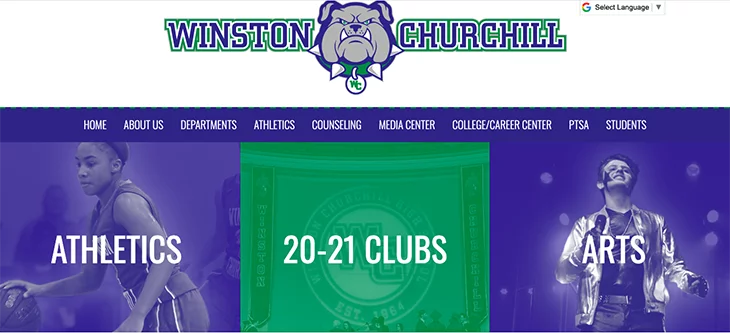 All the information is placed in a neat and clean way which makes it easy to find. The main content also includes a very useful addition, a detailed scheduling document with updates. A powerful branding element is a green and purple color scheme and the dog inspired logo.
Tips for making an education website design for high schools
It is especially important to have a well structured educational website design; especially when it comes to an elementary or a highschool website. Many times, before sending their children to a school, most parents tend to take a look at the school's website, so the primary goal of the site is to target this audience sector.
Follow these tips as a base for your next educational website design for a highschool:
User friendly navigation and responsive design
Vibrant colors and lively images
Highlights of the learning programs and the extracurricular activities
An about us page
A news section conveying all important updates and information
An online enrollment section
Other communication tools
In addition to this, as mentioned in the beginning of this article, having a well crafted educational website is only the base of your communication strategy. An educational institution must behave like a brand in order to make sure its mission is communicated in the most professional manner.
As we all know, a brand communicates visually as much as verbally. Flipsnack is an online educational tool you can use to enhance your school's communication.
University Educational Brochure Template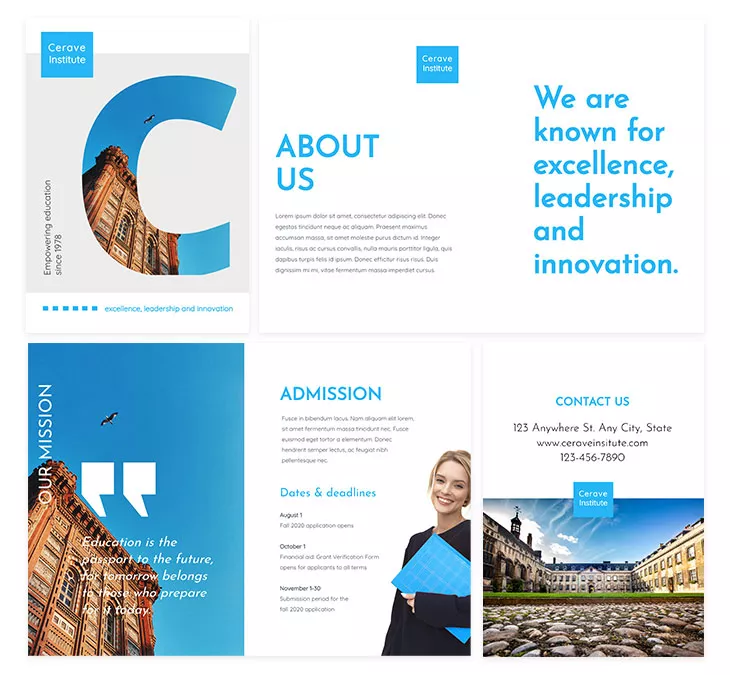 For a more modern approach to your University brochure, why not go with this educational brochure template. It combines bold colors with an illustrated background, which resembles your classic university façade. You can, of course, replace it with your own photos! That's because each template is instantly customizable with our complex Design Studio. We mentioned a lot about branding throughout this article, so make sure you apply what we already talked about. Upload your logo, unique color scheme and fonts. Done with the final design? Share it online with prospective students or print it to have a killer presence at the next Universities Fair. You will surely make a long-lasting impression.
Undergraduate School Prospectus Template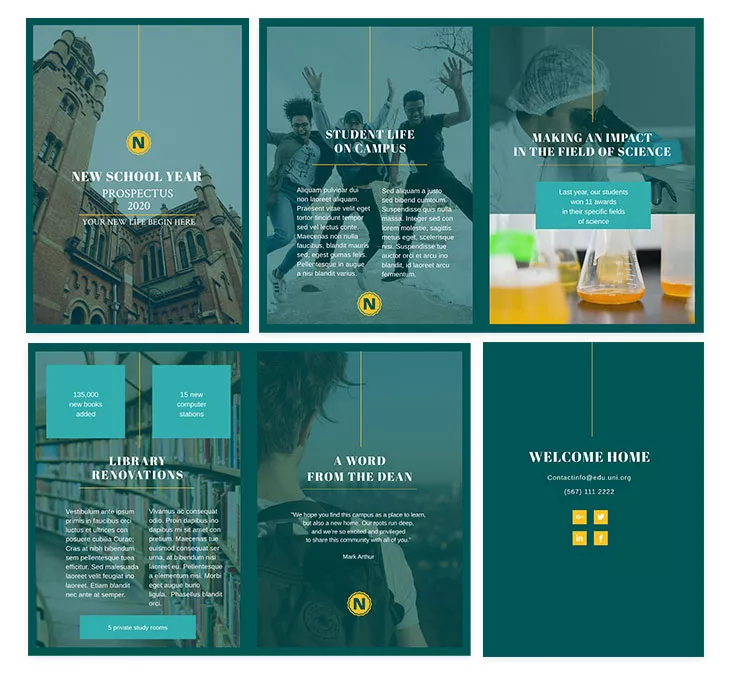 A beautiful prospectus in the hands of a parent or a potential student is often the deciding factor for choosing to visit your school open day or requesting a personal tour. This undergraduate school prospectus template is perfect for any school looking to organize the schedules of students and faculty alike. Just like the educational brochure above, this too is fully customizable. There are many stock images to choose from in Flipsnack`s design library, along with a near-infinite range of background hues. Complete this undergraduate school prospectus template with your school's name and logo, and take it to the printer or embed it on your website
Primary School Newsletter Template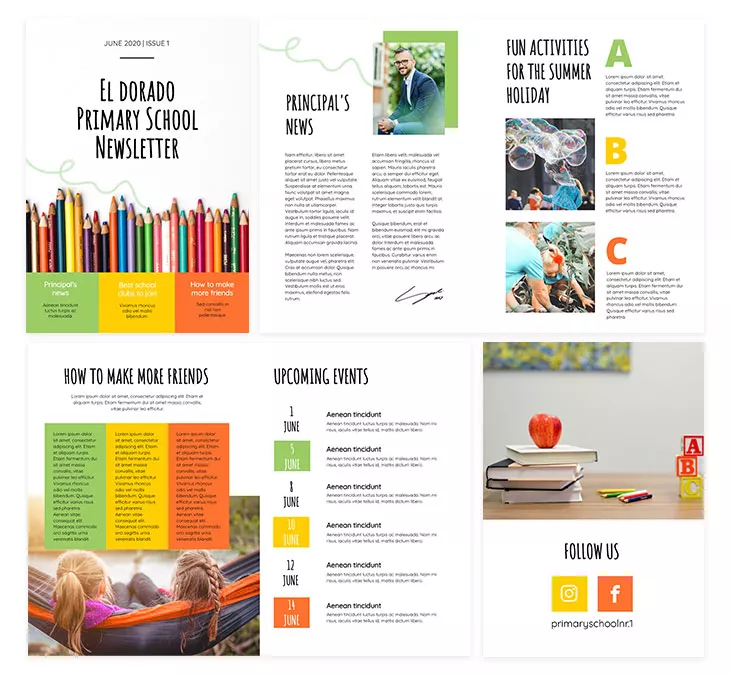 This primary school newsletter template is the perfect example to showcase what we've already talked about throughout the educational website design examples above. All these marketing materials aiming at parents should be both fun and informative.
So, primary school teachers unite! This primary school newsletter template is for you! Grab it if you wish to facilitate the communication between parents and school.
It features happy colors, cool pictures and cute fonts. Replace the pictures with your own, add your school's name and logo and select a thematic color scheme. Once you are happy with your design embed it on your website or email it to all parents from your school. The best part about this newsletter template is that you can save it as your own template and customize it each month, or season. It's going to be such a fun process. And I bet parents will enjoy this effort you're making. Let us know what they think about it.
Colorful School Newspaper Template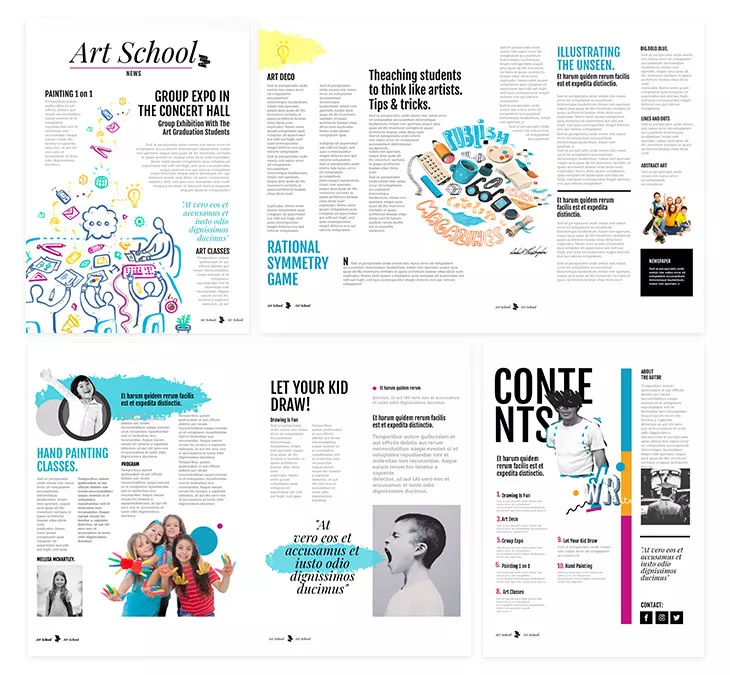 School newspapers are more than just a platform that disseminates information and content relevant to the student community. They represent a platform for student voices to be heard, making them an essential part of the school ecosystem. Exactly why we designed this colorful school newspaper template. The aesthetically-pleasing graphics, the well-distributed text columns, and the multicolored design are a great match to accompany your educational website design. Include the best essays of your students here. Have your best graphic designers get creative and customize it to fit your school's branding. When finished, embed the final school newspaper on your website. Parents and students from your school will definitely enjoy this type of initiative.
Conclusion
Your education website design largely defines the brand image of your school. A professional educational website design is sure to increase your number of visitors and subsequently your enrollment. Regardless of the size or age of your school, a well-designed site can help your school grow. Not to mention, you can fully enhance your school's communication when you create good looking school brochures, inviting prospectus and creative school newspapers.
Feel free to use the educational templates given above for your website and communicate your mission better.