How to use Flipsnack as an online educational tool
We are all living in a digital world, there's no doubt about it. The traditional classrooms which we were all used to, faded out to make way for a new reality: the digital classrooms. This happens not only because of the high rise of technology, but also because of the harsh times we faced back in 2020. In this new era of learning, both parents and teachers are continually looking for online education tools and learning management systems that will keep students on track with their studies and educational growth. 

Flipsnack is a one-stop-shop for the whole teaching-learning process. Packed with hundreds of various templates, our online education tool facilitates communication between teachers and learners, encourages collaboration, gives autonomy to the students, and improves the administration of academic processes. In today's article, we are looking at ways in which Flipsnack can streamline the collaboration between teachers and students.
Allow Flipsnack to help you recreate the traditional classroom in a digital space, and to implement online learning easily. By adding up to 30 students in the same account, teachers can create engaging lessons, distribute assignments, give fast feedback, and have everything under control. Students can also take advantage of hundreds of various templates that help them build and deliver entertaining and modern projects.
Flipsnack – an online educational tool that empowers modern day education
Like I've mentioned before, Flipsnack is a complex solution for the education system. From school magazines, reports, and presentations to school brochures and yearbooks, our platform allows students to unleash their creativity in the easiest possible way. All you have to do is choose a template, and start creating your own assignments. Simple and quickly, right? But let's take it one by one and see exactly what kind of projects and school assignments you can build with Flipsnack.
School newsletters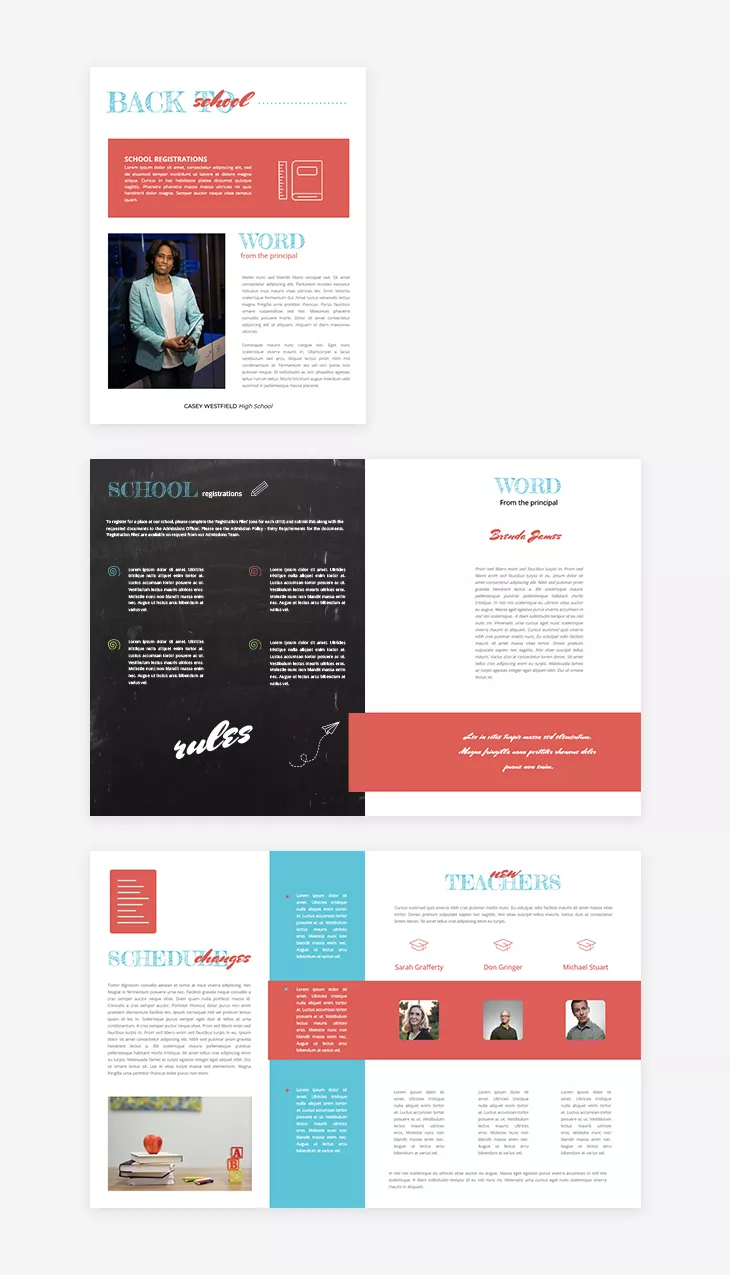 Of course, I'm starting this list with school newsletters. It's already August and we know that kids all over the world need to go back to school. Yes, it's true that we are living uncertain times due to coronavirus, but we can't give up on education. One way or another, schools need to reopen and children need to be taught once again. That being said, a school newsletter is the easiest and most efficient way to streamline the collaboration between teachers, students, and parents. Flipsnack is a great online educational tool that does just that. You can build, personalize, and share professional school newsletters. All in one place.
Take this school newsletter template from Flipsnack and make it yours in no time. Change the information, the pictures, the fonts, and colors if you want to. Make sure to write all the important details, so everyone can understand completely. This year, all of the school activities and events will be different. Maybe kids won't be able to play football together again or to sing in the school's choir, but this doesn't mean they have to stop interacting with each other. Thanks to technology, they can play a lot of games online and share opinions over books, music, and movies. Write all these things in the school newsletter to keep everyone informed and updated about any school activities. It's really important to communicate everything with students and parents during these harsh times.
School magazines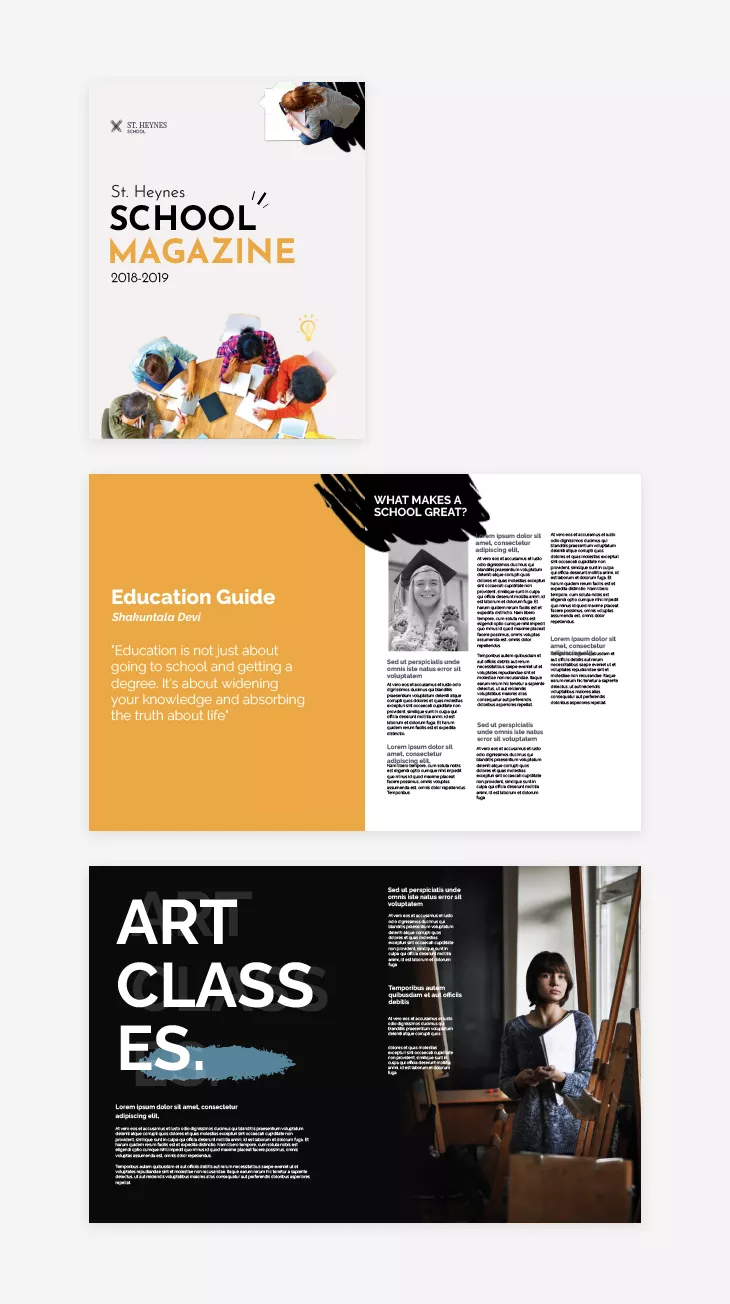 An online educational tool that makes it easy to create school magazines? Yes, you can totally do that with Flipsnack. The best option to gain some publishing experience even if you don't feel very talented at designing a magazine from scratch is to take advantage of a template. Like this one from here. With this modern school magazine design, you'll be able to keep your colleagues and teachers informed and connected. The simple yet elaborate design is perfect for any modern university, college, or high school.
Even though it could be a daunting task at first, building a school magazine can become a good writing experience for college. And who knows, it could also help you with career orientation. You might discover how much you like writing and you'll decide to study journalism.
If you still feel a bit confused and wonder how to make a school magazine and what kind of work goes into it, we have a few school magazine ideas for your inspiration. You have to admit, there's always something interesting and fun happening at your school. Write about that. Or, write about topics you think your colleagues might need, such as "How to study effectively and efficiently" or "How to get along with your teachers". But don't stop here. There are also many other cool topics that you can approach.
What to write in a school magazine?
Besides everything that I've already suggested, try other diversified topics such as:
Sports
School activities
Cool music recommendation
Interviews with your teachers or colleagues
No matter what you choose, just make sure you're enjoying the whole process and take advantage of our amazing templates and drag-and-drop editor. Give it a try. Flipsnack could be the starting point of your journalism career.
School newspapers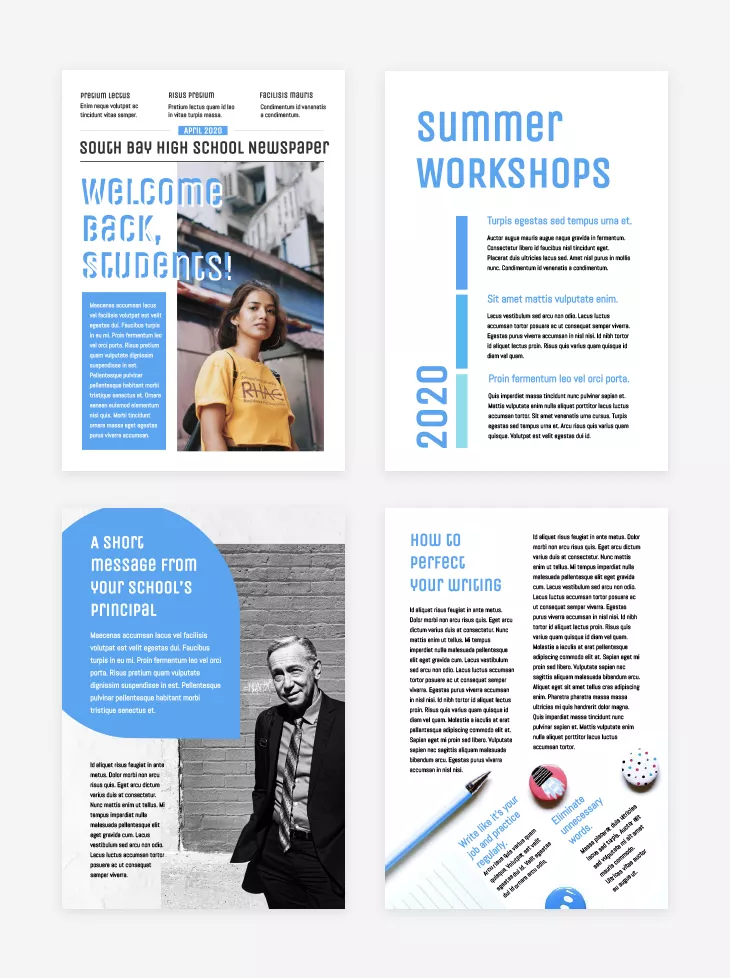 One thing's for sure: school newspapers have been a staple in the academic community for years now, and it doesn't look like it's going away anytime soon. That being said, your school must have a school newspaper that everyone can enjoy, be it students, teachers or parents. Even if it seems difficult to take up such a big project, here's a little help from us. If you're part of the editorial team, then you should use this free blue themed school newspaper template that already has the main sections any regular newspaper has. So all you need to do is to gather around your editorial team and pitch ideas.
If you're studying in a school that was founded a long time ago, approximately in the 19th century, then a vintage-looking newspaper template might be more suitable for your needs. You have total freedom to personalize it exactly as you want. Our Design Studio allows you to upload your own fonts and colors and to make any necessary changes. Don't forget that a professional newspaper means consistency, so make sure to keep the same fonts throughout your entire newspapers. Don't mix too many, it will look very unreliable. Here's an article about newspaper fonts that might help you in this case.
What a great online educational tool, right? Sign in to Flipsnack and grab one of these school newspaper templates today, and start reporting to the students tomorrow.
School brochures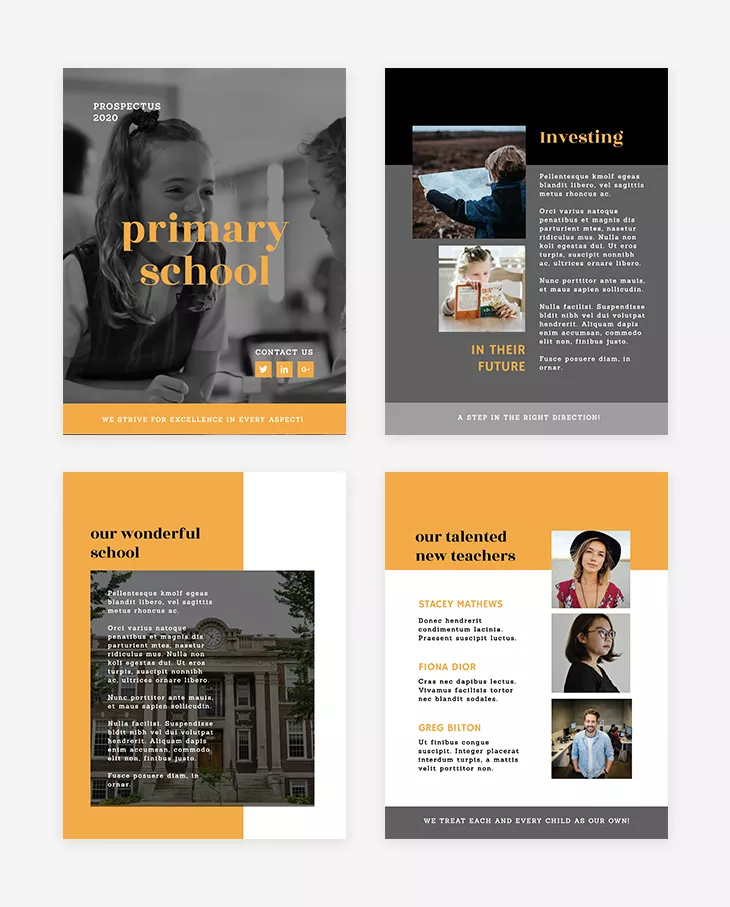 Whether you're a teacher or a student, it's important to know that a school brochure is a must these days because of the high impact it has on the youngsters. You want to persuade them to pick your university, and I totally understand this.
Take advantage of this school brochure template to present all your school's or university's benefits. Our intuitive Design Studio gives you total freedom. Start by replacing any image, text, or page with any element that you see fit. Then, pay attention to the information you're going to transmit. Display event calendars, school activities, awards given to the school, or even students that have done especially well this semester. Everything you think teachers, students, and parents would find useful and interesting. Keep in mind that a professional school brochure covers a lot of information such as details about teachers, school's history, championships, scholarships, sports, clubs, and the list could go on. Make sure to approach some of these topics.
Don't forget that deciding what school or university to go to is a big decision in life. School brochures also have this purpose: to convince students to choose them. We know there's a lot of information to cover with a brochure like this one, but it will definitely guide students to make the right choice. So, the next time when you think about a great online educational tool that helps you design school brochures, please do remember Flipsnack!
School presentations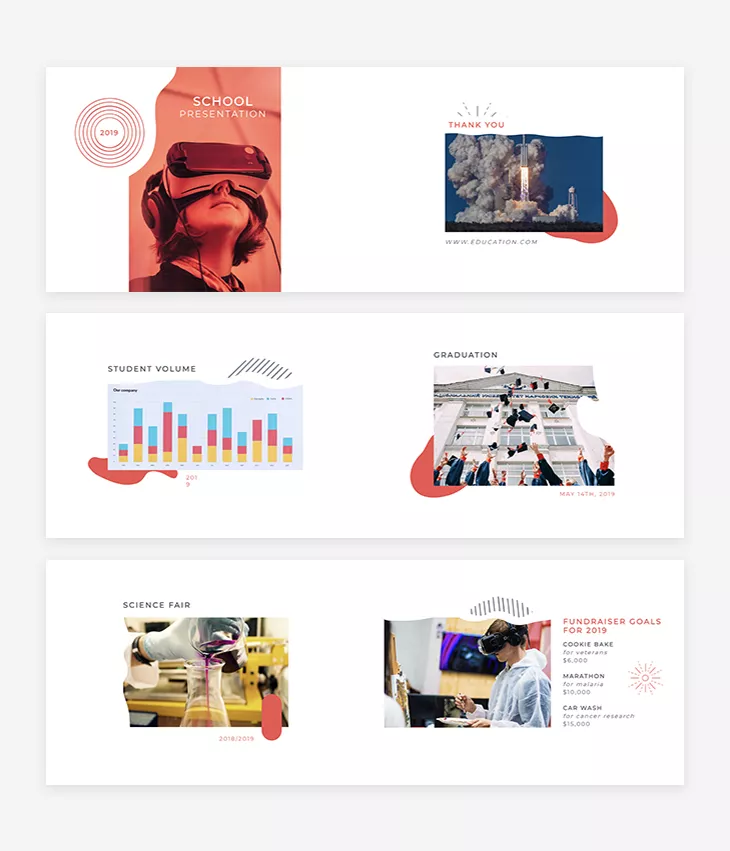 School presentations are a huge part of any school subject. Even if it's quite difficult and boring to create them, we can't get rid of them. That's why we should try to accept the fact that they're not going anywhere. And not only this, but also try to build them as interactive and entertaining as possible to impress both your teachers and colleagues. With Flipsnack, you've got an online educational tool that can do this simply and efficiently.
Start with this template over here. Insert your own useful information, change the fonts, colors, and everything else you want. Get creative by adding charts and cool images. Our Design Studio allows you to choose high-quality images thanks to Unsplash. Personalize your presentation to the fullest regardless of your topic. Add videos to make your presentation look even more real. For instance, if you're creating a school presentation for the Biology class, try to insert a video about the human body. Or, if it's for the Chemistry class, you can add a video that explains the process of science experiments.
Then, think of how you want to structure your presentation and what kind of information you're going to transmit. Even if you have a lot of information to put in there, make sure it's easily digestible by your audience. When you're done with everything, it's time to send your school presentation via email to your teacher and colleagues or to present it online. No matter what you choose, Flipsnack is here to deliver the right message to your audience.
School reports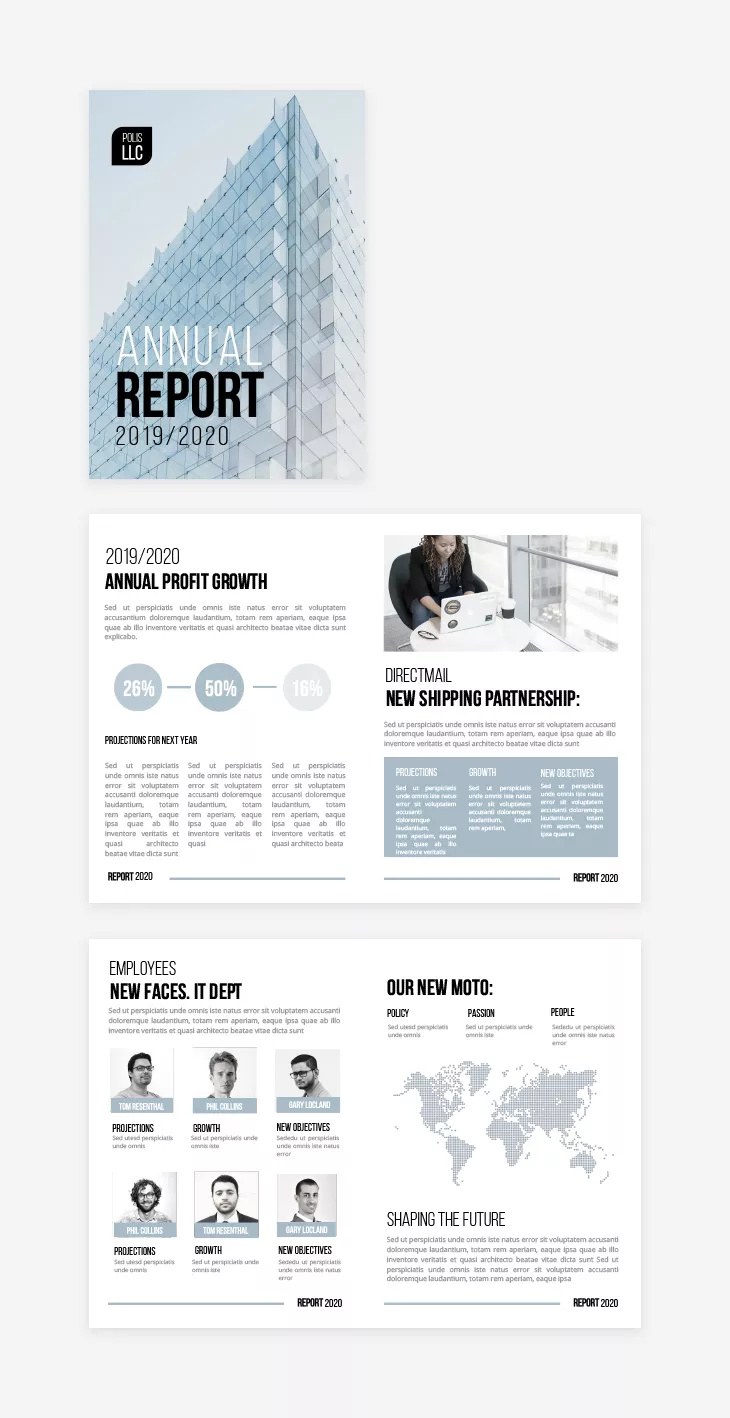 I remember that I was always stressed when I needed to prepare a school report. No matter if it were Economy, Physics, or Chemistry, I felt it was a big burden. But nowadays, with such advanced technology, it's really easy and enjoyable to make a school report. Of course, you have tons of data to gather, organize, and present and it can often take weeks to prepare.
But it's worth the whole process, as long as it is explanatory and useful to your colleagues. Don't stress over the design part, we've got you covered! Take this report template from here and design it exactly for your own needs. Add your own data, specific details, insert some charts, graphics and you're done with the text part. Now it's time to design it. School reports don't need to be boring and dull anymore. Use some colors, fonts, and images from our editor and create a school report that stands out in the crowd!
If you don't like this template, that's perfectly fine. Browse through our report templates collection and make your choice. You'll get it done with style in no time. But don't keep this online educational tool only for you. Spill the beans with your colleagues and start designing school reports like never before!
School yearbooks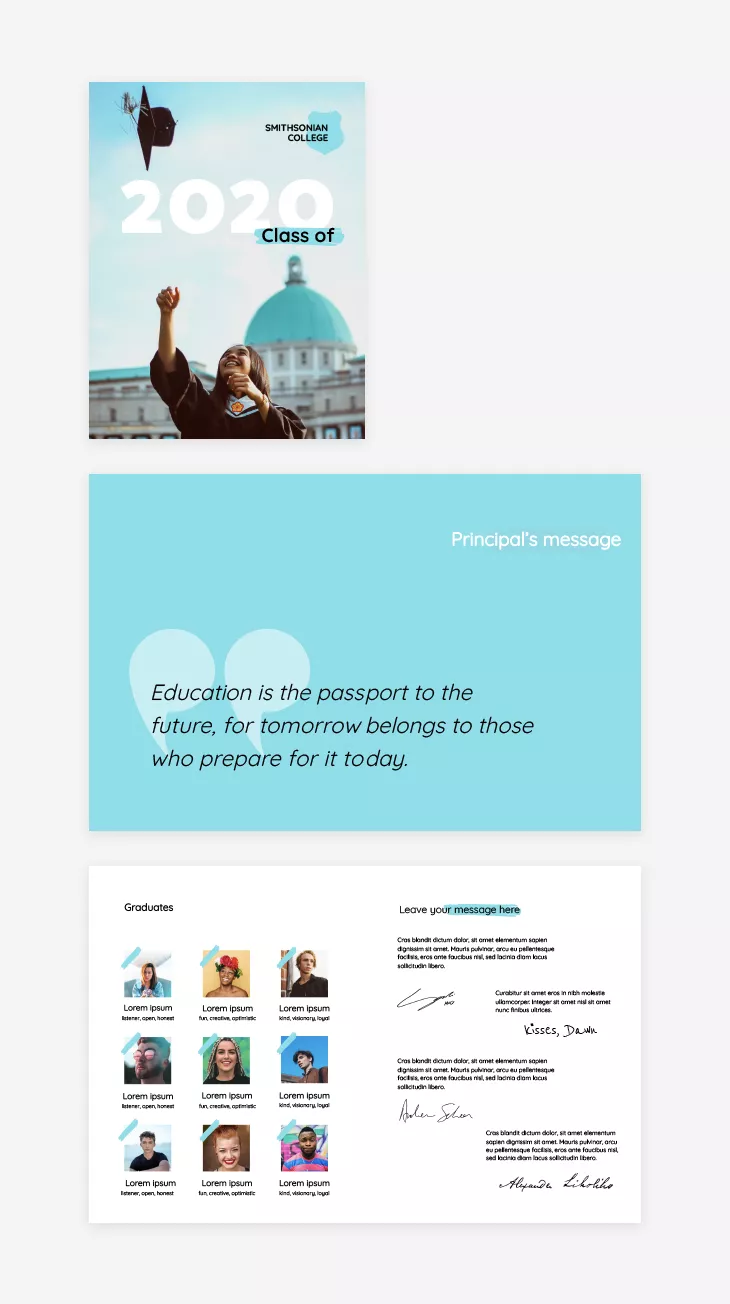 What would be schools or universities without yearbooks? Everybody knows that college memories are unforgettable, so you must celebrate them properly. And what could be more suitable than editing this charming yearbook from Flipsnack? It's really easy to make any changes, you don't need to worry because of a lack of design skills. Insert your own memorable photos, write some graduation quotes or descriptions, add the principal's message, change the colors and fonts, and anything you need to create the yearbook of your dreams. Keep in mind that with Flipsnack, you can save your yearbook, print it, and share it. You have total control over your publications.
No matter how old we get, we will always remember with nostalgia about our high school years. But when we're students, all we can think about is finishing college as soon as possible and graduating. And for good reason. We are so tired of learning, trying our best to get good marks or waking up so early in the morning, but little do we know that these years are the best we could ever have. We start to miss these years only when we're married with kids and a job that's stressful and exhausting. Do you know what really helps in those moments? To go to your bookshelf, grab your graduation photo book, flick through it, and relieve all those great times once again. You might not understand these feelings right now, but you will as soon as you'll start your adult life.
Don't let these great memories simply pass by you. Preserve them into a photo album that you can keepsake forever. And never forget, Flipsnack is always at your fingertips if you need an online educational tool that helps you design the most beautiful and professional yearbook!
School graduation cards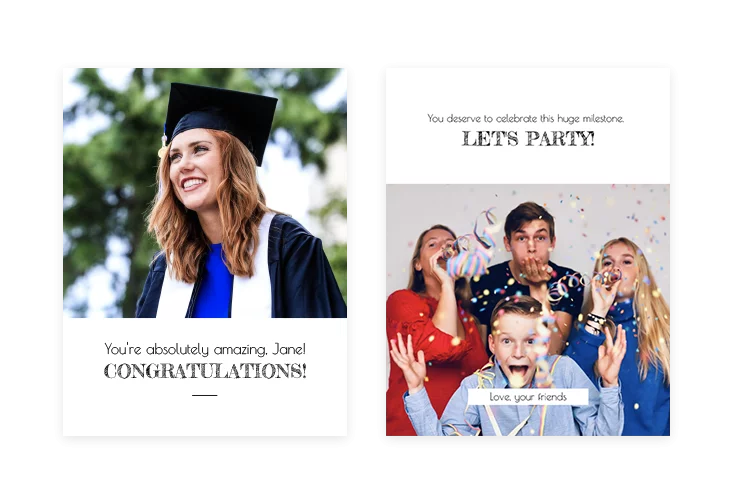 And since we're talking about finishing high school, there's no graduation ceremony without the classical graduation cards. If you have a friend that's going to graduate soon, you'll really surprise them with a beautiful and heart-touching card where you express your sincere thoughts. No need to worry about the design part, Flipsnack got you covered! Choose this graduation card and personalize it as you wish. Keep in mind that a cool graduation photo card should contain the image of the graduate and inspirational thoughts. If you need some help personalizing your card, stick to the basic: "Congratulations! We are so proud of you", or "Congrats, you did it!" are just a few ways how you can start your message.
But you can do it so much cooler than this. Our amazing editor allows you to add a video of you saying all those things personally. Feel free to save it and share it online.
You can also take this graduation thing to whole new levels. After all the hard work, sacrifice, and dedication, it's finally the big day. Throw a graduation party for your friend and use a funny graduation card to top it all off. Invite everyone that you want and celebrate this special day together. Your friend deserves this, it's a great achievement in life to graduate! Use Flipsnack for inspiration and creativity. Such a great online educational tool, right?
School events
No matter if we're referring to schools or universities, there are always some events that take place from time to time. Christmas, Easter, Thanksgiving Day…all these special holidays should be celebrated with friends from school that turned into family. But this year, even the holidays are different than any other year. Unfortunately, maybe students all over the world will need to celebrate them online or in a small group, due to the coronavirus pandemic. But no need to worry about it. Let's still look at the bright side: Flipsnack helps you create event flyers no matter the situation.
We all know that it's no easy task to arrange all things for such a school party, be it virtual or not. You have to check so many things, to contact so many people, to think of this and that…not to mention that you absolutely need an event program where you should insert all necessary information. Don't stress over this part, Flipsnack is the best educational tool a student could wish for. With dozens of free templates you can choose from, we have something for every celebration.
Thanksgiving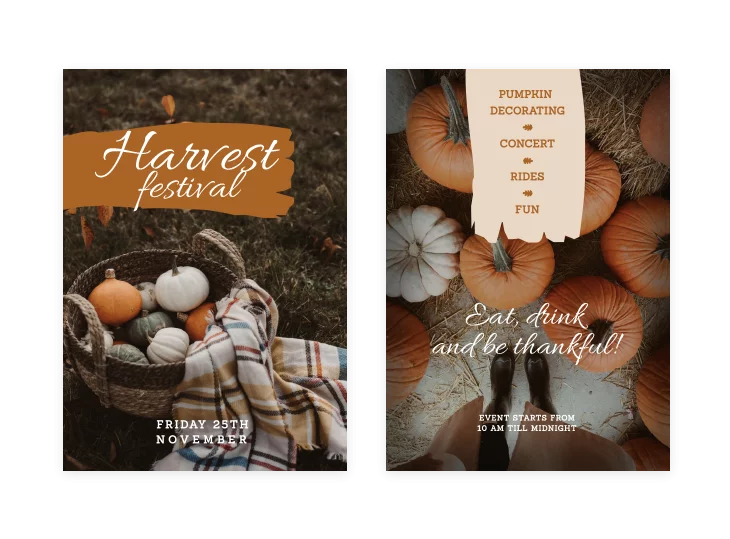 Thanksgiving Day is the most awaited school celebration and it's also the first one that arrives after the school starts. It's my favourite time of the year because it's a lot of pumpkin spice latte and sweater weather season. People gather together to celebrate the meaning of family and friendship. If you're organizing the school harvest festival this year, then you should take advantage of this Thanksgiving program template from Flipsnack. What a better occasion to celebrate with your friends in nature, eating, having a hot drink and just being thankful?
Halloween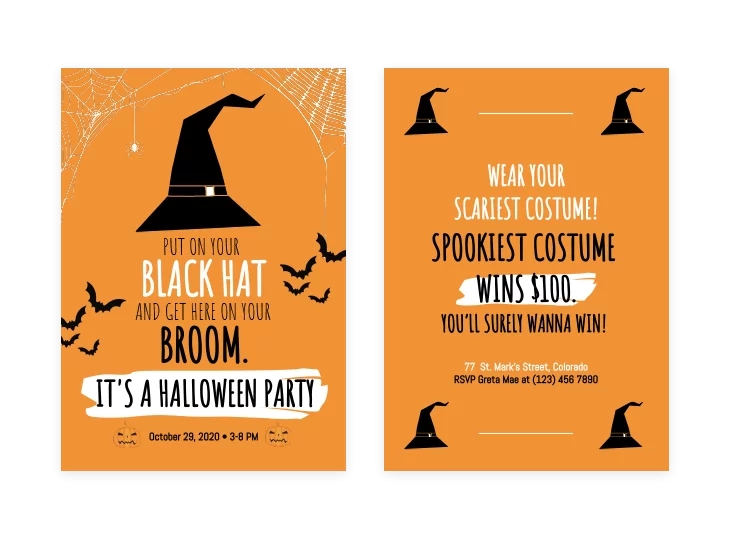 The second holiday that's coming right after Thanksgiving Day is Halloween. Even if this year you'll have to wear your costume online and celebrate virtually with your other colleagues, it's still a nice party as long as you're all together. Don't let this virus steal your joy. Throw a thematic party in this way and let everybody know how awesome it will be. Choose this witch Halloween invitation template from us if you want to have a cool, virtual party. It features a lot of wicked elements such as pumpkins, hats, and bats.
Christmas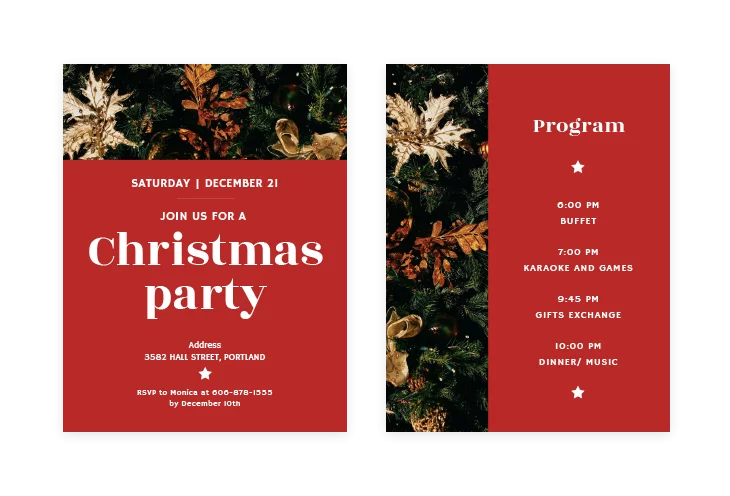 Take this Christmas party program from example. If you're in charge this year to throw the school Christmas party, then you should use this template from Flipsnack. Even if it's going to be virtual due to pandemic times, it's important to keep your teachers and colleagues informed by simply inserting all the important details. Add your own images, change the colors and fonts and you're ready to distribute these invitations. Remember that you can do this both online and offline.
Conclusion
The world of education is continuously changing, due to both technology and, unfortunately, because of an unexpected worldwide pandemic. Even if we're all facing these harsh times, it's important to make the most of our time and try to live our lives as normal as possible. That means finding innovative and creative solutions for each of our problems.

For the educational system that means finding online educational tools that can facilitate the entire educational process and making sure the quality stays the same. That being said, educators all over the world should embrace the change and bring the power of the digital age into the classroom. You know what they say: we improvise, we adapt, we overcome.