How to create a newsletter: A quick guide
For years, the word newsletter has instantly been associated with an email. After all, that's mostly where all of us interact with newsletters, right? Creating a newsletter, in this case, seems pretty simple, but the honest truth is that there's a little more to the recipe than just a few words written out in an email. The answer to how to create a newsletter has changed over the years.
In fact, there is such a thing as a newsletter that doesn't exist in the typical email format at all. What am I talking about? Well, for those businesses and institutions that need to distribute a lot of information at once, the standard emailed newsletter isn't possible. Nobody wants to sit and read a thousand word email. That's just plain boring.
Instead, many people have started using this sort of magazine format in order to get all the details out there in a fun and interactive way. Think about it. In a magazine, there are images and a lot more than your typical white backgrounded email. For the purpose of this article, we're going to call these flipbook newsletters.
This is just the tip of the iceberg folks. We're about to go over how to create a newsletter that breaks the mold of the email newsletter, and it's not as complicated as you might think. Check it out below.
The purpose of a newsletter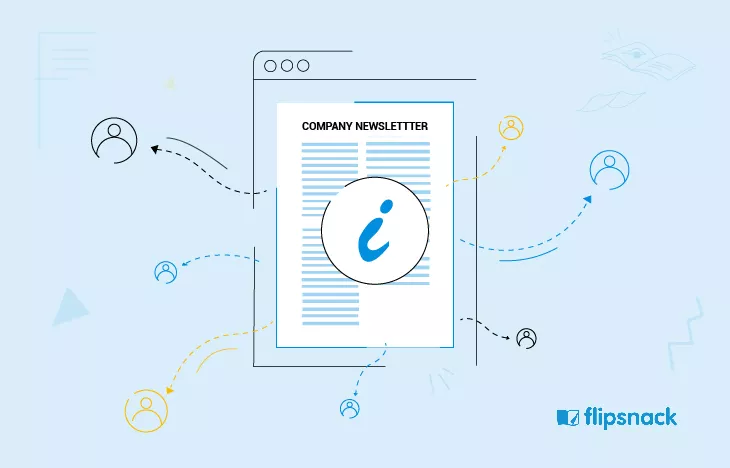 Before you get started, there's one thing that you need to make crystal clear: the purpose of the newsletter.
Truthfully, newsletters, regardless of their format, are a marketing tool. But, that doesn't necessarily mean that it's all about making money. At least not immediately. Let me explain.
Newsletters are mostly aimed at informing an audience. This could be giving updates to employees on new company policies, informing students of the schedules for after school activities, or even introducing new colleagues. They are for displaying information that the distributor thinks is necessary for their audience, which is usually internal.
Using a flipbook newsletter in a company
Let's give the last statement of the previous section a little more context. What is an internal newsletter? Basically, it's a newsletter that's sent only to those involved in the brand. This typically means employees.
Many, if not all companies use newsletters in HR to update employees on the brand. These newsletters can basically include any bit of information that has to do with the brand. Policy changes, new colleagues, sales reports, and more can all be featured.
As far as distribution frequency goes, it's usually monthly. I suppose you could bump that up to weekly, but it's not typically necessary. If some sort of emergency pops up and you need to inform everyone quickly, a newsletter probably isn't the best way to break the news.
Examples of how to create a newsletter
I'm a firm believer in examples. Someone can explain something to me all day long, but it's usually a visual that really seals the deal for me. So with that said, let's look at a few examples of how to create a newsletter and then we'll discuss all the fun little details that go into one.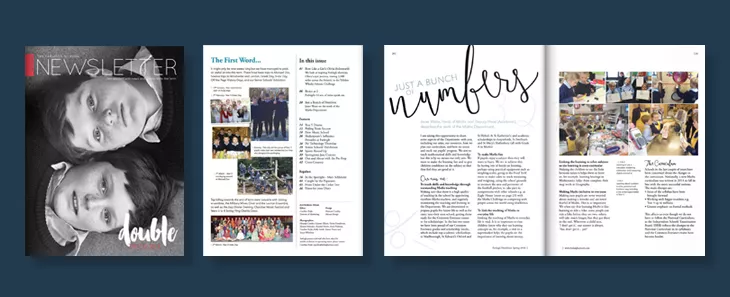 Let's start with this example. What I'd like to point out here is the table of contents. It's not flashy, but it's on the very first page. On top of that, you have images that add to the content, but don't distract you. Overall, this is a simple and effective example of how to create a newsletter.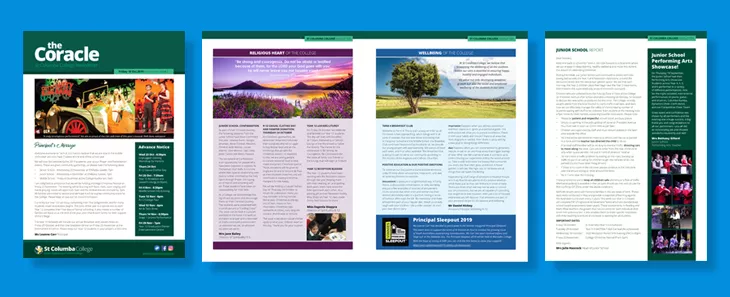 Now moving on to this great example. Right from the start, the colors grab your attention. Now notice something on the front cover. There's an urgent message front and center. This is a very effective way of bringing certain things to the reader's attention.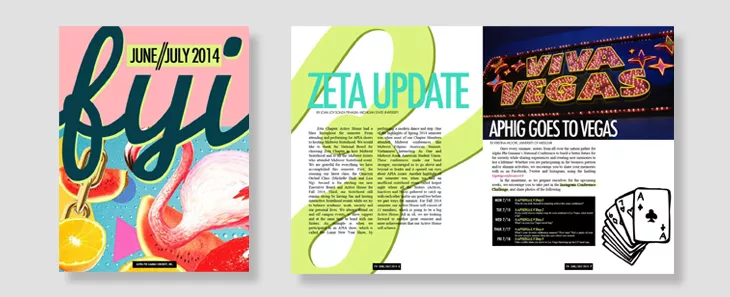 Finally, let's take a look at this FYI newsletter. First impressions? It's colorful, it's bold, and it's just pleasing to look at. They pair content with a lot of really interesting visuals, so it makes it feel more like a magazine over a newsletter.
When should you use a flipbook newsletter?
Like we talked about above, there can be a lot of information that a brand needs to get out there. In these cases, the best bet would be to use a flipbook newsletter.
Think about it this way: people generally fly through their emails. Very few people will want to take the time to go through a massive email newsletter. However, if you present it in a way that's easier to read, gives more room to make it easier on the eyes, and make it interactive, it becomes less of a chore.
When should you use an email newsletter?
For an email newsletter, the rule is going to be the exact opposite of the flipbook newsletter.
If you have just a little bit of information like a quick update, the best bet would definitely be to use an email newsletter. Of course, there are all kinds of techniques to getting your emailed newsletter in front of as many eyes as possible, but we'll save that for another time.
For now, just remember: Newsletters greater than 250 words are better in a flipbook format with images and details. With anything less, you can get away with an email.
How to create a newsletter
Now, let's talk about design. What are the basic elements of a good newsletter? Again, each one will be different, but there are some things that you should always consider adding.
If you have a lot of information to send out, odds are that you will need to take up a lot of pages. For some people reading your newsletter, some of that information is way more important than others. A table of contents is absolutely vital in these situations. Instead of aimlessly wandering from page to page, readers can flip to the exact page they need.
If you have any important updates to share, now is the time to do it. Most of the time, you should start with a quick update on what's changing, what's going on, and the progression of previously covered topics.
This goes for pretty much any field of topic, not just business. For example, students should be updated in their school's newsletter, too. don't get this confused with a prospectus, though. I covered some really nice prospectus examples in another article. be sure to check that out, too.
Any content that you feel drives the message
Okay, I'll admit that this is sort of a broad topic. But it would be impossible to cover all the little points that can drive a message. Remember, the purpose of a newsletter is to inform. Keeping your message in mind, as we discussed above, you could produce all sorts of content to drive that message.
The fastest way to make a newsletter
With everything above being said, there are a few ways you can insure that your flipbook newsletter is laid out perfectly.
The best and fastest way to create a newsletter is to use Flipsnack. Our editor will help you not only make a newsletter quickly, but to make it look good. In fact, the examples that we used earlier were all creations we found on Flipsnack. Those particular ones were created using PDFs and then uploaded into our platform.
There are 2 ways to make a flipbook newsletter with Flipsnack: via PDF or from scratch. The PDF route is simple: upload your premade PDF and you're all set. But, if you want to use our editor to create your own masterpiece, you can do that, too.
If you're not confident enough to start a newsletter from scratch, you can always use one of our many templates. Since the flipbook newsletter isn't your traditional newsletter layout, you can choose anything from a magazine template to a business report template. They are there and are waiting for you.
Don't forget to share your newsletter. We offer a ton of ways to share your newly created flipbook newsletter:
This is probably the most common way to share a flipbook newsletter. But make no mistake, this does not make it an email newsletter.
Since newslettters are typically an internal form of communication, you will most likely share your newly created flipbook newsletter with a closed company group. Either way, Flipsnack makes that easy to do, too.
If there were any complications getting the newsletter to a colleague, no worries. You can share the newsletter directly with them with a quick link.
Share with full-screen URL
Full screen is always better. Using our full-screen link, there will be no distractions from the latest company news when colleagues and employees are reading it.
Embed it on your own website
This is a very uncommon way to share newsletters. After all, most newsletters are shared privately. But you have the option nonetheless.
Wrapping it up
After all of this, you may still be wondering how to create a newsletter. The fact is that they are different depending on the audience, industry, and region. We covered the basics here, but I strongly urge you to conduct your own research with your own brand to see how your audience reacts to various styles and formats.
All-in-all, the flipbook newsletter is simple. As long as you get the right information to the right people, there's not a lot that could go wrong. Just take it one step at a time and change things like design and distribution frequency as needed.