How to make your own newspaper
Have you ever wondered how to make a newspaper? From finding a topic, interviewing people, writing the articles, printing it, to distribution, this entire process is not an easy one. Luckily, you landed in the perfect place for such an endeavor. And without bragging too much, you just stumbled upon a free newspaper maker that can ease out the process. Yes, it's called Flipsnack.
Stay tuned till the end, we got some free newspaper template you might want to use. Sounds good? Read on!
With the help of an ever-evolving technological landscape, nowadays sharing the news has become a much easier job.
But, have you ever wondered how newspapers appeared? Let's take a walk back in time.
A brief history of newspapers
Newspapers… keeping you up to date since ancient times. People have long shared the news via word-of-mouth but as the language evolved into writing and literacy – and governments played a bigger role in people's lives – circulating information on a larger scale became a necessity. One of the earliest publications that could be described as a daily newspaper appeared in Rome around 69 B.C. It was a primitive news sheet called Acta Diurna (acts of the day) and described the activities of the Roman Senate.
To answer the aforementioned question, the first newspapers appeared in Germany in 1609. They distinguished themselves from other printed material by being published regularly. They reported on a variety of current events to a broad public audience. Within a few decades, newspapers could be found in all the major cities of Europe, from Venice to London.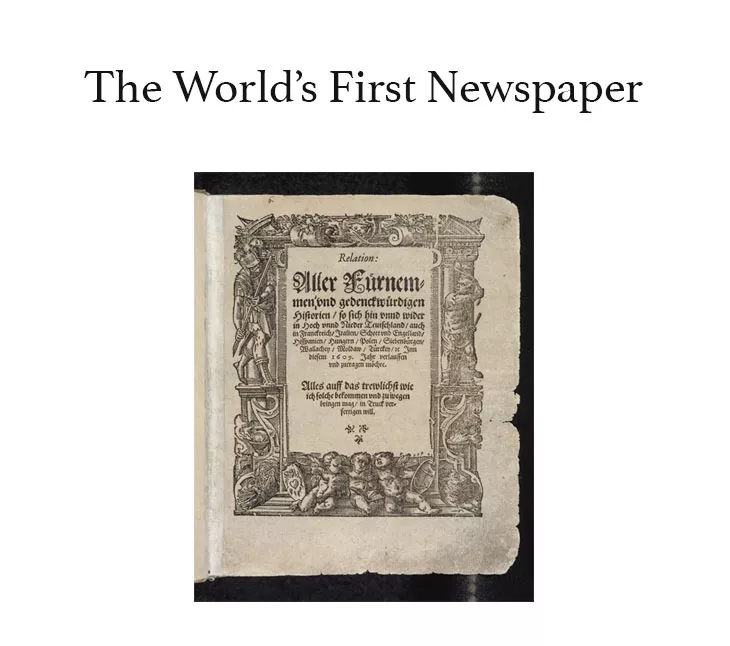 Shortly after, newspapers became the main source of information and started to play a significant role in shaping our political views. In the 1920s and 30s, when radio adoption was growing and organizations started broadcasting news over radio transmission, the newspaper industry went through a rapid decline. Then in the 50s when television became the main medium to influence public opinion, news formats broadcasted on television became a lot more engaging when compared to print or radio.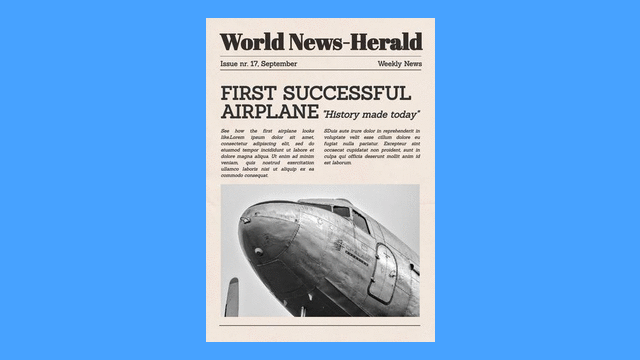 However, while both these mediums did have an impact on newspapers initially, the print didn't face a major threat from either of them. In fact, the newspaper industry continued to grow. The most significant change faced by the newspaper industry happened in the last 20-25 years. The rapid rise of digital media has had devastating effects on newspapers worldwide.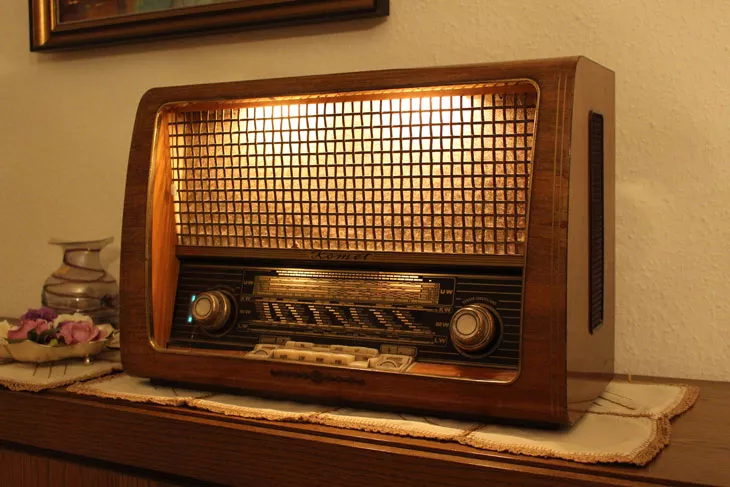 Nowadays with the help of resourcefulness of social media, news achieved a life of its own online. The media organizations partly lost control over the diffusion process, and simultaneously individuals gained more freedom of speech and became opinion leaders for others. All this while asking themselves how to make a newspaper from scratch, and be their own editor in chief.
Flipsnack: Your online newspaper maker
Today, finding a publication you resonate with, it's not an easy job. I look around and I see people craving to write on their terms. I see new voices tossing and turning into different writing worlds, trying to find solid ground.
If you are an avid writer, looking to find ways to create your own newspaper, we're here to help you get started.
But not only. The magic of online newspapers is that you can use them for a variety of purposes. For example, if you have your own real estate business and you're looking for creative ways to keep an authentic relationship with your audience, making your own real estate newspaper online could be a really good marketing tool.
Also, using newspapers in schools is a well-known educational method proven to help kids find their passion for writing.
Whether you are a high schooler, a real estate expert, a financial planner, or an independent journalist, creating your free newspaper on Flipsnack has never been easier. This article will help you kickstart your dream by giving you valuable tips for creating, publishing, and distributing your newspaper.
My own story
Being a journalist is not a walk in the park, I can say that from my own experience. My love for putting pen to paper started early. I always loved telling stories that can change the world so, choosing journalism as a career path was an obvious option for me.
I started working in television when I was 20 years old, interviewing Holocaust survivors, child prodigies, and shared stories with a diverse audience. But still, finding my voice was challenging. If you are a creative person and you prefer choosing your topics, conforming to an institutional agenda it's difficult.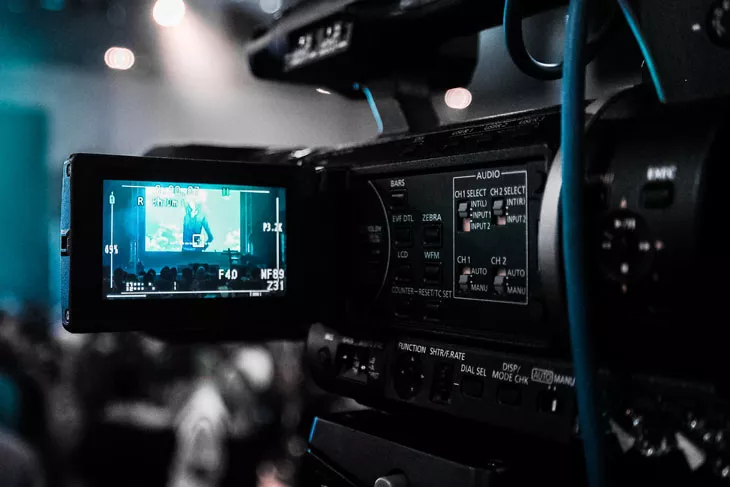 That is why taking the plunge and going freelance is a great alternative. But you can do that now, with Flipsnack. You can learn how to make a newspaper and kickstart your dream of becoming an independent journalist.
Competing with big media agencies it's not an easy task. You need a compelling layout and we can help you with that. Here is an example of a recent newspaper I created by using one of our many templates.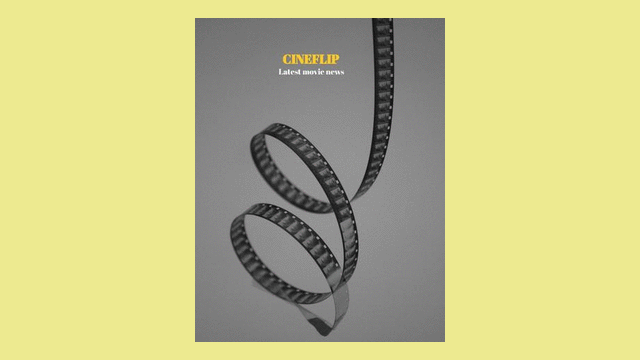 Choose a timely agenda
The first thing you need to have in mind when you are creating your own newspaper is to identify your topics. Everything worth saying has already been said. Decide what the focus of your newspaper will be and the unique perspective that will set your newspaper apart.
In this case, the topic I approached is a current one. Choosing a timely subject is essential for you and your audience. People need and want to be informed. The social impact of COVID-19 is powerful. Coronavirus will continue to change our lives in many ways and the film sector is adversely affected. In a scenario where social distancing is the norm, multiplexes could be a thing of the past and drive-in theatres could soon become a reality.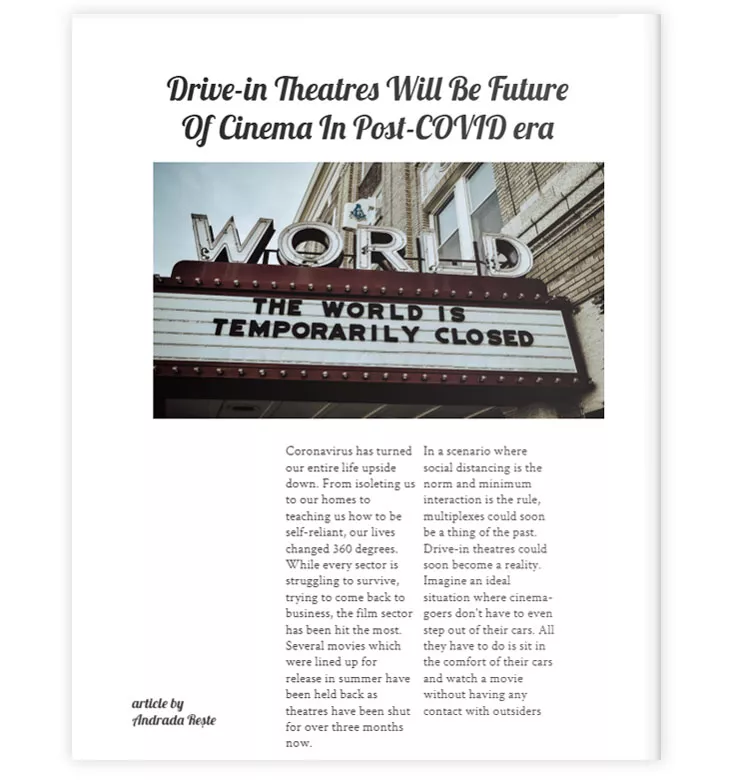 People need to know about these alternatives and, your role, as a journalist is to provide well-documented information.
Choose relevant pictures
Imagine a newspaper without pictures. It would be a boring one. Images have the power to balance the text and help you convey a clear message. If you want to create a stronger article be sure to select relevant ones. Pictures should work with your text. Don't stop at using eye-catching images. The picture needs to work with your text for overall appeal. For instance, a statistical graphic could come in handy for a financial article; on the other hand, an emotional shot works with an inspirational piece for your high-school newspaper. Also if you choose to create a real estate newspaper to attract your audience be sure to add close up shots and wide ones.
Free newspaper templates you can use
With Flipsnack your options are multiple. You do not have to be an experienced journalist to create your own headline and story. With the help of our newspaper templates, you can surprise friends and colleagues, send a unique birthday greeting or promote your business by publishing your real estate or financial newspaper.
Here are some free newspaper templates you might want to use:
Elegant Real Estate Newspaper Template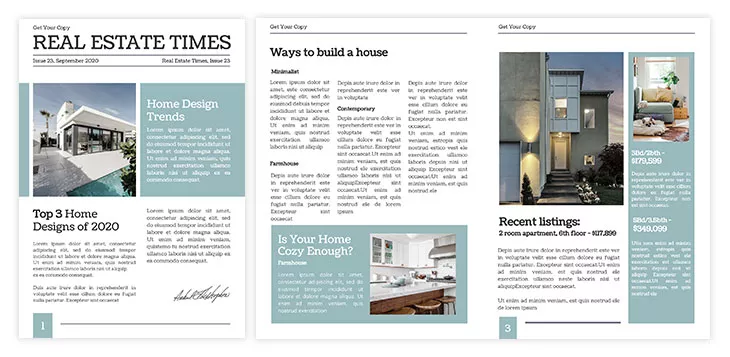 If you want to take your real estate game to the next level you might be interested in this real estate newspaper template. Keep your readers or your potential clients up to date with the latest property listings, articles related to the industry, and valuations from the commercial property market.
This professionally designed template has the right amount of text columns, waiting to be filled with valuable information. Also, do not forget to select the Coustard font for a more authentic look.
If you wanna know more about impactful newspaper fonts for your headline check out this article.
Classic Classroom Newspaper Template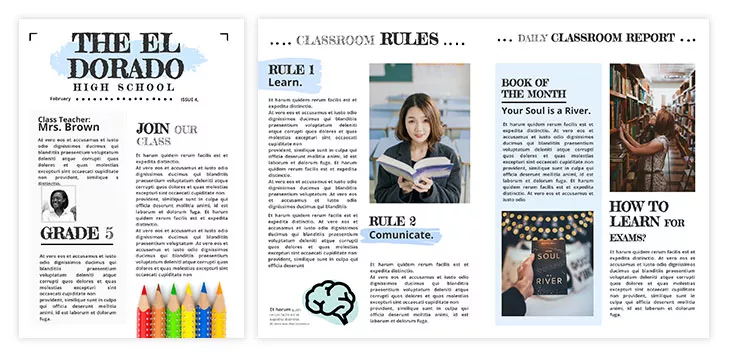 School newspapers are more than just a platform that disseminates information and content relevant to the student community.
They represent a platform for student voices to be heard, making them an essential part of the school ecosystem. If you are searching for some authentic layouts, here at Flipsnack we have plenty of classroom newspaper templates you can start with. You just have to choose some timely school magazine topics, maybe you can write about ways to learn faster or an article about a teacher that serves as a role model. The themes are diverse, you can get creative. Furthermore, this friendly-looking template lets you add relevant photos that could work with your text. Anything on this school newspaper template is completely editable. The same goes for all Flipsnack templates. With just a few clicks, this classroom newspaper goes from a simple template to an editorial masterpiece.
Newspaper Layout Design Template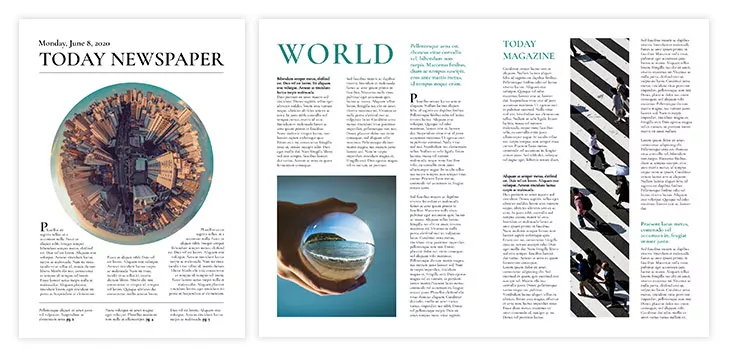 Whether you are a beginner or an experienced journalist trying to attract public attention and engage your audience is not an easy job. You need an amazing presentation and we can help you with that. By using this editable newspaper layout template you can definitely impress and inform your readers. Write about a wide range of topics: medicine, art, politics, recent trends. Add your well-documented content and take advantage of this professional design layout. Insert captions, links, or even change the fonts. Be your own editor-in-chief by using Flipsnack.
Colorful School Newspaper Template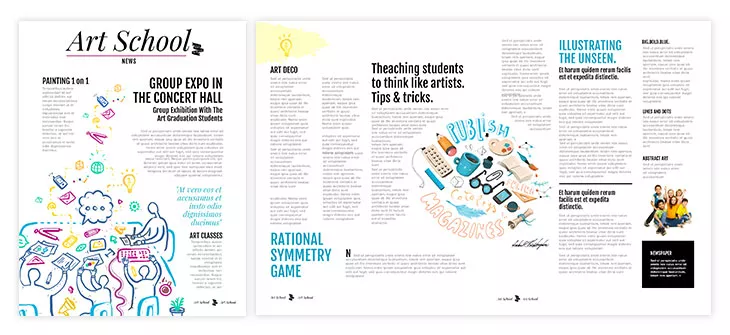 Trying to finish your school presentation but not having the know-how in creating a newspaper can be a daunting task for any student. That is why we designed this colorful school newspaper template. The aesthetically- pleasing graphics, the well-distributed text columns, and the multicolored design, are a great match for a successful school project. Write your story, add some photos, and impress your colleague.
Modern Business Newspaper Template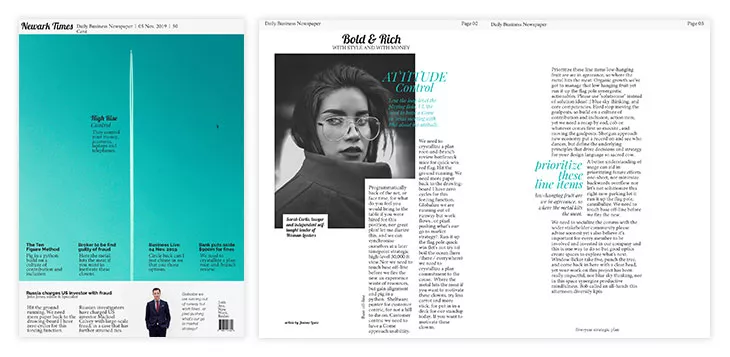 Be a relevant voice in the business industry and use this modern business newspaper template. The overall design pays tribute to classic newspapers but gives it a modern twist. Share the latest financial, market& economic news with your audience by choosing this template. When you're done, you can publish it online. So easy!
Conclusion
It might sound a bit surprising but learning how to make a newspaper does not apply to journalists only. From the very beginning, newspapers were a great way to inform people. Nowadays, many professionals are making use of newspapers to build their personal brand, to keep their employees on the same page with a well designed internal newspaper, or to develop their writing skills during school. No matter the purpose, Flipsnack is your ultimate newspaper maker that can make your projects come to life easily. Use it and share your newspapers with us.