How to export from InDesign to web PDF
If you're using InDesign to create a web PDF for Flipsnack to turn it into an interactive digital flipbook or for other purposes, there are a few things you should know. It's all about optimizing your PDF to avoid any conversion errors and have the best image quality while keeping in check the file size. We have some tips for you, but before moving on, we have some good news, too.
We just launched a new extension:
Flipsnack extension for Adobe InDesign
You can now import your Adobe InDesign PDF files directly into your Flipsnack account. No more back and forth between Flipsnack and Adobe InDesign. Read more about the Flipsnack extension for Adobe InDesign and learn how to use it successfully.
Specifications for web PDFs:
PDF should be maximum 500 pages
PDF should be maximum 100 MB
flatten as bitmap any complex vector objects
use 150 PPI (pixels per inch)
InDesign PDF export settings
Make your layouts and then Export. You will see 2 PDF options:
PDF Print and
PDF Interactive
Choose PDF Print, as this will allow you to create PDFs that will be ready for print and web.
We recommend you to use the "Smallest file size" preset and select "Optimize for fast web view", which is perfect for web. Make sure the "include hyperlinks" and "compress text and line art" boxes are checked.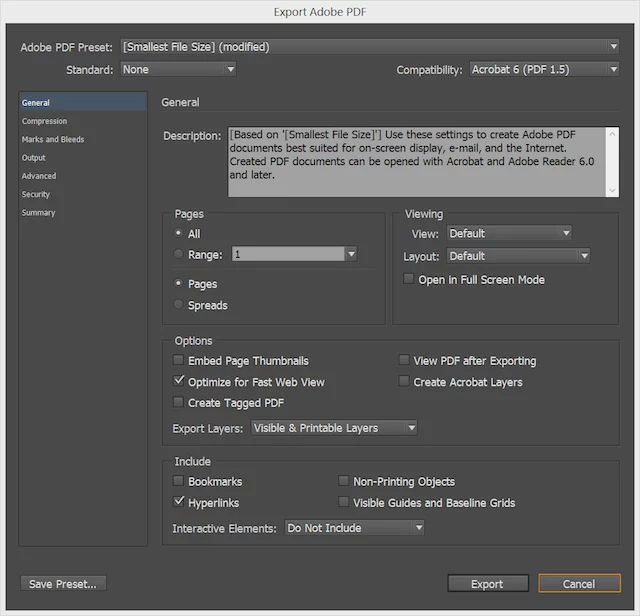 Alternatively, you could make your own custom preset for your PDF. A PDF preset is a group of settings that affect the process of creating a PDF. This will allow you to balance the file size with quality.
Settings you should check for your web PDF export:
In the "General" tab:
Compatibility: Acrobat 6 (PDF 1.5)
Optimize for Fast Web View
Export Layers: Visible layers
Include Hyperlinks
In the "Compression" tab
Set all (colour, greyscale and monochrome) images to "Bicubic Downsampling" to 150 pixels per inch for images above 150 pixels per inch.
Select "Compress Text and Line Art"
Save your new Export Preset by clicking "Save preset" You can even name it "Flipsnack" and next time you want to export a file as PDF for FlipSnack, you can use this preset.
Now you can upload your PDF and transform it into a flip book on flipsnack.com and add even more interactivity: audio, video and more.
More info here.
You know where to find us, should you have any questions.