Flyer size guide: The best ways to print flyers
Whether you're promoting an event or a product, flyers can be effective at capturing attention and delivering your message to your ideal customer. If you've ever been in any sort of public space, I'm sure you've seen your fair share of flyers. In fact, I'm sure you've seen a wide variety of different flyers. There are many shapes, sizes, and colors that a flyer can come in. But, how do you know which flyer size is the best for you?
Don't stress out too much. This guide will walk you through the process of creating the perfect flyer. Let's start with the flyer size:
What flyer size should you use?
So what goes into picking the perfect flyer size? Well, in all honesty, it really depends on the style of the flyer you want to go for. Let's go through the standard flyer sizes and talk a little about them.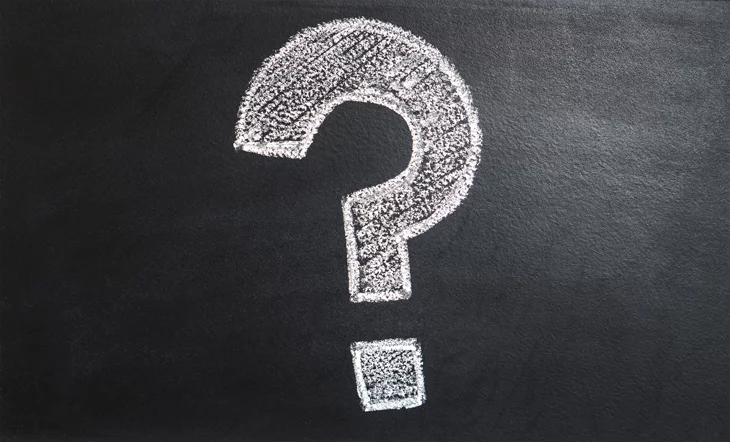 A7
A7 paper is probably one of the smallest standard flyer sizes that anyone would use at 105mm x 74mm. Because of its small size, it's brands use to quickly grab someone's attention, without overloading them with too much information. It's a very useful tactic, but if you can't get your point across in the provided space, then your potential customer may lose interest completely.
Just try to keep it short and sweet, and the A7 will work just fine.
A6
A6 paper is probably among the more popular standard flyer sizes brands use. At 148mm x 105mm, A6 flyers are roughly the same size as a postcard. Again, this flyer size isn't massive, but it's convenient for the person receiving it. Nobody really wants to be carrying around a giant piece of paper. Actually, most people probably wouldn't even accept a massive piece of paper.
The A6 flyer size is the perfect balance between space for the creator and information for the customer. It allows a decent amount of space to get your points across, but not too much space to overwhelm anyone.
A5
As we keep going, the flyer sizes will become bigger. The A5 paper is larger than the A6 at 210mm x 148mm, and it's every bit as popular. A5 flyers are most likely what you would be handed in a mall or at a show. Many brands choose this flyer size to help them promote a product or a service.
Much like the A6, the A5 is small in size, but if you use it correctly, it is very effective. Most of the time, brands use both the front and back sides of the A5.
A4
Although there are some cases of brands using the A3 paper size, the A4 is typically the biggest size they'll go for at. At 297mm x 210mm, the A4 flyer size is not only a standard flyer size but a standard paper size. Most notebooks and writing papers are A4.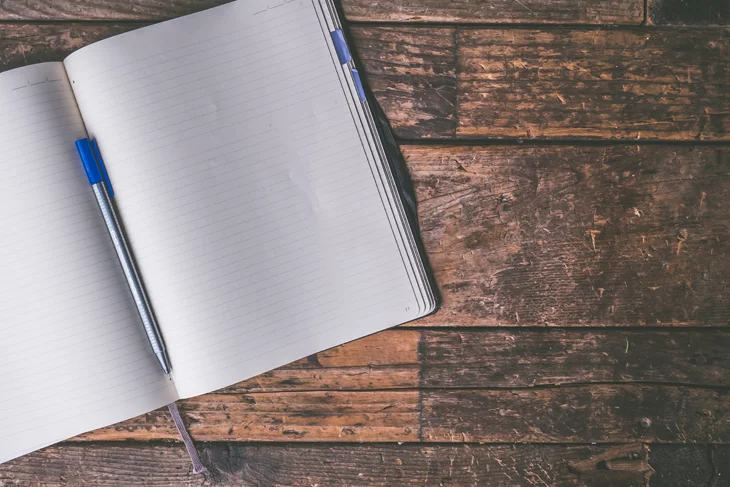 The reason most brands don't go past A4 is because of its sheer size. Once you pass A4, you're not so much dealing with flyers anymore, but posters instead. Of course, remember that the idea behind a flyer is to make it convenient and to make the customers want to take it. If you make a flyer too big, you may as well and not make it at all.
DL
DL is ⅓ the size of the A4 paper. The DL flyer fits perfectly into envelopes, making it the ideal choice for mailing campaigns. They also fit perfectly into pockets.
DL flyers are quite cost-effective, so if you're on a budget and want to get your flyers out into the world, consider using one.
Square paper
Square paper is for those brands that want to add a little extra flare to their flyers. Although there are many different sizes you can choose from with a square flyer, the most popular dimensions are 140mm x 140mm, 148mm x 148mm, and 210mm x 210mm.
With a square paper flyer, there really aren't any rules that are set in stone. Sure, you can go by the popular sizes, but no one is going to rip out a measuring tape.
The key here is to make sure your design looks good on the flyer without making it too big. Remember, they're called flyers, not posters.
Intended use of the flyer

After you've chosen the perfect flyer size for your needs, it's time to think of the next step: the intended use of the flyer. This should be your ultimate goal from the beginning. There's a difference between trying to raise awareness of your new product or promoting the grand opening of your new restaurant. You must be clear on the goal and use of the flyer before choosing the perfect colors and paper. Once you've clarified this, each of the next steps can be in alignment and more effective.
Things to consider before printing
As far as flyer size goes, the sizes listed above are definitely the most popular. Depending on the message you're trying to get out, you can choose from any one of them, and they will most likely do their job perfectly.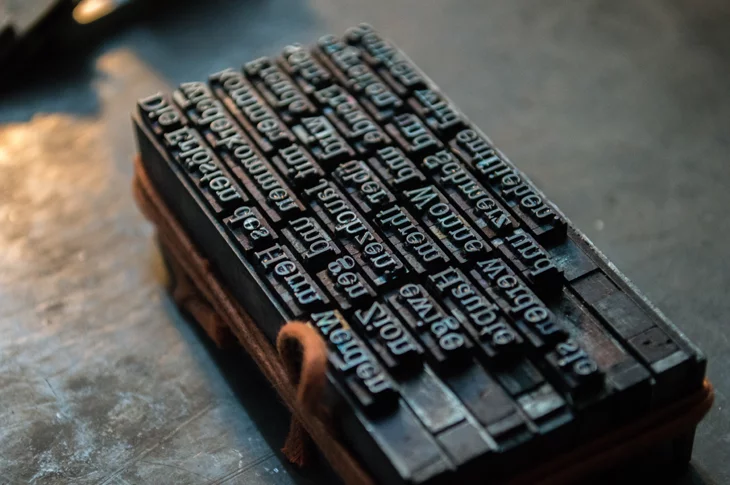 That being said, there are a few more things to consider before you take your final design to print:
Color
Your color choice really comes down to your own taste and the brand. It only makes sense to use your brand's colors, but you also want to make sure that there are no clashing colors.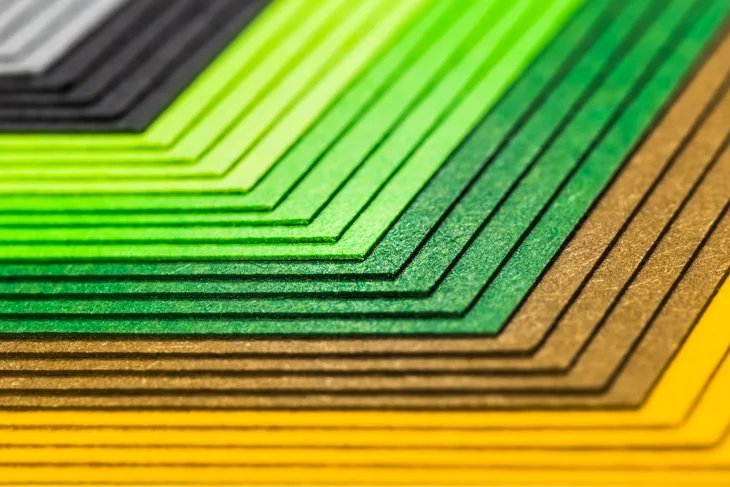 A good tip here is to either be confident in your choices or keep it simple. Sure, lots of wildly vibrant colors work for some brands, but neon green doesn't work for all of us like it does for Monster Energy.
On the flip side of the coin, simplicity might be the best way to go. Safe, neutral colors can still get the job done, as long as your words are used correctly.
Folds
Lots of flyers have designs in them that require folding. Folds add dimension to your flyers, and as simple as it is, it also adds a lot of appeals if it's done correctly.
Folds play a big part in your flyer design if you choose to include them. From the start, they can immediately influence your flyer size choices. After that, you may have to choose a specific printing method or paperweight, which leads us to the next point.
Paper weight and type
You can probably split these two points, but since they both have to do with the choice of paper, we'll leave them together.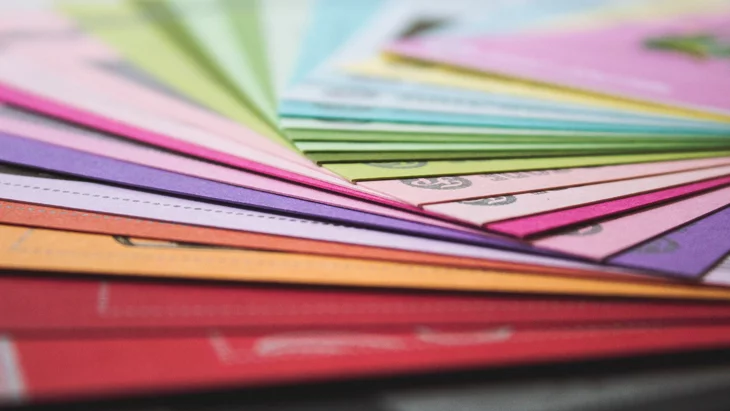 When choosing a paper type, it really comes down to the design you're going for. Depending on your taste, you can opt for a matte or gloss finish.
As for the paperweight, it all depends on how sturdy you want your flyer to be, and what your budget is. If you have a bigger budget for flyers and don't mind spending a little bit extra, then a heavier weight might be the right choice.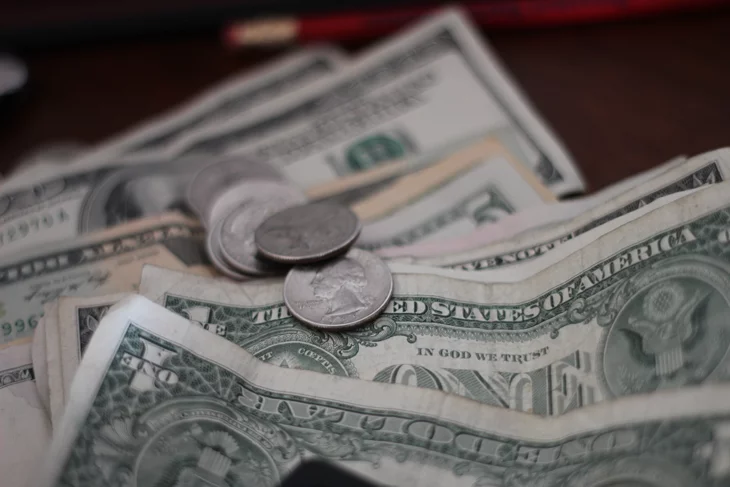 If you're trying to save a few bucks, then a lighter weight might be the best option. Another added benefit to the lighter weight paper is that they're easier to bend. Going back to folding flyers, this could be a big choice to make for the overall style of your flyer.
Flyer distribution
There's another important aspect when talking about flyer sizes: the distribution part. With Flipsnack, you have two options: you can send your flyer securely via email or share it on social media, or you can choose to print it and hand the flyer personally to your customers. Regardless of the method you're going to use, worry not, Flipsnack is always at your disposal to help you in this regard.
Let Flipsnack help
If you're interested in designing your flyer online, then look no further. Flipsnack provides a quick and easy way to not only pick custom page sizes for your flyer but custom design it as well.
In addition to all the helpful tools located in the editor, there are many templates for you to choose from. No matter what industry your flyers are promoting, there's a template for you.
Once your flyer is picture-perfect, you can upload it or download it to be printed later. Flipsnack really is the perfect flyer creator.
Flyer templates that suit your needs:

We've made a selection of free, various flyer examples that you can choose from our beautiful collection. Flipsnack has any type of flyers you need. Just click on the template and edit it exactly as you wish. 
Simple St Patrick's Day Flyer Template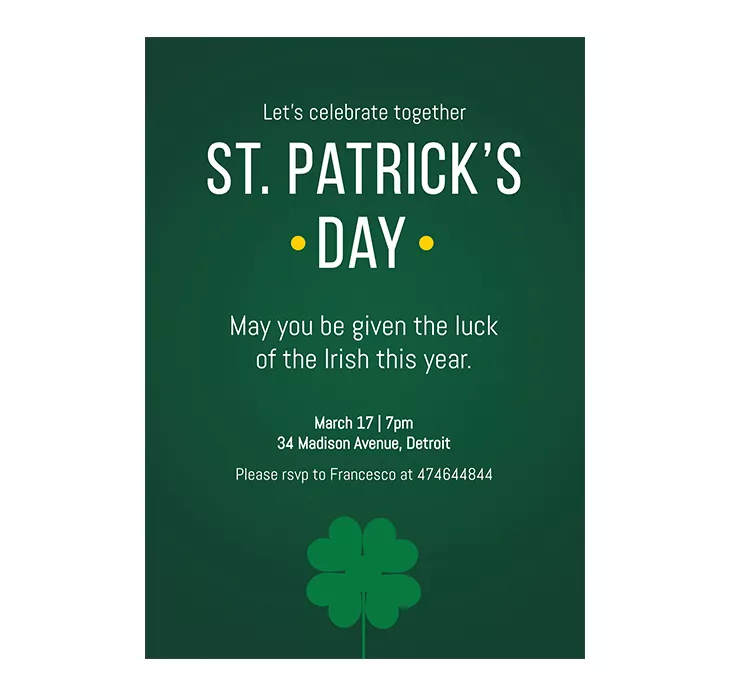 Whether you're a pub owner or a restaurant owner, you just can't miss out on St.Patrick's Day. People all over the world celebrate this special day with lots of drinks and food. Get ready for this big event with a proper flyer template. Like this one from here. With a dark green design (d'uh!) and a green leaf clover, this flyer will save you a lot of time and stress. All you have to do is to edit all the contact details and have everyone know where to RSVP. Cheers to a better and successful life!
Open House / House For Sale Flyer Template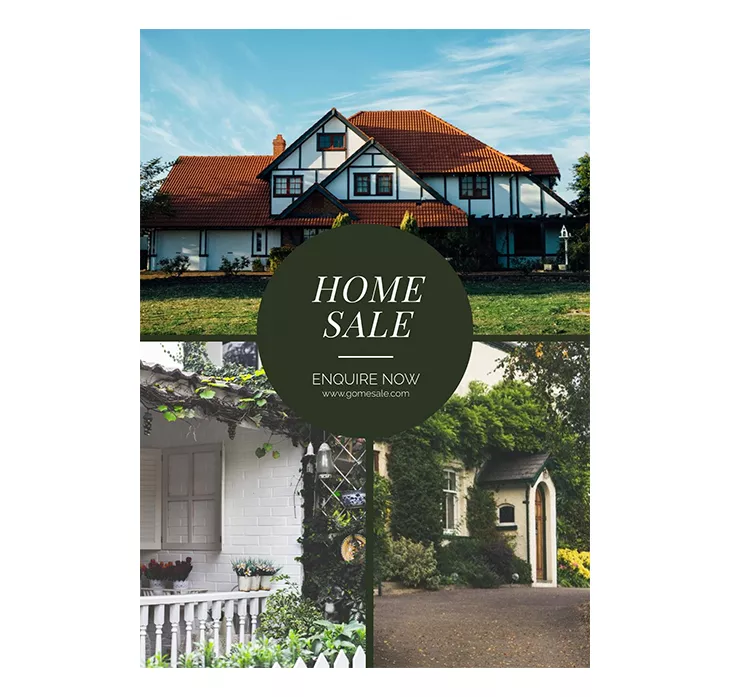 Here's another great flyer example from Flipsnack. Selling or renting a house can be pretty stressing these days, but with this gorgeous flyer template, you can definitely not worry. This marvelous open house/ house for sale flyer template is perfect for any lavish building. Not to mention the fascinating layout that gives you the opportunity to expand your real estate reach to the fullest. Add your own photos, text and colors to match your branding and you're done!
Minimalist Christmas Party Flyer Template
It's never too early to think of hosting the Christmas party this year. Your friends and family will be more than happy to join your beautiful dinner feast. Impress them with this sparkly golden and white party flyer template. All you have to do is to edit the text with your own. This way, you'll no longer have to stress about the invitation part and you'll have more time to cook the most delicious food and entertain your guests. The best host award will go to you this year, for sure!
Modern Thanksgiving Flyer Template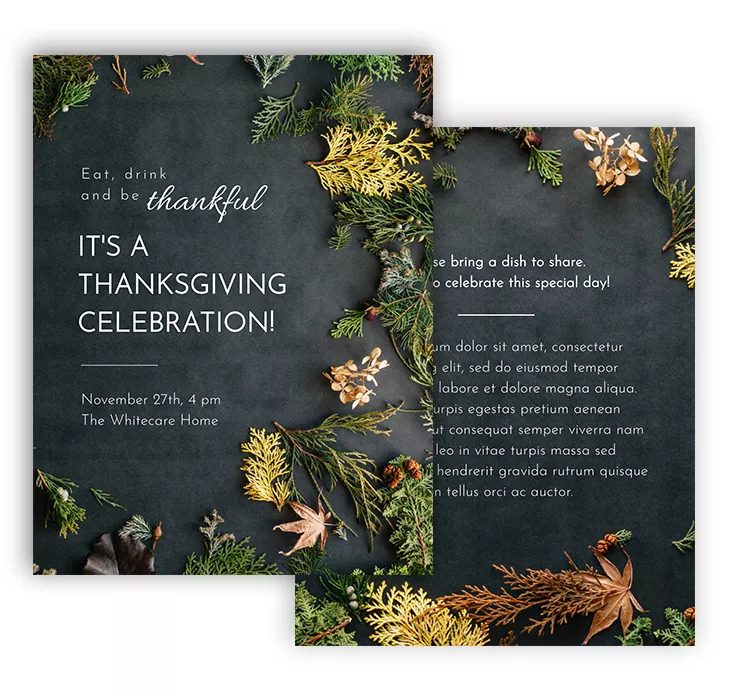 Thanksgiving is everyone's favorite celebration because they get to spend time with their loved ones and eat the best food ever. Only a few months to this special holiday, so you better be prepared. This modern and bountiful flyer template is the perfect solution for you. All you need to do is edit some of the finer details like date, location, and time, and you'll be all set to rock the Thanksgiving Day dinner table.
Wrapping it up
If you're ever having trouble deciding on which flyer size to use, just remember: there are no rules. What works well for some may not work well for others. True, there are a few guidelines to follow, and they're listed above, but that doesn't mean you have to follow the beaten path.
Just as a recap, here are all the flyer sizes mentioned above in a helpful table: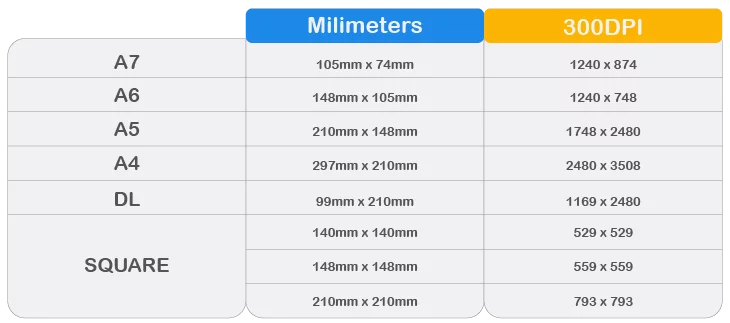 Follow the guidelines that you believe best suit your needs. Remember that if you ever need help designing a flyer, Flipsnack is always here to help.