Free April 2019 wallpaper calendars
Who else is excited about Spring? April is here, so that means Spring has finally sprung and you know what that means! Two brand new free April wallpaper calendars.

Now the winter is over, maybe the sun will help us all get more productive. Give your desk a refresh, since it's also spring cleaning season. And why not try something new? Did you hear about Marie Kondo's revolutionary way of tidying up? It's revolutionary for good reason!
Because you only get to choose the items that spark joy and discard what doesn't.

Free download:1920×1080, 1366×768, 640×1136
Start by decluttering your desk, add some new life to it with small desk plants, a new coffee mug and maybe hang a new print on your walls. And while you do that, also set a new wallpaper for your desktop or laptop.
Here's our first April wallpaper calendar that you can download in any size. For laptop, desktop or mobile. I promise it will increase your productivity levels!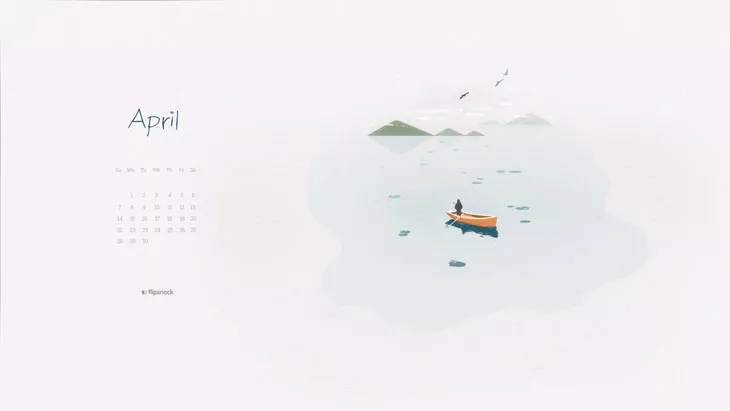 Free download:1920×1080, 1366×768, 640×1136
April is nature's way of saying: Let's party! So, get out in nature and enjoy the longer, sunny days. Nature is also the theme of our second April wallpaper calendar.
April is by far, my favorite month of the year. It's not too hot to spend time outside, not too crisp either. It's just the perfect temperature to go out and enjoy a boat ride in the sun. But, we all know April can be moody, so don't forget your raincoat at home!
That's it for this April! Please let us know which design you liked the most this month. Also, don't forget to subscribe to our wallpaper calendars in the subscription form below. You'll get our monthly calendars directly in your inbox. Cool, right?
See you in May!