Free Halloween flyer templates
Halloween is coming soon, so we thought we should help you with the preparations by sharing our free Halloween flyer templates with you. They are perfect as Halloween party invitations, event flyers, for costume contests or for Halloween promotions.
Whatever your Halloween flyer needs may be, we got you covered.
First things first, let's see these Halloween flyer templates
Alright, we have 7 flyer and brochure templates and 3 customizable Halloween party menus. All in all, we're talking about 10 templates ready to use.
Just looking for some inspiration for some Halloween flyer event ideas? Well, you're in the right place as well! Just keep scrolling to see all the designs that we prepared for this event!
Take a look at the Halloween dance flyer on the left and the gorgeous Halloween costume party flyer on the right:
How about these scary party flyers?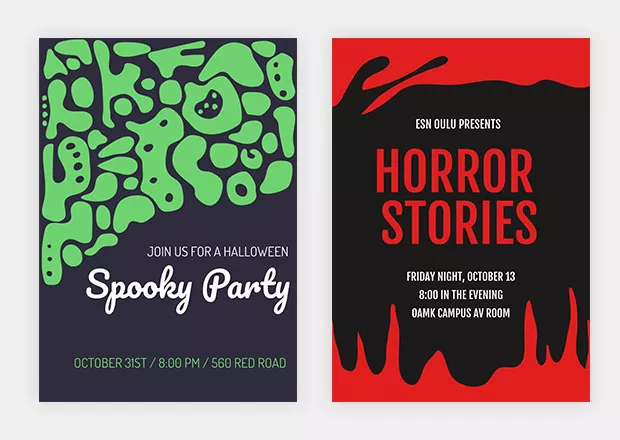 Then we have 3 skinny templates that can be customized to become Halloween event flyers and promo flyers for a Halloween sale.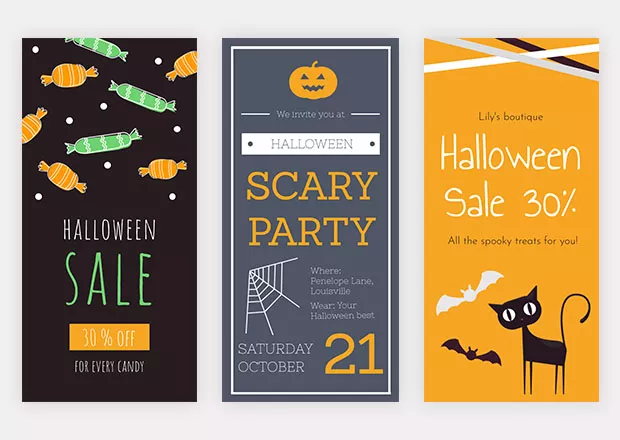 What do you think about these scrumptious Halloween special menus? Aren't they to die for?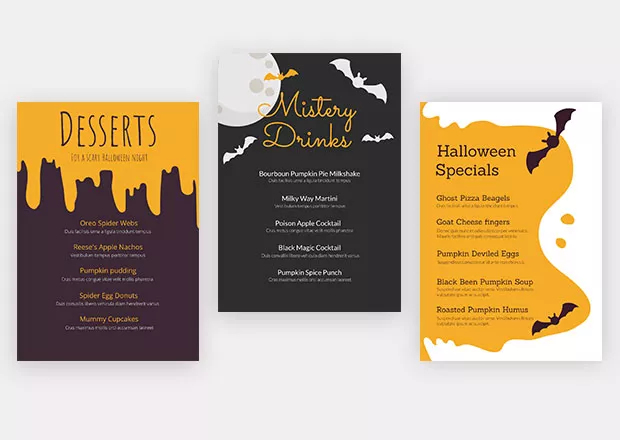 These templates are professionally designed, making it easy for you to promote your event or product in style! All you have to do is replace the text and you'll have a finished design. It might seem like cheating, but who would want to make a design from scratch when they could just edit these templates?
All of them are free to edit, publish and share online, but if you want to download and print them, you will have to upgrade to a premium subscription.
How to use these Halloween flyer templates
These are the easiest templates that you've ever worked with because they don't require you to use Photoshop or other complicated tools. No need to install software on your computer either. So how do these work?
You can edit them online, on Flipsnack. These are all the steps that you need to take in order to access, edit and download these templates.
Sign up to Flipsnack – it's free
Access the online brochure creator by clicking "Create new"
Select the first or the third size option, depending on the template that you'd like to edit.
Select the desired template (if you want to create a menu, you have to take an extra step, and choose that from the dropdown menu that sits above templates)
Start editing! You can edit texts very easily. Just double click on them and then start typing something else. Customize colors, fonts, sizes.
To replace images click "Images", import your own, then drag and drop them on the page.
Done? Go to the next step, Customize and personalize the look and functionality of your digital flyer
It's time to publish and share it with your friends!
That's pretty much it! You have the Halloween invitations ready, so let's get the party started!
See how easy it is to make a beautiful Halloween invite or menu if you have a professionally designed template that you can customize?
If you want to download and print your design you'll have to upgrade your account. But it's worth it! With just $32 you can design and download as many flyers as you want for an entire month! And here's a coupon code that's valid until Halloween with gives you 25% discount:
Looking for Halloween flyer templates free PSD?
No problem, check out these Halloween party flyers in PSD format, free download, and some other Halloween freebies to go along with them (social media posts, patterns and catalog templates).
We hope that you like these designs as much as we do! Let us know in comments what other freebies you'd like to get from us!