Free January 2019 wallpaper calendars
Cheers everyone, 2019 is just around the corner! Yay for new beginnings, fresh new challenges, and two free January 2019 wallpaper calendars!
Aren't you excited for what the future holds? I surely am!
January is not only the first month of the year, but it's also much more than that. It's the perfect time to start all over again. And with the holiday season already upon us, it's the perfect time for retrospection and reevaluation. Time for making new resolutions, new plans and hopes for a better year that's to come.
Here at Flipsnack, we like a good tradition, so we decided to keep alive the free monthly wallpaper calendar. In the true spirit of the holidays, we are already ready to conquer 2019 with two brand new January wallpaper calendars. I encourage you to start this New year, New me resolution by changing all your wallpapers. This one's pretty easy to accomplish!
Free January 2019 wallpaper calendars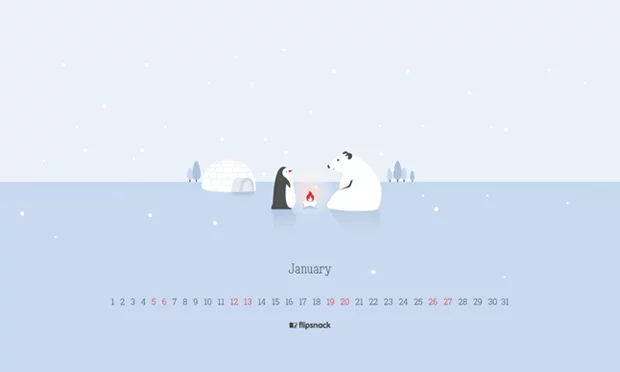 Free download: 1920×1080, 1366×768, 640×1136
Wintry season is the time for comfort, for good food and warmth, for the touch of a friendly hand and for a talk beside the fire: it is the time for home. Our first January wallpaper calendar is just a cute little reminder to keep your close ones together for the holidays. Simply have a chat by the fire. Get cozy and make some new memories. Oh, how fun will that be!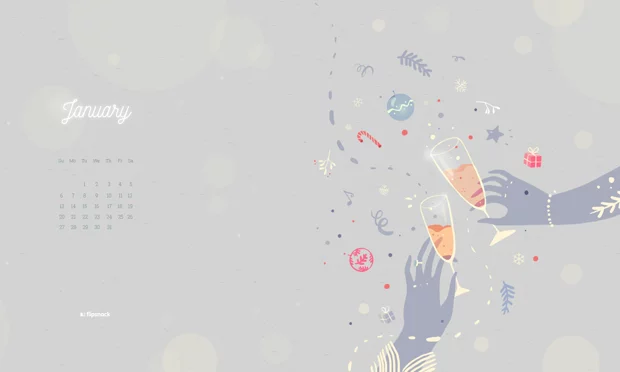 Free download: 1920×1080, 1366×768, 640×1136
Our second January 2019 wallpaper calendar celebrates New Year's Eve! No matter how you like to spend this special night, one thing's for sure: it's one of the most wonderful nights of the year. Whether you'll want to spend it in the comfort of your own home, or rather hit the town, either option is best celebrated when you're surrounded by your loved ones.
One old Scottish song called Auld Lang Syne best describes this special night. The song looks back over happy days from the past, separation, then coming back together.
"Should auld acquaintance be forgot,
and never brought to mind?
Should auld acquaintance be forgot,
and auld lang syne?
For auld lang syne, my jo,
for auld lang syne,
we'lltak' a cup o' kindness yet,
for auld lang syne."
Download our January 2019 wallpaper calendars just by clicking the desired size. All our wallpaper calendars fit every device: from laptop to tablets and smartphones. Cheers to new beginnings and challenges! Until next month we wish you Happy Holidays and a Happy New Year!
[wpforms id="46972″ title="true" description="true"]