Free March 2019 wallpaper calendars
No winter lasts forever; no spring skips its turn. And this year is no different than any other, 'cause March is almost here and we couldn't be happier! Let's celebrate together with our new free March 2019 wallpaper calendars!
March is definitely a happy month! The freezing winter is finally gone, the days are getting longer and warmer, the rivers begin to run again and birds and flowers make a return after months of cold weather. We could say that March is the month when the whole nature wakes into itself again. With that being said, what about refreshing your screens with these free March 2019 wallpaper calendars? They'll surely help you enjoy spring even more!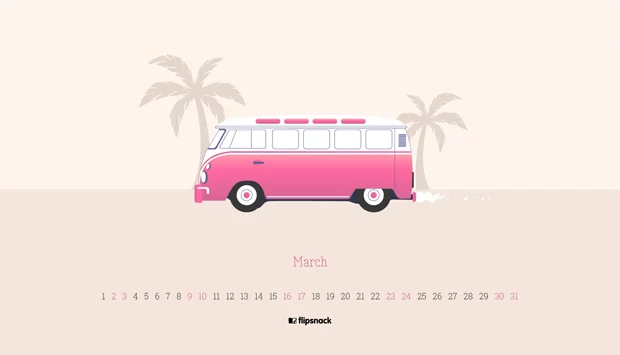 Free download: 1920×1080, 1366×768, 640×1136
The first wallpaper calendar gives us a very warm feeling. It suggests that the sun has finally come out and the air is vivid with spring light. So it's a great opportunity to take the car, gather with our best friends and go explore the renewed nature. This pink van makes me realize how much I've missed seeing blooming flowers as well as delicious green grass. It's such an excitement to see in colors once again! Oh March, I'm so happy that you returned!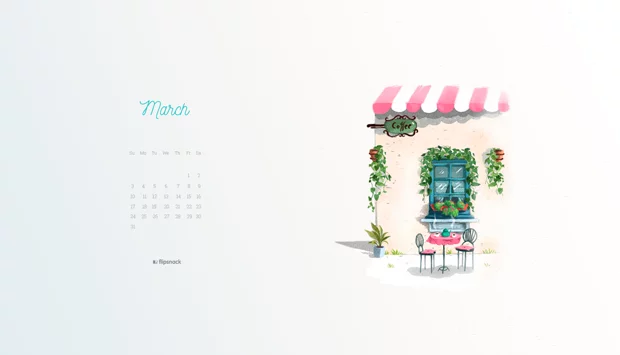 Free download: 1920×1080, 1366×768, 640×1136
The second wallpaper calendar continues to warm our hearts. The cheerful and multicolored greenery, the bright landscape and the lively colors remind us once again that March is here to stay! Let this month also be about hopes, new beginnings, personal growth and spreading love all over the places. We must remember that not only the nature blooms, our hearts should, too.

Download our new free March 2019 wallpaper calendars just by clicking the desired size. All our wallpaper calendars fit every device: from laptop to tablets and smartphones. Let us know which one you prefer: the pink van or the colorful landscape? We have a really hard time choosing our favorite. What other designs would you like to feature next on your desktop wallpaper? Let us know in comments.
Here at Flipsnack, we have this tradition to publish our free wallpaper calendars in Freebies. Come back next month to see the new April wallpaper calendars and maybe you'll find more freebies there that you like! See you soon!