8 Father's Day cards to get you inspired
Father's Day is a special and international celebration that honors all fathers in the world. People express their love, respect, and appreciation for fathers and other fatherly figures in different ways. And since this important day is just around the corner, namely this Sunday, it's time to come up with some gift ideas. We know it's not an easy job to pick out the perfect gift for your amazing dad, but still, there are many options to consider. Starting from hand-crafted mugs and cashmere sweaters to elegant pens and fishing rods, the list is endless. All these gift ideas are wonderful, but do you know what will really touch your father's heart? A sentimental and honest Father's Day card.
Your father will appreciate your little, yet special gift you're going to offer him. Cool idea, you might say, but how to design and write such a card? Don't worry, today's article is going to be both inspiring and informative. After you're going to read it, you'll see how easy it is to create and write Father's Day cards with Flipsnack.

This year, we want to celebrate all fathers by giving away free, editable, and printable Father's Day cards. Whether it's your dad, your granddad, uncle, or brother, all fathers in the world deserve to be appreciated and showered with much love. We made a selection of 8 eye-catching and professional Father's Day card templates that will totally inspire your next gift. Simply click on the desired template and start editing! We hope you'll enjoy them as much as we do and will come back for more freebies.
Happy Father's Day! From all of us here at Flipsnack.
Free Father's Day card templates
Creative Colorful Father's Day Poster Template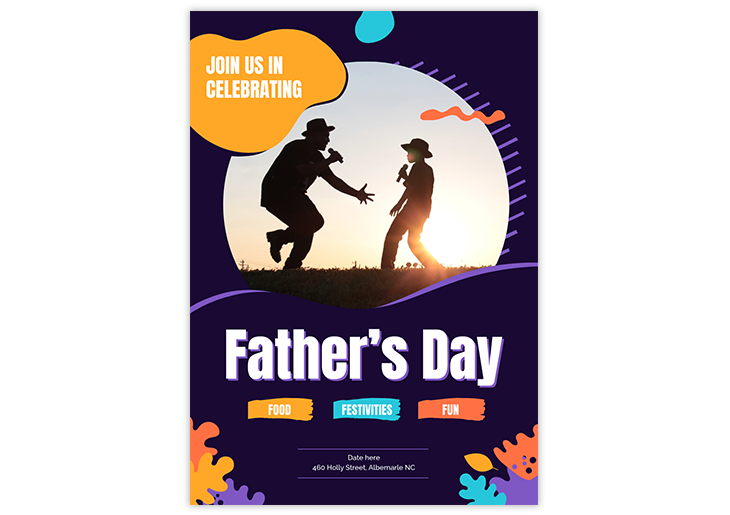 One thing's for sure: fathers should be celebrated every day, not only on this special day. But still, if you want to surprise your hero with something extraordinary, throw him a party like never before. Even if it's going to be something fancy or a casual party in the garden, a creative and colorful Father's day poster like this one from here should grab the attention. You can simply and freely add the details of your event or fully customize this template to your own needs with your photos and colors. Save it and share the news with your dad's friends and family. You'll see how happy your father will be. Shoutout to your amazing dad who made growing up fun!
Classic Father's Day Certificate Template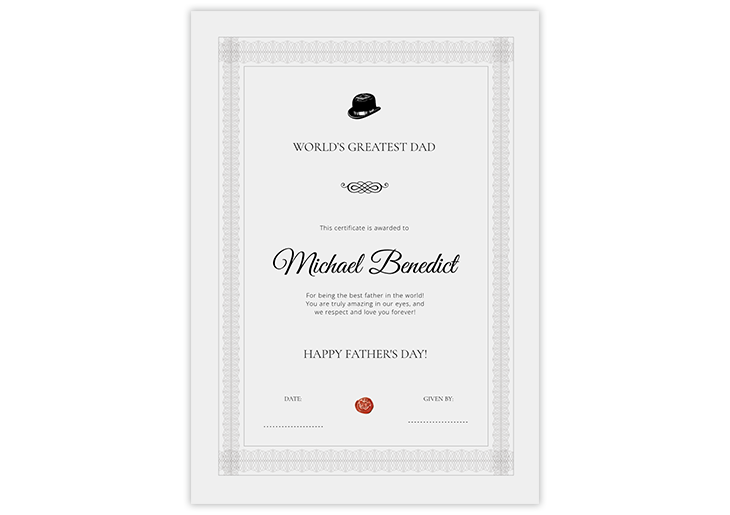 All the greatest fathers in the world deserve our love and gratitude. This year, surprise your superhero dad with an amazing and cool greeting card. A classic Father's day certificate template like this one from Flipsnack will definitely do the trick. Grab it right now and edit it for free using our drag and drop editor. Upload your own texts, fonts and change the colors however you prefer. When you are done editing this classic Father's Day certificate template, make sure to save it and share it with him. He'll be very happy and proud to be your father. Or, choose to send him an email with this greeting card while he's at work. It will put such a big smile on his face, trust me.
Funny Printable Father's Day Card
What's a perfect Father's Day without a funny, printable card made especially for him? Like this one from Flipsnack. It features cool colors, funny texts and amazing fonts. Make it yours within minutes. Our intuitive, drag and drop editor allows you to create something nice. No design skills required. Upload your own memorable photos with your dad, change the colors and fonts with something to your taste and even add some funny quotes. When you're done, download this funny, printable Father's Day card example and offer it to your cool dad. Or, share it with all your friends and family on social media so everyone will see how awesome your dad is! Happy Father's Day to all!
Colorful Father's Day Card Template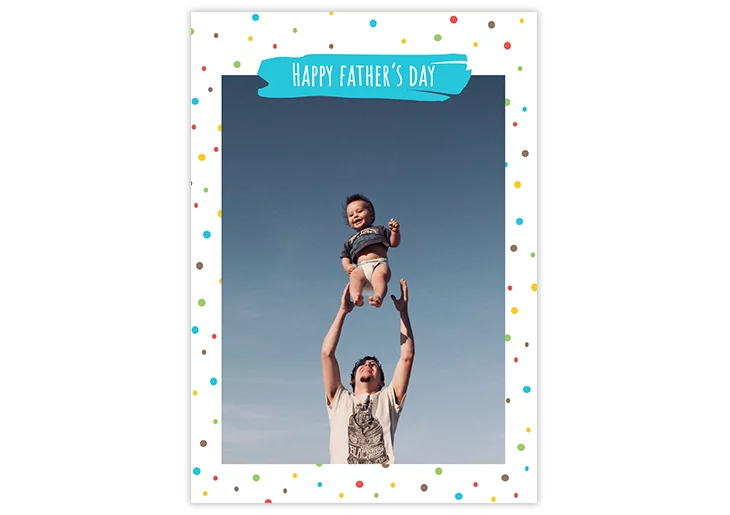 Father's Day is just around the corner and you should definitely offer an extraordinary gift to your dad. And what could be more extraordinary than a love letter in which you pour out your own heart. Use this colorful Father's Day card template to express how you're feeling. Tell him with your own words how important he is to you. It doesn't have to be complicated. Simply replace the picture with a special memory of you and your dad and just add a few words. He will surely appreciate the effort. When you're happy with the final result, share your Father's Day card with everyone on social media or send it to your dad via email. Or print it and offer this special card to your dad personally. It has never been easier to show your dad he's just the best dad in the world. Happy Father's Day!
Father's Day Meal Menu Template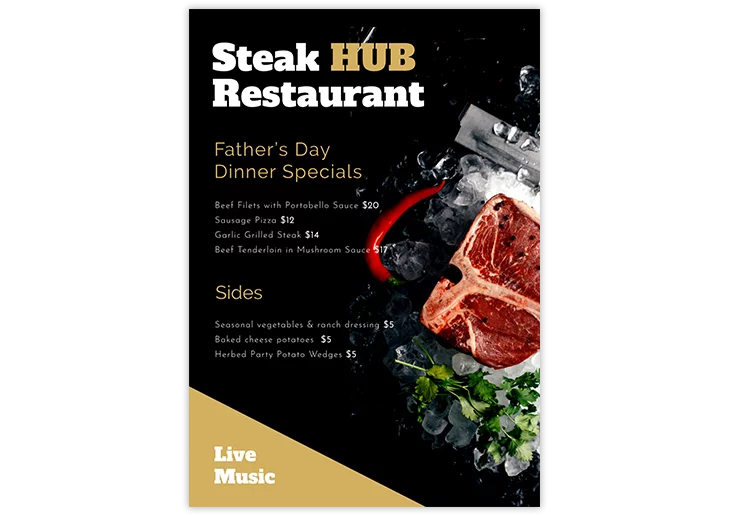 In just a few days there'll be a wonderful event for all fathers around the world. Yes, you're right, I'm talking about Father's Day! A very common celebration tradition for this day is going out to eat. Let's be honest. Nothing tastes as sweet and satisfying as a good meal. Go the extra mile for your amazing dad and invite him to a special night with the help of this mouth-watering Father's Day restaurant menu template. It's super simple to use and edit. All you need to do is to make it your own with just a few clicks. Change whatever you find it necessary to create the perfect Father's Day menu template. Then download it, print it and offer this special surprise to your dad. Or share it online via social media so others can inspire from your cool ideas.
Classic Father's Day Tie Card Design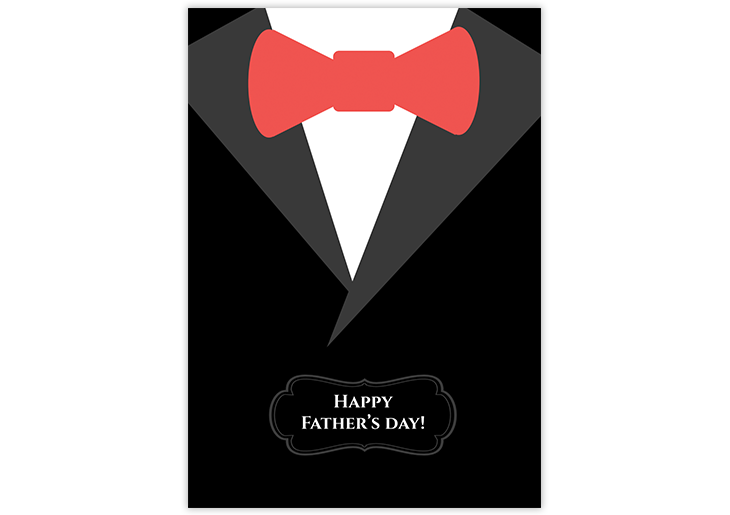 Our fathers deserve it all: love, appreciation, gratitude, respect. Not just when it's Father's day, but the whole year. Express your feelings in a very classy manner. This Father's Day tie card design will really help you in this regard. Customize it to your own liking before you know it. Our drag and drop editor makes everything easy. Upload your own memorable photos with your dad, write some touching text and even add some shapes and captions if you want to. Send this greeting card to your dad digitally, or print it out to hand it to him personally. It's entirely your decision. There aren't any limits with this black and white Father's day card template.
Editable Photo Father's Day Card Design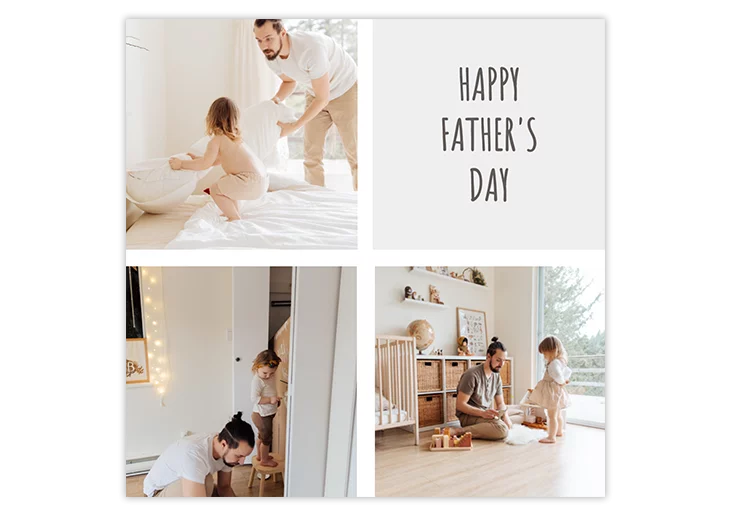 If you're tired of the old-fashioned and common gifts for your father and you want something that stands out in the crowd, then you've landed in the perfect place! You have to admit, you're never too old to shower your dad with your love and gratitude. Gather all the cute memories of you and your dad, and insert them into this editable photo Father's Day card design. Your father will be more than happy to receive a personalized photo card on this special day. Edit this template with the help of our drag and drop editor and make sure to let him know you are grateful for all the memories you made together. Download, print and offer this Father's Day card to your all-time superhero. Happy birthday, dad! You're simply the best.
Creative Father's Day Card Template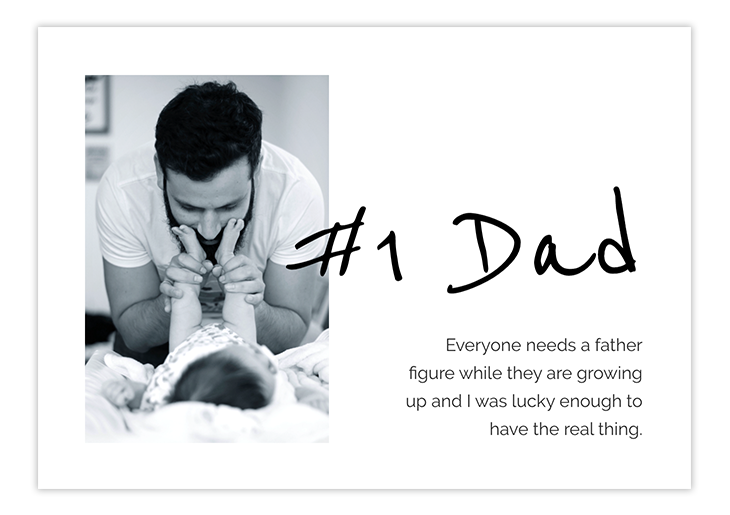 Shout out to the most amazing and coolest dad in the whole world! Yes, I'm talking about your father. Thank him for all his sacrifices and unconditional love with an emotional gift on this special day. This creative Father's Day card template is the perfect thank you for your champion. The pictures, the colors, the text, the fonts…everything is thrilling about this template. Grab it right now and personalize it to your own liking. Our easy, drag and drop editor makes it easier than you think. With just a few clicks, you can upload your own photos and fonts, write some text and even add some captions or shapes. Download and print this amazing Father's Day card. Offer it to your dad personally or share it on social media so others can see how cool your dad is! Happy Father's Day! 
Make this Father's Day unforgettable! Pair your heartfelt card with a custom gift from Gifta, explore a variety of personalized father day gifts to express your love and appreciation. Create a unique keepsake that your dad will treasure.
Wrapping it up

That's all for today, folks! We really hope you're going to find useful and inspiring all these beautiful Father's Day cards. Our fathers deserve only the best, and you gotta admit that these templates look just perfect. Browse through our beautiful Father's Day cards collection and pick your favorite. Show him how much he means to you with a simple, yet special and valuable gift. If you couldn't find anything special enough for your dad on this list, don't worry, we have more templates that are waiting for you. This world is a better and beautiful place thanks to our heroes. Let's shower them with all the love we have. Happy Father's Day to all dads in the world. We are forever grateful to you!