Free September 2019 wallpaper calendars
Summer days are over and we must accept the fact that it will be September in just a few days. We all had a great summer and are sorry that it's gone; but we should also be thankful for the most golden season: autumn. September is a wonderful month indeed. The weather is just perfect; there's a sweet chill of pumpkin, brown sugar and cinnamon in the air and the whole world seems to be covered in a colorful cascade of autumn leaves. This month offers a really generous harvest; so we've decided as well to show you our spirit of giving and surprise you with three September 2019 wallpaper calendars! Yup, you heard me right, three free September 2019 wallpaper calendars just for you and your screens.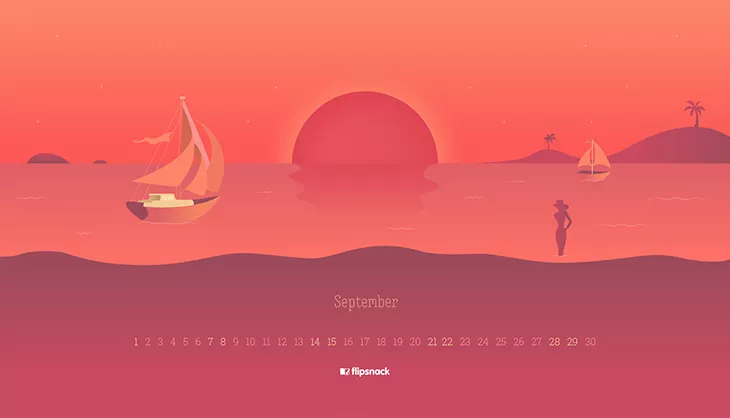 Free download: 1920×1080, 1366×768, 640×1136
The month of September portraits beautifully the transition from summer to fall. This first wallpaper calendar shows exactly all the three color – phases by which the sun is going through its process of metamorphosis with the arrival of this season. At first, it looks orange, then crimson and then it gets completely dark red. These are exactly the essential colors that are representative for fall. The lonely ship sailing on the sea gives you a peaceful and calm feeling. We remember with nostalgia the summer's voyages, and at the same time; we know we have to get back to life's everyday things. If you're fascinated by these autumnish colors as much as I am; I suggest you should download this Free September 2019 wallpaper calendar.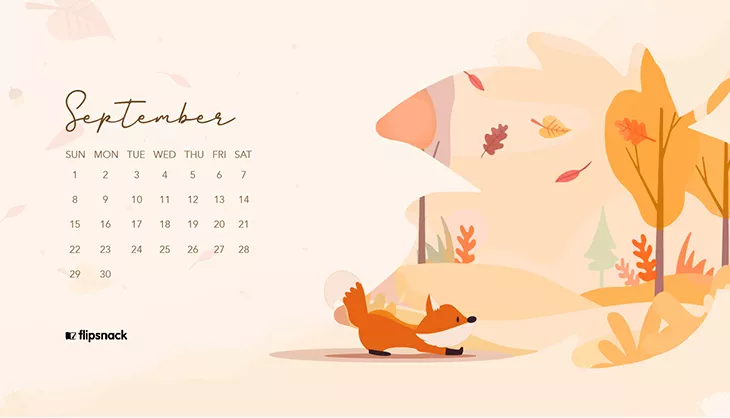 Free download: 1920×1080, 1366×768, 640×1136
As someone once said, we can compare autumn with a second spring where every leaf is a flower. It's a real feast to someone's eyes to see such bright and vivid colors when taking a walk in the park or the forest. This month of September depicts nature in its most unique and splendid way. Exactly as we can see in the second calendar. The yellow and red leaves are falling off the trees; thing that suggests that autumn has settled down over the entire nature. The cute fox that also appears in the auburn scenery gives an air of mystery. You don't know if she's scared or curious to pass through the forest. You can enjoy this beautiful view every day by simply downloading this free September 2019 wallpaper calendar.
Free download: 1920×1080, 1366×768, 640×1136
Even though autumn is considered to be a season of letting things go; it can also be interpreted as a season of renewal and rebirth. We're finally embracing the plentitude of ripe fruits, of fresh cool air, of hot apple cider, and of warm cozy sweaters. It's a great time to stay indoors and watch some movies; or read a good book while you sip on a hot cup of cocoa or pumpkin spice latte. The third September 2019 wallpaper calendar depicts entirely this autumnish illustration we've talked about. Download it, so you'll remember every day that fall is also a season of the soul, not only of nature.
We really hope that these free September 2019 wallpaper calendars will warm your heart and make you appreciate fall even more. Click on the desired size and download your favorite calendar. Keep in mind that our wallpaper calendars fit every device: from laptops to tablets and smartphones, so feel free to choose what you want. I honestly love them all and I can't decide which one is my favorite! Come back next month to see the new October 2019 wallpaper calendars; and maybe you'll find more freebies there that you like! 'Till then, we're wishing you all a great September! And make sure to subscribe below.