How Flipsnack can help with your wedding stationery
The wedding day is the most special and important day in someone's life and it requires a lot of preparation. From wedding gown, flowers, shoes, cake to invitations, everything must be thought and discussed in perfect detail. It sounds stressful and overwhelming, right? And it shouldn't be like this, the wedding day is supposed to bring you unconditional happiness and peace. That's why we, here at Flipsnack, decided to help you organize this great event with calm and pleasure.
Our talented designers have covered up for you everything that goes with wedding stationery, so you don't have to worry anymore about the wedding paper goods. From the invitations right down to the wedding photo albums, you have plenty of free wedding templates to choose from. Just pick your favorite and personalize it to your own liking. It takes just a few minutes, really! And the user-friendly editor makes things even easier. But don't believe us, try it for yourself and let us know what you think in the comments section below.
Why is wedding stationery such an important issue?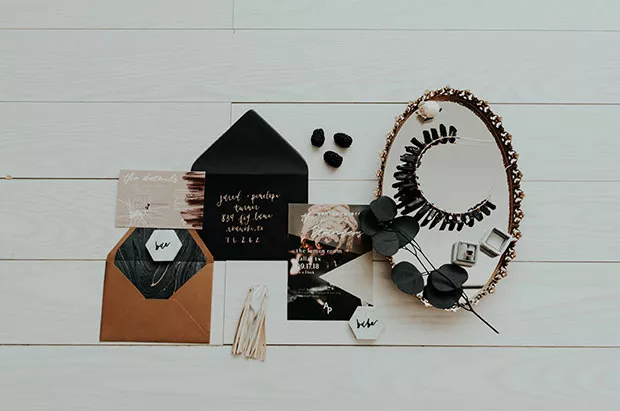 I'm really glad you asked this question. The wedding paper goods are a bigger deal than you think. Exactly like branding is to a business, stationery sets the tone for your wedding. Let's say for instance that you're organizing a forest wedding. You'll probably need some illustrations of greenery, wildlife or trees. Or maybe you're a classic and dream of a fairytale wedding: castle, prince charming and horse rides. Or, what do you think of a seaside wedding theme? Caribbean sands, a white piano, and the sea waves right next to you. No matter your choice, you've got your back!
The wedding stationery also helps the wedding guests know what to expect from this special day. It's a respectful way of offering guidance along the way for the attendants. You're keeping them informed and included in your wedding, and that's exactly what every guest wishes.
Besides everything we've already said, the wedding paper part also represents the first look into your wedding style and color palette and it catches your guests' attention from the beginning. It's an essential part of your wedding decor, so you should take it into consideration very seriously. My recommendation is to browse through our beautiful free wedding templates collection, to select your favorites and to start editing them.
So, take your time and take today's article as a guide for your wedding stationery. We selected some of our best wedding templates that can really inspire your wedding style. They are all a feast to somebody's eyes! I really hope you'll find them as useful and entertaining as we do! You'll see how easy and delightful it is to organize the wedding of your dreams with the help of these diy wedding ideas.
Edit these templates by simply clicking on them!
1. Black and White Save The Date Flyer Template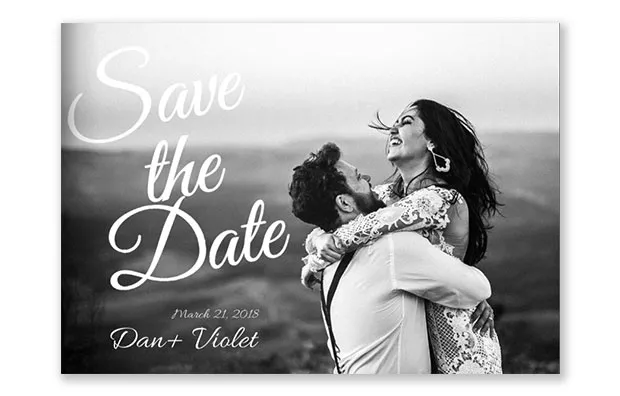 Our list suggestions start with the "save the date" flyer template, of course. This is the first wedding stationery piece your guests have to receive from you. You're announcing that you're getting married, and only after that, you're giving them the invitation. This "save the date" flyer template from Flipsnack has both a classic and elegant design, which makes it perfect for any type of wedding. It's every true romantic's choice, really. Personalize it to your liking and let your friends and family know you're ready to finally tie the knot. You can print it and distribute it personal or you can share it online with your loved ones. It's up to you!
2. Modern Wedding Itinerary Template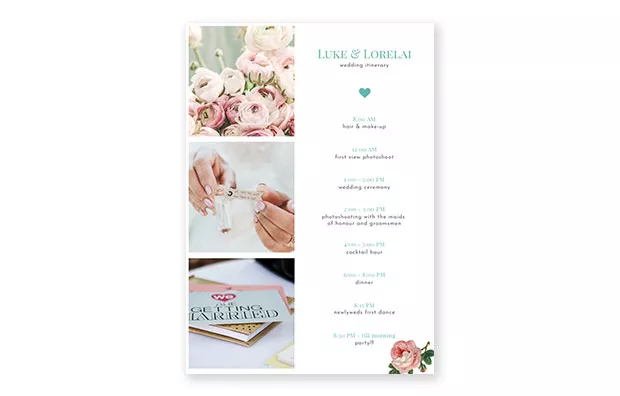 After you've distributed your special wedding invitation, the next wedding stationery step is designing the entire itinerary. It's indicated to have an itinerary because in this way your wedding will be better organized and your guests will know how the ceremony devolves. And let's be honest, it also helps the bride and groom to keep track of the wedding activities. This modern wedding itinerary template suggested by us is perfect for a spring/summer wedding. Every romantic future bride dreams of an elegant and floral layout, so please help yourself with this one. Edit it to your own liking and spread it to your wedding guests. It's really easy to upload your own pictures, to change fonts, add some text and pick your favorite colors.
3. Free Wedding Itinerary Template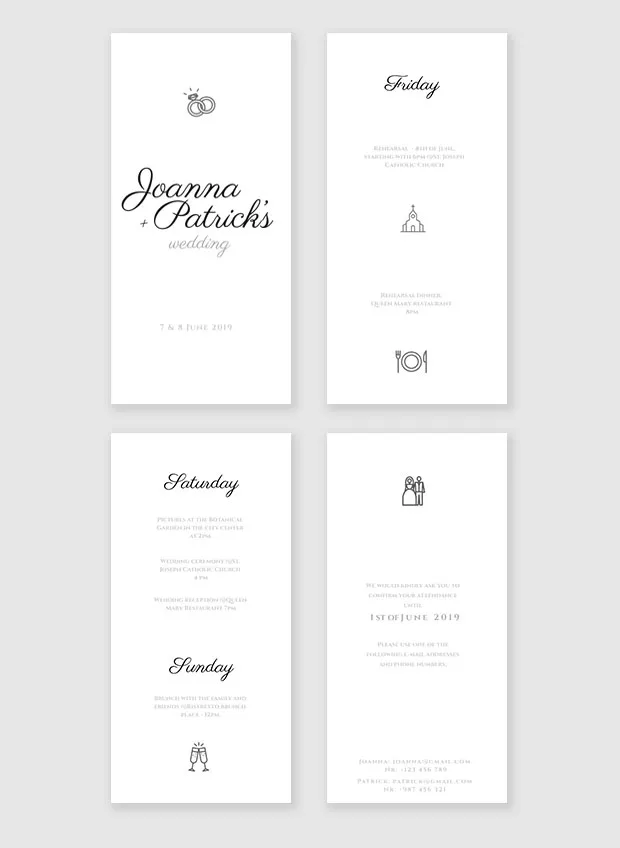 We're still here at wedding itineraries. If you want to approach a different style to your wedding than the floral one above, then you should choose this free wedding itinerary template from us. Its black and white design is suitable for a classic wedding ceremony. The minimalist design gives you the opportunity to edit this template very quickly. Try it for free and tell us what you think.
4. Free Wedding Program Template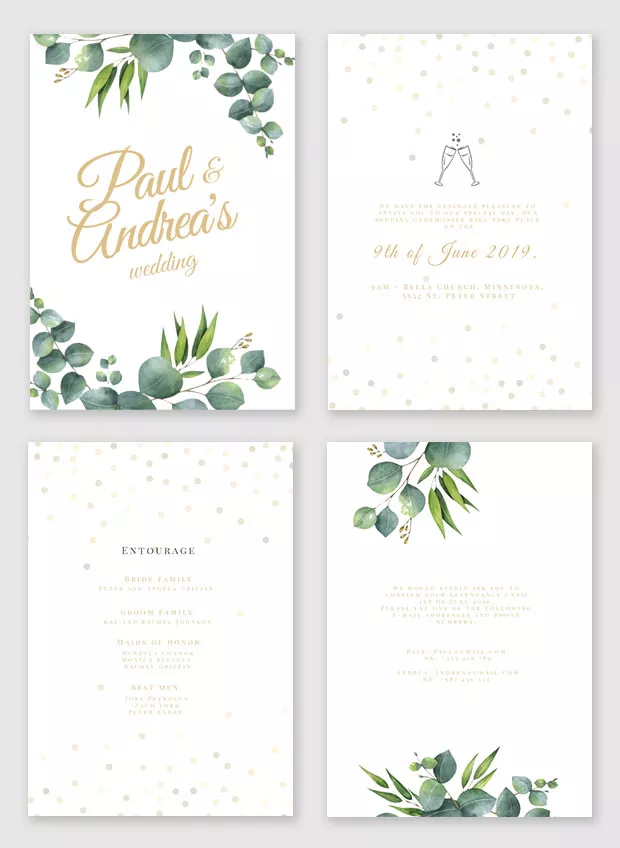 The wedding program template is a must when talking about wedding stationery. You have to keep everything under control and your guests are also curious to know your ceremony's program. Let them know who sings, who organizes games, who are your godparents…give them details about everything. Use this boho style wedding program template from Flipsnack that is both striking and beautiful. The white combined with the gold and green will pay compliments to any style of wedding, trust me! Start planning your big day now!
5. Free DIY Wedding Program Template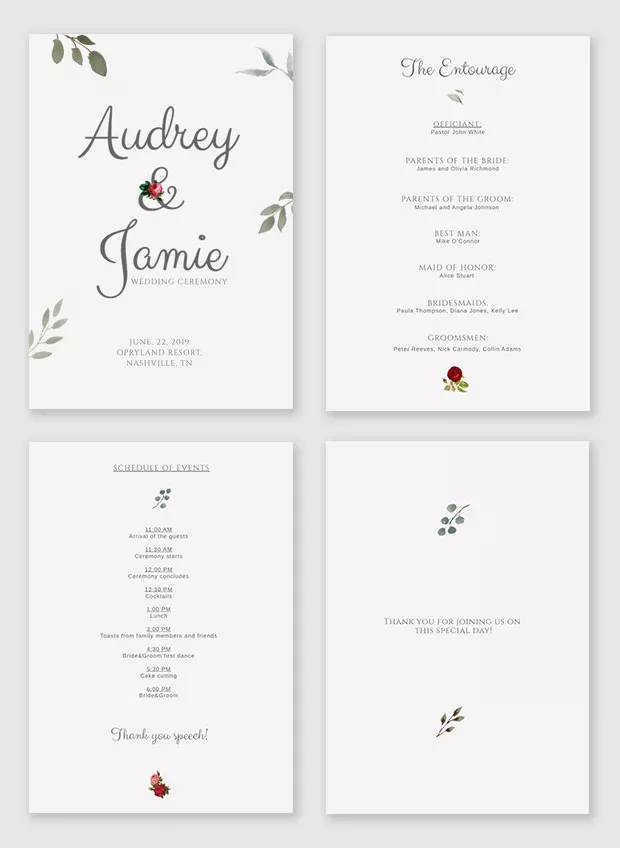 We also have another option for your wedding program if you want to approach something else for your big day. You know what they say, the more templates you have to choose from, the better! Our talented designers worked hard to bring you a gorgeous black and white DIY wedding program template that's truly elegant. In just a few minutes you can personalize it exactly as you want. Upload images, change fonts and colors, add some text and you're done! Whenever you need some diy wedding ideas, you know where you can find us.
6. Minimalist Wedding Program Fan Template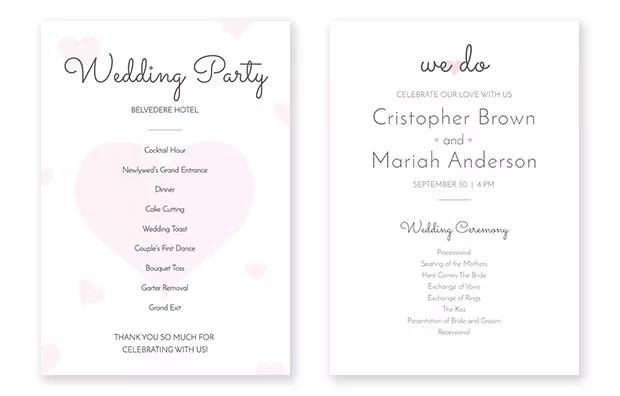 Speaking of wedding programs, there's a new idea in town that we think it's really cool and ingenious: a wedding program fan! Yes, you heard me right, this is like the latest wedding trend. Choose this free minimalist wedding program fan template to have the most creative wedding ever! The best part is that it's already designed, all you have to do is to insert your own information. Print it and distribute it so that your guests can put it on their fan. If you find it as awesome as I do, then you should definitely take advantage of this wedding stationery piece now!
7. Beautiful Wedding Dinner Menu Template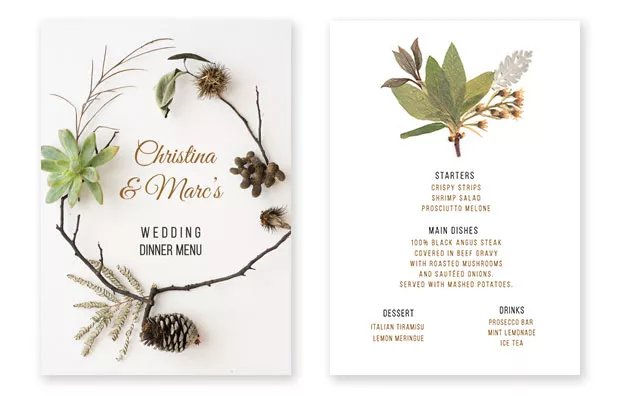 Just when you thought you're out of some creative diy wedding ideas, here come our brand new wedding menu templates that can be very inspirational. And we all know that the menu is the favorite wedding part of every guest, so don't you dare forget about it. Keep it simple and stylish. For instance, choose this beautiful wedding dinner menu template if you dream to organize a forest wedding. Take this template as it is, change the dishes' names and you're good to go. Print it on quality paper for a more professional look and then arrange the menus on the table. It's that easy!
8. Pastel Pink Floral Wedding Menu Template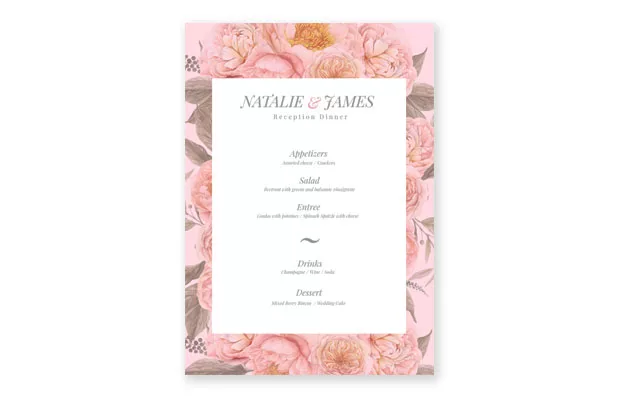 In case you want a more girly wedding, we have something different to suit your needs. A brand new pastel pink floral wedding menu template that will look gorgeous on the guest tables. You have to admit that its romantic, pink and delicate layout gives you a feeling of happiness and glamour. Change the colors or the fonts if you want to and add your own text. It's great to organize your wedding stationery with Flipsnack's help!
9. Modern Engagement Photo Album Template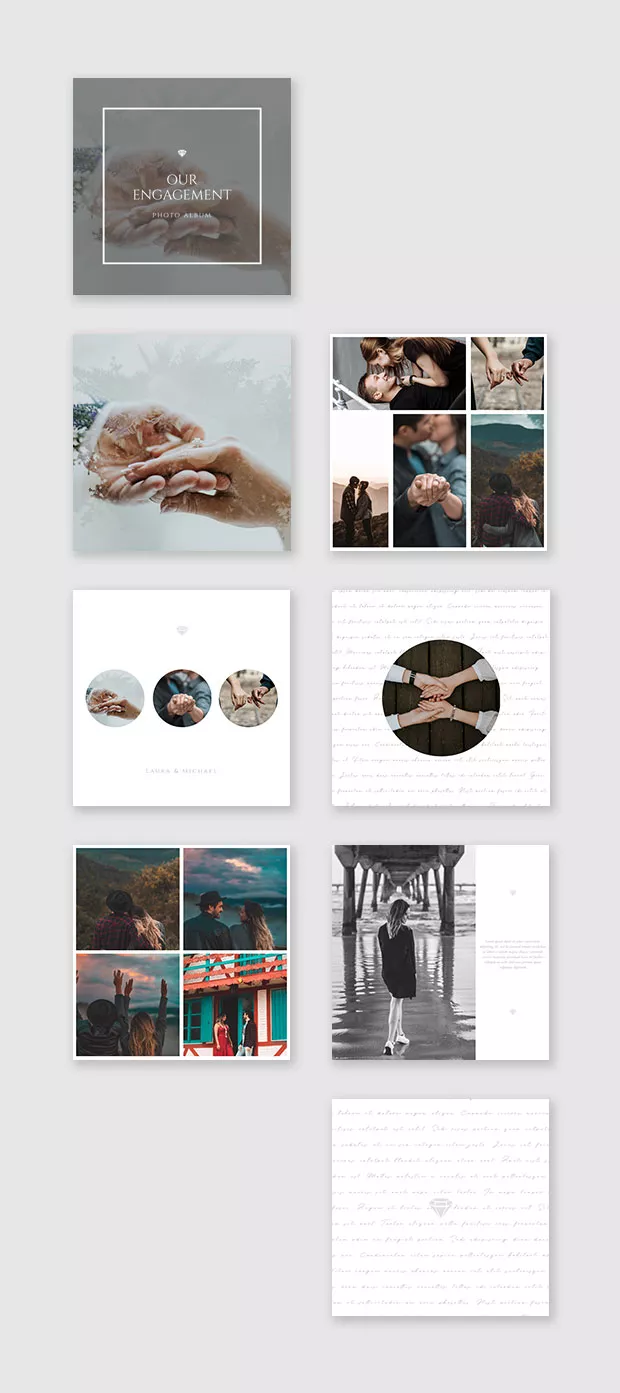 I think that not only the wedding photo album is a forever keepsake, but also the engagement photo album. The engagement party comes before the wedding ceremony and it's something you should always remember. If you're looking for some examples in this way, you should take this modern engagement photo album template into consideration for sure. The colorful yet simple layout is perfect for every future bride and groom. Edit, personalize and print in just a few minutes. Organizing your wedding stationery has never been easier!
10. Minimalistic Wedding Photo Book Template

Your wedding day is here and you'll want to take as many pictures as possible. All of these marvelous pictures have to be displayed in a magnificent wedding photo book, right? Say no more, our talented designers from Flipsnack have created this minimalistic wedding photo book template that is fully editable and customizable. All you have to do is insert the photos from your special day, and you'll have a splendid recollection of the best day of your life. Keep on browsing through our collection for more diy wedding ideas.
11. Wedding Photo Album Template

Here's another kind of photo album that you can freely use in case you have a different wedding style. You have to admit that its elegant and smoothie layout is a real feast to somebody's eyes. Choose this wedding photo album template from us if you want to preserve all your wedding memories for eternity. Simply upload your stunning images and then print your album so you can feel it in your hands. There's nothing like flipping through your wedding photo album when you want to remember the good times, really. Keep in mind that this is an important wedding stationery piece, so make sure you're giving it as much time as needed.
12. Free Online Wedding Photo Album Template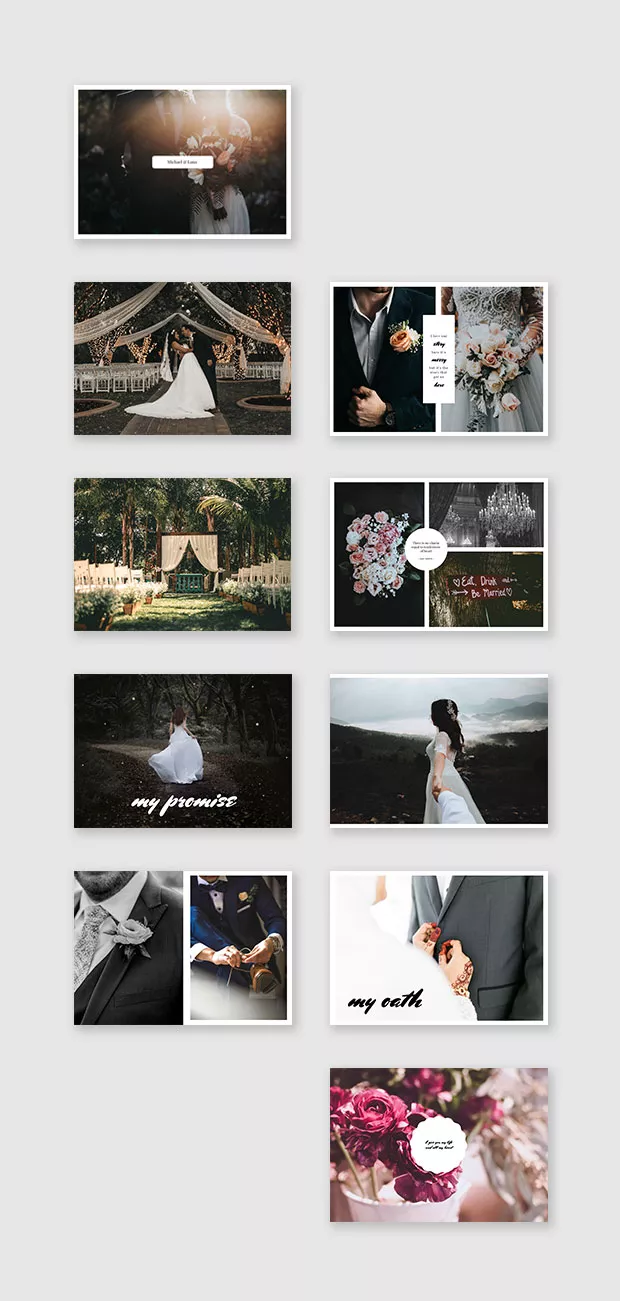 Feast your eyes over this alluring wedding photo album template that looks simply amazing. Our designers did an awesome job, you have to admit! And the best part about it is that it's free and super easy to edit it. With this template, your photos are right at the center of attention, just as they should be. If you're looking for an elegant and beautiful online wedding photo album template, then look no further. Edit it exactly as you want, print it and brag about it everywhere. Don't forget to check our templates for more diy wedding ideas.
13. Honeymoon Photo Album Template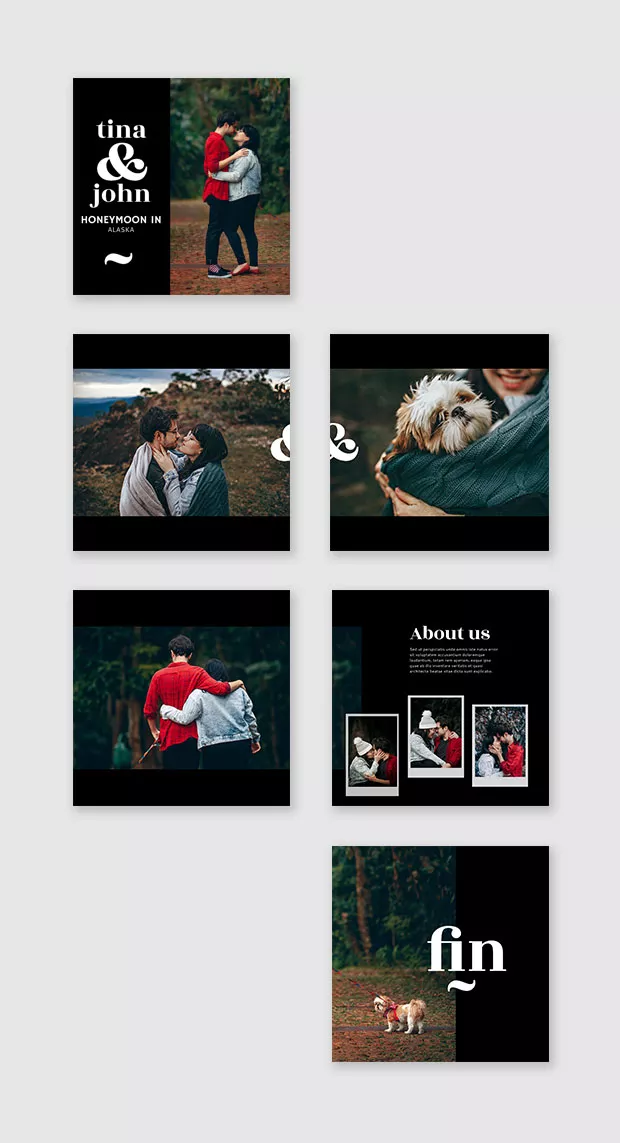 Honeymoon represents one of the most magical times of anyone's life. You've spent months organizing and stressing about your wedding and now it's time to relax and enjoy the married life. But what is a honeymoon without pictures? And we all know that special pictures need to be kept in a special photo album. This honeymoon photo album template is perfect for anyone looking to relive those memories for years to come. Choose the most memorable and beloved pictures and create the honeymoon photo album of your dreams. This is an important piece of your wedding stationery, so make sure you won't forget about it.
14. Stunning Wedding Magazine Template

After you've finished with all of your wedding stationery you are now ready to share your thoughts and advice with others, don't you think so? Don't keep it all to yourself, tell people how easy it is to organize your wedding paper goods with our amazing publishing platform. Use this stunning wedding magazine template that looks both gorgeous and delicate. Write there about your experience as a bride and let others learn from your knowledge. Insert some beautiful wedding photos, change the fonts and make sure everything looks perfect before you save it. You the option to share it online with friends and family, or you can print it and distribute it to everybody. Simply amazing, right?
To sum it all up
We hope today's article will give you a helping hand when it comes to setting up your wedding stationery. You'll see that it doesn't require a lot of money and designers, all you have to do is to edit our beautiful and free wedding templates.
Browse through this article, select your favorites and start editing them! Keep in mind that we also have other wedding templates if you want something different for your wedding writing materials. You don't have to stress too much about this part, the hardest piece of this work is already done.
Enjoy all this journey and take it one step at a time. For more diy wedding ideas you can check out Pinterest, the most popular place we're all searching for more interesting content. Wishing you a blessed marriage! Cheers to a happy ever after from all of us from Flipsnack.