How to design a catalog using InDesign. Part 1 – Preparation
With this blog post we're starting a series of tutorials for InDesign. I'll teach you everything you need to know about how to design a catalog using InDesign.
When you want to design better, you have to stop using programs like Office and start using programs that are made for design. Using Word for making a catalog is like eating soup using a fork – not very productive.
Instead of using a tool that slows you down, try a professional design tool, like InDesign! It has been developed for editorial design, and it will help you finish your catalog faster. Don't be afraid to try something new. With my help, learning InDesign will be easy.
So let's start with the preparation.
Step 1. Prepare the material for your catalog
Before you start designing, make sure you have all the elements you need. For a catalog, the most important feature is images. The purpose behind any catalog is to make people fall in love with products, to want to buy them. Knowing that photos are so important, you must make an effort to make them look fabulous.
Even if you are not a professional photographer, you can still take great shots. Here are some tips and tricks you should consider:
First look for inspiration. Search for product photography; find something that you like and that inspires you. Pinterest is a great tool to help you with this. You can be inspired by a color palette or by a composition.

To take good photos you need a good camera (preferably DSLR) or a good smartphone. Make sure you have a good light and your devices are well set. Start shooting!

If you choose a style, be consistent in all your photos. This will help you build brand identity and gain trust.
Step 2. How to edit photos
Next, select what photos you want to appear in your catalog and edit them. This is my favorite part. The best programs to edit photos are Adobe Lightroom and Adobe Photoshop. What you have to do is fairly easy. Just use filters like: contrast, saturation, exposure levels until you get the desired look. If your images are too dark play with contrast and exposure. It will help you adjust the luminosity.
Save all your images in one folder to find them easily later.
Step 3. Create a document/ moodboard with all images
This step is very important. Place all your ideas on a board or in a document to get a sense of the look and feel of your catalog. Select colors, fonts and images that inspire you.
Open a new page in Photoshop, Illustrator or InDesign and just drag and drop all your finds in there. Organize them, and this way you'll see what your future catalog will look like.
Step 4. Choosing the layout
After you're done with the research and your mood board, it's time to decide on the layout.
It's time to set the size and also the orientation: square, portrait or landscape. Think about how your images will look in that format.
Step 5. Create the document
The document size and settings depend on how you wish your catalog will look, but they also depend on the way you will distribute it (digital or print).
Start your InDesign catalog by going to FILE -> NEW -> DOCUMENT or shortcut Ctrl+N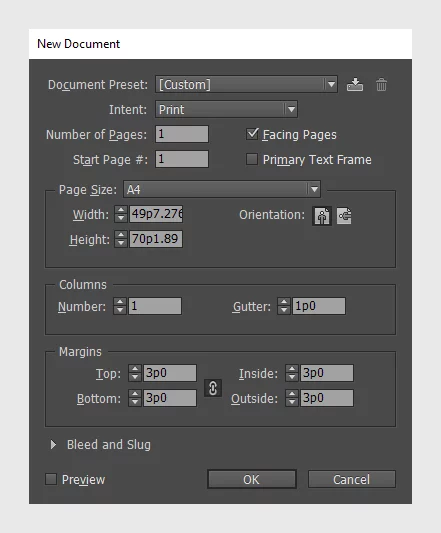 You will have to specify the following:
Document preset

– You can leave the default settings untouched.

Intent

– select the intent of your document: print, web or digital publishing.

Number of pages

– Set the number of pages that your catalog will have. If you are not sure how many you want, you can add more later.

Page size and orientation

–

There are many sizes that you can choose from, so this decision depends entirely on your preferences for the appearance of your catalog. I will go for size

A4

and for orientation I will choose

portrait.
Columns

– I recommend to select 1 column

Margins

– Increase or decrease the margins as you wish. I'll work with the default

Bleed and Slug

– The bleed is

the parts of text or objects that extend

past the page boundary to account for slight inaccuracy when trimming and

Slug is the area outside the page and bleed that contains printer instructions or job sign-off information. You can

keep the default settings.
Start with a document preset, let's say: size A4, margins by default.
Recently, Adobe Indesign introduced a new aspect to create a document. If you have a newer version of InDesign, this is what your New Document tab will look like when you open it.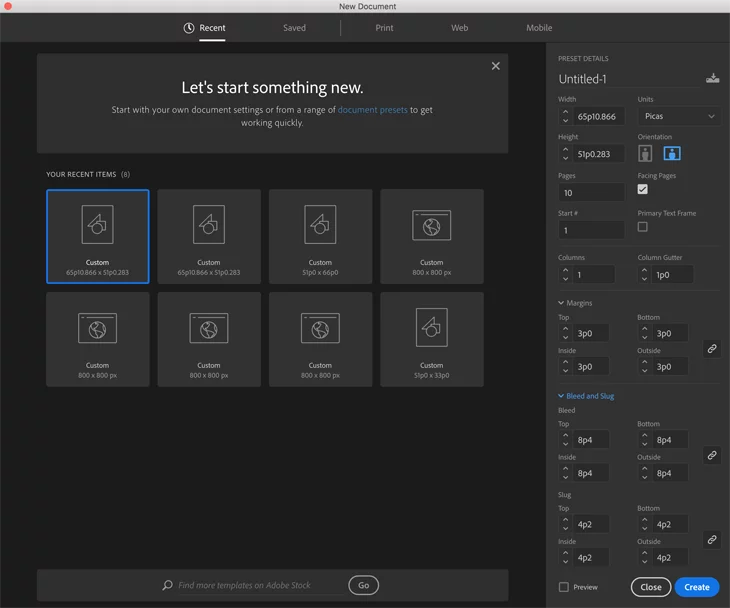 Choose a category from the top of the document, such as Print, Web or Mobile. You can choose from any of the custom templates listed in the left side of the box, and on the right side you can change your settings as recommended above.
Flipsnack extension for Adobe InDesign
For all of you who enjoy Flipsnack as well as creating documents in Adobe InDesign, we got some great news!
Now, you can import your Adobe InDesign PDFs directly into your Flipsnack account. You no longer have to go back and forth between the two apps. Efficiency at its best!
Learn more about the Flipsnack extension for Adobe InDesign and see how you can use it for your designs.