Interview with Ram Castillo
Ram Castillo is an award-winning designer, career expert, blogger, speaker and author. He has over 12 years of experience working with world-famous agencies and clients like Audi, Coca-Cola, Google, Louis Vuitton Group and McDonald's. His work has been featured in HOW Magazine, Communication Arts, Apple and AIGA. Despite his impressive portfolio, Ram is easy to talk to and comes off as a nice, down to earth person.
In this interview we are talking to him about his second book, about storytelling and magazines. I believe the interview is both educational and entertaining, for many designers using Flipsnack, and not only.
Enjoy reading!
You've just launched your second book. What is it about?
It's titled 'How to get a mentor as a designer, guaranteed' and is a 12-step guide for emerging and established designers to essentially find their compass. By getting a mentor (no matter what industry), we're able to cut the guesswork and see the blindspots to succeed faster and be fulfilled deeper.
What inspired you to write it?
I've always been inspired to help people by sharing my personal experiences and lessons learned from any obstacles I've managed to overcome. The area of mentorship has been one of those obstacles. Many people understand the importance of getting a mentor but simply don't know how to go about it (I was one of them once upon a time). So the demand for the book was really made concrete when I asked a question to my mailing list. I asked my audience "what is it that you need that you feel that I can give you?". Over 300 people replied back within 24 hours asking for help getting a mentor. 12 months later, the book was born.
You're a great designer and a skilled communicator. How do you combine these skills in your career?
Thank you, I'm truly flattered. In my humble opinion, I would like to think that they are one in the same. Being a great designer and a skilled communicator are both expressions of influencing human behaviour and interaction. One cannot work without the other. A great designer cannot be a poor communicator and a skilled communicator cannot be a poor designer. Both require reverse engineering intentions by mapping out the customers experience, and the systems and processes to enable them. In short, combining these skills is more about intertwining them naturally and leveraging them to reach one's desired outcome.
What are your favorite publications in terms of design and layout?
Monocle magazine, HOW magazine, Communication Arts, Grafik magazine and I.D. magazines would be my favorites.
What makes a good magazine design?
A few things immediately come to mind. Well formatted and considered typography, decent amount of negative space, boldness through a strong hero image and legibility in tact.
Any advice for an aspiring designer?
Create every day – get hands on consistently. Ask lots of questions. Be nice. Make friends not contacts. Learn to say hello often – you never know who that person may be to lead you to your next opportunity. And don't fall in love with your work.
What is the best compliment you ever received
How'd you get your hair like that?! (right now I'm rocking a mohawk – it's a new thing and possibly a phase)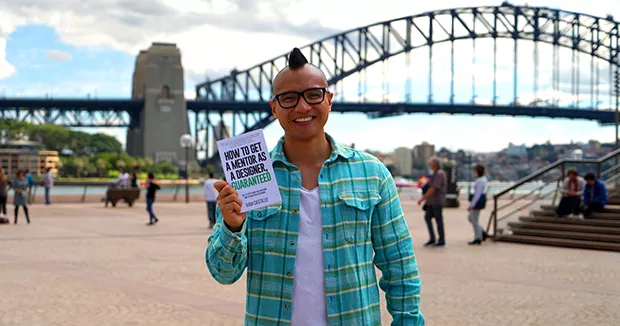 Name one thing on your bucket list
That I haven't ticked off yet? hmm… I would definitely say delivering a TED talk. That's always been a dream.
Thank you for the awesome interview, Ram!
Check out our next interview with Joseph Kalinowski!