Menu design ideas: 10 mouth-watering menu fonts
Choosing the right fonts for your menu design is as difficult as taking the most appealing food photos to include in your restaurant menu.
But, lucky for you, we have all the ingredients for a delicious menu design and 15 mouth-watering menu fonts that will delight all your customers and your inner foodie.
Whether we talk about a restaurant, a new coffee shop, or a pub, no eatery can do well without an efficiently designed menu. But the most important aspect of any menu is the food. It says that we as humans eat primarily with our eyes before doing the actual tasting. I truly support this statement!
A dazzling menu design can definitely stimulate the appetite of your customers.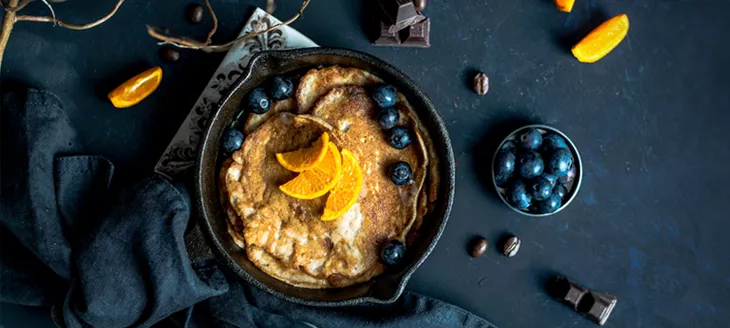 At the very base of your menu design should be food photography. Build your entire menu design around that. Even the fonts you choose for your design.
And remember, you should not think of your menu as just a list of dishes and prices. If designed properly, your menu can become a proper tool for advertising. After all, this is your first chance to make a good, long-lasting first impression.

Here are 10 mouth-watering fonts you can incorporate into your menu design:
Playfair Display
Special Elite
Amatic SC
Cantarell
Lobster
Playlist Script
Libre Baskerville
Schoolville
Lilita One
Vast Shadow
1. Playfair Display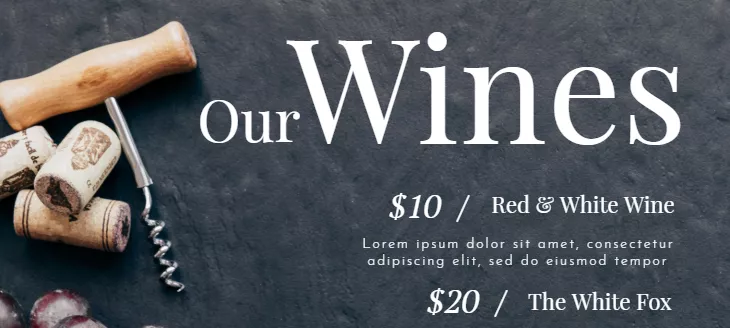 Like cheese and wine, this menu font is the perfect pairing for a wine menu design. Playfair Display is a transitional, serif typeface that is best suitable for titling and headlines.
This font is the perfect choice for a winery or a restaurant wine menu giving the menu design a certain elegance.
Stylistically, Playfair can go well with many sans serif fonts when used for body text. Some of the fonts that would pair well with Playfair Display are:
Get it here.
2. Special Elite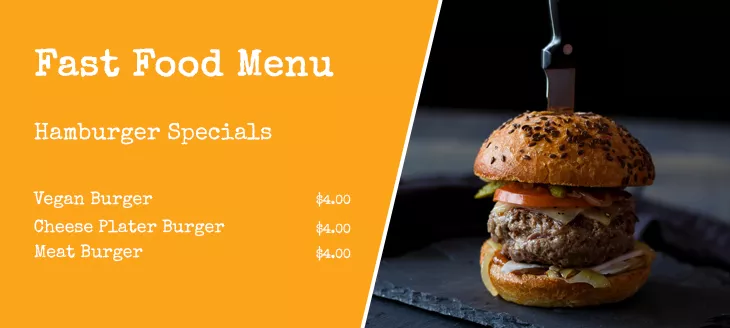 Ideal for hip burger joints or even food trucks, this vintage menu font mimics the style of a classic typewriter. Just like burgers and fries are a match made in heaven, Special Elite is best friends with many sans serif fonts such as Roboto or Montserrat. Give your menu design a dash of modern flavor with this cool menu font.
Get it here.
3. Amatic SC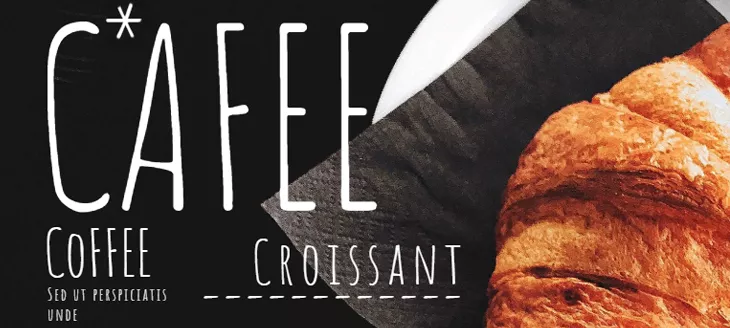 Chalkboard menus are all the rave right now. And a font like Amatic SC is the perfect font for a modern coffee shop that sells energy in a cup and freshly baked croissants, first thing in the morning. With a handwritten feel, this font carries a lot of personality and an edgy feel to it that can be used on its own, without pairing it with other fonts. Suitable for both headline as well as body text.
Get it here.
4. Cantarell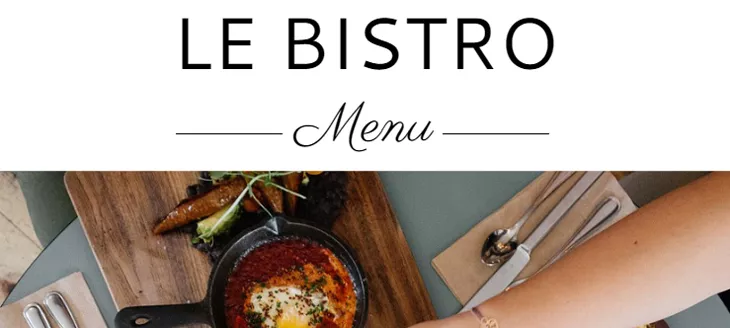 A great modern sans serif menu font that would be the perfect choice for an urban brunch bistro. Cantarell has clear legibility and can be paired with more handwritten fonts such as Parisienne for some extra personality.
Get it here.
5. Lobster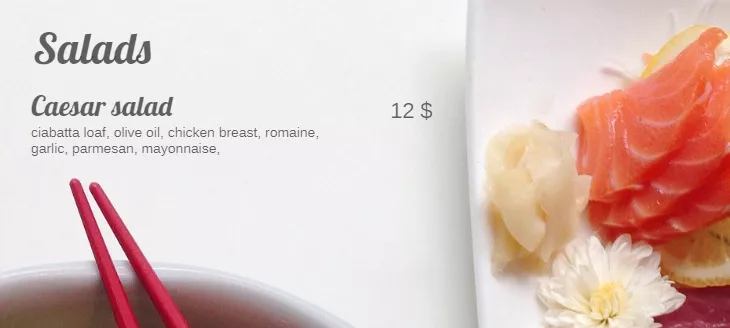 Created in 2010, Lobster is a font both loved and hated by designers. But, if you're in need of bold, strong font for your menu design, I'd recommend it!
Lobster is the perfect menu font for any salad menu so you'd better season it with other sans serif fonts to make your menu design stand out. Here are just a few of some other fonts you can pair Lobster with:
Get it here.
6. Playlist Script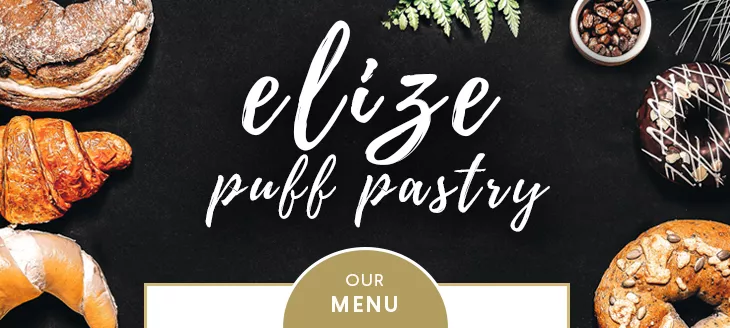 Another chalkboard font that could very well be a candidate for 2019's most hip menu font for cool bakeries or cake shops. Playlist Script is a classical handwritten font with a modern twist to it. Perfect for a small neighborhood bakery, this font can give a certain sense of familiarity and homeness to any menu design.
Get it here.
7. Libre Baskerville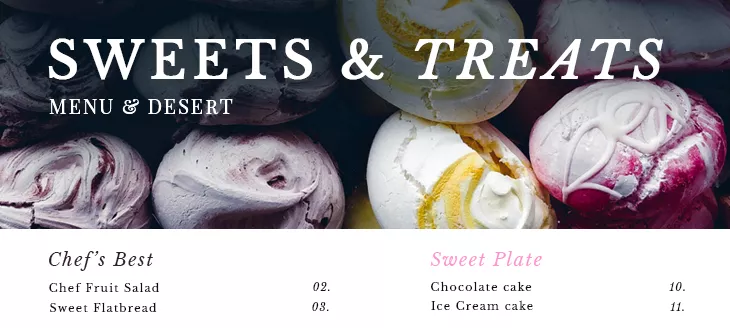 Named after its creator, John Baskerville, this font is a timeless classic and sophisticated font. Baskerville is a menu font that makes for the perfect high-end dining experience. Or a sweet contender for a delicious desserts menu full of pavlova and cheesecakes.
Get it here.
8. Schoolville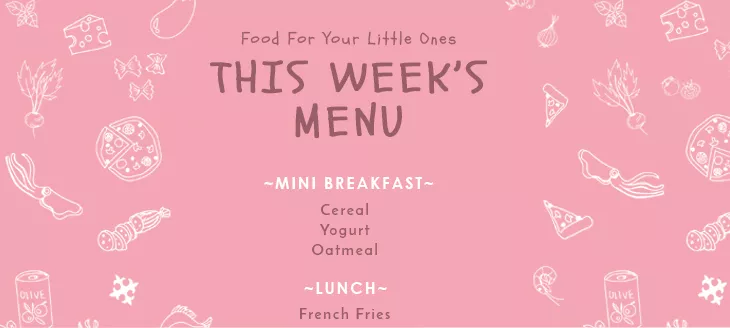 Putting together a menu design for the little ones can be a fun design experience. And Schoolville is the perfect handwritten menu font that will spark curiosity. For a kids' menu, I'd recommend you to use Schoolville with fun, playful illustrations of your food.
But you can also get creative and use Schoolville for any salad or smoothie place. For a dash of extra finesse, you can pair this menu font with sans serif fonts such as Georgia or Calibri and make your dishes pop out.
Get it here.
9. Lilita One
Lilita One is the kind of fat menu font that goes well for steak restaurants. Perfect for headlines goes well paired with mouth-watering images of beef steaks. Using Lilita One is a quick way of letting people know what kind of establishment they just got in.
Get it here.
10. Vast Shadow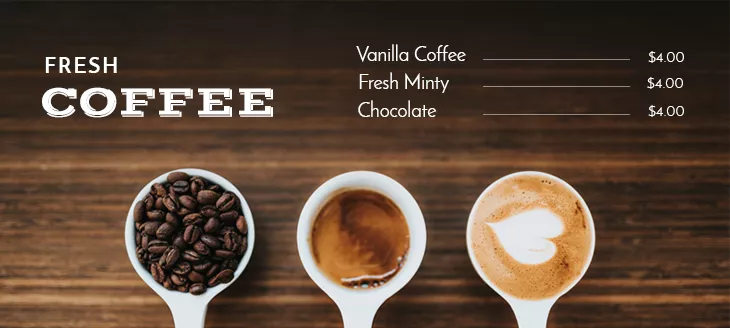 The safe choice for this menu font is to use it for your coffee shop. But not just that, Vast Shadow is a font that empowers and will easily make your best-selling dishes stand out. Can be easily used for a burger joint or a steak restaurant.
The truth is that there's a physiology behind menu design. Everything from the font and layout to the images and colors means a great deal when you're trying to sell someone your food. Check out this video below to hear how all of this and much more matters in a restaurant business.
Being a strong, bold font, Vast Shadow pairs well with a thin typeface, you know like pancakes and maple syrup go well together.
Get it here.
Make a QR code for your restaurant's menu
After you decide on the fonts, images, and texts and proofread your menu's design, make sure to offer a QR code of it. Maybe you've already seen these printed QR code images at some restaurants so why shouldn't you do it? It's an easy and fast way to give your clients easy access to your digital menu without keeping them waiting for the waiter to come with the menus. Creating these codes is fairly simple – simply use any of the best QR code generators. Let them scan the printed QR code you place on the tables and open it on their mobile devices in just a few seconds to search for their favorite meal.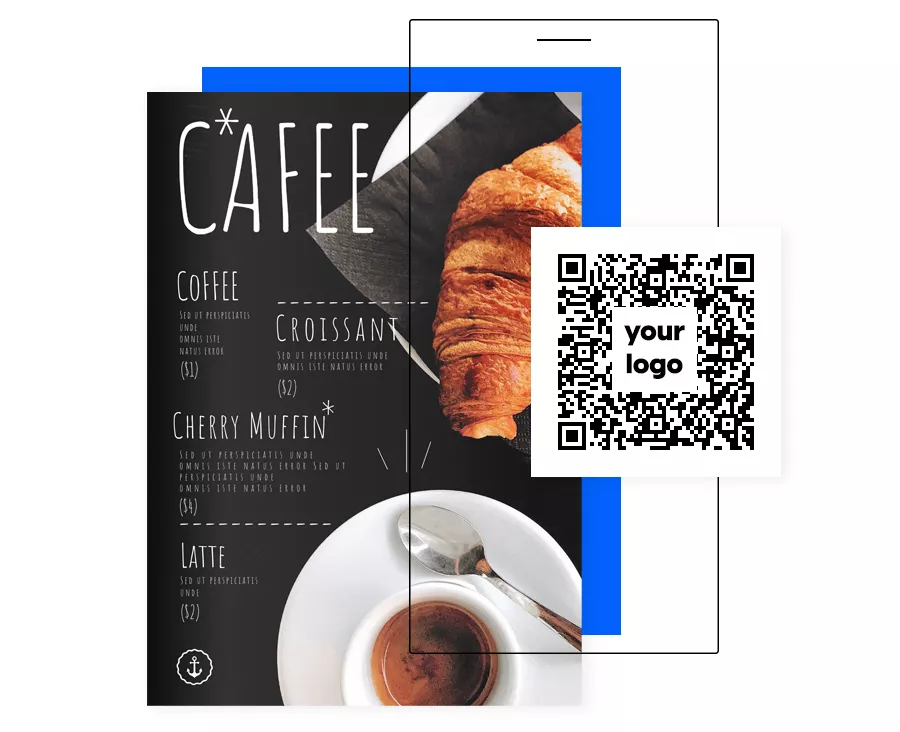 Conclusion
Your menu design should reflect your restaurant's personality. So make sure your menu font choice is on point and makes your dishes pop out. To make things easier for you, we here at Flipsnack have many restaurant menu templates you can choose from.
Moreover, when it comes to font choice, you can go wild and upload your own fonts directly in our Design Studio. And they will always be available for when you work on your designs. How cool is that?