PDF Accessibility – A complete guide for any user
PDFs have been a huge part of our everyday lives. They were developed by Adobe Systems, having a specific purpose: to create a document format that people can access and display on any device or operating system. Even though PDFs are all about making documents as accessible as possible, there are still many users who forget about the visually-impaired browsing experience.
According to the World Health Organization, 285 million people in the world are visually impaired. And we can't ignore them. They still need access to the Internet, PDF files, and any other information the same way everybody else has.

Today's article is a complete guide that explains everything regarding PDF accessibility: from its importance and definition to the whole process of creating accessible documents. We are also proud to announce to you that Flipsnack, our unique publishing platform, has decided to implement Accessibility. We're the first ADA & WCAG compliant publishing solution on the market. Flipsnack eases the entire process of making your documents accessible. It doesn't require any technical skills. Keep on reading to discover more about this subject.
PDF Accessibility – Definition and Importance
An accessible PDF is a functional document that allows visually impaired people to comprehend and navigate content quickly and easily.
Some of the characteristics of accessible PDFs include searchable text, fonts that allow characters to be extracted to text, interactive labeled form fields, alternative text descriptions for non-text elements, use of color combinations that provide a sufficient degree of contrast, and so on.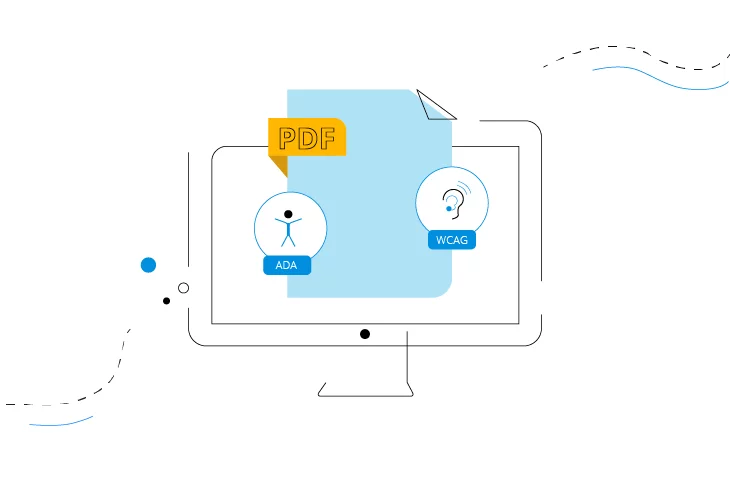 Why should we pay attention to PDF accessibility? Glad you're asking this. Unfortunately, not all of us are able to go to the web and easily read a document. There are many people with visual, mobile, or cognitive impairment, who find it difficult to read and navigate different documents. In fact, approximately 15% of the world's population lives with some form of disability. And the bad news is that as the years progress, this number will only grow. For instance, as the millennials move towards retirement and continue to age, more and more people will rely on screen readers or screen magnifiers that will read their documents. Who knows, maybe in just a few years, we'll also need eyeglasses, because our poor vision won't allow us to see or read clearly anymore.
With that being said, it's highly important to start creating accessible documents for each of us. There are many tools that can help in this regard, and we'll explain them in more detail. Let's start with the first one…
How to make PDFs accessible in Adobe
If you ever tried to make accessible documents in Adobe, then you know it's not an easy job. If you haven't, you should know from the start that it would require some time and a bit of hard work. But don't worry, with the help of guides and tutorials, you will be able to achieve your goal. Here is a short, step-by-step guide that explains how to make PDF accessible in Adobe:
Consider accessibility before you convert a document to PDF
Add fillable form fields and descriptions
Add other accessibility features to the PDF
Tag the PDF
Evaluate the PDF and repair tagging problems
Keep in mind that these stages are presented in an order that suits most needs. Nonetheless, feel free to perform them in a different order. Let's take them one by one and explain them more fully. Here is everything you need to know about PDF accessibility when it comes to Adobe:
1.Consider accessibility before you convert a document to PDF
PDF documents are usually converted from other file types, such as Microsoft Word documents, that's why it's highly recommended to consider accessibility when you create the source file. What does this mean? To add alternative text to graphics, to optimize tables, and to apply specific paragraphs that you can convert into tags. Here's an Adobe article explaining all about creating accessible PDFs documents.
2.Add fillable form fields and descriptions
If your PDF includes form fields (i.e., a form that allows users to enter data in the web browser), then you should use Tools -> Accessibility -> Run Form Field Recognition in order to detect form fields and make them interactive or fillable. Examples of form fields are buttons, checkboxes, pop-up menus, and text boxes. When you create a field, write a description in the Tooltip box, that appears in the Properties dialog for that field. Screen readers will read this text aloud to the user. For further information, please read Create form fields.
3.Add other accessibility features to the PDF
If you've added the form fields, then you should set other PDF accessibility features, such as setting the document language, making sure the security features don't interfere with screen readers, creating accessible links, and adding bookmarks. Click on each feature to discover how to set it.
4.Tag the PDF
When talking about PDF accessibility, we should also pay attention to tags. Adding tags in Acrobat can improve the accessibility of your PDF file. When you tag a PDF, the logical structure tree sends the content to a screen reader in the right order. If you want to learn more about this, here's the workflow for creating accessible PDFs from Adobe.
5.Evaluate the PDF and repair tagging problems
Once you have a tagged PDF, it's time to evaluate it for reading order problems, tagging errors, or accessibility errors. Repair every error that you find. Identify them by using the Full Check/Accessibility Check tool or the Reading Order tool.
How to create accessible documents in Word
To be honest, much of the work required to create an accessible PDF happens exactly in the process of creating the Word document itself, not when converting it to PDF. That's why I've decided to also add a short, yet useful tutorial to help you create accessible documents in Word. You can always export them to PDF, but more about this later. So, here are 7 accessibility principles to consider when creating accessible documents in Microsoft Word:
Use Headings
Add Lists
Use Meaningful Hyperlinks
Add Alternate Text for Images
Identify Document Language
Use Tables Wisely
Exporting to PDF
Don't get scared about the long list, we'll take them one by one and explain them in a simple and easy way. Even if the whole process might sound like rocket science, you'll see that this step-by-step tutorial will work wonders. So, first thing first…
1.Use Headings
When it comes to creating accessible documents, you should always take into account using a good heading structure. This will help people without eyesight to understand how the document is organized. Screen readers and Braille users can jump between headings, making the navigation much more efficient. This would be impossible if there are no headings.
Headings should form an outline. Use Heading 1 for the main one, and Heading 2 for the sub-headings. You can also insert Heading 3, or Heading 4, etc. if there are additional levels of headings. For more information, please click here.
2.Add Lists
Let's make it clear from the start. You should create a list by using Word's built-in tools for ordered (numbered) and unordered (bulleted) lists. A list is not really a list without using these tools. The screen readers will encounter difficulties when reading the content that doesn't have a proper list.
It's pretty easy to add a list to your document. All you have to do is to click on the arrow adjacent to the desired list button to design the one that meets your needs. Here is a video that explains more about creating a bulleted or numbered list.
3.Use Meaningful Hyperlinks
This one is much easier than you think. Start by including language in your document that conveys information about the destination of the link, then highlight the text. Click right and select Hyperlink. Include the URL in the Address field and hit OK. Watch the full tutorial about creating accessible links.
4.Add Alternate Text for Images
I'm pretty sure you know what alternative text for images means. But if you're not sure, here's a simple example. Let's say that you have an image that represents a sunny day. As an ALT, you're going to write something that will describe very well your image. Something like this would work: Visual representation of a sunny day.
In Word, you only need to click right on an image and select Format Picture. Select Alt Text and enter your relevant information in the Description field.
5.Identify Document Language
If you want to define the default language, you'll have to click on Tools, then on Language. But if you want to define a different language for a part of your document, you'll need to select each foreign language individually, then click on Tools, then on Language again.
Keep in mind that this works only when you're accessing the Word documents itself. The effect is gone when exporting to PDF. However, if you wish to have the PDF version as your final format, then you'll need to define language in the PDF directly using Adobe Acrobat Pro. This article about checking PDFs for Accessibility explains more about it.
6.Use Tables Wisely
You should know from the start that Microsoft Word has limitations when creating accessible tables, because screen reader users might not understand them very well. That's why you need to be very cautious when you create them. The best solution is to go for simple tables.
First and foremost, identify which row contains the column headers. Select the row (Table > Select > Row), click right on it, and select Table Properties. This will lead to Table Properties dialog. In this dialog, click the Row tab, and tick the checkbox that says Repeat as header row at the top of each page.
Here's a more complex tutorial from Microsoft, explaining all about creating complex accessible tables in Word.
7.Exporting to PDF
The last step is to export your document file to PDF. There are right and wrong ways to do it, so you'd better see Creating Accessible PDFs from Microsoft Word to make sure you're choosing the correct one.
PDF Accessibility – How can Flipsnack help you
We've learned together how to create accessible documents both in Word and Adobe, and you might think that we're approaching the end of this article. But don't hurry, make yourself comfortable, there's still more of this article!
So, you might wonder…what does Flipsnack have to do with PDF accessibility? Glad you're asking this. You see, we're a publishing platform that wants to allow everyone to create, download, share, and embed different types of publications. That's why we decided to implement Accessibility. We're proud to announce that Flipsnack is the first ADA & WCAG compliant publishing solution on the market. From now on, you'll be able to make your documents accessible to visually impaired readers. It's a simple process, it doesn't require any technical skills. So, how will you do it? Easy and quick. There are two different approaches. Let's take them one by one and discuss them more thoroughly.
How to make your PDF accessible in Flipsnack
If you already have a PDF that you want to make it accessible, make sure to follow every step of this tutorial.
First of all, you'll need to create a Flipsnack account and then upload your PDF.
Wait until it's turning into a beautiful flipbook.
Click on the Save & Share button, choose a title and a description for your flipbook, select its visibility, and then hit Publish.
In the list on your left side of the screen, you'll notice the Accessibility feature. Make sure to click on it.
For each page you select to make accessible, you will have to fill in a Title and a Description. The information contained in these brackets will then be read aloud by the VoiceOver app installed on each computer. We'll talk about VoiceOver apps a bit later.
After filling in all the necessary information, you'll need to toggle on the Accessibility feature, located just above, under Options.
You're done now! Don't forget to save your changes.
What happens when you enable the Accessibility feature? You allow the visually impaired readers to access your publication. When they'll open your pdf converted to flipbook, they'll recognize a new icon, located in the top left corner, as highlighted here: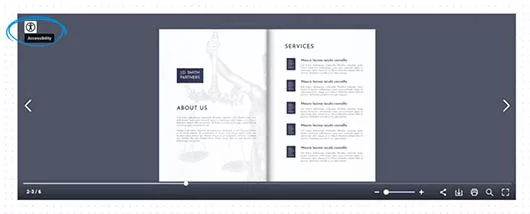 By clicking on the Accessibility icon located in the left corner, the reader's flipbook will look differently, with the text you added in your page Description being shown separately. This is how it should look: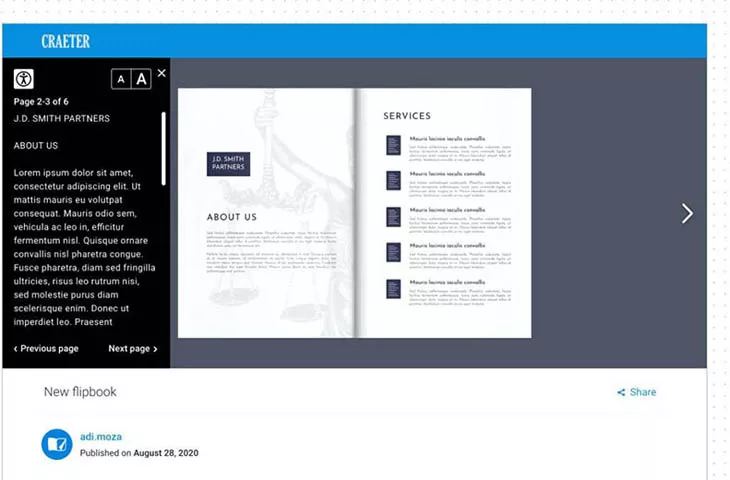 If you haven't noticed, the information contained on those pages is now transferred on the left side of your screen. The VoiceOver app will understand the text you've written and will read it out loud.
How to create accessible documents in Flipsnack
If you don't have a PDF that you want to upload and prefer the create from scratch method, then keep reading this short guide. Only the first steps are different from the other approach, so we'll only write those here. There's no need to repeat the same information twice.
Create a Flipsnack account, then select the create from scratch method.
Choose the template you want, personalize it to your needs, then click on Make it a flipbook.
Customize it, then hit the Save & Share button.
Insert a title and a description for your flipbook, select its visibility, and then click on Publish.
In the list on your left side of the screen, you'll notice the Accessibility feature, and you know what happens from here.
To make things easier for you, we've decided to create a flipbook and enable the Accessibility feature. Maybe it would help you better understand how this feature works in Flipsnack. Feel free to use it as a source of inspiration:
Screen voice overs that help you enable Accessibility
In Flipsnack, it's not enough only to enable the Accessibility feature. You also need to install a VoiceOver app that will read out loud the information you've added. Unfortunately, Flipsnack doesn't come with a predefined plugin or software that can allow the reading of such material. But we can help you find the most suitable for you.
When it comes to Macbooks, the answer is pretty clear. They come with predefined installed apps. Mac computers' VoiceOver feature allows users with visual disabilities to control their computers with gestures and specifically designed commands. Here is a complete tutorial that helps you enable VoiceOver on your Mac.
If you're a Windows user, then you'll need to install a separate software, such as NaturalReader or Zabaware, to enable accessibility on your computer. They both work perfectly fine, you'll just have to decide which one you prefer more.
Conclusion
Here we are, at the end of this long journey. Thank you for sticking with us 'till now. Hopefully, it was a useful and explanatory guide for you. From now on, when you'll think of creating a PDF or Word document, please also consider visually impaired people. And remember, Flipsnack is always here at your disposal to help you easily enable PDF accessibility and remove any barrier.