Top 3 reasons to include digital flyers in your promotion
Printed flyers may not be so popular anymore as people tend to use technology more and more nowadays. However, if you have an event coming up or a sale promotion, you may still consider creating a simple yet eye-catching flyer as a starting point for your marketing campaign. Because let's face it, a flyer still is one of the most effective promotional tools available out there.
But today, I'll introduce you to a new concept – the rising era of the digital flyer. And let me tell you why it's the new big thing. Digital flyers are a great solution to reach a broader audience cost-effectively. They can also improve your advertising strategy as you get to actually measure its performance.
If I didn't convince you, In this article, I'll give you the top 3 reasons why you should include digital flyers in your promotion.
But before I get into that, let's start from the beginning.
What is a digital flyer?
A digital flyer is usually created in a design tool or a flyer maker app. Nothing new so far. However, when sharing a digital flyer, you'll see that things change. Instead of going to the mall and handing out flyers to passersby, you will share your digital flyer on your website, social media platforms or even send it to your email list.
On top of that, when you choose digital flyers over printed ones, you save money and contribute to a more eco-friendly world. Not to exaggerate, but a digital flyer will automatically make you a warrior of the anti-climate change army. That will score some serious points in people's minds. Plus, no matter what, you always want nature by your side. So being eco-friendly will keep the karma off your back!
Some differences between printed flyers and digital flyers:
Printed flyers need to have a specific size. Digital flyers don't necessarily respect a certain size.

Printed flyers don't actually engage with people. Digital flyers can be more engaging and make your audience interact with your flyer.

Printed flyers are hard to distribute, and you need people to do it. Digital flyers' distribution process is just a few clicks away, and it can be done within minutes.

Printed flyers may cost you some money, while digital flyers are cost-effective, especially if you do them yourself.

Printed flyers' efficiency is hard to measure. Going digital with your flyers will make your life easier, as you will have access to tracking their performance and, therefore, improve your marketing strategy.

Top 3 reasons to include digital flyers in your promotion
And now that you have an idea of what digital flyers are and how they work let me give you the top 3 most important reasons why you should consider digital flyers for your next campaign.
1. They can boost your marketing efforts
The budget usually plays a huge role in any promotional process. If you're a marketer, you know what I'm talking about. We don't necessarily like to think about money and costs. Instead, we want our marketing materials to be as efficient as possible. But there's no such thing as an unlimited budget for our marketing campaigns. So we have to spend the least amount of money and make sure we get the most out of it.
But how exactly can you boost your marketing efforts using digital flyers?
Add links with discount codes

Embed a video in your digital flyer

Do image slideshows

Add social media buttons
In Flipsnack's Design Studio, you can add interactive elements that help you engage with your audience on a different level. So add links that will redirect people to your website or a link to your products or services. Buy buttons, coupons, direct links to your social media channels, website, can have a big impact on your popularity, brand awareness, and even sales. I'll get more into this later.
Free flyer creators play a significant role in the cost efficiency department. Moreover, print is losing more and more ground regarding ad share. A study conducted by the Postal Service Office of Inspector General (OIG) shows that digital publications and ads are performing better in 3 categories: engagement, the memory of retrieval, and grabbing the public's attention.
Wider audience, cost efficiency, and the easiness of being remarked. If these aren't reasons enough for you to add digital flyers to your promotion process, I don't know which. However, even though flyers tend to be used mostly accompanied by a tempting offer, the new trends in digital flyer design dictate differently.
2. They are easy to use and distribute
Trying to reach a wider audience has always been one of the biggest problems that traditional printed flyers face. Expensive and not targeted enough, printed flyers are hard to distribute. Not to mention the printing costs, and also hiring people to hand them out on the street can become stressful.
And because with that comes the necessity of checking your distributors out to see if they are doing their job, you're putting your campaign at risk. Depending on strangers is not fun. So you are investing and keeping your fingers crossed that your flyer will get to the people you actually want to target and not in the garbage. You'll be happy to know that none of these situations happen when using a digital flyer.
Actually, how does it sound for your digital flyer to be seen by ten people simultaneously, in distinct countries and totally different parts of the world? Now that's excellent news.
Digital flyers have no geographical limitation. You don't need any approbations for the distribution locations, and you don't need to hire people and verify them consistently. A digital flyer will place you just a few clicks away from quickly reaching your target audience.
Try an online flyer maker
And because the great news doesn't stop here, you'll be happy to know that a digital flyer creator will make the whole process of designing accessible for everyone. Think of Flipsnack's Design Studio as your go-to design tool. It doesn't require any professional design skills, and it also offers you a variety of flyer templates. So in case, you don't want to create from scratch, start designing your flyer by choosing a flyer template.
It might be helpful to also take a look at this video on how to make a flyer online and see how easy and fast the whole process is.
You can create as many flyer designs as you want, duplicate or reuse them for different sales promotions. For example, maybe you have your first sale with just 15% off everything, and the next one is 30% off. Easily duplicate or edit the template according to your own needs.
Then all you have to do is to download your flyer design as a PNG or JPG and share it on your social media platforms. Or, as I already mentioned before, make it a part of your email campaign and send it as a newsletter to your audience.
3. Their effectiveness can be easily measured
With digital flyers, your marketing efforts are boosted, and one of the great advantages they have is that you can measure their performance. Flipsnack offers you in-depth statistics so you can see exactly how your audience interacts with your digital flyers.
You'll also have access to great statistics that will show you what elements your audience interacted with, impressions, time spent or how many times they clicked on, and more. Knowing these details will help you improve your flyer design's effectiveness to make it more appealing to your target audience. Which message is more attractive or what interactive element did they click on, and more.
But don't forget to test everything. As I already told you, when you make a digital flyer, you have the advantage of creating as many flyer designs as you want without worrying about costs. This is great for your testing process to see which flyer design was the most effective.
And now, let's take a look at some digital flyer templates that can help you achieve a professional flyer design in just a few minutes.
Digital flyer templates
Using digital flyers can help you stand out. Either is with the help of an impressive flyer template, colorful design, or interactive elements. Digital flyer designs can bring plenty of benefits to your campaign.
Our free flyer templates are fully customizable. They can be your best solution if you lack inspiration or you are working under time pressure.
There are some tips and tricks that might help you achieve an impressive flyer design. Firstly, you have to think about the purpose of your flyer and what message you want to send. Naturally, creating business flyers is, of course, different from making a flyer event for a Halloween party.
Although, no matter how good the flyer design is, always keep in mind the purpose of your flyer and the receiver, your audience. Put yourself in their shoes and think of what would catch your attention and what would make you keep and read that flyer. Having this in mind will make it easier for you to design a genuinely impactful flyer.
When you start designing your digital flyer, have in mind the purpose of your flyer and who your audience is.
To make it easier for you, in the following paragraphs, I'll offer some tips and tricks that you can use to make an impressive digital flyer design!
Black Friday sale flyer layout template
The template below is a perfect example of how a retail company can use digital flyers in its promotion. Besides using high-quality photos, they only specified essential details like the discount they offer and the date. When editing this flyer design template, don't use too much text and let the representative images speak for themselves. Also, stay true to your brand. Use your logo, custom colors, and the fonts that you already incorporated on your website and all communication channels.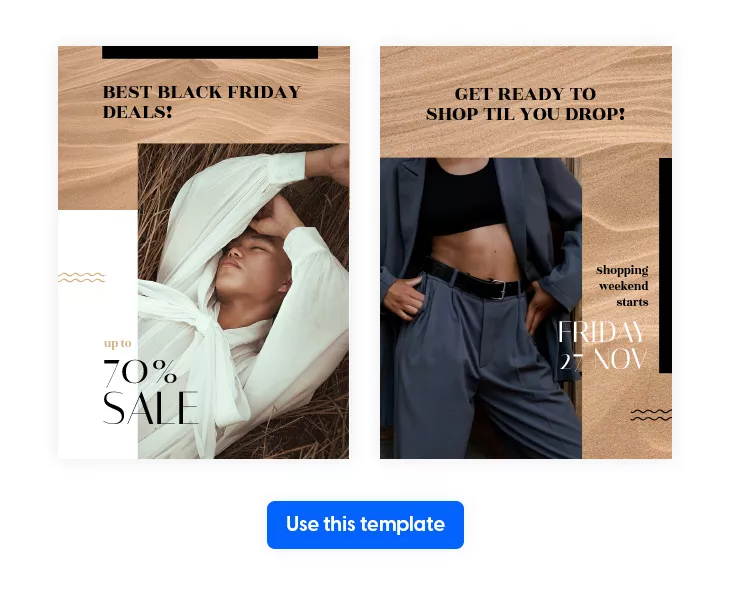 Let's see how you can transform this flyer template into an interactive one and make it your own.
By simply replacing the image and the background color, you immediately get a more modern look. Also, please notice how our designers used a more suitable font that perfectly fits the sneakers image. Of course, for a shoe company, bold and sans serif fonts work wonders. But don't be afraid to step out of the box and experiment with this template design. You can use it in so many ways.
As for the interactive elements, spot the buy button that, if clicked, redirects clients to the website page with the whole shoe collection available on sale. There is also a product tag that offers more information like the product title and description, the product's price, and the URL link. Or you can use a UTM link on the 20% SALE text. UTM links are perfect to see exactly where your audience came from.
Use interactive elements like videos and image slideshows in your digital flyer design. It will easily spark people's interest and will entice them to take action.
See, now you have a better understanding of the differences between printed and digital flyers. So you know when to pick one over the other.
Classic super bowl party invitation template
When using an online flyer creator, most people tend to work with specific colors because they are too afraid to step out of the box and trends. You shouldn't!
Don't limit yourself to what's "normal." After all, who defines what normality is? The Beatles were told that their sound is not original enough, and Walt Disney got fired because he supposedly lacked imagination.
If this isn't the perfect example, then I don't know what is. I'm not saying you should be Van Gogh, but you should definitely work on your originality. Be as creative as possible and gain the attention of your audience!
Take a look at this template, for example. The background colors are quite on the dark side, so our designers went for a white headline to make it pop. But besides this, the image really communicates the message: a Super Bowl watching pub event.
And when thinking of designing an event flyer that gets all the attention, you can simply replicate this recipe: representative images and catchy headlines. What you should always mention is the place, date, and time. And, if necessary, contact information plus a call to action that will trigger people to attend your event.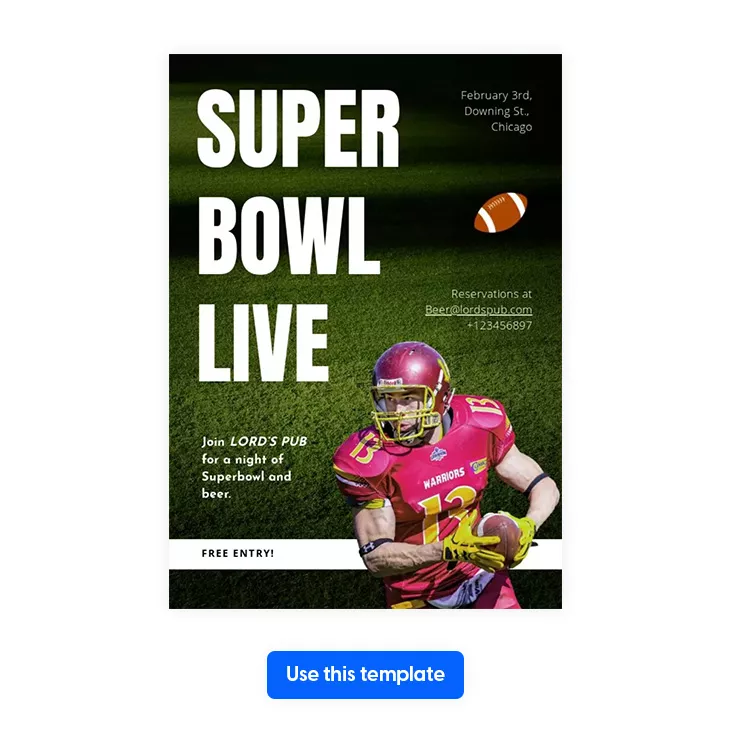 City Travel Flyer Template
Believe it or not, digital flyers, just like printed flyers are great for promoting travel destinations. Although your audience may need more information, a travel flyer can hook and bring potential tourists to your agency.
Stunning images presenting top locations should be the critical element in your travel flyer design. So use images that best represent a region or a well-known architectural building that everyone knows about. For instance, the Colosseum in Rome – Italy, or the Eiffel Tower in France – Paris, you get it. Use a clean design and little text for a minimalist look.
And one last tip, always make sure a brand identifying element or your contact details appear in your design. Otherwise, your whole work will be in vain, and even if the flyer had a significant impact, you'd think it didn't. Make sure you did all that's in your power for this tool to be used at its maximum capacity. You'll thank us later!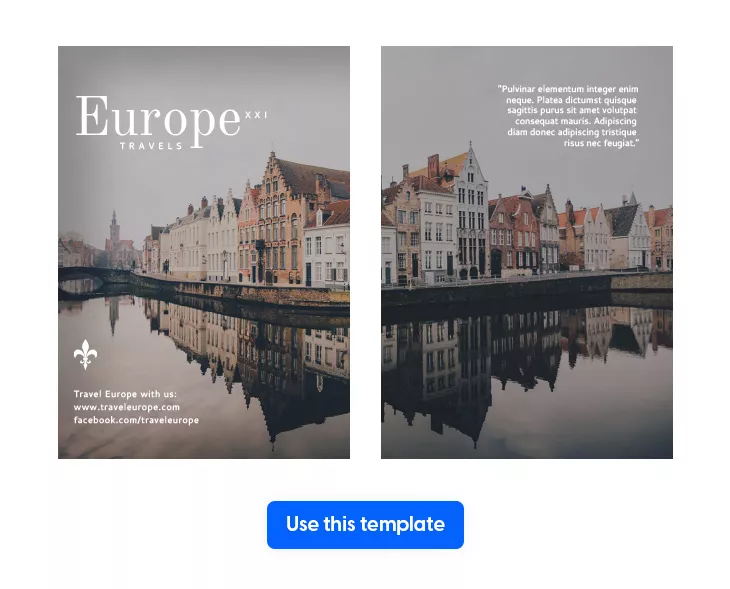 How to create a digital flyer in Flipsnack
Alright, now you have all the valuable information you need to start the design process. But, don't worry, you'll figure out quickly how to use our flyer maker tool. Almost the whole process of designing requires a simple drag and drop.
Here's a step by step tutorial that teaches you how to to create a digital flyer in Flipsanck:
Go to

Flipsnack

and either start from scratch or choose a flyer template you want to customize.

Upload your own images, replace the texts with your message and pick some colors to make your design more attractive.

Add some

interactive elements

like product tags, links, embed a video widget, or a photo slideshow.

When you're happy with your design, simply click on download and then

share

your digital flyer with your target audience. Oh, and after a few days, check the statistics to see how your digital flyer is performing.

Conclusion
I hope you enjoyed this article and that you'll actually consider including digital flyers in your promotion. But don't get me wrong. There was never a battle between print and digital. In fact, if I'm honest with myself, I think these two work better together. So, I encourage you to experiment with these and see what works best for your company.