8 best wedding magazines for your inspiration
Brides will always consider their wedding day to be a once-in-a-lifetime moment, that's why they'll do everything it's necessary to make it perfect. The wedding dress, the luscious flowers, the romantic melodies, the mouth-watering wedding cake…everything has to be thought 'till the last detail. We, here at Flipsnack, want to ease all the chaos and stress that could potentially come along while organizing your big day and help you create an unforgettable and relaxing wedding. That being said, we invite you to discover our curated list of the best wedding magazines and receive instant access to endless wedding possibilities, ideas, and pieces of advice.

It's no news that the most popular wedding magazines are some of the best resources for future brides. Starting from wedding photo albums, locations, and honeymoon destinations to specific information regarding retailers, engagement rings, and menu selection, the glossy wedding magazines help you get a better picture of your big day. They make your wedding day go smoothly from start to finish in no time. So, what are you waiting for? Take a step closer to your fairy tale wedding with these 8 best wedding magazines!
Best wedding magazines to inspire your big day
Wedding Style Magazine
Bridal Guide Magazine
Newport Wedding Magazine
Inside Weddings Magazine
Martha Stewart Weddings Magazine
Munaluchi Brides Magazine
Brides Magazine
The Pretty Pear Bride Magazine
Each of these wedding magazines has something unique and special that could help you organize the most important day of your life. Of course, they all approach pretty much the same topics, but in a different way. Trust us, they are all worth reading. From fantastic photos to insightful content, these magazines have it all. But let's take them one by one and see how they can inspire us to get ready for tying the knot.
1. Wedding Style Magazine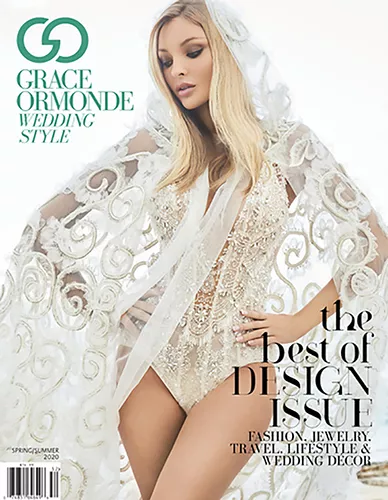 We had to start our list with one of the best wedding magazines that exists on this Earth. Yes, you're right, we're talking about Wedding Style. They have won numerous awards for its beautiful design quality and content. And for good reason. When you flip through the magazine's pages, you notice for sure the stunning photos, beautiful fonts, and detailed wedding information.
But we have to make it clear from the beginning that this magazine is not for the couples with a tight wedding budget. Wedding Style is a luxurious publication for sophisticated and fancy couples that would give a total fortune to have the wedding party of their dreams. Full of inspiration and data, this magazine provides the most creative ideas from many professional specialists.
Every issue of this magazine features a bridal fashion section that provides useful information and marvelous photos from different parts of the world such as New York, Paris, and Milan. And not only this but also style alerts and celebrity wedding news.
Another amazing thing about Wedding Style magazines is that they offer luxurious, exotic honeymoon destinations across the whole globe. Go check their website to see inspirational pictures from real weddings and honeymoons.
2. Bridal Guide Magazine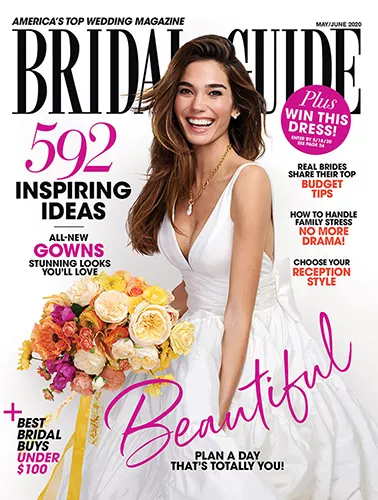 With such breathtaking and stunning photos, Bridal Guide is without any doubt one of the most acclaimed, top wedding magazines that appears on Amazon's best selling wedding magazine list. Not to mention that is also one of our favorites publications ever. Besides the marvelous images, Bridal Guide also offers pieces of advice about organizing your wedding day, honeymoon information, wedding traditions, and budgeting and planning. There are 6 issues the whole year and each issue covers topics about make-up and wedding hair, two crucial things for a future bride. Learn how to choose your wedding gown according to your body shape and height.
Let's not forget that they are also very active on social media, with approx 600K followers on Facebook. Make sure to follow them for the latest updates. These magazines also approach present-day subjects such as organizing your wedding in COVID times. Interesting, right? They post 8 times per week, so you can totally count on them for your wedding day. Check out their website and blog for more DIYs and low-budget creative ideas for the bride and the groom.
3. Newport Wedding Magazine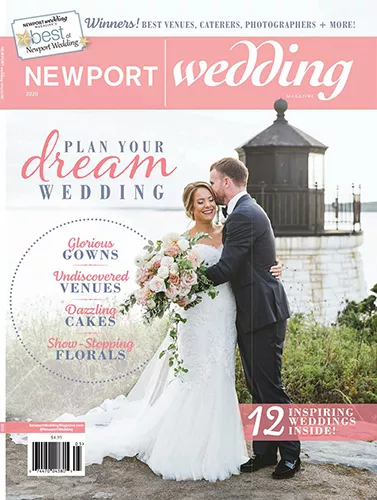 Every little girl dreams of the day when she'll be a bride. She imagines how her wedding day would look like from the first moments she met her charming prince. If you're one of these girls, then you know how amazing it is to flick through a wedding magazine's pages and discover all the great ideas that you can apply to your big day as well.
Newport Wedding Magazine is a real life-wedding publication that provides both expensive and low budget wedding suggestions for you and your groom. Even if the magazine offers only wedding locations situated in Newport, Rhode Island, US, don't worry. You can still inspire from others' wedding decorations. This publication has plenty of wedding dress ideas for brides of all sizes. But that's not all. Wedding cakes are also an important part of the wedding. Read what other couples chose for their big day and also see how you can save some money by doing your own decorations.
4. Inside Weddings Magazine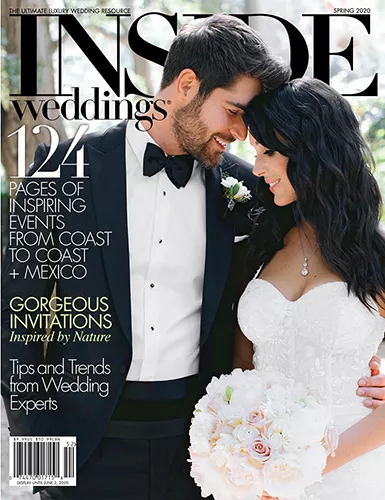 Next time you're going to think of the best wedding magazines, please do consider Inside Weddings on your list. Published 4 times a year, basically, one issue per season, Inside Weddings magazine is an amazing guide to wedding inspiration. The soon to marry couples receive "insider" tips and tricks that will help them choose their honeymoon destination, wedding location, wedding menus, gowns, and many more.
Without any doubt, this is the cutest wedding magazine amongst the other ones presented in this article. We might be a bit subjective, but from our point of view, they feature the most beautiful and sweet girls on their magazine covers. Like every other magazine, you can find galleries of real-life weddings. Inside Weddings provide information about beauty, fashion, wedding accessories, locations, wedding gifts, and honeymoon packages.
A cool thing about this magazine is that they have a section called Expert Advice that features plenty of timely articles to keep people interested and informed. With top-notch planners and consultants, photographers and videographers, and countless other professionals, the future weds are sure to get the inside scoop for whatever they want to know.
5. Martha Stewart Weddings Magazine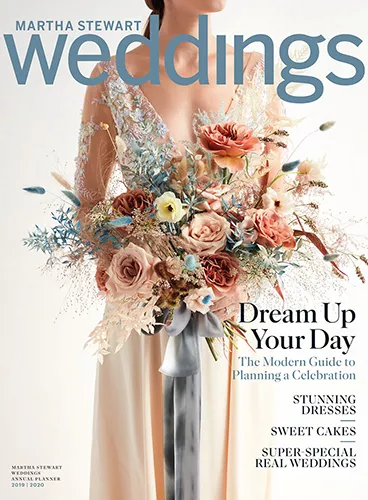 There's no such a best wedding magazines list without the Martha Stewart Weddings publications. No wonder is one of the highest-rated wedding publications available. They help you design the wedding of your dreams with innovative ideas and expert advice. It's highly important to mention that they usually focus on summertime wedding essentials, so if you're planning to say "I do" this summer, then please read the magazine for inspiration and creative ideas while there's still summer.
Don't stress too much planning your wedding day. We know it requires a lot of preparation but learn from the best. Martha Stewart Weddings magazines plan every aspect of your wedding day including your gown, shoes, flowers, cake, invitations, and venue, of course! Packed with lots of advice, articles, guides, and DIY suggestions, this magazine helps every bride and groom create a beautiful and elegant wedding even with a small budget. But that's not all. Because of the whole coronavirus pandemic craziness, Martha Stewart Weddings offer plenty of recommendations about organizing or rescheduling your wedding during these harsh times. Read more on their website.
6. Munaluchi Brides Magazine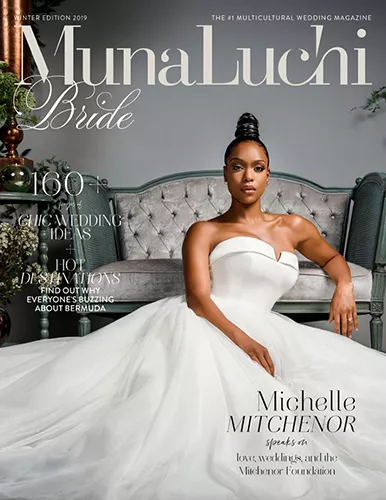 When we first read this magazine's name, we were wondering of its meaning and connotation. Seems that Munaluchi is the combination of two African names, which fused together mean "beautiful work of God". And this is exactly what a bride is: a beautiful work of God.
The Munaluchi Brides magazines promote positive images of women of color. If you pay attention to their magazine covers, you'll realize that most of them feature multicultural women. With 25% of weddings in the multicultural space, Munaluchi is at the forefront of this niche market.
Every future bride, regardless of her cultural background or color can inspire for her wedding day from this magazine's wedding locations and decorations. Even if it's COVID-19 times, the Munaluchi team is here to give you advice and help you organize your big day in such a way that you'll forget about this bizarre virus.
7. Brides Magazine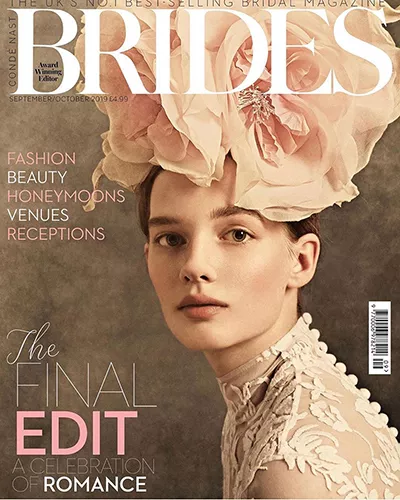 One of the best wedding magazines of all time is without any doubt the Brides Magazine. The images, the articles, the content…everything is perfect about this wedding magazine. If you've just said "Yes" and are thinking of starting to plan your big day, you should definitely check this magazine for inspiration and motivation.
Every issue of this publication speaks to everyday brides, regardless of social status and skin color. Brides magazines offer you all types of wedding-related advice, information on destination weddings, tips on fashion, beauty, style, planning, honeymoon destinations, wedding bar ideas, and many others. No matter what your question is, you can find any answer regarding weddings by simply flipping through the publication's pages.
Check which are the latest wedding gowns that are trending right now so you can think about how to design your dress. You can also get inspired by different celebrity weddings. Of course, maybe you don't have their budget, but you can still "borrow" some design and decor ideas for your big day. See for yourself.
8. The Pretty Pear Bride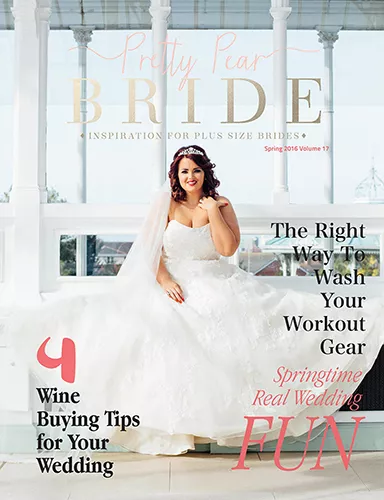 Last, but not least…here comes one of the best wedding magazines ever. The Pretty Pear Bride is the world's only magazine dedicated to the plus-size brides. Society is kind of harsh with people that don't meet the "perfect" standards. In each wedding issue, you see only slim fit girls with perfect, porcelain faces. But this magazine exists to speak out for the plus-size brides who also deserve a fantastic wedding.
Every bride and groom is glamorous and gorgeous just the way they are. Flip through this magazine's pages to see wedding gowns inspiration for your curvy body. You'll surely find something that fits like a glove. Don't forget to also check the bridal shower ideas, engagement session suggestions, and wedding cake proposals. The Pretty Pear Bride is the magazine that makes every bride feel beautiful and special. Take a look for yourself.
How to create your own wedding magazine
It's a great feeling to flick through a popular wedding magazine's pages, but have you ever thought about designing one? Yeah, we know it might sound crazy, but just think of it…this could be the best wedding gift you could offer to your newlywed friends. Or why not, the perfect wedding gift you could offer to yourself! But let's go the extra mile and think things through. Maybe you're passionate about weddings so much and you also have insightful ideas from your own wedding for the future brides. What's the best thing to do? You create a wedding magazine that you share with others. Who knows? Maybe this is the start of your wedding planner career!
So, take the risk, choose a wedding magazine template and personalize it with everything you find useful and important for the wedding day. Don't stress too much about it, we're going to explain the whole process! With Flipsnack, it's both easy and fun to create the best wedding magazine ever!
Design your wedding magazine with Flipsnack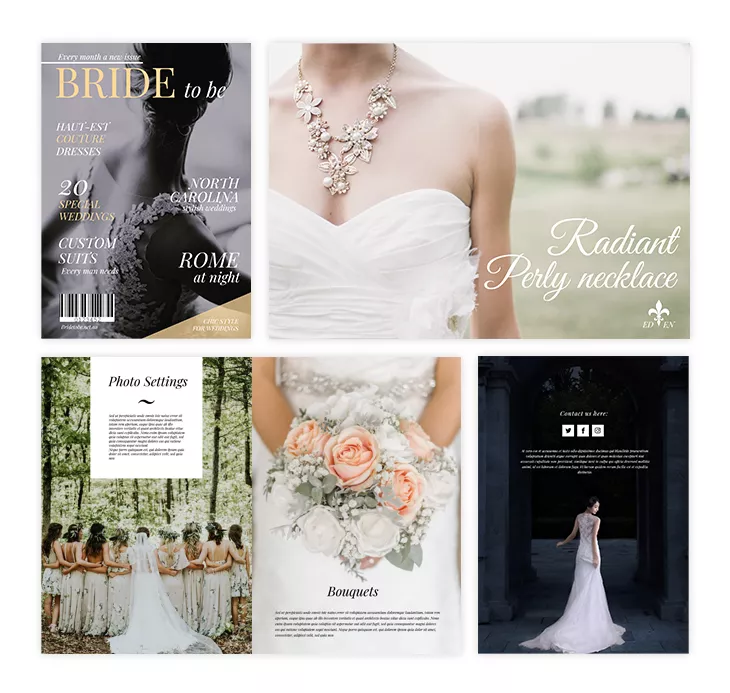 First thing first…you need to choose a wedding magazine template. Like this one from Flipsnack. Then open it in our Design Studio and start personalizing it.
Start the editing process by uploading wedding photos. Select the most beautiful and professional ones. Keep in mind that you also have the opportunity to use our wedding stock photos thanks to Unsplash. All you have to do is to search for your topic, and the pictures related to it will show up in no time. But don't just post the photos. Describe them a bit and say something about them through quotes or with the help of our text boxes.
Keep in mind that our intuitive and drag and drop editor allows you to make any changes you want in a short time. Insert some shapes, change the colors, and even upload your own fonts if you want to. Choose something like Misti's Fonts, Billy Argel or Typhoon Type. These ones really get you a wedding vibe.
Thinking of what else to insert on the magazine's pages except for the stunning pictures? Well, you could inspire yourself from the wedding magazines we've shared above. Flick through them and observe the common subjects and elements. These approach different wedding topics such as make-up, hair, wedding gowns, shoes, cakes, and so on. Write your own ideas and tips and tricks, because you never know how popular your wedding magazine will get and how many brides will thank you for your good pieces of advice.
After you've uploaded the photos, written some heart-touching texts, and approached insightful wedding topics, it's time to take your wedding magazine to the next level! How? By inserting a short video preview of the wedding day!
When you think you're done with everything, download your masterpiece and share it with every future bride on social media. Or, keep it private and send it via email to someone special. You also have the opportunity to print it and flick through its pages anytime you want. It's up to you.
Final thoughts
There you have it. Hope this collection of 8 best wedding magazines will help you organize the wedding of your dreams. Even if we're facing COVID times, you can still live your dream and make it happen. But don't stop here. Go the extra mile and create your own wedding magazine. It's the most amazing thing you could do for yourself on this special day because it is a forever keepsake. Or, why not? Design it for your best friend who's going to a bride soon. We promise you, it will be the most extraordinary gift she'll receive. Also, a photo creator would also help you create memorable photo albums that you can gift to your friends and family.

If you're interested in finding out more about weddings, make sure to read these amazing articles about wedding stationery and wedding photo albums. In fact, is a girl's most important day of her life, right? So you gotta be as prepared as possible. Flipsnack's amazing tool helps you bring your ideas to life and also inspire you to get ready and more organized for the big day. Design, personalize, and share your wedding magazine in every possible way.