Create your own Christmas card with Flipsnack
Ever since forever, Christmas cards are one of the oldest traditions of the holiday season. And no wonder why. There's something special about seeing images of reindeers, snowflakes, and trees altogether with words such as "joy", "merry", and "peace". It gives you the feeling that happiness and serenity can be found even in the most little things.
We're pretty sure that everybody loves to receive Christmas cards. Knowing that someone took the time and effort to design a Christmas card and send it to you is a nice and heartwarming gift during the cold winter. But as great as it is to receive them, as difficult and challenging can it be sometimes to make and offer them.
If you've ever wondered how to create your own Christmas card from beginning to end, then we've got the most amazing news for you! This article is exactly what you're looking for. Whether you're making informal Christmas cards for your friends and family, or formal ones for your business partners or work colleagues, Flipsnack got free Christmas card templates for all situations. Just keep on reading this blog post to discover some creative Christmas card ideas that could get you started!
5 Tips & Tricks For Creating Dazzling Christmas Cards
There are many useful and important things to be taken into consideration when you want to create your own Christmas card, but we're going to present the most important and common ones. Here are five helpful tips and tricks to ensure you put your best foot forward as you send a little bit of seasonal joy to everyone on your Christmas card list. Check them out:
Select the proper Christmas card format
Choose a theme and stick to it
Add imagery and decorations
Pick the right Christmas fonts and colors
Think outside the box
Let's take them one by one and dive into more details:
1. Select the proper Christmas card format
Picking the right size for your Christmas card depends on the shape and style that you're looking for. There are different sizes for menu cards, greeting cards, invitation cards, and so on. However, the standard size for printed Christmas cards in Flipsnack is 1123 x 793 px for the landscape format. But you'll also find other dimensions and formats, depending on the template you'll select.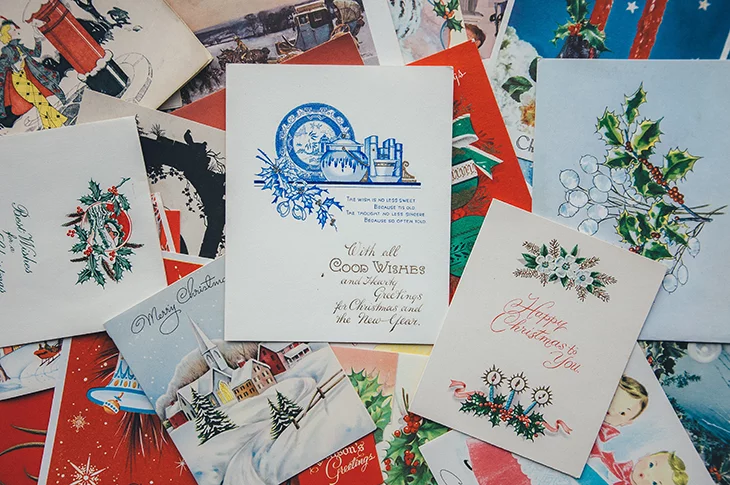 When choosing the size of your Christmas card that you want to personalize, you should also think about how you want to distribute it. You have two options: online or offline. If you're planning on sharing your Christmas cards on social media, you have to keep in mind that each platform needs a specific size. This way, your card won't get cut off or stretched to fit the space.
On the other hand, if you want to print your Christmas cards and send them to your loved ones, make sure you're going to choose premium paper. Don't worry about the card's size, our printable cards look good both in a small and large format. 
2. Choose a theme and stick to it
Another important aspect about designing your own Christmas cards is to pay attention to the theme you're going to choose. It's essential to select a suitable theme depending on who you send the card.
For instance, if you're going to send your Christmas card to one of your family members, make sure you choose a theme that expresses love, gratitude and happiness. Insert images of you and your family, some cute winterish elements and decorations such as Christmas trees, snowmen, polar bears, reindeers, yellow stars, and so on. If you and your family are more religious, then you should opt for a theme that surprises the Nativity scene. Most importantly here, the text you're writing on your Christmas cards. Write from your heart and your family will surely appreciate it.
If you want to create your own Christmas card and send it to a close friend, then choose something more bold and crazy. Go for a movie or cartoon theme, let's say you're both crazy about Home alone movies. Add something related to that, some funny moments you two have in common. Insert some funny memories or inside jokes that only you know.
Choose a minimalist and simple theme if you want to send your Christmas greeting card to your boss, work colleague, or business partner. It's also important to incorporate your brand's style and authenticity.
You see, before choosing a theme, the most important aspect is to adapt your theme to the audience you wish to send the Christmas card to. This goes for the message, as well. But we'll talk about what text to add in your Christmas card, a bit later in this article.
3. Add imagery and decorations
It's obvious that this step goes hand in hand with the previous one. When you think of themes, you also think of images and decorations, and vice versa. So, if you opt for a religious theme, you should also insert some biblical characters such as baby Jesus, Mary, Joseph, the star, and the Three Wise Men. If you choose something more traditional such as a winterish landscape, then you should also add snowflakes, sleighs, reindeers, Santa Clause, and snowmen. Browse through our Christmas pictures and elements and select your favorites.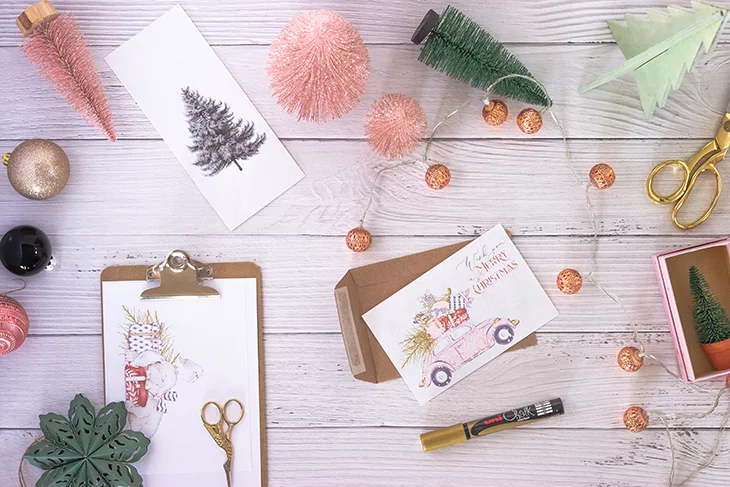 If you want to create your own Christmas card for your family, then choose some images and decorations specifically to your folks. Don't forget to insert a photo with the entire family gathering around the Christmas tree or singing carols in the neighborhood. This is the highlight of every Christmas photo card.
4. Pick the right Christmas fonts and colors
Without saying, after you picked a suitable theme and the images you wish to choose, the fonts and colors should complement your overall design. But that's why we're here, to help you with some inspiration. You'll see that all throughout this article we will be mentioning some suitable fonts and colors that you can use in your cards. If you want to keep it elegant, you should choose a sans serif font. For a classic approach, select a script font. You can also have the opportunity to pick a decorative font for your Christmas card if you want to.
Since you create your own Christmas card, it's important to stick to winterish colors. These holidays are all about red, white, and green, but you can also choose something different if you want to stand out in the crowd. For example, you can choose some icy colors like grey, silver, and blue. Or try something bolder like purple, gold, or pink. Choosing the colors also depends on your personality and your card's theme. No matter what you'll choose in the end, make sure to organize and arrange everything delightfully.
5. Think outside the box
If you're tired of the classical, traditional tips and tricks for designing your Christmas card, then you should think of something more unusual and unique. For instance, incorporate a bright color that makes your Christmas card pop. Add a black and white family picture, and highlight only the red jacket of your mom or the purple scarf your sister wears.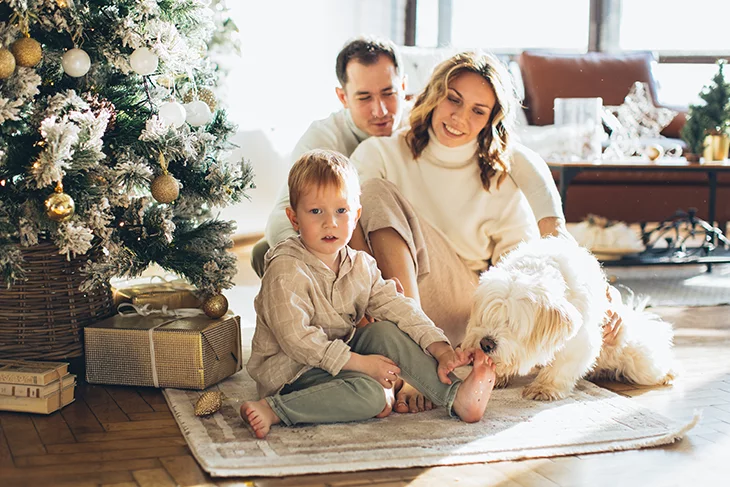 Speaking of family photos, why not bring your furry friend along for the classic Christmas family photo? Cats and dogs may not be very good holding a pose, but they will surely make your photo shoot more funny and lively. And in fact, this is what family photo shoots are about: genuine smiles and emotions rather than stiff and serious poses.
Design a Christmas Card in Flipsnack
Now that you know all the basics, you are fully equipped to take on the creative mission of designing your own Christmas cards in Flipsnack. It's time to finally put into practice everything you've learned from the tips and tricks we've presented to you. The first step to designing a professional and eye-catching Christmas card is to choose a template from our beautiful and vast collection of Christmas card templates and then customize it to your own needs. 

We know that it could be a bit overwhelming to keep up with so many important details, so we decided to show you how to transform a Christmas card template from our gallery into the card of your dreams and necessities. We're going to explain everything step by step, and we're also going to show you the before and after effect. In the end, you'll have an informal Christmas card that you could send to your friends and family, and also a formal Christmas card for your employees, or work colleagues. With a single template, you can create many possibilities! But enough talking, let's get started!
Create Your Own Christmas Card with Flipsnack's Card Maker
After you've made an account and logged in, it's time to choose your Christmas card template. For the sake of this example, we've chosen this online card template over here.
Now we need to customize it to our own needs. Let's say that we're making a Christmas card for friends and family, and another one for our company's employees. We'll have a business Christmas card and a traditional one.
That being said, on the front cover of our traditional Christmas card, we should insert a family photo, a beautiful landscape picture, or something cute and creative that represents the holiday season. For our business Christmas card, we can use a photo with our company, our team, or we can keep the holiday spirit and choose something more winter-related like in the example below.
The back cover of the card should contain the message and the signature. So, for the classical Christmas card, choose a heartwarming message accompanied by your name. You can also insert some winterish and holiday elements and decorations if you want to. Choose some specific colors like red, white, or green, and you're done! For the business card, choose a simple, yet meaningful message. Feeling uninspired? Do not worry, we offer a few short messages you can use as inspiration in your Christmas cards. Next, pick some neutral colors, minimalistic elements, and add your company's logo. Don't forget to sign your card, and you're done. See? It's that easy to create your own Christmas card in Flipsnack!
As a final step, it's time to send your Christmas card. You can print it on premium paper, put it in an envelope, and then take it to the post office. Or, you can share your card directly via email, both securely and privately. It's up to you if you want to distribute it online or offline.
Before & after Christmas card examples
As we promised, here are the before and after effects of the Christmas card template we've chosen. The first one is the traditional Christmas card, followed by the business Christmas card. You can use both of them as a source of inspiration if you want to. This is how they look:
Classic Christmas card for family and friends: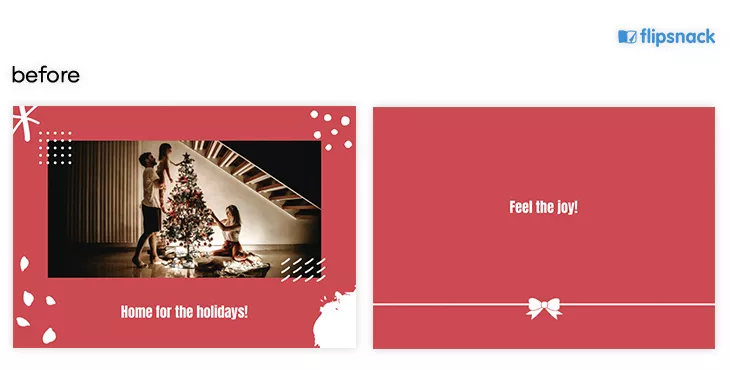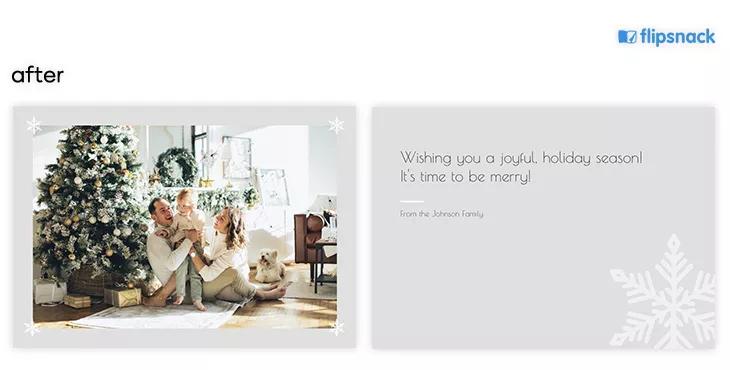 Business Christmas card for employees: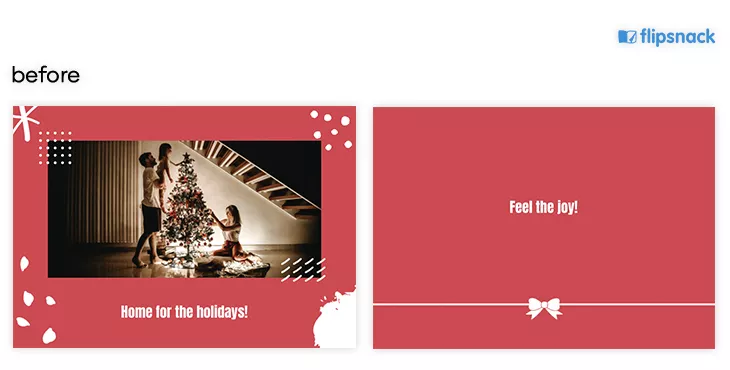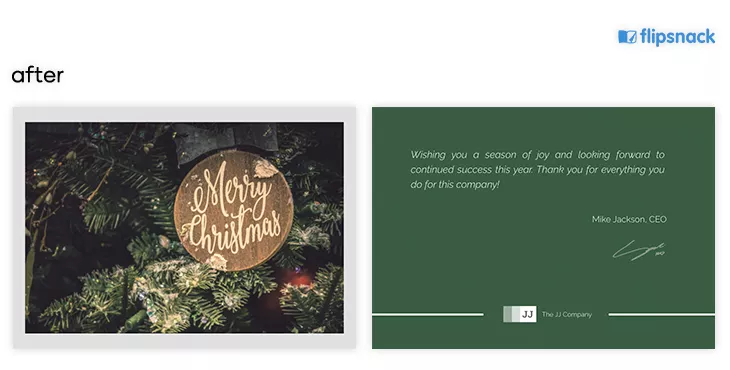 What to Write in a Christmas Card
If you don't necessarily have a way with words, we're going to be Santa's reindeers today and help you in this department. Finding the perfect message for your Christmas cards can be considered such a daunting task. Sometimes, you just feel stuck in a rut or feel like your messages and ideas don't make any sense. Don't worry, we've all gone through it, and we know how important it is to receive some sources of inspiration. That's why we decided to share some Christmas card text ideas to get you started.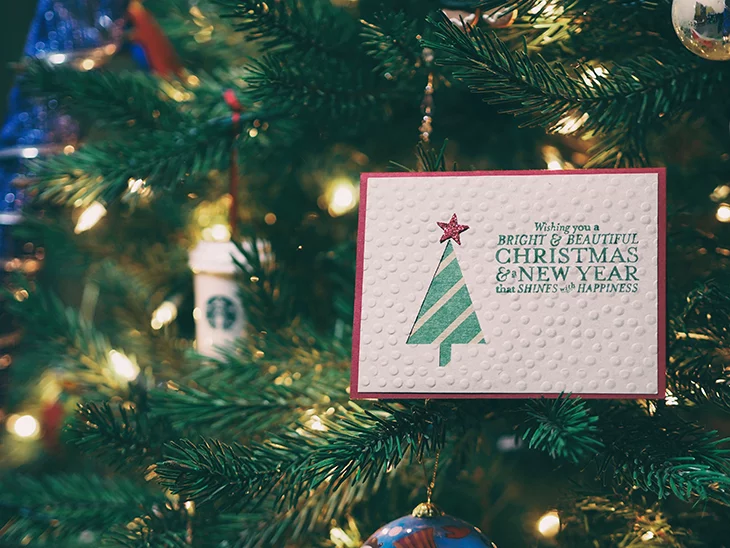 But before we're discovering them together, we have to remind you that the most important thing when it comes to choosing your Christmas message is to think about the person you're sending it to. Is it a family member, a close friend, a work colleague, a manager, or a business partner? Only after you've made your choice can you decide if you should express formal, informal, or insert some jokes and heartfelt Christmas quotes. Here are some examples:
Messages for your family members:
My favorite part about the holiday season is all of our Christmas memories together. I'm so thankful to have such loving people in my life. Here's to many more Christmas memories and too many cookies.
Wondrous Christmas nights always remind me that I'll never be alone because my beautiful family will never let it happen. And I promise you just the same. Merry Christmas!
Messages for your friends:
Where could I find a best friend like you? Not at the North Pole, that's for sure. This year I know that the best gift in my life is best friends like you. Merry Christmas.
Friends make the holiday season fun and festive. I can't wait to party and deck the halls with you this Christmas.
Messages for your co-workers:
Your support and companionship mean a lot to me. Thanks for everything. Merry Christmas and Happy New Year!
I like seeing you at work – you add a bit of happiness to the place. Happy Holidays!
Messages for your boss and business partners:
From the bottom of my heart, I thank you for being a great boss and a great source of inspiration and motivation. Happy Holidays!
Thank you for a fantastic year and for inspiring us through each and every obstacle. Merry Christmas!
Christmas is a time to count our blessings, and I feel especially favored having you as a partner. Happy Holidays!
I am especially grateful this Christmas knowing that our partnership is only going to grow and prosper even more. Wishing you and your family a joyful and warm Christmas!
Classic Christmas Card Messages:
May the Christmas season fill your home with joy, your heart with love, and your life with laughter. Merry Christmas!
Have a great Christmas! Take the time to celebrate your desires, values, and affections with your loved ones. Wishing you all the best.
Funny Christmas Card Messages:
I put so much thought into your gift that it's now too late to get it. Merry Christmas anyway!
Christmas is a time for remembering family and trying to guess everyone's sizes! Have a wonderful Christmas.
Christmas Cards Categories
We're finally here, at the last stop of this journey. Thank you for sticking with us "till the end. You've seen the most important tips and tricks that help you create your own Christmas card, you've discovered how you can design it with Flipsnack's card maker, and you've also learned what specific messages to write in your greeting cards. Now you should make some courage, choose a template from our vast collection and start designing your own Christmas cards you want to send this year. Hurry up, there's not much time left!

This holiday season is all about making gifts, so we've decided to shower you with twelve Christmas card design templates that you can customize to your own needs. We've organized them into six main Christmas card categories. Choose the most suitable one for you depending on the receiver. Feel free to choose and edit your favorite:
Greeting Cards
Winter Holidays Greeting Card Template
The first category on our list is the greeting cards, of course. We could say that these cards are the most popular ones when it comes to sending a unique and special Christmas gift for your friends or work colleagues. And this winter holiday greeting card template right here is the perfect example of what a Christmas card should look like. The little reindeer, Christmas elements, and the white snow totally get you into the yuletide season. Don't hesitate too much, take this template and customize it to your own needs.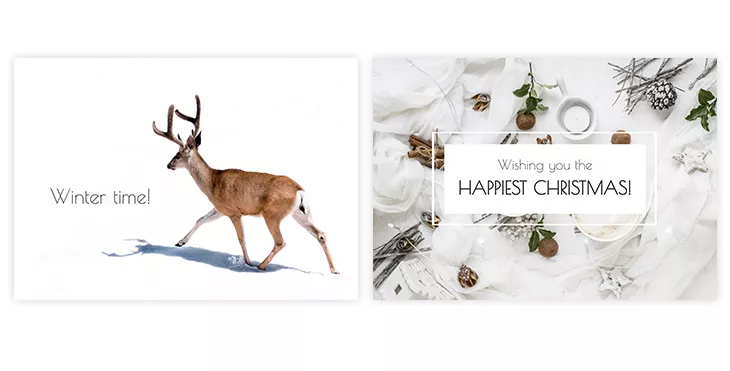 It's pretty easy to create your own Christmas card with Flipsnack's powerful Design Studio. All you have to do is to change the colors, add different elements and shapes, and write your own message. Another great thing about Flipsnack is that you can upload your own Christmas fonts! If you're sending this card to your friends and family, then you should go for something more informal and elegant such as Chopin Script or Magnolia. However, if you're thinking of sending this greeting card to your business partner or work colleagues, then you should choose formal and professional fonts. Capriola Regular and Bodoni are great examples in this regard. After uploading the desired font, don't forget to insert your company's logo somewhere where it can be noticed easily.
When you're done editing this winter holidays greeting card template, it's time to take it to print and send it to the recipient. Don't forget to always choose high-quality paper. Or, take advantage of technology and share your Christmas message directly via email. Easy, fast, and secure.
Colorful Christmas Card Template
Our second greeting card example looks more colorful and vivid. Who wouldn't want to receive such a warm and authentic gift this holiday season? This colorful Christmas card template is really appropriate for a close friend or family member, but you can also send it to a business partner if you're going to make it more minimalist and change the colors, text and elements.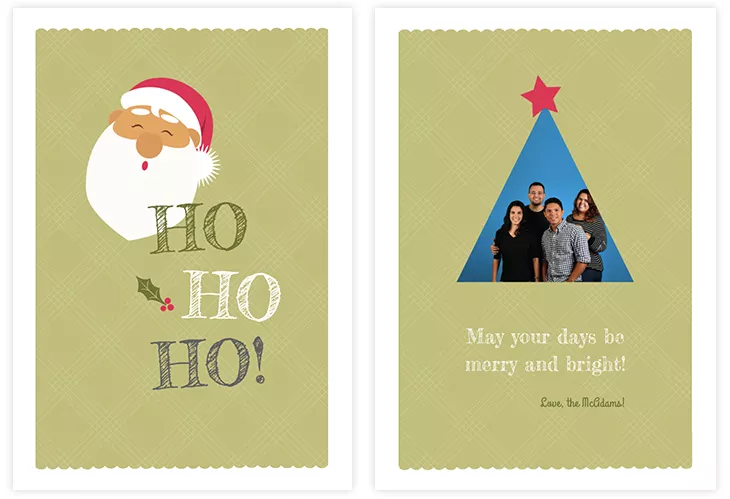 Feel free to customize it exactly to your needs with the help of our drag-and-drop editor. Choose your favorite colors, upload your own Christmas fonts, write a cute holiday message, or choose to insert a fun quote or joke. For a more special effect, upload a photo with your entire family.
In the end, it only remains to take your masterpiece to print on premium paper and hurry up to the post, so that your recipient will receive your Christmas gift on time. Or, avoid all the hassle and crowd and simply share this greeting card online via email. See? It's that easy to create your own Christmas card with Flipsnack.
Photo Cards
Christmas Photo Card Design Template
We chose photo cards to be our second Christmas card category. They used to be so popular back in the day. We can bet that no one hadn't sent or received at least one photo card on Christmas Day when they were little. Such a pity that this tradition had slowly been forgotten. But luckily that today, technology gives us the privilege to create our own Christmas cards online, in just a few minutes. With a powerful Christmas card maker and the right template, you can easily get the dazzling photo card of your dreams.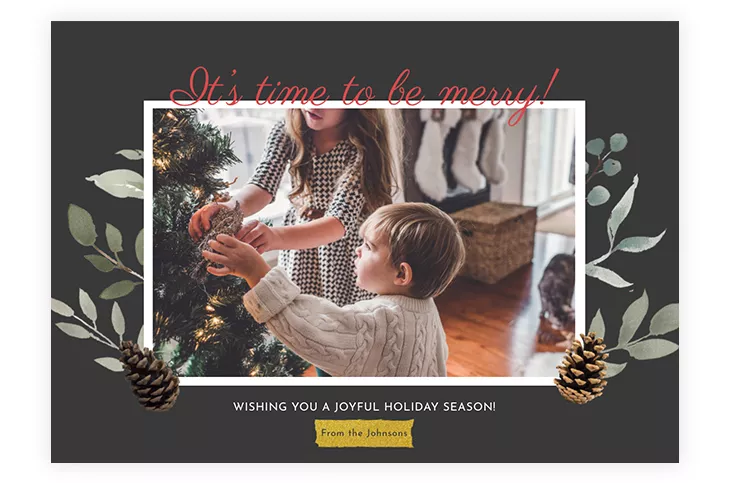 This Christmas photo card design template over here is a good inspiration for anybody. Get as festive and creative as you can, and personalize this template to the fullest potential. Take advantage of our powerful and complete Design Studio. Feel free to change the colors and fonts, and also insert your own heartwarming Christmas message. And because we call them "photo cards", then you should insert a cute image of you and your entire family gathered around the Christmas tree. Or, if you prefer to keep it a bit more private, you can upload a professional stock photo from our Design Studio. You'll find plenty of images from Unsplash, Pexels, or Pixabay.
Once you've finished all the editing, it's time to send your spectacular photo card. In Flipsnack, you have two options. Take your masterpiece to print on premium paper and then send it to the mailbox, or with just a few clicks, share your unique Christmas photo card online, on social media.
Photo Christmas Card Template
There are a few things that make the Christmas season so special. Perhaps the most important one it's knowing that friends and family are thinking about them. In fact, the entire holiday season is all about spreading love and kindness, and spending time with family and friends. But what happens when you're far away from the loved ones on these special days? How do you let them know that you haven't forgotten them? Easy. You create your own Christmas card and send it to your dear ones.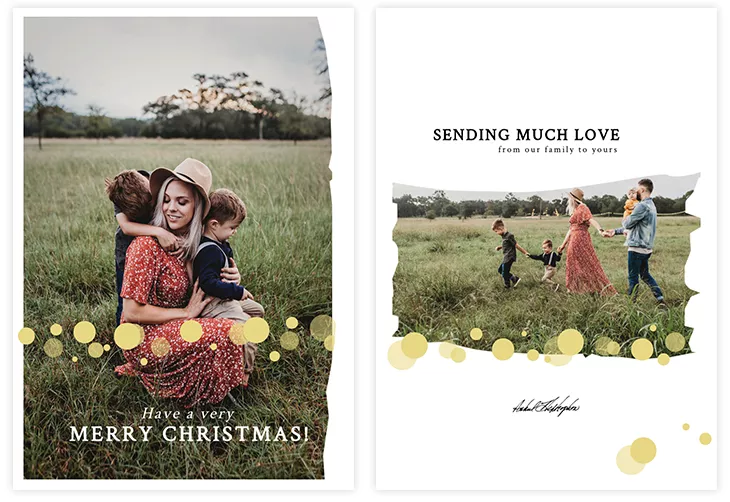 Don't hesitate too much, use this photo Christmas card template from here as your starting point. You have total freedom to make any changes you want. Flipsnack's powerful and intuitive Design Studio allows you to upload your own fonts, change the colors, add your own messages, and also upload your own photo. Insert a photo of you and your family gathering around the Christmas table, or while having fun singing carols. There's nothing more beautiful than to receive such a heart-melting photo card during the holidays.
Invitation Cards
Gold Christmas Party Invitation Template
We couldn't ignore the invitation cards. Christmas is all about spending time with your loved ones and throwing parties to celebrate these special holidays. Whether you're going to organize a party this year or you'll leave it for next year, it's crucial that you know how to do it properly. Besides all the stress regarding food, music, clothing, and so on, there's another huge problem to think of: the invitations part. A great Christmas party or dinner reception deserves a unique and stunning invitation. This party invitation template is definitely the one that'll catch all the attention.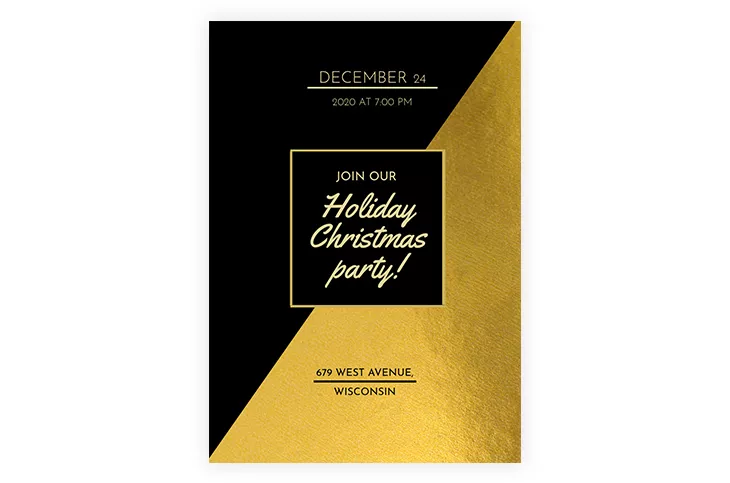 Turn this gold Christmas party invitation template into something extraordinary in just a few minutes. Our intuitive Design Studio allows you to add your own colors and fonts. Remember to write all the important details such as location and contact number. You don't want your guests to get lost. If you're going to throw a Christmas party with your work colleagues, then it's important to stick to your brand's company colors and fonts. Don't forget to also insert the logo somewhere in the corner of your invitation card.
After you've finished editing your template, it's time to send out those invitations. Hurry up and print them on the best quality paper. After all, you want that golden and black contrast to look and feel elegant and rich. Don't have time for all that? Not to worry! Flipsnack allows for a smooth email sharing process. Not to mention you can easily upload a CSV file with all your colleagues' email addresses and get the job done within minutes.
Not to brag or anything, but it has never been easier to create your own Christmas card with Flipsnack!
Classic Christmas Dinner Invitation Template
There's no Christmas without a dinner reception with your family and friends. Spending precious time with the ones you love while eating the classic Christmas pudding and listening to Jingle Bell Rock make it a Christmas to remember for sure! Don't stress about the invitation part, we're here for you! Take this classic Christmas dinner invitation template from Flipsnack and transform it into something remarkable.
When it comes to designing invitation cards, it's important to remember that they should be informative, short, and spectacular. Customize this template to suit your own needs. If you're inviting your family and friends to your dinner reception, then you should make your invitation more colorful and with lots of winterish and Christmas elements. On the other hand, if you're thinking of inviting your managers and work colleagues, you should choose minimalist elements and neutral colors. Remember to write correctly all the contact details.
In the end, all you need to do is to send this invitation card to your guests. Waste no more time with the printed version, take advantage of technology, and send your card via email, with just one click.
Gift Cards
Christmas Gift Certificate Template
One thing's for sure: Christmas means offering gifts. But sometimes, it's quite a challenging task to choose the perfect gift for a family member, a close friend, or even a work colleague or employee. If you've been through this, then you know what we're talking about. That's why we should all thank God that somebody invented the gift cards! They are so elegant and practical, and it's so easy to offer them. And with such great technology and lots of templates, you can even create your own Christmas card in just a few minutes!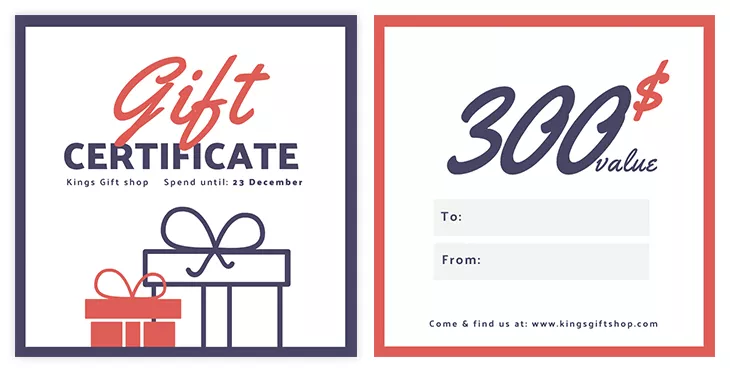 Take this Christmas gift certificate template as your inspiration and change it to look exactly like you wish. If you're creating a gift card for a family member or friend, then you have total freedom to add some Christmas elements and to play around with vivid colors and fonts. But if you're a manager and want to surprise your employees with a special gift card this Christmas, then you should go for something more formal and minimalistic. Upload your own brand fonts and colors, and also insert your company's logo and website address. Trust me, it will put a smile on every team member of your team.
After you hit the Publish button, you can send your Christmas gift card directly via email by simply writing the email address of your recipient. And the best thing about creating a Christmas gift certificate in Flipsnack and sending it via email is that you can customize the way your email looks. Make it extra Christmassy!
Christmas Gift Card Template
Stuck in a rut with Christmas presents this year? Gift cards are always a good idea. And this printable Christmas gift card template from here is the perfect solution for any practical gift giver. Take it and transform it to suit your needs. Our amazing Design Studio lets you make any change you want.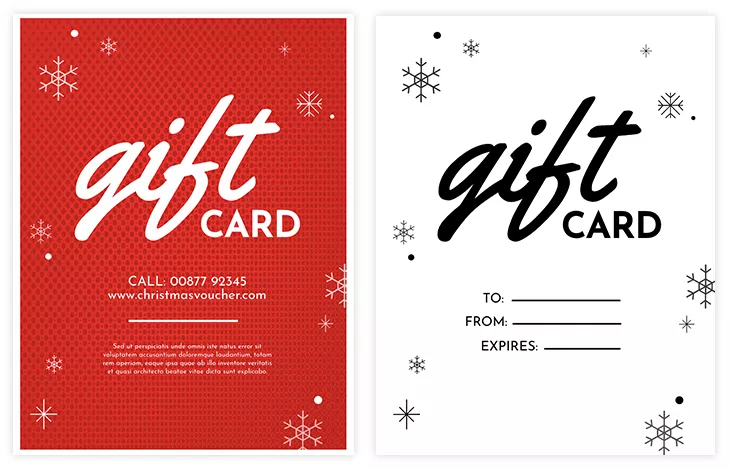 If you're thinking of offering a gift card to your mom, then you should go for a simple and elegant style. Choose this Christmas font for your gift card, and also go for a winter color such as white, light red, or light green. If you want to surprise your amazing best friend with this present, then think of doing something a bit more colorful and memorable. Choose a bright color and a cool font like Candy Cane and write some funny joke or insert a heart-melting friendship quote like this one: "Christmas works like glue, it keeps us all sticking together."
The last step is to send your gift card to the recipient. Since it's a printable template, you have total freedom to take it to print without being afraid that it will lose its clarity. But we suggest you should always choose the fastest way: email. With just one click, you have gifted someone this Christmas.
Menu Cards
Illustrated Christmas Party Menu Template
The next Christmas card category on our list is the menu cards. These are highly important, especially when throwing a Christmas party or dinner reception. Everybody is interested in knowing what they are going to eat and drink. Take some courage this year and choose to create your own Christmas card. With the proper template and some creative ideas, you'll surely achieve your goal.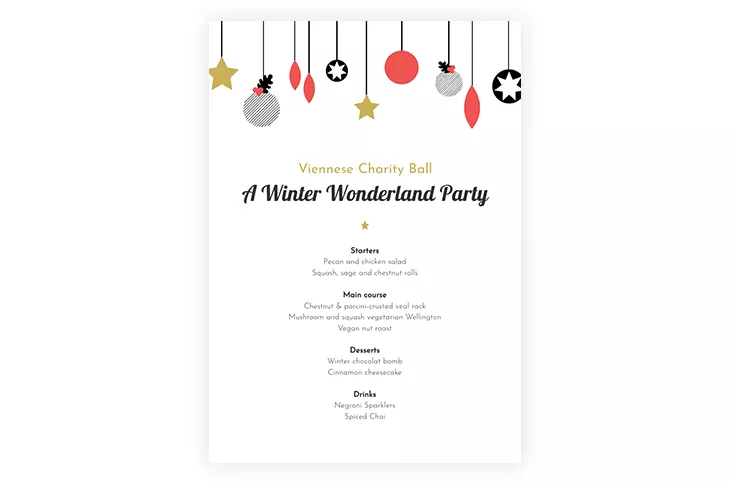 This illustrated Christmas party menu template from Flipsnack is a good starting point for any amateur. Personalize it to your own wish in just a few minutes. You can leave the winterish elements if you like them, or you can upload new ones. To make your life easier, we got an entire article all about menu fonts you can easily take inspiration from. No matter what you choose, make sure to write every important detail on your menu card. The guests are always eager to know what dish comes next. If you're having a dinner reception with your entire company, then you shouldn't omit to insert your company's logo when designing your menu card. Put it somewhere in the corner.
The next step is to take your party menu card template to print. Choose a high-quality paper and make sure that every table has a menu. But you can also send your menu card by email so that your guests know in advance what they're going to eat at your Christmas party.
Modern Xmas Menu Template
If you're owning a fancy restaurant, then you know how important the winter holidays are. Surprise your customers this year with brand new menu cards designed by yourself. With this modern Xmas menu template from Flipsnack, you will definitely stand out in the crowd. Feel free to customize it to your own needs. This template is suitable for any type of restaurant because it looks both classic and modern.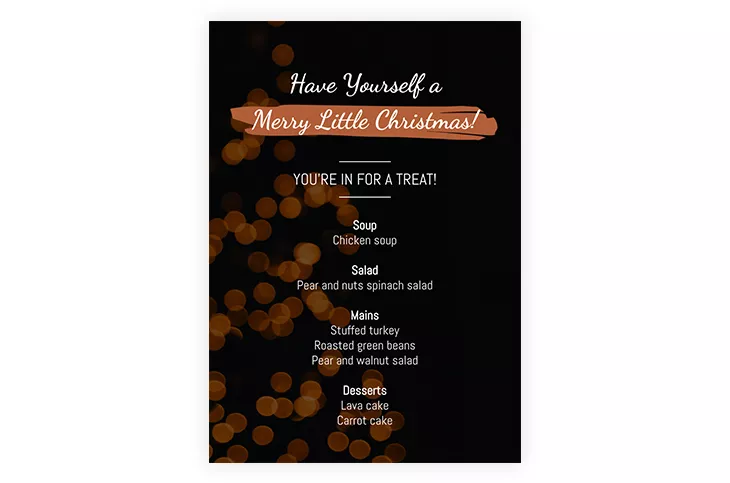 The layout features Christmas lights and festive fonts that make you dream of a Christmas family gathering. Leave it like that, or change it with something more specific to your restaurant and brand. Flipsnack allows you to upload your own brand fonts and colors. Don't forget to also insert your logo and website address or social media channels. Write your own dishes, insert a Christmas quote if you want to, and you're done. Take your menu card to print and then put it on every restaurant's table.
You can also share it with everyone on social media, or distribute it privately to your clients via email.
Letter to Santa Cards
Free Online Santa Letter Template
We're going to end our list with Christmas card categories with something that every child adores: letters to Santa. All of us wrote these kinds of letters when we were little. We were so happy to rush to the post and send them to Santa. Let's keep alive this Christmas tradition and help our children and nephews to create their own Christmas cards. Don't worry if you're not feeling talented or creative at all, here is this free online Santa letter template that can solve all your problems.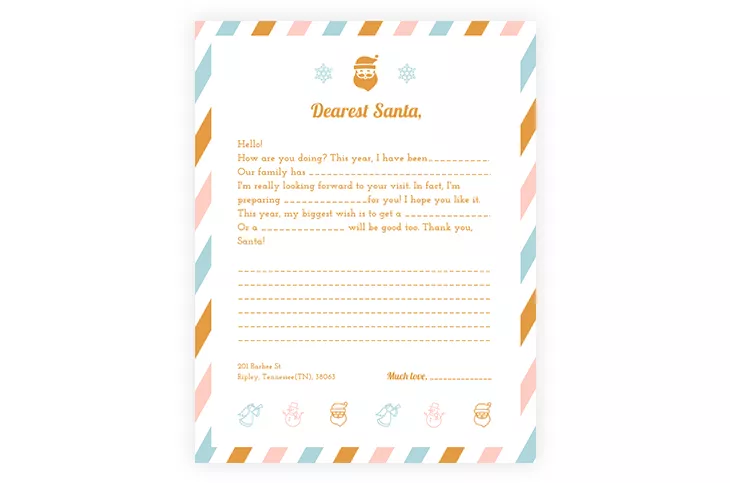 Christmas is all about magic, wishes, and hope. Every kid needs to feel this, so take this template example from here and help yours create the sweetest, most sincere card. With the help of our Design Studio, you can create magic alongside him. Add some winterish elements such as hard-working elves, flying animals, and physics-defying chimneys, and also upload your own amazing Christmas fonts. You can choose from Contribute font or Candy Cane font if you're in doubt. Don't forget to choose some bright colors and sign your Christmas letter. Talking about colors, Christmas is all about red. Simply insert the #F40009 hex code in the color box and select the elements you wish to turn red. Simple as saying Santa!
When you're done, print your creative Christmas card on premium paper and put it in an envelope. Then rush to the post, so that Santa Claus will receive it as fast as possible. You can also share this online Santa letter template with other friends via email or social media. Maybe they need a source of inspiration to help their children create a stunning Christmas letter card this year.
Printable Blank Santa Letter Template
Grab this red printable blank Santa letter template from Flipsnack and have your friends and family write down their wishes. Share the link of this cute Santa Letter template with them and make sure everyone gets creative. Let this be the start of a long-lasting Christmas tradition. Not to mention, this will help you tremendously with the Christmas presents as you will know exactly what they want.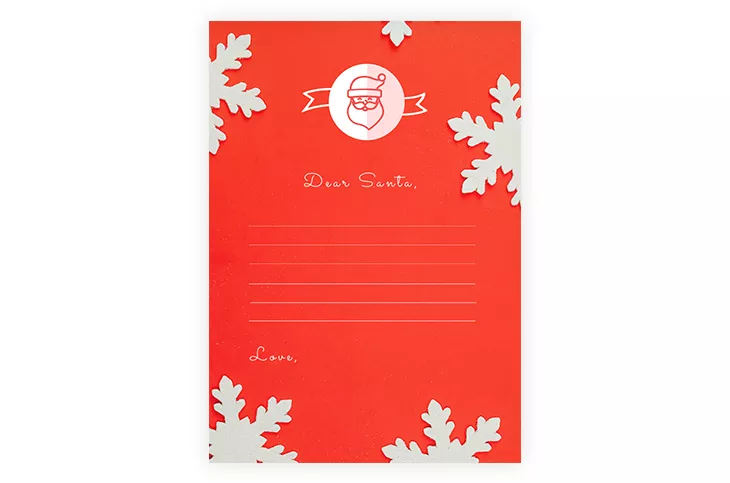 Even if this template imitates perfectly the look of a handwritten letter to Santa by the fonts used here, you can go the extra mile and upload more Christmas fonts or Christmas colors. Insert some winterish elements or shapes and make sure Santa knows who you are. With our Design Studio, you can even upload your own image. Have a lot to say to Santa? Add more pages. We're convinced that Santa can't wait to read your letter.
You can print this blank Santa letter template and exercise your handwriting or take advantage of Flipsnack's intuitive Design Studio and craft a Santa letter entirely online. When the editing is done, put your Christmas card in an envelope and send it to the post. Make sure to choose a premium paper, so that Santa can read your letter with no trouble at all.
To wrap things up
Christmas cards will always occupy a special place in people's hearts. With just a few simple, meaningful words you could brighten someone's day and holidays. Take advantage of Flipsnack's card maker and create your own Christmas cards this year. Choose a template, then customize it however you wish, and send it to your loved ones, or co-workers. All you have to do is to get creative and bring your unique Christmas card ideas to life.
So, which is your favorite Christmas template from our collection? Which one will you choose to create your own Christmas card? Share them with us in the comment section below.