The best Easter marketing ideas for your business
Easter is almost here, and just like the Christmas season, it is the perfect opportunity to come up with great marketing ideas for your business. It is an excellent time to promote your products, make your brand more visible, engage with your regular customers, and gain new ones.
If you are a small business owner looking to increase your business, or maybe just looking for some Easter marketing ideas, then this article is for you.
Without further ado, let's take a look at some of the best Easter marketing ideas you can use for your business and some Easter templates to use as inspiration.
Easter marketing ideas
Let's take a closer look at each of them.
1. Promote your Easter sale
If your business is in retail, then Easter is the perfect time to offer a discount for a selection of your products. It is also a great time to offer special items, something available just for a limited time. There are a few different ways of doing so: through social media, through email, directly on your website.
Another option is to create something unique, such as flyers, or digital catalogs. Let's see how these would work.
Create egg-citing promotional flyers
Flyers are also excellent for your Easter promotion ideas. You include the promotion, and share it with your target audience. Make sure that you have an appealing call to action, and that the design is top-notch as well. The important thing with a flyer is not to overcrowd it with useless information. Focus on a single point and emphasize it.
Here is an example of a digital Easter sale flyer.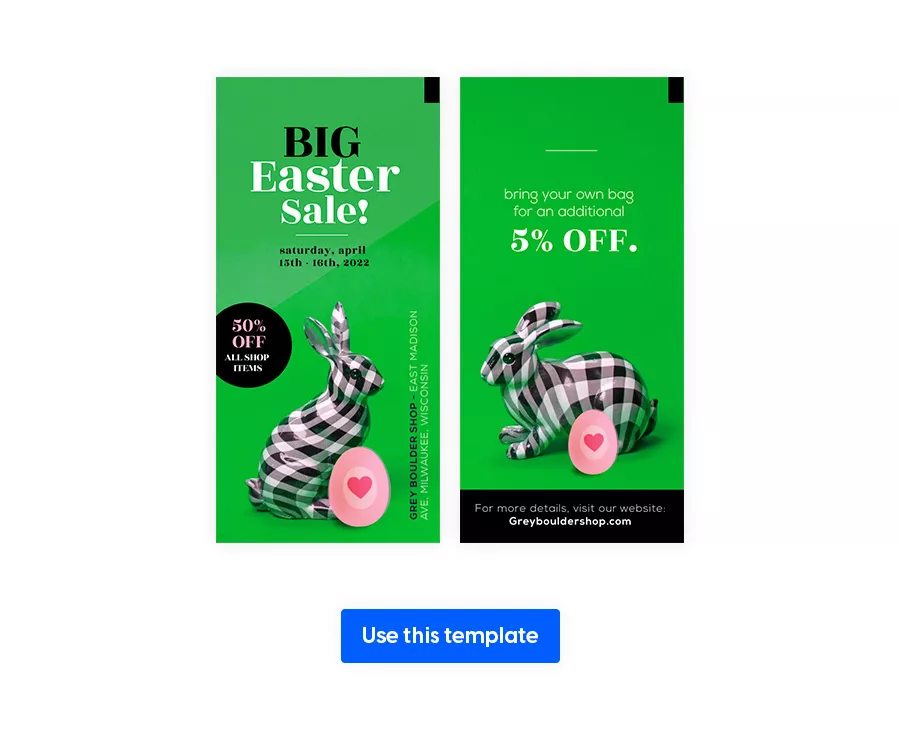 The header tells you what it is about. On the front, you also have the date, the location, and the discount percentage. On the back, you have an additional discount and the contact information. It's simple, to the point, you know what it is about as soon as you see it.
Design interactive digital catalogs
Although most businesses still rely on printed catalogs, they've started shifting towards digital ones more recently. One of the main reasons for this is the fact that a digital catalog allows you to easily promote your products and sales without having to update your website. You can share the publication on social media, via e-mail, as a link, or you can even embed it directly into your website.
Digital catalogs are also great to increase brand awareness and keep in touch with customers. They offer different advantages. With a catalog, you control the narrative. You decide what products to include in your catalog, and you are the one that guides the customer through the browsing journey. A catalog allows you to introduce customers to products they aren't aware of, but which they might consider useful. Catalogs are also perfect for creating a connection and an attachment with your audience. Catalogs increase sales.
They are also a great Easter marketing tool. Since an Easter catalog has a special meaning, you can let your imagination run wild, and create an exciting experience for your customers. You can make it thematic.
Take a look at this interactive Easter product catalog template, for example.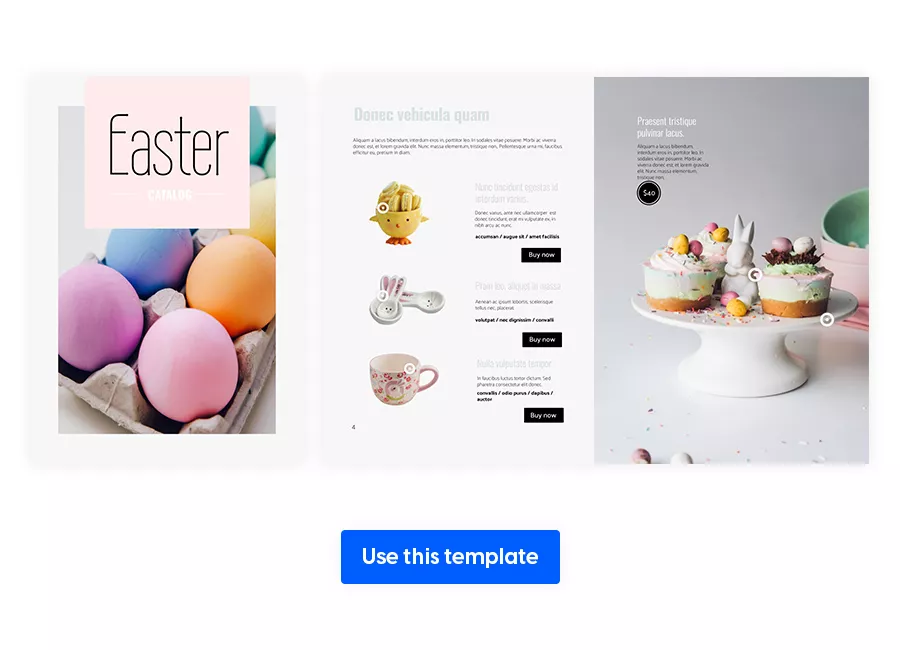 It features a diverse range of products, all Easter-related. In addition, the catalog includes caption tags, which, when clicked, reveal extra information about the product. It's a nice little touch that the customers will appreciate. It has an Easter theme, and the customer knows what to expect when browsing the catalog.
2. Run an Easter e-mail campaign
Easter is the perfect opportunity for an e-mail marketing campaign and a great time to promote your business. There are a few ways to ensure that your e-mail campaign will have the desired impact. First of all, make sure that people who receive your e-mail have submitted their addresses themselves. Avoid buying e-mail lists, it is better to run a lead generation campaign instead. Unwanted e-mails are considered spam, which will hurt your business in the long run.
Second, make sure that the e-mail campaign has a clear purpose. What do you intend to do with it? Do you want to promote a discount? Promote a newly released product? Maybe this is a great opportunity to offer discounts in exchange for e-mail addresses. This way, you collect leads and increase the odds of a sale.
Send an Easter flippable newsletter
If you don't want to make your newsletter from scratch, here is an interactive Easter offers newsletter template you could change to match your ideas. This is a type of publication that can be easily sent by email, that also allows you to track analytics, which is great for business.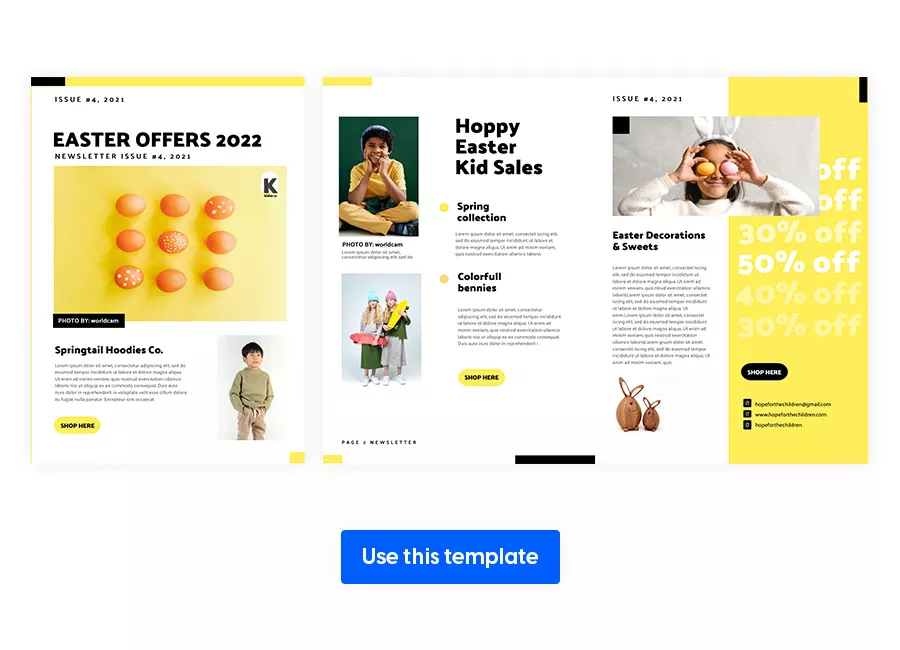 Make sure that the e-mail newsletter is properly designed. This means that you should use attention-grabbing text and images, focus on an impactful title, and use white space properly. The e-mail should include the benefit and a call to action. It should inspire the reader to take the next step, whatever that step might be.
3. Offer giveaways
When it comes to Easter marketing ideas, giveaways are a great choice. In fact, giveaways are an excellent marketing tool for any business, regardless of the size or domain. They raise brand awareness, they create direct engagement with the customers, they are always appreciated. Who doesn't like free stuff? Giveaways lead to more exposure and more followers. Easter is the perfect time to offer a giveaway, and social media is the best place to do it.
When it comes to giveaways, the most important thing is to offer something your customers will appreciate. You could either offer free products, discounts, or even an Easter basket, which is the most popular. Here are some nice examples of Easter giveaways: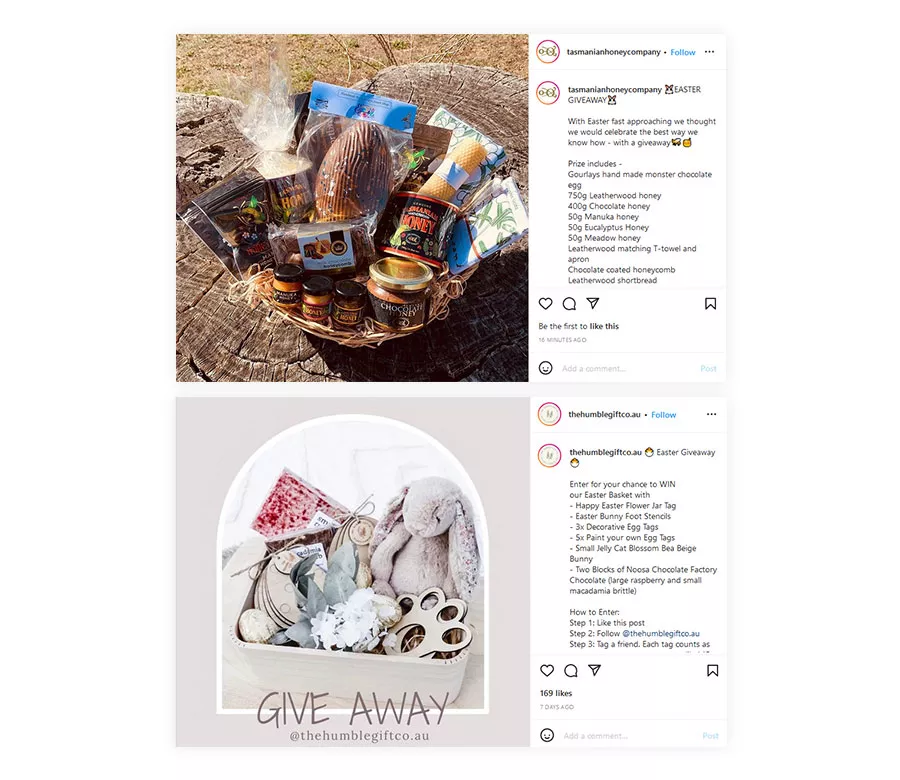 Regarding the process itself, there are multiple approaches as well. You could ask the customers to like a post, or tag a friend in the comments as a way to register for the giveaway. Or you could create a game, which is more exciting and engaging for the customer. There are lots of games to choose from, the only thing is to find the right one for your brand.
Speaking of games, there is one that is perfect for Easter.
4. Create an egg hunt event
An egg hunt is the ultimate Easter fun activity, and if your business is strictly online, then you could create a digital egg hunt. Technology is on your side, as you can customize your website to show eggs at certain times or when specific actions are carried out by the users. For instance, when a user scrolls to a certain part of a page, an egg can pop up, offering them a discount on one of your best-selling items. Or, when they click on a particular image, another egg can pop up to offer them free shipping.

Alternatively, you could place a limited number of Easter eggs in your digital catalogs, let your customers know about them, and the ones who find all of them will receive discounts on items of their choice. You can send the digital catalog by email to all your customers and then you can use the hyperlinks you've created to actually track how many people used the discount codes on your website, getting valuable analytics information. Here's an interactive Easter product catalog you could customize to your needs.
Of course, if you have a brick-and-mortar store, you could hide physical Easter eggs around your shop and lead customers to them through different hints. Whoever finds the most eggs could get a big discount, or could even get a special prize. Take a look at what Cadbury did as an Easter marketing idea involving an Egg Hunt, for some inspiration.
However you decide to do it, just make sure you have a plan in place and let the hunt begin! Here is a cute Easter invitation template for an Egg hunt you could customize and use to send to your audience. And this leads us to our next Easter marketing idea.
5. Get in touch with your customers
When you are a small business owner, there is no better way to engage on a personal level with your customers than through face-to-face interaction. So, if you own a physical store, you could take advantage of this time of year to meet up with some of your loyal clients. Perk up your location, set up a few key focus points through the store, and put together some cute goodie bags, to reward your customers for their ongoing support.
However, there are other methods as well.
Invitations
But before the fun begins, you'll need to send out some invitations, of course. Here is a nice Easter dinner invitation template you could customize to your liking. As you can see, the invitation is for an Easter brunch party, but you can easily update the details in Flipsnack, to make it match your own needs.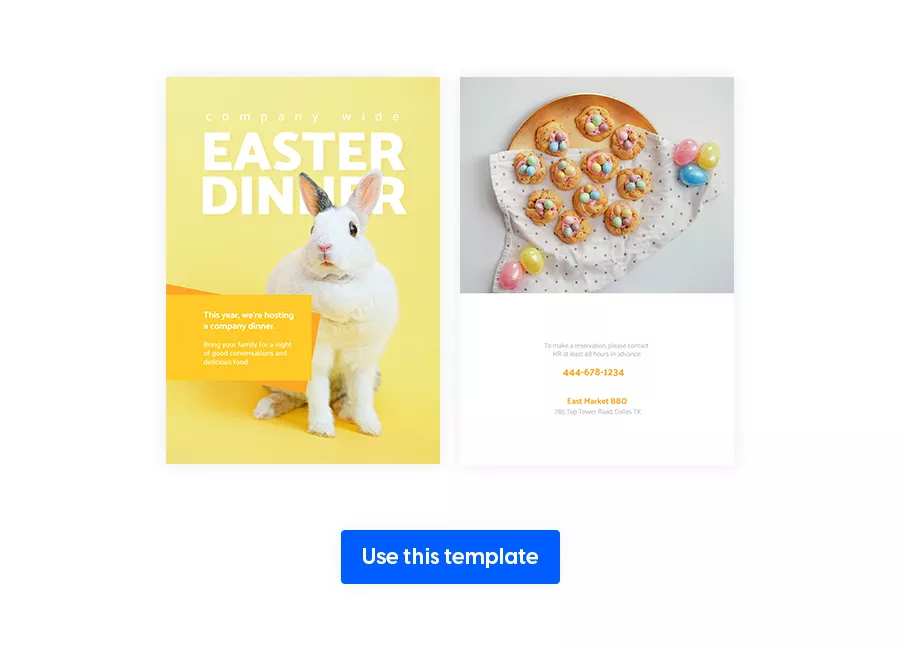 Hosting such an event makes your clients understand that you care about them and that you are interested in creating a long-lasting bond between yourselves. And the goodie bags, discounts, and other surprises you may have for them will make them feel rewarded for being a loyal customer.
Greeting cards
Now, if you don't have a physical store and you only do business online, but you still want to get in touch with your customers, you'll have to do the next best thing. And this Easter, that's a personalized greeting card. But make sure you take it to the next level, by turning it into an interactive greeting card before you send it out to your customers.
Here is a beautiful happy Easter card template you could add interactivity to, so as to make it even more engaging. You could add all sorts of interactive elements, such as links, videos, spotlight images, and even audio. Personalize it based on your needs and preferences, as greeting cards are extremely popular. That's even truer ever since the pandemic started. Plus, the interactive ones are becoming even more famous thanks to their many interesting elements.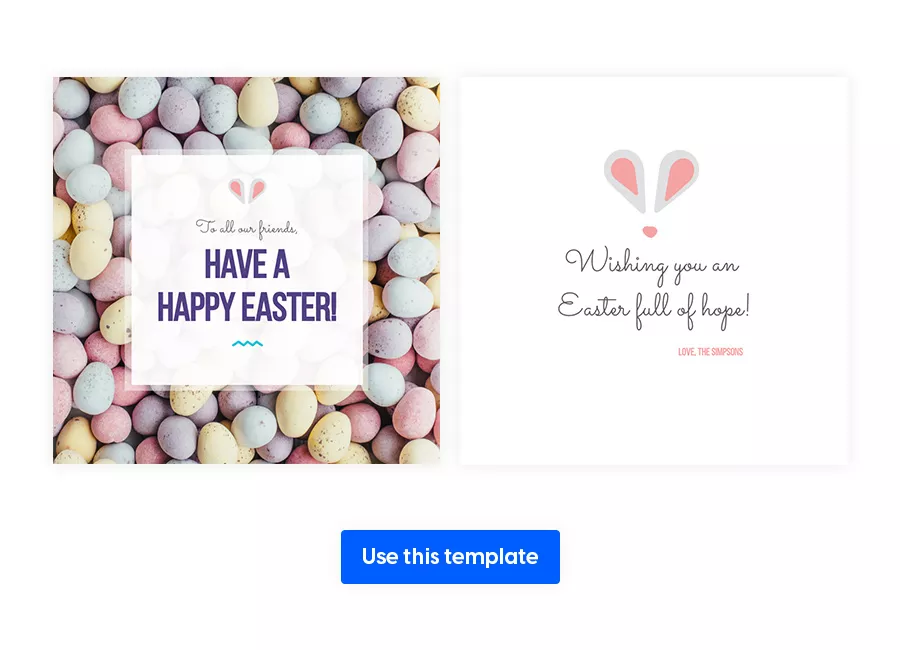 One last tip: make sure you personalize the text of your greeting cards before you send them out. If you have loyal customers you want to repay and keep close, create a specific text for each of them, if you have the possibility. In addition, make sure to add a nice discount next to that personalized greeting. That will surely make their Easter holiday a lot better!
6. Create engagement through a game
When it comes to creating more engagement with your customers, games are some of the best ways to do it. Take advantage of the Holiday season and put together a few games for your clients to enjoy. As you have seen so far, there are different options you can choose from (Egg Hunts, giveaways), or you can even do them all if you're feeling generous.
The first category of games includes scratch and/or prize wheels for your website. These are fairly easy to implement. Not to mention that you can add them on the pages you want to get more hits on. Or you can even use popups to reward clients who spend a certain amount of time browsing your website. Based on your needs, you will definitely find the right way to offer prizes to your clients. Whether the prizes are big or small, make sure everyone has a fair chance at winning. Here is an example from Sephora. It isn't Easter-related, but you get the picture.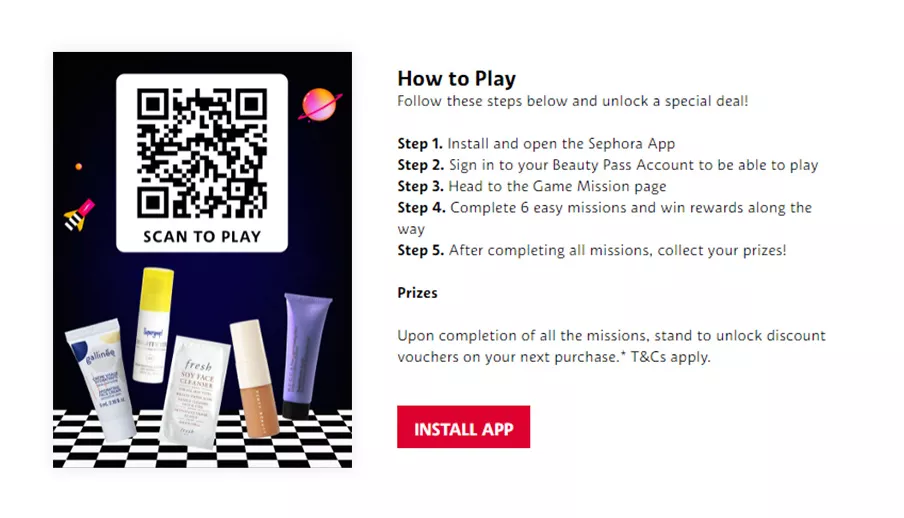 To get inspired, take a look at a Scratch & Win game implemented by Callebaut for their customers. The concept is pretty straightforward and very easy to implement. Plus, it gives your customers a chance to win nice items or discounts.
Now, if your business has a mobile app, you could take Sephora's example and create an Easter-themed game inside the app. It doesn't have to be too complicated, but it will surely be a fun experience for your customers. Not to mention that they'll get to enjoy the prizes you're putting up for them to win.
If you have a physical store, then you can safely stick to the Easter Egg Hunt!
7. Share Easter recipes via social media
For the small business owners that are in the food industry, the Easter holiday brings around a lot of work. If you have a small restaurant or even a bakery, you can take advantage of this time of year not only to engage more with your customers but to also allow them to get to know you and your work better. A good idea is to share some of your easter recipes on your social media. I'm not saying you should be giving away your secret recipes, but hear me out!
Usually, people follow things they enjoy on social media. And if you're in the food industry, you surely have many foodies in your community. Well, I'm positive they not only enjoy eating, but they also enjoy cooking. So why not give them an opportunity to learn from you? You can put together a special Easter recipe and film a video on how to make it. Getting in video is easy these days, there's easy to use youtube video editing software that you can rely on. Then share your clip on your social media and see your community flourish around it.
Plus, you can even make a contest out of it. Give your followers the opportunity to make the recipe at home, customized after their own taste, and then share it with you. You can offer them a prize, consisting of a meal at your restaurant, a nice Easter dish or even discounts to be used in your restaurant or bakery. You can even go further and add the winning dish to your Easter menu. If you want to update those as well, take a look at the Easter menu template above. You can customize it to make this year's Easter even more special.
8. Use paid ads
And since we're talking about social media, you can't fail if you also put together an ads campaign to go with the other Easter marketing ideas you're implementing. Advertising on social media has become fairly easy and straightforward, so you don't have to be a marketing guru to make up a good ad campaign.
You will have to engage in preliminary research, though, before you commence. Identify the most pertinent high intent keywords, and analyze the search queries people are Googling and how they can correlate with your business. Once you have allocated your budget and made decisions regarding the type of audience you wish to target with your paid ads, you're good to proceed.
Of course, it may seem overwhelming at first, but there are great resources (blogs, YouTube videos) you can use to learn how to promote your business better. Here is an example of some creative PPC campaigns of all time. Get inspired by how the big brands did it, and cook up an ad campaign of your own this Easter.
Also, since Easter has recently become a period as appropriate as Christmas to come up with new products, you can take advantage of this new season to put together catchy visuals for the offers you want to promote with your paid ads campaign. Don't forget to make your new products and discounts stand out; just make it clear to your audience that you're there for their needs.
One more tip: ensure you run your ads campaign across all your social media platforms. It is also very important to choose the right audience for each since your Instagram audience might differ from your Facebook or TikTok audiences.
Not just ad-related
The principle of diversifying your content based on your audience doesn't apply to ads only. Knowing your audience is important for any business, as customers really appreciate it when a message addresses them personally.
Take Spotify for example. Its Instagram and Twitter share some similarities, but Spotify uses Twitter for more user interaction. Recently, it has included a poll for the best hype song, which users can vote on. On the other hand, Spotify uses Instagram mainly for news, interviews, all sorts of videos. Spotify knows its audience and it uses this information to its full potential.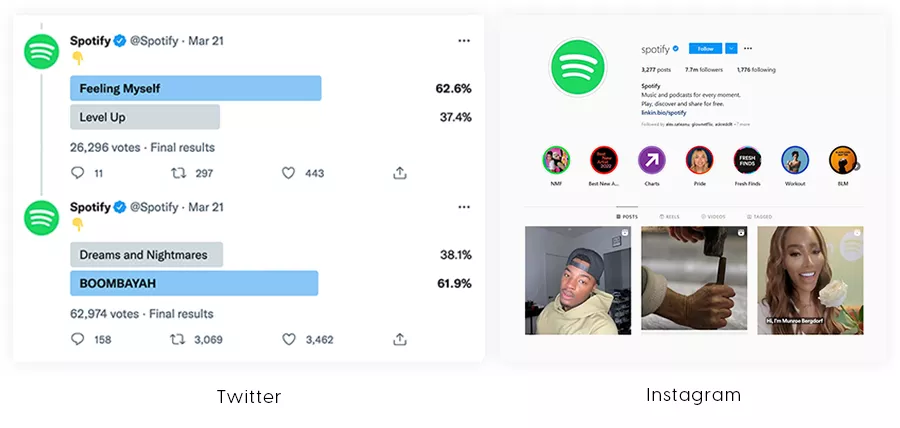 Now that I've shared some Easter marketing ideas, let's take a look at how you can create a template in Flipsnack.
How to customize an Easter template and share it with your audience
We've talked earlier about how flyers and digital catalogs can help you promote your Easter sale. It's now time to see together how you can create a flyer, a digital catalog, a brochure, or whatever other types of publication you may need, using Flipsnack. It's really easy.
First, you sign up and log in to Flipsnack and select one of the many templates in our gallery. For this example, I've chosen the internal Easter company newsletter template.
Then, open it up in the Design Studio and start customizing it as you wish.
You can easily edit the text, update the fonts, or even the typography rules.
It's just as easy to edit the background color and the image. We also have a vast library with Pexels and Pixabay stock photos you can choose from.
Then, making use of our interactivity features, you can create magic. Here you can add links, videos, spotlight images, and even audio.
If you are done editing, simply click on the Publish button.
Now, there is a wide variety of options you can choose from here as well. You can customize the publication's background color, you can include a lead form, add or remove branding, add the flip sounds to your publication pages, and more.
Once you're done, click on Save & Share, choose one of the privacy options, and don't forget to add a description and a title to your publication.
That is all. Pretty straightforward, isn't it? Well, if you're satisfied with the end result, you can print it, share it online, and even embed it on your website.
To give you an idea, here is a before and after of the template I just mentioned: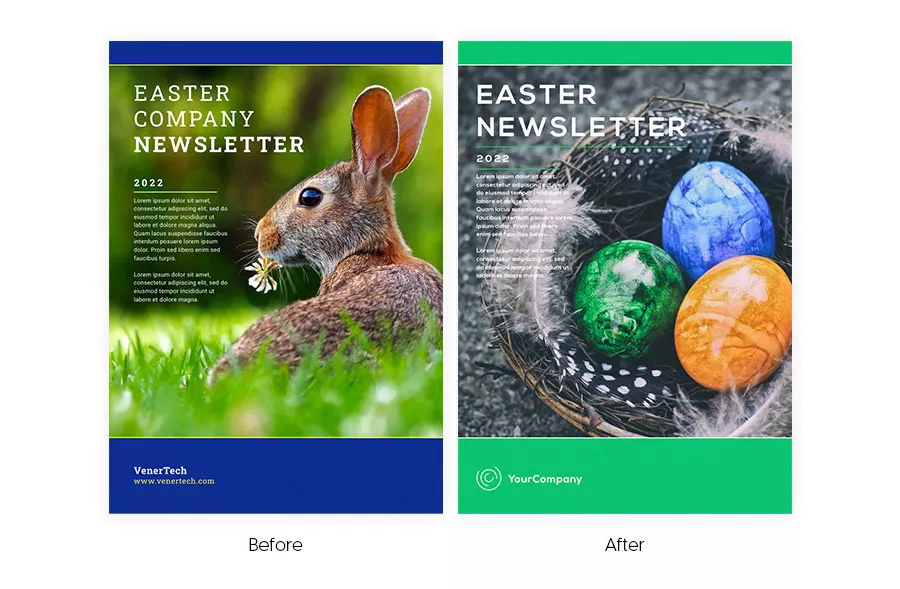 To wrap it all up
Easter is almost here, but you still have plenty of time to come up with a good Easter marketing strategy, to help your business. Whether you want to gain new customers or simply keep close the ones you already have, a good marketing strategy during this time of year will definitely pay off. It's an excellent time to reward your loyal audience with prizes, gifts, and all sorts of discount coupons. And you can also make your brand more visible and attract new customers either through paid ads or through different giveaways, or even through an Egg hunt on your website.
Whatever Easter marketing ideas you decide to implement, make sure it's right for you and your business, and don't forget to send out a customized interactive greeting card to all your friends and family too! Flipsnack can help you out with that, and so much more.