5 useful tips to build an amazing freelance portfolio
The future of work, as predicted by Upwork, is freedom. The freedom of working wherever you want and how much you want. That's why in 2018 the average number of hours spent freelancing reached more than 1 billion hours per week.
More and more people are willing to leave their 9 to 5 careers behind, choosing to freelance instead. But how do you stand out when you're just starting out as a freelancer and haven't had any projects yet? A killer freelance portfolio is your ticket to professional success.
Let's break down 5 useful tips to build yourself a kick ass freelance portfolio that can work to your advantage.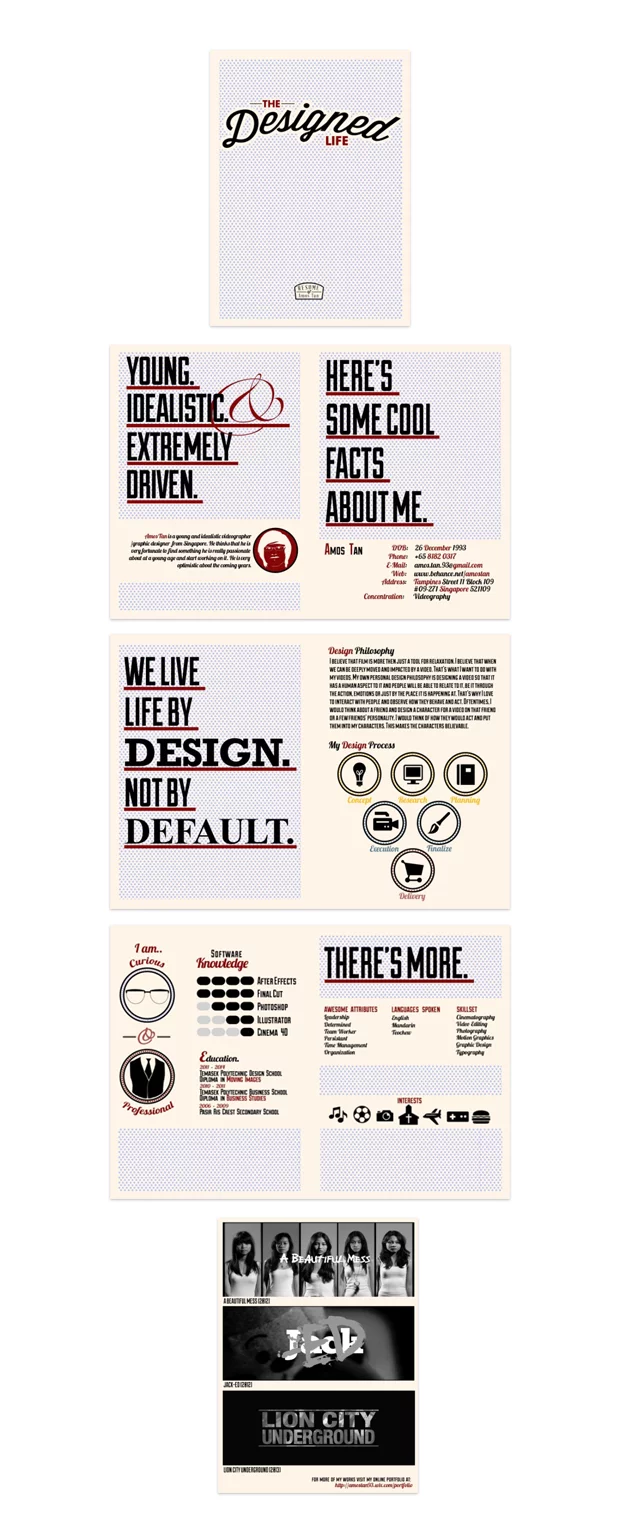 Think of your freelance portfolio as a commercial
Find a niche
Storytelling always sells
Testimonials. Or word of mouth
Freelancer portfolio examples.
Sure, I know what you're going to say. How do I start as a freelancer in an already overly crowded space? I'm not saying that it won't be a struggle, but if you're willing to put in the work and advertise yourself as a specialist, you're set for success.
Think of your freelance portfolio as a commercial
Just like a good CV, your freelance portfolio should stand out from the rest. 5 seconds is all you got!
Of course, there are no secret recipes here, but one of the most important aspects that I recommend you keep in mind is to think of your freelance portfolio as a commercial.
A good commercial should be memorable, informative and represent the brand clearly.
As long as your online freelance portfolio ticks all the boxes, you will most likely get noticed by clients.
Make sure to include easy to find information such as:
Email address
Website (I'd recommend you have one)
Phone number
Any social media channels you're active on
And besides all this, when people put a face to a name, chances are they will start trusting you. It's the first impression that makes a total difference. So make sure to include a friendly but professional photo of you, besides a logo and all the other important information.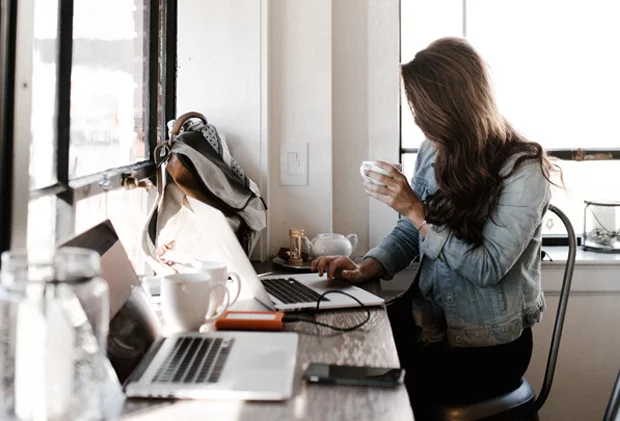 Keep in mind, you should include only your best work. Make sure to present your best skills and features. And don't make a potential client spend precious time by flipping through dozens of small projects that might not be of importance for him. Curate your best work!
Find a niche
Finding a niche is an important aspect if you want to stand out in this already overly crowded freelancing world.
Let's say you work in a regular 9 to 5, but you are dreaming of starting out as a freelancer. Embarking on a new path and becoming a freelance writer. That's great! But let's think of it from a business perspective. What kind of writer do you want to become?
A content writer? A copywriter? Are you good when it comes to writing more technical stuff? Here's a good niche: resume writer. A lot of people don't know how to write a good resume to make them stand out. If you ever thought you're good at this, why not make it your niche?!
Don't worry. If you try out resume writing and feel like it's not what you imagined or don't find as many projects as you'd want to, you can always change and try out something new. That's the beauty of freelancing. The freedom of trying something new whenever you feel like you need a new challenge.
Here's an example of a freelance portfolio of a highly skilled resume writer on Upwork: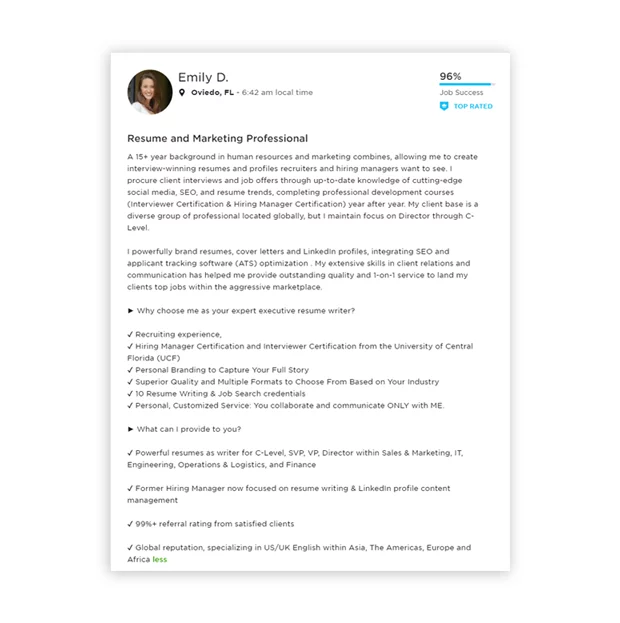 Storytelling always sells
It's never easy talking about yourself, but when it comes to standing out in this freelancing world, you got to put in the effort and get creative with your story.
And since we talked about advertising, a big part of making a commercial goes into research. One of the most important aspects here is to start defining your target audience. Always keep this in mind. You may be a skilled copywriter or a graphic designer. Two different types of jobs that require different set of skills and different target audiences. But the way you present your skills can definitely make a difference. You can think of each section as a different story. Every narrative should have a beginning, middle, and end.
Try answering simple questions such as: How you got started? What you love the most about your profession and the projects you've previously worked on?
How about presenting yourself differently? Here's what you can do:
Intro video: you can take your freelance portfolio to the next level with the help of a catchy intro video. Think of it as a TV commercial where you get 30 seconds to convince clients to actually pay attention to your profile. Here's a creative self-promotional video of a graphic designer.
Case studies. Tell a short story on how you solved a difficult issue and the outcome. Make sure to include screenshots, actual proof of what you delivered. Anything, from Google Analytics spreadsheets or social media campaign results. Using case studies is really helpful and impactful because clients get to actually see how you think. Check out https://www.lizvwells.com/ for more well-written case studies.
Infographics. You can use infographics as a fun way to present your previous experience. And you don't even need to be a designer to create a cool infographic. Venngage is a cool online app for that.
Video resume by Chris Munro.
When putting your freelance portfolio together, make sure to emphasize your best work or biggest brands you've worked with. If you did interviews, appeared in a magazine or any other kind of recognition, make yourself a favor and include that too!
Testimonials. Or word of mouth
Needless to say, testimonials are of utmost importance when it comes to building a professional freelance portfolio. Again, you're gonna ask yourself: how do I get testimonials if I am just starting out and didn't work a day as a freelancer?
Well, the straightforward answer to this question is to do some work for free. Like if you want to land jobs as a resume writer. What about doing two, three projects for free? Maybe see if these new resumes helped them in landing the job they wanted. And then get some testimonials.
If you're already a freelancer, make sure to remind clients how important feedback is. One powerful tool you can utilize is a high-quality testimonial video service. Visual testimonials can often carry a more significant impact, especially when you share them on your portfolio. So, I'd recommend you to ask for testimonials every time you end a project. In a perfect world, you'd hope to get only positive feedback, but that's not always the case. Bad reviews are also a part of the deal. But don't worry! This is just another good opportunity to step in and turn bad feedback into a positive one.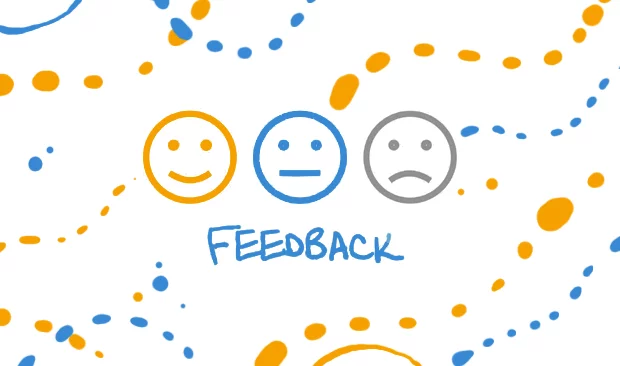 Make sure the testimonials section stands out just by skimming your freelance portfolio. Especially when just starting out you are likely to work with clients you've never met before and they need to make sure you are the right choice before deciding to work with you.
Your freelance portfolio should evolve just like you. I'd recommend you to update it at least once a year. While you'll be working on more and more interesting projects, you'd like to put that in your portfolio. Update it as often as you improve your skills.
This will help in getting more interesting projects like the ones you loved working on.
Freelancer portfolio examples
Creating a freelance portfolio is no easy job. But thankfully, there are loads of interesting, creative freelance portfolios on the internet that you can take inspiration from. Just a few examples created/uploaded on Flipsnack:
And it's so easy to create your own freelance portfolio using Flipsnack. You can either upload it as PDF or create one from scratch by using one of our many professionally designed portfolio templates. Check it out!
Once you create your own freelance portfolio, it will make it so easier for you to share it online as a PDF with potential clients through email, social media or embed it directly on your website.
Conclusion
Creating a good freelance portfolio that will make you stand out is a hard task. The best tip here is to think about it as a TV commercial. You have no more than 30 seconds to catch the attention of potential clients.
If you want top-notch clients, you'll have to put in the extra work and make your portfolio stand out from the rest. And the best asset you have is your personality and work ethics. Let that shine through!