Incredible digital graphic design portfolio examples
It seems like nowadays, you can't get away with not having a portfolio. For a graphic designer, this is especially true, simply because they make their living through creating visuals. For someone like that, it only makes sense to show off your work in a creative and informative way.
This list is by no means a way to rank each portfolio from best to worst. It's simply a collection of interesting and unique portfolios for your entertainment and inspiration.
So, with no further ado, let's get right into these absolutely amazing graphic design portfolio examples!
Josh Miller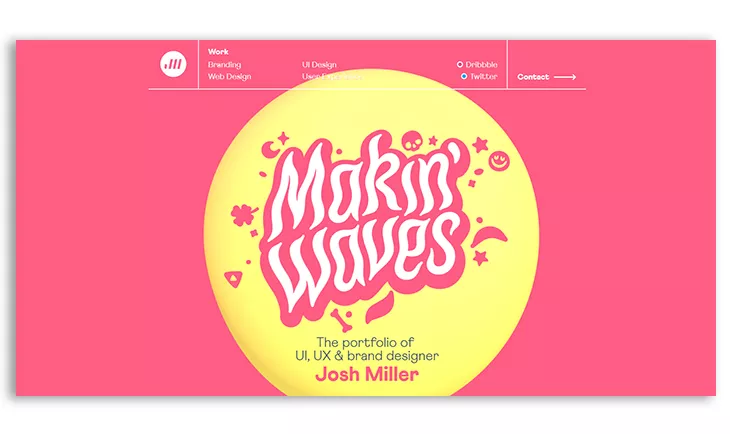 You may have seen this particular graphic design portfolio example on another blog post of ours, and it's for a good reason. Josh Miller is a creative designer from Australia who has a real talent.
What you don't see in this still image above is that the yellow blob in the center moves. You combine that with the unusual color combination, and you have yourself a really incredible graphic design portfolio example. Keep making waves, Josh!
Pawel Nolbert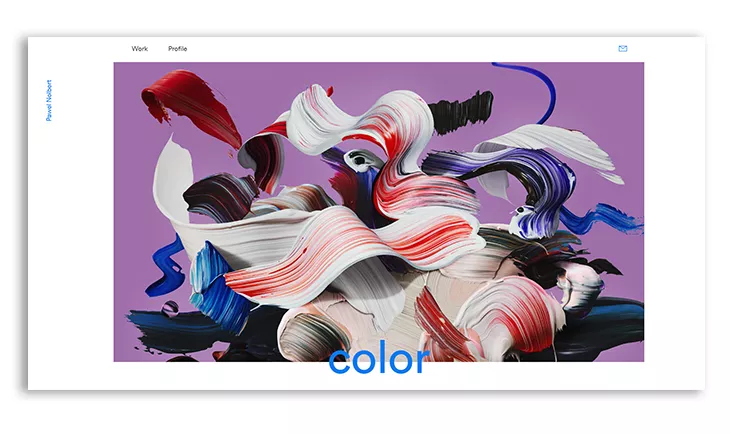 Just from a first glance, it's easy to see how Pawel Nolbert's graphic design portfolio is on this list. Right from the start, you're captivated with the enormous splash of color. Your eyes immediately go to the center of the screen, and leave you wanting more. In fact, as you scroll down, the entire page is vibrant with colors and visuals, all framed in white.
What really stands out to me is that Pawel's name isn't front and center. Sure, it's still visible on the side, but it's not the main focus. Pawel lets the work and experience do the talking, and that's quite admirable.
Justin Maller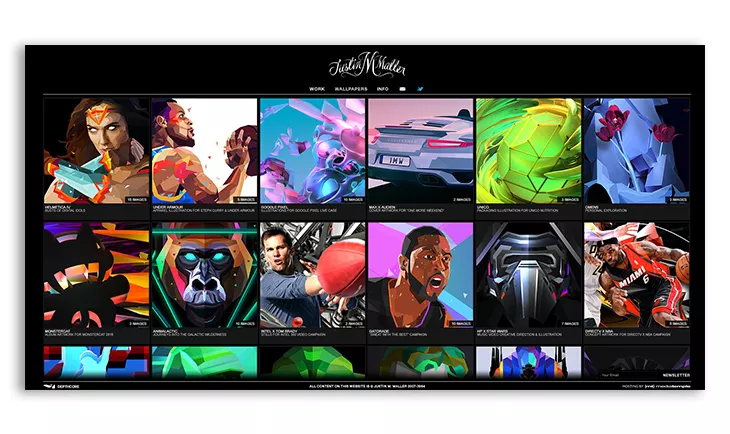 What can I say except WOW? The colors, the contrast, the talent.. Justin Maller has it all. Again, this isn't a list to rank these portfolios from best to worst, but this one is certainly one of my favorites.
What amazes me is the simplicity. The online portfolio is laid out in a grid-like pattern, and leaves nothing to be desired other than that. That being said, the layout is exactly what makes these incredible works of art pop out so much. There's nothing else distracting you from what you're really there for. There's no massive text, funky image layout, or background images. It's just you and the visuals. This is quite the graphic design portfolio example if you ask me!
Julie Bonnemoy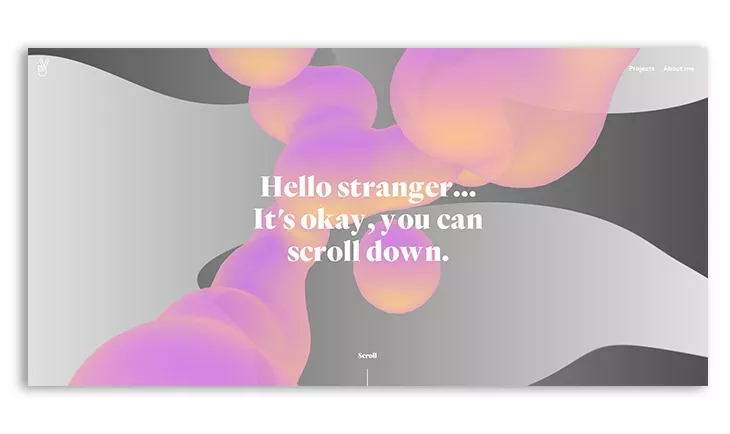 Julie Bonnemoy's digital graphic design portfolio is one of the best examples I've ever seen. Although it can take a few extra moments to load, it's well worth the wait.
You're first greeted by these gracefully moving blobs of purple and pink perfection. They swirl around the screen and almost hypnotize you. It isn't until a few moments later that you realize what it says behind said blob.
As you scroll down, the entire portfolio seems to move exactly as you would expect it to. It's a very natural feeling movement. I found myself scrolling up and down a few times before I realized that I actually needed to write something about it.
When you start reaching the middle and journey towards the end, you're met with very tasteful and beautiful projects, as well as a massive list of clients incorporated into the background. Overall, this is possibly one of the greatest graphic design portfolio examples I've ever seen.
Mingfei Yang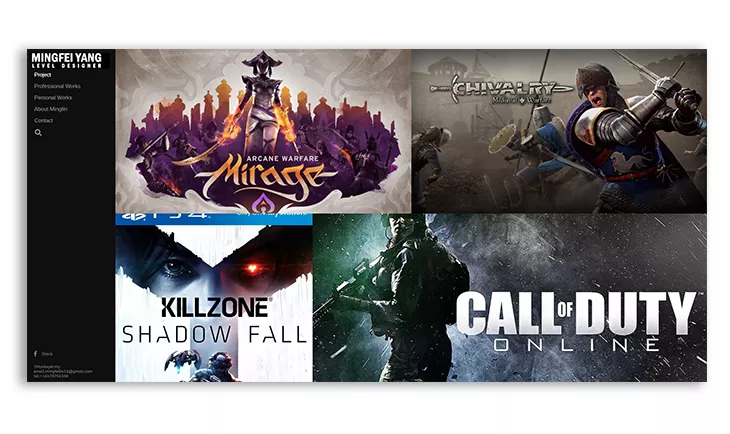 Here's a rather unique one for you. Although including video game level design into the graphic design category is subjective, this graphic design portfolio example is still worth looking at.
This is the portfolio of Mingfei Yang, and it's a stunner. As you browse through the digital portfolio, you'll be greeted with many familiar sites if you're a gamer. If not, it's still interesting to look at and take inspiration from.
So.. what are we looking at here? Well, as I said before, Mingfei is a video game level designer. In fact, he has quite the impressive track record with major game publishers like Activision and Epic Games. But, back to the subject: Each panel you see on the site features images from major titles in the video game world. As you browse through them, you can click, and see not only the designs that Mingfei created, but the blueprints and what the final result looks like for players in-game. It's quite incredible, and even if you don't think this counts as graphic design, it is something to draw inspiration from.
Mathilde Serra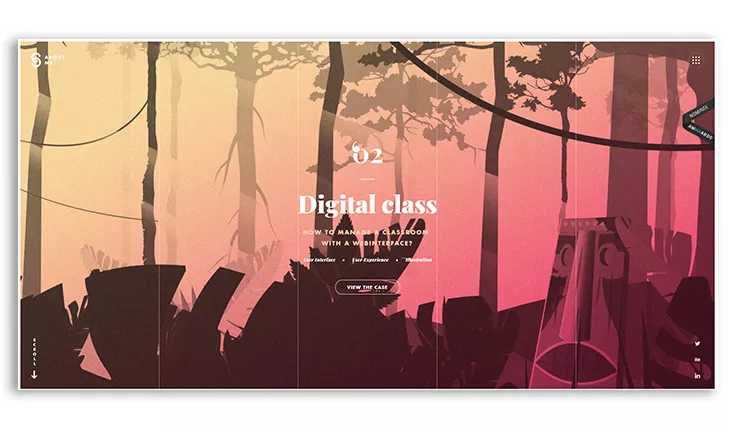 If you've done any amount of research on the best portfolio examples, odds are that you've come across this one by Mathilde or Mat Serra. There are no secret design cues or fancy/over-the-top integrations. All you see here is a good portfolio, with lots of color and a straightforward message.
The only real unique feature that this digital portfolio has is the fact that you never really scroll down. When you run your finger across the middle mouse button, the screen rolls up like a carpet, and drops a new page down. It's quite entertaining to say the least, and it certainly is a unique twist on a modern graphic design portfolio.
Kuon Yagi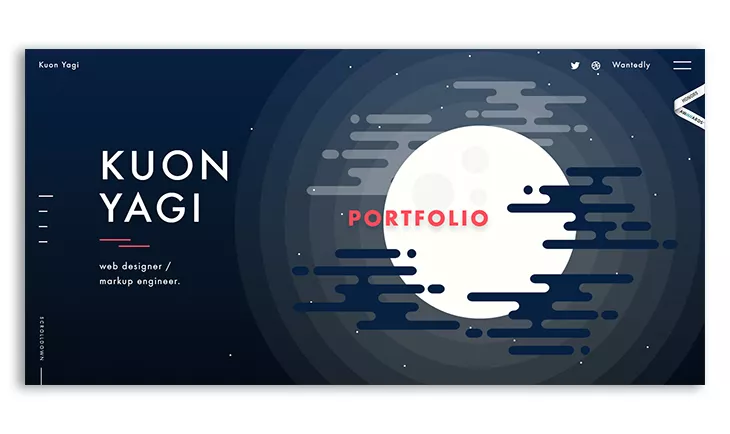 There's no better word to describe the portfolio of Kuon Yagi than just plain cool. It's dark, it's mysterious, and it's fully interactive. As you move your mouse across the screen, the virtual environment moves with it. It's simple in every aspect of the word, yet it manages to pull of a much more complex look.
Not to mention the site performs quite well. The motion of the webpage seems natural, and the way the screen scrolls is quite satisfying. Kuon's name is present front and center, and it's paired with just enough imagery to leave you wanting more. It's impossible to see this amazing graphic portfolio example without scrolling down. Go on and try it. I know you want to.
How to create an impressive graphic design portfolio of your own
As I mentioned at the very start of this post, creating a graphic design portfolio is pretty essential. Not only can potential clients and employers see your past work, but it's a way for them to contact you, learn more about you, and get a taste of what they're in store for.
With that said, you should check Flipsnack out. There are lots of helpful tools built into our drag-and-drop editor that will make creating a graphic design portfolio a literal breeze.
But hey, we don't all have that kind of time, right? I mean yeah, you are a designer, but you're a busy one! Don't worry, we've got you covered on that front, too. You can simply use one of our many graphic design portfolio templates. Just choose your favorite, input some of your information, and done! You can download it and share it digitally as an interactive PDF, print it out, or even embed it on your own website.
Wrapping it up
I hope you've soaked up as much inspiration as you needed. To be honest, there's never enough inspiration, but looking at the amazing work of others usually helps a great deal. That was the whole purpose of this article… Plus, it's really nice to see the creativeness of some designers.
So, with that said, there you have it: The most incredible digital graphic design portfolio examples. Click on a few and check them out. Before you know it, you'll be the main feature on a list just like this.