20 Halloween fonts to use this season
Brightly colored foliage usually marks the beginning of Fall. That and the Pumpkin Spice Latte at Starbucks. But for us Halloween fans out there, is it really Fall until October comes? For me, Fall only truly begins in October, when temperatures drop and the Spooky Season makes its way into my heart, my house, and my movie list.
We have a special tradition in our household that involves watching a different horror movie every evening until the end of October. We've gone through them all – folk horror, psychological horror, slashers, supernatural, Gothic, zombie, teen horror, comedy horror, body horror, and found footage.
And, if I'm honest, while most of them keep me interested, I don't always love the movies in our selection. Sometimes, I just choose films because of their poster art, and more precisely because of the fonts they use. Fonts can draw attention, whether we're talking about newspaper fonts, magazine fonts, or poster fonts, as in this case.
Since we're in the month of All Hallows' Eve, I thought it might come in handy for those of you who are celebrating Halloween with a party to have a list of some of the best Halloween fonts you could use on your party invitations. So, in what follows, we'll talk a bit about all the fonts in the selection I made, and, later on, we'll see together how you can make great Halloween publications, such as party invitations, brochures, flyers, newsletters, or posters, directly in Flipsnack.
So let's get started, ghouls and gals *insert evil laugh here*!
Spooky Halloween fonts
Here's a list of the Spooky Halloween fonts I've put together for you. Later on, you will see they are split into categories, to make it easier for you to choose the best font for your publication, be it a poster, a flyer, a party invitation, or any other type. I will also show each of these fonts in action in our carefully selected Halloween templates you might find helpful for creating your ideal publication.
I was saying before that often, the most intriguing part of a movie is its poster. And it feels like sometimes that's the norm, especially when it comes to horror movies. So in the first part of my Halloween fonts selection, we're going to see some spooky fonts used in the posters of some of the most famous horror movies ever produced and how they got to be used or created. You'll notice that they are regular, famous fonts that everyone can recognize. But even regular fonts can be made scary if they are used in the right context.
Let's see what these fonts are:
1. ITC
We should start this list right, with the Godfather of all spooky Halloween fonts. The International Typeface Corporation, famously known as ITC, was so popularly used in horror movie posters back in the '70s that it won its designer, Tony DiSpigna, a Wikipedia entry.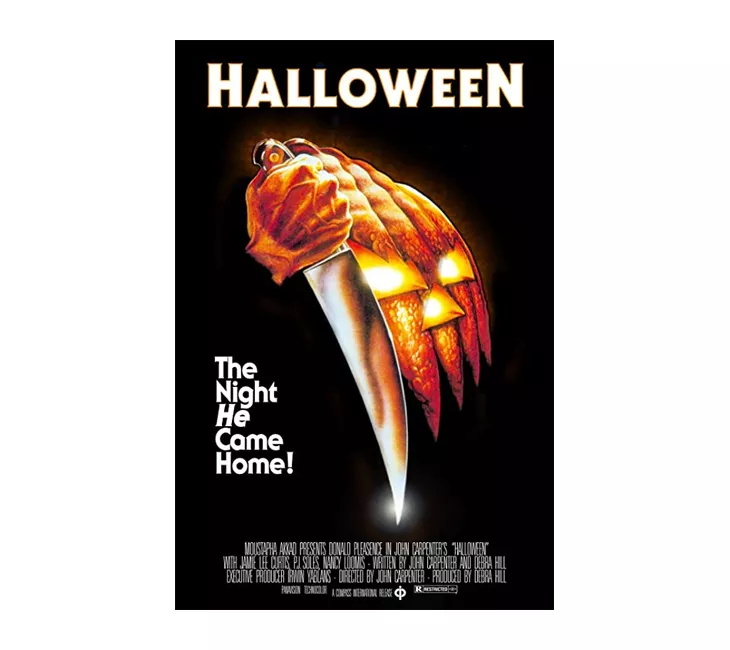 Used in some of the most famous horror movies of all time, Halloween and Jaws, ITC was so famous that it transcended the horror genre and went on to be the font that kept the Star Wars franchise consistent. ITC was also used for TV series posters like Twin Peaks, and, most recently, we could see it on the Stranger Things poster. So for a nostalgia-type party invitation, this font is the best choice.
Download the ITC font for free.
2. Helvetica
Who would have thought that one of the most famous fonts used in horror movie posters was Helvetica! You think of Halloween and horror, and you only see blood dripping, fangs flashing and corpses rotting. You don't see the VIP of typefaces, let's be honest.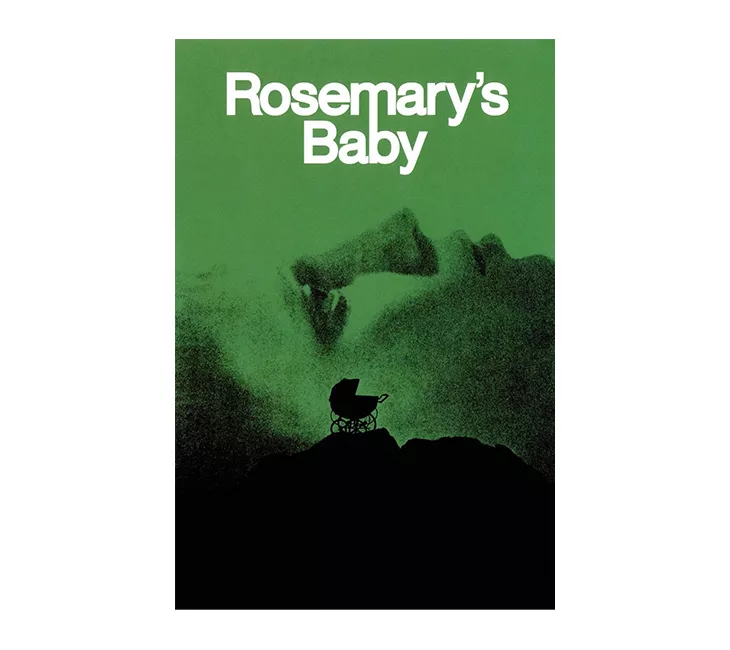 And Helvetica is the most popular font out there! As it turns out, this neo-grotesque design created in 1967 by Max Miedinger after Eduard Hoffmann's suggestions is exactly what a horror movie poster needed. Mysterious and simple, Helvetica hit the right spot for posters such as Poltergeist or Rosemary's Baby.
Download the Helvetica font for free.
3. Deanna
Based on the font used in the poster for Night of the Living Dead, Deanna was created by Chris Hansen. Easily recognizable and very striking, Deanna is one of my favorite Horror fonts because it's so fun and versatile. You can transform it into basically anything.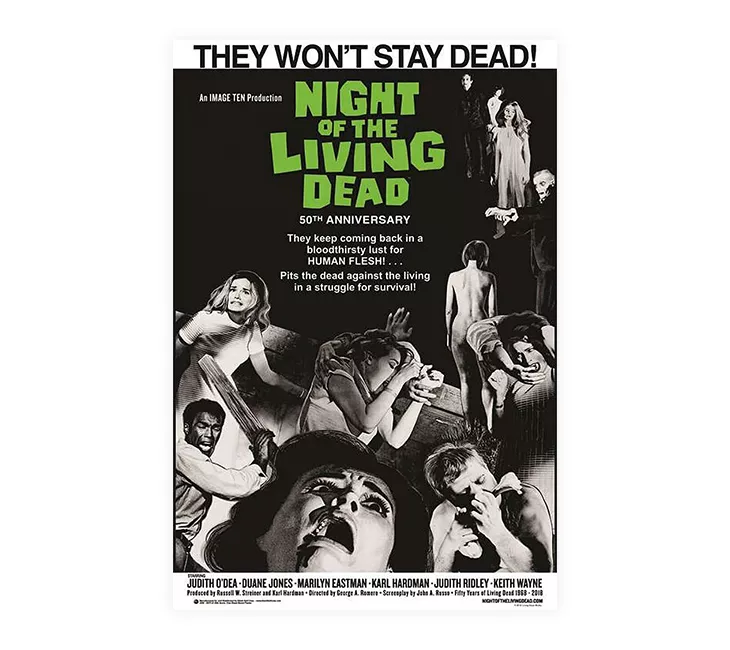 This type of font is definitely suitable for a zombie-themed Halloween party invitation or even for a fun newsletter you want to send out around Halloween. The choppy lettering and the creepy spacing will create the desired spooky effect you were looking for. Either way, make sure you check all these spooky fonts before making your decision.
Download the Deanna font for free.
4. Futura
Futura, designed by Paul Renner in 1927, is one of the most versatile geometric sans-serif typefaces. Famously used for comedy movie posters, Futura has also made pretty big appearances in horror movie posters as well.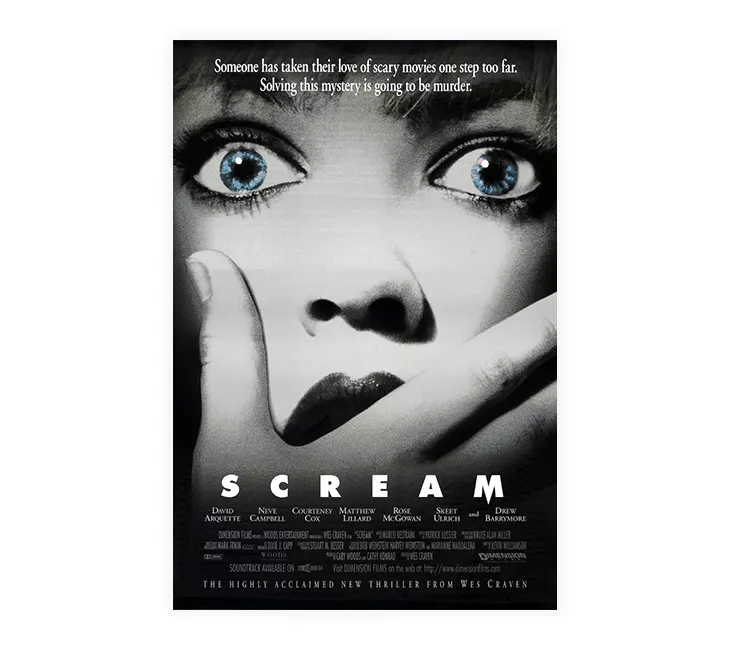 Think of Eyes Wide Shut, Scream, and another of Kubrick's movies, 2001: A Space Odyssey. They all used some sort of variation of the Futura font. Coined as "the typeface of today and tomorrow," Futura continues to be one of the most famous fonts out there that has also influenced many of the other fonts that are pretty popular today.
Download the Futura font for free.
5. Trajan
If ITC was the king font of the '70s, then Trajan was the queen font of the late '80s and all of the '90s. Created by Carol Twombly, Trajan was not only easy to read but it was also extremely easy to edit.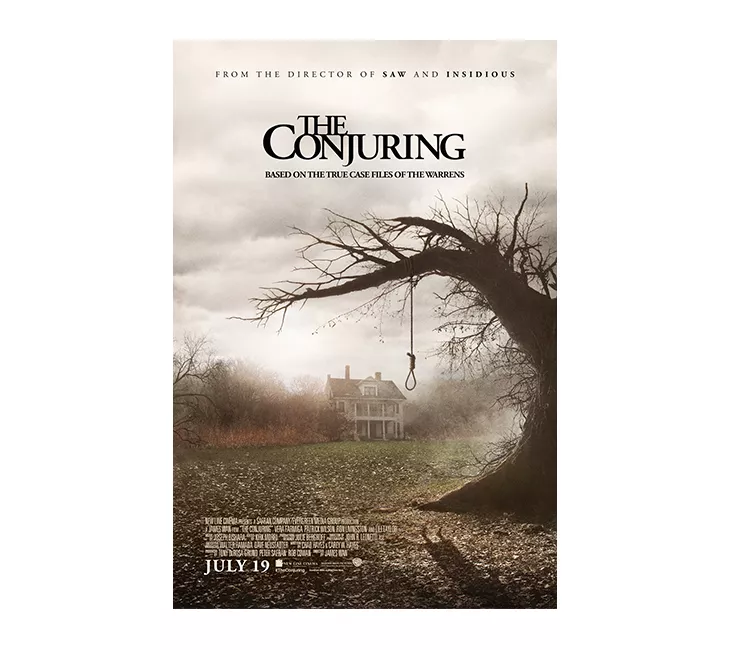 As a result, it had all sorts of interesting effects applied to it, which made it famous among horror movies and ALL other types of films released during the '90s. For the horror genre, Trajan was famously used in movie posters for The Human Centipede, Nightmare on Elm Street (2011), The Conjuring, or The Last House of the Left.
Download the Trajan font for free.
Now that we've seen that regular fonts can be made scary by being used in the right context, and we've seen how they are used for movie posters, let's also take a look at some other Halloween fonts that people just adore using in their publications. Some of them are quite scary, while others are on the funnier side. Regardless of the type though, they are all great choices, especially if you want to create a memorable brochure, flyer, invitation, or newsletter for this special time of year. So please park all brooms at the door, and let's get into it!
6. Sorrow
We've seen that horror movie posters are more cautious when it comes to the fonts used. This is because they wouldn't want the font to be out of style, even if 20-30 years pass. So going for a timeless font works. But if you're interested in the gory, bloody, scary part of Halloween fonts, then Sorrow is the one for you.
Its large size makes it the perfect font for a Halloween poster, be it for a product or a party. And it's also very appropriate if you want to frighten the living daylights out of your readers with your monthly newsletter.
Download the Sorrow font for free.
7. Jacmax
Maybe this Halloween you want to stay in with just a few friends. Perhaps you want to make it a scary game night. Or maybe you want to make it a Halloween-movie-viewing party. Then it's imperative that you create an awesomely scary invitation, to go along with those bloody, delicious treats you prepared for Halloween.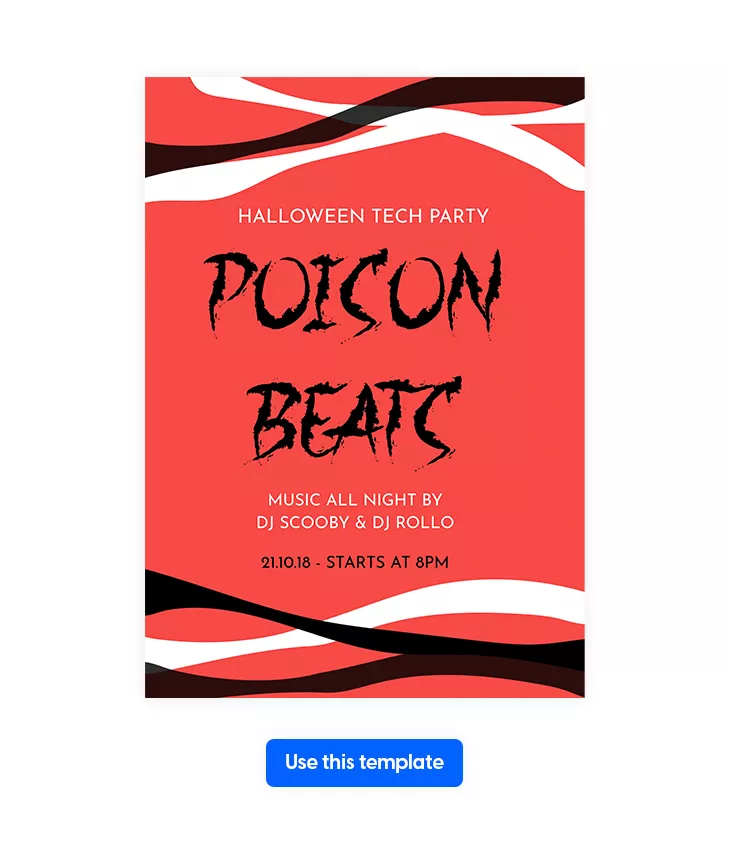 Jacmax is the perfect font for that. Creepy and intimidating, Jacmax is the right choice, especially if you're more into the gory side of Halloween. Not to mention that, if you're a small business owner, you can also use this font for anything from posters to book covers, music album covers, or even for a logo. Use it at your own discretion!
Download the Jacmax font for free.
8. Gallow Tree
You already know what a gallows is. It's that splendid device used for hanging people until they're dead. And that is terribly Halloweeny, isn't it?! Well, what could be a more suitable font for a Halloween-themed invitation, if not the Gallow Tree? Simple, yet chilling, this font is surely going to get your guests in that incredible spooky mood for your Halloween party.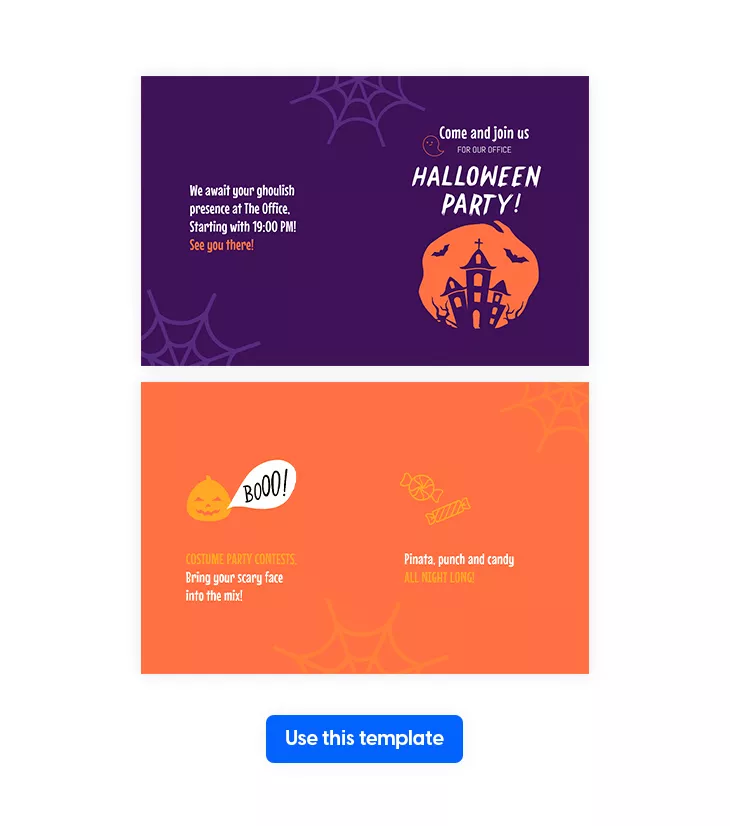 The Gallow Tree font reminds me the most of creepy forests or some sort of swamp monsters so that it would be an excellent choice for a creepy yet classic Halloween party invitation. Now, if you're looking to use this font for business, know that it's more than appropriate to use it for a flyer or a brochure.
Download the Gallow Tree font for free.
9. Covenant
If you are looking for a font that has very creepy energy to it, look no further! Covenant is the perfect Halloween font, with its long brush lettering reminiscent of old witches, bubbling cauldrons, and swamp creatures. Whether you want to use it for invitations, newsletters, or posters, Covenant is a perfect choice, especially if you're searching for an old horror movie type of font to embellish all your publications and that will make them stand out from the crowd.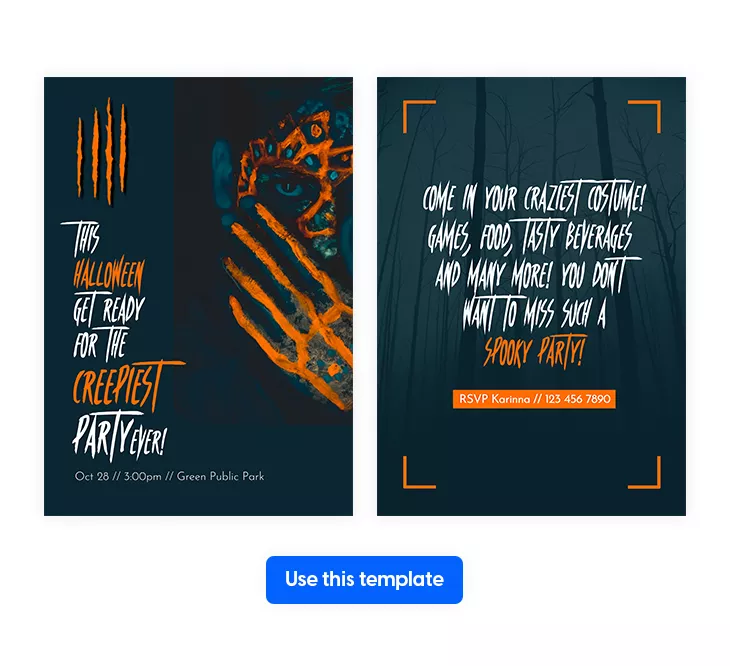 This decorative font is exactly what you need for a witch-themed Halloween party invitation, or for your holiday-themed marketing materials, to use for your business.
Download the Covenant font for free.
10. Story Brush
Aside from being a horror movie fan, I'm also big on comics. And Story Brush seems to be the perfect font for the comic book lovers out there. Fun, but also on the scary side, Story Brush brings a new feel to those nostalgic for the '90s. In addition, this OpenType font allows you to edit it after your wish, so you'll be able to turn it into the perfect font, regardless of the type of publication you're looking to make.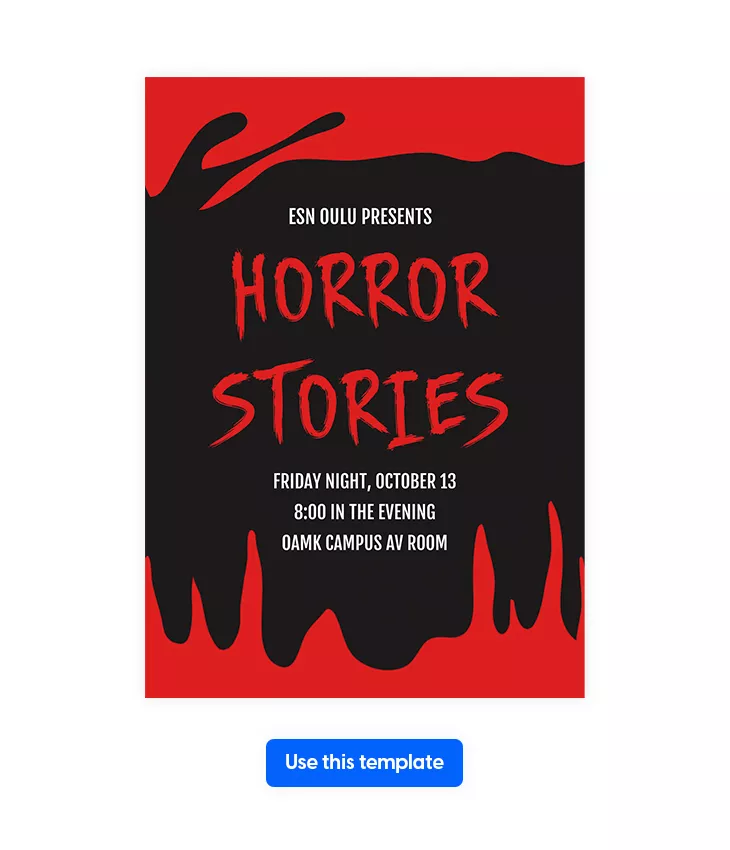 Best used for horror designs, logos, brochures, and invitations, Story Brush has a spooky feel that will speak to all horror lovers. Basically, you can create all your Halloween-themed marketing materials by using this OpenType font.
Download the Story Brush font for free.
11. Primal
Although it can't really be considered a true horror font, Primal seems to be more inspired by the fonts used for movie posters like Arrival or Prometheus. Simple yet striking, Primal is the perfect font for those looking to make a memorable newsletter to send it out this Halloween. The clean lettering and smart empty spaces make this a fantastic font to be used by businesses that want to create some tidy yet scary Halloween marketing materials.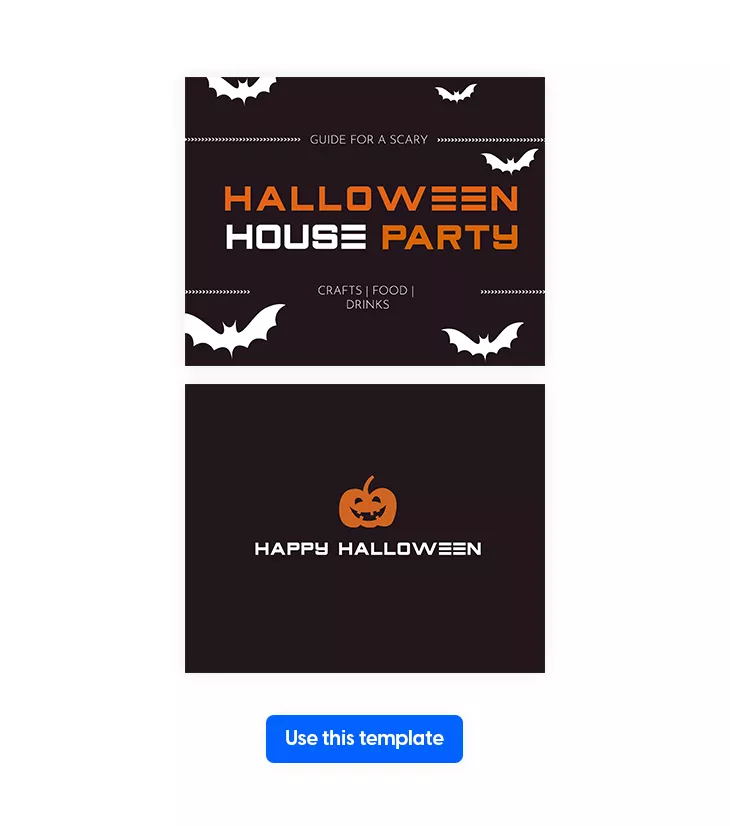 Even if the vibe of the font is more of a sci-fi one, we all know that aliens can be terrifying, so we'll count Primal as one of our favorite Halloween fonts, and we'll add it to our list.
Download the Primal font for free.
12. In the Wood
And we couldn't have a list of spooky Halloween fonts without a font that brings that American gothic feel to the table. For the Blair Witch Project fans out there, this is the most magical font! It creeps up on you and makes your blood go cold while subtly reminding you that there might be someone watching you from the dark.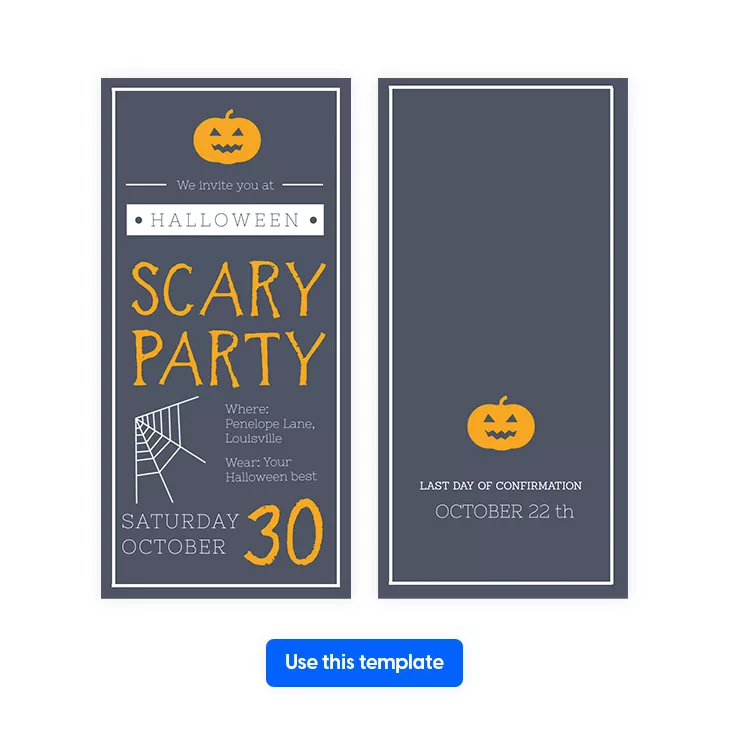 This is definitely one of those fonts that you could make full use of in a brochure, for instance, that you can use in your Halloween marketing campaign. You can also use it for your Halloween party invitations, newsletters, posters, or any other type of publication, and it will surely bring those horror fans a thrilling feeling that Halloween is near and they can't escape it!
Download the In the Wood font for free.
13. Nigma
Great to be used for titles and quotes, Nigma is the type of font that leaves you wanting for more. This beautiful handwritten Halloween font is specially designed for anyone looking to embellish their publications with a horror-inspired font. Nigma brings to the table rushed strokes and letters that give the reader the feeling of impending doom like something is about to happen any moment now, and there's nothing you can do about it.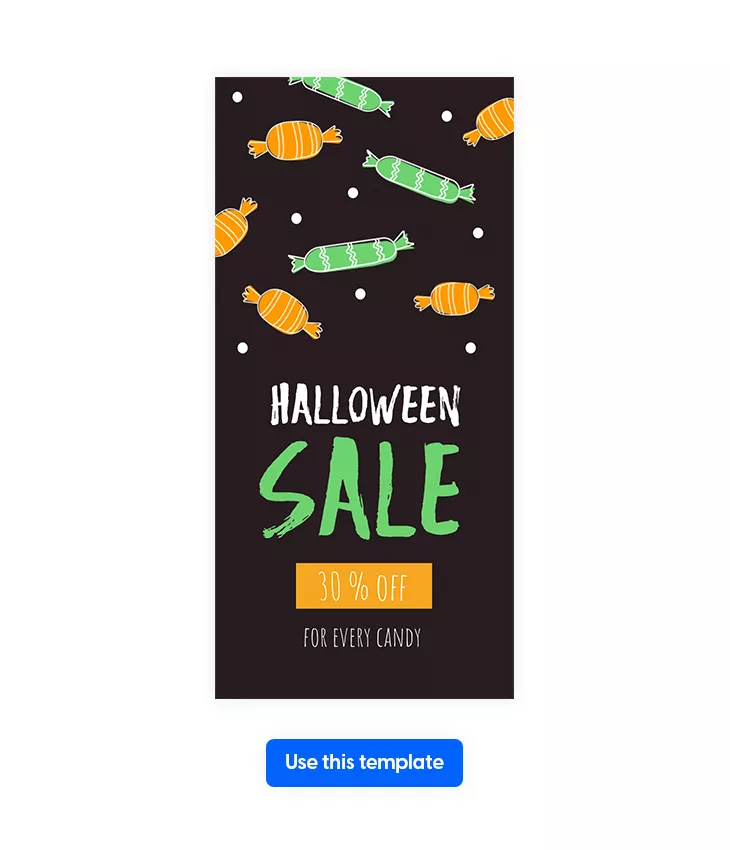 Perfect for Halloween, Nigma offers you an excellent opportunity to create a beautiful poster or a product brochure to use in your Halloween marketing campaign.
Download the Nigma font for free.
14. Histeria Horror
Histeria Horror is the type of font that made it to this particular Halloween fonts list because of its looks. There's nothing special or out of the ordinary about it, it just looks spooky, and it creeps me out. If you are a fan of the Amnesia series, you know what I'm talking about.
Suitable for anything from creating a logo or using it for titles, Histeria Horror is the way to go if you have a very metal-band-type Halloween party invitation in mind, but as per the template example, it actually works well even with lighter themed parties. With its long strokes, this particular font reminds me of a scythe, so it's pretty suitable for Halloween publications, especially if you're more drawn to the dark side.
Download the Histeria Horror font for free.
15. From the Dead
Since we entered the realm of weird horror fonts, I couldn't have just ignored the From the Dead font. This one is clearly inspired by riots, chaos, and burning buildings to the ground. It reminds me slightly of The Purge, and it gives me that creepy feeling that someone might jump from behind my seat.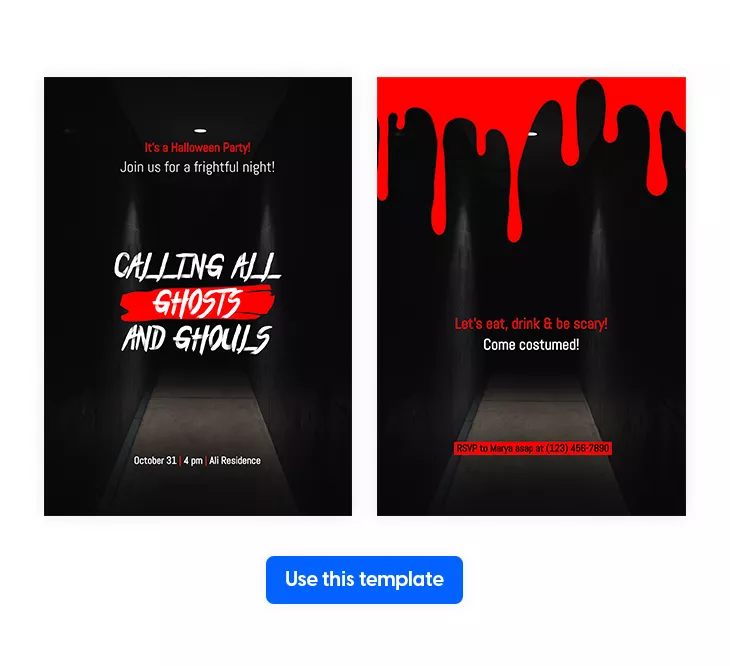 So, it's very appropriate to use for a Halloween party invitation or a poster. The messy brushstrokes give the reader a feeling of uneasiness, making it the perfect font for a mild scare this Halloween. Rushed and chaotic, the From the Dead font can help you create the ideal Halloween flyer, brochure, or poster for your business, in no time and with so much ease.
Download the From the Dead font for free.
16. Brain Melt
And now, for the fun part of the list. These Halloween fonts won't scare anyone, but they are so much fun to use! Take Brain Melt, for instance. Even the name is suggestive! Zombies eating brains? Right on! This font is so versatile you could use it even for candy packaging or fun board games.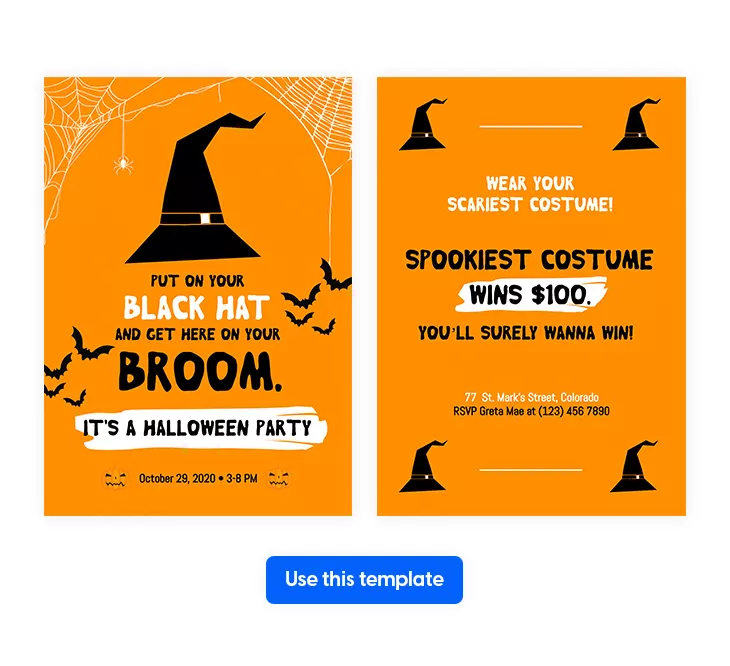 But it's perfectly suitable for an easy-going, fun Halloween party invitation as well. Pop art cartoons inspired this font, and its slimes droplets make it the perfect font even for a children's Halloween party. Just imagine the horror on their faces when they receive the invitation to the zombiest party of the year!
Download the Brain Melt font for free.
17. Halloween Scare
What would Halloween be without a Halloween Scare font? This is what this font brings to the table: creepy-trippy spider webs and a lot of bloody drips. Completely on the opposite side of scary, the Halloween Scare font is the perfect font for anyone looking to make a fun publication this Spooky Season.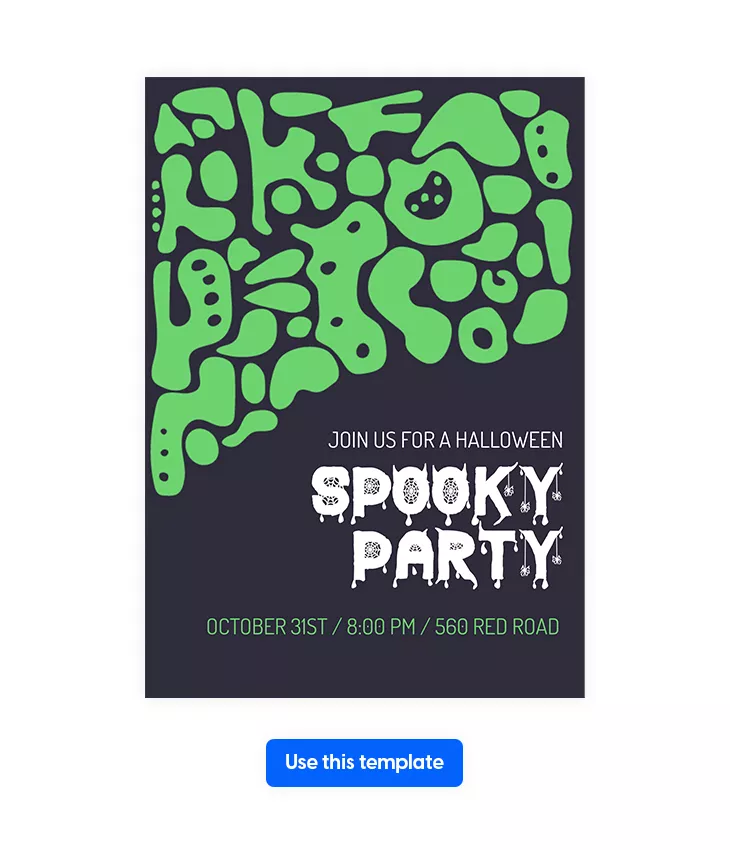 Suitable for Halloween party invitations, or even for your business' newsletter titles, and posters, this particular font has only one downside – it doesn't come with lowercase letters. So make sure you use it for titles only. Otherwise, it might look weird. And not in a good way!
Download the Halloween Scare font for free.
18. Spooky Hill
Another fun font to add to the list is Spooky Hill. There's nothing creepy about this one either, but the font looks so much fun, it had to make our list! Best used to complement true Halloween designs, Spooky Hill is the perfect font for flyers, posters, brochures, and product catalogs.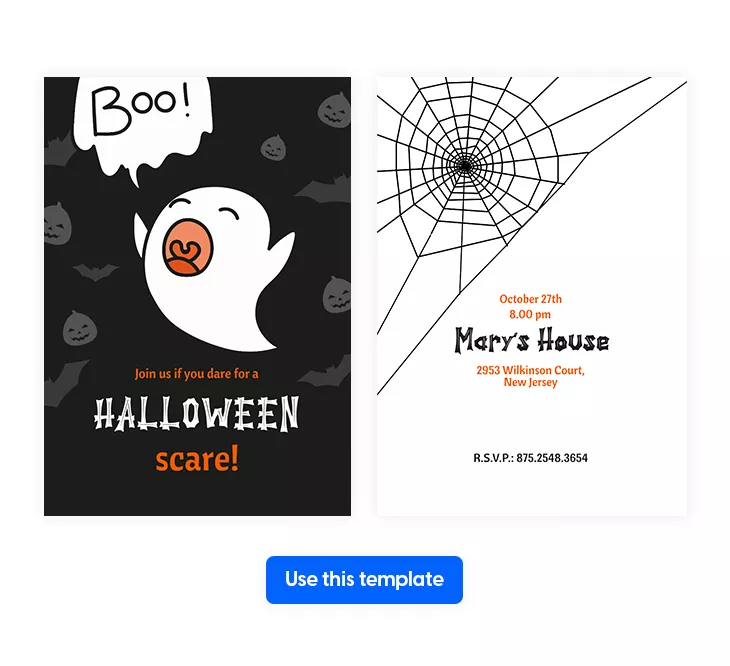 This font also comes in two styles, Regular and Inline, so that you can use it to create even more interesting Halloween publications for your business. Make sure you think of the right design before you download the font, as it's more suitable for fun publications, not so much for terrifying, creepy ones.
Download the Spooky Hill font for free.
19. Beynkales
Corpse Bride is a favorite in our household, so when I saw the font used for the logo, I got very excited to check it out. At first, it didn't strike me as a very interesting font, but its subtleties, its swirls, and twirls make it both fun and somewhat sinister at the same time. Therefore, I'll deem it appropriate for this Halloween season, especially if you want to give your design a slightly creepy look without too much of a horror feel.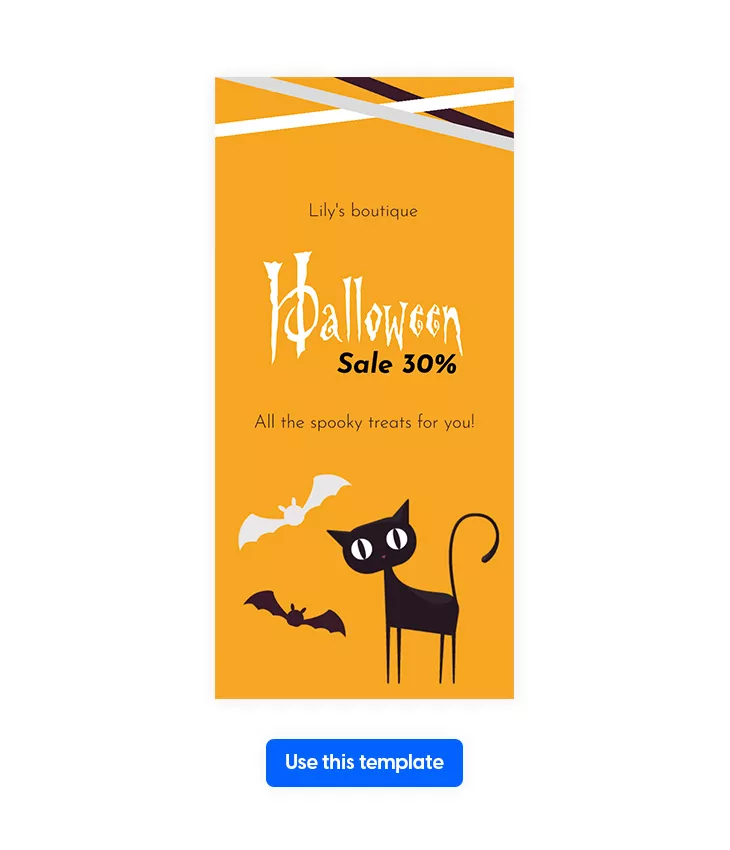 Perfectly suitable for Halloween-themed marketing materials, the Beynkales font might be exactly what you need this Spooky Season, to create amazing posters, brochures, flyers, or invitations.
Download the Beynkales font for free.
20. Nightscary
Ok, so I'll have to admit that slashers are my guilty pleasure. I must have seen tens of these movies. Granted, some of them are silly and don't make any sense, but they are so easy on the mind. You just have to sit back and relax. Your mind takes a break from all the thinking, and you just witness pure, uncomplicated Horror bliss. And the great part of this font is that it gives you exactly the same feeling.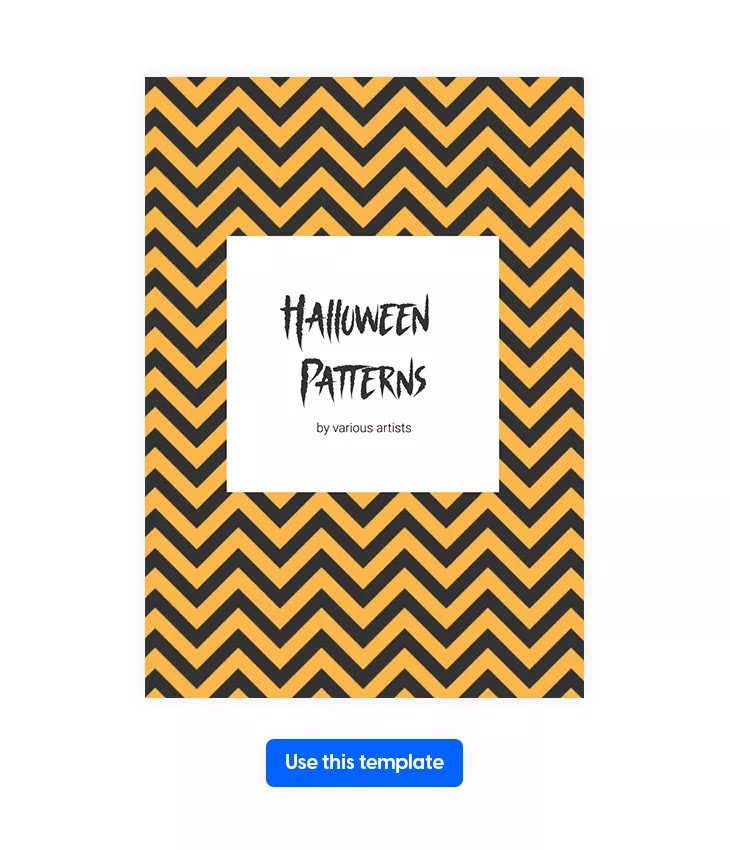 Dreadfully bloody and full of terror, the Nightscary font is the ultimate Halloween font that will surely make your business publications stand out from the crowd, regardless of whether we're walking about a poster, a menu, a product catalog, a brochure, a flyer, or even a book cover.
Download the Nightscary font for free.
Create your Halloween marketing materials in Flipsnack
There you have it, 20 spooky Halloween fonts to make your holiday materials great! Choose one of them, or pair them for a spooky Halloween-themed publication. Whether you're interested in making a Halloween poster, flyer, or even a Halloween-themed menu, you can make all your marketing materials with us. Let's see now how you can add these fonts in Flipsnack and then use them to create your own publications.
First things first, you'll have to upload your favorite free spooky fonts. How can you do that? It's really easy, in just 4 simple steps:
Go to your Flipsnack account, and access My Flipbooks;
Now click on Branding, and then on Fonts;
You can now upload your font by clicking on the Upload your font button;
And then, you'll also have to confirm that you have the legal right to use it.
That's it. Pretty straightforward, isn't it? Before you upload your preferred spooky Halloween fonts, you have to know that this option is only available for premium subscriptions and we're currently only accepting OTF or TTF files. Once your preferred fonts are uploaded, you can start creating your very own, special Halloween flipbook.
Putting together a Halloween flipbook is even an easier task! You can either select one of our beautifully made Halloween templates and work on it to create a personalized publication by changing up the design and editing it according to your needs. Or, if you have a creative mind of your own, you can even put together a publication from scratch, as our Design Studio is very intuitive and easy to use.
Have a bootiful Halloween!
Instead of a conclusion, here's a Halloween greeting. Eat, drink and be scary! And make sure you share with us the spooky flipbooks that you've created in Flipsnack. We'll make a list of all these wonderful flipbooks and share them with our followers on our social media. Look us up on Facebook or Instagram and send us your best designs before Halloween, so we can all enjoy them on the 31st!
We, here at Flipsnack, witch you a Happy Halloween!