How to design a book cover based on its genre
There are countless articles about book cover designs all over the internet that teach you how to create the perfect one for your freshly-baked book. But none of them teach you how to design your book cover in such a way that it matches your book's genre. Unfortunately, this is an important issue that most of the authors or book designers neglect.
Your book cover is the most important piece of advertising you'll ever have, that's why you should invest in it. And it's no news that you have only a few seconds to impress people with the cover; so make it both catchy and fascinating. The readers usually choose the books they want to buy according to their favorite genre. If your book's cover doesn't look like your genre; you risk to miss out on readers who would love your story. Or, the opposite, your readers would expect something else based on the front cover, and you would mislead them.
Today's article analyzes and helps you with how to design a book cover for different genres of literature; so make yourself comfortable and start exploring it! And to make your job even easier, we have also inserted some free book cover templates from Flipsnack that you can easily personalize with our amazing drag-and-drop editor. Creating a book cover based on its genre has never been easier!
How to design a book cover for different genres of literature. Free book cover templates
Fantasy & sci-fi book covers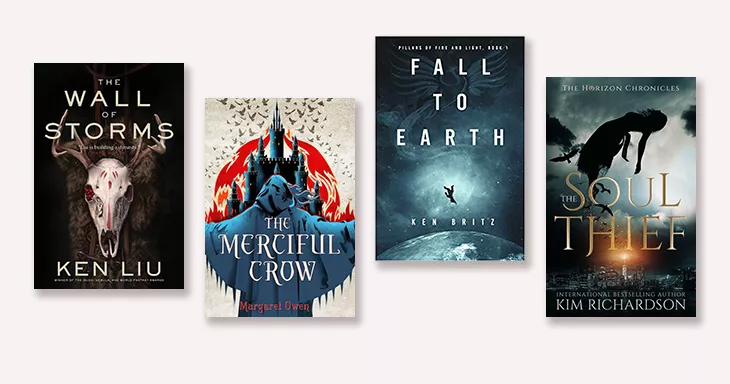 When it comes to fantasy and sci-fi genres; it's good to know from the start that all these books relate to imaginary scenarios that are quite impossible or improbable in the real world. If you ever wondered how to design a book cover for such a genre, simply think of time machines, space travel, dragon battles, walks on the moon, aliens or vampires. Many book designers choose to combine a representational style of illustrations with abstract and unusual elements; be it monsters or technology domains, such as The Soul Thief by Kim Richardson or The Wall of Storms by Ken Liu.
Another popular technique would be the emphasis on dramatic actions. It is no coincidence at all, this book genre usually presents a dramatic story. Two examples in this regard could be Fall to Earth by Ken Britz and The Merciful Crow by Margaret Owen. Both covers depict dramatic images and they will surely make you think of something fantastic or science fiction.

Lastly, keep in mind that the tone of your book is highly important when you have to design a book cover for this genre. Many fantasy and sci-fi books use all caps titles. In this regard, the title becomes more mysterious. Also, the most used font is clean sans serif. Colors are important as well if you want to impact from the beginning. Choose dark blue – it suggests the feeling of the calm before the storm, and dark yellow – it gives you a supernatural and mystical feeling. If you're still feeling clueless about this topic; then pick this free book cover template from Flipsnack that is totally fantastic! Edit it to your own liking in just a few minutes. Your book will become very successful and your readers will really enjoy this cover.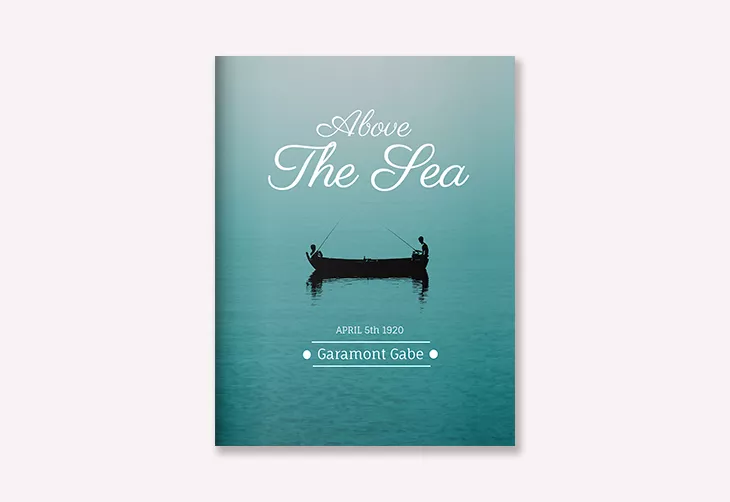 Romance book covers
Oh, who doesn't love to read a good romantic book? And if it has a gorgeous cover, the book will be even more appreciated! Wondering how to design a book cover for such a genre if you have no design skills at all? Don't worry, the next suggestions are really simple and doable. You'll see that if you stick to them, you'll be able to create your own book cover for your next romantic story. The first important thing you have to keep in mind is that a romantic novel suggests passion and love; so design something that hints this. Romance is all about the strong bond between two people, so a great way to show this is to portray two love birds that express their feelings on the cover, just like Winter's Tale by Mark Helprin or Forever . . . by Judy Blume look like.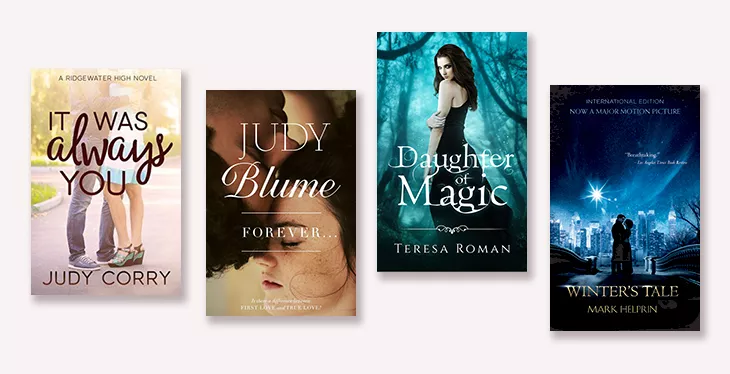 You can choose to keep the mystery and not show the face of the people; but only parts of their body, just like It Was Always You by Judy Corry. This romantic novel induces you to the feeling of secrecy and enigma and incites you to buy this book and find out the whole story. Another thing you can do is to place the protagonist of the book on its cover; which subtly tells the readers what the story is about. Daughter of Magic by Teresa Roman puts the heroine in a provocative posture, combining sensuality with mystery.

As a final note; remember that most traditional romance novels focus on sentimental elements such as hearts, roses or handwritten letters. The classically used colors are pink, gold, white often paired with dark images. When it comes to fonts, you can go for a script-based font or an equally modern font. It's up to you!
Thriller & mystery book covers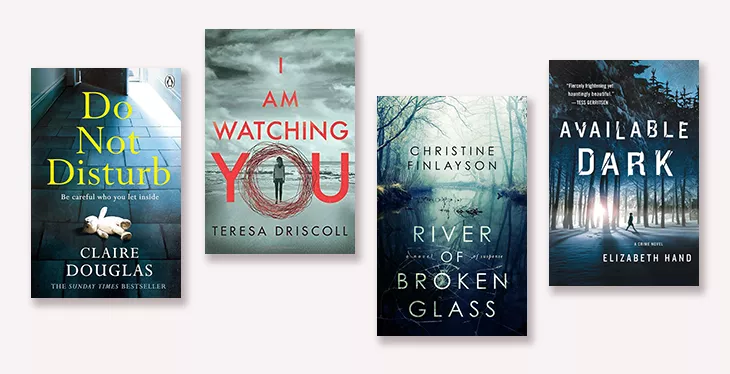 And here comes my favorite literature genre of all time! Thrillers and mysteries mesmerize my mind and heart and I cannot put them down until I finish them. When it comes to designing a book cover for a novel like this, you should keep a few things in mind. First of all, design something that doesn't give away the secrets within the book. Many thriller and mystery covers adopt images with deep perspective and meaningful elements; leading the reader into the path of the unknown. An example in this case could be Do Not Disturb that features a stuffed rabbit thrown on what seems to be a hospital's floor. This image doesn't reveal much, but it makes you want to discover more of the story.

Second of all, you can use an abstract, yet mystifying illustration when thinking about how to design a book cover for this genre. Illustrations have a great power upon people and if you also choose strong colors you'll definitely create a striking cover. Take as an example this front page of the book called The Cerulean that portrays a magnificent illustration. It's that kind of drawing that makes you stare for hours just to admire it. Third of all, mystery means obscurity. To bring this theme into your book cover, play with some blurred silhouettes that make readers curious. Is this the bad or the good guy? Is this the main character? You'll build up tension, which is a must-have feeling when talking about mystery and thriller books! Two book examples in this sense are Available Dark and I Am Watching You whose covers look really concealed.

Take advantage of one of our free book cover templates that is really appropriate for such a literary genre.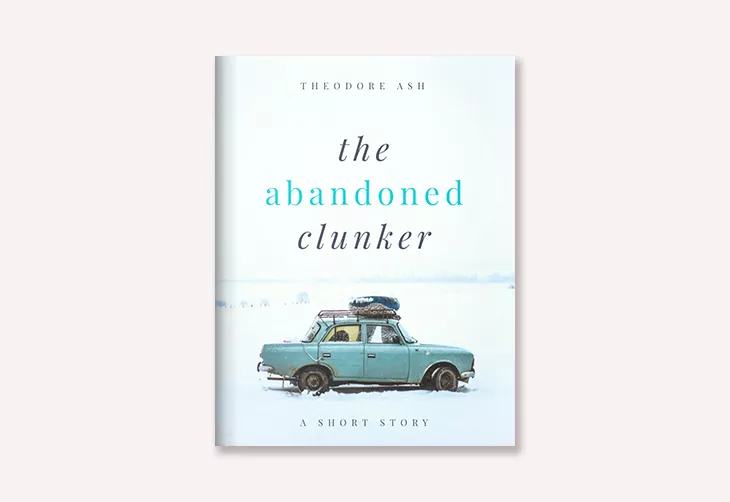 Literary fiction novel book covers
As you might already know, literary fiction is a very broad genre; but it usually covers the novels that have received literary merit. From my point of view, it's kind of difficult to design such a book cover; because it is more exacting, but it's not impossible. You can opt for a book cover that focuses on photography. A good example in this sense is Never Let Me Go which portrays a scared girl. Or, you can go for an abstract and representational illustration. See for example Poirot Investigates by Agatha Christie which is really a classic. It doesn't feature a complicated illustration, but it's a really meaningful one.
Dracula by Bram Stoker portrays a stunning illustration that scares and impresses at the same time. No wonder why the book is so popular even today. American Psycho is a literary classic that doesn't need much description. Its cover is simple, yet shocking. The red and other bright colors stand out from the crowd and make a perfect combination with the bold typography. If you're wondering how to design a book cover for this genre, keep in mind that fonts are also important. Try to opt for angular sans serif fonts, they usually have an impact upon the readers.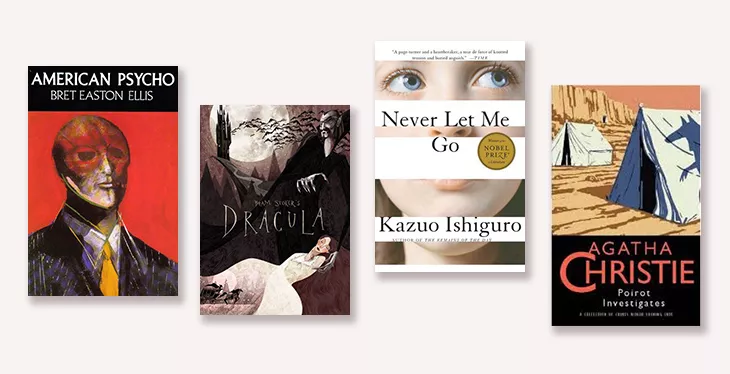 If you need some help because you don't know where to start from; here's one of our free book cover templates from Flipsnack that is perfect for this genre. Personalize it to your needs in just a few minutes with our easy-to-use editor!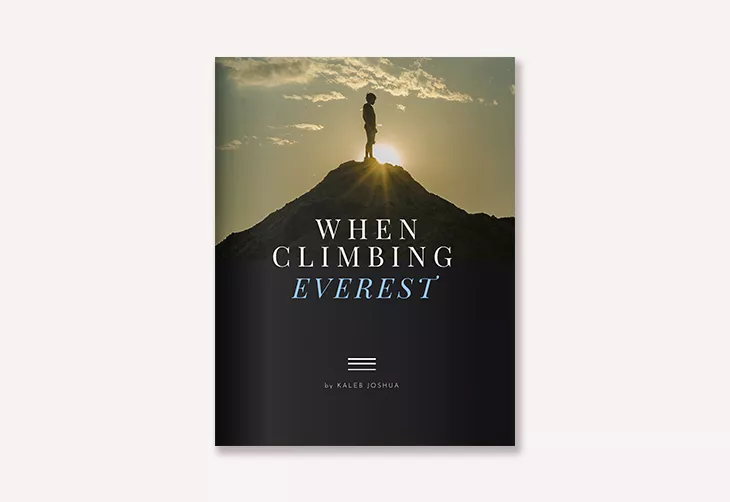 Horror book covers
Trust me, there's a difference between horrors and thrillers, and usually, people confuse these two. Horror books are more strong and powerful than thrillers; they focus in general on demons, possessed people or haunted houses and the books are not as psychological than thrillers. It's a creepy and scary atmosphere, and you really feel the tension throughout the whole reading. It gives you goosebumps every time you turn the page to discover that the action gets more and more complicated and you feel like you're really taking part of it. That is why I don't find it truly difficult to design a book cover for this genre. It's all about emphasizing something that frightens the readers but still makes them eager to read the story and solve the puzzle.
Use a dark and gothic palette of colors such as red, black, dark brown or dark purple. Red is a crucial color, it symbolizes the color of blood and dangerous things and it's a must when it comes to horror books. It by Stephen King is a really great example in this sense, as well as The Exorcist by William Peter Blatty. Keep the gothic style also in typography. It spices up things and creates a more tense atmosphere. Like it does when you see the covers of these two books: Asylum and The Tenth Girl.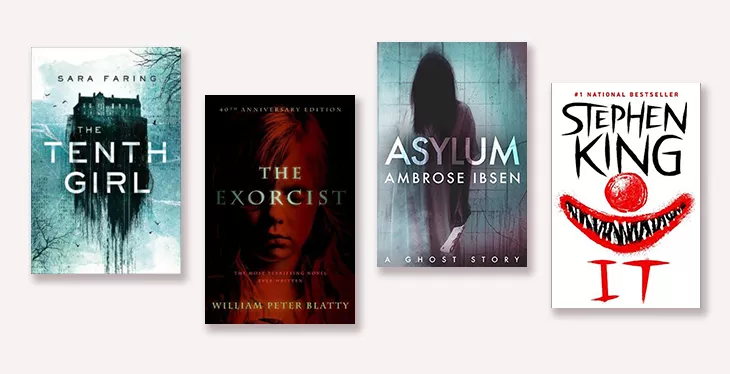 Because we want to ease your work; we have prepared one of our free book cover templates from Flipsnack that you can use whenever you decide to create a cover for a horror story. Customize it to your own liking in just a couple of minutes.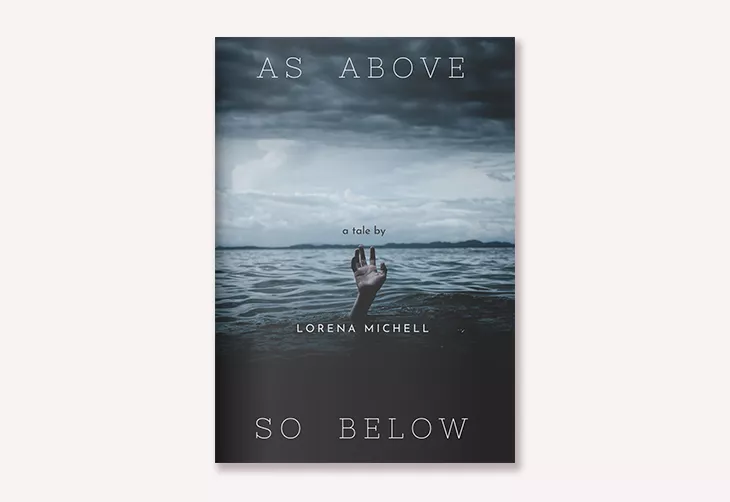 Christian fiction book covers
This kind of books become more and more popular throughout the world. They are pure, honest and depict a love that's worth fighting for, a love everybody wishes for themselves. It's the love Apostle Paul presents us in the Holy Bible, in the book of Corinthians. Christian fiction books are usually very easy to read and give us a happy ending every single time. If you ever wondered how to design a book cover for such a story, then search no more! Here come your answers. Keep in mind that a Christian book must feature a decent cover, so stick to simplicity and modesty. Choose a loving couple, or a happy family, or maybe a stunning landscape. See for instance these two brilliant examples: The Child from the Sea and More Than Words Can Say, both depicting adorable images.
Don't forget to use calligraphic or formal fonts, these are the most appropriate for this genre. Just like the cover of Love Unexpected looks. Perfect, right? Also, stick to a light and gentle color palette! Use white, pink, light blue colors that suggest a happy and cozy scenery. Keep in mind that everything that every element or color that you use when you create this cover has to recall the pleasures of simple living. Searching for You by Jody Hedlund has a great Christian fiction book cover and it's a good example that you can get inspiration from.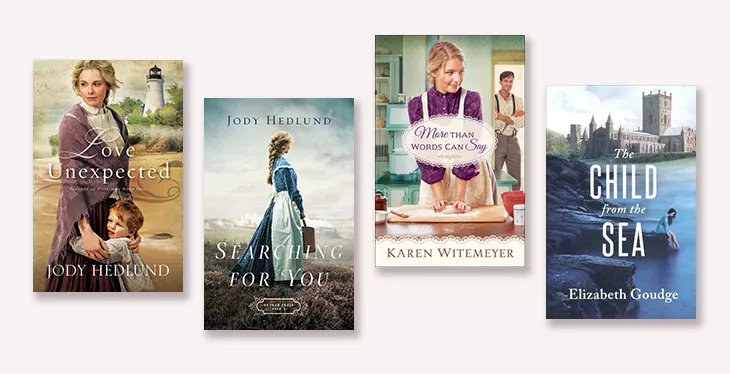 Wrapping it up
We've now come to the end of this long journey. Thank you all for sticking with us 'till the end. You are now ready to design your own book cover based on its genre. Take into consideration all the discussed ideas in this article; but most importantly, unleash your imagination and let it do the rest. You'll be surprised at how good you are at doing this! Also; if you're doing a series, remember that there are other crucial things you have to keep in mind as well. I covered all the tips and tricks to designing a book cover series in a previous article. Check it out! And don't forget. If you're ever looking for inspiration, check Flipsnack's collection of free book cover templates that are waiting for you! They're all free, easily customizable and professional.

Still wondering how to design a book cover based on its genre? Simply read this article and let your creativity take control. You're only one click away to create something extraordinary. Give it a try!