Creative table of contents – examples and templates
So far, we've covered many aspects of magazine design, but we haven't yet discussed or shared some table of contents examples. The Contents page helps the reader navigate a lengthy book, magazine, report, and other documents that have multiple chapters.
Sometimes people glance at the table of contents to help them decide whether (or what part of) the publication they should read. This is why the contents page should be regarded as an important part of your publication.
There are 2 aspects we need to discuss when talking tables of contents: design and functionality. In this post, we will talk about both.
Formal reports, documents, and projects use APA style formatting for the table of contents. Here's an example of an APA style table of contents for an official manual. Official documents require conventional, precise formatting, so it's important to follow the rules if you're doing a research project for academic or legal purposes.
There's nothing wrong with APA style formatting – it's clean and clear, helping the reader find the information he is looking for, but it might be a little too stiff for a magazine. You should get a little more creative if there aren't any strict rules regarding the layout of the table of contents. We're going to show you a few examples of creative table of contents designs to inspire you.
The table of contents is one of the first pages the readers see after opening a magazine, which makes it a great opportunity to reel them in with an original design.
Creative table of contents examples
How to design your table of contents
There are 4 secrets for designing a creative table of contents for a magazine, cookbook, or catalog. We've picked an interesting magazine table of contents example to illustrate each one of these principles.
Use colors
Infuse every piece of design with some personality. A great way to do so is to make a creative table of contents. Whether you use colors for the text or as background, they will certainly bring your content to life.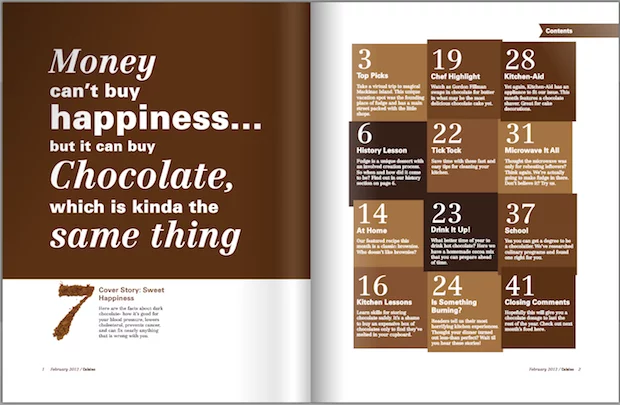 Use different fonts and sizes
An interesting font or a combination of big and small letters or numbers might look awesome. Inspire yourself from this example:
Use images as content previews
This works particularly well for some types of publications: catalogs, magazines, cookbooks.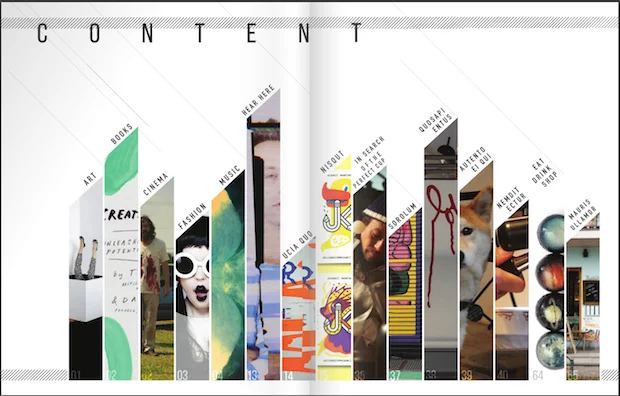 Align contents in a non-traditional way
It's easy to align all the titles on the left and the matching page number on the right or do it the other way around. It's common practice, it's what the reader expects to see, but it is also a little boring, isn't it? You can do so much more with it if you use your imagination!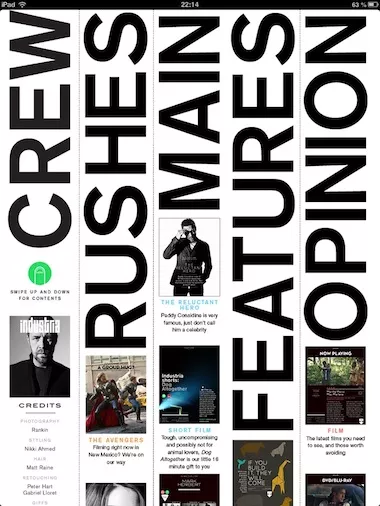 Magazine table of contents examples
Here are a few creative Contents pages, just in case you need to see more examples. We hope that these screenshots will bring some table of contents design inspiration.
Recipe book table of contents example
Looking for a table of contents template?
Our online tool is packed with lots of catalog and magazine templates on various sizes. If you want to design your magazine online you can use Flipsnack and start from a ready-made table of contents template. Editing is easy. Just replace chapter titles, page numbers, and images with your own to create something unique and beautiful.
Here are a few templates for Contents pages. Just click to edit, but don't forget to add the rest of the pages as PDF, or design the rest of the pages with Flipsnack. We have a lot of templates that you can mix and match to get the look that you want for your booklet.
Alternatively, you can edit a table of contents template in Flipsnack, download it as PDF, and then merge it with the rest of your PDF.
Table of contents examples
Take advantage of these table of contents examples from Flipsnack. They have different styles, so it makes it easy for you to pick the best one for you and your needs.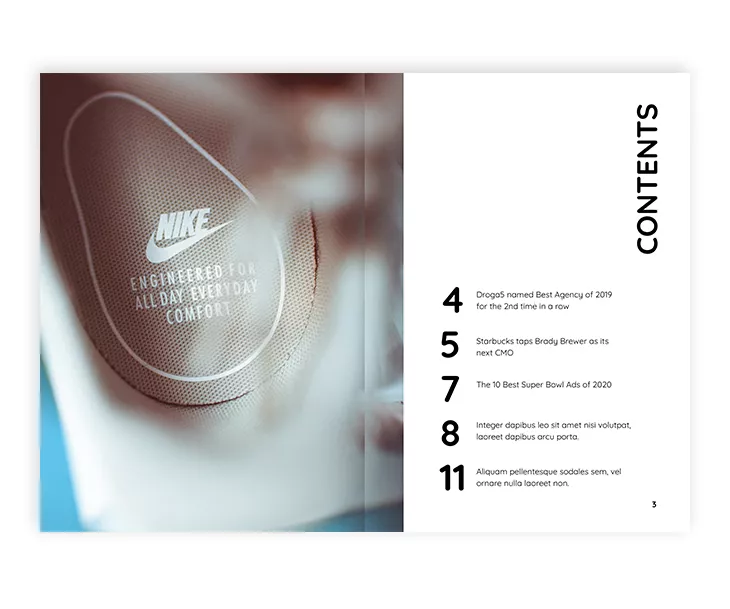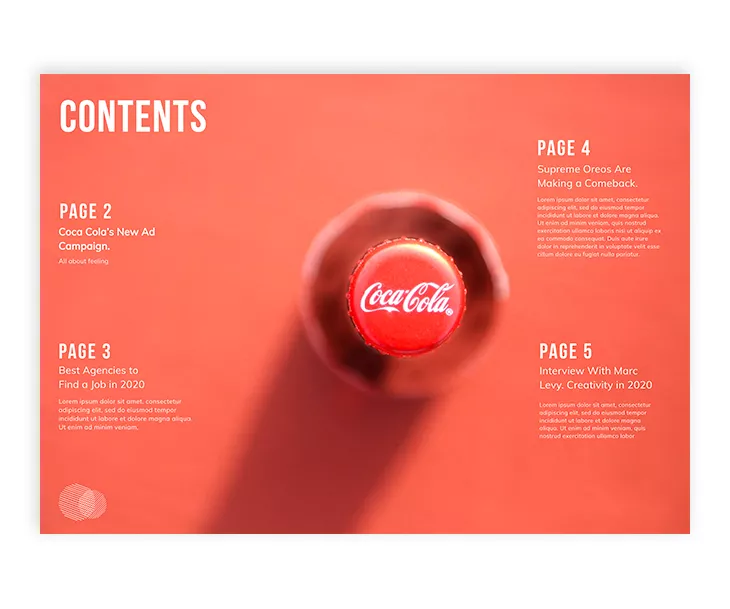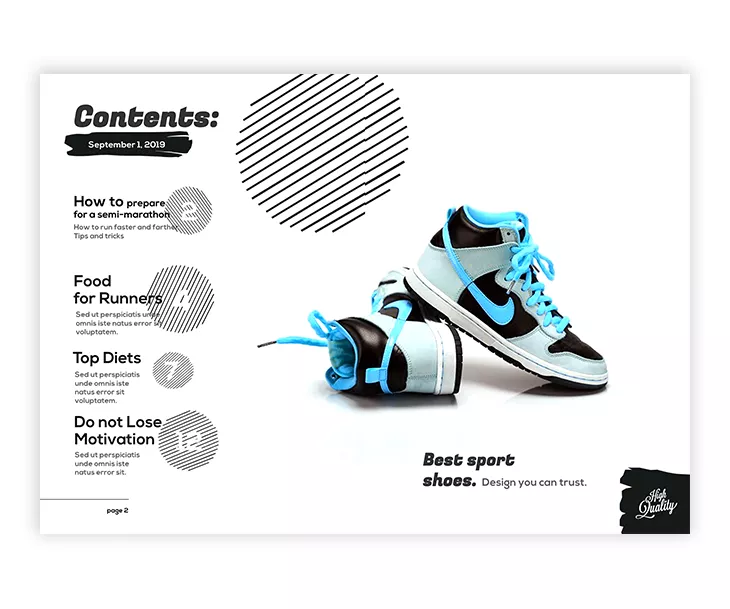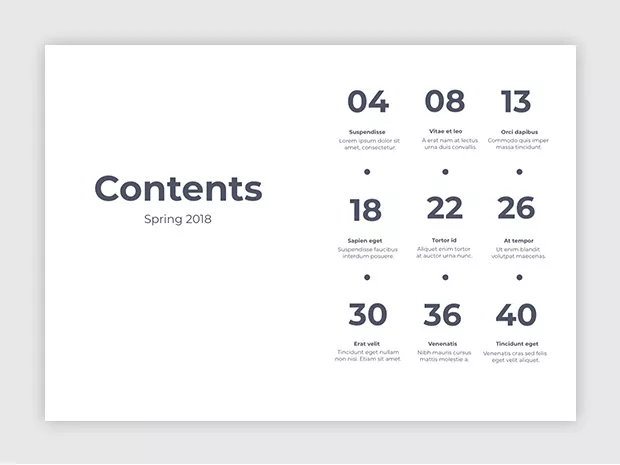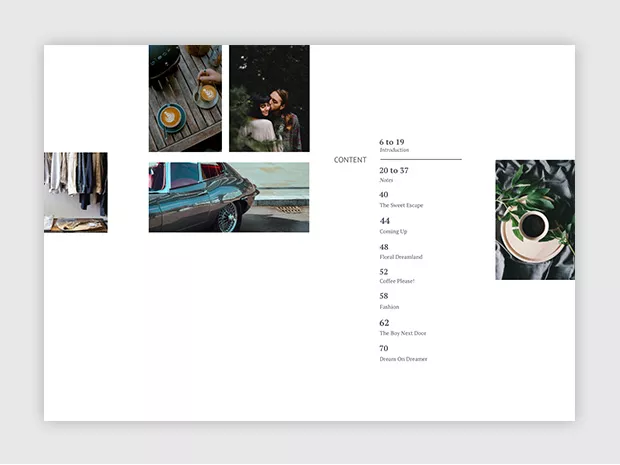 Double page spread design
There's another aspect to take into account when talking about table of contents examples: the double-page spread. In just a few words, it represents two pages treated as one in a publication, with images or text extending across the binding. Its purpose is very simple: it breaks the monotony of a publication and it looks more catchy for the readers. Check out this article if you want to explore more about this subject.
How to add internal links in your table of contents
We recommend adding some internal links over your table of contents items and pages. It will make it very easy for people to find a chapter or a magazine article, by just clicking on the title/ page number in the table of contents.
If you'd like to use Flipsnack for adding internal links, follow the instructions below.
The easiest way to add internal links to your page of contents is to upload your magazine PDF to flipsnack.com or, you can design it in Flipsnack.
In the editor, there's a "Links" option on the left toolbar. Select Hyperlink and then drag it and resize it to cover one item in your Contents page.
On the toolbar above the page, set the action to "Go to page" and enter the page number. You can also change the color of the outline and the transparency from the same toolbar.
Repeat these actions for all elements from your table of contents.
Not only will you have a marvelous table of contents, but your whole publication will look amazing on Flipsnack!
Publishing on your own has become very easy in the past few years. However, you should follow this self-publishing checklist to make sure you don't miss out on anything important!