Tips for a successful modeling portfolio
In this day and age, being 6 feet tall is clearly not enough to become a supermodel. Hard work, determination, and a killer modeling portfolio, on the other hand, will increase your chances of becoming the next Heidi Klum or Karlie Kloss.
When you're just starting out your modeling career, you need modeling agencies and scouts to notice and represent you. And the best way to do just that is through a stunning modeling portfolio book. But when is the right time to invest in one? Should you wait until you meet with scouts and modeling agencies? Or rather be ready to have one when you go to these castings?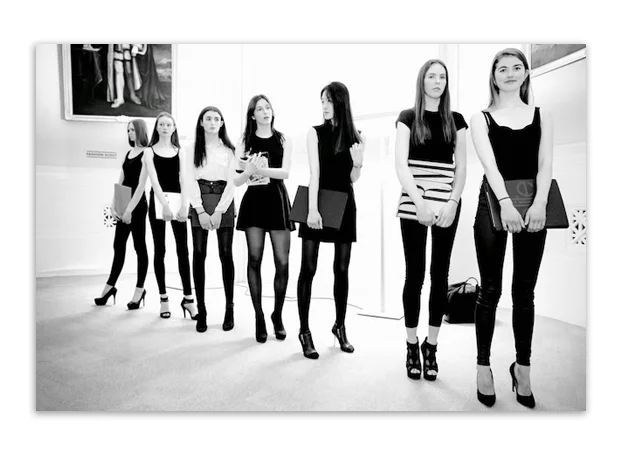 Let's talk more about how to make a modeling portfolio, how it will help your career and you're also in for a treat with some modeling portfolio examples from two famous models. Just keep on reading!
Here's a more in-depth guide on how to build yourself a strong modeling portfolio.
Create a mood board
Putting together a modeling portfolio lookbook to reflect your best features will take a lot of prepping. If you decided to do this on your own, before meeting with agencies, make a creative strategy. Moodboards are a great way to express your vision. The vision on how you'd want your photos and overall portfolio to look like. 
Keep in mind that a professional modeling book is an investment. It will cost you some time and money but it will also help launch your career and land you jobs. Think of what kind of model you'd like to be and what projects you'd want to work on.
Types of snapshots to include in your modeling portfolio:
A beauty shot

where you keep makeup to the minimum and let the camera focus on your natural features). 

A full-length body snapshot. It will be useful for future clients to see your body type and proportions.
A commercial snapshot. You will probably be given the chance of casting for commercials, therefore it makes total sense to include a commercial snapshot in your modeling portfolio book.
Editorial snapshot. Vogue magazine's cover is probably every model's biggest dream. The first step to (eventually) get there is with an editorial snapshot. Here's your chance to get a bit more creative. You can show potential clients and agents your ability to move and express yourself in your photos.
Even if you decided to do it on your own before meeting with agents and scouts, the most important tip is to express an emotion. And today, you can easily shoot all your photography on your smartphone. No need for a professional photographer or an expensive camera. Sure, expensive equipment can help with the quality of your shots, but in the end, it's the emotion that matters. Because the entire portfolio book should represent your personality and best features to the fullest.
Useful tips and tricks to help you shoot your digitals and make them look high quality:
Use natural light and a neutral background

Wear casual but form-fitting clothes. Something like a pair of jeans and a white t-shirt. Perhaps wear a pair of high heels in one or two snapshots. Avoid over accessorizing.
Do not use Photoshop to alter your images. Let your natural beauty shine through.
Use minimum to no makeup at all.
However, if an agency is already interested in you and is willing to sign you a deal, they will most likely book you a professional photo shoot. This means hairstylist, makeup artist, a professional photographer, and stylist. So, you don't have to get stressed with the concept of the shoot since these guys are professionals and know exactly what they do. Beware of the hidden cost of a professional photo shoot, though. Always pay attention to the modeling contracts you are signing!

But if you already got a professional shoot, here are some posing tips you may want to try. When posing for the camera, make sure you go for different angles. Perhaps your left profile looks better than your right one. Also, make sure you include a variety of styles: business, sporty, casual. Different face expressions. A commercial or more artistic type of posing. It's all about the different types of clients you will go to castings for.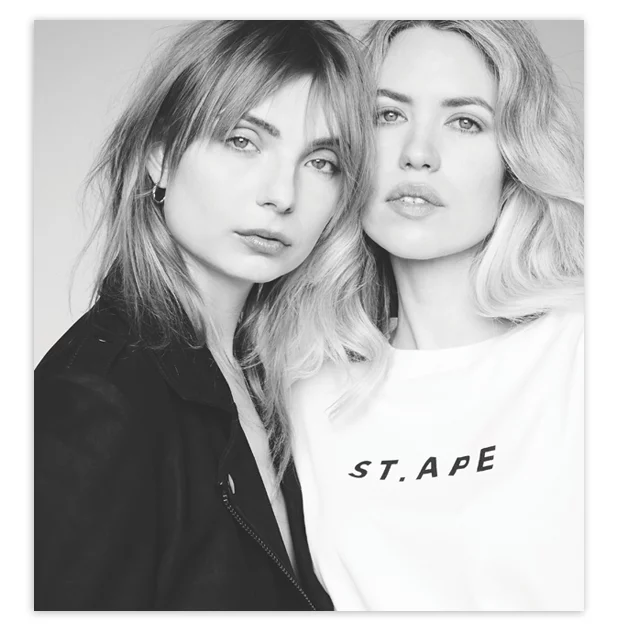 Try to make an informed decision on what type of modeling you want to pursue before shaping your modeling portfolio book. For example, if you think you're more the commercial type, then you would want to have more smiling shots in your portfolio. Either way, after you meet with an agency, they will most likely put you into a more well-defined category and send you to all sorts of castings suitable for you.
How to make a modeling portfolio online
When it comes to modeling in 2019, you need to be realistic about the stereotypes that are still a big part of the modeling industry. Even if the trend is moving towards social inclusion as we see more and more diverse catwalks with models that don't fit the old 90-60-90 measurements. But, not all brands do this and still, the majority will still cast the young, tall, skinny type of model.
As I previously mentioned, being a successful model in 2019 means more than just another pretty face. It seems like many clients take a thorough look over your social media accounts before taking the decision to work with you. Social media presence is a big part of the deal. And it makes total sense. Just think about what all these big brands want besides sales – exposure and awareness. Karlie Kloss, for example, is one of the biggest supermodels right now. With over 7,8 million followers on Instagram and 700k subscribers on Youtube, she's sealed a contract with Adidas for quite a few seasons now.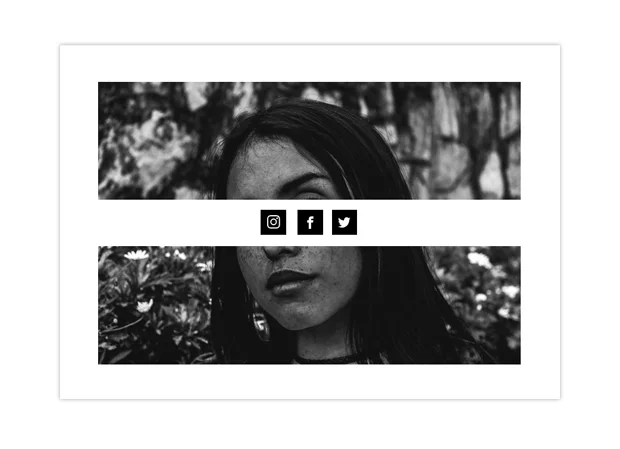 In some way, you may consider your social media presence as an extension of your modeling portfolio. In some cases, you can even add social media buttons right on your portfolio to link others to your profiles. Social media gives you the perfect platform to show your personality through snapshots that didn't make the cut in your portfolio.
Besides high-class photography, you must think of all the relevant aspects that a client would find useful when going through your portfolio. I would recommend you to share information such as height, clothing size, skin tone, eye, hair color, and tattoos.
Ok, since we already talked about social media and how online presence is mandatory if you wish to succeed in this industry, having a strong portfolio website or an online model portfolio book is also a MUST.
Online modeling portfolio templates
While creating your own website from scratch will require hiring professionals, but if feel techy enough, you might have a shot at doing it on your own. Yet a more easy and fast way to make a modeling portfolio book is with Flipsnack. Either you upload it as PDF and only add some enhancements, or make it from scratch with one of the many templates we got.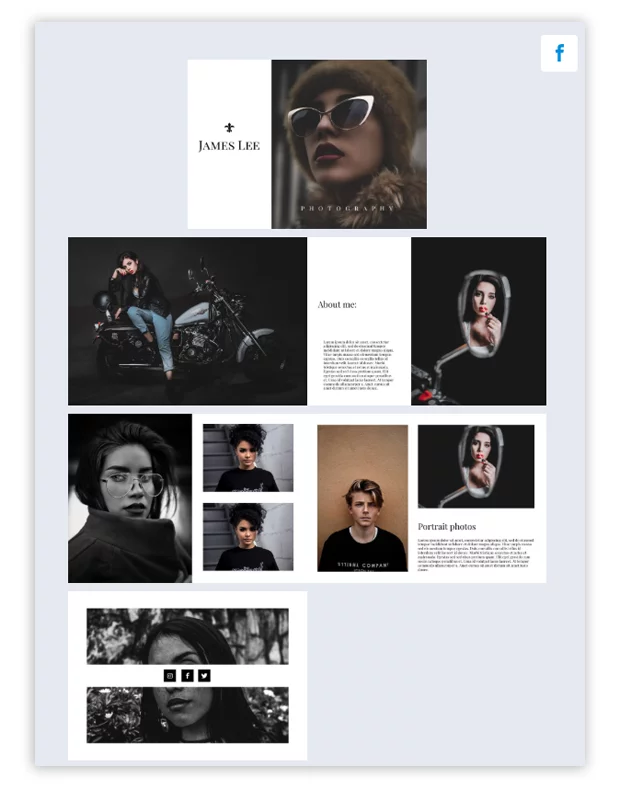 Simply click the image above to edit this modeling portfolio template. 
This classic but modern portfolio design would pique any client's interest. You can easily customize the colors, fonts, and graphics to match your photography. Well, guess what?! There is more where this template came from. Flipsnack's got hundreds of templates that you can edit and make your own with just a few clicks.
The end result can be a professional looking portfolio that you can easily share with anyone, via email or social media.
However, when going to castings, you will need a printed version of your modeling portfolio. So make sure your design is on point so that you can print it in high resolution. Usually, a printed portfolio should be 8" x 10", 8.5 x 11 or 9×12.
TIP: Make sure to update your portfolio at least once a year! As you'll start going to a lot of photo shoots, you'll get better and more comfortable at this. So you'll have more diverse snapshots to include in your portfolio book.

Examples of gorgeous and creative modeling portfolios:
Since I talked about Karlie Kloss throughout this article, it only makes sense to see how her website looks like.
Designed on Wix (she appears in one of their video ads) her website is pretty basic. Karlie uses it as a platform to share more of her modeling projects. Or other types of work she's involved in such as Kode with Klossy, her initiative that helps women learn how to code.
And she really doesn't need to add much on her website, really. She surely needs no introduction.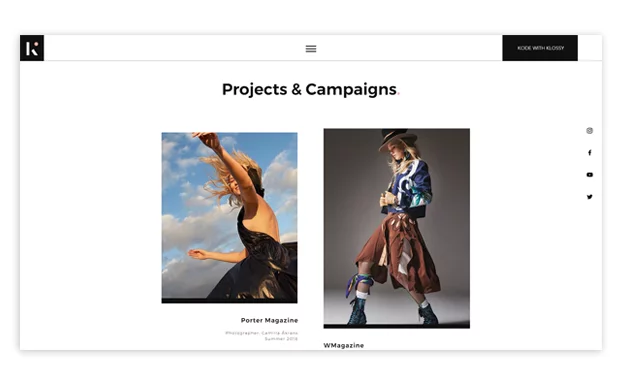 Usually, when a model signs a contract with a big modeling agency, her/his portfolio is hosted on the agency's website. Romee Strijd's portfolio is hosted on IMG models website.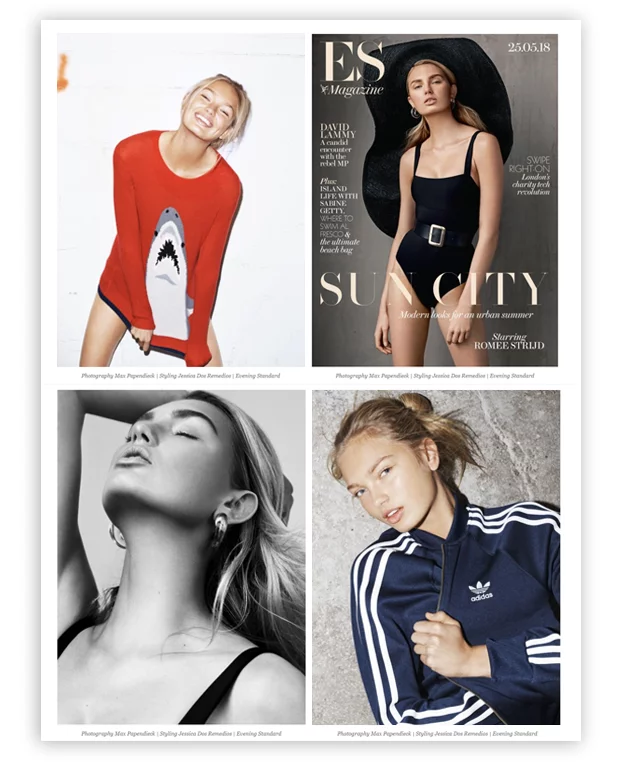 Just an example of how signing with a modeling agency changes everything. As they get to be in charge of your management, this including modeling portfolio, castings and even social media presence.
You made it!
You're now a fully equipped model, ready for take off! Your biggest priority  is to get your modeling portfolio in front of agencies and clients and land modeling jobs. The importance of a good model portfolio book is vital as it will help you launch straight on the catwalk. However, there is much more to being successful in this industry. But having a killer modeling portfolio book or fashion lookbook is a good starting point.