Back to school 2020: School flyer design ideas
Who would've thought that returning to school in 2020 will look completely different compared to the other years? The coronavirus pandemic has forever changed the educational system. Many schools remain close and choose to continue with online learning, whereas other schools feel bold enough to adapt to the new changes and open their gates to hundreds of learners.
Regardless of the category to which your school belongs, one thing's for sure: it's pretty difficult to be a teacher during these harsh times. You have to completely change your teaching style and your way of approaching your students. But do you know what hasn't changed even if it's pandemic? The way of making school announcements. School flyers will always be the best option to communicate with the entire school. You can both share them online or offline, so it's basically still one of the greatest communication tools nowadays.

Today's article will teach you how to make eye-catching school flyers that attract both teachers and students and will also give you some school flyer design ideas for 2020 but not only. Make sure to also take advantage of Flipsnack's free, professional school flyer templates that are fully customizable. But enough with the introductions. Keep on reading this article to get prepared as well as possible for this school year. Don't forget to also share this article with other teachers, it might prove helpful for them, as well.
First thing first…
How to create school flyers for any event?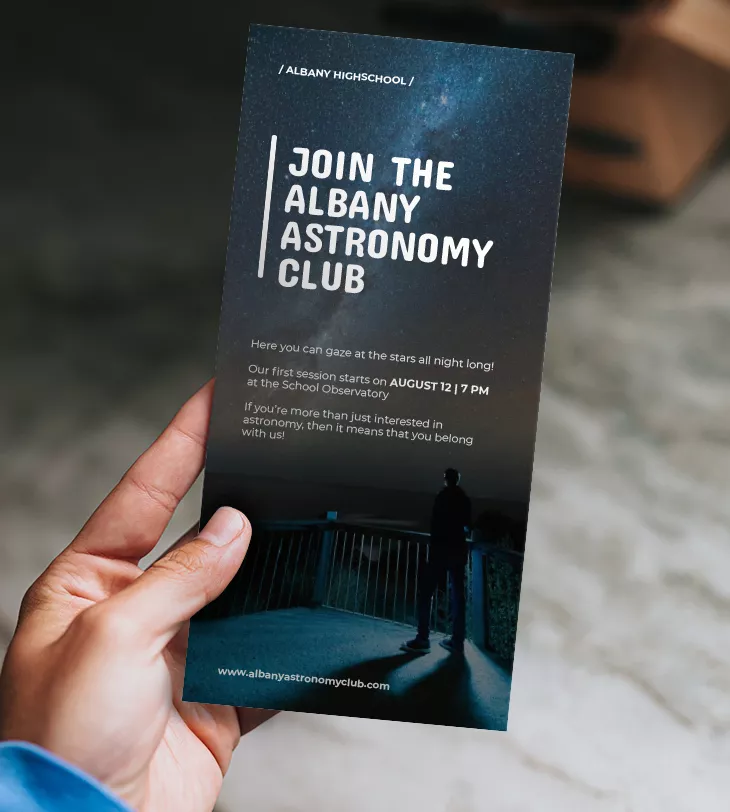 Let's imagine this scenario. Your school's principal asked you to create a school flyer that announces the next school karaoke night. Or the following school fundraising event that'll take place. In the beginning, it might seem an easy and fun task to do. But if you've never done this before, you might feel a bit confused and overwhelmed.
Don't worry too much about this, with the right tools and some tips and tricks, you could create any kind of school flyer design. All you have to do is to choose a school flyer template from our vast collection (we'll talk more about this a bit later) and follow these simple steps:
Always go for bold and clear messages
Embrace some vibrant colors
Keep your school flyer design simple and minimalistic
Highlight the important information
Onto the first step:
1. Always go for bold and clear messages
Let's put it bluntly from the start: children don't have much patience to read boring and long flyers. That's why you should make your message as clear and straightforward as possible. Don't go for never-ending introductions, get directly to the point and make it catchy.
But pay attention to the way you're expressing your message. The bigger the font, the easier it will be for students to read it and notice it. Start with a size 54 and adjust it if necessary. Make it bold and easily readable. Opt for Arial or Times New Roman.
Going for a more handwritten vibe? Use Amatic SC, as the headline of this school newsletter template you can fully edit and make it a school flyer within minutes. All in Flipsnack's Design Studio.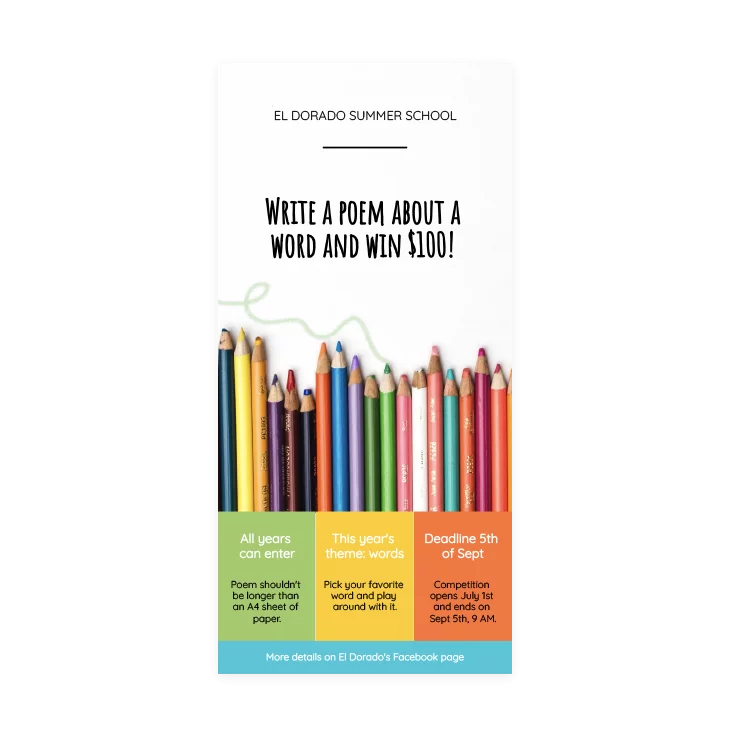 Keep your sentences short and succinct. Also, don't forget to create some catchy headlines and place them in the top center of the page. Words like "free", "amazing", "fun" or "entertaining" will always get someone's attention.
If you're advertising a contest, let's say a poetry competition, make sure you build some hype around it through a catchy headline. But don't forget the call to action. After all, you want kids to submit an entry and take part in your competition.
Let's say we edited this school newsletter above with the poetry competition theme. A headline and a CTA that you can successfully use in this case would be:
"Write a poem about a word and win $100!"
CTA: Free entry
2. Embrace some vibrant colors
Don't be afraid to make your school flyer design colorful and bright. These kinds of flyers are easily noticeable, even from across a room. Keep in mind who your target audience is. Always. So, if you're in charge of creating a school flyer design for kindergarten, primary school and even high school, don't be afraid to use color. Vibrant colors usually make a design look more jolly and lively.
If your school has a very well established brand, you know what that means. You must only use those colors, so make sure to integrate every element of your school's brand when putting together your school flyer design. If this is not the case, you have total freedom of choice. Choose a representative color for your school/university and then stay in the same color family or temperature (warm or cool).
Consistency before everything! For instance, if you're choosing a yellow background, then also opt for lemon or goldrush to complement the background. Or, why not, you could also use some contrast to reinforce your message. Most importantly, the colors you're using, fonts, images, and so on, must be in true harmony with the message you're trying to send out. And with the school you're representing.
Let's give a classical school flyer design example. Everyone here knows about Harvard, one of the most prestigious schools in the world. Here's a flyer advertising The Institute for World Literature event that takes place annually.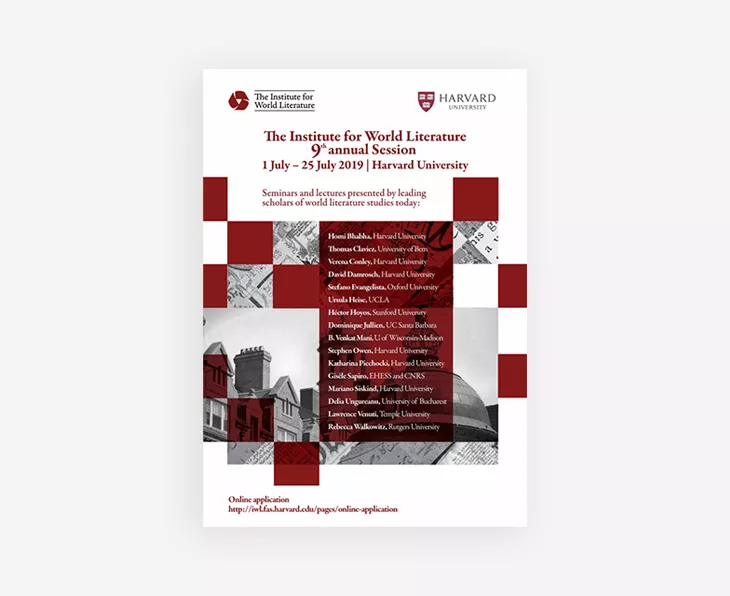 It fully respects the brand: from colors to fonts and text styles. With images representing the building, in dark and light grey.

3. Keep your school flyer design simple and minimalistic
It's no news that a simple and minimalistic design has a great impact on its own. Especially when we're referring to school flyers. Students love to read school announcements when they're presented beautifully, clean, and neat. You don't need to go overboard and stuff the school flyer design with lots of information, shapes, images, or captions. Stick to one key message and then focus on that. Simplistic and minimalistic design can really help to focus attention on what matters.
Here it's a good example in this regard. This school flyer design template is indeed minimalistic. It features only a few colors and fonts, but it's exactly the simplicity that makes it clean and neat. The design part is also fun and entertaining, it gives you the desire to go back to school. Feel free to edit it for your own needs, it doesn't work only for preschoolers, but any type of learners.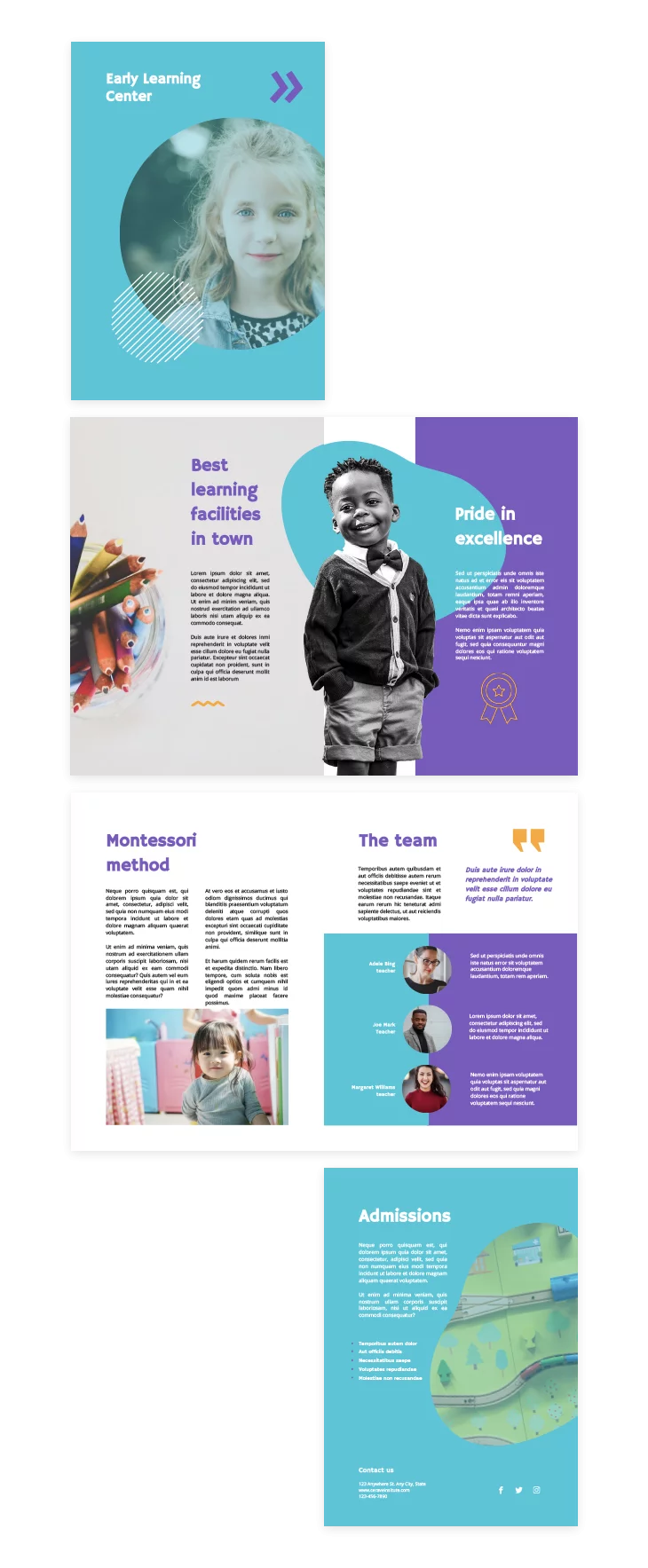 4. Highlight the important information
And one final tip to get the perfect school flyer design…always highlight the important information. Use some bullet points to emphasize the location of the event, date, time and cost of ticket, if necessary. It's also crucial to include a telephone number or an email address. Do this by using a large and bold font.
And since we're talking about important information, it's really useful to insert a large graphic, an image, or even some representative elements for the event. If it's a Halloween party, put some hats, brooms, or pumpkins; if it's a Christmas concert, then insert some snowflakes, a piano, and lots of lights. Place the image or elements at the bottom right or left, allowing the text to flow around them.
The main details of a school flyer event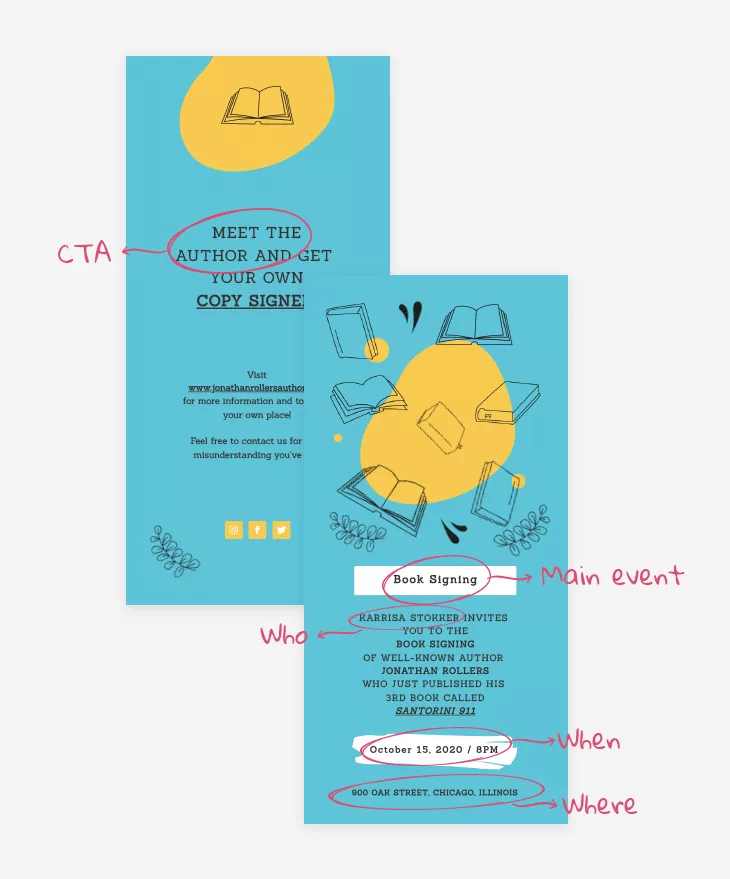 School flyer design ideas to get your inspiration from
We're finally here, the part that you've been waiting for since the beginning. There are a lot of ways in which you can send a message for the entire school, but the perfect one is through catchy and informative flyers. Why? Because they are cost-effective, very impactful and students actually read them. If designed correctly, of course! And did we mention that they also work both online and offline? You can send them online or print them and display the flyers on the school notice board.
It's really important to communicate your students the latest school events and activities as well as possible in these unprecedented times, especially if you're teaching them online. And with the help of a school flyer, you can send them a clear and short message. Even if your school decided to continue with the online learning, this doesn't mean that you can't organize events with your classrooms. There are a lot of activities that children can do online. No matter the occasion or school activity, you'll surely find a template here at us that will suit your needs.

So, what are you waiting for? Are you ready to create your first school flyer design online? Don't worry, we promise to be here throughout the entire process. Start with the beginning: choose a school flyer template from the list that we compiled below and then customize it exactly as you wish. But please don't forget about all the tips and tricks we've discussed a bit earlier. We've told you, with the proper toolkit and some useful pieces of advice, anyone can design amazing school flyers!
Movie Night School Flyer Design Template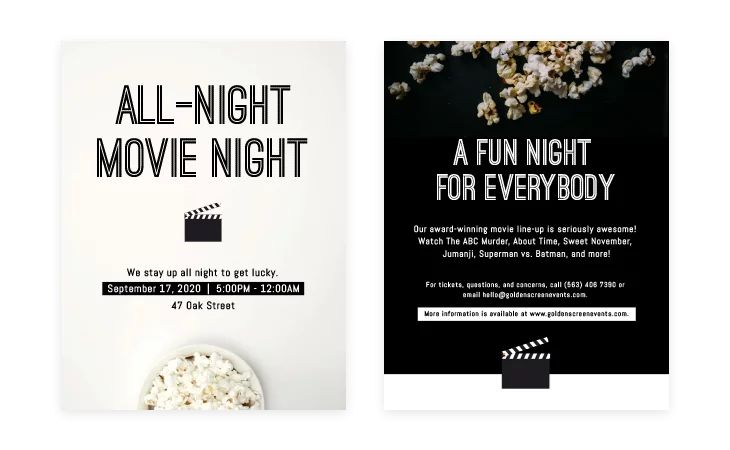 Schools have just started and it's a good idea for your students to celebrate the reunion with their best mates. And what a better way than to throw a movie night party? Even if it's going to be in a smaller group and with some restrictions, the kids could still have fun. Grab the popcorn, bring some movies, rent the school's sports hall, and the most important thing, send this movie night event flyer template to your students! This flyer is fully customizable. For a quick edit, simply change the date, add a new location and that's it. You will have the perfect movie night flyer in a minute.
Illustrated Talent Show Program Template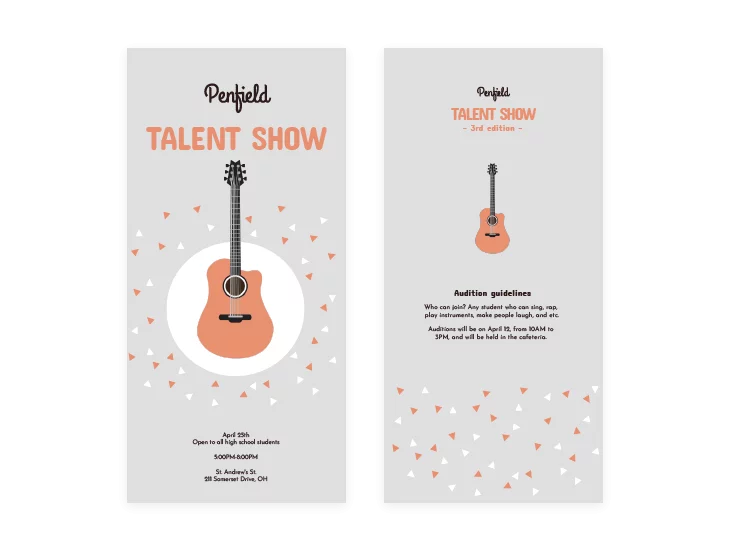 If you're going to organize a talent show at your school, we promise you, your students will consider you the best teacher ever! Who said that if it's a coronavirus, kids can't show off their talents? Grab this school flyer design template from us and customize it as you wish. This template is perfect for any talent show of any size! Add a catchy headline, keep it simple and minimalistic, add some crazy fonts and you're ready to send this school flyer design to your students. Or, you can print it and add it to the school's notice board. Who knows? You could discover the next Johnny Deep or Michael Jackson!
Fundraiser Event Flyer Template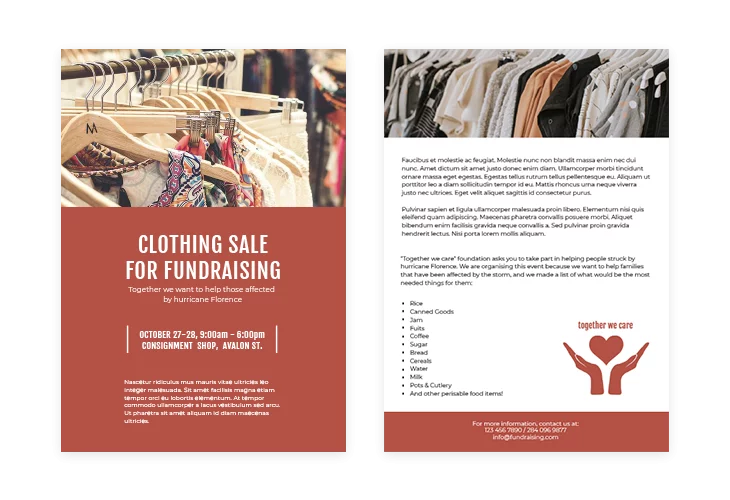 And since we were talking about fundraisings earlier, it's a good idea to teach your students what kindness and compassion are. No matter how much History, Biology, or Math they learn, the most valuable lesson in life is the lesson of being human. There's no better feeling in the whole world than to help the needy people around you.
Organize a clothing sale fundraiser, a car wash fundraiser, a food sale fundraiser…anything that you want that will make your students eager to get involved in helping others. This free fundraiser event flyer template from Flipsnack has bright colors, cool fonts, and covers a lot of information. Customize it to your needs in a short time and then share this school flyer design online with your students.
Scary Campfire Stories Flyer Template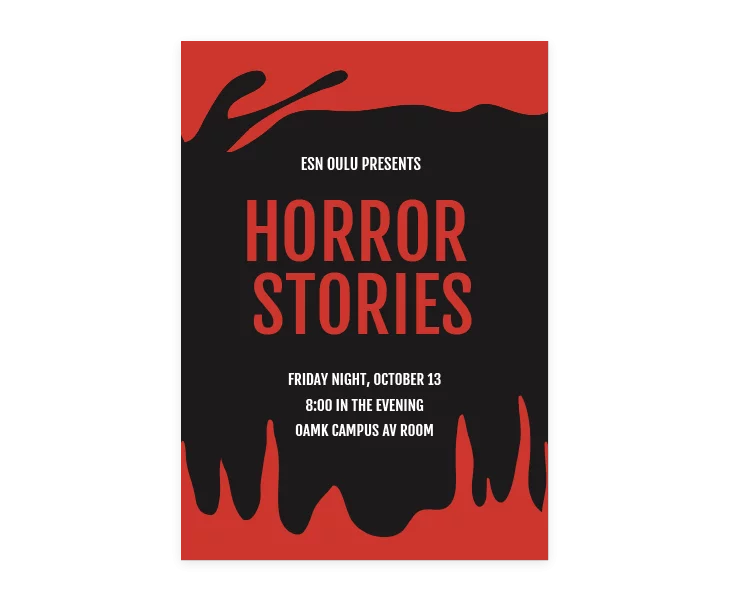 We bet every child liked to gather with their friends around the fire on a late summer night and tell some spooky stories. It's probably a nice memory that everyone has. If you're trying to make your students happy, then you should organize such a night! Yes, we know, it's pretty difficult to do this considering the harsh times, but who said that it has to be outdoors? Children could also tell the stories online, in a zoom meeting. They're still together, bonding with each other, and this is definitely everything that really matters.
With the help of this scary stories flyer template from us, you could open a world full of adventures for the little ones and awaken the storytelling talent in them. Edit this template to suit your needs and then share it with your students. Let the spooky night begin! Your students will have so much fun, you'll see.
Thanksgiving School Flyer Design Template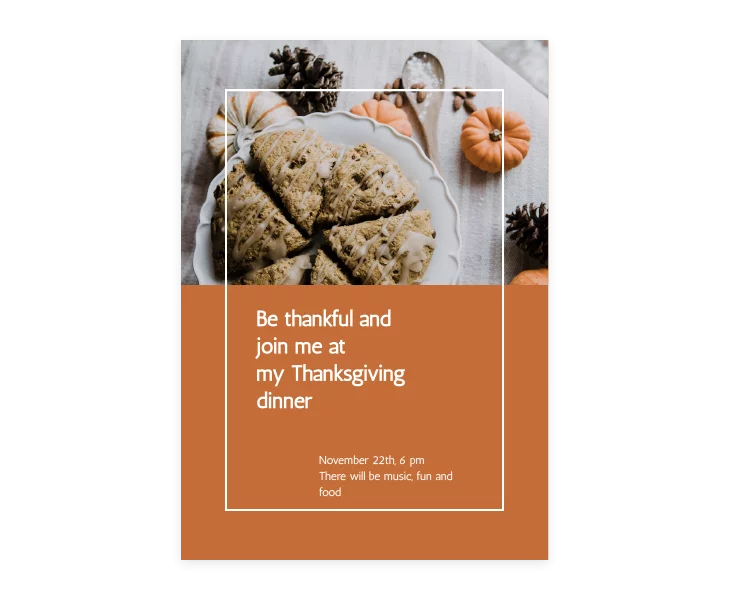 School has just started, but you know that time goes by really fast and in a blink of an eye it's autumn and you have to get prepared for Thanksgiving. Even if it has been a rough year, filled with unfortunate events for many people, there are still some things we can be thankful for such as health, family, friends, and food. This year, celebrate a bit different this special holiday. Invite all your students to a small yard Thanksgiving party where you can eat, drink, and share beautiful experiences of this year. After all, what matters is to always count our blessings and be thankful for each day!
Personalize this Thanksgiving school flyer design from Flipsnack exactly as you desire. Our editor allows you to make any changes you want and add your fonts, images, and text. Plugin your information, add some vivid colors, and let the party begin! Share this flyer with your students online, or print it and distribute it in their classrooms.
Witch Halloween Party Invitation Template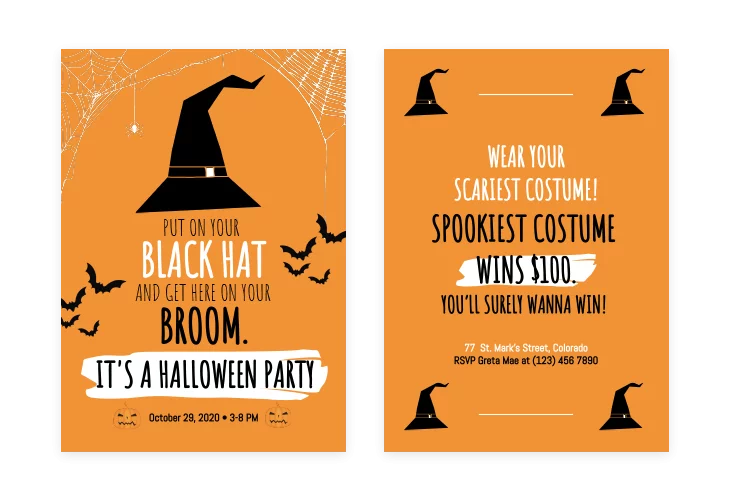 Halloween will be here soon and you know what this means, right? Costume-themed parties! It's a tradition all schools preserve every year. Even if this year comes with some restrictions, you can still organize a Halloween party for your students. They can still dress up as their favorite characters and have some fun while chatting with their classmates online.
All you need to do is to edit this Halloween school flyer design from here exactly as you need. Make it spooky, yet funny, use some bright colors, stick to the key message, add some wicked elements such as bats, brooms, pumpkins, and you're done. Just follow the tips and tricks that we've discussed earlier. Send this flyer to everyone you want to invite, or print it and display it on your school's notice board.
Christmas Concert School Flyer Design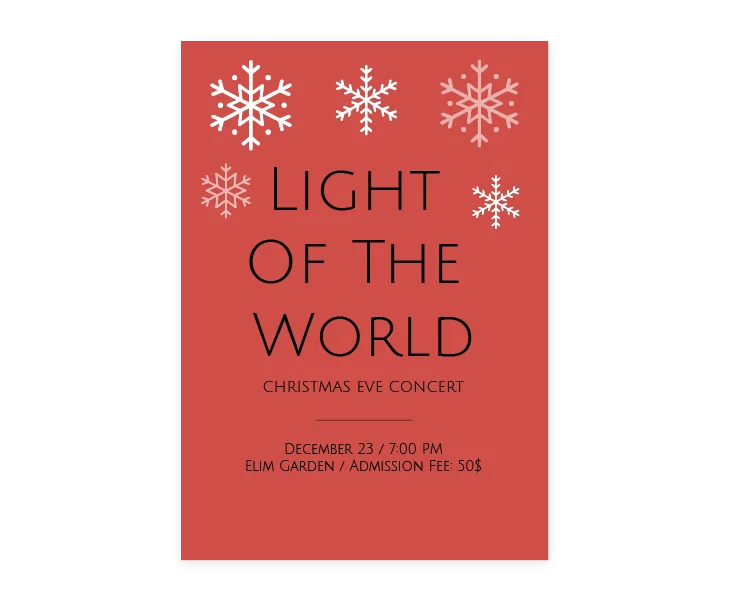 Once the Thanksgiving and Halloween parties are over, you need to prepare for the next one: Christmas! It's the most wonderful time of the year, so make sure your students celebrate it properly. What's more beautiful than gathering around the fireplace, singing carols, and waiting for Santa Claus? All students and teachers together, like a big happy family. But there's also the online version of this party if the pandemic doesn't approve the physical meeting. Just bring your hot tea, light your Christmas tree, open the zoom conference, and start singing carols with your school. Beautiful, right?
And to make it even perfect, choose this Christmas school flyer design and personalize it in your school's style. Add some representative colors, write catchy headlines, and insert some winter elements. Then highlight the important details and send this flyer to both students and teachers. Light up the world together!
Red New Year Invitation Template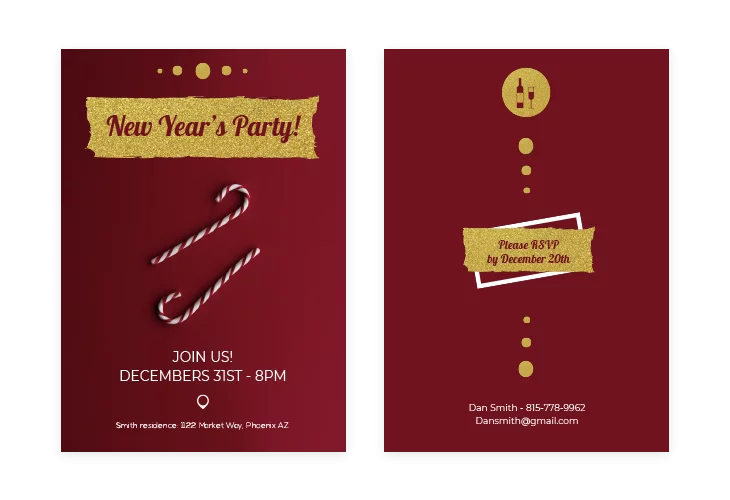 We know it seems far away 'till 2021, but we promise you that it will be here more than you imagine. It's a good opportunity to celebrate the turn of the new year together with some people from your school. It has been a tough year and you deserve to party together. Even though there are going to be some restrictions and only a small group of students and teachers, you can still party and have fun. Arrange the Sports Hall, order some food, make a punch and prepare for a long and entertaining night.
Make it even more personal and customize a New Year school flyer design for your guests. Add your details, upload some photos, add your fonts and colors and you're ready to send it for print. Or, share it online. Cheers to an extraordinary New Year. Hopefully, it will be better than the current one.
School Clubs Templates
We bet every school has lots of clubs that are waiting for students to sign up. But what should you do when your students don't seem interested in any of the activities? Invite them to be part of a school club with the help of a catchy school flyer design that will surely impress them. Be it book clubs, science clubs, or even astronomy clubs, we've got school flyer designs for everything and everyone! Just pick what you need from these templates and start editing to your liking.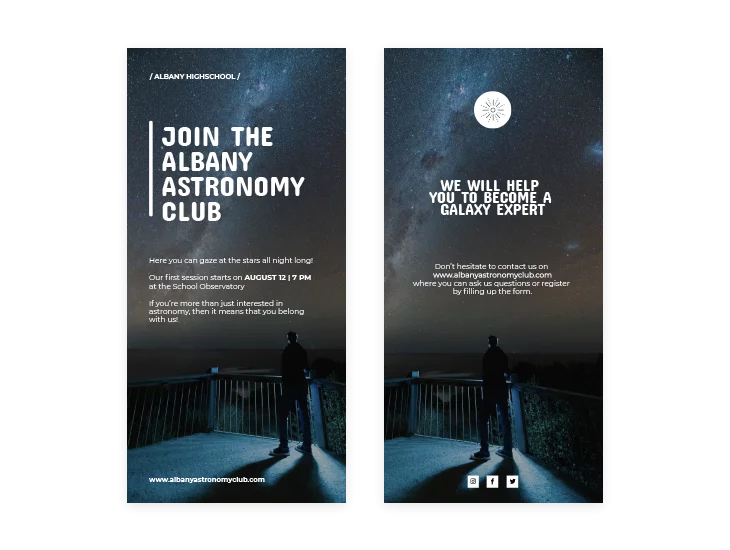 Keep in mind that every school club is different, so pay attention to the content you're writing and to the elements that you're adding. If it's an astronomy or science club, then make sure to insert something about galaxies, planets, test tubes, or chemical elements. If it's a book club, keep in mind to upload images with books or libraries.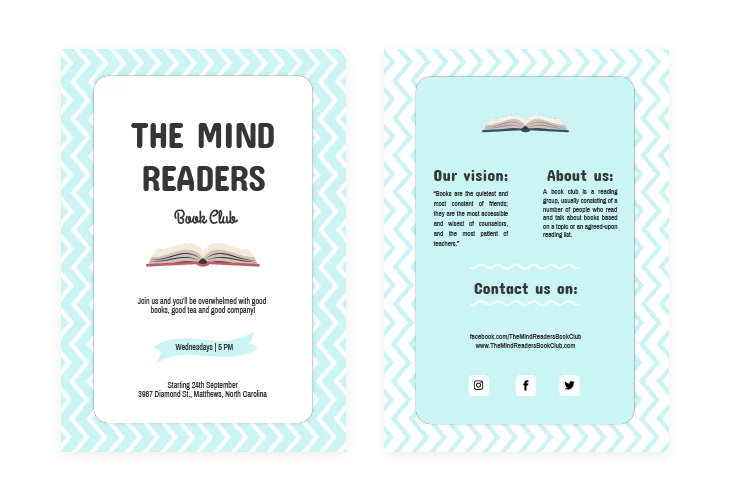 It's easy to customize any template you want. Our editor allows you to make any changes you find necessary. Upload images, fonts, colors, insert the important details and you're done. Share your school flyer design with your students or print it and put it on your school's notice board.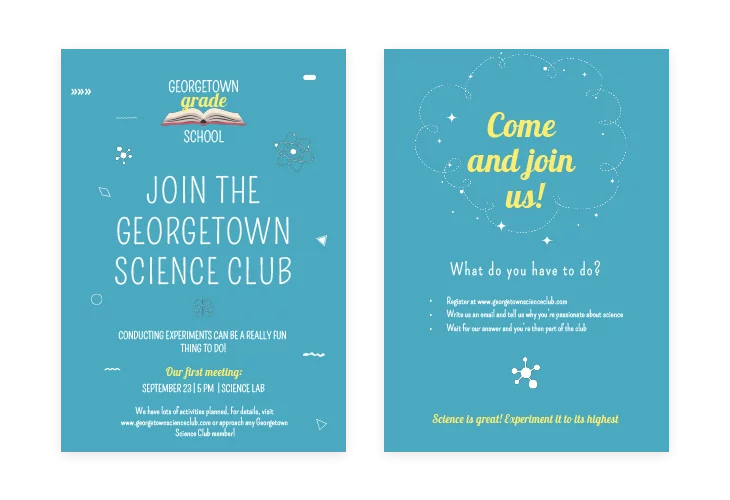 Memorial Day School Flyer Design
It's a crucial thing to know your history and your country's heroes. Since we're little, we learn that Memorial Day is a time when we gather and celebrate the lives that have come before us. This year, teach your students the importance of patriotism and bravery. Organize some activities such as decorating with flags the school, attending parades, and even thanking a veteran for all his courage.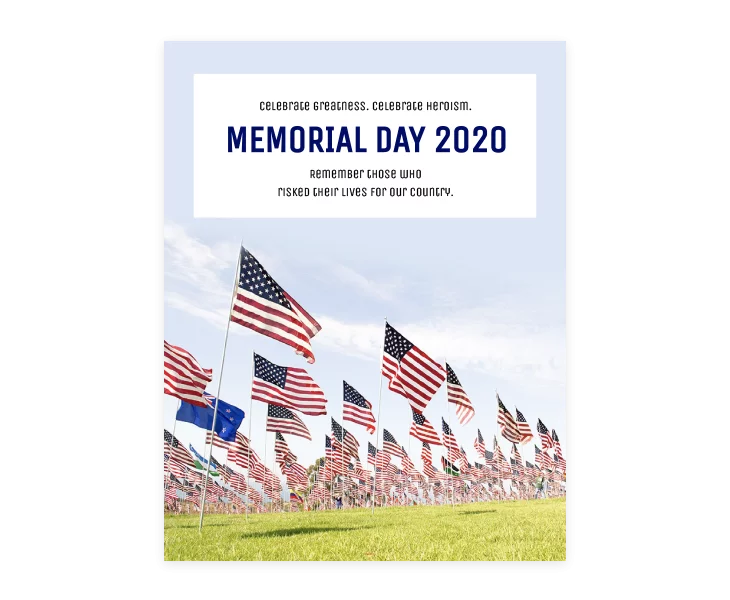 With the help of this memorial day school flyer design, make sure that each child understands why it is essential to celebrate this special day. Add any sort of custom message that you'd like, it could be a quote or something more personal and change the images, colors, and shapes. Share this template with the entire school. Or print it and distribute it to everyone.
Final thoughts
The world of education is still changing due to coronavirus pandemic. But even if we're facing unprecedented times, this doesn't mean that we should change the way we educate our students. We must continue to teach them with passion and kindness, be it online or offline. And we should also take advantage of everything that helps us communicate with our students. The school flyer designs are a great way to keep everyone informed about the school's events or activities. Hopefully, this article was useful enough to introduce every teacher in the world to digital school flyers. Just follow the simple rules, pick your favorite template, and start personalizing. Returning back to school has never been easier!