Tech tools for classroom (2018 update)
Teaching is not what it used to be anymore, when my generation was still in school. All we needed back then were notebooks, pens and teachers. Things have changed radically since and the use of computers in school is the most natural thing now. But you know what? It is for the best, because the new educational tools can help the teacher and the student.
There are so many benefits for including tech tools in your classroom.
Teachers can successfully use them to prepare the lessons in advance. For example, this is how you can use Flipsnack as educational tool in your class:
Make a PDF presentation of your lesson;
Upload it to Flipsnack, and then share it with the class;
Just like that, the lesson is done and students can start learning. At school, students will have time to ask questions and do assignments: research, flipbook presentations, etc.
Tech tools for classrooms
Are you ready to flip your classroom and start using new tech tools? That's great! Here's an extensive list of educational tools, organized into categories:
Audio tools
Skype in the Classroom – One of the most useful tech tools for communicating in classroom, which includes video or audio chat for educators and students.
VoiceThread – Perfect for creating audio, interactive slideshows and presentations. When it comes to useful educational tools for storytelling, this is a great one!
Bookmarking and curating tools
Pocket – Don't have time to read all the interesting content you find online? No worries, use this mobile app when you find something that you want to view or read later. Just save it in Pocket
Collaboration tools
Dropbox – A great way to share and collaborate on documents on a multiple devices.
Google Classroom –  One of the most useful educational tools developed by Google for schools. Its aim is to simplify the process of creating, distributing and calculating grades on assignments in a paperless way. It combines more Google products altogether: Google drive, Google Sheets and Google Calendar for scheduling.
ClassDojo – An educational tool perfect for connecting teachers with students and parents to build amazing classroom communities.
Educational tools for digital storytelling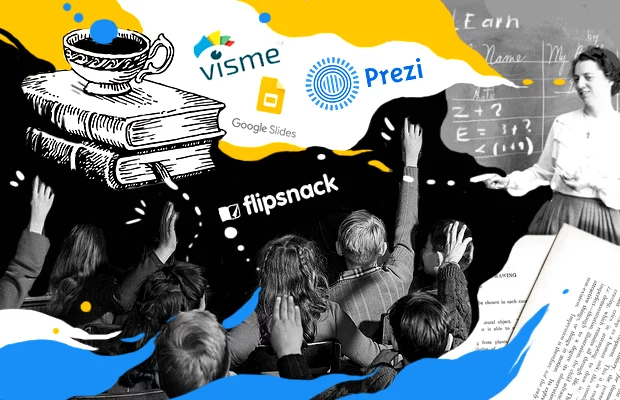 Flipsnack – Everything you need to easily publish captivating online magazines, presentations and portfolios transforming your PDFs into online flipbooks.
Animoto – Create wonderful looking slideshow that includes video, images, music, and more.
Storybird – A fantastic educational tool to help inspire students to read & write through the use of digital storytelling.
Educational tools for infographics
Piktochart – Great tech tool that can help you design beautiful infographics and presentations for the classroom.
Visme – A simple and intuitive educational tool for creating infographics that will transform the way you communicate visually.
Presentation tools
Prezi – When it comes to zooming presentations and useful educational tools, Prezi should definitely be a top choice.
Google Slides – With Google Slides, you can create, edit, collaborate, and present wherever you are. For free.
PresentationTube – A nice website for creating presentations out of PowerPoint slides
Biteable – One of the most efficient tech tools to make video presentations for your classroom.
Word clouds
WordClouds – One of the tech tools that can be used in your class for generating "word clouds" from text that you provide
WordItOut – another easy way for students to create custom word art
When using the right tech tools, studying is fun, modern, and it doesn't feel like a burden! I'm sure you'll find some useful educational tools in here, so check them out!