Create an ebook for your Weebly website
This post is for everyone who has a Weebly website.
There are many types of content that can be posted on a site. Your site. You can have blog articles, photos, images, videos. But that's not all. Sometimes you'll need a different format for your content, like a stylish ebook.
Of course, you could make a PDF and have your clients/ readers download it, and be done with it, but you must know that this is not the ideal format. This is where flipbooks come in.
So choose to be creative today, and make an interactive online booklet or brochure for your website. You can use Flipsnack to make really stylish, beautiful ebooks for free (with limitations). You can make personal or professional portfolios, catalogs, brochures, pricing lists or presentations about anything you like.
All you need is a PDF, JPEGs or JPGs. Upload them and the Flipsnack software will convert them into flipbooks. You can choose to merge them or to keep them separately.
When you're done and you've published, click "embed" and you'll be provided with an embed code. Copy it.
Weebly is a very easy to use website builder and you can add many types of content to your website. Go to your Weebly website and drag and drop "Embed code" there. Next, paste the code in the area where you've dropped the custom HTML area.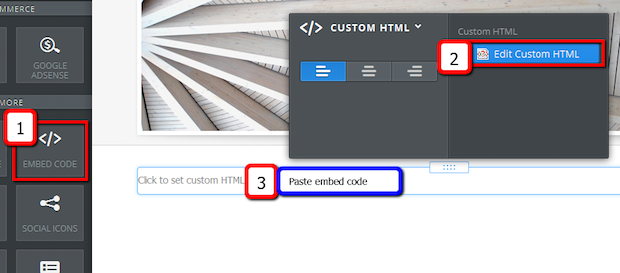 Now your ebook will show up on the page, even though there's a chance that sometimes the code will not display anything in the editor. So what you have to do is you'll want to publish your page to make it public for your readers.
After you embed the flipbook and publish the page, you can proceed to the final step, which is promotion. Don't forget to share your site's URL to promote your ebook on social media and other marketing channels.
Now share the link with all your friends!