Free August 2018 wallpaper calendars
End summer with a bang! Treat yourself with a brand new free August 2018 wallpaper calendar (or two)….and a well deserved holiday. Enjoy this last month of summer to the fullest, go on a boat cruise or just grab a towel and your flip flops and go sip a drink by the pool. What a delight!
This is what our two free August 2018 wallpaper calendars are all about: enjoying this August to the fullest!
This first design is for all the water lovers out there. Grab your floaties, put on your favorite swimsuit and go have a swim. Refresh yourself and all your screens (laptop, or any mobile device) with this august wallpaper calendar. Download it for free!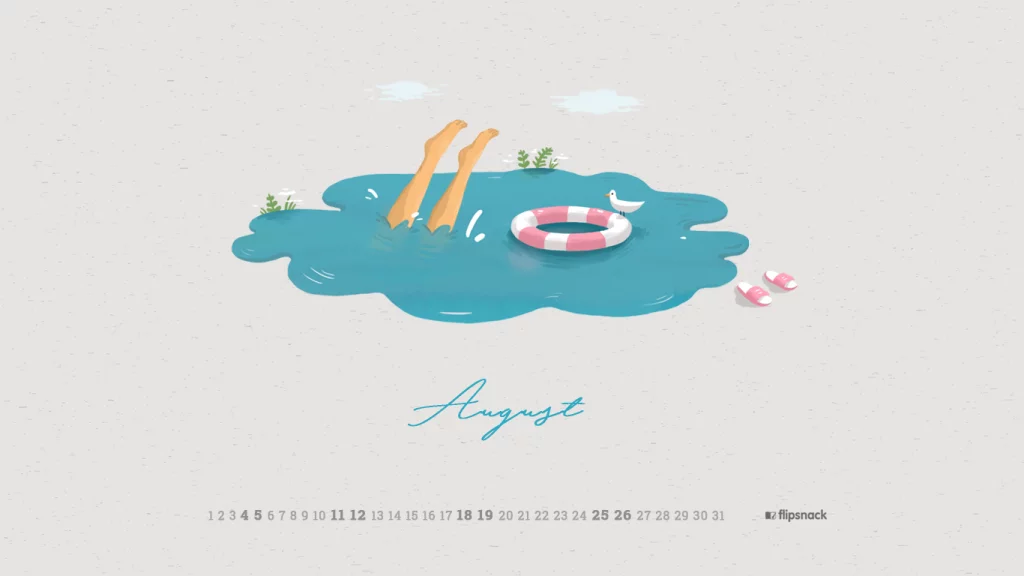 Free download: 1920×1080, 1366×768, 640×1136
Oh, and this one's for all sea lovers. If you're getting ready for your summer holiday, get ready to sail away! Let's just imagine for a second, going on a yacht or boat cruise.
What a better way to enjoy these last days of summer?!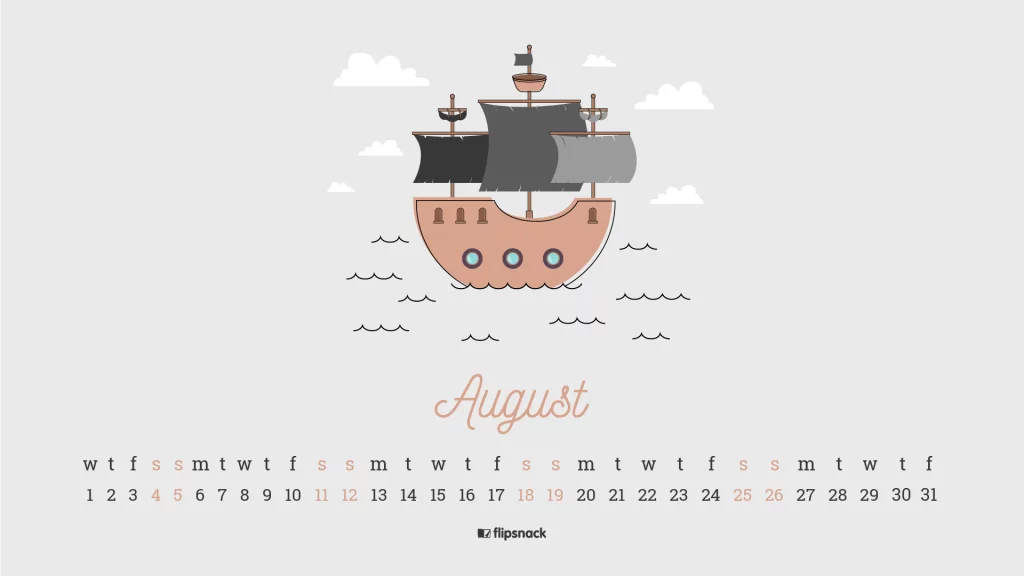 Download calendar: 1920×1080, 1366×768, 640×1136
And whilst you're on holiday, we made sure you'll be thinking about Flispnack each time you look at your screens, either laptop or mobile. But, while we do recommend you download and change your wallpaper, make sure to stay away from all your devices as long as you can. Just take a break and enjoy the sun this August. Grab your smartphone just to take some instagrammable shots and that's it!
What do you say about that? Sounds like a pretty good plan to me.
And, while you're here, how about subscribing to our free wallpaper calendars below? We'll make sure to let you know when we upload new wallpaper calendar designs each month, ready to be downloaded.
Whatever you do this last month of summer, make sure you enjoy yourself to the fullest and download our free August 2018 wallpaper calendars. See you next time!
[wpforms id="46972″ title="true" description="true"]