Free travel brochure template in InDesign
Looking for a travel brochure template to use in a marketing campaign or as a way to preserve your travel memories? No need to look any further! Today we're offering this free brochure template in InDesign that is 100% customizable.
Even though we made this specifically for the travel industry, you can obviously use it in other ways. At the end of the day, it's just a template, so take it and mould it to your needs. Here's how the inside pages look: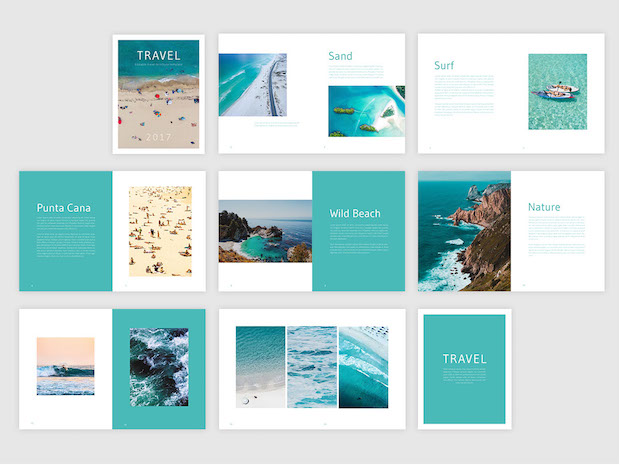 Travel brochure template download package
Here's a list of what you have inside the download package:
2 covers & 7 double spreads which will result in a 16 pages travel brochure. If you need more layouts you can easily duplicate some of these spreads, and that will solve the issue. If you need less you can simply delete some layouts.
Page details: Letter size, Portrait (8.5" x 11")
Fonts: we used Google Fonts which are free, so if you don't have them installed on your computer, you can get them without any additional costs.
Images: free Public Domain photos from Unsplash. You can use them in your brochure if you want, but it would be best to use pictures that depict the travel destinations that you're presenting.
The format the brochure comes in is .indt, the dedicated Adobe InDesign template file extension.
You can use it for more than one project, to save even more time and effort.
Feel free to change the theme color from turquoise to something else that complements your photography. We just thought that this looks awesome with the water colors and we were inspired by it. However, if you're making a travel brochure that is about a city break, mountain trip or a country getaway, you might find that this blueish hue is not the best fit for your theme.
We made this travel brochure template to help you make a good looking design quickly and effortlessly.
What you need:
Our template. Download it with a simple click. Download now
You need to have InDesign installed on your computer and you also need to know how it works, in order to be able to edit this design. However, you don't need to be an expert. Replacing texts and images is not rocket science, so even if you don't master InDesign, I'm pretty sure that you will get the hang of it pretty quickly.
Having the template and the tool, you're set! You just need your own content (photography and texts) to completely transform the brochure template and make it your own!
Make an online travel brochure
When you're done customizing, you should export it as PDF. You can make 2 versions: one for print and one for web. Here's how to export and optimize your InDesign PDF for web.
Next, upload your web PDF on Flipsnack. It's free (though there's a limit of 15 pages / flipbook for free users), it looks amazing and it's a very effective way to present your brochure and share it with your audience. It takes seconds!
This is how it the end result will look like
By using Flipsnack you will get an embed code which you can use to integrate the digital brochure with your website, so people will be able to see your travel offer directly from your site.
Flipsnack extension for Adobe InDesign
Now that you created an awesome travel brochure, importing it into Flipsnack is easier than ever with the new Flipsnack extension for Adobe InDesign!
Yes, that's right! From Adobe Indesign directly into your Flipsnack account.
Read more about the Flipsnack extension for Adobe InDesign and learn how to take full advantage of it. Let us know what you think!