Maximize your profits: 20+ tools for effective PDF sales
Sales, sales, and more sales. That's what every individual or professional content creator wants more of. While many of us may have higher purposes for creating ebooks, or PDF documents, after spending days, months, or even years to finish a manuscript. With so much time spent creating content, the finish line should get us some form of revenue. Still, with so much content available on countless online platforms, finding the right tools to promote your digital content efficiently isn't always easy.
First, we need to consider the complexity of the platform – How much do we need to understand how it works and manage it? Then we need to figure out how much storage they offer – this is usually mentioned on their pricing page. Finally, when our work is done and ready to set live, what's next? Well, we figure out which platform we'll use.
Some of the websites we'll cover in this article promote a platform that can help you from start to finish, while others offer various tools to enhance security, visibility, or desirability for the PDF seller. You can choose to use one or several of these tools. However, be mindful of how you decide not to add unneccesary costs for your organization with the help of a software license manager. It's truly up to you and your needs, but know that any one of these tools is verified and guaranteed to have a positive impact on your sales if used appropriately. Let's find out more about them.
Tools to sell PDFs online
From the many tools available online that facilitate the sale of written digital content, we selected a fair few to help you make an informed decision when it comes to selling PDFs online. So, let's get started and investigate these tools to help you pick the one that fits your marketing needs.
1. FlickRocket
FlickRocket is an online cloud platform that helps you curate and sell PDFs online along with other content through effective marketing tools for your campaigns to increase your sales. Big or small, as a content owner, you can run customizable shops and promote content on any platform and device.
You don't need to understand or know coding to get your shop up and running. Once ready to create a digital shop, use intuitive design features to customize it to your needs. There are predefined themes to choose from or manual designing options on editable HTML/CSS templates. Upload your products, select pricing plans, and plan your marketing strategy.
For different pricing plans that start from $0 and climb to $299 or more per month, you can use their digital software to effectively secure your shop through DRM (Digital Rights Management) protection and manage your Content Delivery Network. Throughout this entire process, depending on your pricing plan, you will be able to use SEO features, affiliate management, sophisticated marketing tools, multiple payment methods, or gateways while their customer support is ready to handle all your needs.
2. Sellfy
This easily customizable online store-building tool answers the question of where to sell PDF files online. If you're looking for a PDF selling platform, then you've come to the right place. With Sellfy, you can create an online store with a few clicks. All you have to do is sign up for one of their plans that start at $19. The products you add can be anything from ebooks to printed t-shirts that Sellfy prints and sends out for you to your clients. Then you customize the store to fit your needs and set it live. It's that simple.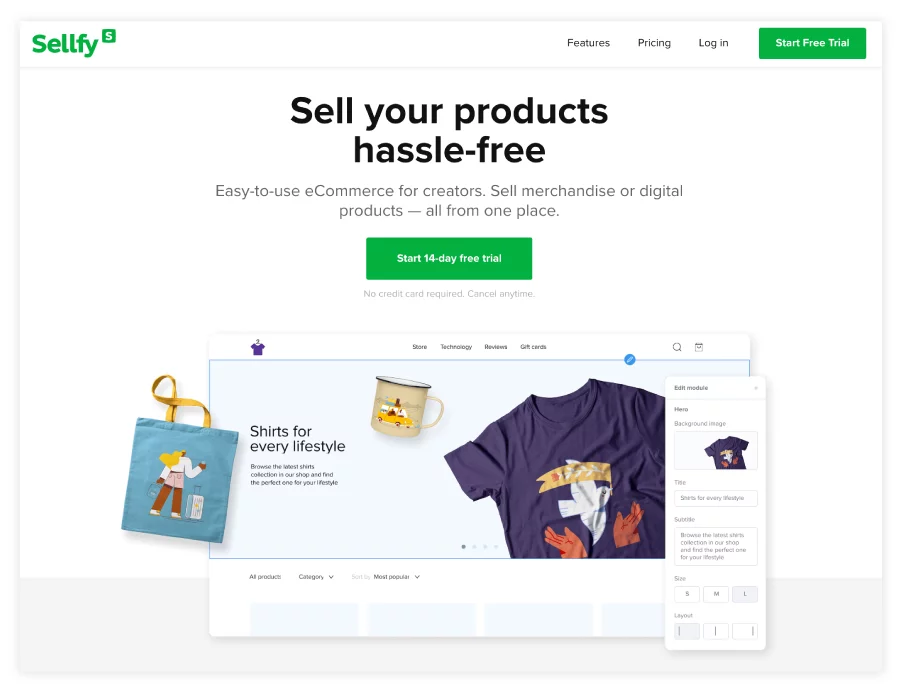 Sellfy also allows creators to use built-in marketing features to help increase sales and your business. The simplicity of this PDF-selling website makes it appealing to creators and online businesses alike by bringing results while being incredibly easy to navigate. You won't need to jump through hoops to understand how your business is going, nor will you need a whole team of marketers to manage it.
When it comes to selling content online, reaching your audience is essential. So, once you've customized and populated your online shop with your content and products, you can promote and sell your products on social media, your own website, or any other platform with a custom storefront. Print-on-demand merch, music, videos, ebooks, or other digital goods you create can become an income-generating passion for your business. Add shopping carts and payment methods, and their world-class security features will keep you and your customers safe.
3. SendOwl
SendOwl provides one of the easiest ways to sell digital and physical products, memberships, and subscriptions to your audience from your already-designed website. As a seller, setting up SendOwl on your website will be a breeze. You simply log in, add your product, its description, price it, and save it. With SendOwl, you'll get multiple to get your product in front of your target audience with just a few clicks.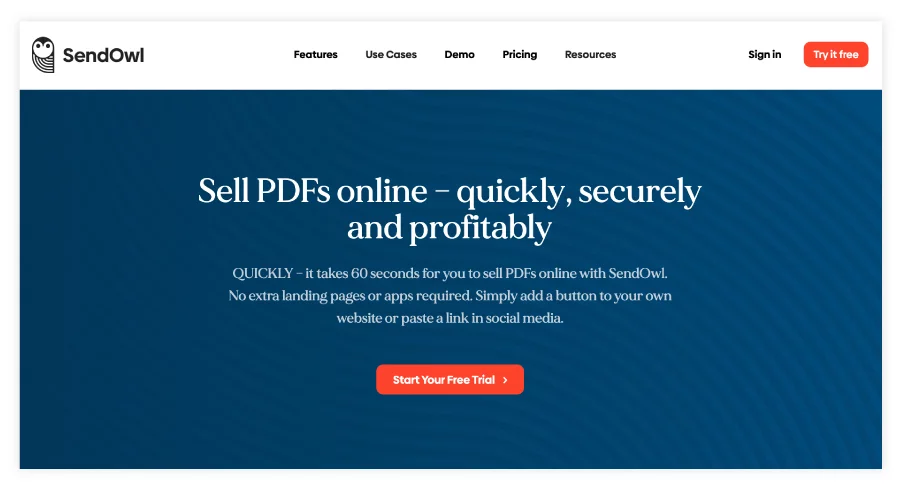 With digital marketing tools, being able to reach your target audience is the main appeal. It doesn't matter what platform you use, as you can easily share it on social media, embed the buy button on your website, and your customers will be able to purchase your digital content with ease. To increase your website's engagement ratio, when customers purchase something from your PDF selling platform, they won't be taken to a separate portal to complete their transaction. A popup will appear on your own website, maintaining engagement with your brand and products even longer.
When it comes to revenue-boosting features, selling PDFs alternatives or other digital products could not be any easier through SendOwl. Depending on your plan, which ranges from $9 to $39 per month, you could use one-click upsells, discount plans, integrated mailing lists, and affiliate programs to increase your revenue. Lastly, for drill-down reporting, a general overview of sales, and various analytics, there isn't a simpler, safer, and more appealing platform to use for your target audience or your business.
4. involve.me
involve.me is an online builder for interactive landing pages, sales funnels, quizzes, and more. Offering a very simple user interface that is 100% no-code, involve.me allows anyone to build highly-converting funnels for selling PDFs online.
You can start a project from scratch or select one of the 250+ templates which are offered in the tool. Each funnel can be fully customized to fit your brand's look and feel. Projects can be connected with up to 5 payment gateways, so you can easily collect payments online for your PDFs.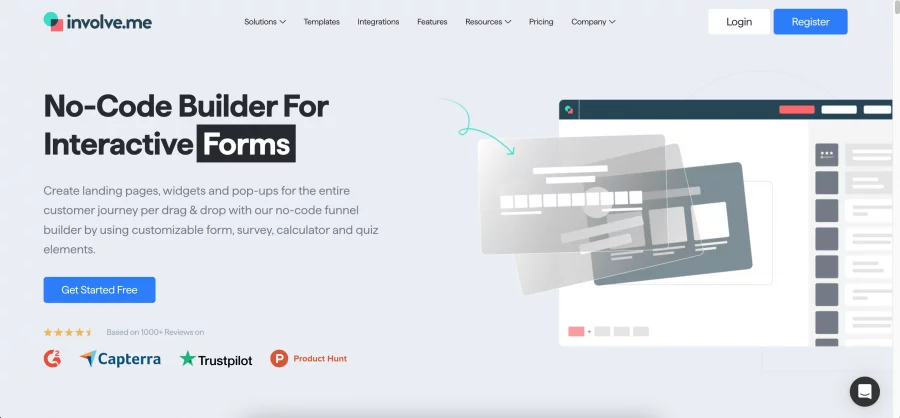 If you wish to go beyond a simple online store and add an interactive element to your selling process, this is the right tool for you. Start with a quiz funnel to understand your audience's needs and then offer the right PDF content according to their answers. Your audience will get the PDF directly to their email at the end of the quiz, but only after paying, of course. When you are done setting up your funnel, you can share it as a link, embed it in your best-performing page or include it as a pop-up for general visitors to your website.
When it comes to pricing plans, the basic plan is free forever. You can also start a 14-day free trial to try our premium features. There are three paid plans, which include: a starter plan (from $19/month), a professional plan (from $49/month), and a business plan (from $149/month).
5. Locklizard
With clients from the IT sector, the government, and NASA, Locklizard's biggest asset is its security feature. As a DRM company, they help you maintain your digital publications safe. Their security features include everything from locking documents to devices that prohibit printing, sharing, and locking them to locations. Talk about digital security. So if you're looking for where to sell PDF files online as securely as possible, you've come to the right place. Sharing is not part of the marketing pitch.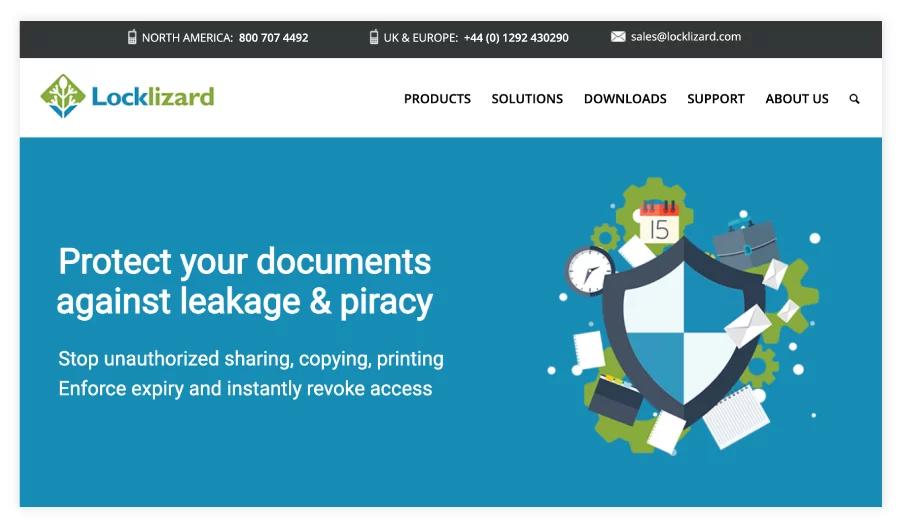 We understand that in marketing, promoting your content and making it available to your customers is a key point in your strategy to increase revenue. But what if those documents are confidential, or maybe you simply want to make it impossible for people to replicate it, essentially rendering piracy irrelevant? Locklizard allows you to do just that.
While their key selling point is security, they actually deliver. Intellectual property protection is enforced through their document security DRM software. This protects against unauthorized use, piracy, and misuse of selling PDF books or other digital documents online. Their plans vary between $500/month to perpetual plans that start from $4995, depending on the type of security measures you want to implement to protect your revenue-generating content.
6. Shopify
Shopify is a worldwide-known e-commerce platform used by millions of entrepreneurs from all over the globe. So, selling PDFs publications should be a breeze with them, right? Even if you turn your PDF into a flipbook you can still see it through them. Well, that's how they wound up on our list. A Shopify store allows creators to sell all sorts of content online, and digital content is no different. It is a product created by someone that someone else wants to own.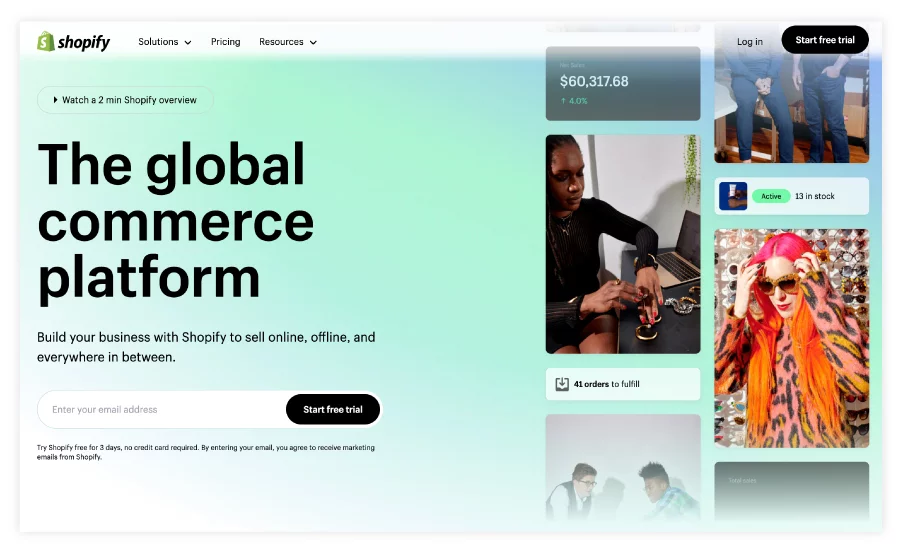 When it comes to any online shop that is not directly on your website, customization and branding are essential features you are looking for. With Shopify, you get to do just that by building an online storefront in an intuitive, drag-and-drop editor – no coding skills required. Let them worry about that. Alternatively, you can choose from their world-class designer templates.
Sell to any buyer, regardless of where they are, engage with them, expand your audience with SEO, social media, and other marketing tools without worrying about all the revenue-generated paperwork. Centralized business operation features bring all the data to one place for you to analyze. Based on what you need and your budget, you can choose plans that range between $39 to $399, but free trials are available if you want to test them out before you commit.
7. LearnWorlds
If you want to sell digital files online, you probably figured by now that there are multiple tools or platforms that facilitate that. The key is to know which one to choose – the one that gives you the features and benefits you need. At LearnWorlds, you set up your online store, upload your digital content as "courses", connect to a payment gateway, and start selling PDFs online.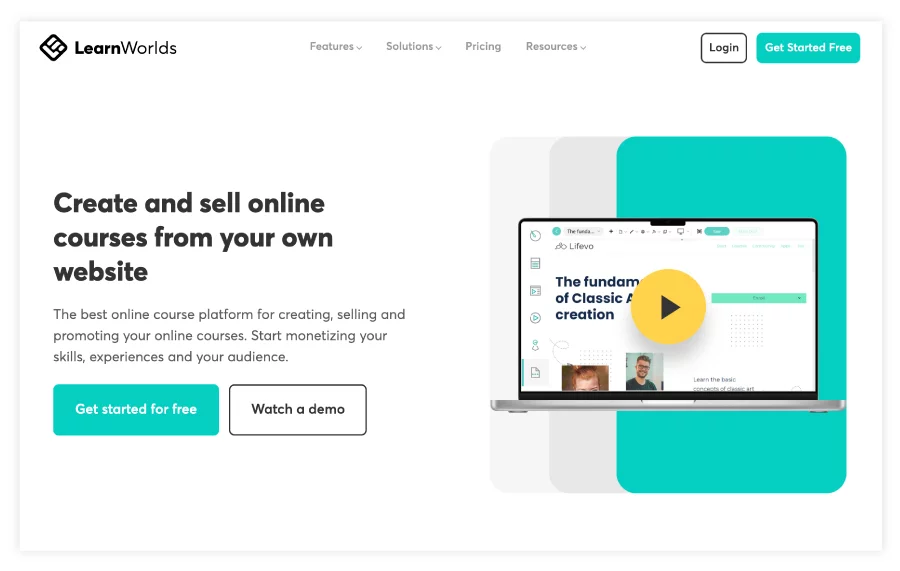 On their website, you'll see the term "course" appearing a lot, but don't let that hinder you. While they do offer assessment and certification options, as well as multiple learning units, you can also use a single activity template for selling PDFs online. Security is ensured through watermarking and stomping, providing unique tags for those wanting to sell PDFs online.
Features like custom domain, multiple payment gateways, and coupons are available for $24/ month, while subscriptions and memberships, and HubSpot integrations become available for $79/month. For $249/month and upwards, you get ample reporting insights, advanced assessments, and tailored pricing options. First, you must figure out what types of PDF documents you want to sell and how to sell PDF books online because they offer multiple choices. You can even sell PDFs online as chapters to a course.
8. Gumroad
Selling content or products online has never been easier than with Gumroad. Almost anything (within legal limits) can be sold through Gumroad. From selling PDF books online to memberships and physician paintings, this easy-to-use platform makes it so that anyone can earn their first dollar online. If there's something you're good at and would like to know how to sell it only, simply start selling.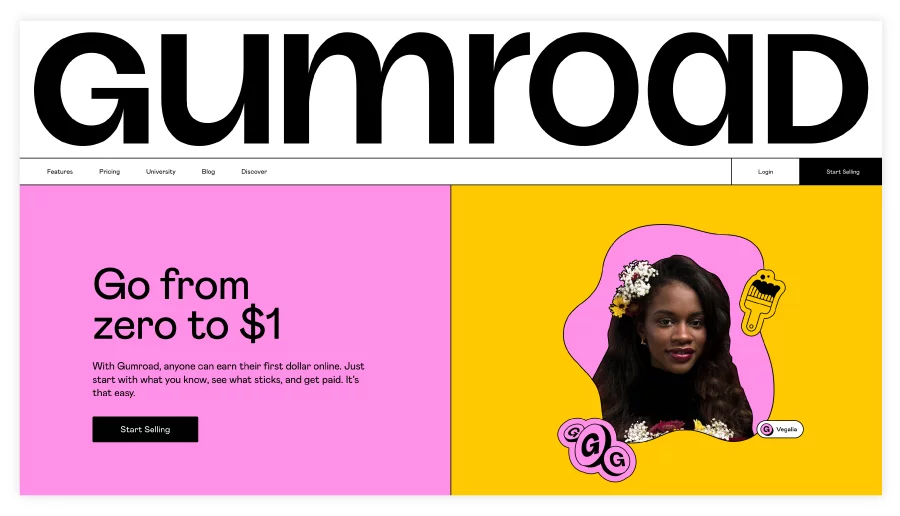 On their platform, you simply open an account, add your product, start selling, get your revenue, and repeat the process. You get your own editable store that can be embedded in your existing account. It takes care of all the payment plans, affiliates, discounts, and price plans, so you can focus on what you like best. Doing what you're good at. With built-in bulk email marketing, multiple payment features for your products, and ample sharing options, Gumroad gives you the tools to reach the people out there that need your product.
Unlike other PDF-selling platforms or e-commerce websites, Gumroad doesn't come with a monthly or yearly plan. The only pricing plan available on their website is the 10% flat. Meaning that from whatever revenue you gain by using their platform, they get 10% of every sale. Depending on your profit, they gain less or more, but when you compare this with royalties, the difference is quite staggering. There are plenty of Gumroad alternatives to choose from though, so don't fork up any cash until you know you've got the best deal possible.
9. Payhip
Many digital creators need platforms that provide the option to sell different types of digital content in one platform. Aside from giving you a platform to sell PDF books online, with Payhip, you can gain revenue from any type of digital download, including ebooks, design assets, music, videos, software, and more.
Digital content is often used for online courses, and here, you can enhance your training materials with rich videos, quizzes, and assignments that will walk your audience through every step of your designed course. Learning how to sell a downloadable PDF is easy as Payhip deals with all the technical aspects of creating your online store. All you have to worry about is customizing your storefront to match your brand and start selling PDF books online along with any other type of digital content.
Their pricing plans only differ based on transaction fees which vary from 5% to none, with the most affordable plan being priced at $0 and their most expensive, the one where they get nothing from your profits, at $99. The fee is monthly. Powerful marketing tools, integrations, and analytics make this platform fitting for any seller that doesn't want to worry about all of that but wants to understand the results of their work.
10. FetchApp
Through FetchApp, you can sell and deliver any downloadable product by using Shopify, PayPal, and WooCommerce. The delivery is automated, without pushing any customer into downloading or installing any app. Since 2007, FetchApp has provided people with a platform for hosting and selling digital products. Whether it's an e-book, software, or music video, if it can be downloaded, it can be sold through FetchApp.
Easy to set up, easy to use, and easy to manage, FetchApp can revolutionize the way you do business by simply taking care of sales without needing you to be connected 24/7. The reliability of their platform makes it ideal for large files, and depending on your type of content, storage can be highly important.
While PDFs are written documents, as a writer, you can rapidly become aware of storage limitations with normal accounts on various platforms. However, with FetchApp, the only difference in prices is determined by your required storage space. So, depending on how much storage space you need to sell PDF files online, that's how much you pay. Their plans range from free for 5 MB of storage to $500 for 150 GB of storage space.
11. Podia
Creatives or artists spend hours on end developing their craft, whichever this may be. Still, as we are referring to those that try to figure out how to sell PDF books online, writing a book isn't easy. It can take years or even decades to take something from the idea that sparked it to the finished version that hooks readers in. Worrying about their marketing strategy takes away from the creating process. The moment you start worrying about what your readers will think of your work is the day you might just lose them.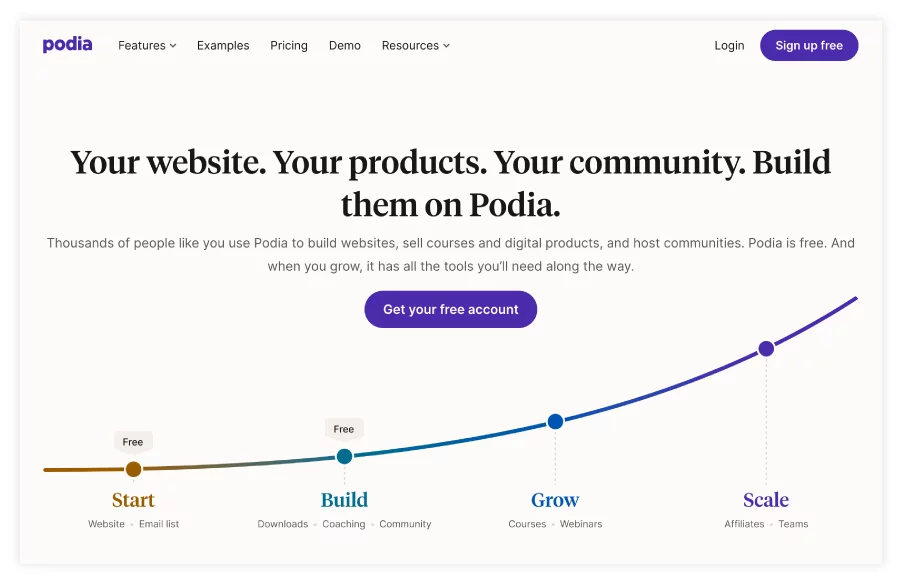 Through Podia, your time will be spent focused on your creative process and your work, whichever this might be. You won't have to spend days understanding another app, platform, or piece of tech. Podia will take care of all of that for you. Just set up your website in 10 minutes and use their intuitive editor to make it your own. After that, all you have to do is create your courses, webinars, workshops, or ebooks.
Through integrations, embeds, email, and affiliate marketing, you can grow your business and scale your reach with the tools to make it happen easily. Prices vary between $0 and a $75 monthly fee. But you get to customize payment plans for your audience depending on the type of PDF files you want to sell.
12. Ecwid
If you're looking for a platform to sell PDFs everywhere and anywhere online, you can become Ecwid's next online success story. This platform allows you to control everything from inventory to order management and pricing from one place. It's easy to see why they have been named the easiest admin e-commerce platform in 2023.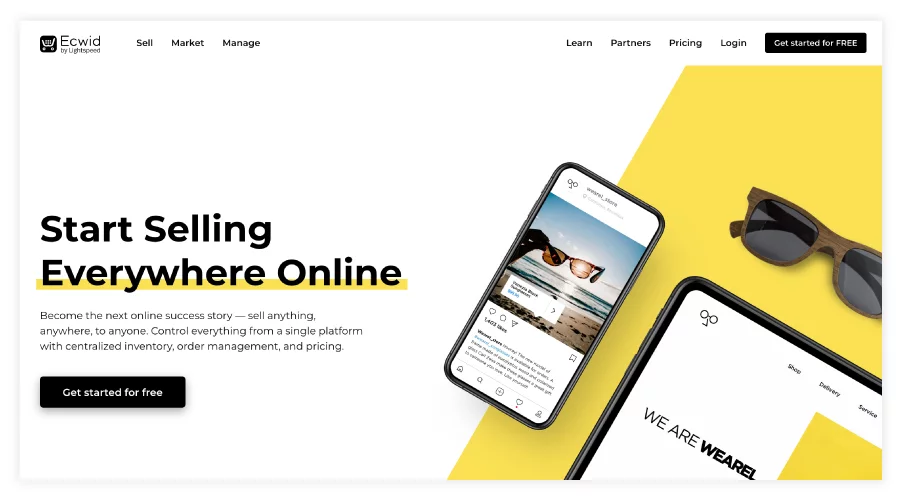 No coding experience is required for PDF sellers to generate income from selling PDF books online. Once you bring your products and services to them, you'll be able to build your online store or connect to any website in a matter of seconds, sell across social media platforms, integrate other ecommerce marketplaces, and even connect with your physical store and on-the-go app.
With multiple marketing tools like automated ads, social media integrations, email automation for abandoned carts, and SEO tools, you'll be able to grow your business and retain more customers than ever before. Their monthly fees vary between $0 and $82.50, and features vary as well based on the plan you purchase. Easy to manage and ready to go, Ecwid makes digital content selling a breeze.
13. Publishdrive
Authors and publishers alike can get started with their publishing process in just 4 easy steps with Publishdrive. First, you prepare your book, then you publish it, promote it and track your sales. Something as easy as uploading your manuscript can take you from an unpublished to the title of a published author. Once your work is done, your book will be published in 400+ bookstores and 240k+ libraries across over 100 countries.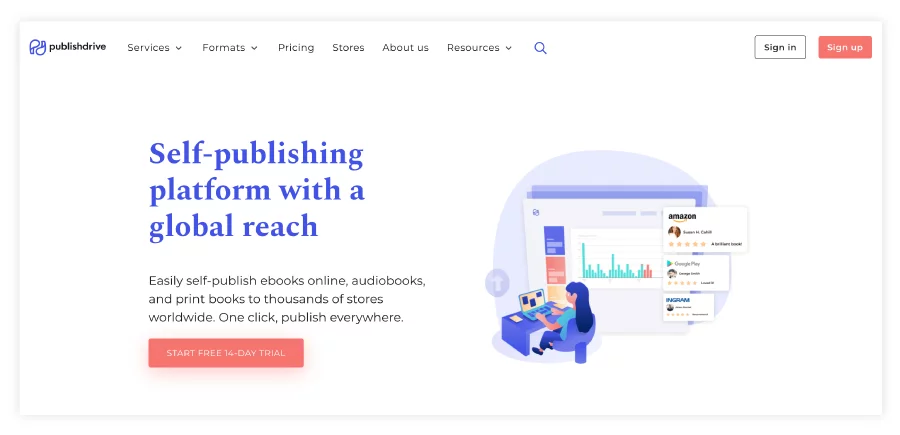 Due to the marketing tools available through Publishdrive, you can increase your sales by running price promotions, getting free in-store featuring opportunities, optimizing your Amazon ads, and much more. From one dashboard, you'll be able to track your sales in real-time, manage royalties from various platforms and markets, and depending on your price plan, API integrations.
The pricing plans differ at Publishdrive based on the number of books and additional features. Still, while their starting plan costs $14.19 per month, their Pro plan, designed for industry veterans, costs $83.99. This all-in-one self-publishing platform has it all.
14. E-Junkie
With E-Junkie, selling PDFs online will be made easy as you'll wind up selling your digital downloads in 5 minutes. This cutting-edge online platform gives digital content creators an easy and efficient way to sell their products. Its user-friendly interface gives both sellers and buyers a seamless experience.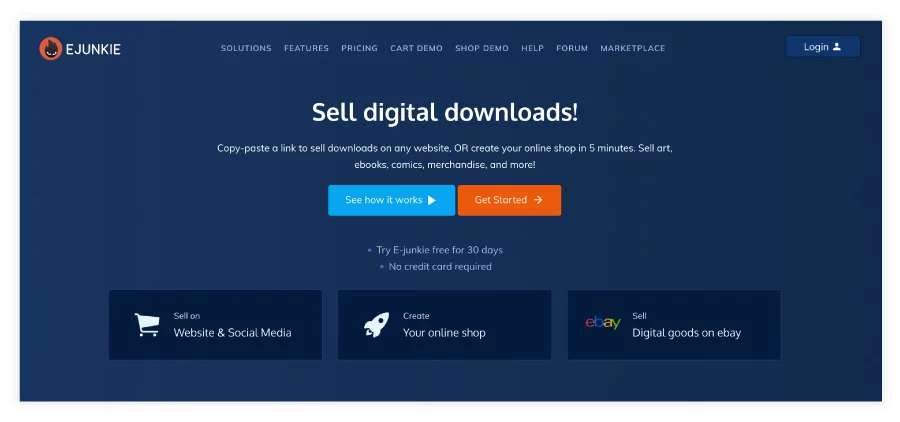 In just a few simple steps, you can also get your online store up and running with a customized appearance to fit your brand and products. E-Junkie comes with a plethora of marketing and promotional tools like customizable discount codes, integration with popular payment gateways, and a hassle-free checkout process for your clients.
E-Junkie is a reliable feature-rich platform that provides a seamless and safe buying experience and the tools for empowered creators to sell and distribute their products online. If there's anything you're unsure of, their support team is always on standby, and their knowledge base and community forum are available for any type of customer support.
15. Teachable
Teachable is one of the best online learning platforms, used by individuals, professionals, and companies alike to create and sell online courses. Their user-friendly interface and features make Teachable an ideal destination for educators and businesses to monetize their know-how and experience.
With tools that facilitate course creation through templates, multimedia integration, assignments, and quizzes, Teachable is an all-in-one tool for creators. You can easily upload and organize content, establish prices, and offer promotions and enrollment options on a brandable platform to fit your needs.
Aside from the carefully crafted software for course creation, Teachable gives creators powerful sales and marketing features to boost revenue. With prices varying from free of charge for basic features to $119 and up for customizable features, it's easy to see why so many teachers, lectors, and trainers choose Teachable to provide an engaging online learning experience to their audience.
16. BigCommerce
As a leading e-commerce platform, BigCommerce gives businesses the tools to create their online stores with ease, and managing them is just as simple. Due to their powerful features, flexibility, and scalability, using their platform to sell PDF books online will help your business to grow online.
There are multiple tools you can use on BigCommerce to create and customize your online store through drag-and-drop design tools, branded customizations, and multiple visual aesthetics. If you need to manage inventory, set up pricing rules, or create product variants, you've come to the right place. BigCommerce is the most trusted commerce solution provider, after all.
Its scalability makes BigCommerce fitting for businesses, big or small, and gives your starting venture the tools necessary to grow and expand. Their SEO and analytics tools will help you optimize your online store and track performance metrics to always know the status of your sales and drive your success to new heights.
17. Easy Digital Downloads
The image below says it all. The best digital eCommerce plugin for WordPress. But don't believe their word for it. This cutting-edge online platform aims to empower businesses to increase their revenue through its user-friendly interface and robust features.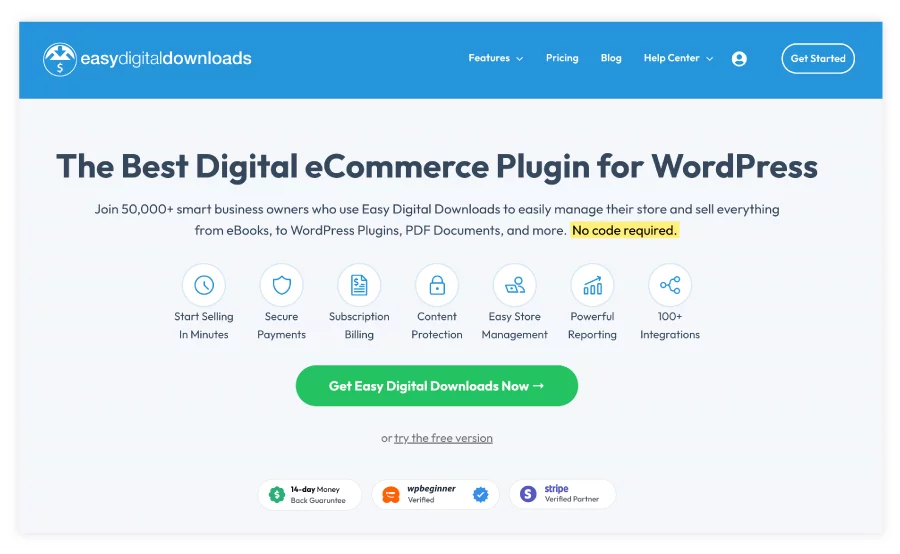 Their seamless setup process makes it easy for you to get your online store up and running in no time. Reach customers worldwide without the hassle of opening different brick-and-mortar locations around the world. Simply join Easy Digital Downloads and start selling anywhere.
Additionally, to further support your business's growth, you will find all you need to know about licensing, affiliate marketing, and analytics, but more importantly, what those analytics will tell you. Gain valuable information about your target audience through comprehensive reporting and reach them wherever they may be online. Easy Digital Downloads has all the tools you need to start selling PDF books online and grow your business.
18. MagCloud
When you're a leading online publishing platform, giving individuals and businesses the tools to create and sell qualitative print and digital publications are your focus. Most marketing materials can be designed in MagCloud, but these marketing materials could reach audiences around the globe, regardless of where your business is located.
With its easy-to-use design tool, MagCloud gives you the opportunity to customize your publications with a multitude of multimedia elements, but you can also choose from their available templates. Their seamless social media integration makes it easy to promote and share your PDFs with a global audience, so selling PDF books online won't be a difficult task. Well, it won't as long as you wrote the book.
The applicability of this platform makes it ideal whether you're a business that's looking to infuse some character in its static marketing materials or an individual passionate about publishing. This is a comprehensive, easy-to-use platform for creating, selling, and distributing your work, be it in digital or printed form. Oh, they also take care of the printing, ensuring only the best quality for your printed publications.
19. Catawiki
As an auction platform, you might wonder what Catawiki is doing on our list. Well, it's simple, really. Their user-friendly interface makes it easy for creators to showcase their work, provide ample descriptions and promote it in a competitive environment of auctioning. The whole "first come, first serve" really gets the buyers' blood boiling.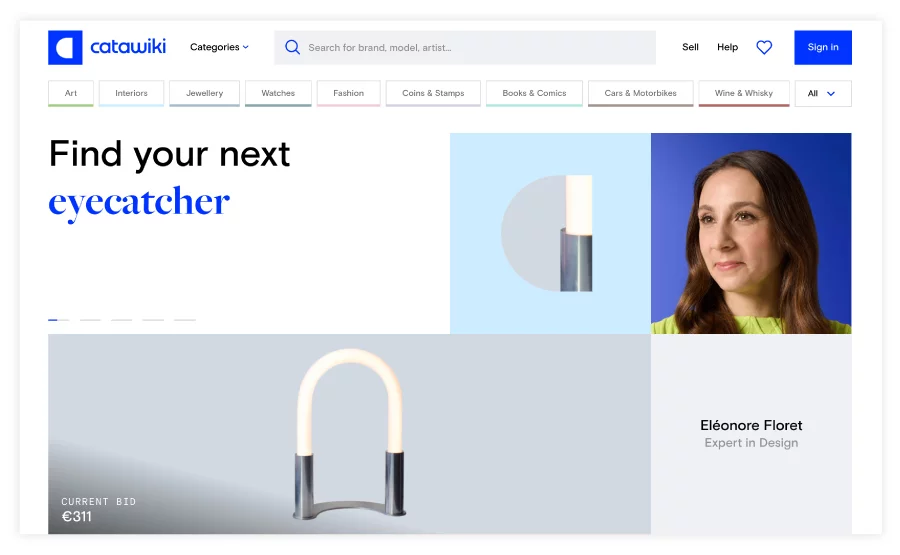 The dynamic and competitive experience they offer is carefully curated by expert auctioneers to ensure none of the items listed is inauthentic, while the platform offers a trusted and safe environment to carry on your business. There are multiple payment options available for buyers and a reliable shipping service for those hidden treasures that only auctions can uncover.
20. Squarespace
When you don't have any coding experience or other technical skills to promote your work in the online world, then Squarespace is your space. As a top-rated website builder, Squarespace empowers businesses, individuals, and creatives to put together stunning and professional websites that are fully responsive and optimized for mobile devices, allowing easy access from any device.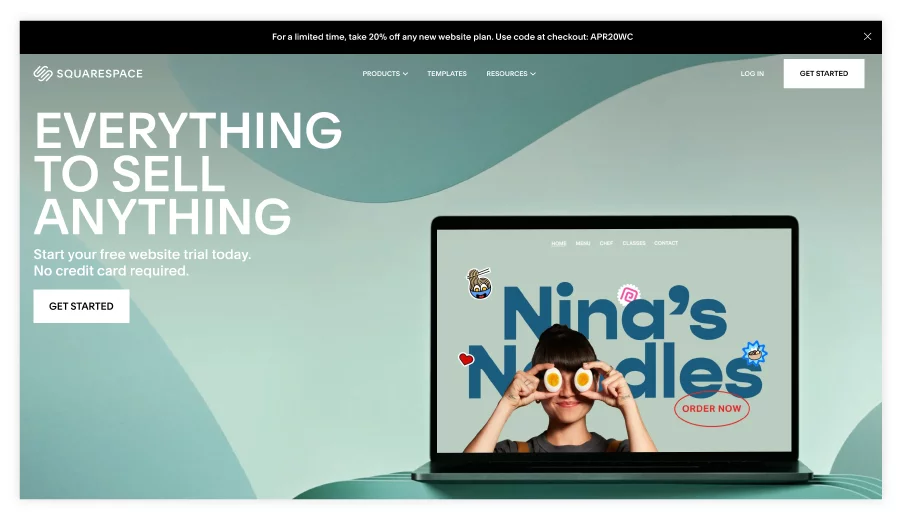 Squarespace provides its users with robust features that will help them build powerful and engaging websites for selling PDFs online swiftly. With e-commerce capabilities, SEO optimization, blogging tools, and social media integration, along with many others, you will meet your customer's needs by creating an engaging environment for them. Additionally, you won't have to worry about domain registration, reliable hosting, or other security features because they are part of the deal at Squarespace.
So go ahead, use their user-friendly interface, comprehensive features, and beautiful templates if you feel uninspired to design it yourself, and get selling. This go-to platform for creative professionals will help you stand out and increase your online presence and develop your brand.
21. Thinkific
By browsing Thinkific, you'll discover an incredible platform for course creation that empowers educators and creative professionals to put together their knowledge in an approachable format for prospective students. Get ready to design, customize, and launch your branded website effortlessly and with no coding skills required.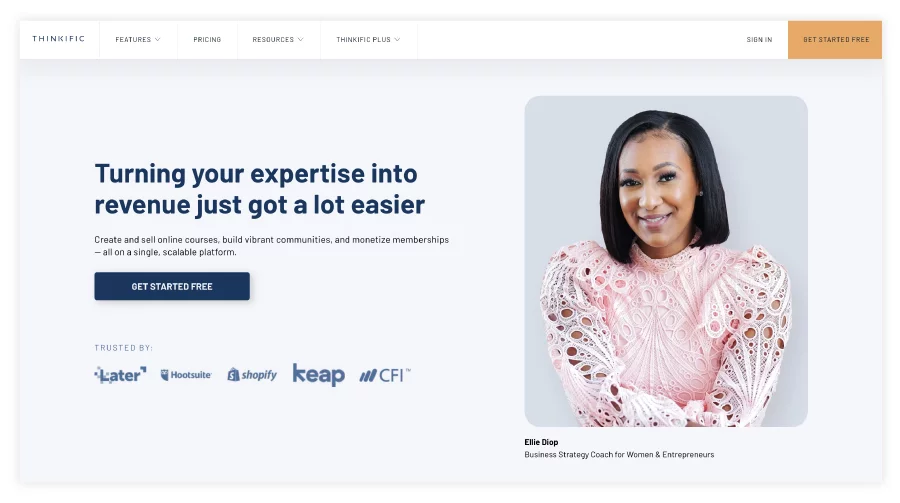 A user-friendly interface is waiting for you to simplify the creation of these engaging PDF courses, basing them solely on your expertise, with a few additions from their designing tools. Include branding, domain names, and other design elements to seamlessly integrate your personality within your selling platform so customers know it's you if they are familiar with your brand.
Through Thinkific, as a course creator, you can monitor the progress of your students, quiz them and track their engagement, as well as promote your courses through integrated marketing tools. So start sharing your knowledge in a financially savvy manner. Ever heard of the saying, "Never do anything you're good at for free"? Well, it's time to apply it.
22. MemberPress
As a leading WordPress plugin, MemberPress gives businesses and individuals alike the tools to easily create and manage memberships on websites. If you're looking for a tool that enables you to offer exclusivity as a package deal with your content, then MemberPress is what you need. Whether it's online courses, digital content or products, or different types of exclusive content, through MemberPress, you can monetize your online communities through recurring subscriptions.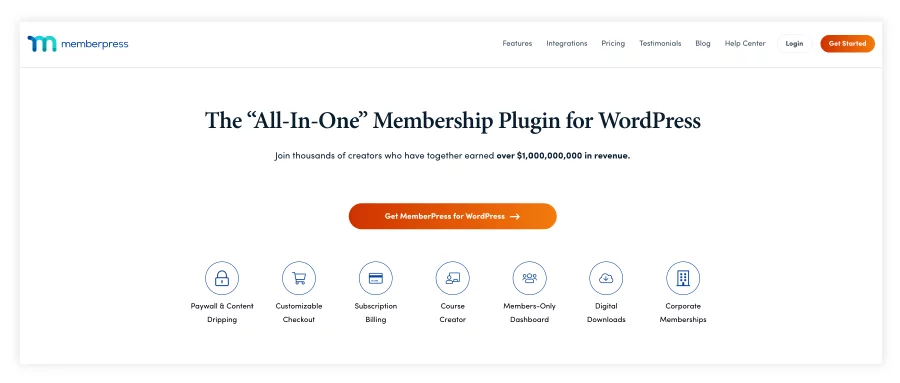 Due to their seamless integration with WordPress, users can create and handle multiple membership levels, control access, and personalize membership experiences for users. Your readers will have multiple payment gateways, so revenues will come from different directions. Advertised as a platform for 7-figure creators, their price tag may ask a lot, but they deliver, with prices ranging from $179.50 to $399.50 while on sale. Their normal range is between $359 and $799.
Still, if you're looking for a tool that offers seamless WordPress integration and all the tools required to generate revenue from digital content, they're among the best in their field. Discount prices should motivate interested parties even more, so get them while they're hot.
23. Printful
Printful presents a revolutionary way to sell PDFs and other digital products online, diverging from conventional platforms. Unlike traditional platforms, Printful is renowned for its expertise in print-on-demand services, allowing merchants to sell a lot of products such as custom apparel and accessories. Imagine a platform where selling PDFs, such as ebooks or digital art, converges with the world of tangible products like printed t-shirts or accessories.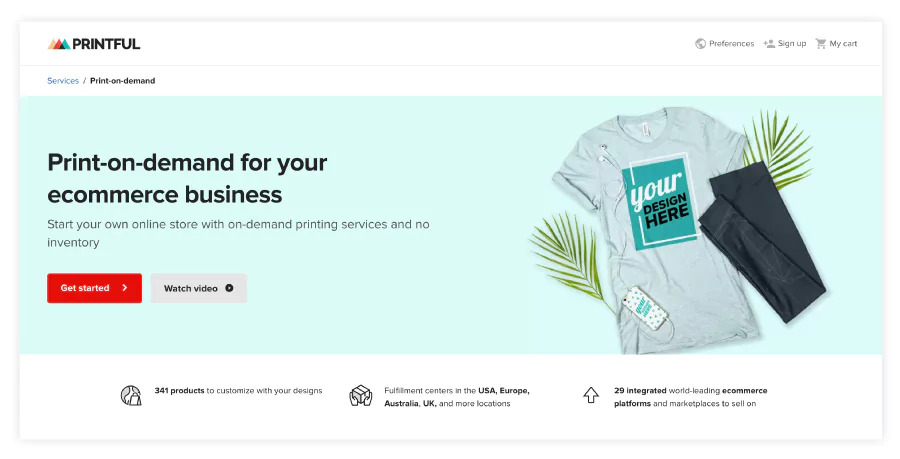 Printful could seamlessly blend these, enabling creators to offer a comprehensive suite of products, from insightful PDF guides to merchandise that presents the essence of digital content.
Printful empowers creators with tools not just to sell, but to cultivate a brand. The platform could allow the integration of PDF sales into a broader ecosystem of products and branding elements. Creators could leverage Printful's existing infrastructure, renowned for its reliability and quality, to diversify their offerings and enhance customer engagement. Furthermore, Printful could amplify reach and engagement with features that allow the easy promotion of products across various platforms, from social media to personal websites.
Final thoughts
So there you have it. Thank you for tagging along for the journey and taking the time to look closer at the tools we chose for you. Hopefully, the tools we covered are plenty useful to you and your venture, but if there are any that you think should be added to the list, don't hesitate to let us know in the comments section below.
If you want to continue your search, we can also help with some digital marketing tools meant to help users increase their reach through enhanced and interactive digital materials that are sure to hook your audience. Similarly, if you're in need of some real estate marketing tools that can take your realtor enterprise to the next level, we compiled an extensive list of some of the best tools available on the market.
Find the combination that works for you and your brand so that accomplishing tasks, making reports, and increasing sales aren't as complicated. Once your masterpiece is ready to hit the market, use these tools to get the most out of it. Marketing doesn't have to be complicated to bring results.