How to sell PDF files online
Let's imagine the following scenario. You've created a useful and comprehensive teaching guide where you've included all kinds of lesson plans for kindergarten children. Congratulations! I know how difficult that must have been; I've also been through this. 
But that fantastic piece of work shouldn't just sit silently on the desktop of your computer. You should share it with teachers all over the world. That being said, offer this valuable information of yours in exchange for a sum of money. It's a win-win situation for both sides. Moreover, it's one of the best ways of increasing your passive income.
However, this is not something easy to do. There are many things you need to take into account when selling your PDFs online. But don't worry, this article comes in handy to clarify everything and help you in this regard. From discovering what kinds of files you can sell to choosing the best platform to sell your online documents; you'll find out all the answers you need right here.
So let's get started.
What type of PDF files should you sell?
Truth be told, you can sell any kind of PDF file. As long as you can put your content on a piece of digital paper; you can transform it into a PDF that you can sell to others later on.
My advice is to go the extra mile if you want to be successful. Think outside the box and always go for something original that you master 100%. If you want to convince people that your PDF is worth buying for; you'll need to prove that you're an expert in your area and know what you're talking about.
That being said, create an authentic PDF that appeals to a niche audience. No matter which topic you're going to choose in the end; make sure that it solves problems and offers solutions and knowledge. However; keep in mind that your main goal is to make money which means that your PDFs need to be relevant, useful, and entertaining. Trust me, a combo of these three characteristics guarantees a steady revenue.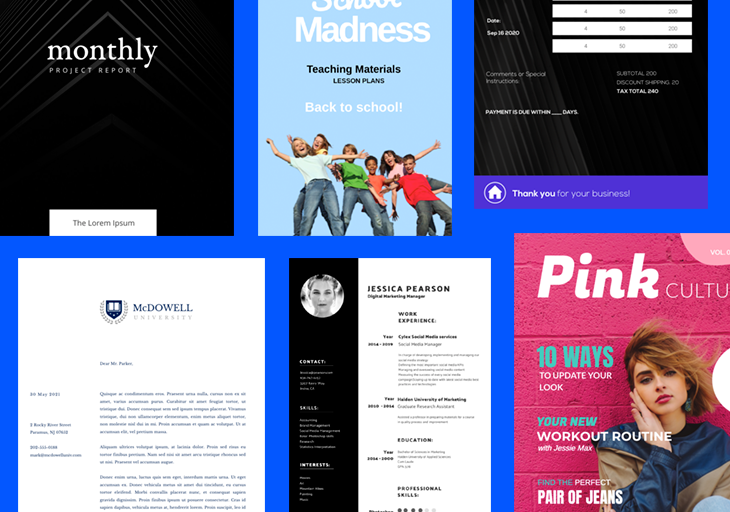 If you're still not sure what kinds of PDF files you can sell online; here's a list of popular ideas that might inspire you:
DIY patterns
Courses (coding, marketing, design, etc.)
How-to guides & tutorials (cooking recipes, first aid, beekeeping, etc.)
E-books (fiction & non-fiction) – it's important to mention here that you're selling them as PDF sizes, not in specific formats for kindles.
Email marketing templates
Workout and nutrition plans
White papers
Manuals
Manuscripts
…and the list could go on.
Why should you sell your PDF online?
There are many advantages when it comes to selling PDF files online. One of the most important is that PDFs not only reduce costs but also bring you a passive income. You create them once and then sell them repeatedly without any additional effort or cost in their creation. Moreover; you save a lot of your precious time with the electronic distribution process and protect the environment by less paper and ink usage.
Besides this, you help people worldwide and share your knowledge with others, in exchange for a fair sum of money, of course! For a better understanding, let me give you some examples in this regard.
Let's say that you're passionate about cooking and you've gathered all your tips & tricks altogether with recipes into an online cookbook of your own. Within minutes, transform it into a PDF, then start selling it online! You'll see how many stay-at-home moms will thank you for helping them with everyday meals ideas for their children.
Or, maybe you're an independent publisher who has just started creating their wedding magazine about anything related to this big day. Your greatest wish is to share your knowledge with future brides and grooms all over the world. Don't waste time; save your work as a PDF, then sell it online through different platforms. The future couple will be thrilled to organize themselves even better for their most important day.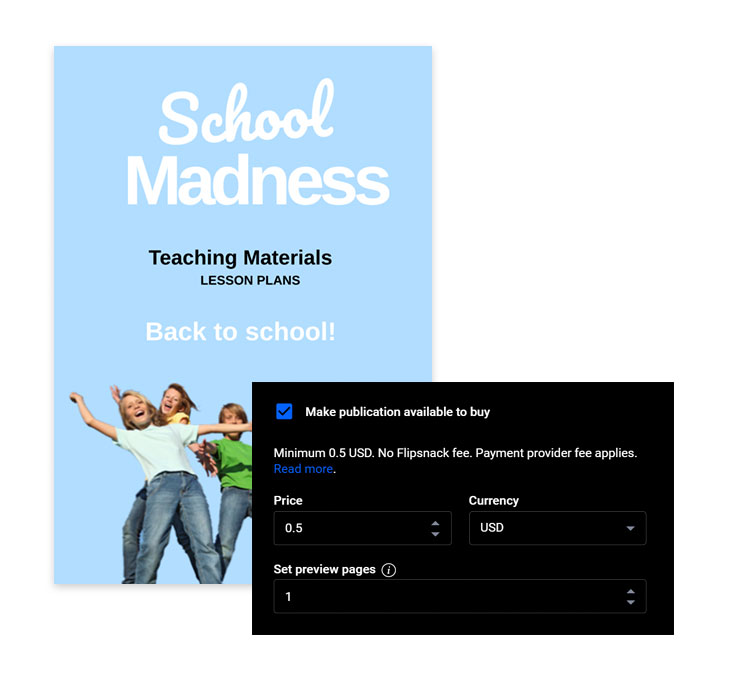 The last example is a personal one. I used to be a teacher, and I enjoyed inventing engaging activities and interactive lesson plans for my students. My other colleagues advised me to gather all my teaching materials into an online document and sell it through a platform to help inspire other teachers and educators from other countries. If you find yourself in this situation, then I advise you to do the same. It's crucial to keep in touch with your community, especially in these pandemic times.
What should you do before selling your PDFs online?
Before actually selling your PDF files online, there are a few things you should take into account, starting with creating your document, then formatting it, and so on. Here are the steps you need to follow in this regard:
Create your document and save it as a PDF
Edit, format, customize your PDF
Proofread your PDF
Let's get into more details and take each step one by one.
1. Create your document and save it as a PDF
The first thing you'll need to do is to create your document, of course. You can choose a program such as Microsoft Word or Apache OpenOffice Writer and then make sure to save your work as a PDF.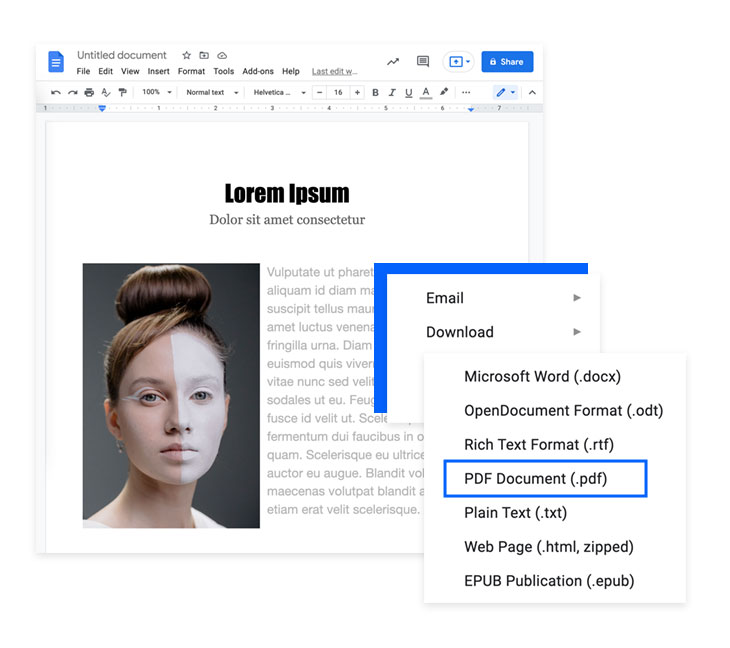 But keep in mind that these programs have some limitations; especially if you want to insert some photos or other design elements into your document. That's why it would be better if you opt for a design tool, such as Flipsnack, for example, that can also help you with some premade templates where you can start from. Moreover, right after you're done creating your document, you can save it as a PDF directly through Flipsnack. Thereafter, you can share your PDF online as a link with your buyers.
What happens if you already have created your PDF, but you're looking for ways to customize it and maybe add some hyperlinks or images? Don't worry; Flipsnack also allows you to upload your PDF, edit it however you want, and save it once again as a PDF ready for selling. Let's talk more about this.
2. Edit, format, customize your PDF
With Flipsnack; you can freely edit and customize your PDF with astonishing photos and on-point shapes that will better explain your content. Arrange them wherever you want in your document and even make them smaller or bigger. You can also add your own fonts, logo, and colors and use them throughout your entire PDF document. Moreover, add hyperlinks so that your readers will immediately get to that part of the document that's interesting for them. These hyperlinks are really important if you have a table of contents in your PDF, but you can also use them in any other context.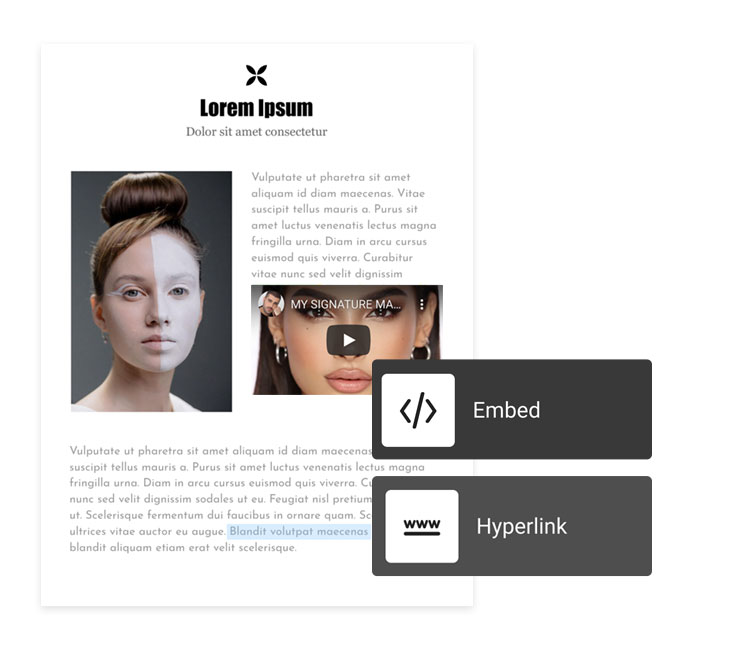 Then, make sure to format your PDF in such a way that you'll reduce its size and optimize it for SEO. This way, the PDF will load easier and won't negatively affect the search rankings. After all, you want your document to be successful and easily readable, and downloadable, right?
There's also the possibility to transform your static PDF into an interactive one that allows you to embed videos, add music, GIFs, captions, and so on. Of course, you can also sell these interactive publications precisely as you're selling your PDFs. But making your PDF interactive is another kind of story. Let's now focus on today's article and get to point #3.
3. Proofread your PDF
The last thing you'll need to do before selling your PDF online is to proofread it. Nobody wants to come across a document that's full of typos and other grammatical mistakes. It doesn't make it look professional or reliable at all. And trust me, people won't purchase any other PDFs from you because you've broken their trust with the first one.
The best way to make sure that your PDF is flawless is to use an online grammatical tool that's exclusively created to help you fix any errors and make sure the text is easy to read for your audience. Grammarly, ProWritingAid, or SentenceCheckup are just a few examples in this regard.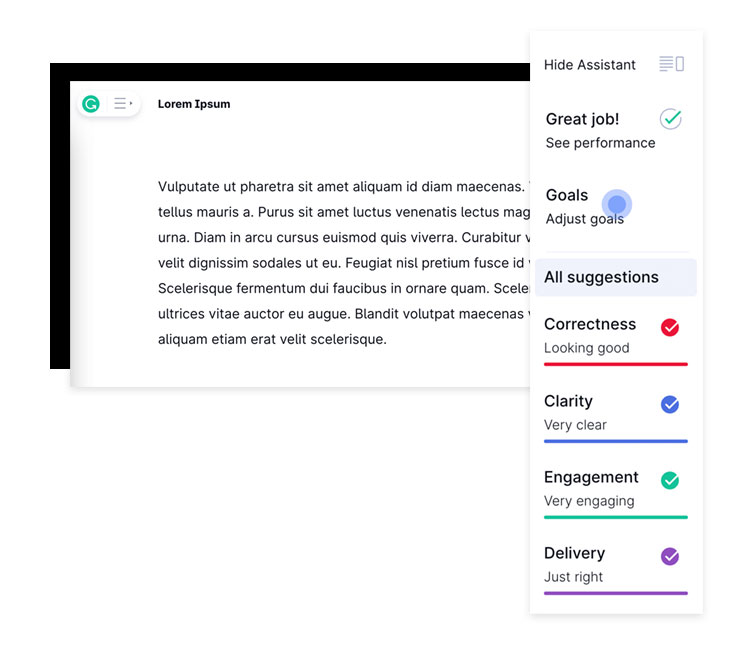 But that's not all. You should also assure yourself that the text and images work together. For example, tiny fonts or unexpected spaces or gaps in your document can negatively impact your user experience.
After you've solved all these issues, you are now ready to sell your PDF online. This leads me to the next section…
What's the best way to sell PDFs online?
We're finally to the part you've been waiting for since the beginning. With that being said, let me get straight to the point: you can sell your PDFs online via two major ways – on your own website and through an online platform. Let's discuss them both.
1. Selling your PDFs online on your own website
You have many advantages when you decide to create your website to sell your PDF online. First, you have the freedom to customize the user's journey, add your branding wherever you want, and cultivate long-lasting relationships with your customers with the help of various marketing techniques and methods such as mailing lists or special discounts.
Moreover, you won't have any other competition that could affect your pricing strategy. So you can set what kind of price you want without being forced by the competition to set a lower price for your PDF just because you've seen that the other sellers are doing the same.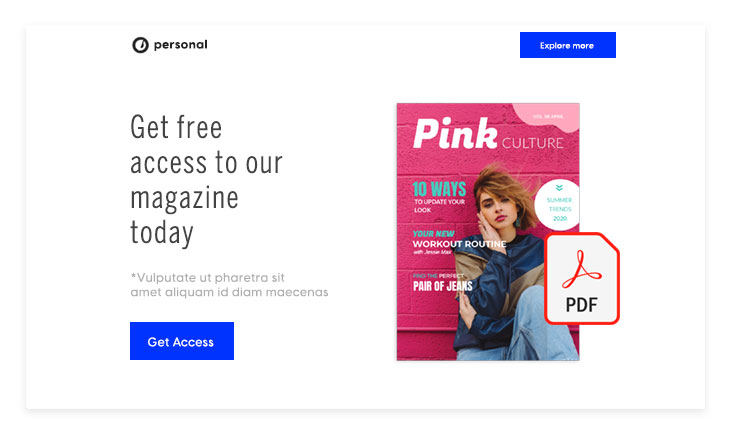 But of course, there are also some disadvantages when choosing this method. Your sales will be dependent on how well you'll market your PDFs. That being said; you'll need to create your marketing campaigns on social media and use Google and Facebook ads for advertising them as best as possible. It's essential to target the right audience, so pay close attention when deciding on your marketing strategy. In addition, a blog can also be a great way to promote and sell your PDF online. It's a place where you can demonstrate your knowledge and expertise. Use it to gain authority and trust by posting excerpts from your PDFs, customer testimonials, and reviews.
Another thing to consider is that to be successful, you'll need to affiliate with important influencers that will help you better sell your PDF online. However, this might cost you a lot of money, and it might not be worth it in the end.
Thoughts about this selling method
In conclusion; this method is excellent for those who like to have total control over their selling PDF process and don't mind running their marketing and selling campaigns. So; if you enjoy figuring out problems on your own and want to have everything in your hand, then you should opt for this kind of selling PDFs online. But, on the contrary, if you're going to avoid all this hassle, you should choose the second option. That being said…
2. Selling your PDF files through an online platform
This method allows you to start selling your PDFs when you create a seller account on an online marketplace such as Amazon, eBay, Etsy, and many others.
Precisely as with the first option, this one also brings advantages and disadvantages. One great perk is that these online platforms already have an audience and potential customers; so you no longer depend on your marketing campaigns and strategies. Moreover; they also provide built-in services such as terms and conditions, payment systems and methods, and essential technical support and customer service levels.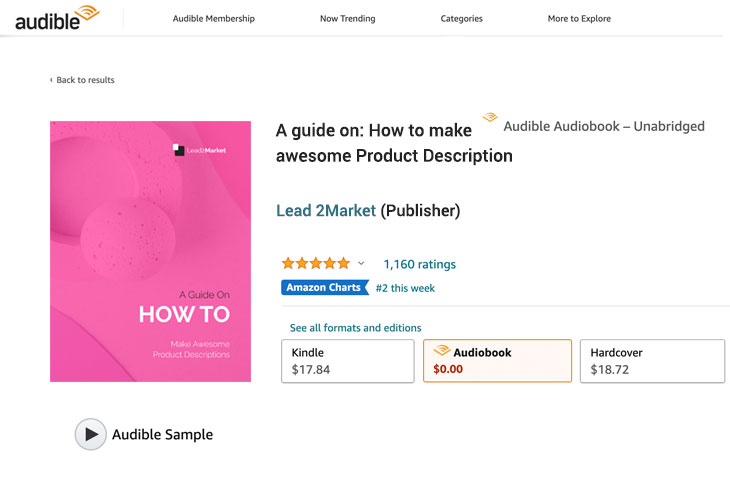 However, keep in mind that you're using a third-party service provider when selling your PDF files online through a platform. That being said, there might be fees that you'll need to pay per month, transaction, etc., depending on the platform. Furthermore; you'll need to follow their rules and regulations: what kinds of PDFs you can sell, the file size restrictions, what's allowed in the product listings, and so. Every online platform and marketplace has its guidelines and limits; so make sure you check them before selling your PDF ebook or any other type of publication.
Thoughts about this selling method
In conclusion, this second one is perfect for anyone who wants to avoid all the hassle and back and forth. You just create an account, upload the documents you're about to sell, and then wait patiently for customers to buy your PDFs. Of course; you can still create marketing campaigns to help promote your publications, but this is a much easier process of gaining some passive income.
I can't decide on your behalf what option is the most suitable for you and your business, but I can tell you about Flipsnack, an online publishing tool that can suit many of your needs. We offer one of the best services for uploading, creating, and selling all types of publications: magazines, brochures, reports, guides, cookbooks, newspapers, and so on. Our powerful Design Studio helps you create your digital flipbook however you want; then allows you to save it as a PDF that you can sell directly on our platform! How cool is that? A 3 in 1 tool right at your fingertips.
But that's not all. If you already have a premade PDF, but you want to customize it with your photos, colors, and also add some hyperlinks in it, we also offer you the possibility to upload it in Flipsnack, make any changes you want, then save it once again as a ready-created PDF for selling.
Nevertheless, I've saved the best part for the end. You don't need to pay extra fees for selling your PDF files online through Flipsnack! All the money is yours! But let me get into more details.
Sooooo,
How to sell your PDF files via Flipsnack
Here's a short, step-by-step guide that will help you sell your PDFs online through Flipsnack. But before getting started, I want to tell you that there are two options to sell on our platform. You can individually sell one publication, or you can opt for a better and more profitable solution, the Rolling subscription that allows you to sell a recurring subscription that gives your readers access to all your public documents for as long as they keep their active subscription.
Whether you're going to choose; it's essential to know that you'll need to create a Stripe account and connect it to the Flipsnack payment processor account to receive your money. Also; keep in mind that this is an add-on feature, and if you want to unlock it, you'll need to pay a fee of $100 per month in addition to your subscription.
That being said, let's discuss both of the options, and you'll later decide which suits you best.
How to sell one individual publication through Flipsnack
Connect your Flipsnack account with Stripe.
Set a fair price for the PDF you're going to sell.
Choose which pages of your document you want to be displayed as your preview pages.
Set your PDF for sale and wait for customers to purchase it.
Check the Stats section of your account to see who bought your PDF and any other detailed information.
You're ready now to sell another publication via Flipsnack!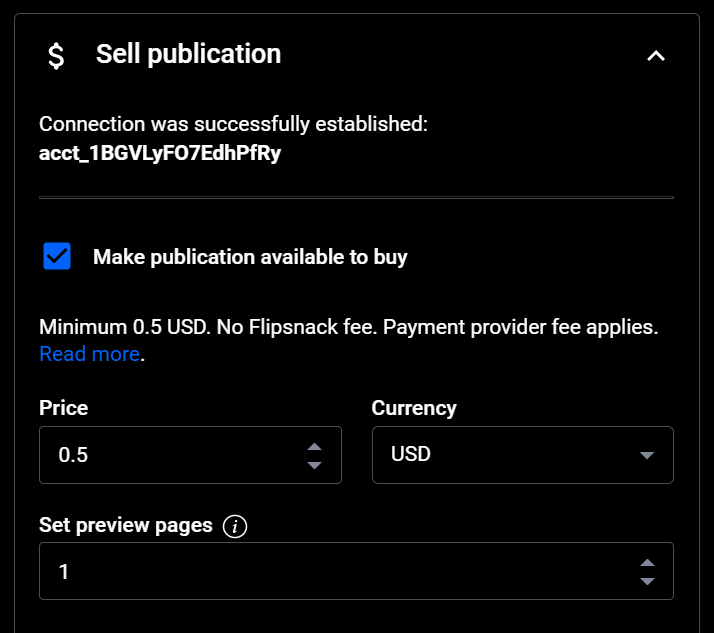 How to use the Rolling subscription to sell your PDFs online through Flipsnack
Connect your Flipsnack account with Stripe.
Then, you'll need to create a product and price in Stripe's dashboard.
Set up the product information details you're going to sell: Name, Description, Price, Billing period, an ID.
Copy the Price ID and go to the Sell subscription page in Flipsnack.
Paste the Price ID from Stripe into Flipsnack's Price API ID to activate the Rolling subscription.
Activate the Enable subscription button, then click on Save changes.
You're all set now to sell a subscription through Flipsnack.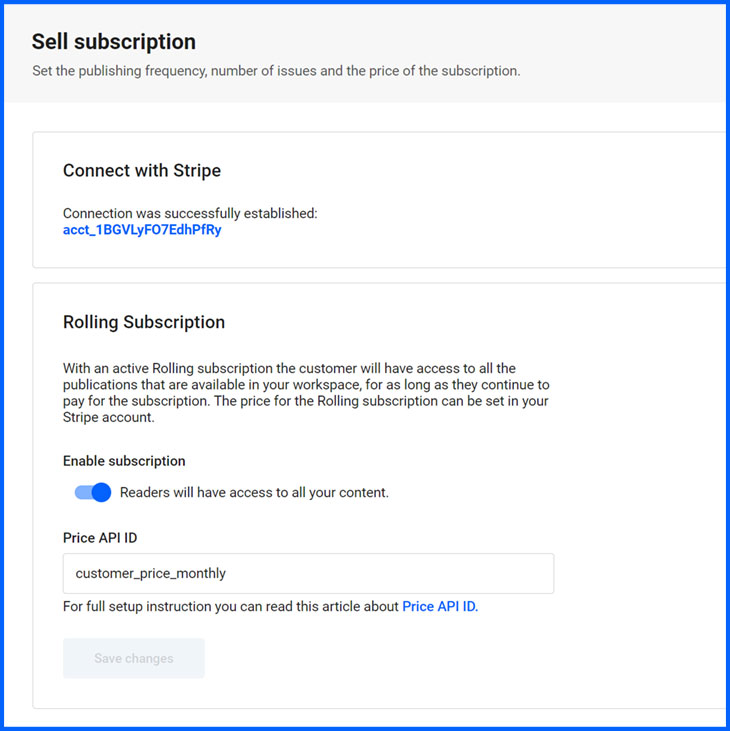 Hopefully, the entire process of how to sell PDFs online via Flipsnack is crystal clear now. If you still have some uncertainties, make sure to check our help center articles or contact our customer support via live chat.
Ready to sell your PDF online?
There you have it. Everything you need to know about selling your PDF files online, be them teaching materials, magazines, school newspapers, cooking recipes, business proposals, and so on. Whether niche you're going to choose, make sure that the documents you're selling are original, entertaining, and full of useful information. These are the three important aspects that will bring you revenue.
Moreover, assure yourself to choose the best option for your selling process. Even if it's going to be through your personal website or via an online platform; it's good to take into consideration all the advantages and disadvantages before making your decision. And while you're here, don't forget to try Flipsnack as your complete publishing and selling tool.
Now that you have everything explained and you're convinced that this is one of the best ways to earn some passive income, let me ask you once again: Are you ready to sell your PDF online?