In the spotlight: 10 questions with Nathan Chan – Foundr Magazine
We're very excited to start a new project here on the blog. Each month, the "In the Spotlight" series will offer insights into the digital publishing world as we'll be featuring the people behind the publications. They'll share the good and the bad, the ups and downs, their experience, advice, and really anything from the industry.
I'm very glad to have the CEO and Chief Editor at Foundr Magazine, Nathan Chan, as our first guest. Nathan is probably one of the most passionate people about anything related to entrepreneurship and launched Foundr back in 2013 with "nothing but a laptop and a fistful of dollars."
1. Tell us about Foundr Magazine! How did you get started?
I launched Foundr magazine 5 years ago which is crazy how time flies. I started the magazine because I felt there was a real need in the entrepreneurial space, in particular in the magazine publication space, for a business magazine that really spoke to people who were trying to build, handle, or had just launched their business. Since I felt there wasn't really anything out there and because I knew nothing about magazines, apps, or anything regarding publishing and media, I decided to create it. At first, it was just a passion, aside from my day job, but as time went by, it became something much more than just a passion project, I really fell in love with the business and I've made it work and grow.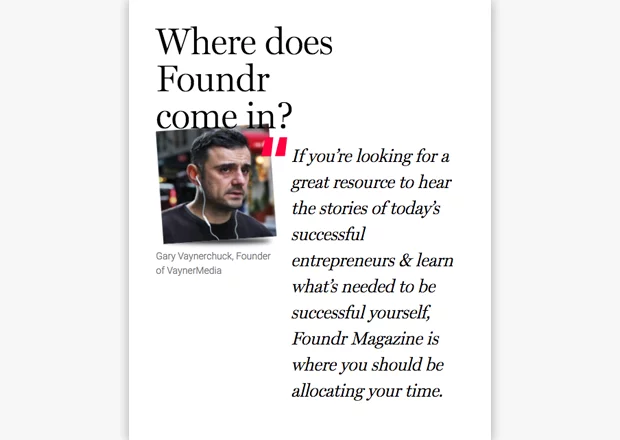 2. Foundr Magazine turns 5 this year – congrats! What are some of the biggest challenges that you've overcome as an independent publisher?
I'd say that some of the biggest challenges we've had to overcome have been mainly not relying on having a magazine as our one source of income or even advertising (we don't really have any advertising in our magazine). Therefore, I've had to challenge the business model and I'm really happy with what I've settled with and what we've found to be, I believe, one of the most competitive business models out there for a digital media company. Hopefully, this model that we're executing will be looked upon and may be used as a case study in years to come. Basically, what we're doing is really just looking at the whole landscape. Let's say you choose a topic which your brand or your publication is going to focus on ( fashion, for instance). In this case, you don't just produce your magazine around fashion, you don't just do advertising in that magazine, you do other things that really serve your audience and you really approach them like a startup.
"Working at that model and finding other ways to build a sustainable business, not just through a magazine or advertising, has been the biggest challenge."
3. Why do you choose to publish digitally?
The reason why I chose to publish digitally was (to be 100% honest) because of cost. I don't like risk and for me, a way to minimize risk was the ability to publish digitally. Since I knew that more and more people are consuming magazines digitally, it just felt like the right way to go. What's interesting is that we're now actually getting into print, but we're only doing the print version of the Branson magazine issue.
4. How did you find Flipsnack and what made you choose it?
We found Flipsnack because it was recommended to me by a friend. We started publishing on the App Store and Google play store and I wasn't sure whether we'd publish on a web browser. But it's worked out really well because we use Flipsnack to actually gate those magazine issues and it's just a brilliant tool. I love it. The reason why we chose it is 1. is very cost-affordable and 2. it worked really well with how we produce the magazine for the Ipad, iPhone, and with all the software that we use. It just works really nice, it creates great-looking flipbooks, it just works!
5. Any advice for new publishers or anyone interested in publishing?
I think the biggest thing is 1. be prepared to be extremely consistent and 2. be prepared to know that it's a very difficult game to get into the publishing world and making your magazine. It's very difficult to get a publishing model that works and make it in the magazine world and I really would encourage any new publishers to look at how they can not just rely on advertising or subscriptions of their magazine to generate revenue but to always have multiple sources of income. Also, I would encourage new publishers to survey their audience once they start to build that up and really find how to fully serve them.
6. What inspires you in your work?
What inspires me now at our work at Foundr is how we can build a household name entrepreneurial brand. I believe there's a massive market opportunity not just from a business standpoint, but from actually serving people the way that they deserve to be served in this space because I think there's also a lot of rubbish out there.
7. What would be a highlight moment in these 5 years since you launched Foundr?
A highlight moment in the past 5 years? Wow, there have been so many. Probably when we got Richard Branson for the front cover of issue number 8 (that was a massive one), meeting Tony Robbins in person and interviewing him. We also did a crowdfunding campaign to create a coffee table book which was kind of re-purposing all that content, so that was yet another highlight and actually making that project quite successful.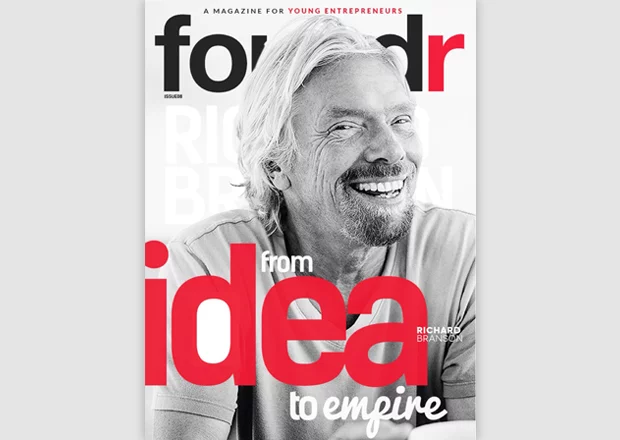 8. What's the most interesting thing you've read/ seen this week?
I listen to podcasts a lot in the car. An interesting one I listened to this week is from Russell Brunson (Marketing Secrets podcast), and what he was saying is that the person/ the company that can spend the most in his market, wins (and by spend he means in terms of paying for advertising wins).
9. Can you give us an insight into the next issue?
The next issue is actually going to be the Foundr 5th birthday issue and we're actually going to celebrate all of our community success. We had hundreds of people write to be featured in the magazine and we've chosen like 30-40 stories that we're going to showcase them in this anniversary issue which is going to be crazy. We're super pumped about that!
10. What is the main goal for Foundr Magazine in 2018?
The main goal for Foundr magazine in 2018 is to expand our educational content and scale up our free content, as well. So regarding educational content, we do a lot of stuff with premium courses. We want to launch 12 courses taught by influencers or experts this year and also scale up our blog and video content.
For more entrepreneurial advice check Foundr's blog and also stay tuned for our upcoming interviews. Let us know in the comments below what are your thoughts on the new series we just launched!
*Check out our latest In the Spotlight interview with Yasmin Atalay – Marketing & PR Manager at Winser London.