How to reduce the PDF file size in Adobe Acrobat Pro
Big PDF files can be difficult to work with, especially online: the upload, download and page loading can take a long time. It can be annoying for you and for your PDF viewers, so you should do something about that. The best idea is to make a web-optimized PDF right when you export the file from InDesign or other tool that you might be using. However, if you didn't make the PDF yourself, you can still do something about the file size: compress it using Adobe Acrobat Pro or an online tool (you have plenty of options, some listed here)
By following the steps below you will reduce the PDF file size (compression) without distortions or cropping. You will get a quality PDF for web. If you plan to print it out, we recommend you to send the original PDF.
Let's get started!
Open your file in Adobe Acrobat Pro

Go to File > Save as other > Optimized PDF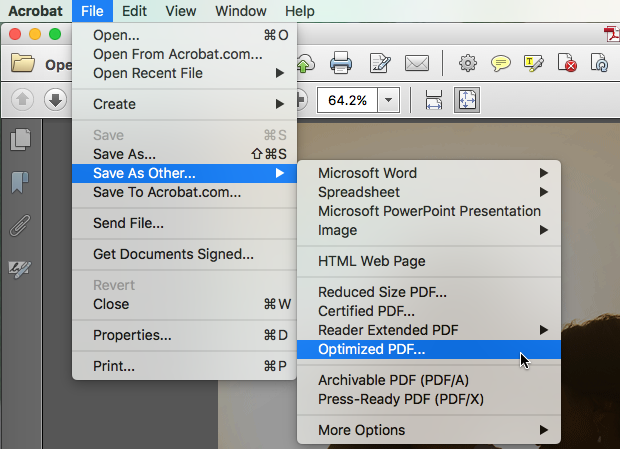 Check the audit for space usage to see an analysis of your PDF, with all the elements that are used in your file. You'll find the audit request button at the top right side of the popin.
Images are often in a higher resolution that necessary, so they are going to slow down all the PDF-related processes. If images are a big part of your document, you need to start by fixing their size.
You can see above the default options in the PDF Optimizer. If you keep these settings, you should be fine. But let's explain the terminology.
Downsample – to lower the resolution of images by merging some pixels into larger pixels.
PPI – pixels per inch; how many pixels should be displayed per inch of screen space.
Compression – file size reduction made through eliminating unnecessary pixel data. JPEG and JPEG 2000 are both great compression options for photography.
Quality – The Medium quality is recommended for the JPEG compression, as this will not bloat the file size, but it will render a good image quality for your web PDF.
Don't forget to click ok when you finish.
Another thing that you should do to your PDF is to enable the Fast web view. It will load each page at a time, rather than the entire PDF at once, resulting in much quicker loading. You can check this option by going to Acrobat – Preferences – Categories – Documents – Save as optimizes for Fast Web View – OK.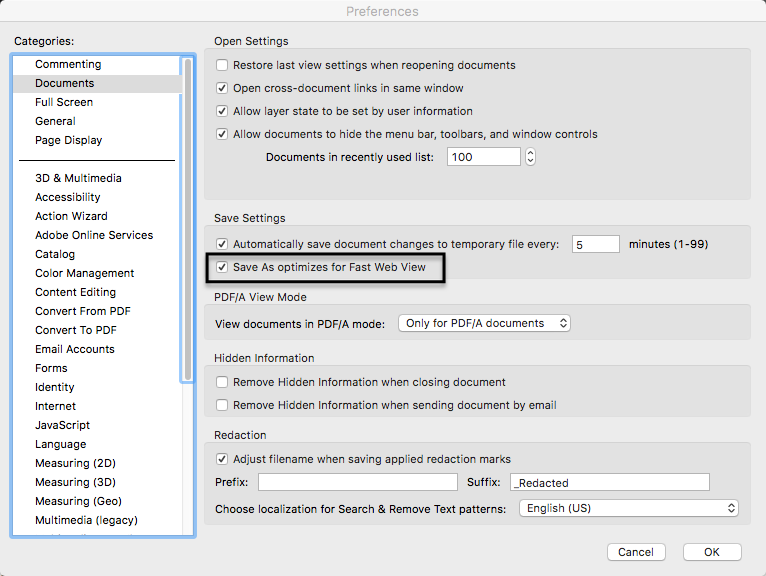 I hope you found this helpful. Let us know what other Adobe Acrobat Pro tasks you need tutorials for!