Free 2020 wallpaper calendars (January – December)
This year, we've decided to mix things up a little bit. We're still bringing you wallpaper calendars for 2020, but this time, we're releasing them all at once.
Each month features all the same sizes (just click the size below the images) as before. We decided that this time, however, all the calendars will have the same blueprint. From month-to-month, there will be a design related to that month, a single color background, and the days of the month displayed somewhere on the calendar.
So without further ado, here are ALL of our 2020 wallpaper calendars for the entire year. Enjoy!
January 2020 wallpaper calendars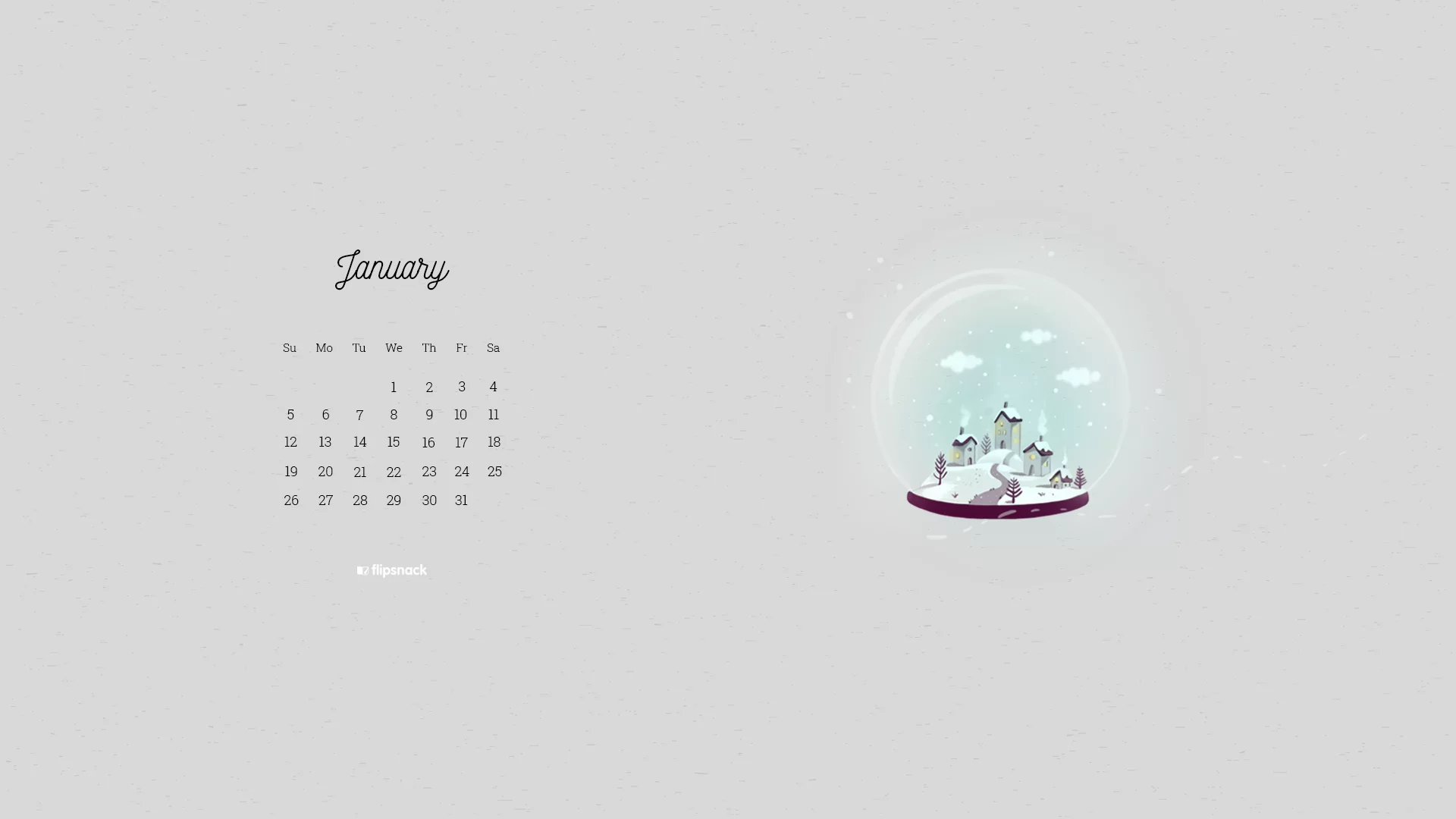 For January, the grey background works perfectly. Although it's best to think about the positive things in life, the skies this month are always so gloomy. It's a good thing we have to look forward to a whole new year of success and blessing ahead, and this January 2020 wallpaper calendar, of course.
For now, let this snow globe sitting amidst the snowy grey skies be your guiding light. And let it also be a reminder to all of us that although it's cold and arid outside, it's still a great month to get out, have some fun, and to plan ahead!
February wallpaper calendars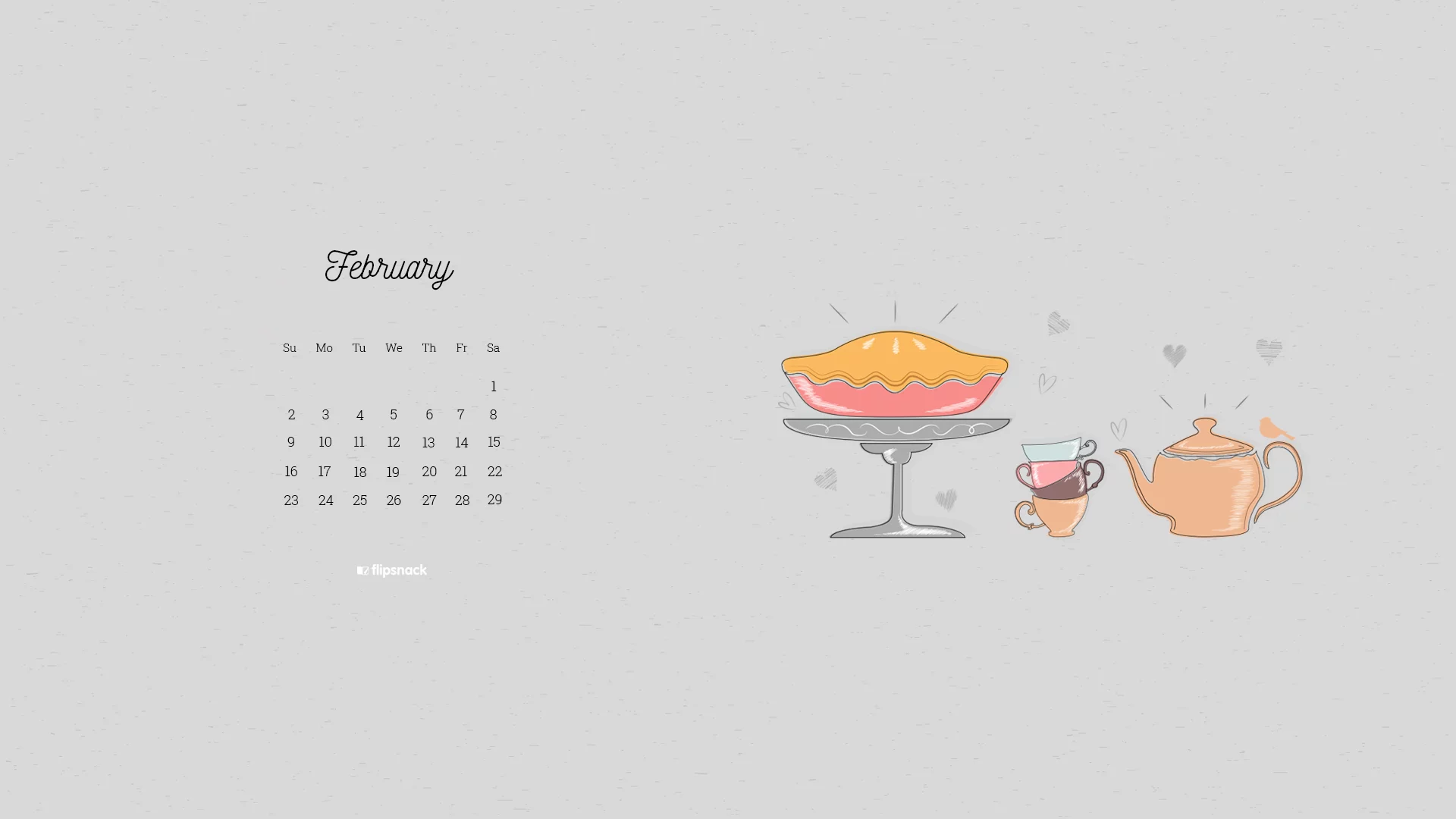 Welcome to the shortest month of the year! Although it's short, it has a lot going on. It's almost too short to pack all the wonderful things it has inside.
February is a month to celebrate love, history, and life! And because of the weather, it's almost like a teaser month for the colorful spring ahead.
For our February 2020 wallpaper calendar, we decided to display something that everyone loves: pie and a nice warm cup of tea. The thought of sipping a freshly brewed tea and chomping down on a nice warm pie already has my taste buds jumping for joy. It's the perfect combination for any February day.
March wallpaper calendars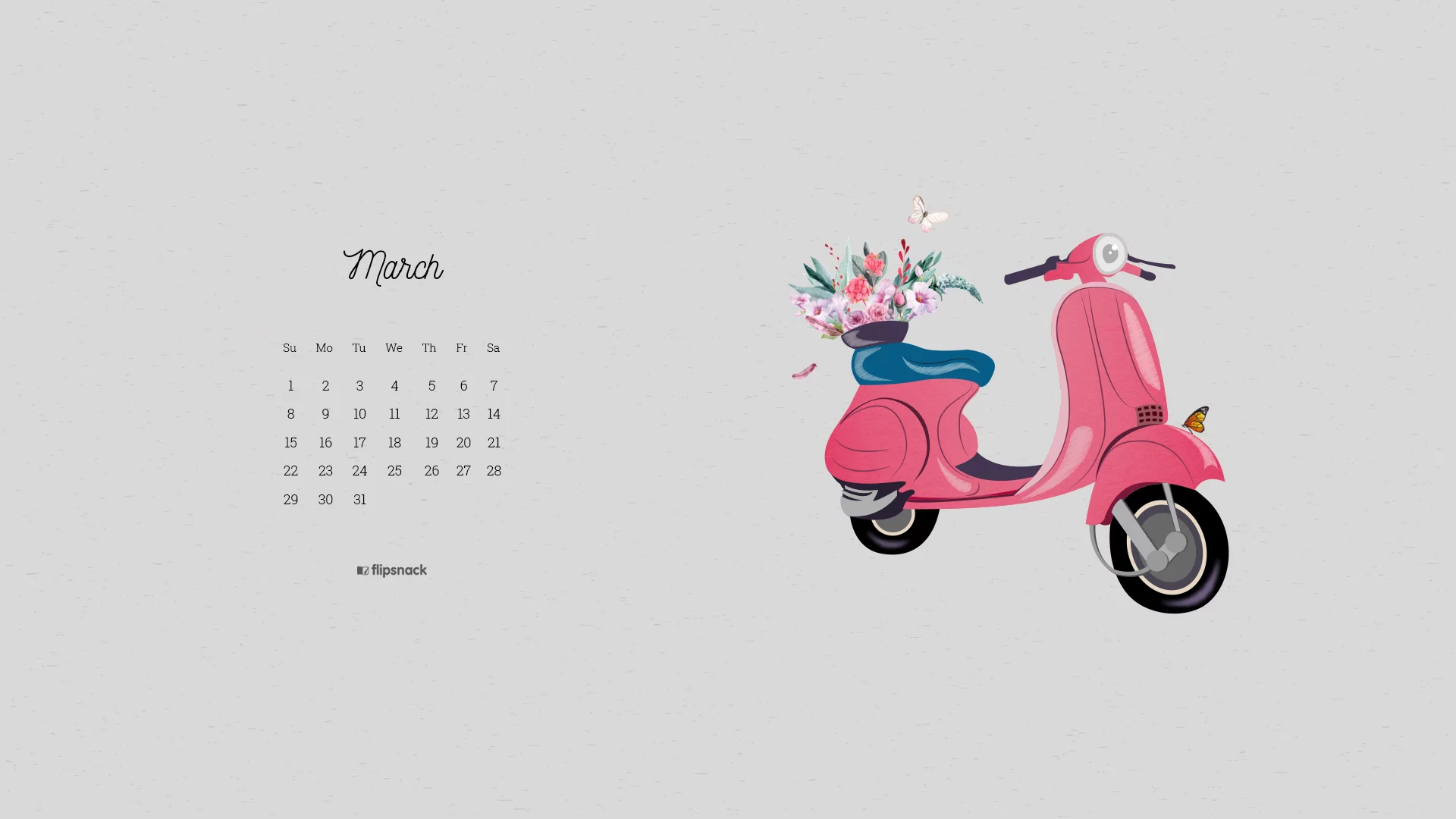 The flowers are almost ready to pop out of the group, the fresh dew in the morning smells sweet, and the chilly morning and mild afternoons are the perfect recipe for March. It's a wonderful time to be outside or stay indoors and cuddle up next to a nice warm fire. The possibilities are really endless in March.
Our March 2020 wallpaper calendar showcases a red scooter that would make anyone want to throw on a helmet, jump on, and glide through the mountains or city streets. The flowers on the back are just a subtle reminder of what we have to look forward to as well with the colorful flowers just starting to awaken from their winter slumber.
April 2020 wallpapers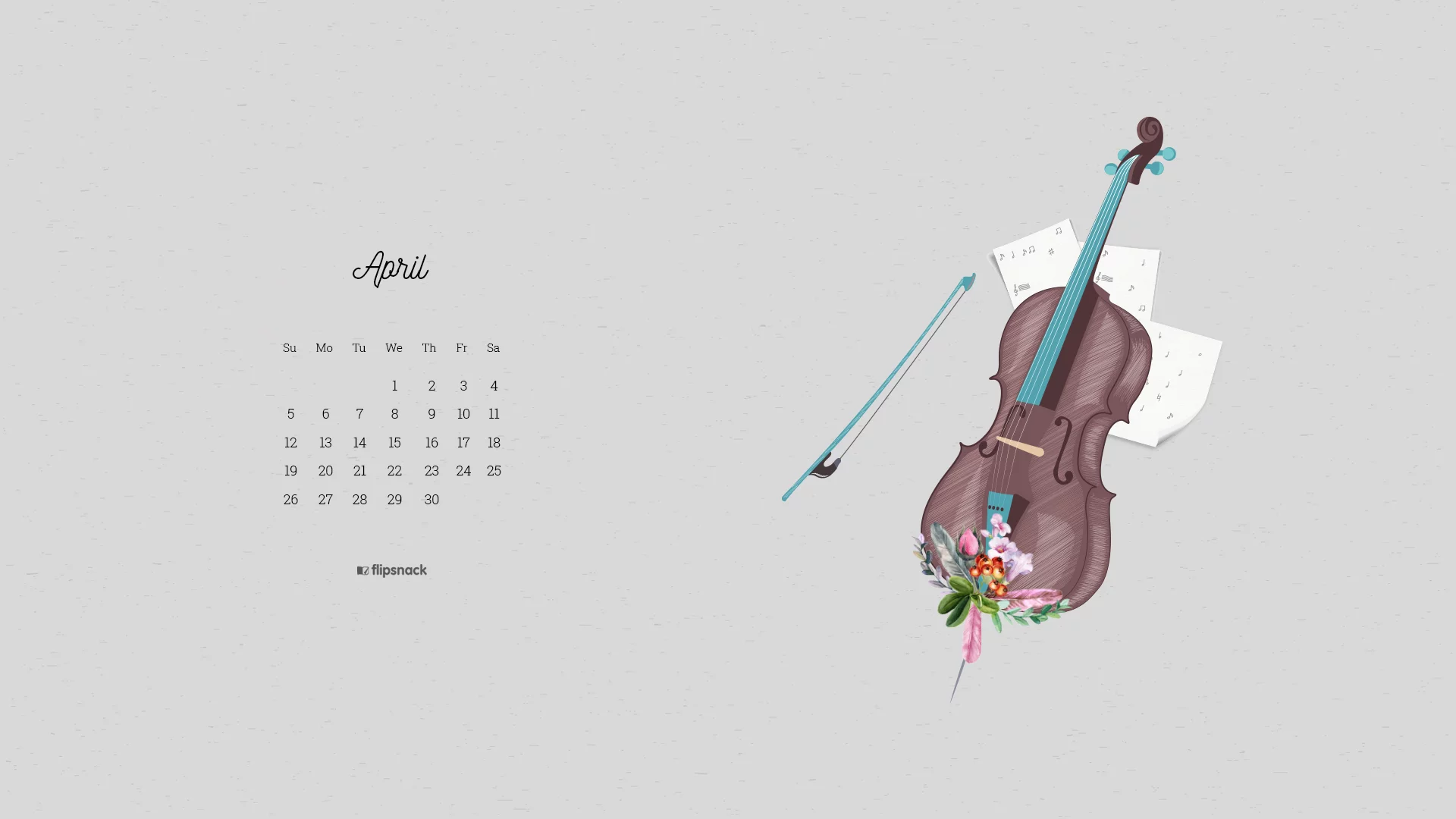 If you like rain, then April is your month. If not… then don't be too discouraged. April has a lot to offer, even when it's raining. For me, April reminds me of how refreshing Spring is. It's like taking a giant breath of fresh air for the first time in months.
Our April 2020 wallpaper calendar reminds us of two of the many beautiful things in life: music and nature. Just like the soothing sounds of the violin, the rain drops, mild breezes, and songbirds singing in the morning make music of their own in April.
This wallpaper serves to remind us that there are many beautiful things in life. We just have to take the time to stop, look around, and listen to the music.
May 2020 wallpaper calendars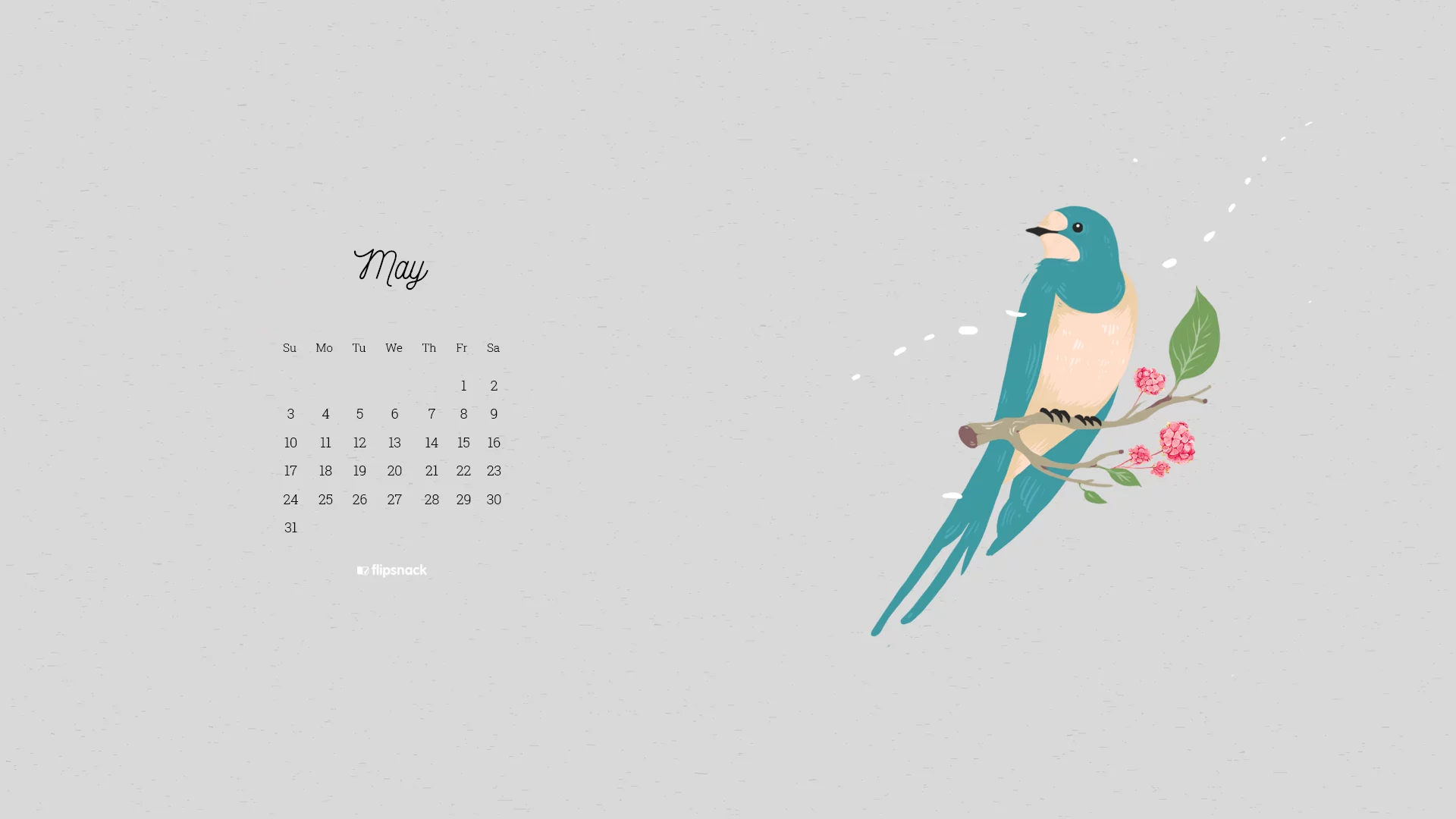 May is such a happy month! Nature returns to life, birds start singing their lullabies once again, flowers bloom in all places and our souls revive knowing that summer is not very far behind. More than any other month, May makes us feel lucky to be alive and be thankful for every opportunity this life has in store for us.
Our May 2020 wallpaper calendar depicts a cute and colorful bird that gives us an elusive behind the shoulder look. We don't know if the bird has seen something interesting and that's why it's looking in that way or it's just preparing its posture for a rock and roll performance. No matter the case, we're more than thrilled to listen to its musical.
June 2020 wallpapers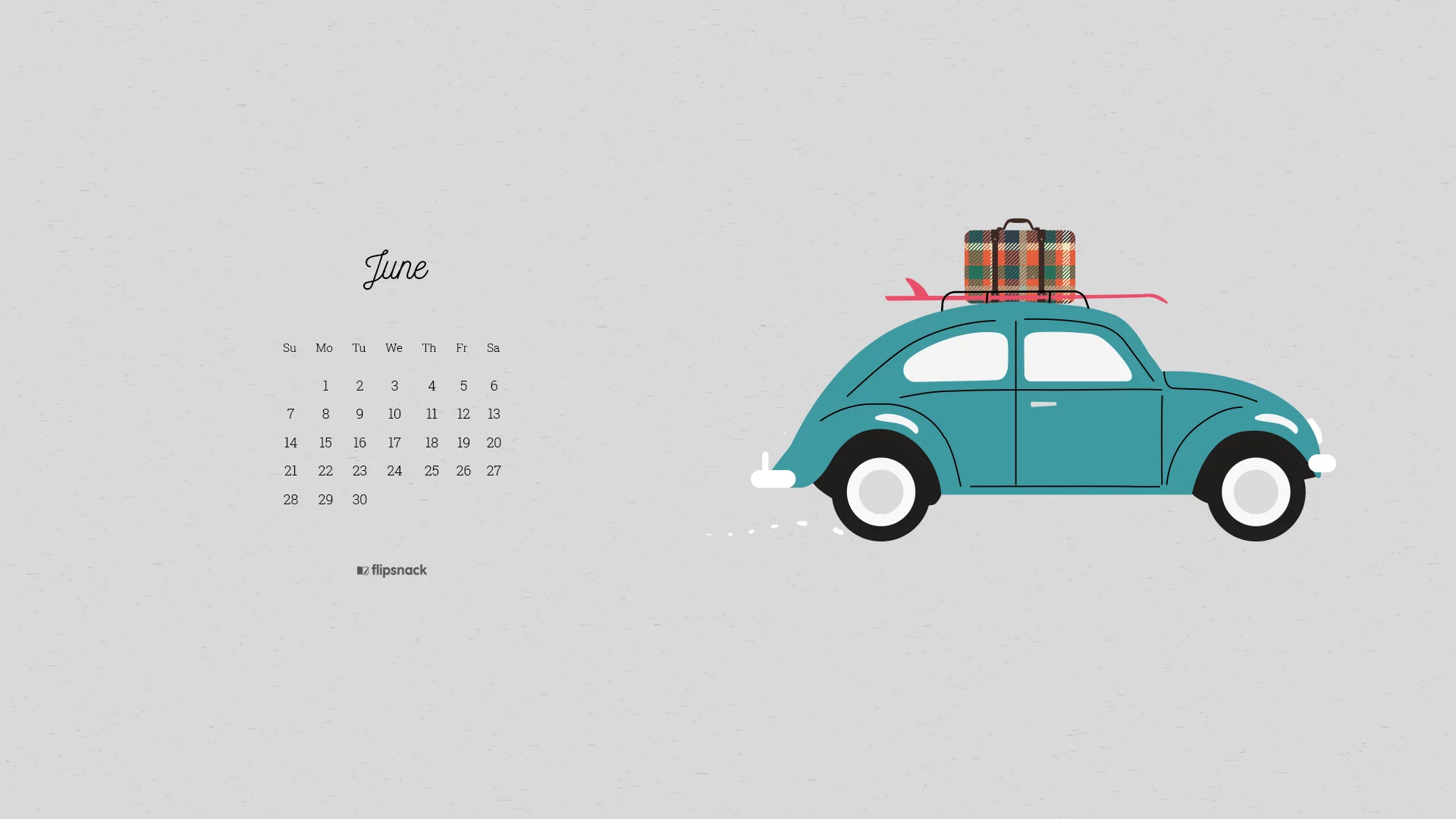 To me, June represents the gateway to summer! You can smell the fresh roses once again, enjoy the hot sun while you're taking a walk with your dogs, toss yourself into the blue sea and drink lots of lemonade! Yes, June is a very hot month, so don't forget to stay hydrated! 
This June 2020 wallpaper calendar reminds us to step out of our comfort zone from time to time, pack some stuff quickly, jump in the car and take advantage of the good weather! This is the plan for the perfect trips! Leave all your worries behind and enjoy every day you're receiving from above. Life is all about creating and inventing yourself!
July 2020 wallpaper calendars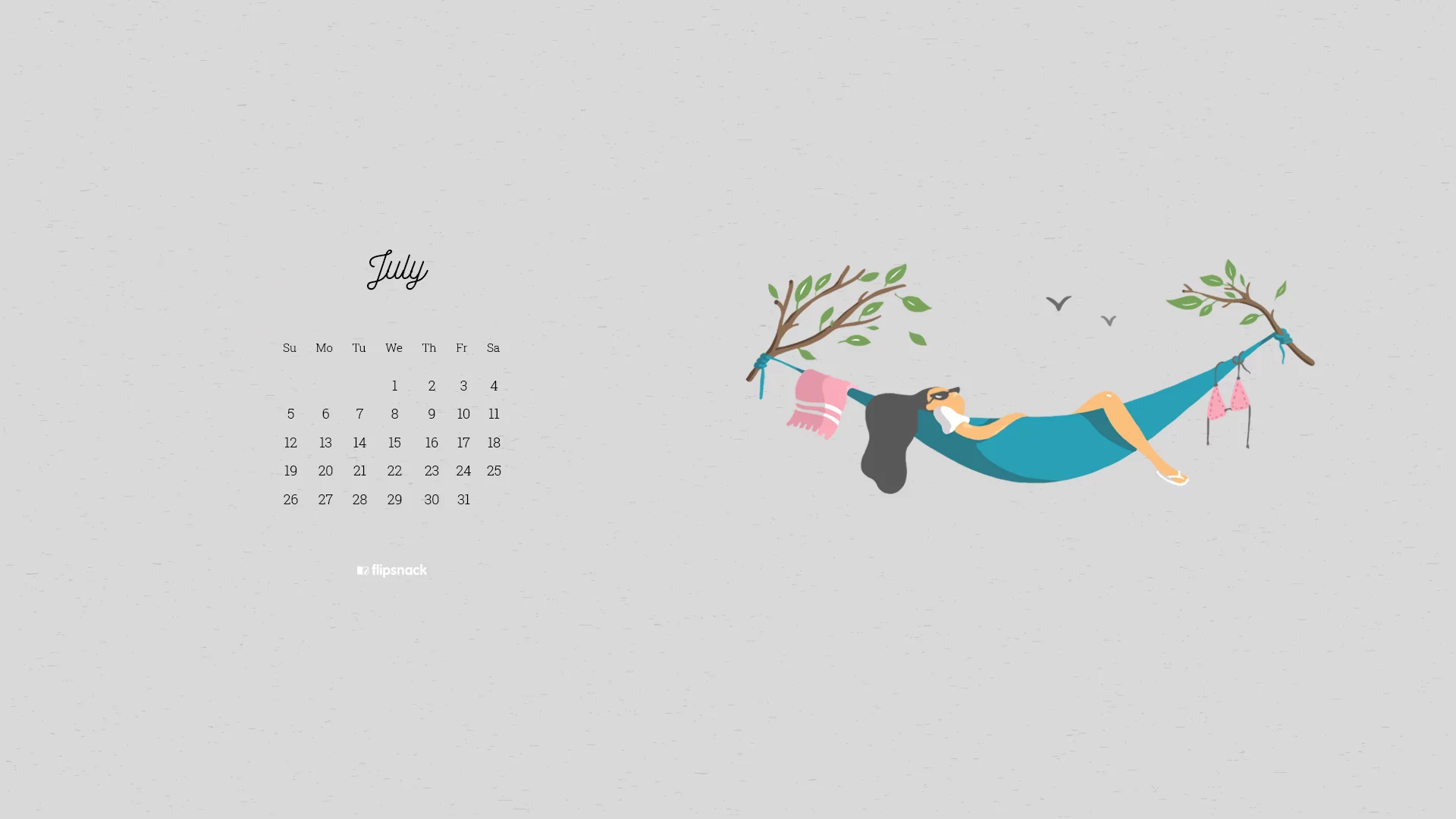 Oh, I'm dreaming of a July with no working days, long summer nights, best music festivals, cocktails on the beach, the smell of sunscreen on my face, and getting cozy in a hammock while doing nothing. To me, this is the perfect definition of a successful summer. Don't you agree with me?
Our July 2020 wallpaper calendar makes you want to take a vacation right now. Just take a break from work, disconnect from everything and simply enjoy the little things in life that make us happy.
Seize every opportunity that comes to your life and break every boundary. Summer is all about making plans and sticking to them. Cheers to a happy July!
August 2020 wallpapers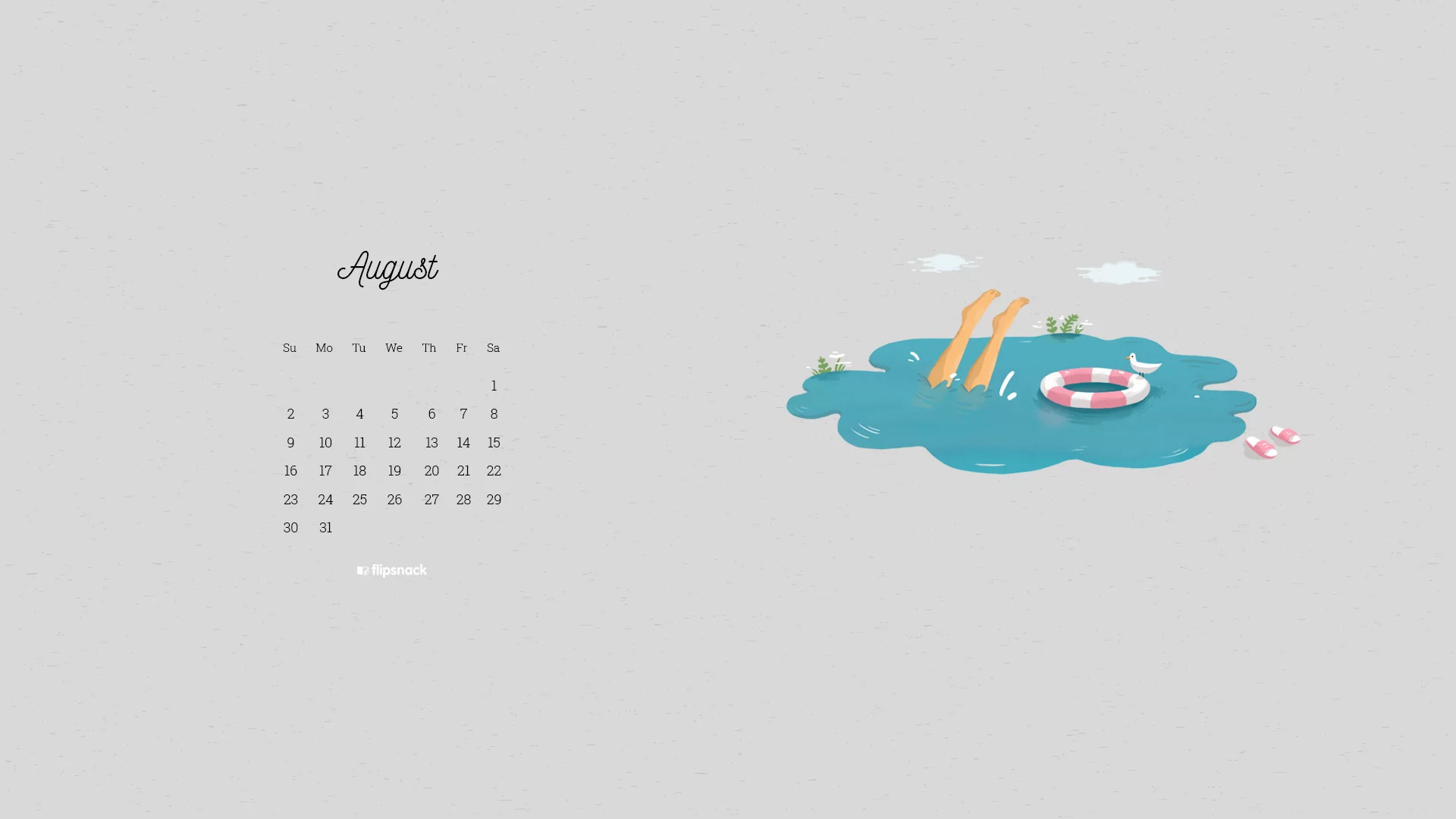 August is the perfect month to experience summer in full effect. The nights are cool, the morning fresh, and the afternoons are perfect for a nice sip of iced lemonade.
For our August 2020 wallpaper calendar, we decided to remind you of what you have to look forward to after work on the weekends: a nice, refreshing swim! Don't get too distressed if you're stuck inside. The days are long and there's plenty of time to get a suntan.
In the meantime, grab this August 2020 wallpaper calendar. Adding it to your desktop background will be just the reminder you need when you forget about those gorgeous summer days.
September 2020 wallpaper calendars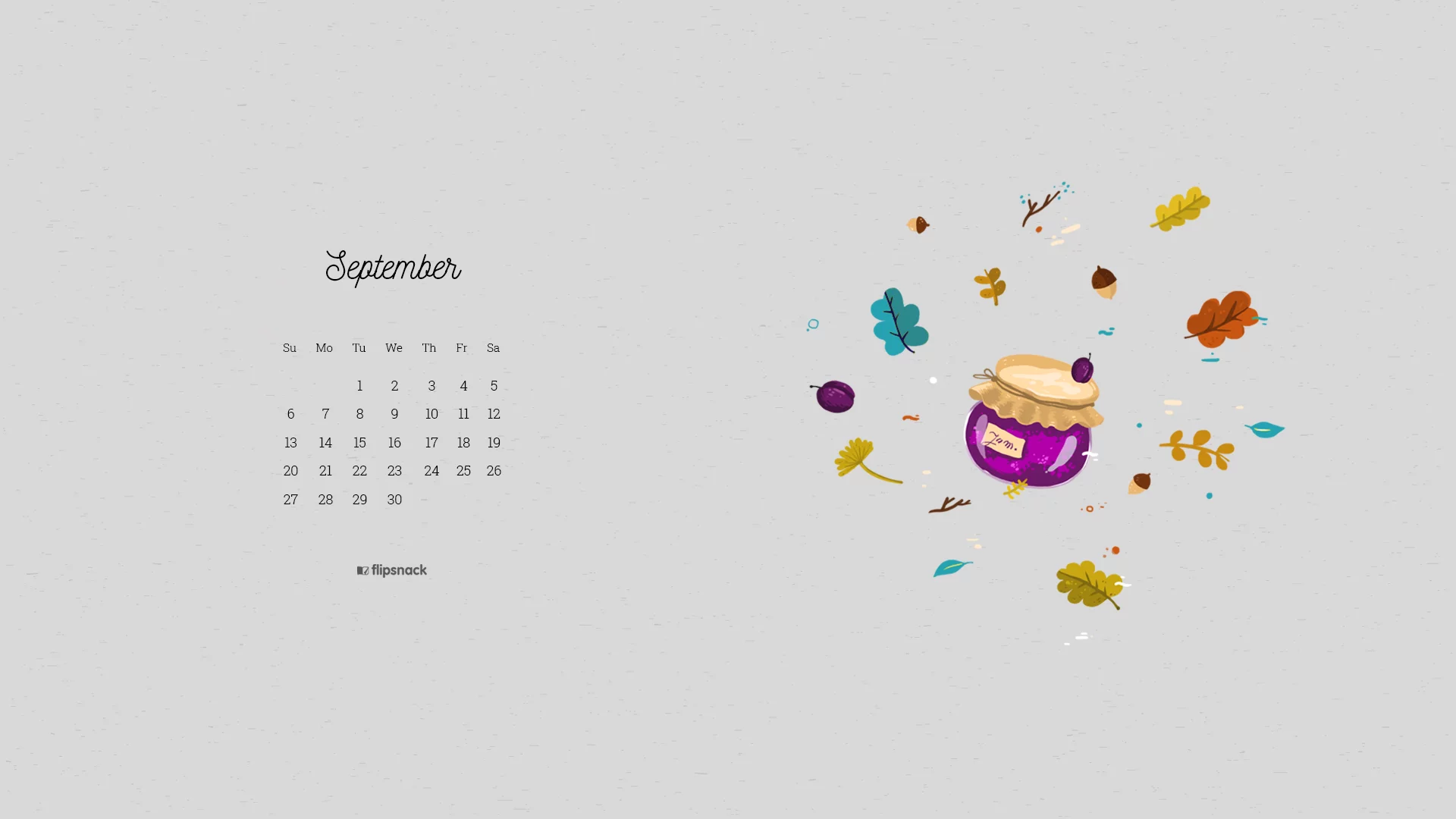 Who else is a big fan of September? Weather gets a bit chilly, after all those torrid months of summer, kids get back to school and the productivity levels increase tremendously. 
On another note, days get shorter and evenings spent at home enjoying a delicious tea while reading a good book look more appealing.
For me, the first month of autumn inspires me to bake more. A perfect occasion to take advantage of all the seasonal fruits. Delicious figs, sweet plums, apples, pears, and grapes. How about you get creative and try out all sorts of new recipes to impress all your friends.
And so, we designed the perfect autumnal 2020 wallpaper calendar to inspire your cozy September evenings.
October 2020 wallpapers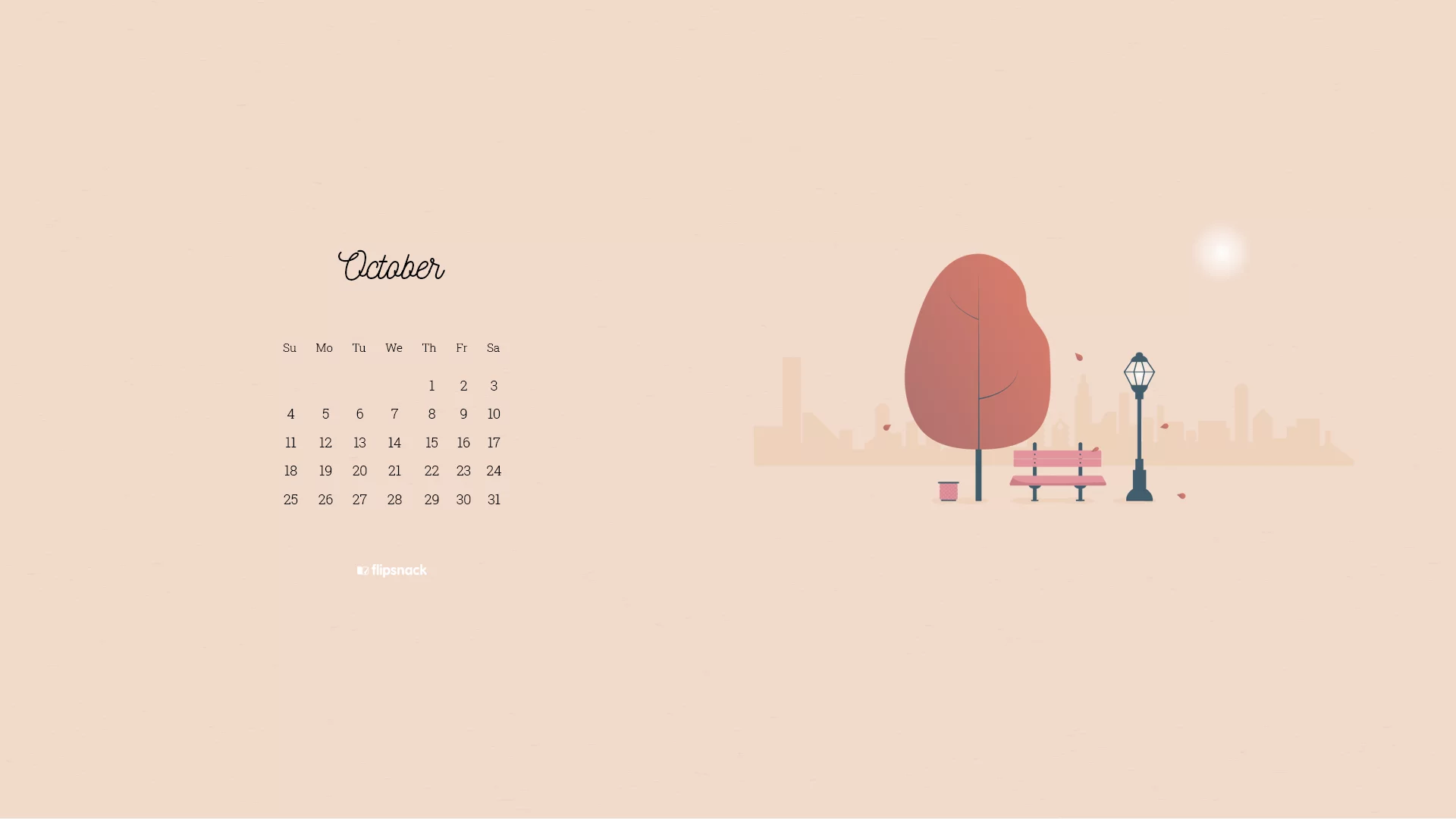 This October 2020 wallpaper calendar takes me back to New York and the Central Park during autumn. When everything changes from light green to dark reds and maroon colors.
Call me a romantic but October is the perfect month for long brisk walks admiring the falling leaves while sipping a hot pumpkin spice latte. 
Oh, and let's not forget Halloween, one of the most important holidays in October.
There is no need to mark your calendar, getting ready for the spookiest nights of them all is a ritual. No matter the age, there is something so special about planning what to wear and picking up the craziest costume.
Keep the autumn vibe alive throughout the entire month and download this October 2020 wallpaper calendar for free!
November 2020 wallpaper calendars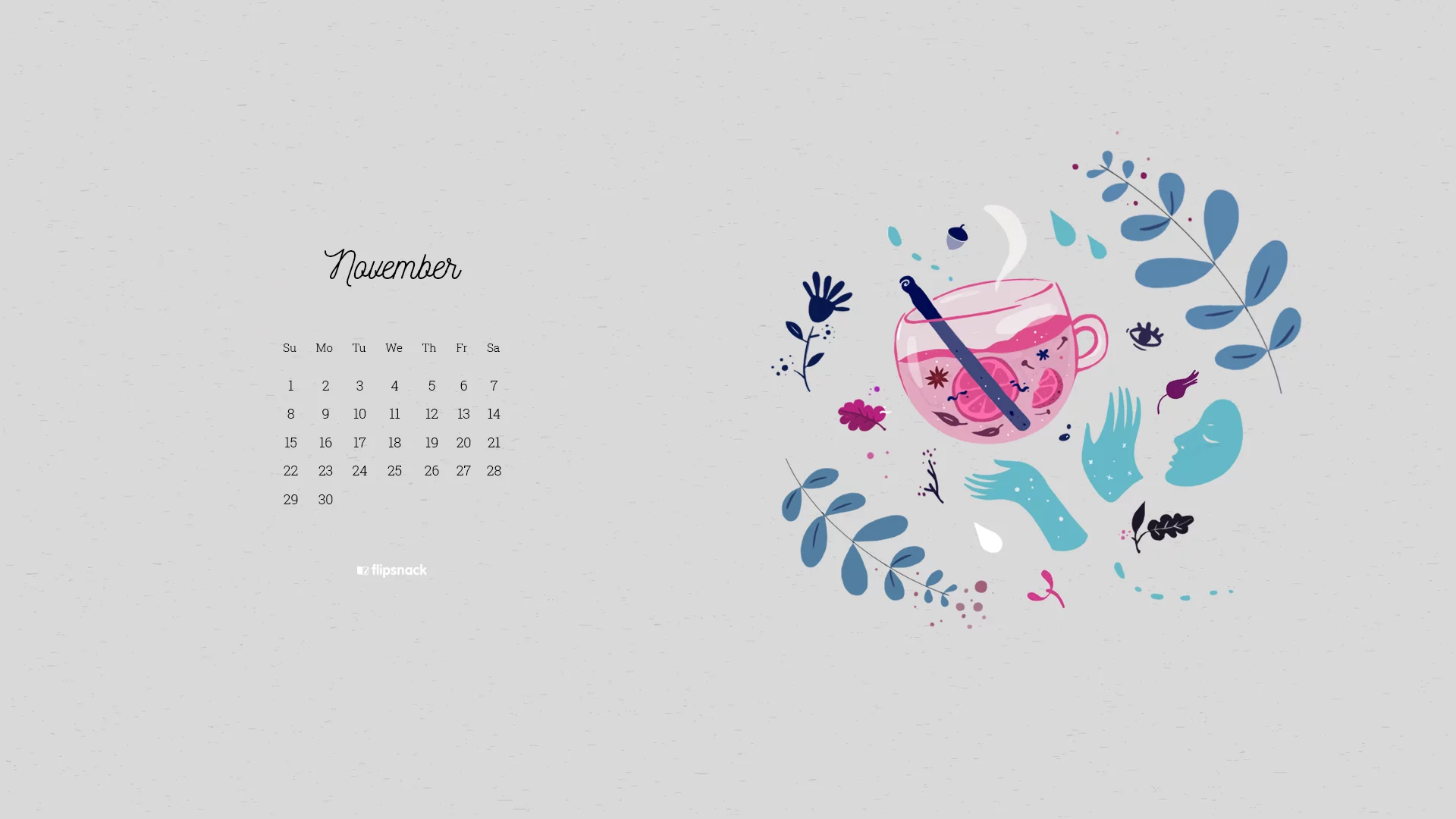 November is officially the first month of the year when it's socially acceptable to drink mulled wine. Marking the start of the holiday season, November is still such a quiet month.
Everyone is just getting ready for Thanksgiving. And as with any other holiday, some of us are really excited to celebrate, organizing Friendsgiving dinners, while others can't wait to escape the nosy questions coming from relatives they haven't seen all year.
I'm not here to help you out on how to deal with nosy relatives, but instead, I'm giving out a free 2020 wallpaper calendar for November, to keep you organized even in the colder days. This design will definitely make you wanna invite your friends over for a cup of mulled wine and some laughs after a long day at the office. Thank me later!
December 2020 wallpapers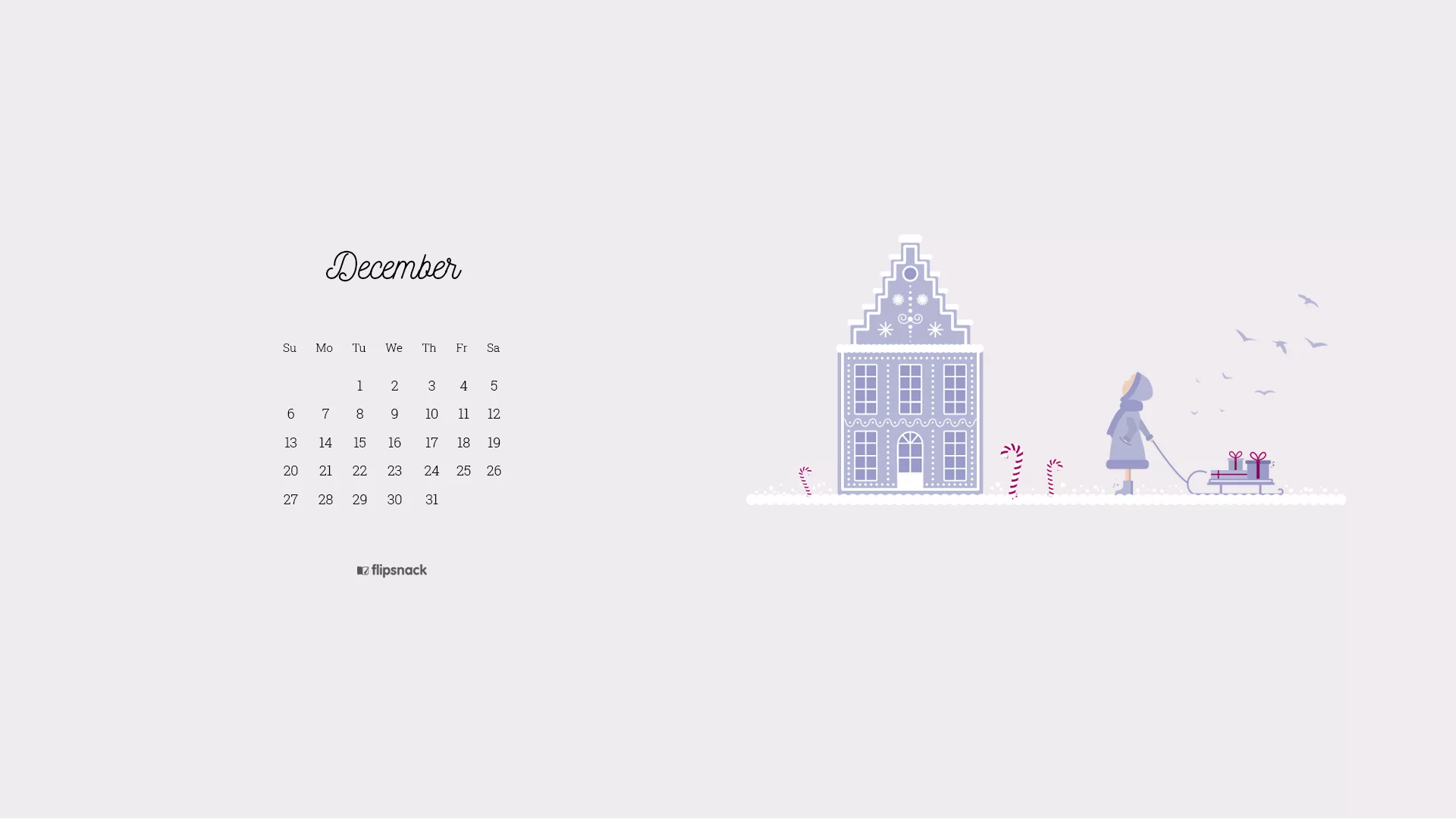 Can we all be kids again? Just for a minute or two. Or when it starts snowing in December? Just to enjoy another sleigh ride down the white hills, like we used to do when we were kids. 
When our designers thought about a December 2020 wallpaper calendar, this kind of nostalgia is exactly what they had in mind. Slowing up the pace a bit, when it all starts to become hectic and we usually tend to forget what Christmas and the holiday season is all about. Sure, it's about shopping and gifts, but more importantly, it's about that tingling feeling we had when we were waiting impatiently for Christmas as little kids.
Santa came earlier this year. Download this free December 2020 wallpaper calendar here and enjoy this winter.
That's all from us as far as calendars go this year. Cheers to a more productive and creative 2020!