How to make a business magazine like Forbes
I wanna be a billionaire so freaking bad
Buy all of the things I never had
Uh, I wanna be on the cover of Forbes magazine
Smiling next to Oprah and the Queen
You know the lyrics, right?!
Every businessman wants to be on the cover of a business magazine like Forbes or appear on the 30 Under 30 list. But how exactly did Forbes become such a staple in the world of business magazines?
This article will shine a light on how Forbes got so famous. We'll get into a bit of history and we'll also see what it takes to make a business magazine like Forbes. So, if you're passionate about the world of business, technology, and everything in between, keep on reading!

A brief history of Forbes magazine
Bertie Charles Forbes had a natural talent for writing and always wanted to become a business writer. After he wrote several financial articles and books, he wanted to start his own publishing company. Forbes magazine was founded in 1917, while the U.S. joined the war and the existence of capitalism was at stake. I guess hard beginnings lead to great success.
Originally named Doers and Doings, Forbes magazine started featuring businessman leaders and freelance pieces. Over the years, the content started to improve as did the industries of innovation and advertising.
In 2017, Forbes magazine celebrated a century of existence. Magazine's fame started to grow when they introduced a special annual issue "400 richest Americans". That was a huge success, therefore, lists became a must-have for the following editorials. Forbes' 30 Under 30 is another phenomenon where they present young people from different categories that have the world at their fingertips.
Their publication expanded over time and their present editor-in-chief is Steve Forbes. Besides the lifestyle supplement, Forbes Life, other titles include Forbes Asia and 27 local-language editions. Nowadays, the magazine is well-known for offering up-to-date articles regarding the business industry, technology, politics. They also do informative lists and rankings like:
Forbes 400
America's 60 Richest Self-made Women
Forbes' 30 Under 30
The World's Billionaires
Forbes Travel Guide
World's 100 Most Powerful Women
Forbes Global 2000
World's Most Powerful People
America's Wealthiest Celebrities
Now that we've learned a little history and have some background of the beginnings of Forbes magazine, let's break down how Forbes magazine looks like now, what magazines layout they use, how they do their editorial policy/table of contents, and finally, learn how to apply all the best practices in making your own business magazine.
How to make a business magazine like Forbes
Design an impactful magazine cover
The cover of your business magazine is the first thing people will see. There's no point in having amazing content inside when people are not even going to open it. This is why it's so important to have a cover that instantly catches the eye. Not to mention that your cover magazine design is a big selling point.
Business magazines like Forbes, Entrepreneur, Inc., or The Economist usually use a simple background, the portrait of a celebrity, an entrepreneur or a business person, and intriguing teasers.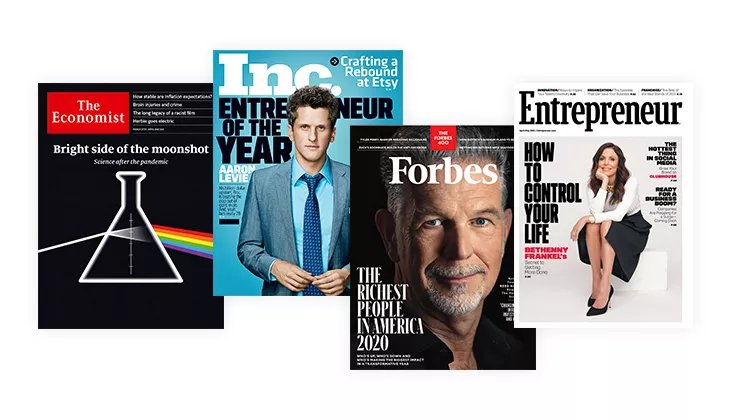 The intriguing teasers can be a short but significant subheading related to the person on the cover and even his/her quotes from the consecrated article or interview. Lastly, smaller subheadings give an overview of the major stories in the magazine.
Let's take a look at some Forbes magazines' cover, for instance, the one with Kylie Jenner.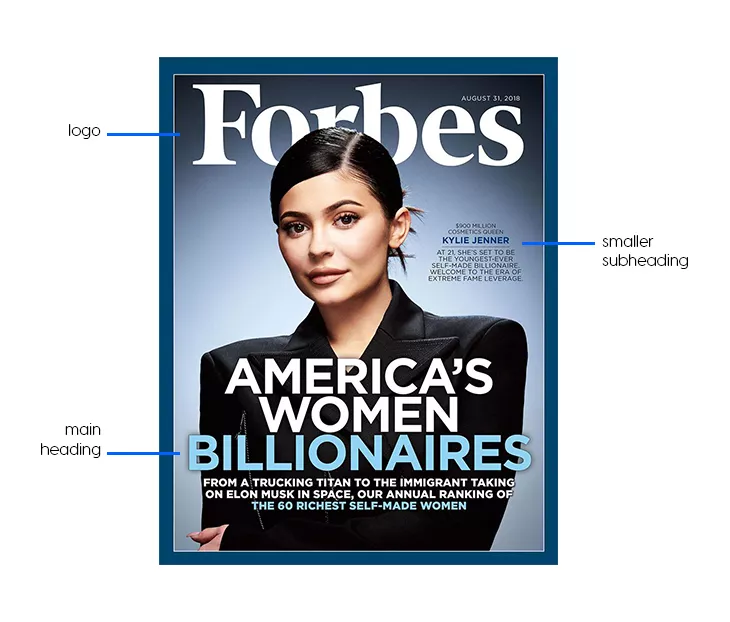 Do you notice the big, famous logo of Forbes magazine in the top center? What about the selling main heading? This title is so bold and catchy that you almost can't decide which gets your attention first – the image with Kylie or the title?! The small written subheading is actually a sneak-peak from inside the article with Kylie Jenner. It's placed there intentionally so the audience can get a hint about what they could find out.
Titles are really important, especially when you're putting together the first issue of your magazine. Choose one that best represents the main content you wrote about. And remember, the bigger the title, the more attention it will get.
TV star of Keeping up with the Kardashians and business owner of Kylie Cosmetics and Kylie Skin, Kylie Jenner appeared on the Forbes magazine's cover issue titled America's Women Billionaires. With an Instagram account of over 2 million followers, we can just imagine that this issue hit the jackpot! While it was considered a great success, it unexpectedly (or not) started quite a scandal.
Long story short, after this issue where Kylie was named a self-made billionaire, Forbes accused her of inflating her business' worth and for making false tax statements, for years. Apparently, the Kardashians family tried to present their youngest richer than she was.
Anyways, the Kylie cover did the selling part quite easily, right? The right celebrity, on the cover of your business magazine, can sell a lot. But don't get discouraged, a good story can sell just as well.
Know what you're talking about
The next important thing to take into account when learning how to make a business magazine like Forbes is the content pages. It's important to find a niche that you have knowledge of and great business subjects that inform and engage. Because content is king, choose the topics carefully and make sure that you write about well-researched topics. Try to rise above your reader's expectations and offer them a front-row seat to everything happening within the business world.
Let's take a look at the most used topics in business publications:
Business magazines are usually focused on management, leadership, technology, entrepreneurship, and lists of billionaires. They present the industry, the challenges it faces, and how it affects the economic world
Articles written by experts and influential people from all sectors and backgrounds
Interviews with entrepreneurs that succeeded amazingly
Business advice about the latest investment trends like: "Benefits of bitcoin investment and why you should try it" or "What will it take to get people back to the office?"
We have a great article on 8 business magazines that everyone should read to help you inspire when you decide on the content you're going for.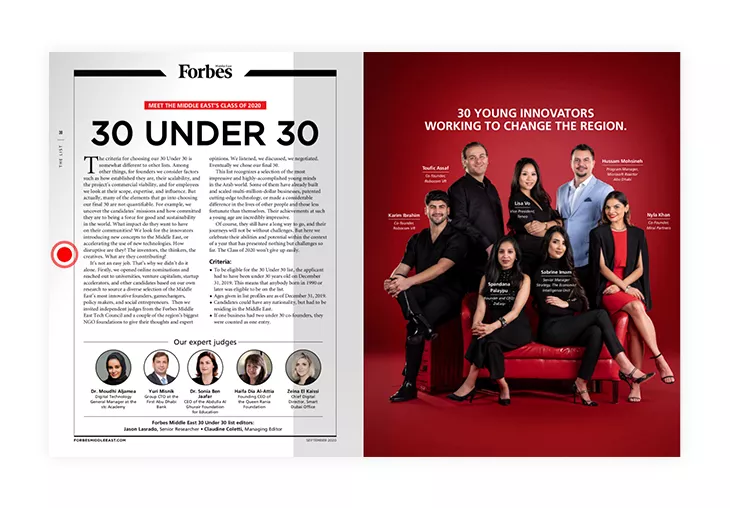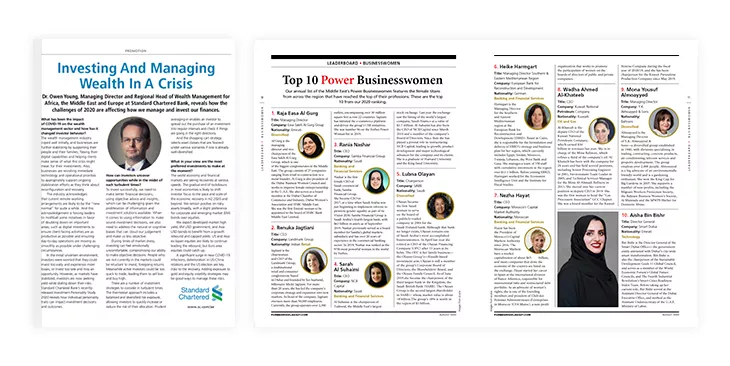 If you flip through a Forbes magazine, you'll notice that their main focus is on offering in-depth articles on most relevant subjects like marketing, innovation, communication, and top lists. Take your time to do a little research and find out your true colors when it comes to business writing.
Set a proper tone and voice
To set a proper tone and voice, you get to know who you are writing for and who's your target audience. There's a big difference between Cosmpolitan's and Forbes' readers, and also between the tone and voice they use.
Let's take a look at Forbes' target audience and see who are the people they write for and what tone is suitable for a business magazine.
Forbes addresses people that are interested in everything about the business industry. Their main focus is on business decision-makers, business owners, investors, and buyers. These kinds of people like to be up-to-date with the latest information and they trust Forbes will offer them that. For their Under30s list, they obviously address people under 30 years old that experienced successful accomplishments. Knowing your target audience helps you also for selling ads in your magazine and for setting price packages, but we'll talk more about this later.
If you flip through pages, you'll notice that they use a professional, positive, and confident tone. Also, their content is clear and concise. See, this is why it's so important to document first and to read a lot before writing business content.
After you've decided on the content and tone you want to use, try to maintain it throughout the magazine so your audience gets used to it.
Create a suitable magazine layout
Making a business magazine like Forbes requires a great magazine layout. Yes, content is king, correct! But the way you arrange and style the articles, interviews, and top lists can make your magazine stand out from all the others and make it look professional.
First things first, you decide the layout of the pages based on the content you have. It's important to find a layout that creates a nice balance between texts and images. This way, your audience should be able to read the content with ease.
If you have, for example, a lot of content and you need to stuff it all on one page because you can't spread it on two pages, try to divide the content into two columns. This way, the content won't be difficult to read. Besides, make sure to integrate images to break some space and give a little pause to the reader.
In the example below, there is a double-page layout. You can see that on the first page, they have a representative picture for the article that is only placed on the second page. For the article to be easily read, they broke it into three columns.
In the second example, the article is spread in half on two pages and they integrated a "context picture" and the image of the article's author.
Again, it all comes down to the content you have and how you can make it look professional.
Even if business magazines usually follow a standard Instagram grid format, this doesn't mean that you can't play around. Let your creativity flow and shake things up a little by adding different styles here and there.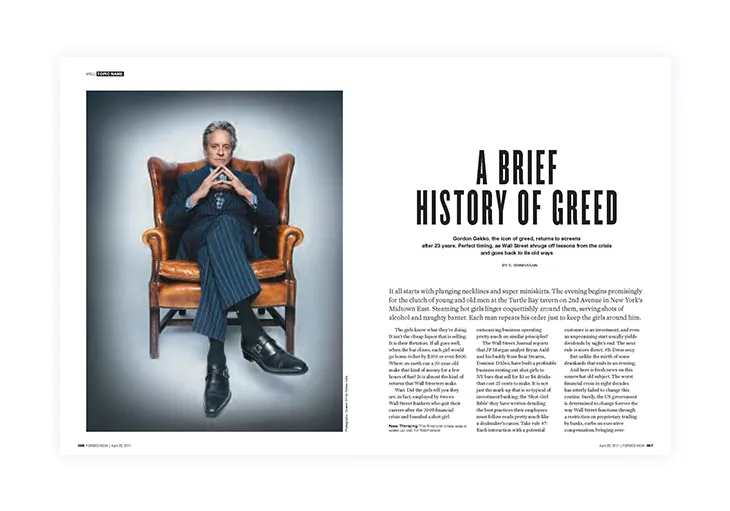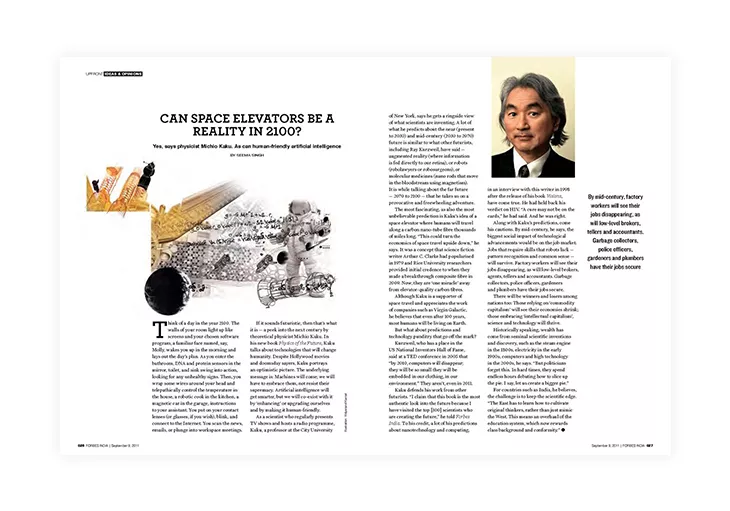 Include a solid table of contents
The table of contents helps the reader navigate through the entire magazine in a few seconds. It has all the content that readers can find in the magazine, and what page they are on. Usually, it's placed at the beginning of magazines, on the first or second page, and sometimes on a double-page if the design is something out of the box. Take a look at "How to make a creative table of contents" for more inspiration.
If readers are only curious about a certain subject and they want to know the page number, then they can skip right to it. Of course, the main point of contents is for the readers to see other interesting articles, interviews, or top lists and to make them read more.
Let's see an example of a table of contents page from Forbes Middle East and analyze it a bit.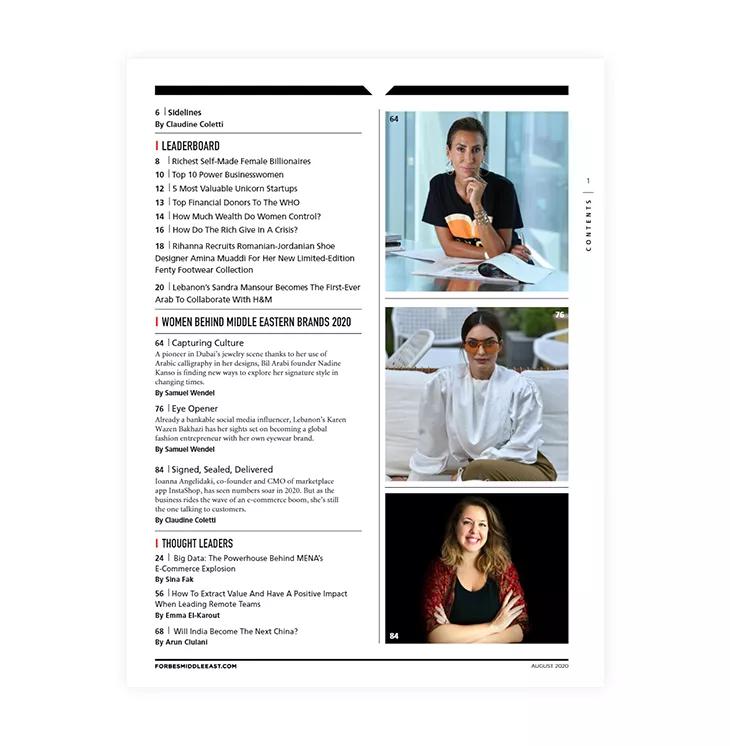 They placed all the content on the left side and broke them into 3 key categories: Leaderboard, Women behind Middle Eastern Brands 2020, and Thought Leaders. For these main categories, they used capital letters, and bigger font sizes to make them pop up. For the subcategories, they used small letters and smaller font sizes. They also used professional photos with the interviewed persons in the magazine.
Even though this page is considered a boring one, you can use different design elements to make it stand out.
Write a strong editorial
I'm sure you've seen editorials in a lot of magazines, it's like a welcoming letter. This page usually contains the editor's thoughts about the overall topics that your magazine covers. It's also a chance for you to show your personality and maybe reveal a little description about yourself, or some interesting experience that you want to share with readers.
When you want to make a business magazine like Forbes, you have to take inspiration from them, right? So, let's see how the editor's note from Forbes Middle East looks like and what are some tips you need to know.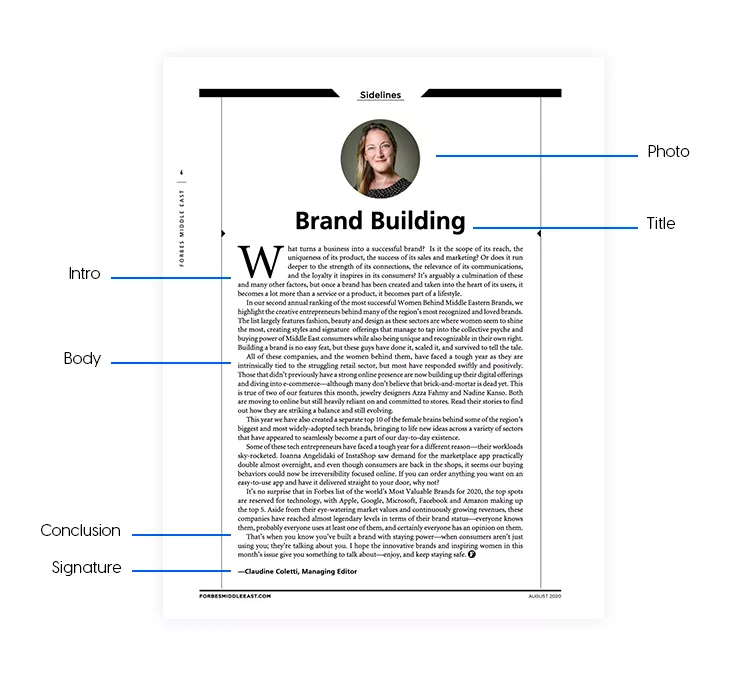 The first thing that grabs our attention is the picture of the editor-in-chief. It's right in the center, so readers can visualize the person who has written the column. Readers feel more connected to you if you use a photo of yourself in your editorial, so consider using one.
Also, in the right-center, below the editor's photo, it's the big and bold title: "Brand building". It's quite easy not to make an idea of what the overall magazine's content will be about, right? The title introduces readers to the main topics of the magazine. Choose a title that best represents the content you wrote about.
Introduction, main body, and conclusion
It's important to start your intro with a great point. In the image above, the editor started with: "What turns a business into a successful brand?". This intro immediately grabs the reader's attention and sets the tone for the rest of the text. The main body's purpose is to give some overview for the following content, and not to uncover each page and article. Also, pay attention to keep your editorial short and concise. The conclusion usually offers the editor's personal thoughts on the issue and even a direct approach to the reader: "I hope the innovative brands and inspiring women in this month's issue give you something to talk about – enjoy, and keep staying safe." It makes it more personal and engaging this way.
One final step when you're writing an editorial is your signature, so people know who is the managing editor, who plans and reviews the whole publication. You can add your name, email, phone number, and address. Or you can just keep it simple as Claudine Coletti did in Forbes' editorial.
Build your brand kit
If you want your business magazine to be professional and yourself to be known as a trustworthy publisher, you should build a brand kit right from the start. Branding is super important, from name, logo, colors to images, editorial style, design, and so on. Make sure to establish these steps before sending your first issue to print.
Think of the logo, colors, fonts you want to use and try to envision it. Keep the same style throughout the key elements of your publication. It's not rocket science and with a little inspiration, you'll get the hang of it! Take a look at our article about National Geographic magazine and how they incorporate their brand style through each page of their publication.
Choose the right fonts, images, and colors to fit your publication
Any business magazine is incomplete without excellent typography and professional images. Sure, people read magazines because of the information they offer but consider that magazines need to be eye-catching to become real page-turners. So every element helps in building an awesome publication!
Fonts play a huge role in how the design of your magazine turns out. For the headlines of the articles, you should opt for bold and stylish fonts that immediately grabs the attention, and for the body content, you can pick simple, yet modern fonts that are easy to read. Also, don't forget to add pops of vibrant colors for a powerful impact. In terms of color customization, the sky's the limit, so don't be afraid to be bold and expressive!
Moving on to images, you can use a combination of both professional photography and stock images. Of course, this depends heavily on the budget you have. It's kind of expensive to hire photographers for every image you display within the pages of your magazine. But, don't worry there are a lot of websites that offer free great-quality photos like Unsplash, Pexels, Pixabay, etc. Start by putting together a mood board before you establish the layout and all the design aspects of your magazine. This will help you visualize better the images, fonts, and color combinations you'll want to use.
Check out our article about designing a fashion magazine like Vogue to see the differences between a business magazine and a fashion magazine when it comes to design and more. Who knows, maybe you'll find inspiration that might be useful to you.
Go for print and digital
When it comes to print and digital… it doesn't have to be one or the other. We think that print and digital work hand-in-hand. There, we said it! And we're not the only ones. Forbes also thinks so.
With technology constantly improving, many people might believe that print days are long gone. Yes, most people read everything online because it's convenient. But let's admit it, there's nothing like the smell and feel of a new printed magazine!
Print is like an enhancing tool of your digital efforts. It gives shape to your publication and it's a relaxed form of marketing. And if America's most trusted business magazine still prints their publication, why shouldn't you do it?
Digital types of magazines
PDF
PDFs are great if you already have a printed magazine. They help you create an exact replica of the printed version, but it also has some drawbacks. PDFs are fixed documents and they lack the interactivity part that gets you closer to your audience and they are difficult to share, unlike flipbooks.
Flipbooks
Digital flipbooks are interactive recreations of printed versions. Their essential and awesome feature is the flipping pages effect. If you're on the lookout for a digital magazine, then Flipsnack is the ideal solution for you!
What you have to do? Open Flipsnack, upload your PDF, and start adding interactive features, or you can begin with a magazine template. These digital interactive flipbooks are easy to share with specific people like subscribers only, you can keep it private or you can share it with everyone!
Start with a business magazine template
Now that we've covered more about how to make a business magazine like Forbes, we want to give you a helping hand. We know that the design part is quite scary, but don't worry! We've got your back! If you don't consider yourself a professional, you can start by using magazine templates. These are great because they help you design fast and easily.

If you need a professional-looking template, then your search ends here. Give this business magazine template a shot! It has a modern and sophisticated layout with excellent typography and it's fully customizable in our Design Studio. It will be a great starting point for your publishing endeavors.
Here is a step-by-step process to make the writing and designing process of your publication much easier:
Prepare great content material – like interviews, articles, and so on
Make a business magazine like Forbes starting with a professional template
Make a solid table of contents using different fonts and sizes
Write a professional editor's note
Design an interesting and inviting double-page layout
Add a video to an article to make it more interactive
Add finishing touches and proofread it
Publish your digital magazine
Share it with your audience (on social media, email newsletter, or embed it on your website)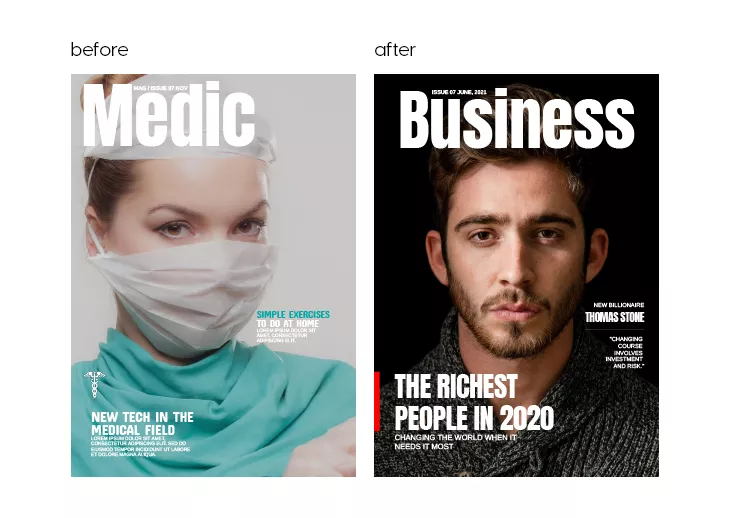 Don't worry, if you have questions or you need help, we have Flipsnack Academy where you can learn more about our Design Studio and how you can add interactivity to your publication.
Also, we have video tutorials on Youtube like Magazine cover design, How to create a flipbook online or How to use Design Studio, and many more. We promise you'll be done with the magazine's design before you know it! Try now, start creating, share it online as a PDF and print it your first business magazine!
Sell space for ADS in your magazine
I'm sure you've wondered "Ok, now that I have the magazine, how can I make money from it?" Well, the answer is quite simple, you have to sell ads! No worries, you don't have to be an expert in selling or to have an advertising degree. You just have to reach out to people and give your best.
Before you sell space in your magazine, you again need to know your audience. This helps you find out what your audience is interested in (because this will actually generate sales) and it will also help you set the price packages.
Take a look at some ad examples in Forbes Middle East magazine.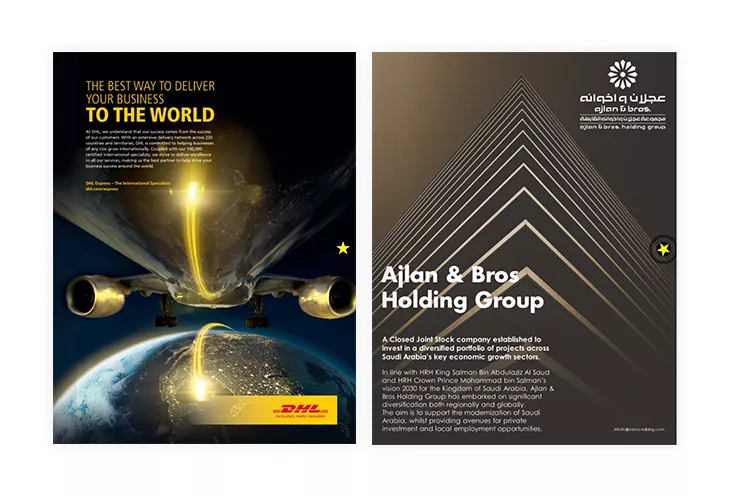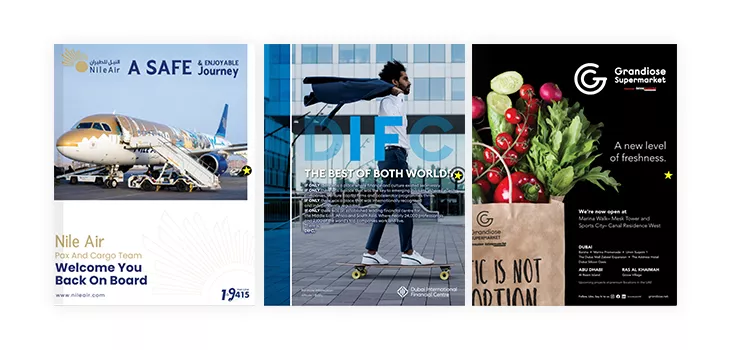 Price costs
Magazine advertising has many shapes, sizes, and costs. From selling a spread (also known as double pages) to a page or half a page. You can even set different prices for the places in which these pages are, which is mostly relevant if you want to also have a printed magazine:
The first two pages when you open the magazine (right after the cover) are more expensive because they have the reader's most attention. Even though here you'll find the table of contents, you can still leave a page for ads. Actually, a lot of magazines use ads on the right side of the table of contents.
The middle where advertisers can use a double page layout for a big, standout ad. This place is also expansive because most of the magazines open in the middle due to the magazine's back structure.
The back and the last pages of a magazine are considered less important, therefore, these are cheaper.
An interesting thing about advertisers is that they usually prefer the right side of a magazine because it's more visible than the left one. So when you try to sell, take this tip into consideration. You can even make a possible ad template in Flipsnack and show it to your potential advertisers.
If you still feel confused about the whole process, here are some steps to follow when you want to sell advertising space in your business magazine:
Know your audience
Find relevant ads that might interest your readers
Prepare a presentation in which you specify information such as how often your business magazine comes out, your distribution plan, audience, ad places, etc.)
Set the price packages
Offer promotional partnerships
When you're just starting to run your publications, you have to reach out to potential advertisers. You can try first with emails but it is important to always follow up with a phone call (over a landline or business VoIP), especially to those who shared an interest.
"To be a successful creator you don't need millions. You don't need millions of dollars or millions of customers, millions of clients, or millions of fans. To make a living as a craftsperson, photographer, musician, designer, author, animator, app maker, entrepreneur, or inventor you need only thousands of true fans."

Kevin Kelly
Don't be discouraged if you don't get a lot of responses to your emails or if people are at first reluctant to your approach. Each beginning is difficult at first, but you'll get the hang of it after some publications. Check our article on "How to run an online magazine" for more useful tips.
Have a consistent social media presence
And now, we present you the almighty tool called Social Media! Social media allows you to reach and engage with your audience no matter their location. It has a crucial role in how people interact, connect, and communicate.
So, let's crack the code on how you can make the most of it!
First of all, you have to use social media with a strategy in mind. It's not all about a posted photo on Facebook and Instagram and that's it. You have to be intentional about it and put a little effort into creating a great social media strategy.
Forbes has accounts on all social media platforms like Twitter, Facebook, Instagram, Linked In, Youtube, and Telegram. Of course, the website is the main attraction, and the other platforms usually redirect users here, but this doesn't mean they don't get to use different strategies for each platform.
For example, on Instagram, they ask their followers what opinions or thoughts they have regarding an article, sometimes they offer specific insights about some content, and they make engaging live videos with entrepreneurs and specialists. Depending on the platform you want to use for your business magazine, make a plan and try to stick to it.
Oh, you could use your social media as part of your selling plan! How? You advertise space in your magazine and you can create some packages that promote them also on your social media accounts. Not only that you can promote them in your digital and printed magazine, but you can also do it on all your accounts. So when the advertisers ask what do they gain from you, you can just say: "Well, advertising in my magazine gives you the best of both worlds." Cool, right?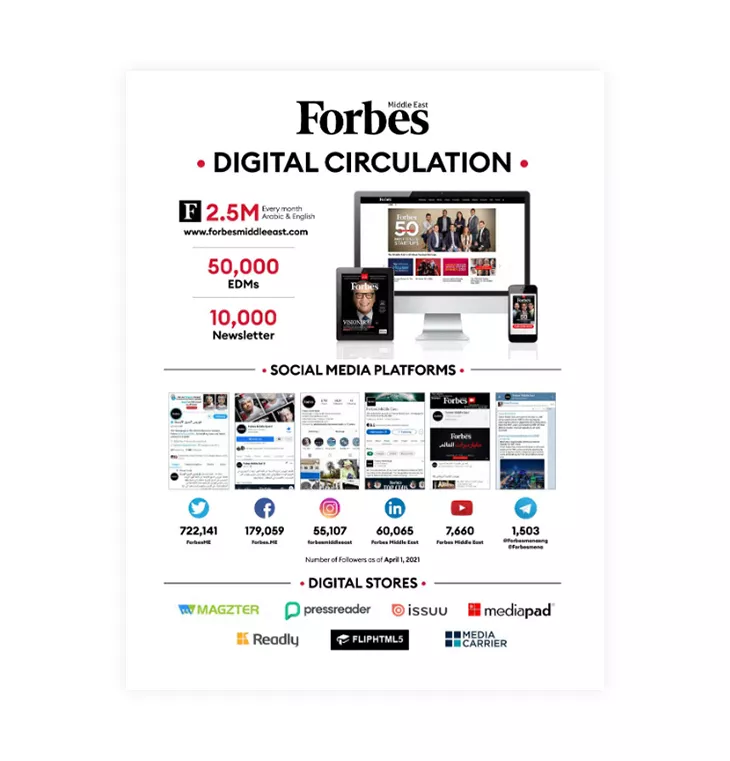 "Every month, we reach more than 140 million people across all platforms – online, on social, through Live and virtual events, through video and print." says Forbes. So it takes the whole package to have a successful business magazine like Forbes. Consider using all the social media platforms to reach a greater audience and always be on the lookout to improve your social media strategy.
Conclusion
Well, it's been quite an adventure, right? I hope you found this article helpful and that you apply the things we talked about here. I know that making a business magazine like Forbes sounds quite scary at first, but if it's your dream, then it's worth fighting for. Flipsnack gives you all the tools to make it easier for you, so start now!