Marketing strategies for small businesses
Being the owner of a small business is no easy task, especially in these times filled with uncertainties. There are all sorts of obstacles you must overcome: competition, limited budget, small customer base, overall uncertainty.
Statistics aren't encouraging either. Did you know that 20% of the small businesses fail in the first year, that the percentage grows to 30% in the second year? That in ten years, around 70% of small businesses no longer exist?
This information can be scary, but no worries, there are different strategies you can use to make sure that your business will be a successful one. I'll offer you 11 free marketing strategies for small businesses, which you can learn and apply yourself. Hopefully, you will find them useful.
What is small business marketing?
Searching for "marketing" on Google reveals the following definition: "the action or business of promoting and selling products or services, including market research and advertising."
Marketing is complex and there are different aspects to it. It is more than selling a product, it is about knowing your company, your customers, competition, and using that knowledge to steer your business in the right direction.
According to UppercutSEO, small business marketing is different because what works well for a large well-established company, does not work for a smaller one.
First of all, a smaller business will have neither the manpower nor the larger company's budget. Hiring specialists for different aspects of the job might not be viable.
Chances are that you will have to take care of certain things yourself, at least until things start moving. You'll need to be aware of all the constant changes involving your business to stay competitive and avoid marketing mistakes. Luckily, nowadays, it is pretty easy to find proper sources of information: you can read online articles, watch videos, or read marketing books. Summer is around the corner, so here is one of our blog articles about great marketing books you can read.
Secondly, you will have to spend lots of time promoting your business, find out more about your customers, and how to gain their trust. Marketing is often a trial and error situation, and that consumes time.
Let's see why marketing is so important for a small business. This leads us to the next question.
Why is marketing so important?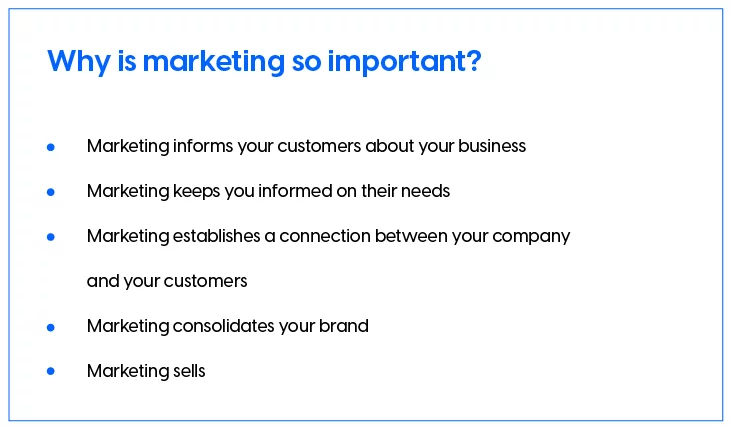 I want you to use your imagination for a little while. You are now the owner of a small "around the corner" coffee shop that offers a wide selection of products. Coffee of course is the main attraction, but you also sell coffee mugs, T-shirts as souvenirs, pastries. You have a physical store, but you also sell online. I'll let you decide what the name of the business is, it is yours after all. I'll keep referring to this shop when offering examples. Let's get things started.
Marketing informs your customers about your business
So there it is, you've just opened a new bright and shiny coffee shop that offers a wide selection of coffees. How do you let the customers know that besides offering excellent service and products, you offer more than that? You offer a place where friends can get together and feel at home. You offer the next Central Perk or Monk's Café. Yes, a Friends and a Seinfeld reference in the same sentence.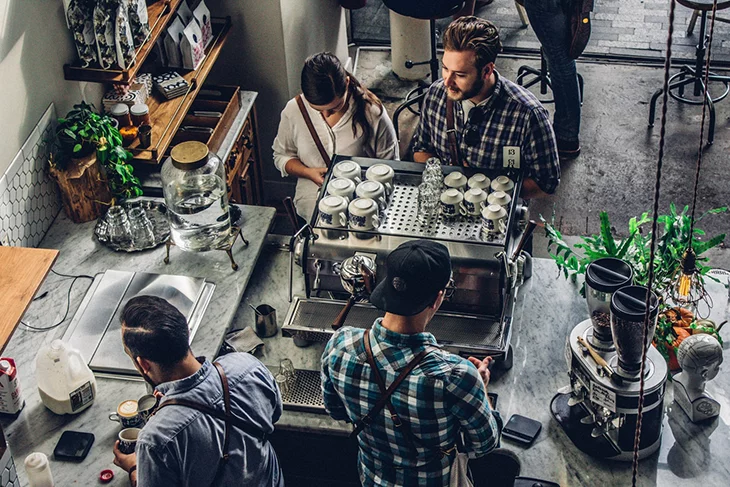 Your place makes them feel welcomed and respected, it offers intimacy and great coffee, what else could you ask for?
You know that the coffee is great and that the place is cozy, but your customers don't. This is where marketing comes in handy. It allows you to share exactly what you are about.
There are different types of marketing, and each type has its purpose. One offers engagement with the customers, another makes your site more visible for search engines, another regularly keeps them updated on whatever changes you implement.
I will offer detailed information on each, later in the article.
It keeps you informed on their needs
Thanks to the development of the internet, it is easier than ever to stay in touch with your customers. Just as you can promote your business online, you can gather information about your clients online.
Let's say you want to add a new coffee flavor to your mix. You could add whatever flavor you like, or you could conduct a survey and ask your customers what they prefer. In this case, watermelon was the winner. Yes, watermelon, just go along with it.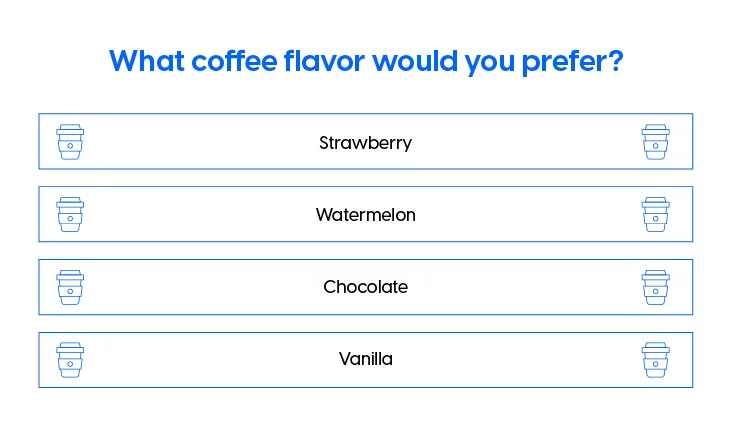 You decide to add that flavor to your coffee selection based on your research. Chances are that you might have introduced the flavor on your own, but the survey helped you determine your customers' needs faster. You found out their needs, wants, and demands and acted accordingly. This will make them feel appreciated, which takes us to the next point.
It establishes a connection with your customers
Respect is probably one of the most important things a company can offer its customers. Respect comes in various forms: high-quality products, excellent service, maintaining regular communication with your clients.
By listening and caring for your customers' needs, you establish a connection with them. Think about the last time you recommended a product or a company.
Chances are you enjoyed the product or the service so much that you decided to share it with friends, or family. You considered that they should also enjoy and experience what you did. Here is a nice article that explains why we feel proud when using certain products.
Connection is created by offering a great product, listening to the customers, and acting accordingly to their desires. Great coffee -> survey -> introduce the desired flavor.
It consolidates your brand
By constantly listening to your clients' needs, your company's reputation will continue to grow. It is a mutual respect situation between your company and the customers. This helps increase your reputation, which in time builds and consolidates your brand.
Branding is more than a logo; branding represents a style, in some cases, branding becomes a way of life. Think about Apple and the popularity of iPhones; Nike and its supremacy in sports; Jacuzzi and how people refer to it when referring to any hot tub.
One great way to consolidate your brand is by offering something unique which your competition doesn't. Offer coffee assortments from all over the world, allow your customers to make their coffee under the supervision of a barista, and so on. Think about different things that might make your business stand out.
It sells your products and services
The main goal of a company is to make money and to succeed. This is the truth. No business owner ever said: "I'm going to start my own company, and I don't care if I'll go bankrupt in a year!" It's not greedy to want your business to be profitable, as money allows you to offer better services or products to your customers.
Making money is the final goal, but it strictly depends on the other steps I mentioned. You need to promote your business, listen to your customers' feedback, establish a good connection with them, and then the sales will come.
Money is the goal, but your customers should be the main concern. If they are happy and satisfied, sales will reflect that.
Maintaining a good relationship with your customers is paramount because that is the foundation of a successful business. Losing the trust of your customers often has disastrous results. Before starting your business as an LLC, corporation, or SP, do the market research and plan your marketing first – it's easier to start a business than close.
11 free marketing strategies for small businesses
Thank you for reading so far and for accepting the small coffee shop owner role. Let's take a look at the marketing strategies I mentioned, and see how they can help your small business. They will be split into online and offline strategies, each with pros and cons; determining which suits your business better is up to you. Keep on reading if you want to find out more.
What are good marketing strategies for a small business?
I want to offer a disclaimer: "marketing is not a magical formula, it doesn't solve all your problems overnight." Lots of work is involved; it requires time and dedication. You can use different marketing strategies for a small business, but not all of them might be suitable for your business.
You might benefit more from offline marketing, such as sharing flyers, ads in printed media, or online marketing, such as a well-optimized website, email campaigns. Combining the two is ideal, but in the end, a good marketing strategy is the one that works. You will identify the perfect combination over time. Additionally, to understand audience preferences, include an A/B test in your marketing toolkit for a data-driven strategy. Using split tests effectively will help you refine your coffee shop's marketing strategy over time.
Online marketing
Technology has made it easier than ever to promote your business, approach, and engage with possible customers.
In no particular order, here are some of the most popular digital marketing strategies for a small business.
Social media marketing
SEO
Local SEO
PPC
Video marketing
Content marketing
Email marketing
Mobile marketing
There is a lot of information to process, I know, but don't get alarmed. I will take each step one by one, and I will offer specific examples for each of these steps.
Social media marketing
Regarding marketing strategies for your small business, social media is one of the most important tools you have at your disposal. Think about it; almost 50% of the worldwide population has used social media at least once. Social media is the holy grail of marketing, as it is one of the fastest ways to reach and engage with your audience.
It is popular, free, and there is a wide variety of social media platforms to choose from. Test and see how your customers respond to each of them.
Why not create a Facebook community for people who enjoy your coffee? People who join your Facebook group are already interested in what you offer. This means you could use the group to ask questions, conduct polls, surveys, make announcements, organize contests, and so on. You can directly engage with your customers and make the desired changes through groups.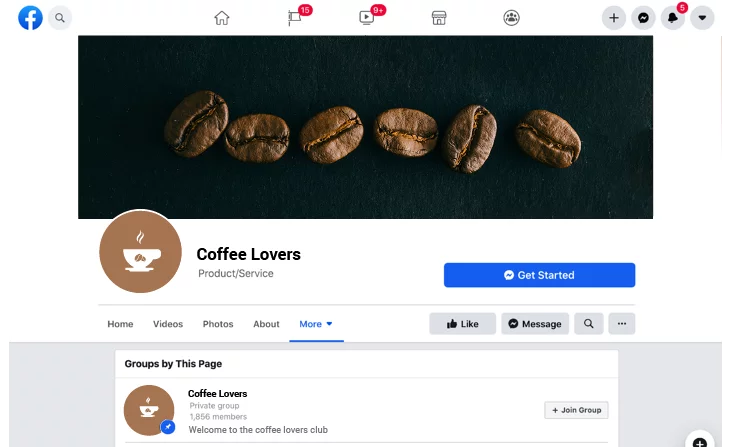 Closed groups offer a feeling of inclusion and privacy, but might be harder to join, while open ones can be easily joined, but might not feel so personal. Choose whichever privacy option you consider best for your business.
As a heads up, you should know that being successful on social media isn't guaranteed. In fact, it might be harder than you think. Lack of time might be a big issue; finding a suitable social media platform to post on is a trial and error situation, so it is time-consuming.
Researching what to post, and posting regularly takes time as well. Don't post just for the sake of posting, because useless content might result in people unfollowing you. Make sure you reply to your followers because not doing so might seem rude on your part. That takes time as well.
Another obstacle when using social media marketing is competition and lots of it. Social media is free, which means that everybody is on it. It will cost you time, and possibly money to compete with all the other companies.
SEO – Search Engine Optimization
What is the first thing you do when you want to buy a product, look for a service, or some information? Chances are that the answer is "search it online", or something of similar nature. Once the search engine revealed the results, how much time do you spend analyzing each result, browsing the second, or the third page? Probably not a long time, right?
If you are like me, and almost any other person, you glance at the first 3 or 4 results and pick them in order. When the first link offers what you need, you stick to it, and the search is over. If not, you open the second link, then the third one, until you are satisfied.
Most people do this when searching for something online, which is why SEO is an important small business marketing strategy. It allows a website, just like yours, to rank higher on search results on certain keywords. The ideal target is to be amongst the first 4 places; the higher, the better.
For that to happen, your website should be properly optimized for search engines through various means:
Relevant keywords on the website – keywords related to what you sell
High-quality backlinks – links from high-quality websites that send to yours
Proper content for your blog – articles designed to help a user's need
A properly optimized coffee shop website should list the products into specific categories: by region, or by species, it depends. Each category should contain a description of the category, but it should use relevant keywords as well. This way the visitor can read useful information, and the search engines can hook the keywords.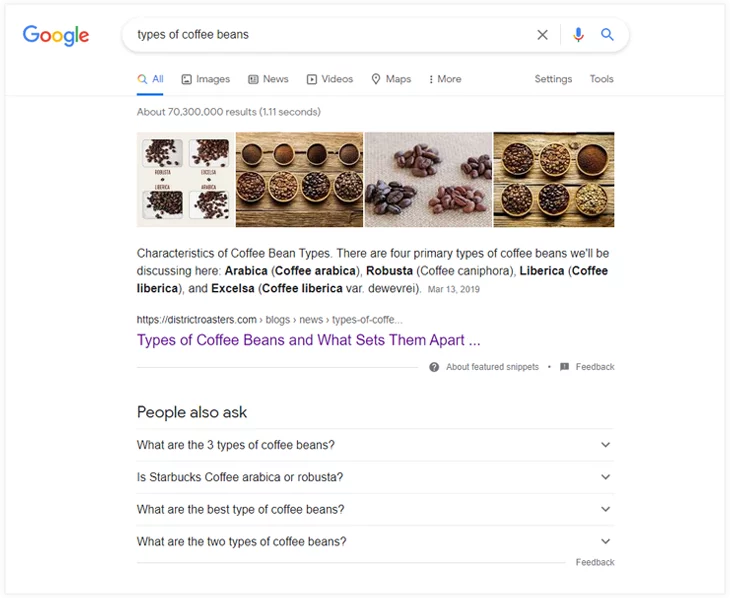 Here is the first result when searching for "types of coffee beans". You can also notice the "People also ask" section, which is also important. Providing a good answer to those questions might result in your content being featured there.
Images from each category should contain alt text, which should describe exactly what the image represents. Once again, this is beneficial for both visually impaired visitors, and search engines.
A properly optimized site should also contain a blog that features articles relevant to the user's interests. In this case, the articles should be coffee-related. Ideally, the users will read your articles, they will browse the products, and make a purchase, but once again, this is not the main goal; providing useful information is.
Just like social media marketing, SEO is not a walk in the park either. You will need to invest time into learning basic concepts such as what a meta title or meta description is. You'll probably spend time researching which keywords are most relevant for your website.
Besides being time-consuming, SEO is also a long-term process, meaning that results will not show up overnight. It requires constant work, and the website needs to be regularly updated with relevant information. If you're not ready to commit to this amount of work, you can also hire a marketing agency that provides SEO services; the choice is yours.
Local SEO: Google My Business optimization
Local SEO is a type of search engine optimization that reveals results based on the location of the user. Google uses a proximity algorithm, and the results are displayed based on the place you are located at. Think about visiting a new town, and searching for something like "coffee shops". Thanks to the algorithm, the search results will reveal coffee shops from that location only.
Needles to say, this is an excellent marketing strategy for a small business. You need to maximize your exposure, and local SEO can help you do that. A Google My Business account is necessary to show up in the search results. The process is easy, go to Google business, follow the steps, and create an account.
You can add photos of your location, working hours, an embedded map, and other useful information. Customers can leave reviews through the app, which means that your rating will show up when your company shows up as a result. These results aren't ranked based on the score, optimization is the most important aspect. A company with 4.1 stars might take the first spot, while one with 4.9 could be listed as the second result.
As part of local SEO, it is ideal to reach the top 3 spots, as these are the ones users click on the most.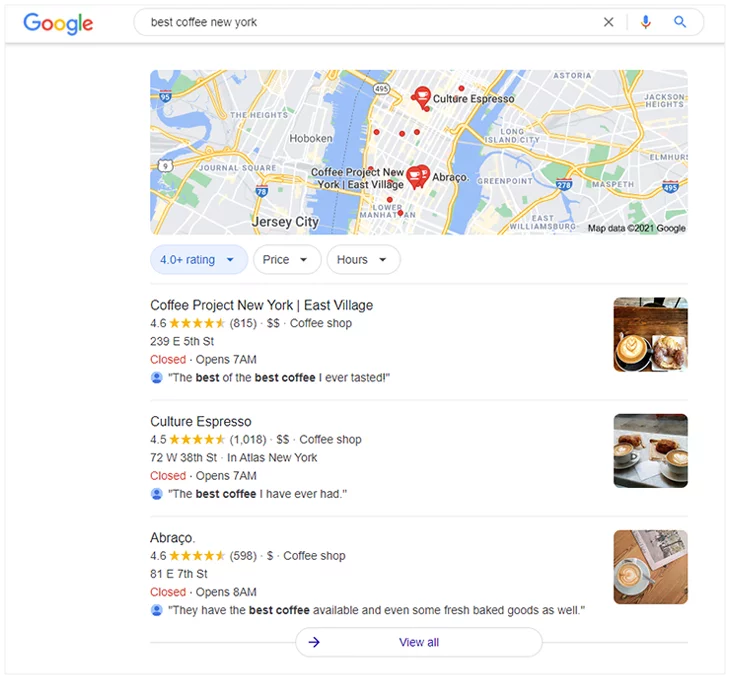 Here is an image featuring the top 3 spots. To see the others, you need to click the "View all" button.
Similar to regular SEO, optimization is required: proper keywords are a must, and your website should be mobile-friendly, as most of the searches are made on a mobile phone.
PPC – Pay per click
Pay-per-click is similar to SEO, as search engines display results based on keywords users searched for. SEO results are organic and are influenced by a website's optimization. Pay-per-click is different, as the results are based on a keyword bidding system. It is also a great marketing strategy for a small business.
A website bids on certain keywords and when someone searches for those keywords, based on different factors, the result will be displayed in a special ad section. Each time the link is clicked, the website pays for the click, hence the name.
The price of each keyword varies, popular keywords are more expensive than less popular ones. You might spend as little as $100, or maybe thousands for an ad campaign. There are certain advantages when using PPC. First of all, the results show up instantly; you don't need to spend time optimizing the website, and maybe wait months for the results to show up.
There are disadvantages to PPC as well. Being listed does not mean that the user will click on your ad, and it is good to know that a large percentage of users tend to avoid clicking on ads. People trust organic results more: if a search engine lists your website high, that means that it is trustworthy. If it is trustworthy enough for search engines, it is also trustworthy for people.
Each time a user clicks on your ad, you will pay, so a website visit is not enough. Converting those visits is the goal. Visitors should interact with your website, spend time on it, and in the end make a purchase. Your website needs to have great content to keep the users interested.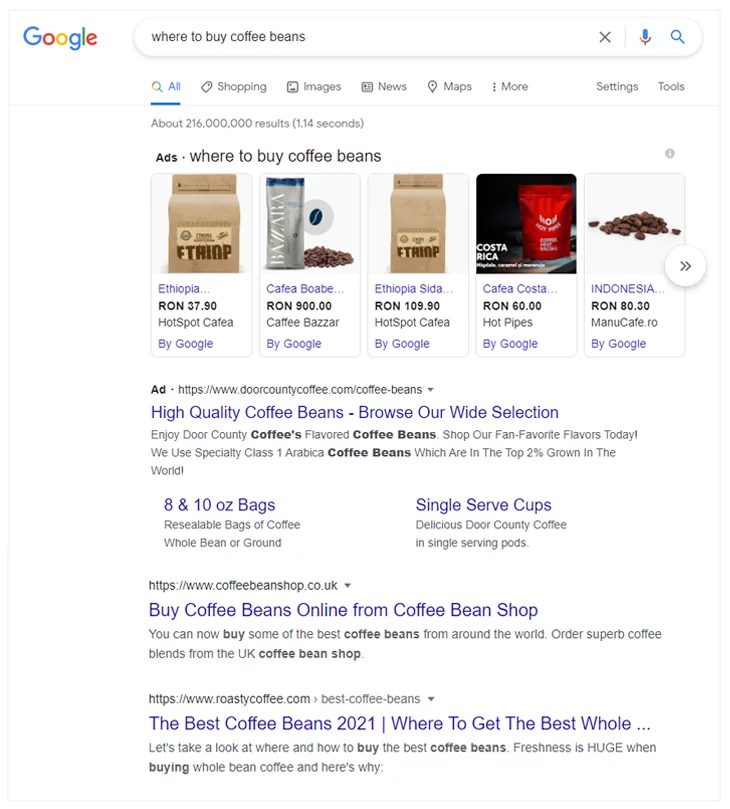 Here is an image of a PPC result and an organic one. The "High Quality Coffee Beans" link is a paid result; you can see that it contains the term "Ad". The other two results are organic, there is no "Ad" notification. Clicking on the first will cost the website money, clicking on the other two, won't.
But PPC is not limited to Search ads. You can also reach users as they are browsing content that matches their interests on various websites through Display ads. To offer the best experience and get users to click on your ads, make sure you use relevant and engaging creatives. For example, here are some website banner ideas you can browse for inspiration.
Video marketing
Video marketing has its perks in comparison to written marketing. For starters, information is delivered more directly; it is easier to watch a video than to read an article. There might be people who don't have the time nor patience to read long articles, so watching a video might suit them better.
It isn't too expensive either, as nowadays phones are performant enough to shoot professional-looking videos. Editing can be done for free as well, as there are some great free editing software programs. You can make a video online with a video maker tool, which allows you to create and edit videos from the comfort of your home. Such tools offers a wide range of features, including adding music, text, and special effects, making it easy to create polished, professional-looking videos without the need for expensive equipment or software.
Think about all the different possibilities. You could post weekly latte art on your Facebook or Instagram stories, highlighting your barista's skills. And you could also use YouTube to post tutorial videos with tips about making coffee.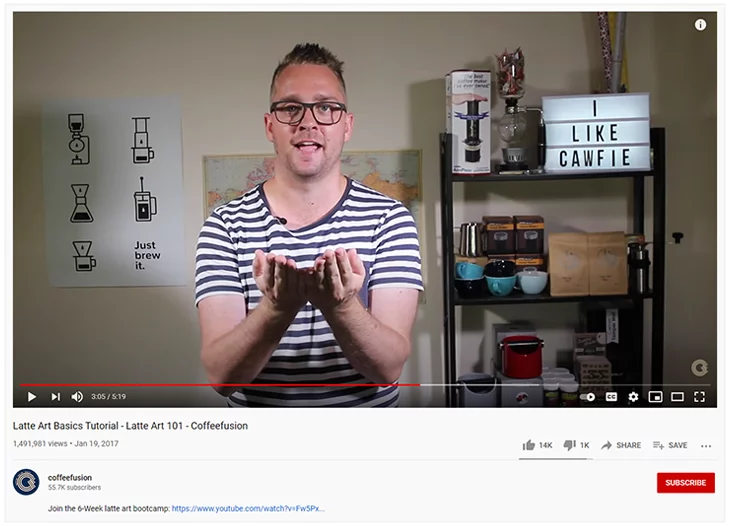 But don't stop here. You could also ask the users to send you videos with latte art, and post the best-looking ones on your feed. Gift the winner with a free coffee, T-shirt, whatever you like. It's not very complicated to shoot and edit a video. Here is a tutorial video; it is simple, low cost probably, but it does an excellent job delivering the message.
It takes time to learn, of course, but perhaps what you need most is your imagination and to put the ideas you have to use. Get working!
As a suggestion, if your budget allows it, hire a professional to create a stunning presentation video. It will make a great first impression.
Content marketing
Content marketing is an excellent online marketing strategy for small businesses. It allows you to create high-quality content, designed specifically for your target audience.
Before I go forward, I need to mention that the main role of content marketing, such as a written blog, is to create content relevant to the user. A blog should be created to provide easy and accessible information. Keeping the reader on the website, or ranking higher should not be your main concern, but it would be a lie to say that these aspects are not important.
Content marketing helps with search engine optimization. A blog contains certain keywords, internal links, external ones, and each of them has its purpose. Thoughtfully combining them will increase your chances of being ranked higher in the search results.
Content marketing also helps with creating and maintaining trust. If people find relevant information on your website, they are more likely to continue coming back, as they like what they read. They might even share your article, recommend it to other people, and all of that helps.
Content marketing isn't an easy task, as there are certain challenges you often need to overcome. Finding a suitable subject to write about can be a daunting task, and this is one of the most common problems a content writer faces. It can be difficult to choose what to write about, but once again, knowing your audience helps.
If you sell coffee, you shouldn't write about cars. Why would your customers be interested in that? Except if you talk about "Comedians in cars getting coffee", then you might be onto something.
Finding the proper tone of the article involves lots of research as well. "How should I deliver the information? Should I write in a friendlier tone, or should I be more serious? Should I write a "how-to" article, or in a different format?" The answer is that it depends on the subject, on the audience, on different things. Experiment, see what works and what doesn't.
Needless to say, good writing skills are required, and the articles should not contain grammatical errors. Proofread what you write two or three times or if you don't have the time to do so, establish a content strategy and have someone else help you with it. Maybe hire a student or a freelance writer.
Similar to SEO, it will take time to see results. It is a time-consuming long-term process, you need specific content marketing tools that might not be cheap, but results will come as long as you keep at it. Here is a perfect example of a blog about types of coffee beans. It is informative and nice to read, and it probably makes you want to browse the site and see what they have to offer.
Email marketing
Last, but not least, email marketing. You can use it for various purposes: introduce a new type of coffee, a contest, coupons, a coffee of the week program, and many others. There are different email marketing strategies to take advantage of.
People read about what they are interested in, and one advantage of email marketing is that it allows you to send targeted emails: one type of email for a customer group, another for another group.
Mailchimp, Constant Contact, Sendinblue, and other marketing services allow you to keep track of statistics. You can see how many people are active, how many interact with the emails, how many have unsubscribed, and for what reason. Such knowledge allows you to improve your email marketing campaigns.
Email marketing is great, as it is relatively free, emails are sent to your entire customer base, and it is faster to implement than the other types of marketing.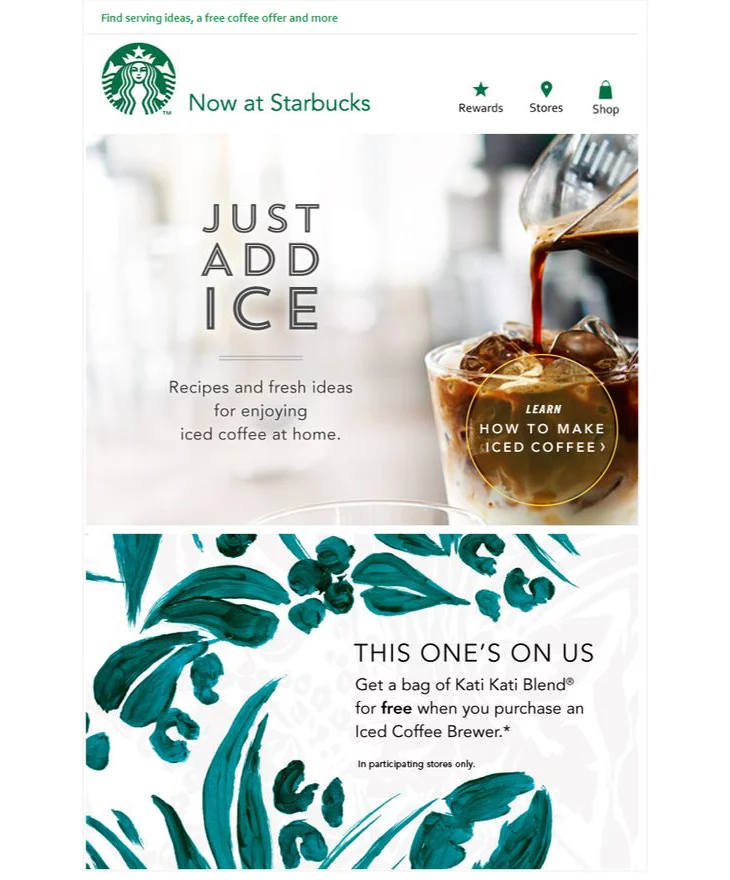 There are some tips to keep in mind when creating your email marketing campaign.
Don't send too many emails, as people might mark you as a spammer. Sure, the emails should be sent regularly and on a schedule, but there is a difference between sending them weekly or multiple times per day. As mentioned, send targeted emails, because too many irrelevant emails might convince people to unsubscribe. Know your audience, and target their needs.
Speaking of audiences, never buy email lists. Do not send emails to random people, as chances are they will report you for spam. People should sign-up for your emails, and one great way of doing that is by using an online form in your newsletter. It is very popular to offer something in return, so maybe offer a free cup of coffee when they sign up.

Mobile marketing
Mobile marketing is a crucial aspect for small businesses to consider in today's digital world. With the majority of consumers using smartphones for their daily activities, it is important for small businesses to reach out to their target audience through mobile channels.
One of the main advantages of mobile marketing for small businesses is the ability to target specific audiences. By using mobile advertising tools such as SMS, push notifications, and social media ads, small businesses can reach out to customers who are interested in their products or services. This can help increase brand awareness and drive more traffic to the business.
Another advantage of mobile marketing is the ability to track and measure results. By using analytics tools, small businesses can see how their mobile marketing campaigns are performing and make adjustments to improve their effectiveness. This can help small businesses make better marketing decisions and increase their ROI.
Additionally, mobile marketing allows small businesses to connect with customers in real time. By using mobile-optimized websites and apps or SMS marketing campaigns, small businesses can provide their customers with a seamless and personalized experience, which can help build customer loyalty and trust.
In conclusion, mobile marketing is an essential aspect for small businesses to consider. With its ability to target specific audiences, track and measure results, and connect with customers in real-time, mobile marketing can help small businesses increase brand awareness, drive more traffic, and improve their overall ROI.
These are the main online marketing strategies for small businesses. Moving on to the offline ones.
Offline marketing
Offline marketing, despite what you might believe, still works. Not everyone is online, and people still read newspapers, watch TV, or listen to the radio. These are the best offline marketing strategies for small businesses.
Creative business cards
Business cards represent a great way of promoting your business. They are easy to share, and when made right, they offer a professional look. They aren't too expensive either, and that is always a plus.
The problem is that oftentimes they lack creativity; they have a simple design and the impact it has on people is next to none. If you aren't on the artsy side, here are some nice ideas for designing a business card.
Designing an inspiring business card might seem challenging, but this is where we can help. At Flipsnack, we offer a selection of business card templates, suitable for different domains. They are fully customizable, which means that you can add your brand colors, logo, custom fonts.
If you feel artistic, you can even create a business card from scratch on Flipsnack, print them, and share them with people. You never know where the next customer might come from.
Local events
Local events are excellent for a small business. You can promote your business by sharing business cards, brochures, flyers, and other similar items. They are also the perfect opportunity to sell your product.
Join local events such as film festivals, or concerts where people might be more willing to buy what you sell. Local events are also great for offering samples or discounts. People love free or discounted things, and if your product is of high quality, people will surely make a purchase.
Local live events are also great for getting feedback on your products. You engage directly with your customers, to ask them questions about what they enjoy, or what you could improve on.
Industry networking events
Industry networking events are excellent marketing strategies for small businesses. They allow you to promote your business directly to targeted audiences. People who attend these events are already interested in what you offer, which means that each engagement is an engagement with a potential new customer. Interacting with people is key because they might refer your business to others even if they don't buy your product.
Use your public speaking skills to talk about your business. If you don't enjoy speaking in public, and that is fine, you might have someone in your company willing to do it.
Being an expert in the domain allows you to share your knowledge with the audience. You could offer tips about making great coffee, talk about coffee beans, the history of coffee, whatever might seem captivating for the audience. Share behind the scenes information, provide tips about how you managed to grow your business.
Have the audience's needs in mind, don't just promote your business, offer solutions to their problems. The important thing is to be there and to make an impression.
Printed pieces
Besides business cards, there are two other excellent types of printed pieces you can use for promotional purposes: flyers and brochures. They can be shared at local or networking events, or with customers visiting your shops.
There is a difference between the two, but the same rule applies: an eye-catching design will have a greater impact than a bland and boring one.
Flyers
Flyers are small and often used to draw attention to a special event, meaning they have no use once that event has expired. Usually, flyers are shared with anyone, regardless of their level of interest. A flyer's purpose is to attract people to a particular event, service, or product.
Since there isn't too much space to work with, the message contained in the flyer should be clear and straight to the point. Here is a nice article about how to design great flyers for events. There are some very useful tips in it, including a wide variety of flyer templates.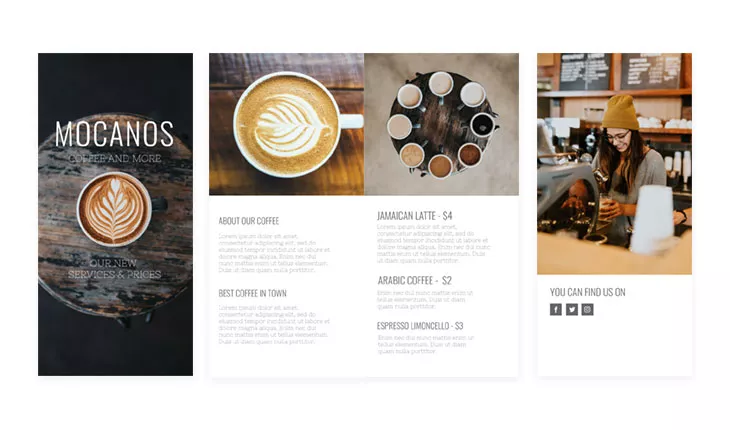 Brochures
Brochures are foldable, and they can be printed on both sides. The information they include is more general, and it is reusable. They are more expensive than flyers, and for this reason, they are usually shared with people who are already interested in what you are selling. Brochures are more suitable for industry networking events, while flyers are better for local events.
The anatomy of a brochure design is important because getting people's attention matters a lot. Here is a neat brochure template of a chocolate shop.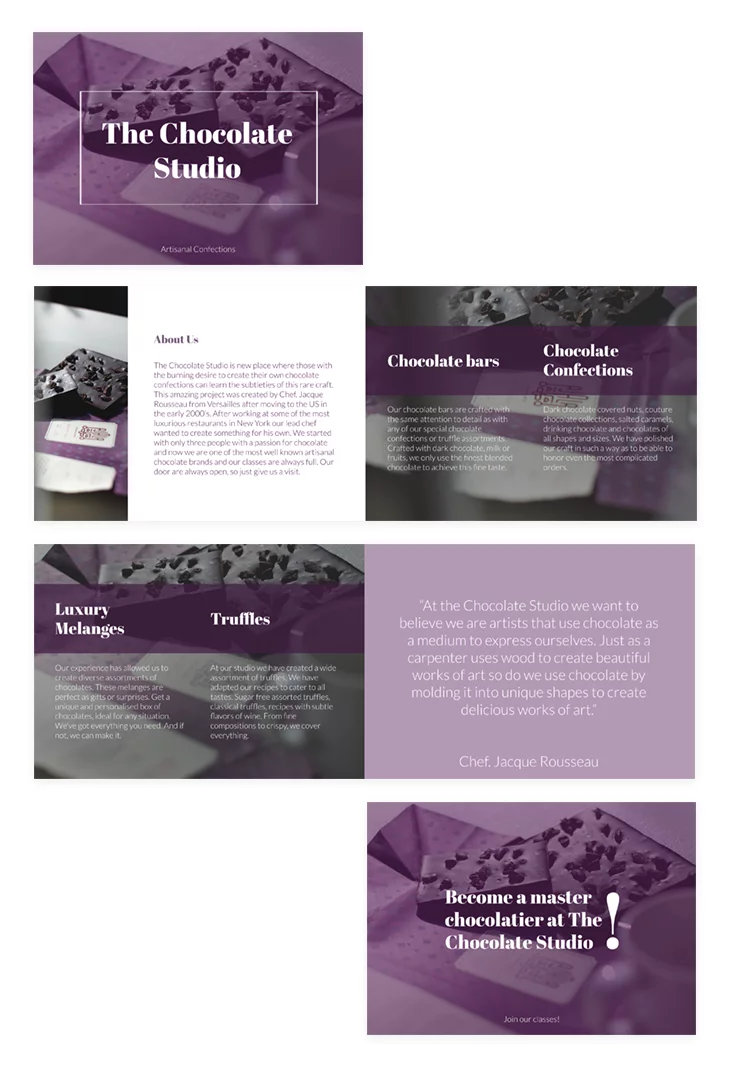 Which marketing is best for a small business?
You might be wondering which marketing is best for a small business, and the answer to that question is that it depends. It depends on the audience, it depends on the budget, it depends on the competition. There is no definite and straightforward answer. The only one who knows the answer to this question is you, the business owner.
To be able to answer, research is required. Research your domain, your customers, and how your products benefit your customers. Analyze your competitors, as it allows you to avoid their mistakes and improve your business.
Both online and offline marketing have their perks.
Online marketing:
Cheap – Cheap to use and some features are even free
Fast – Audience can be reached fast through social media posts, emails
Wide audience – Your entire customer base can be contacted at once
Facilitates customer engagement – Directly interact with customers online
Offline marketing:
More personal – A physical card can be more personal than a virtual one
Longer lasting – A physical business card might be kept and seen at a later date
Better at creating relationships – Networking leads to stronger relationships
To sum things up
Being the owner of a small business is no easy task. You might have the feeling that it is an uphill battle, and sometimes it is. You are at a disadvantage in the beginning, but rest assured that there are ways to persevere. There are both traditional and digital marketing strategies for small businesses at your disposal, and over time you will find out which ones work best for you.
Throughout the article, I've used the coffee shop as an example, but the same tips can be used regardless of the business domain.
Use the tips I've provided and apply them to your situation. Improvise, and adapt to the changes which will most certainly come over time. Best of luck!