40 advantages that digital flipbooks bring to your business
Do you know the magical powers of digital flipbooks? Have you ever used them?
Unlike static PDFs, flipbooks bring a more interactive and fun way to engage with your readers. You can add videos, photo slideshows, links, embed Google maps, and so much more! Also, digital flipbooks have a 3D flipping effect that gives readers the exact feeling of flipping through their favorite publication.
If you try to gain success, but you still didn't find your secret weapon, you've come to the right place. Using animated flipbooks can help you achieve success quickly, impress clients, stand out from the crowd, and why not, sell more. Yes, they are that impactful!
In this article, I'll tell you everything you need to know about the digital flipbooks advantages and why you should immediately start using them.
But first, let's start from the beginning.
What is a flipbook?

Flipbooks are the digital representation of paper-made documents such as reports, newspapers, brochures, magazines, catalogs, books, etc. Digital flipbooks are easy to create, and they are also a great alternative to PDFs as they look and feel just like regular printed publications. One remarkable thing is that digital flipbooks have that 3D page-turning effect. This effect mimics precisely the hand flipping through your favorite book or magazine.

Also, the fact that flipbooks can get you closer to your audience by offering them any kind of publication in a more fun way, it's just amazing. So you can easily stand out among your competitors and make a long-lasting impression by just creating digital documents with interactive elements. I'll tell you more about these interactive elements in just a bit. 

Now that I made you curious about how fun and efficient digital flipbooks can be, below, I prepared a list with all the digital flipbooks advantages that will convince you to start creating your own flipbooks!
Here are 40 advantages that digital flipbooks bring to your business
1. Flipbooks are easy to use
Digital flipbooks' advantages are many, but I have to start with the most important one. The number one advantage is that flipbooks are so easy to use and can be created within seconds. Actually, the whole process of converting your PDF to flipbook requires just uploading your PDF in Flipsnack and waiting for the 3D flipping transformation effect – that is also known as the page-turning PDF. This process takes less than 30 seconds, amazing right?
However, if you don't have a PDF, you can easily create a flipbook from scratch or start with a template. You can have your own flipbook in a few minutes! Flipsnack is by far the fastest flipbook making software on the market!
2. Flipbooks are easy to design
Not only are digital flipbooks easy to use, but they're also easy and fun to design! You don't need to have professional Adobe InDesign skills to make a publication with several pages. In fact, you can quickly customize a flipbook by uploading images or videos, adding your brand's logo, and even adding lots of interactive elements.
Also, as I previously told you, you can start the design process in our Design Studio by choosing one of our many templates like magazine templates, catalogs templates, brochures templates, presentation templates, flyer templates; we have everything you'd possibly need.
3. Flipbooks attract more readers through interactivity
With flipbooks, you can easily create a long-lasting impression in front of your clients by adding interactivity. And, there's no need to worry because it's easy to make an interactive PDF that will stir people's curiosity.
But first, let me clarify what interactive elements are. When I say you can add interactivity or interactive elements I'm referring to videos, audios, virtual tours, popup frames, links, tags, and captions that give any kind of publication a more attractive look. These are the elements that attract readers into engaging with them. You can associate interactive elements with the emojis you use when you text someone. They just add that bit of spark and fun to any message, right?
Take a look at the flipbook below and convince yourself. Do you see how fun and engaging it is?
Get prepared because there are a lot more digital flipbooks advantages that we're going to talk about.
4. Add fun and engagement to your publications
Now that you've taken a look at the interactive flipbook above, you'll agree with me that flipbooks can be quite entertaining. An interactive PDF will always have a bigger chance of catching the audience's attention. They let people take action by clicking on buttons, watching some videos, or listening to audio music while flipping through the publication. Flipbooks can add fun and engagement to any kind of publication.
For instance, in a real estate brochure, you can add a virtual tour of some property, in a product catalog simply add a photo slideshow to show clients more images with a product, maybe even from different angles. As you can see, the possibilities are endless when it comes to making an online flipbook.
Therefore, I encourage you to create interactive page-turning PDFs that will for sure catch anyone's attention and that will be fun to flip through.
5. Flipbooks support iframe embeds
Another great advantage that digital flipbooks have is the option to embed content in your flipbook using an embedded code with the iframe tag. This is such a great opportunity to show your clients whatever you might need from the internet embedded directly into your publication. For example, you can embed a Google Map with the location of your business to let clients know exactly where to find you. It's easy, fun and your flipbook design will look professionally done.
Take a look below to see how an embedded Google Map looks like in a flipbook.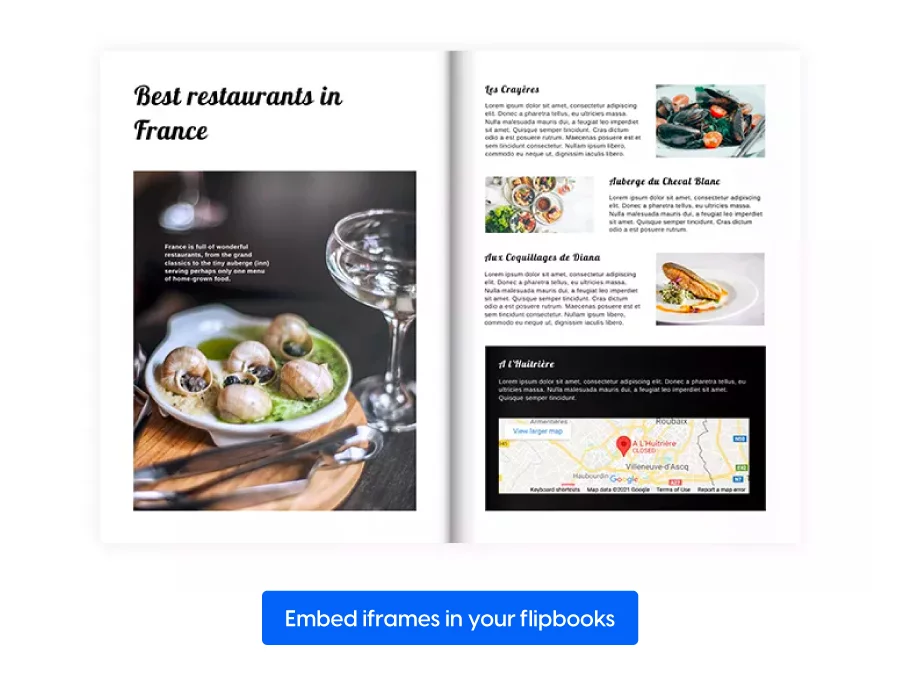 6. You can add Youtube and Vimeo videos
Adding Youtube and Vimeo videos can bring a little spark to your publications and make them more engaging and entertaining. Yes, it depends on the purpose of your flipbooks but try to always make them as engaging as you can. Whenever you can replace a chunk of text with a video, do it right away! Or even if you embed it to just add a bit of entertainment that's fine also! I mean, the younger generation will for sure appreciate it!
7. Add virtual tours to your flipbooks
Now, there are many digital flipbooks advantages that are loved, but adding a virtual tour to your flipbook is an awesome element that could make any presentation to easily stand out! If you create a real estate brochure for a property you're selling, then instead of just showing images, you should add a video tour of the property. Show them each corner of the house, maybe even the surrounding area of the property. Just think what an immersive experience your clients will have while looking at the virtual tour. They'll be already picturing themselves living there. So who knows, maybe you're getting closer to sealing the deal sooner.
8. Flipbooks support GIFs
Do you know that moment when you have to prepare a presentation, but you need that fun element to break the silence and add a bit of fun? Well, GIFs are here for you! In flipbooks, you can easily add GIFs to give your audience an entertaining moment and a break from all the seriousness. This will help your presentation be more attractive, and you'll be remembered as a great speaker with a sense of humor.
And let's be honest, who doesn't love some GIFs? I use them all the time!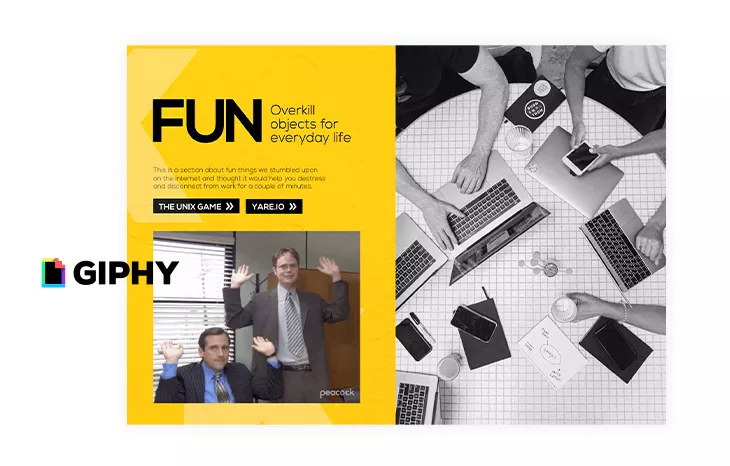 9. Add audio to your flipbooks
And because the good things don't end with GIFs, you can also play audios in your flipbooks. This is such a relaxing method for your audience to flip through a publication while also listening to some relaxing instrumental music playing in the background. Maybe Nuvole Bianche by Ludovico Einaudi? That would be a great idea!
And when it comes to grabbing people's attention, you have to keep an eye on two directions. Some people respond better to audio stimuli, others to visual ones. The best thing you could do would be to integrate both types of files in your flipbooks to make your material more attractive.
10. Flipbooks support links
Adding links to your flipbooks is a good practice to redirect your audience to other resources, maybe to more useful ones that you don't want to detail in your publication or directly on your website.
But in a flipbook, you can also add internal links to help your audience skip some pages and go directly to what they are interested in. For example, if your flipbook has a table of contents you can add buttons that take your readers to the first page, last page, or what custom page you want. I know, this is great especially for books or heavy documents that have over 200 pages, right?
Here's an example of the redirect button that you can use in flipbooks.
11. Flipbooks help you save money
As flipbooks are digital materials, think about how much money you can save by using them! You don't need to pay anything in order to have a PDF transformed into a flipbook. So instead of paying hundreds of dollars for endless printed PDF pages that no one will read, start creating digital flipbooks that can help you save money. Also, digital materials can reduce your promotional and marketing budget as well. So why not take full advantage?
And unlike printed documents that you risk losing or getting in the wrong hands, flipbooks are digital documents that remain on your computer until you delete them.
12. Flipbooks help you save time by using Automation
Saving money is great, but how does saving time sound? I'm happy to tell you that one of the digital flipbooks advantages is that they help you save quite a lot of time. And when you work in the retail and wholesale industry, time is money!
By using flipbooks you can automate the process of creating product catalogs in just a few seconds! You only need to upload a CSV file with all your product details or just connect the file database with our Design Studio. And don't forget to add all the interactive elements you love to make it entertaining for your customers like product tags, prices, captions, and many others. Catalog automation is really a time-saving opportunity!
Take a look at the automated catalog below!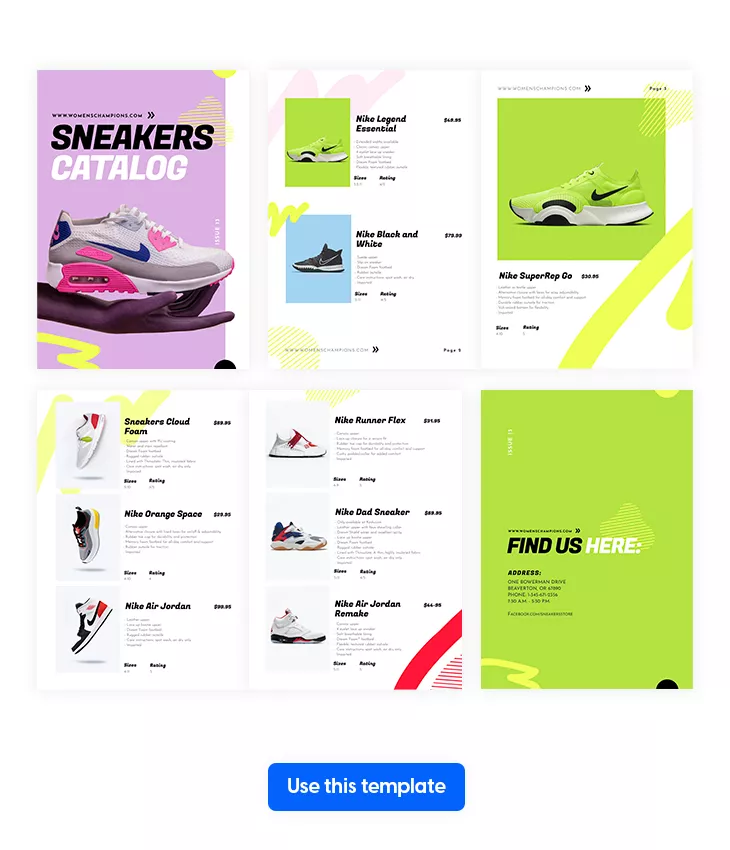 13. Share flipbooks through a link
It's super easy to share your flipbooks. Actually, you're just one click away to easily share your flipbooks through a link. After you finish the design process, just copy and paste the link and send it to your friends, customers, or team members!
14. Digital flipbooks can be shared on your social media platforms
Now, who said that you can't share flipbooks on your social media platforms?
Social media is not all about funny pictures and viral videos. If you are a business owner and want to gain respect from your customers and competition, you should offer them quality information and content in a non-boring way. How? I bet you already know >>> flipbooks.
Let your audience know what awesome publications you're designing and invite them to take a look into it. Share them on Facebook, Twitter, or Pinterest!
15. Flipbooks can be embedded on a website
I know that keeping an attractive website or blog can be tricky because you always have to post engaging and original content. If you're not very technical when it comes to updating your website, then it's a great idea to embed flipbooks on your website and improve the aspect of your online identity while making it more alluring and intriguing. And the process is much simpler and faster than updating the whole website, which if you're not a super technical person, might be quite difficult to do by yourself.
Let's say that you just did a flipbook for your restaurant's menu. Easily embed the interactive menu on your website and allow clients to enjoy it right on your website page. It's easy, accessible and you'll offer them a more engaging experience. And menus tend to change quite often so instead of going through the whole updating process of your website, simply embed your new, updated flipbook in seconds.
16. Download flipbooks as HTML5
If you wonder what's so great about downloading flipbooks as HTML5? Well, the HTML5 flipbook is different from a static PDF because it allows your flipbook to have a more real-life look and fee and it's also perfect for offline use. It preserves all the interactions and multimedia elements, including the page flip effect – which is kinda awesome. Luckily, converting PDFs into HTML5 flipbooks is pretty easy with Flipsnack.
17. Flipbooks can be downloaded as a PDF
Unlike the HTML5 download, saving flipbooks as PDFs will mean that no interactive elements or videos will be animated – which makes sense as PDFs are known to be static documents. But who knows, maybe this option will come in handy sometime soon.
You also have the option to download flipbooks as PDF for print which will save it with the highest quality possible.

18. Flipbooks can be downloaded as JPEG & PNG
Let's say you want to download the flipbook as JPEG or PNG and post it as an image on your Instagram account just to make your audience curious. You can easily do that! Show your audience a preview of your flipbooks and stir curiosity with an impressive design.
19. Flipbooks can be downloaded as GIF
Another advantage that flipbooks have, is that they can also be downloaded as GIFS for free. This is great because having your flipbook downloaded in GIF format gives your readers a sneak-peak into some of your work, but with a more appealing and fun look.
20. Download flipbooks as MP4
An MP4 video download of your flipbook is the best solution for getting more people to view your content! And there's a trick you might want to know: it's better to share your flipbook as a video post than to simply share the link on Facebook. Uploaded videos get a higher reach on Facebook. It's just the way their algorithm works. A higher reach guarantees more engagement and more readers. It's what most of you want, so why not take advantage of that?
21. Flipbooks work flawlessly on most web browsers
Yes, that's right. Flipbooks use an HTML5 technology that makes them easily accessible across all devices. This makes it easier for the users to zoom in and out on different elements from your flipbook. At the same time, flipbooks maintain their accessibility and speed on most web browsers.
22. Flipbooks are mobile-friendly
And because the young generation is mostly on their phones, this aspect is kind of a must. But you don't need to worry because digital flipbooks are responsive on mobile phones, so your readers can easily access them and read your publications directly on their mobile devices.
23. Digital flipbooks have privacy and security options
Privacy and security options are so important because you can easily control who has access to your flipbooks. In fact, flipbooks have quite a few privacy and security options that you can benefit from, and make sure only the right people get access to your publications.
You can keep flipbooks public, unlisted, password-protected, and private – to share them only with specific people. These privacy and security advantages are great, especially when working in a big firm with many internal communication documents. So give it a try and make sure you let the right people view, edit and share your flipbooks.
24. Flipbooks can be sent as an email newsletter
Email marketing has been around for a while and will still be for sure. But if we look back to where it all started, we can easily admit that many improvements occurred. One of them is in regards to the engagement. Whereas ten years ago, emails were all about text (a lot of it), now things are more interactive.
What if I tell you that you can design a flipbook and send it as an email newsletter? It might be a good idea for a real estate agent to send an interactive flipbook with new properties and listings that appeared? And what's even more interesting is that you can keep doing this once a month for instance to keep your clients up to date with the latest information.
25. Flipbooks can make interesting online magazines
Flipbooks are highly versatile, and you can use them for different purposes. From client presentations to portfolios, offers, reports, and so on. But is it just me or flipbooks are just awesome digital material for designing magazines? With so many templates available and cool designs, I'm sure everyone who is determined enough could design professional magazine covers. So choose a magazine template from our wide collection and start making your own magazine. See, digital flipbooks' advantages are so diverse and can help you in many ways and forms, no matter the industry you're working in.
26. Flipbooks can boost your retail marketing strategy
Let's be honest. Selling is the ultimate goal in the retail and wholesale industries, right? So why not use flipbooks to improve your retail marketing strategy? You can create online HTML5 flipbooks and present your products in a stunning product catalog design. And with the help of interactive elements, you can make it even more entertaining.
In fact, you can empower your clients to add products to a list, select the quantity they want, and then easily download it as a PDF and send it by email to your company. Go for a smooth shopping experience and sell more with the shopping list feature.
Here, take a look at the flipbook template below to see what I'm talking about.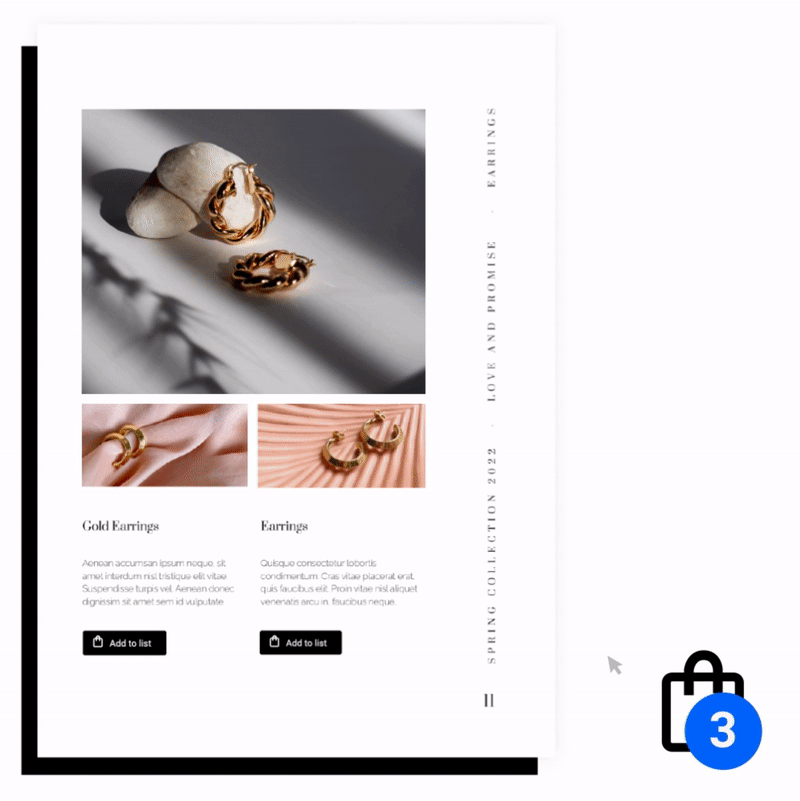 And because the good news doesn't end here, read the next paragraph!
27. Connect flipbooks to your Shopify store
I guess any retailer who sees this, is like "No way! Can you really do this?". The answer is yes, you can connect your flipbook to your Shopify store! Think of the shopping experience you'll offer to your customers by allowing them to buy directly from your catalog! Not only do you boost your sales, but you also present the products in a stylish way!
The product catalog below is made by our talented designers and it has the Shopify store connection integrated. The design is just too beautiful – it will make any customer hit that "Buy button".
28. Flipbooks can be used as an internal communication tool
Digital flipbooks are great to use as an internal communication tool as you can create complete secured documents and share them exclusively with specific members of your company.
By using flipbooks, you can restrict access to your private materials like employee benefits guides, newsletters, onboarding documents, and other internal content. Also, they help you to better facilitate the distribution of your interactive corporate documents in the most private way.
29. Flipbooks can be an online educational tool
Handling educational materials and also making them fun, can be quite challenging. Well, no more. To all the schools, teachers, and students out there that want to deliver only the best when it comes to education, digital flipbooks should be your go-to solution!
Why? Because students can get creative with their school assignments by making presentations, newspapers, or magazines, while teachers can bring the digital era into their classroom by allowing students to make innovative school projects. And even schools can use flipbooks to publish appealing school prospectus, graduation photo albums, and admission guides to inform applicants and parents. There are multiple ways to use flipbooks as an online educational tool.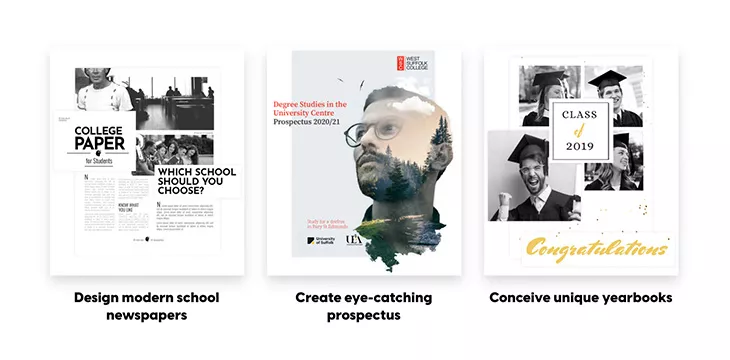 Wait, there are more digital flipbooks advantages that I have in store for you, so continue reading.
30. Flipbooks can be a powerful real estate tool
Assuming you know the high competition in the real estate industry, let me tell you that digital flipbooks can be your powerful tool to stay on top and to easily improve your real estate game. How?
With the help of flipbooks, you can create digital brochures for the properties you're selling. You only need to add some stunning images of the property and the right information. In just a few minutes you will recreate the most effective and successful methods of advertising in the real estate business.
Flip through the flipbook below and think how impressed your clients will be when they receive such an impressive brochure of the property. There are several brochure templates ideas to showcase your properties so pick your favorite and use flipbooks as your real estate marketing tool.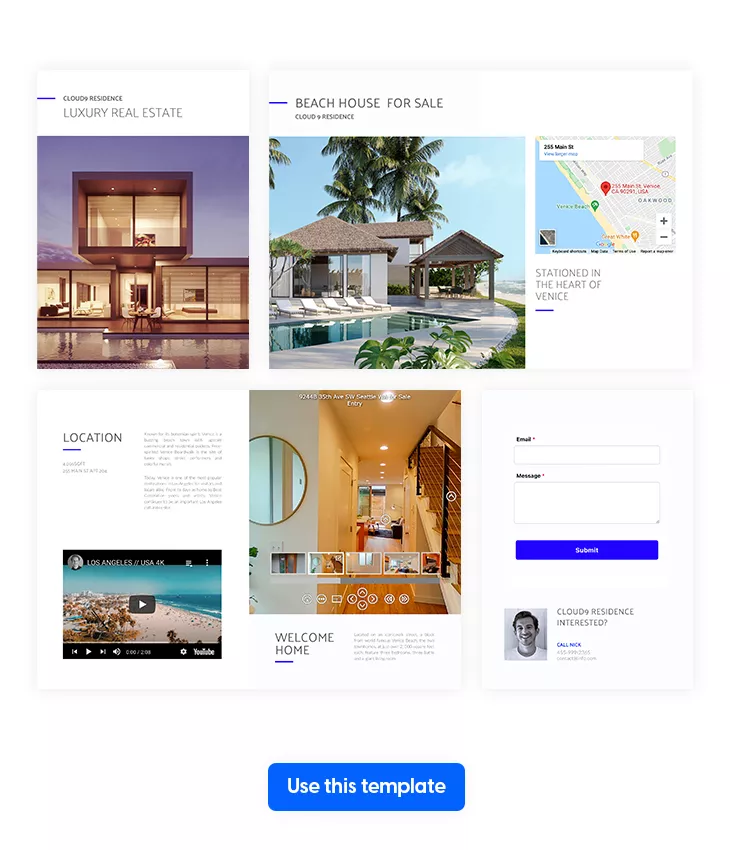 31. Use flipbooks for your lead marketing strategy
Flipbooks have the powerful advantage to improve and boost your lead generation strategy. So help your sales team to close more deals by offering them qualified leads – through digital flipbooks, of course. Let me give you further details on this one.
In order for your readers to see your publication, they will need to complete the lead form with their email address, maybe a phone number, or the name of the company they're working in. The requirements mainly depend on what you want to find out about your target audience, and you can customize them according to your needs. So using lead forms in your flipbooks can help you reach a contact email list with people that are actually interested in buying your product or service. Take notice of any of the digital flipbooks advantages that could help your business grow.
Below is a flipbook with a lead form example attached.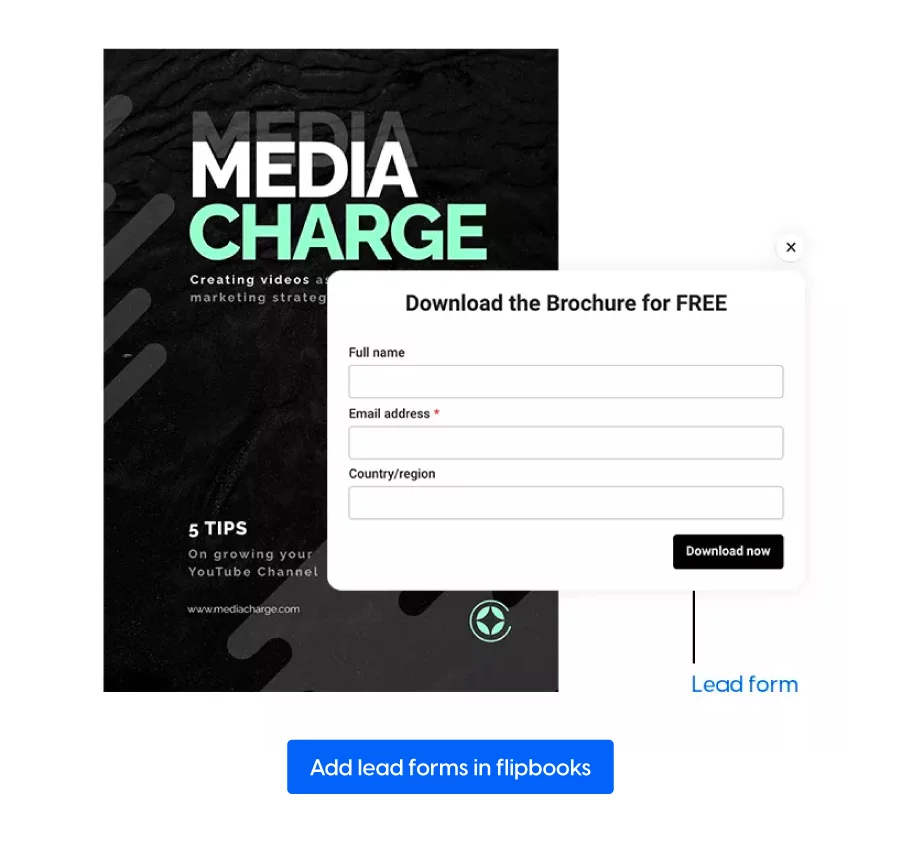 32. Use flipbooks as your sales enablement strategy
All successful companies have something in common: clear alignment between marketing and sales teams for bigger revenues. Flipbooks can be your sales enablement tool. You can create diverse marketing materials like impactful sales brochures, winning pitch decks, lead magnet ebooks, and many more. Also, you can track the results of your sales and marketing collateral so that you and your teams can focus on what matters most: sealing more deals.
33. Digital flipbooks show insightful statistics
I guess you didn't expect this digital flipbook advantage, am I right? Well, this couldn't be more true. With flipbooks, you can track statistics like clicks, impressions, views, average time spent, and more. As compared to PDFs, where it's hard to measure these kinds of statistics, digital flipbooks offer a smooth, easy, and accessible way to do this.
So instead of just guessing what your audience or clients like to see, analyze the data history to identify trends or patterns. See and compare the flipbooks reports to get a deeper understanding of the market and consumers.

34. Digital flipbooks can be connected with your Google Analytics account
Moreover, you can even integrate Google Analytics to dig even deeper for results. With Google Analytics integration, you can track all your flipbooks to see visitors' data and traffic stats, what countries and cities your users are visiting from, what devices your audience is using, find your audience interest and so much more. So for even more in-depth statistics and results, integrate your Google Analytics account and start analyzing how your flipbooks are performing.
You can always go a step further, and use a tool like Redbird to democratize advanced analytics. It equips everyone in your organization with analytics superpowers, regardless of their technical ability. Combine the insights from Google Analytics with the powerful analytics capabilities of Redbird. In return, you will have a comprehensive understanding of your flipbook performance, enabling your team to make informed decisions and derive actionable insights from the data gathered.
35. Digital flipbooks can be connected with your Google Tag Manager account
Besides the Google Analytics integration with flipbooks, you can also connect them to Google Tag Manager. It is a powerful tool that makes it possible for you to expand your knowledge and improve your flipbooks marketing strategy by collecting additional data about visitors, and by making remarketing possible.
36. Maintain brand consistency with flipbooks
Now that seems quite a hard task to do. Maintaining brand consistency throughout every aspect of your business – from marketing materials to social media, packaging, and print materials – is an important part of how successful your business is going to be.
With flipbooks, you can easily set some brand guidelines that everyone who uses them in your company maintains the exact style you choose. For example, you can add your business logo on every page of your flipbooks and keep the exact same size and position.
Or another great idea might be to design a flipbook with the purpose of being a brand book – where you can set all the branding styles your business follows. Let your employees and collaborators know what are your brand's guidelines.
Here's an elegant design style guide template that you can use.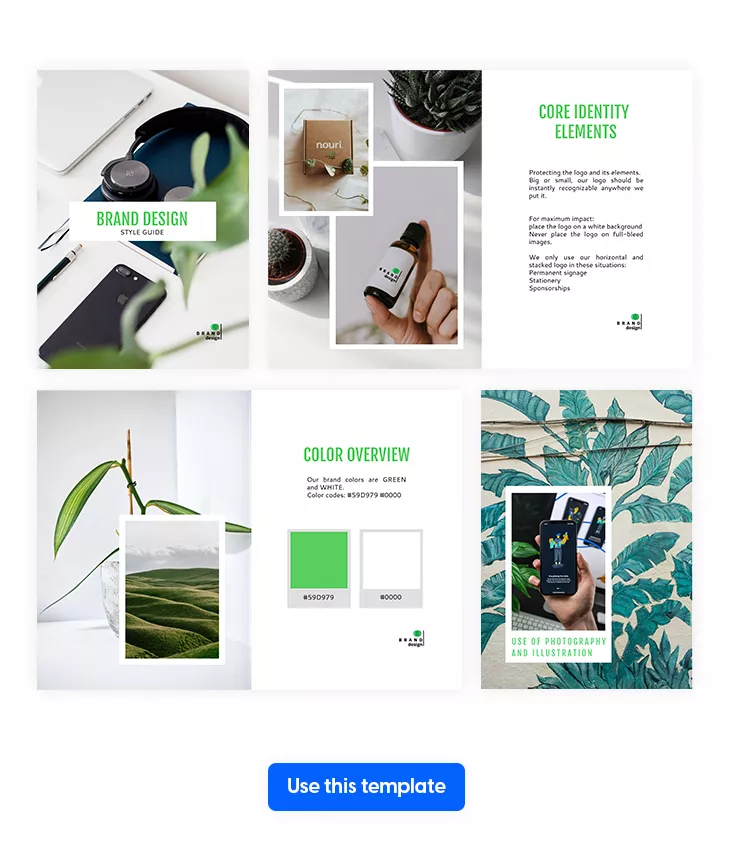 37. Collaborate more with your team through digital flipbooks
Another great digital flipbook advantage is that they offer great collaboration for your team. Teamwork makes the dream work, correct? With flipbooks, you can easily keep the entire team on the same page.
Think how easy it will be for your team members to communicate on the same document and give each other feedback or leave comments. You can set different workspaces for different projects and select specific roles for your team members like choosing an administrator, editor, or contributor. This helps keep the entire team constantly in the loop regarding the latest developments.
38. You can easily sell flipbooks
I think you didn't expect this. But yes, you can sell publications. So if you consider becoming a publisher and you want to sell books, magazines, or even educational materials, using flipbooks can be your way to success. Don't worry, the process is quite simple in Flipsnack. You only need a Stripe account to activate the subscription and the money will be directly deposited into your Stripe account.
You also have the option to only show readers a sneak peek into your publication. So if you want to trigger your audience's curiosity, you can do that by only showing them 2-3 pages inside your publication. But for them to have access to the full view version, they must pay. Take a look at the image below to see exactly how your readers would view your magazine.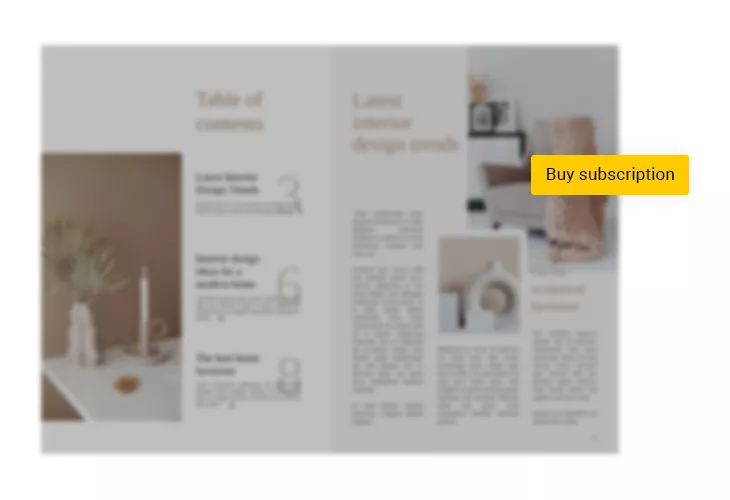 39. Get more traffic to the website with flipbooks
Because of the many ways you can embed and add links in your digital flipbooks – which I already told you about, you can boost the traffic to your website in seconds. This is really great for retail and wholesale industries as they can present their product catalogs and add URLs that redirect users directly to the products on their website.
Adding links to your flipbooks can quickly help you direct traffic to your blog, or social media channels. Of course, it works vice-versa as well. Your channels can redirect users and potential customers to your flipbooks as well, as long as they are public. It's a win-win situation. So reach a wider audience and easily add links in your flipbooks to get more views and clicks.
40. Flipbooks can be printed
If you thought that flipbooks couldn't be printed, let me assure you that they can. So if you need to print your magazine, brochure, or product catalog you always have the option to print them.
In fact, our pre-made templates are designed to make sure that each element within the publication is correctly placed and that it respects some guidelines. For example, margins are especially important when you want to print a flipbook. So if you choose to create one from scratch, keep in mind to leave some safe margins and avoid having design elements cut out from your publication.
To format a print-ready PDF file, you only need to download it as a PDF for print. By doing this, the printed flipbook will have the best quality resolution, so you won't risk having it pixelated.
Conclusion
If you made it 'til here, then congrats! By this time, I'm pretty sure that you could barely help it not to start creating a flipbook. It's been quite a ride, but at least you found all the digital flipbooks advantages and how using interactive flipbooks instead of static and quite boring PDFs can bring your business closer to your audience. So start creating engaging and interactive flipbooks that will impress anyone who sees them! May the gods of creativity and inspiration follow you forever in your digital flipbooks designs!