How to make professional online catalogs for your business
Online catalogs are mostly used for shopping and for driving sales. To achieve the best results in your marketing campaign please read the following guidelines:
1. Use visually appealing product images
You need your products to look good in the catalog in order to sell, so you need some quality photos. Hire a professional photographer to take photos of your products (individual photos for each product). It is a profitable expense – you'll see the results for sure.
2. Write attractive product descriptions
Write short descriptions (50-150 words) including features and benefits of each product. The text should be easy to read and non-technical. You might also want to write an intro or an "About the products" page in your product catalog.
3. Organize the content
Organize the content into sections; keep similar products together. Next, decide what products (photos and descriptions) you want to have on each page.
4. Hire a designer to make the PDF
A designer can turn a boring file into a professional, successful magazine. Of course you can work with him: give him a few pointers about what you have in mind (color palette, style, cover, etc), but let him do what he knows best, after you provide him the required information.
5. Turn your PDF into an online catalog
What we mean is… convert your PDF to a stylish catalog with flipping pages. You can do that using a professional flipbook software like Flipsnack. All you have to do is upload your file and it will automatically convert to an online catalog. It's super easy, so there no need for longer explanations.
6. Add "Buy this" buttons (linking to your online shop) in your shopping catalogs
The purpose of an online catalog is to drive sales, so you need to make it easy for your potential customers to buy. When a potential buyer is browsing your catalog and sees something he likes, you should present him with the option to buy the product with just a few clicks. How can you do that? It's easy, just add a few shopping buttons in your catalog and link them to your online shop where people can buy the product.
There's also the option to sell the product right inside your catalog, by adding a shopping widget. Flipsnack has this options, to sell with PayPal right inside the catalog. You should try it yourself, it might bring you lots of sales!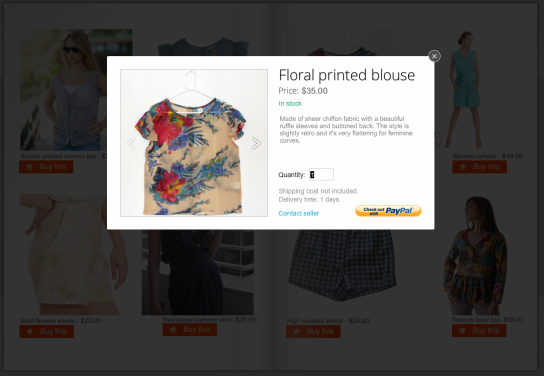 7. Publish it on various channels
We suppose you have a website and some social media accounts, at least Facebook and Twitter. Share the link everywhere and encourage your followers to do the same. You can also embed the catalog into your website.