How to customize your Flipsnack profile
As you may have noticed already, we're rolling out a new feature: public profiles.
Each public profile displays catalogs that were created on Flipsnack by each of our users, along with the user's photo, name, website, social profiles and description. It's the perfect place to showcase all your flipbooks. If you are a designer who does editorial design, I can't think of a better portfolio for you, really. But the use of the public Flipsnack profile is not limited to designers, obviously. Here's an example of a beautiful realtor profile.
If you have flipbooks that you'd like to keep private and not show in your public profile, you have the option to make your flipbook private or "unlisted". This way, you ensure that no one will stumble upon your Flipsnack magazines by mistake, because they will only be available to those who have the link.
Here is how you can personalize your Flipsnack profile:
You were asked to set a username when you registered. That username is used a part of your profile's custom URL, so we hope you didn't skip that step: www.flipsnack.com/username Generally it's recommended to have a custom URL that represents you or your brand, and use it in campaigns, on your website or even on business cards. If you skipped it, your profile's URL will show a unique ID instead of the username.
The username can be set at a later time, but your URL will not change.
All these options can be edited from Account options – Account – Public profile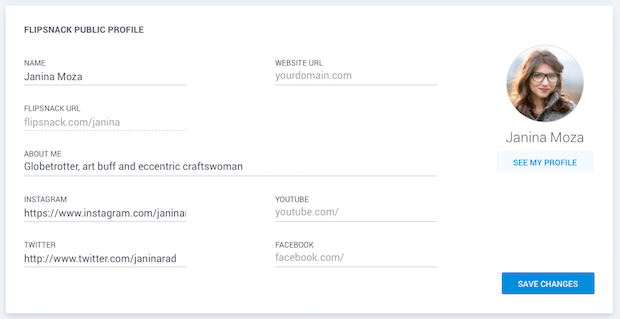 Here you can do the following actions:
Upload a small photography or your business logo
Add your website's URL
Write a short description about you or your business. This description will show up next to your profile image.
Set up some social media buttons for Facebook, Twitter, Instagram and Youtube by adding links to your profiles on these networks. If you don't place your social media profiles here, these buttons will simply not appear on your profile.
Don't forget to click "Save changes" when you're done
For our free users we'll display all flipbooks with limitations: watermarks, 3 PDFs/flip, 15 pages/pdf. There are no limitations for Premium users. Everything they set as public will show on their profile without any limitation.
What's great about public profiles is that when you share a flipbook, your visitors will be able to go to your profile page and check out other creations made by you.
Flipsnack profile example
Here's a nice example profile. We can't wait to see yours!
Now it's your turn! Go to your account settings to edit your profile page.