How to make your own product labels
When walking down the aisles at the supermarket looking for a refreshment, what's the first thing that your eyes look after? Let me tell you, probably that red label design, also known as Coca Cola. You see, this is probably one of the best examples that come to mind when attempting to make your own product labels. And truth be told, if you're not a branding expert or an experienced designer, chances are that you won't design such a memorable product label design, the first time around. Sorry for the reality check.
The guide to designing & printing your own product labels
However, if you're looking for a label maker to design labels for personal use, like personalizing a water bottle, a special wine you're producing in-house, or for professional use, like labeling a new line of products you've put so much effort into, this article's for you. You might want to bookmark this guide for later. It will help you figure out how to design your own product labels, answer questions like what are the most common label sizes, and give you some useful resources like wine label templates or water label templates to start from.
Types of labels
Usually, when talking about labels, people are mostly interested in the following types of labels:
Wine label
Water label
Name tag
Clothing tag
Address label
We'll take a look at each type, give you some tips and tricks on what should be included, how to design it to stand out from the rest and what is the best way to print them. Let's start with a glass of wine. Chin-Chin!
Wine label
Let's imagine you were invited to a friend's dinner party and you find yourself standing in front of the liquor aisle on a hunt for the ideal bottle of wine. What is the first thing that catches your eye? Is it red white or rose? A cheap or an expensive one? Now you're probably left holding three or four bottles. It's impossible to deny that there is a small thing that can make or break the purchase for many people, the product label.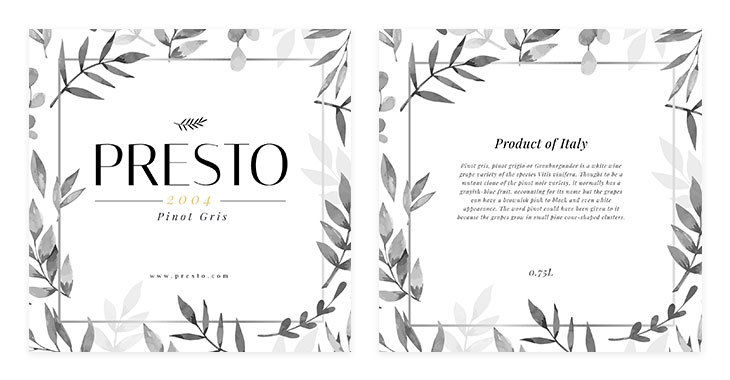 Wine labeling can be as complex as the contents inside their containers. In addition to having an eye-catching look, these labels must provide a lot of information for the customers. From essential details such as the brand, year, and region to more detailed facts like flavor notes and pairing suggestions, your label should tell the tale of your wine brand.
Or, even if you've bought a bottle of wine and want to personalize it with a custom message for a friend, your wedding anniversary, or any other special occasion, then make yourself a favor and grab this wine label template and print it onto adhesive labels.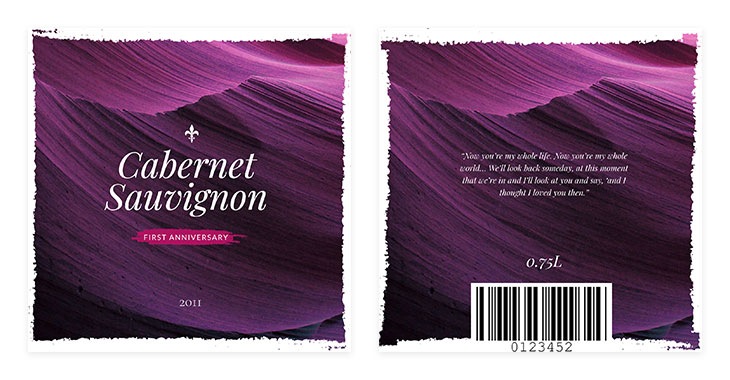 If you're in the wine industry, then you should know right from the very beginning. Your wine label design is probably just as important as the liquor inside the bottle. Here are the main ingredients you need to include in your wine label: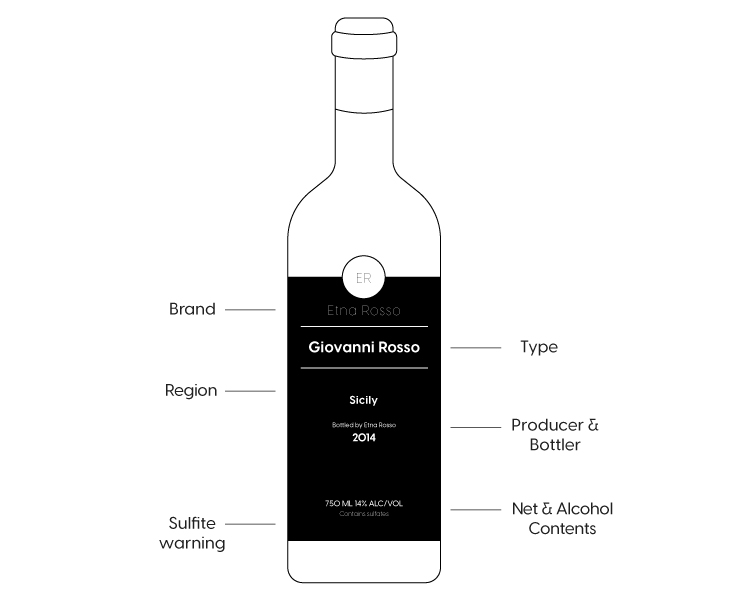 Water label
We're talking about water here. How can you brand it in order to stand out? I mean, it all basically tastes the same. Now, if you're in this industry, then you must know that learning how to brand a product like water is a very complex matter. Just to name a few highly recognizable water brands: Evian, Perrier, San Pellegrino, Vittel and the list can go on. If you think about the way their label design looks, you'll find many similarities. They're all centered around the naming and the logo.
The main idea when designing a water label is to let your consumers taste the freshness of your water just by looking at its packaging. Think about something clean, sleek with a modern aesthetic. The freshness of the design elements you include must entice the consumer to taste the freshness even before opening the bottle.
This water label template could be the perfect starting point to make your own product label at home, for a water bottle.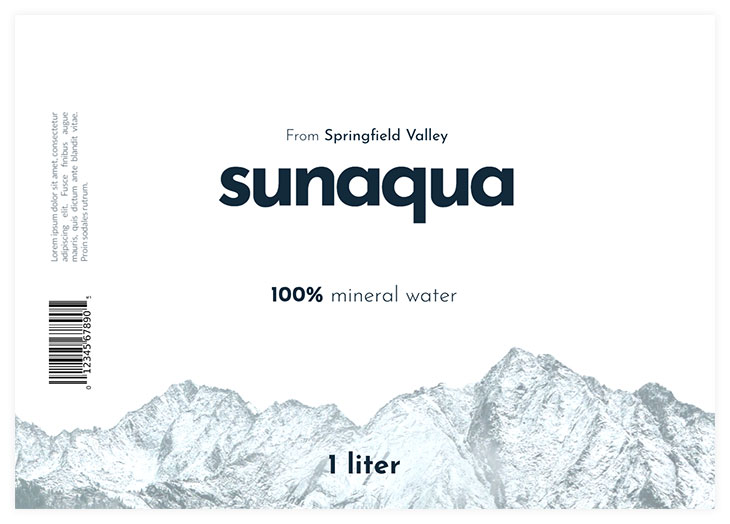 So, whether you're selling it at supermarkets or hosting a wedding, baby shower, engagement party, or birthday, custom water bottle labels can add that special hint of detail. They're even perfect for seminars, conferences, sporting matches, and charity events!
Name tag
Speaking of events and conferences, name tags are an essential part of the entire networking game. Usually, the label design for name tags is pretty simple and straightforward, using some of the branding elements of that particular event.
But not only, name tags are also important when you start planning your birthday or dinner party because you want to make sure everything goes to plan. This also means that everyone has to socialize and know where to sit. This is where name tags come in. With little effort, you can step up these boring name tags up to eye-catching labels that suit your party's style.
When you are handing out name tags or setting name tags on a table, you don't have to stress yourself with complicated, intricate designs. This is actually the best choice if you're a busy event planner. After all, you have so much to do but you still want to create a memorable set of name tags.
Learn how to create your own custom tags by grabbing a name tag template and personalize it for every attendee. Ask for their picture and name and make sure to respect your event's branding elements. Yes, you can easily remove that pink if it doesn't suit you. Add a personalized touch to it with the right colors, filters, border pattern design, or icons from our vast library. Infuse your events with creativity – even in the littlest aspects.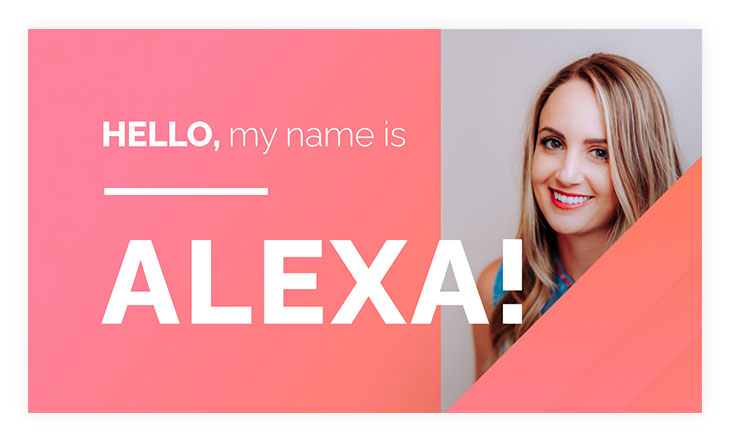 Clothing tag
Designing clothing tags can be a really fun and creative task. In the apparel industry, the clothing tag can influence the buying decision. Yes, because if the tag looks cheap, people might associate it with poor quality. If you're just starting out in this industry, then you're probably learning how to produce your own product labels in-house. And that's great. Ultimately, you know your brand better than anyone else.
So, how do you make your own product label for a clothing brand? There are a lot of different clothing markets, from kids' clothing to haute couture women's clothing. If you're selling clothing for kids, your tag should reflect this. Using bright colors and imagery that is attractive to kids is ideal. Be aware of your key demographic and try to create your clothing tag with this demographic in mind. You can start with a clothing tag template and personalize it for your clothing brand.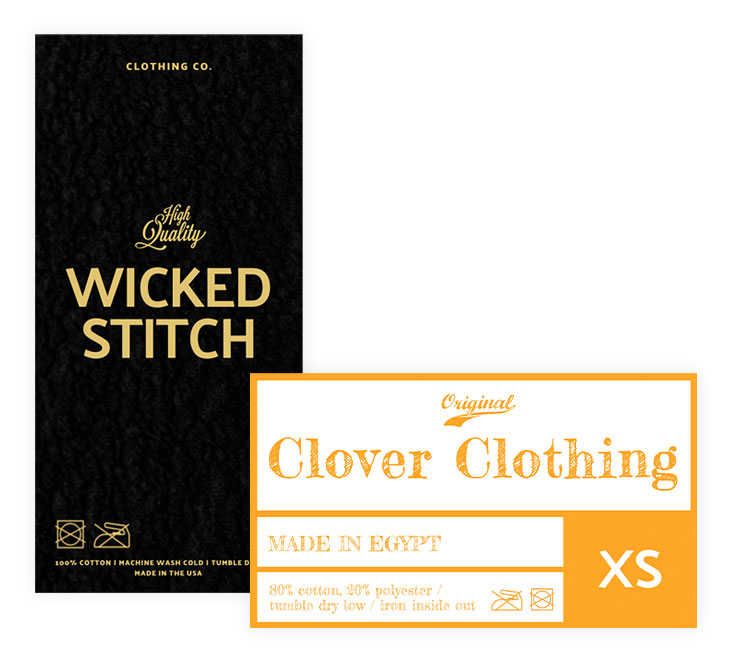 Not really sure what should be on a clothing tag?
Brand, logo
Tagline
Website or location
Product information
Care instructions and fabric compositions
Barcode (for retail selling).
So why fit in when you were made to stand out? Tailor a clothing tag template and make your life easier. Make sure to print the final result on thick paper or cardstock.
Address labels
Let's face it, as much as some people want to admit it, the art form of writing a letter is slowly vanishing. Those days of writing a letter to friends or even loved ones are slowly being replaced with text messages and emails. That also means that the common use of putting an address label on an envelope is becoming less and less useful. So what do you even use an address label for these days? Address labels are always convenient to have on hand, especially when you're sending out a large amount of mail at once, as with invitations or holiday cards.
Also, labels should embody your personality. Whether it be a label for your belongings or one that displays your address, choosing a unique design for it will make a good first impression. If you want to strengthen your overall branding choose this free printable business address label template. Customize the font, colors and illustration by utilizing our convenient drag-and-drop tool. With it, you can get creative by dragging and dropping other design elements from our extensive library. Also this free address template looks great when printed on adhesive label paper but you can also print it on regular paper and use a glue stick to attach them to your envelope. If you're using label paper, check each website to see which paper will work best. You can also use full-sheet labels and then cut the address out with scissors.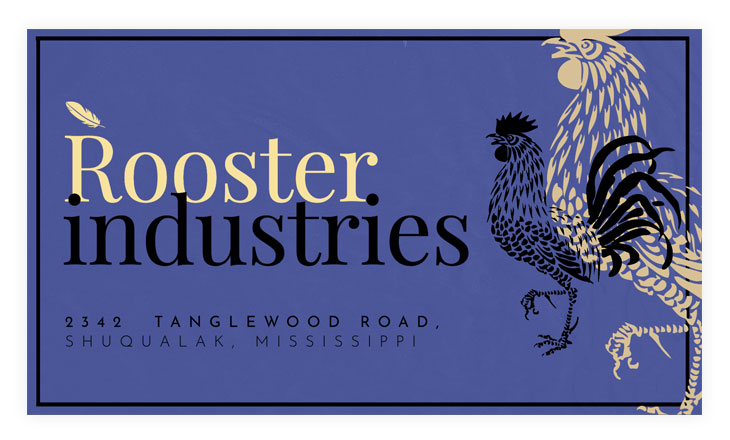 Make your own product label- what to list on it?
Learning how to make labels should start with knowing what is the most relevant information that should be placed on them. The first step you need to take is to fill it with relevant information. Depending on your product, there are certain pieces of information everyone looks for.
Here's what to list on your product label:
Product Name
Net Weight
Name& Location
Contact Information
Ingredients
Instructions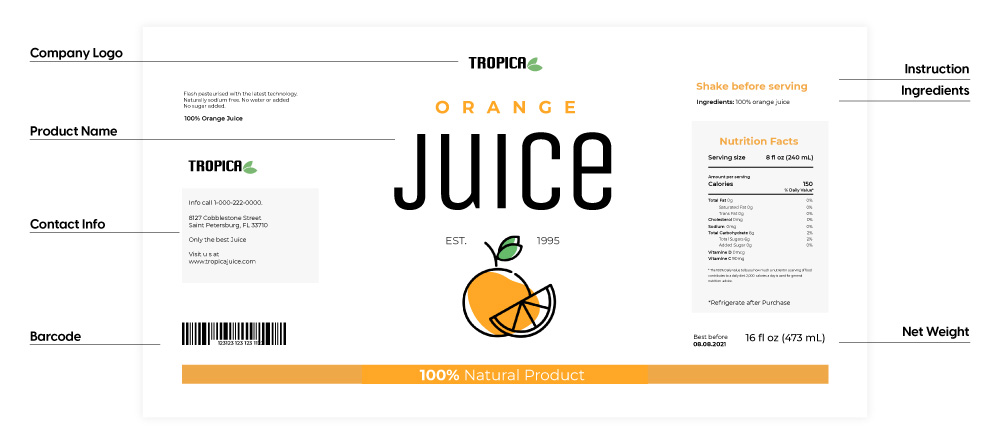 Product Name
Now, we're talking about products you want to sell and you're making your own product labels. Your product name primary job is to guide your ideal customer to buy it, by showing them why it's the right choice for them. The name of your product should also instill confidence in your brand. This is accomplished with consistency.
Also, your product name should help your brand to generate buzz. You want your name to be the one that turns generic items into something specific. Think of brands that have made a mark. How many of us ask for a Purell, even if we're reaching for a generic brand of hand sanitizer? And since we talked about bottled water design, Evian is synonymous with water. Once you decide on your product name, start your label design and make sure to keep it front and center, using the largest type size on the label. To maintain brand consistency select a suitable font and color.
Net Weight
The net weight of an item is its total weight (known as the gross weight) minus the weight of any containers or packaging the item is in (known as the tare weight). For example, the net weight of a tin of flour is the total weight minus the weight of the tin. In other words, the net weight is the gross weight minus the tare weight.
According to the food and drug administration, the net quantity of food contents must appear on the principal display panel. This refers to the weight of the product excluding any packaging weight. This can be expressed in terms of weight, measure, count, or a combination. Liquids must be described in terms of gallons, quarts, pints, and fluid oz. The weight should follow the words "Net Weight"
Placement
This must be placed in the bottom 30% of the PDP (principal display panel) and be printed horizontally (i.e. parallel to the base of the label). Place this on the front of the label toward the bottom. When your product is solid, the net weight is listed in ounces/grams with "Net weight" written in front. Liquids do not need the term "Net weight" and are listed in ounces/milliliters.
Contact Information
Oftentimes clients may have questions about your product or want to place another order. Include your website, phone number or email if you have room.

Name & location
Also according to the FDA label must include the name and location of the manufacturer, packer, or distributor. The name may be a corporation name or, in the case of an individual or partnership, the name under which the business is conducted. If a product is not manufactured or distributed by the person or company whose name appears on the label, then the wordage should express this. For example, if your product is produced by a contractor, you could write: "Manufactured for [your company name]"
Ingredients
The ingredients list tells you each ingredient in the food product by its common or usual name. For example, food manufacturers are required to list all ingredients in the food on the label. On a product label, the ingredients are listed in order of predominance, with the ingredients used in the greatest amount first, followed in descending order by those in smaller amounts. The label must list the names of any FDA-certified color additives (e.g., FD&C Blue No. 1 or the abbreviated name, Blue 1). But some ingredients can be listed collectively as "flavors," "spices," "artificial flavoring," or in the case of color additives exempt from certification, "artificial colors", without naming each one. Declaration of an allergenic ingredient in a collective or single color, flavor, or spice could be accomplished by simply naming the allergenic ingredient in the ingredient list.
Instructions
When working on designing your label, make sure to include directions on how to appropriately use your product. For example, knowing the meaning of the symbols on the clothing labels helps to avoid unwanted results, even if the labels are not always clear and easy to understand. Laundry symbols seem like another language, but the washing instruction symbols on your garments can tell you exactly how to do the washing and drying, as well as give extra information on bleaching and ironing.
What makes your own product label attractive?
Besides designing a product that is highly useful to your customers you need much more than this to survive in such a competitive market. That is why you have to do something extra to attract clients. If you are running out of ideas or you don't have any kind of professional graphic designer experience, here are some tips and tricks that will help you make your own label more attractive
1. Choosing the right typographic pairing
Whether you're creating a presentation, a plain document or your resume, you're making decisions about what fonts would look best together and in what sizes. Choosing the right fonts for your design can mean the difference between a professional-looking or an amateurish one, a compelling or nondescript one, an attractive design, or an unaesthetic one.
The main point of typographic pairing is to frame the relationship between the content and different type choices. Also to make the design more effective, use fonts that reflect the type of the product. Let's take for example this jar of honey from Anton honey, a family business from Slovenia. A super cool, handmade type of packaging and labeling that anyone can get inspired from when creating their own product labels, for any kind of home-based business.
2. White Space
Many times whitespace is one of the most overlooked and underutilized graphic design basics that make up a great label layout. Too often, whitespace is perceived as an irrelevant empty space however, the truth is that whitespace is a valuable part of your design. It not only creates a visual harmony it can also be used to guide a reader from one element to another. Here are more advantages for using whitespace:
Prevents distractions and creates more interaction
It balances your design
Separates unrelated elements in a design
3. Illustrations
If you want to express a message with any kind of depth or complexity, then an illustration is a great way to do that. Oftentimes a visual image gets perceived much quicker than text and is more likely to stick in the memory for longer. That is why some product labels require illustration and graphic design elements. It is used when you have to speak about the product more visually. For instance, a product label for juice boxes needs to have a complex color palette and illustrative images of fruit flavors. A plain design would not work for them. Also, there's this new trend in the craft beer industry, where illustration is the central piece of many beer bottles. Let me give you some cool label design example:
How to download and print your label at home?
The process of learning how to make your own product labels doesn't stop here. If you are happy with your overall label design, you're probably wondering how to print labels at home. It all starts with downloading your labels as ready for print PDF. Next, you have more accessible printing options. Let's explore them:
Paper labels
Probably the cheapest way to print your labels at home is to go for paper. But, if you want to make your life easier, order pre-cut labels and only stress about the printer you're going to use. Keep in mind though, when talking about water resistant stickers, look for matte label paper and use a printer with pigment ink.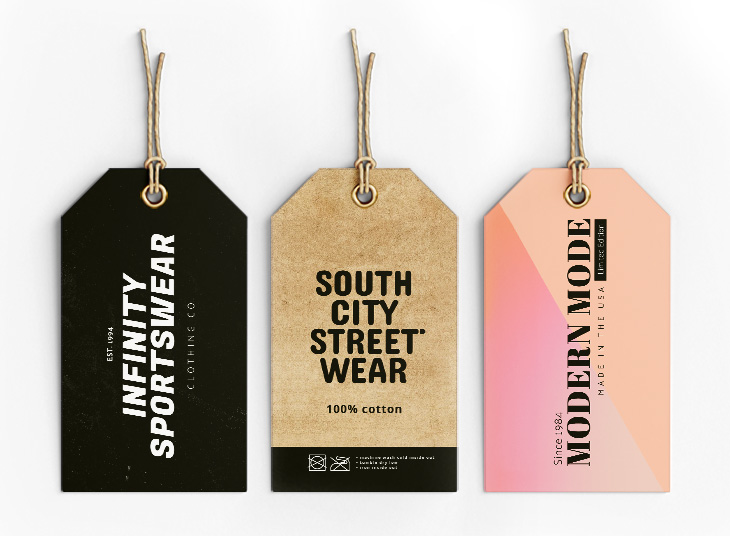 Vinyl labels
If you're looking for a more premium way to make your own product labels at home and have them look professional, like you would sell your products in the supermarket, then you need to know that vinyl labels are a great option. They can be waterproofed using laminate and clear coat which makes them more resistant to outdoor conditions than paper labels. Here's a cool tutorial that might give you a more clear idea of how you can make vinyl stickers at home.
What are standard label sizes?
Finding the right label measurements for your products or project can be a difficult task. Whether you're trying to measure the circumference of a wine bottle, a water bottle or you're measuring labels to put on party favors or you're trying to decide how large a clothing label or a name one should be, we've put together five label measuring options to help you:
Wine Label Size 793×793 px
Water Label Size 1123×793
Clothing Label Size 350×200
Address Label Size 350×200
Name Label Size 350×200 px
Final thoughts
There you have it – a complete guide to designing & printing your own labels. Now, you do not have to worry that your in-house product doesn't have the packaging it deserves, or your daughter's birthday party lacks a creative and personal touch. This guide covers the basics of creating an effective product label, starting with finding the right template, customizing your label and finally finding what size and which printing option works best for your product. So, when in doubt, scan through this article, open Flipsnack, select a suitable free online label template and design one in seconds.