The fundamental letterhead design tips to enhance any document
What do we mean by letterhead design tips? Or, to go even deeper in the subject matter, by letterheads?
Usually, we associate letters with romantic comedies or nineteenth-century romances. But we both know that those aren't the things we want to talk about here.

Letterheads are the stationery part of your legal papers or documents that often get neglected. Basically, a letterhead works like a heading for your page, containing your logo, contact information, name, etc. Seems important, right? It's very important! But then why is it that some people just pass over it? That's one of the questions I'll try to answer in this article. There's more to them than what initially meets the eye. If I were to find a proper explanation as to why they are important, I would say this:
Letterheads mean opportunity!
Sure, it may seem a bit counterintuitive to think so, but I'm certain that by the end of this article, through the power of examples and explanations, you will, at least in part, agree with me.
So now we have two Why's:

Let's dive into them, explain them, and present you with the fundamental letterhead design tips to enhance any business document.
Why is a document letterhead important?
There may be a myriad of reasons for this, but we'll stick to the most important ones. The ones that we think could make a difference in how you present your business, and allow you to take better control of your business. After all, it's not like we have invented the slogan, but looks are important, and they do play a role in the overall perception of your brand. 
Brand reinforcement
I've said that letterheads are opportunities, and now is the moment to explain myself. You already have your documents in place and ready to be signed. Given this scenario, it makes perfect sense for you to make the most out of your already used papers (or digital papers, for that matter).
Letterheads allow you to enforce your brand once more. By strategically placing your logo on the paper, it helps your customer further identify the business or his need, with your brand.
Take a look at this example over here. This is a professional letterhead design sample that Pixar Animation Studios used in 2003. See how simple, yet effective, they chose to emphasize their brand. At the top, they placed their logo and inserted an orange fish. Does it ring a bell? Yes, it's Nemo, the famous and friendly character that rocked the world of cartoons in 2003. Everybody recognizes it, because it was a big fuss back in the day. So when you see it, you automatically connect the fish with Pixar. What an intelligent move when it comes to branding, don't you think?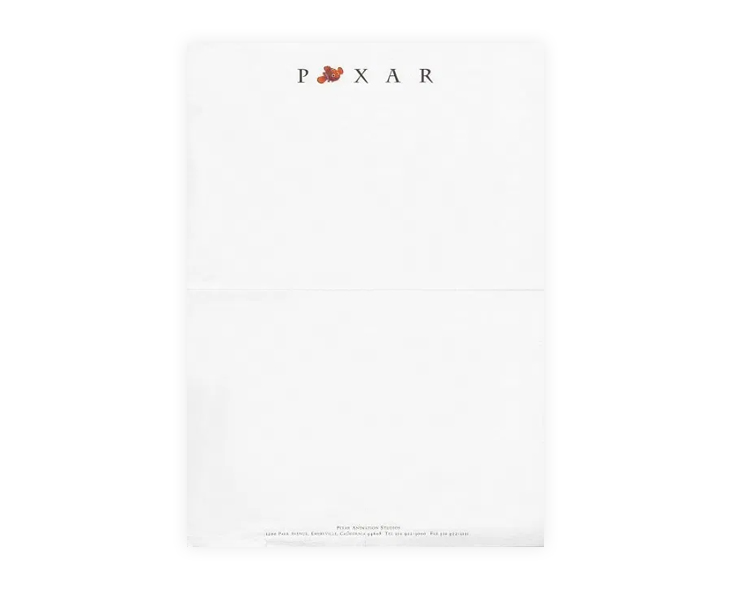 However, to better understand this brand reinforcement concept, think about invoices. Every efficient invoice design idea includes a form of branding. Why? Because it is a great and very accessible opportunity to raise your brand awareness. Just take a look at any of our invoice templates to get a better, visual idea of what I'm saying.
Branding your catalogs, business portfolios, and other materials is crucial but not enough. When facing the decision of signing something, that extra design step on your documents can make a difference!
Professional status and identity
With brand recognition comes status. Another important aspect of letterheads is that they entail a sense of professionalism.
This is not so much a letterhead design tip, as it is, well, common sense. Having your logo placed on your letterhead you strike a visual chord and, apart from that, it conveys trust for your customers.
A good example in this regard would be this letterhead sample from Amsterdam News, a weekly Black-owned newspaper serving New York City since 1909. They chose to insert the logo right in the header, and at the end of the paper, they added their personal information such as their address, website name, and telephone number. By doing this, people notice the brand more easily, and consider the business to be very professional and trustworthy. Not to mention that it's vital for people to identify their needs with the business' solutions.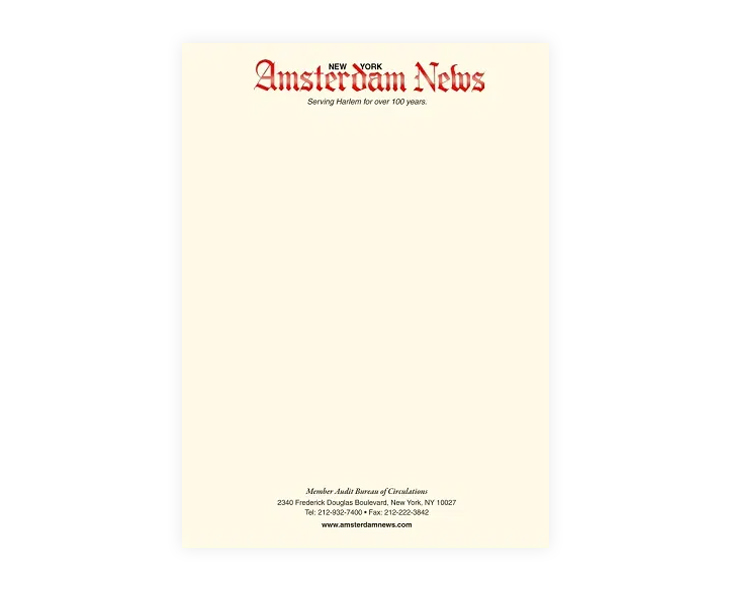 Credibility – the sum of the first two
Credibility acts like the sum of the two above. Your brand was once again enforced, you conveyed that sense of professionalism, all of this translates into a credible solution for your customer.
Because you see, being pragmatic and having the best point-on-point solution is not enough. Those strike at the rational chord, these small details, such as letterheads, strike at the emotional one.
When designing your letterhead you play with perception. But we will talk more about this when we'll break down the effective letterhead design tips we have prepared for you.
And speaking of them…
Letterhead design tips to visually enhance your documents
Organize your page space
Before deciding how to fill space, we must first assess how much space we have available, and how much of it we want to invest in our letterhead.
Take margins for instance. It would be incredibly counterproductive to come up with a bleeding, edge-to-edge design, when your printer doesn't have the capabilities to print from edge to edge. Margins are a frequent stepback in the design process, and that's mainly because of space. A beautiful design is worthless if it cannot stand the test of print.
So remember:

Design should always benefit the purpose, and not the other way around!
Just like with building a house, we plan our architectural plan depending on the land area. The first thing you want to consider is:
How thick will your letterhead be?
Your design starts from here. Bear in mind that the thicker the letterhead is, the lesser space you will have available for your content. A legal document, for instance, requires a load of text, so a slimmer letterhead could work better. Otherwise, it will need an oxygen mask to stop suffocating.
Hint: When talking about letterheads, we usually consider the header of our document. You can consider spreading your design to the footer as well for a more rounded, cohesive look. It can also help your document feel less cluttered, as information is more dispersed.
Here is an example of a letterhead template that contains both the header and the footer. As you can see, the brand colors appear in both places, but they are emphasized especially in the footer: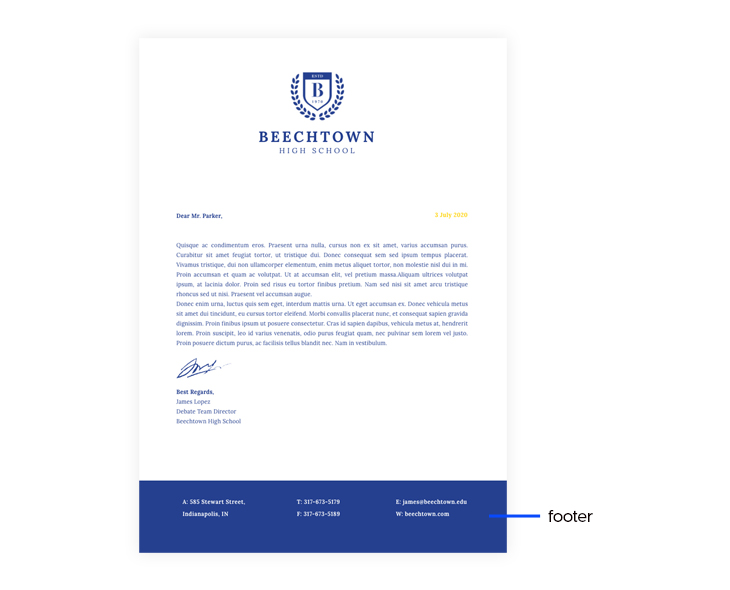 Decide what content to include
There isn't a predefined rule in terms of what content to include in your letterhead, but there are some mandatory elements that require consideration:
Again, these elements are mandatory. Others, such as VAT number, or registration number, could also be included, but again, consider space. If you want to include as much information as possible, then the hint from the previous step should be considered. Use your document's footer as well. After all, you don't want it to feel utterly useless.
That being said, we've inserted this example to strengthen all the information that we've just shared. Landmark Abstract Agency is a real estate agency that uses professional, branded letterheads. As you can see in this visual over here, they inserted the mandatory elements we've talked about in the most noticeable places, taking advantage of both header and footer. But they paid huge attention to the page space organization part. They respected the margins aspect and didn't cram all information in one place.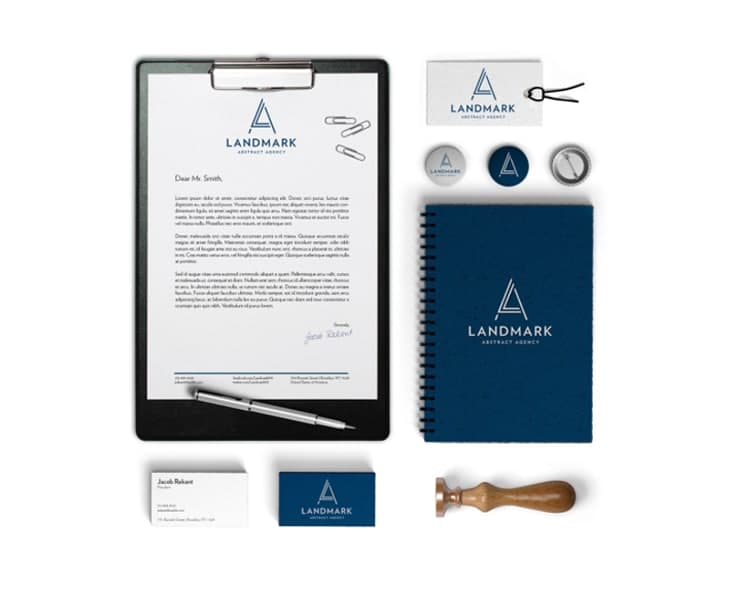 Pay attention to typography
Logos can take care of themselves when it comes to recognition. They are symbols and as such, strike our retinas immediately. When well designed they don't need further explanation.
Typography, on the other hand, is a bit more tricky. Apart from seeing, those who face your brand must be able to read it as well.
You probably already have a font aligned with your logo. Now the trick is to find the best font pairing that can add a bit of aesthetic value to your letterhead.
Ideally, the font you choose for your contact information and other letterhead details should be different from the one in your logo. Here are some rules of thumb for choosing the right font pairing:
Go for fonts that complement each other well.
Don't get distracted by how a font looks by itself. Remember, they must look good together!
Fonts should never compete with each other.
Choosing fonts from the same font family is a safe bet, and also an effective way to add a bit of contrast to your design.
Make sure you choose a machine-friendly font. Especially if your documents are mostly electronic, you want the software to be able to discern what is spelled over there.
But words are nothing without actions. That's why we chose to insert this branded letterhead example from Jade Hotel's that speaks for itself. Everything we mentioned about typography can be found within this visual. The way they played with different fonts so that the fonts complement together is impressive. Make sure to remember this letterhead design tip next time when creating your own stationery for your business.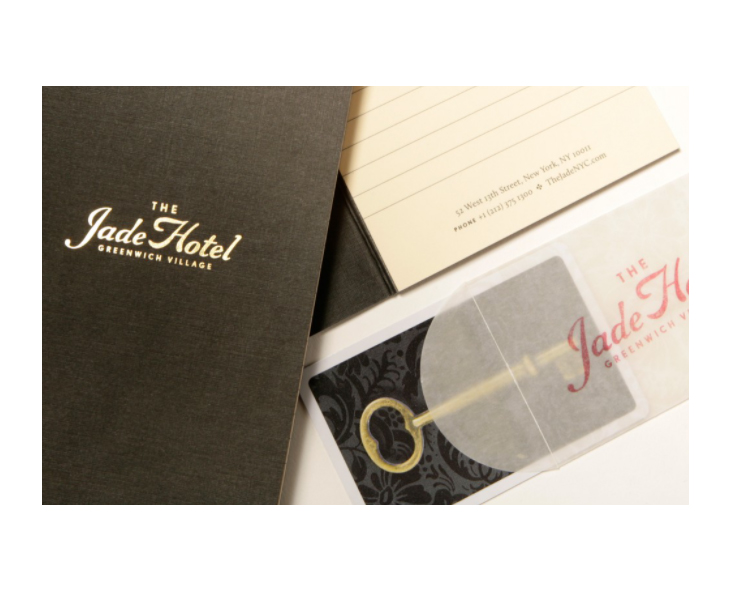 Take care of your logo alignment
Alignment is one of those graphic design basics that can make or break an entire design. Basically, you want your logo to be aligned with the rest of your design. You most definitely do not want it floating around on the page like a gas balloon.
The entire flow of your document will be dictated by the placement of your logo on the page. That's the starting point for a viewer's retina. Why?
Firstly, because it is colored. Yes, it's that simple! Colors attract wildlife and humans alike. And secondly, because text falls under your brand. Think about it. That logo, if placed properly, becomes the patron, the monarch of the entire document. All information that follows must be associated with your brand, so proper alignment is crucial.
We all know that an image speaks a thousand words, so what better way to emphasize the above information than by representing it visually? This is how Ferry Porsche decided to organize its letterhead in 1974. The logo is perfectly aligned with the rest of the document, and the fact that it's also colorful makes it even more noticeable.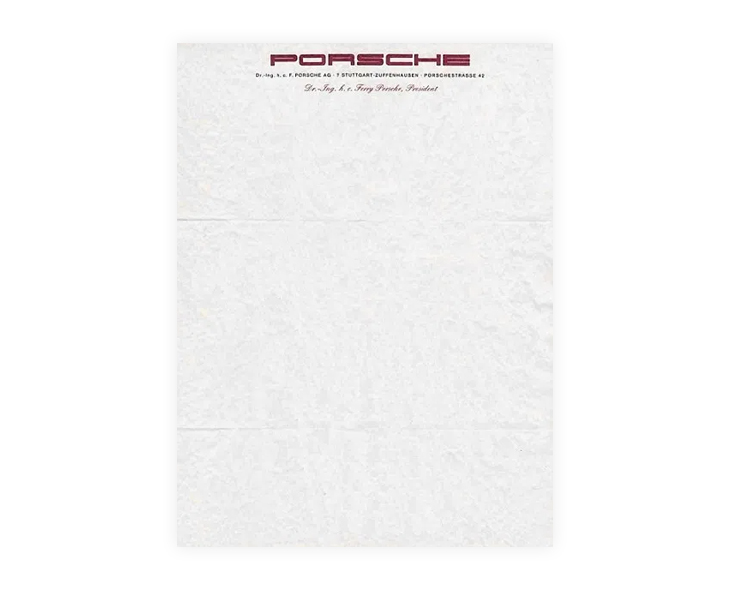 Don't shower it in colors
This is yet another letterhead design tip that is sadly forgotten. Do colors attract attention? Yes! Do more colors retain attention? No!
Not so long ago, in more innocent times, we took a look at some of the most famous brands' logo history and overall design aesthetic and saw that, in most cases than not, they've stuck to the same color palette.
For a brand to evolve and be recognized over time, first of all, we need consistency. This comes in many different forms, one of which is color.
A constant change to your color palette is not only inefficient, but can also bring potential damage. Sure, if you are aiming towards an ample project, such as rebranding, then, by all means, go for it. But this must come with a solid backing strategy.
But for now, if you already have your defined brand kit, then stick to it. Use that brand kit on every marketing material you have at your disposal, including letterheads.
Especially for your letterhead, given that it's an official document, stick only to those colors that are representative of your brand. The best practice would be to only go with three colors maximum.
The general rule of thumb: You want your letterhead to be a compelling and unitary design, not a blind color test.
In order to reiterate what we've just mentioned, here's an example of how a letterhead should look from the perspective of colors. Adam & Eve is an intellectual property firm that surely stands out through its splendid stationery design. They approach a minimalist and elegant style and also know how to play around with colors. With a selection of just three shades, Adam & Eve successfully attracts attention in a simple way and doesn't give you the impression that it lacks pigment.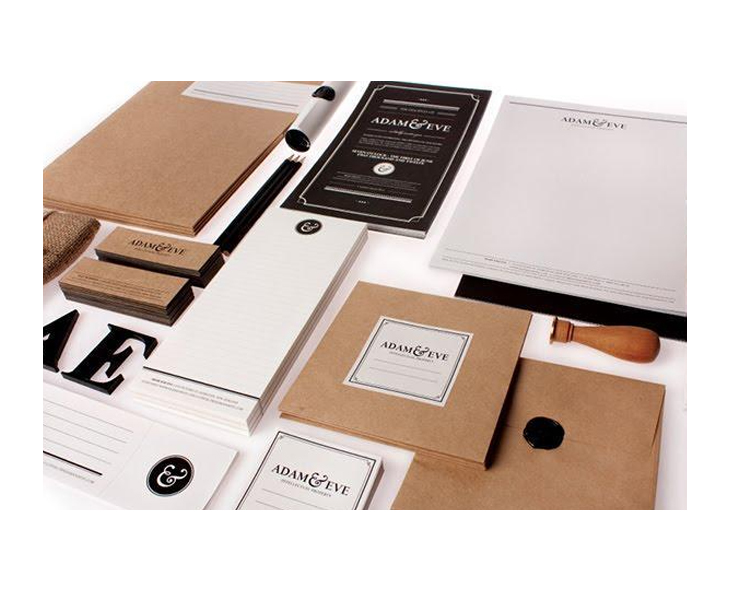 Stay consistent throughout your design
Colors inevitably bring us towards this next letterhead design tip, namely consistency.
Establishing consistency throughout your design means ticking these fundamental boxes:

Basically, if you follow the aforementioned steps, then you can rest assured that your letterheads and documents overall have a consistent design.
Watermarks are the shadows you need
Watermarks are aesthetic fireworks that definitely bring value to your overall design. Why is that? Let's revert to the first step, when we talked about space.
Watermarks allow for a splash of color without compromising the existent space. It's a win-win situation, in which you cover both the aesthetic aspect of your document, and the operational one.
Apart from that, they can also serve a legal purpose, as these documents are generally harder to pirate.
Consider different textures
Another letterhead design tip aimed more at appearances, different textures can be a small but effective detail to make you stand out.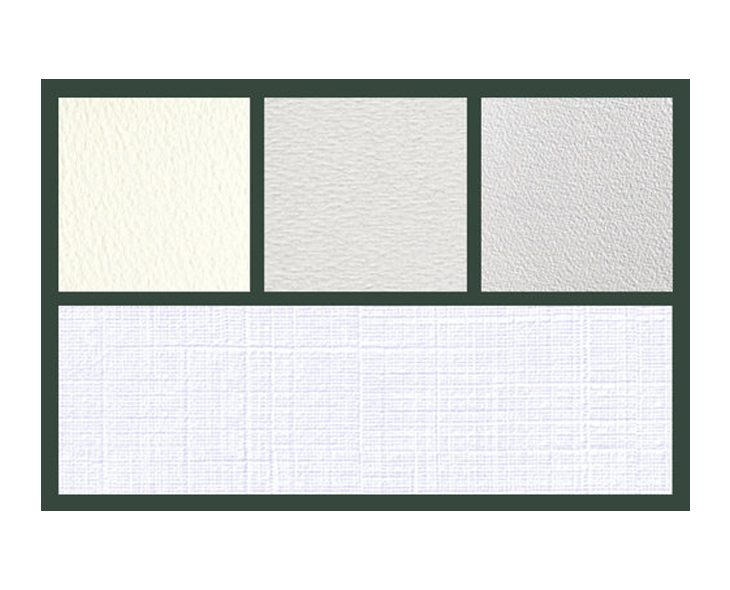 Given how easy it is to implement something like this with the right tools (which we'll talk about in a moment), it's worth experimenting with them and see if you find something soothing for your business needs.
It's worth mentioning here that when you think about textures, make sure that you already know what type of paper you're going to use when printing your letterhead. This is important because your message, logo, personal information, and contact details should be easily recognizable and easy to read by your clients.
Never forget about paper quality
Obviously, not all documents will be digital. For those brought to life into the physical realm, paper quality is a deciding factor when assessing quality and professionalism.
Besides looks, a document needs a certain feel to it. Apart from this, if you embellish your letterhead with an outstanding design, you wouldn't want that to go to waste because of paper quality.
The quality of print depends mostly on the quality of paper, so don't take any shortcuts when it comes to this, or else your design will suffer.
Choose the right tools
There are a number of professional tools that allow you to play with design and craft something from scratch.
One such tool is InDesign. Granted, if you never used this tool before it will be a bit tricky at first, until you get accustomed to all the different options it grants you. So, some professional help may be needed. Another option is Photoshop but again, you will need some patience if this is your first encounter with it.
But for those of you who are not interested or simply don't have the time to bring a tertiary person into the game, you always have the option of choosing a premade template and adjusting it to your own needs.
Make sure you know everything about letterhead sizes before printing them
As we've already discussed a few paragraphs above, it's important to choose a high-quality paper and professional texture whenever you're going to print your letterhead. But before thinking of ways to print your stationery, you should consider the standard sizes of a letterhead.
Of course, they differ from region to region. In North America, for instance, the letter size is typically 8.5 x 11 inches (215 x 280 mm). In the majority of countries outside this region, business letterheads are printed in A4 size of 8.27 x 11.69 inches (210mm x 297mm). And in Flipsnack, you can choose between the classic A4 (794 x 1123 px), or the letter size (816 x 1056 px).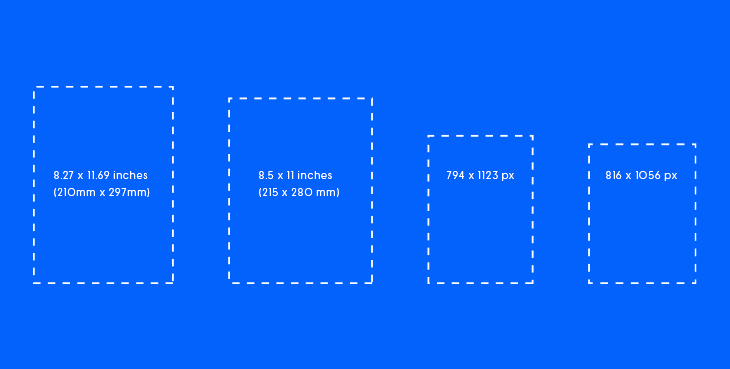 If letterheads are opportunities, then templates are direct answers to your immediate needs.
So, why would you opt to go for a template instead of designing something from scratch? What would the top reasons be?
A template respects every letterhead design tip mentioned and it's ready to be used
Here are some of the reasons that immediately came to my mind when writing this: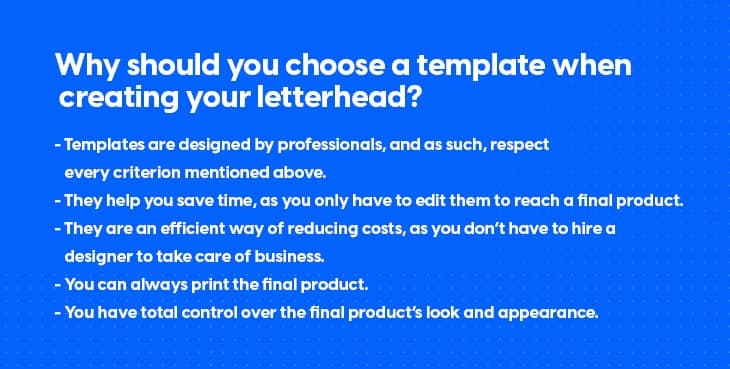 Sure, those may be just words, but let's take a look at some of Flipsnack's template examples to see exactly how my words translate into the real thing.
Some of Flipsnack's letterhead design templates that are free to use
Now it's the time to put into practice all the letterhead design tips we've discussed so far. Browse through our professional letterhead templates and make your pick. Then start customizing the sample exactly as you wish with the help of our Design Studio. Download, save, and share your work directly with Flipsnack.

To give you an idea of what our example templates look like, we've made a selection of four different letterhead samples that are free to use. Hopefully, you'll enjoy them as much as we do.
University Letterhead Format Template
The first example on our list is this university letterhead format template that can be customized to your own needs within minutes. Universities need to send acceptance letters or different use cases, and that's why they need professional and branded letterheads like this sample over here.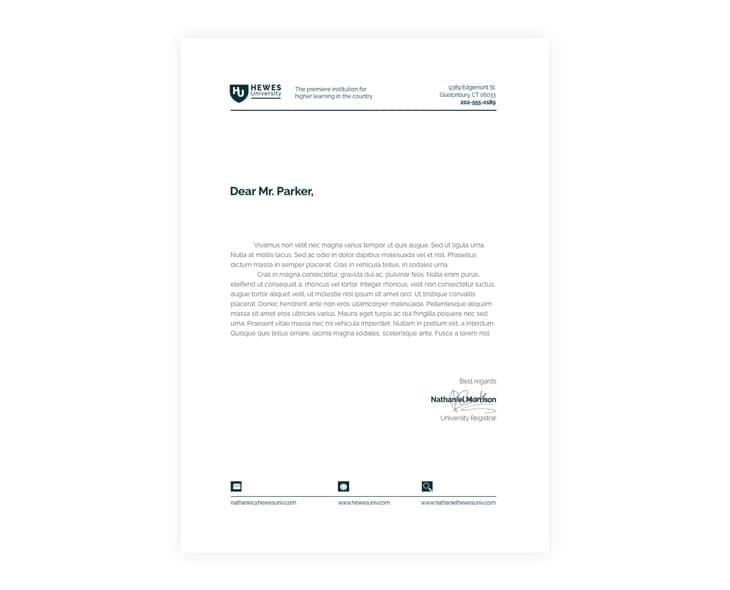 Therefore, personalize this template with your own school's emblem, colors, typography, and overall aesthetic. As a letterhead design tip, you should insert your personal information and school's logo in the header, and leave the email address and school's website for the footer. Focus on writing your professional message, then check everything once again to make sure you don't have any grammatical or spelling mistakes.
When everything is in perfect alignment, download and share your university branded letterhead directly via email through Flipsnack. Don't worry, we value your privacy and assure you that your information will be delivered securely to that specific recipient you selected.
You can also save your letterheads as templates in a folder, and access them anytime you want. Share them with other professors, so that the entire academic staff sends the same letterheads. Brand consistency 'till the end! But go the extra mile and download your documents as PDFs and print as many as you want. Keep them in your office for further use.
Law Firm Headed Paper Template
Here comes example #2! This law firm headed paper template is perfect whether you're a lawyer, a jurist, or just working in this field. We assume that it's not that easy to write both a professional and business letter to your client, but this sample over here might facilitate your work a bit. Just drag and drop it in our Design Studio and let your creativity speak for itself.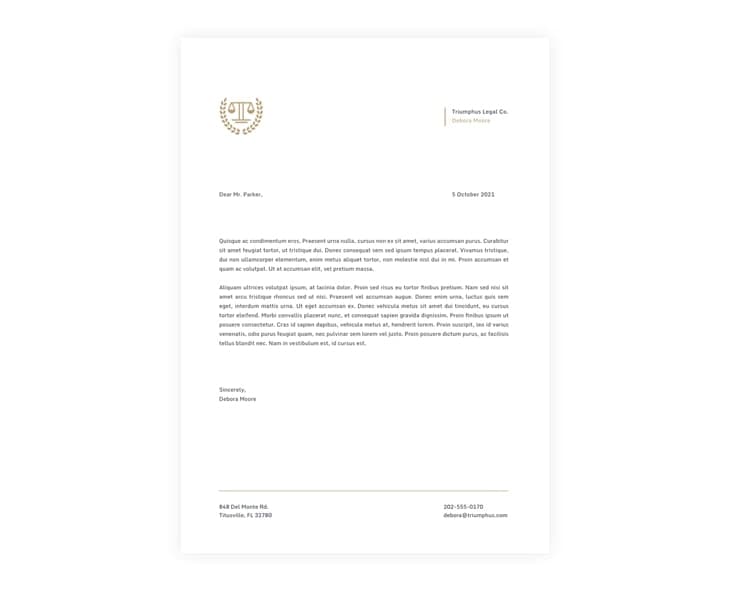 First thing first, focus on the header. Insert your firm's logo, brand colors, and fonts. Then write your professional message, but make sure to also date your letterhead. Sign your document, and leave enough space for the footer. Add your personal information such as an address, phone number, website, and email address.
Make a full review of your document, then download and print it at a professional print shop. Opt for a large batch of letterheads and keep them in your office. You never know when a customer will need one of them. However, if you want to print your letterheads by yourself, we advise you to always go for a high-quality paper in order to look as professional as possible. This is an important letterhead design tip.
Medical Letterhead Design Template
One thing's for sure: documents are a very important aspect of any hospital or medical center. Especially if we're referring to those official documents you need to send to other hospitals, doctors, or clinics. Be them online or printed, they should always have a representative and branded letterhead section. That being said, here is a medical letterhead design template that can be customized to match your own branding within minutes in our Design Studio.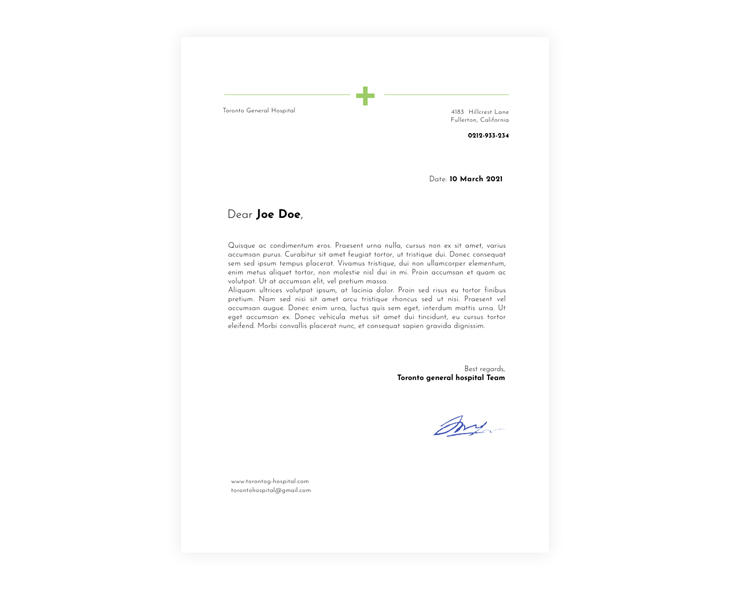 After you've created your Flipsnack account, you can easily edit this example with your medical center's branding elements and save it as a template. In the header section, choose to insert your hospital's logo, personal address, and phone number, and leave the hospital's website and email address for the footer. After all, you want to take advantage of the best of both worlds, right?
Feel free to share your branded documents internally with your medical staff, or choose to share them exclusively with that patient or clinic you collaborate with via a private link. The whole process will be smooth and secure, you can count on that!
However, we want to remind you that you can always take your letterhead design to a print shop for a large batch of branded letterheads ready to be used. Make sure to opt for high-quality paper and legible texture, so that your clients and correspondents will understand everything with ease.
Modern Artistic Letterhead Template
Who said that an artist couldn't make professional, yet innovative letterheads for their customers? This editable modern artistic letterhead template demonstrates exactly the opposite and it's suitable for dance schools, cinemas, or any other creative institutions. Being less corporate than the business letterhead templates presented above, this example gives you enough space to introduce your branded colors on the margins.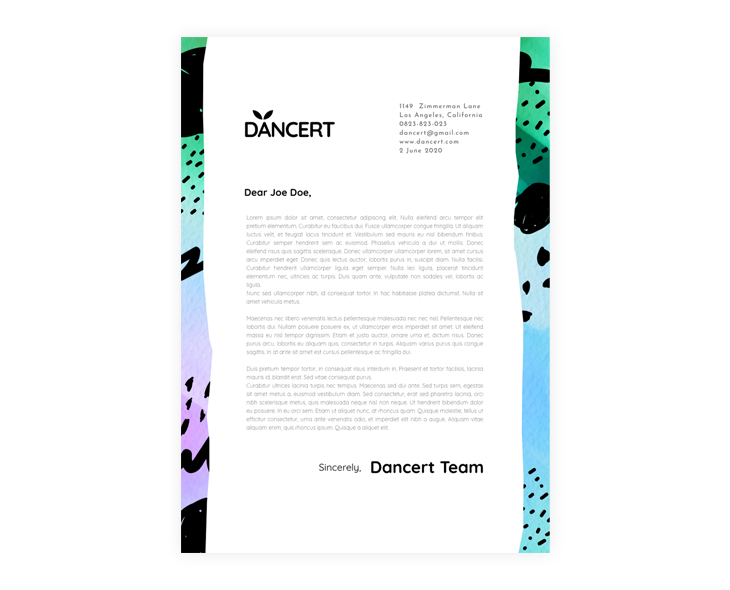 So, as a first letterhead design tip for you, we encourage you to keep this template as branded as possible because your customers must recognize your business from the start. Upload your custom fonts and colors throughout your entire document and then make sure to insert your business logo in the header, as well as your address, phone number, website, and email address. But keep in mind that you always have the footer where you can insert some of these elements so that the information doesn't look cramped.
Next thing is to focus on your message. Keep it casual, but informative and professional. Don't forget to also include the date and sign your document. Right after this, you should think of adding some colorful elements to your letterhead. You're an artist, after all!
The final step is easy. You just download and save your work. Then, you think of ways to share it. You can print it on high-quality paper and hand it personally, or send it securely to your client.
Final thoughts
There you have it – the fundamental letterhead design tips to enhance any document. Whether you're creating your own stationery from scratch, or with the help of our letterhead templates, keep in mind to always take these recommendations into account.
But pay special attention to the brand reinforcement suggestion that we've discussed above. After all, a letterhead is a traditional form of marketing and communication tool to attract the attention of your target audience, so you have to make sure your brand is standing out from the crowd.
Finally, feel free to share other letterhead design tips with us in the comments section below. We're always happy when you interact with us and come up with different ideas or perspectives.